I've got some exciting news to share!
This post may contain affiliate links.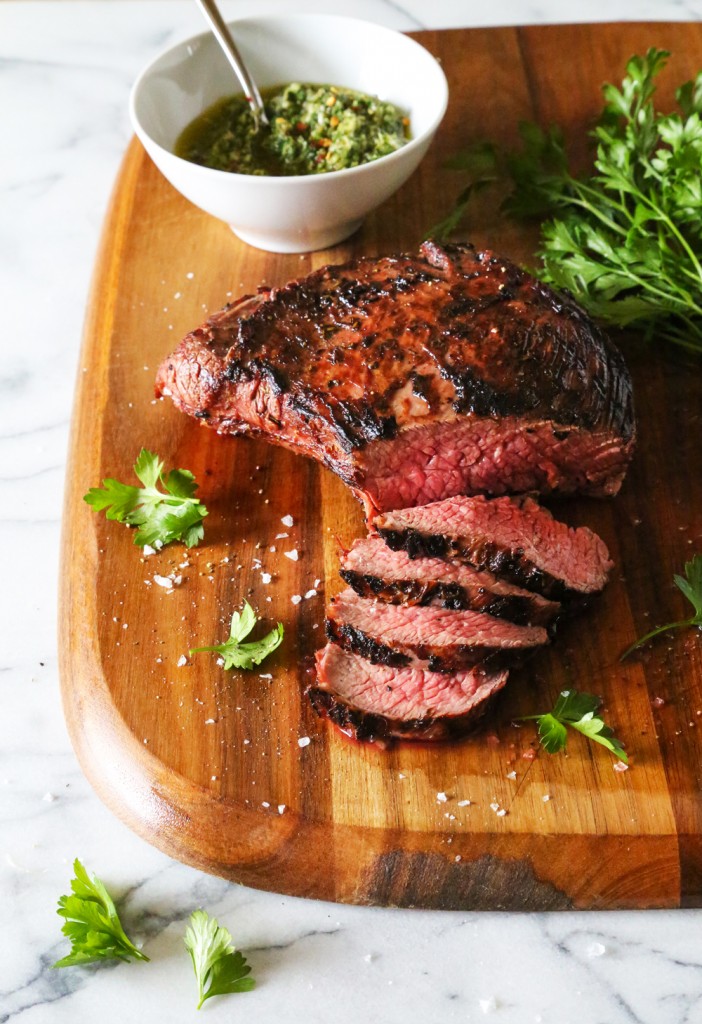 For the next few months, I'm partnering with the new Jimbo's… Naturally! located at Westfield Horton Plaza on some seriously tasty and organic recipes.  Jimbo's… Naturally! is a local San Diego business that focuses on high quality organic and natural food.  Their new location at Westfield Horton Plaza is a beauty!  In addition to a juice bar, deli, and bakery, they've got a sizable selection of organic produce.  The green garlic I discovered in the produce department was the inspiration for this Italian salsa verde.
To showcase some of the products found at Jimbo's… Naturally!, I put together this recipe for Grilled Tri-Tip with Green Garlic Salsa Verde.  Organic, grass-fed beef tri-tip is quickly marinated in a sharp blend of garlic, rosemary, lemon and olive oil.  The roast is then placed on a searing hot charcoal grill to develop a wonderfully charred, caramelized crust, and finished over indirect heat to keep the center tender and juicy.  After a brief rest, the tri-tip is sliced against the grain, and served with a Green Garlic Salsa Verde.  This vibrant condiment is made with fresh parsley, garlic, red chile, capers, lemon and olive oil.  Bright, fresh flavors permeate both the beef and the sauce, making them a perfect combination for any summer barbecue.  Continue reading for the recipe.
Green garlic is in season right now, so be sure to try it out while you still can!  If you can't find green garlic, you can use regular garlic instead.  And if this recipe leaves you with a few leftover green garlic bulbs, be sure to pickle them, and enjoy later in the year!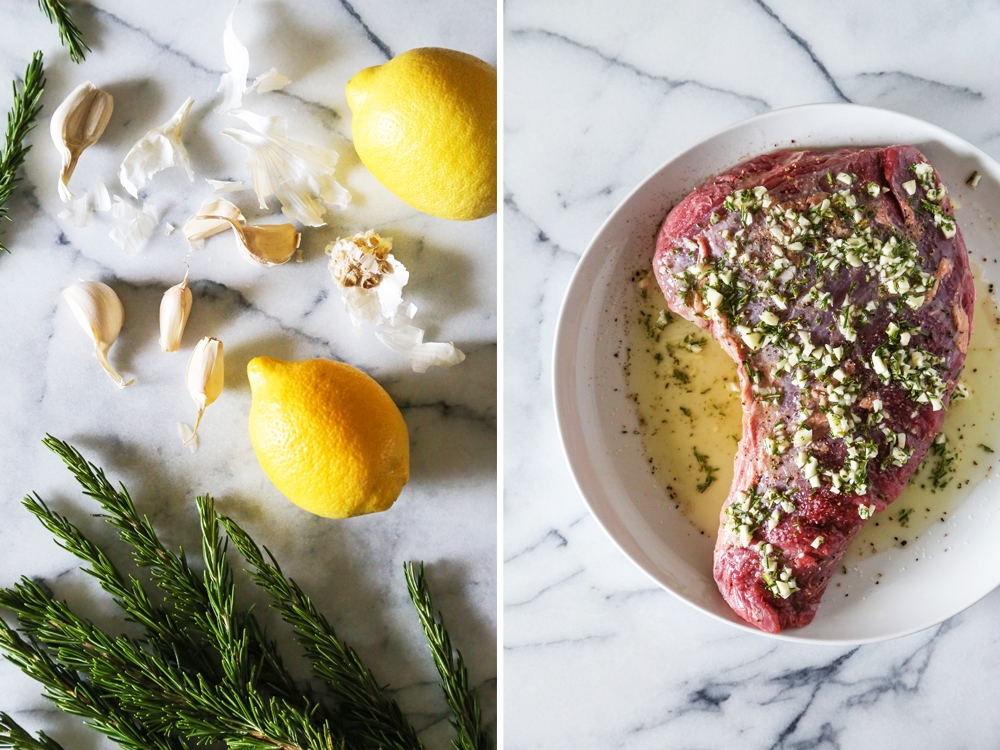 Tri-tip is a delicious yet relatively inexpensive cut of meat.  When cooking tri-tip, you'll want to prepare a direct / indirect cooking situation.  You can do this on a stove or on a grill (gas or charcoal).  Sear the roast over high heat (direct), then finish over low heat (indirect).  This will ensure good flavor without overcooking the meat.  Once the tri-tip has rested, it's crucial that you cut the meat against the grain.  This will sever any remaining connective tissue, creating tender slices of beef.  If you cut with the grain, the meat will be chewy.  And that's the last thing anyone wants!
Grilled Tri-Tip with Salsa Verde
Ingredients
For the tri-tip:
5

organic garlic cloves, finely chopped

1

tablespoon

finely chopped organic rosemary

Juice of 1 organic lemon

1/4

cup

olive oil

1

(2 – 2.5 pound) organic, grass-fed beef tri-tip roast

Kosher salt

Freshly ground black pepper
For the salsa verde:
1

cup

lightly-packed organic parsley leaves, roughly chopped

1

tablespoon

capers

2

organic green garlic bulbs, (white and light green parts) only, sliced (or 5 regular garlic cloves)

Zest of 1/2 organic lemon

Juice of 1/2 organic lemon, plus more to taste

Pinch

of red pepper flakes

Kosher salt

1/4

cup

extra-virgin olive oil
Instructions
Add garlic, rosemary, lemon juice and olive oil to a small bowl, whisking to combine. Set aside.

Trim the fat cap off of the tri-tip roast, but be sure to leave some fat on the outside. This will help with flavor and texture. Discard trimmed fat. Transfer roast to a plate or small baking dish. Season both sides of the roast generously with kosher salt and freshly ground black pepper. Pour the marinade (garlic-rosemary mixture) over the tri-tip, and let sit for 30 minutes to 1 hour. Turn the roast over in the marinade every 15 minutes to ensure even flavoring.

Meanwhile prepare an outdoor grill. Cooking a tri-tip requires both direct and indirect heat. If using a charcoal grill, pile up your coals on one half of the grill. The side with the coals will be used for direct heat cooking, and the cooler side will be used for indirect heat. If using a gas grill, preheat one side of the grill on high, and leave the other side off (no heat). With either method, let the grill grate preheat for 15 minutes. Also, the grate should be cleaned and oiled just before cooking.

Take the tri-tip from the marinade, and let any excess liquid drip off. Place the roast over direct heat, and sear for 3 – 4 minutes per side. Move the roast over to the indirect heat side, cover, and cook until the roast reaches 120°F for rare, 130°F for medium-rare, and 140°F for medium (20 – 35 minutes). You'll want to maintain a grill temperature of 250°F to 300°F, and be sure to flip the roast every 10 minutes. Let the tri-tip rest for 10 minutes before carving.

While the roast is resting, prepare the salsa verde. Place parsley, capers, garlic, lemon zest, lemon juice, red pepper flakes, and kosher salt (I used about 1/2 teaspoon) in a food processor, pulsing until all ingredients are chopped and well-combined. Scrape down the sides. With the motor running, slowly stream in the olive oil. Stop after you've added 1/ 2 the oil, scrape down the sides, and then add the rest of the oil. Transfer salsa verde to a small bowl, and season to taste with additional kosher salt and lemon juice.

Slice the tri-tip against the grain, and serve with salsa verde. Be sure not to slice with the grain as this will result in tough, chewy slices of beef.
Tried this recipe?
Tag @brandiego on Instagram so I can check it out!
I partnered with Jimbo's… Naturally! and Westfield Horton Plaza on this article.  When this article was written, I worked for Westfield.  All thoughts, opinions and recipes shared in this article are my own.
26