Ok so I have a fun little treat for you all today.
This post may contain affiliate links.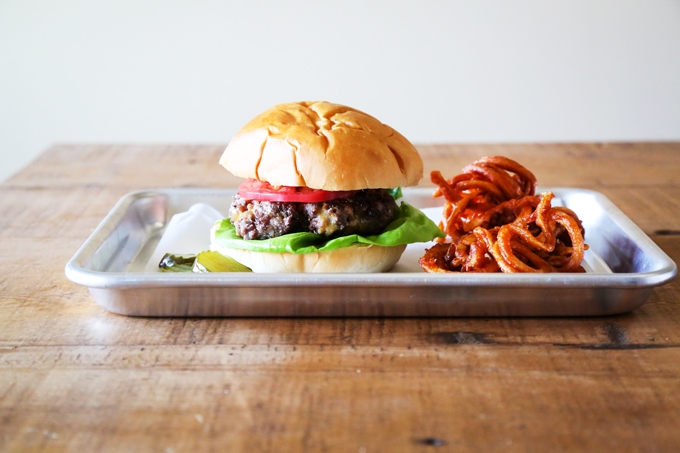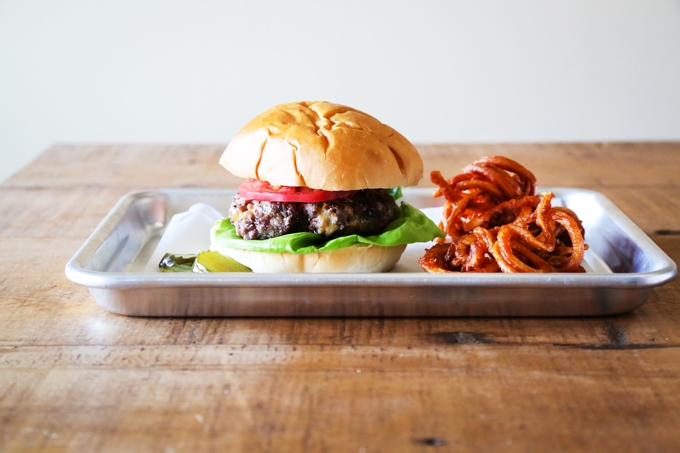 If you weren't already aware, my sweet, adorable boyfriend is Jorge.  One might think that because I am a food blogger, I do all the cooking in the relationship; however, that is not the case here.  Jorge loves to cook as well, and today, I'm sharing one of his best recipes for Bacon Cheeseburgers.
His burgers start with a mix of freshly ground beef chuck, short rib and bacon.  Sharp cheddar cheese is then worked directly into the burger blend, allowing the cheesy tang to permeate the burger.  These handcrafted patties are then thrown on a hot charcoal grill where they get wonderfully charred.  As the burgers cook, the bits of cheese throughout get all melty and gooey.  Stacked between a toasted brioche bun, this bacon cheeseburger is finished with our favorite toppings: butter lettuce, heirloom tomato, red onion, pickles, mayo, mustard and ketchup.  Let.  me.  tell.  you.  This burger is ridiculously delicious.  Each bite is incredibly juicy with big, bold flavors that can easily stand up to all of the toppings.  This is your burger for summer 2014.  Continue reading for the recipe plus some comments from Jorge!
Jorge here!  Each year when the warmer weather comes around, I get these seemingly insatiable cravings for char-grilled burgers!  I'm a sucker for a thick, juicy, burger patty, topped with mayo, mustard, lettuce, tomato and onions.  When I'm short on time, I'll make my burgers with pre-ground meat.  When I have some extra time to tinker around in the kitchen (usually a lazy Sunday), I love making these Bacon Cheeseburgers from scratch.  
I start with a chuck/short rib/bacon blend.  The marbling of the chuck and short rib makes the burgers extra juicy in the end.  To make my custom burger blend, I like to use Brandon's method for grinding meat:  quickly freeze the meat, and then grind it up in a food processor.  Freshly ground meat gives the patties a loose, light texture which also helps with juiciness.  I also add some sharp cheddar to the mix, because… I love sharp cheddar.  After a quick trip to the grill, the finished burgers are killer.  So tasty.  You have to try this! 
I love making these burgers for a crowd.  Preparing the patties, getting the grill ready, and making sure the burgers are grilled to perfection.  The whole process just makes me happy.  Brandon may rule over the kitchen, but I'm the grill master!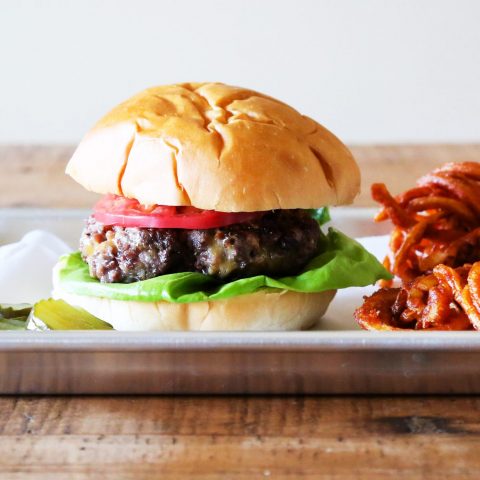 Jorge's Bacon Cheeseburgers
Ingredients
1

lb.

16 oz. beef chuck, cut into 1 inch pieces

1

lb.

16 oz. boneless beef short rib, cut into 1 inch pieces

3/4

lb

12 oz. bacon, sliced into 1 inch pieces

3

oz.

grated sharp cheddar (we used Kerrygold Aged Cheddar)

Kosher salt

Freshly ground black pepper

Canola oil, for the grill
Toppings: butter lettuce, heirloom tomato slices, red onion slices (not pictured here), pickled slices, mayo, dijon mustard and ketchup
Toasted brioche buns, for serving
Seasoned curly fries (optional), for serving
Instructions
Start by freshly grinding the chuck, short rib and bacon, using a meat grinder or food processor (this is how we like to do it). Here's my easy tutorial on How to Grind Meat in a Food Processor.

Place freshly ground meat in a large bowl, and mix in sharp cheddar, 1 1/2 teaspoons of kosher salt*, and 3/4 teaspoons freshly ground black pepper. Using your hands, mix gently to evenly distribute the cheese and seasonings. Do not overmix here, you want to keep the meat mixture light (not compact). Form the meat mixture into 8 even patties, pressing a slight indent into the center of each. This will keep the patties nice and flat while they cook (no indent = domed burgers).

Prepare an outdoor grill (charcoal preferred) to high heat. Moisten a paper towel with a little canola oil, and, using tongs, brush the grill grate with the oiled paper towel. Grill the burgers over direct heat for 8 - 10 minutes, until the outside has some char, the cheese is melty, and the inside is cooked through. Because this burger has ground bacon in it, you'll want to avoid cooking it to rare. We cook it to medium each time, and it's plenty juicy. Let the burgers rest for a few moments before serving.
To serve, place a burger patty on a toasted bun, and add desired toppings. Here's how I stack up: toasted bottom bun, mayo-mustard mix, lettuce, burger patty, tomato, onion, pickles, ketchup, toasted top bun. Serve with curly fries on the side.
Notes
*We usually season this mixture with 1 1/2 to 2 teaspoons of kosher salt. You should season to taste. Start by mixing in 1 1/2 teaspoons, then cook off a small amount of the mixture on the grill or even on the stove top. Taste the test "burger", and add more salt if needed. Once you've figured out how much salt you like in your burger blend, make a note for future batches.
Tried this recipe?
Tag @brandiego on Instagram so I can check it out!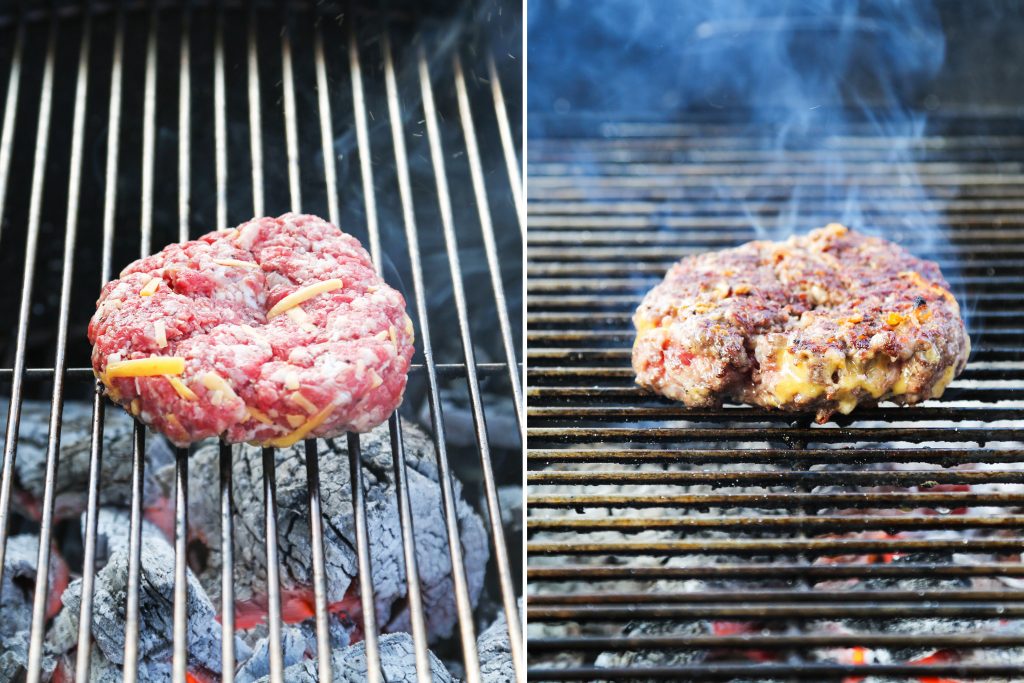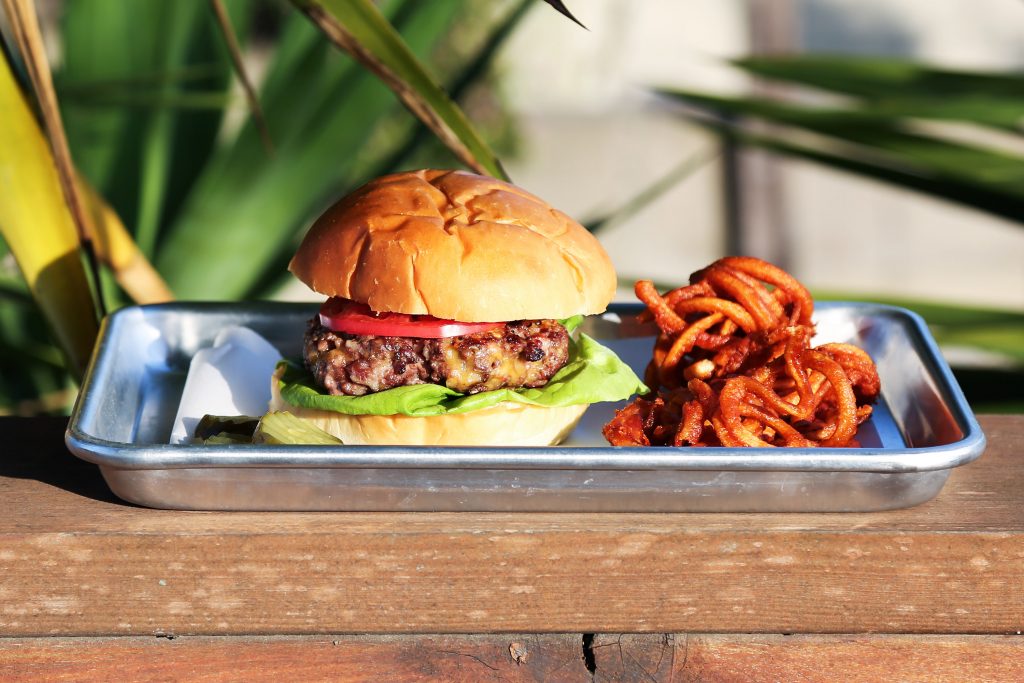 11