This post may contain affiliate links.
Several weeks ago, I found myself with an abundance of both raspberries and apricots.  Worried that the fruit would spoil before I had a chance to eat it all, I decided to make this Raspberry Apricot Jam.  Using my recipe for Apricot Elderflower Jam as a template, I simmered fresh raspberries and apricots in a bath of dry, aromatic white wine.  Sugar was added, then the entire mixture was cooked until thick and … jammy.  Final additions of lemon juice and St. Germain were added to balance sweetness, and add depth of flavor.
Let me just say that this jam ROCKS.  I just love it when all of the flavors snap into balance, causing what I like to call a "Wow" moment.  If you've never made jam at home, I'd highly recommend it.  The process is fairly simple, and the finished product is incredibly gratifying.  I like to save a jar of jam for myself, then give the rest away as gifts!  Your friends and family will seriously love you.  Continue reading for the recipe.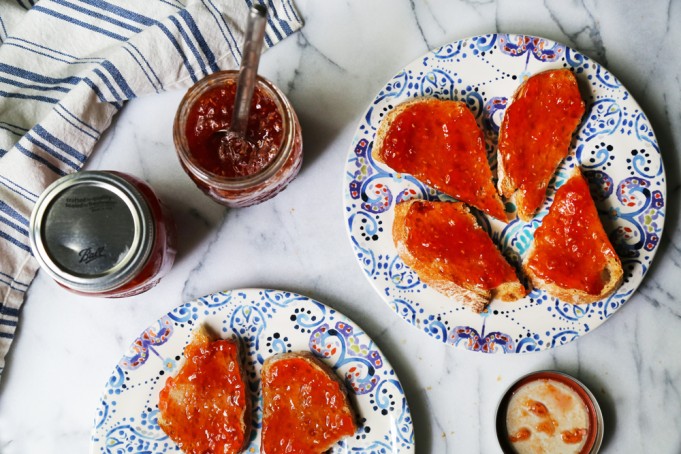 Raspberry Apricot Jam
Ingredients
3/4

pound

fresh raspberries

1 1/4

pound

fresh apricots, cut in half and pitted

1/2

cup

dry white wine (I used Sauvignon Blanc here)

5

cups

sugar

1

tablespoon

freshly squeezed lemon juice, plus more to taste

1

tablespoon

St. Germain liqueur, plus more to taste (Cointreau, Framboise, or Kirsch would work well here too)
Instructions
Set 2 small plates in the freezer. These will be used later to test consistency.

Place the raspberries, halved apricots, and white wine in a large, heavy-bottomed pot over medium heat. Bring mixture to a boil, cover, and reduce heat to low. Cook the raspberries and apricots until tender (timing will depend on how soft they are at the beginning).

Remove the lid and add the sugar, stirring to combine. Increase heat to medium and let the mixture violently bubble up. Eventually the bubbles will start to rise and with them a white foam. Skim off any foam that rises to the top. Once you've skimmed all foam, reduce heat to medium-low, and cook until the mixture thickens and reduces. Be sure to stir frequently to keep the bottom from burning.

To test the consistency of your jam, take one of the plates from the freezer, and spoon a small amount on the plate. Return the plate to the freezer, and wait 2 minutes. Push the chilled jam with your finger. If it starts to pile up on itself, it's done. If it seems too thin, cook the jam for 5 to 10 minutes more, and test again. This whole process took me about 35 minutes.

Once you've achieved the desired consistency, take the jam off the heat. Stir in lemon juice and St. Germain liqueur. Add additional lemon juice and liqueur to taste. I sprinkled in a bit more lemon juice and another splash of liqueur.

Transfer jam to a large, clean container (or several small containers), cover tightly, and let cool to room temperature. Store in the refrigerator for up to 1 year. The flavor will diminish as the months go on, so I'd recommend eating the jam sooner rather than later.
Tried this recipe?
Tag @brandiego on Instagram so I can check it out!
7