Strawberries + Doughnuts.  Two loves of mine combined.
This post may contain affiliate links.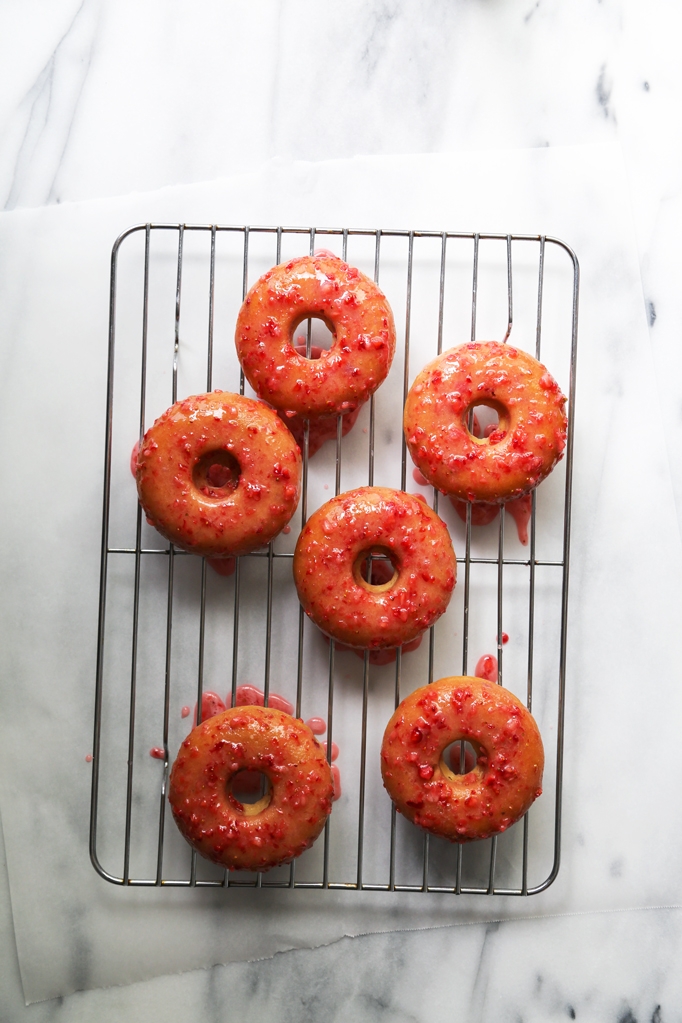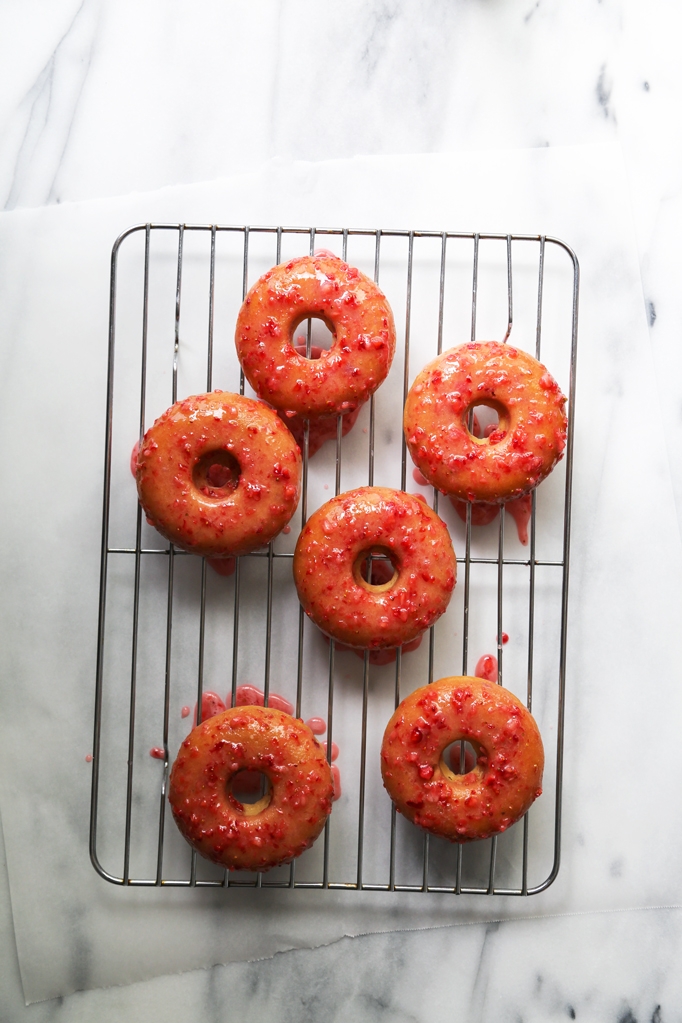 This recipe for Strawberry Buttermilk Doughnuts is a variation on my simple Sparkling Lemon Doughnuts.  Sweet-tart strawberries are blitzed into a chunky puree, then split between the doughnut batter and the glaze.  The batter is also flavored with lemon, vanilla and buttermilk, three flavors that work perfectly with strawberry.  Each doughnut is finished with a thin glaze made with buttermilk, confectioners' sugar and strawberry.  Fruit-flecked and gleaming, my Strawberry Buttermilk Doughnuts are a perfect dessert for your next summer soiree.  Continue reading for the recipe.
You'll need a special Doughnut Pan
 to make this recipe.  I just love the one pictured above.  The process outlined below will result in a batch of 6 doughnuts.  If you'd like to make more, I would recommend making separate batches.  Things can go a bit haywire when you try to double ingredients for baked goods.
One of the things I love most about these doughnuts is that they are so light and airy.  I have a hard time not eating one or two right when they come out of the oven!
Strawberry Buttermilk Doughnuts
Ingredients
For the doughnuts:
6– 8

strawberries, hulled and sliced

1

cup

(120 grams) all-purpose flour

3/4

teaspoon

baking powder

1/4

teaspoon

baking soda

1/3

cup

sugar

1/2

teaspoon

fine grain sea salt

2

tablespoons

unsalted butter, melted

1/3

cup

buttermilk, plus more as needed

1/2

teaspoon

vanilla

1/2

teaspoon

lemon juice

1

egg
For the glaze:
2

cup

confectioners' sugar, sifted

2

tablespoons

buttermilk
Instructions
Preheat the oven to 350°F, place a rack in the middle of the oven, and lightly grease a doughnut pan (I used non-flavored cooking spray). Place sliced strawberries in a small food processor, and pulse until very finely chopped (or a chunky puree). You can also do this by hand. Measure out 1/4 cup of finely chopped strawberries for the doughnut batter, and another 1/4 cup for the glaze. Save leftovers for morning pancakes or evening ice cream.

Sift flour, baking powder and baking soda into a large bowl. Whisk in sugar and sea salt, then set aside. In a medium bowl, whisk together butter, buttermilk, vanilla, lemon juice, egg, and 1/4 cup finely chopped strawberry until well combined. Add the liquid mixture to the bowl with the dry ingredients, stirring just until combined. Do not overmix here. If the mixture looks a little on the thick side, stir in a splash of buttermilk to loosen it up a bit.

Fill the wells of the doughnut pan 3/4 of the way with batter. I used a pastry bag here, but you could also do this with a spoon. Bake until the doughnuts spring back when touched (9 - 10 minutes), and the bottom of the doughnuts are lightly golden (the side that's cooking in the well). Let the doughnuts cool for 2 minutes in the pan, then transfer to a rack to cool completely.

While the doughnuts are cooling, prepare the glaze. In a small bowl, whisk together confectioners' sugar and buttermilk until smooth. Stir in 1/4 cup finely chopped strawberry. Dip one side of each doughnut into the glaze, then place back on the cooling rack. I set my cooling rack over a piece of parchment paper to catch dripping glaze. Let the glaze set, then enjoy!
Tried this recipe?
Tag @brandiego on Instagram so I can check it out!
The original article was posted in Pacific Magazine.
3