Summer officially starts this Saturday (June 21), and that means it's time to host a backyard BBQ.
This post may contain affiliate links.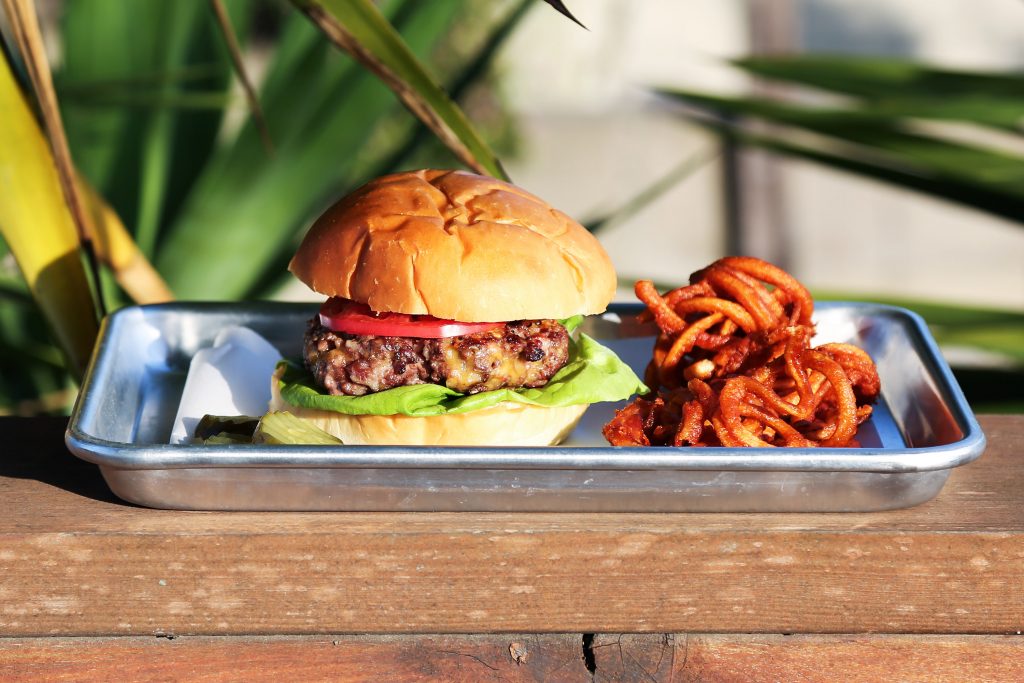 Hosting an outdoor event for friends and family may seem like a daunting task, but I assure you that there's no need to worry.  I've got you covered.  This Summer 2014 Backyard BBQ Guide will provide you with all the recipes and techniques needed to throw a fabulous al fresco fête, including drinks, appetizers, sides, mains and desserts.  Without further hesitation, let's get this party started.
Every great party needs to start with great drinks.  If your cocktails are irresistibly delicious, your guests won't even notice the fact that you overcooked the hamburgers a bit or that you forgot to salt the potato salad.  Seriously, everything tastes better when you're buzzed or drunk.  I like to prepare drinks in large batches (Peach Ginger Sangria picture below), and serve from mason jar drink dispensers
.  Have a stack of cups (plastic or acrylic is fine) and a bucket of ice nearby, so your guests can easily serve themselves.
I'll typically prepare one signature cocktail, and have my friends bring beer and wine.  I also like to serve a drink that features the many fresh, seasonal produce options available during the summer months like my Summer Crush (picture below) or The Smoking Peach cocktails.  Don't forget non-alcoholic options!  Sparkling water, infused water or a Mexican agua fresca would be best.  I like to fill a big pitcher with ice, a sliced lemon, a few sprigs of fresh basil, and water.  So simple, yet so refreshing!
Next, let's talk apps.  I always like to have a spread of appetizers ready when guests arrive, including some homemade and store-bought options.  Purchase prepared shrimp, and serve over ice beside a homemade Tomato and Horseradish Cocktail Sauce (pictured below).  Summer Squash Crostini are simple yet beautiful addition.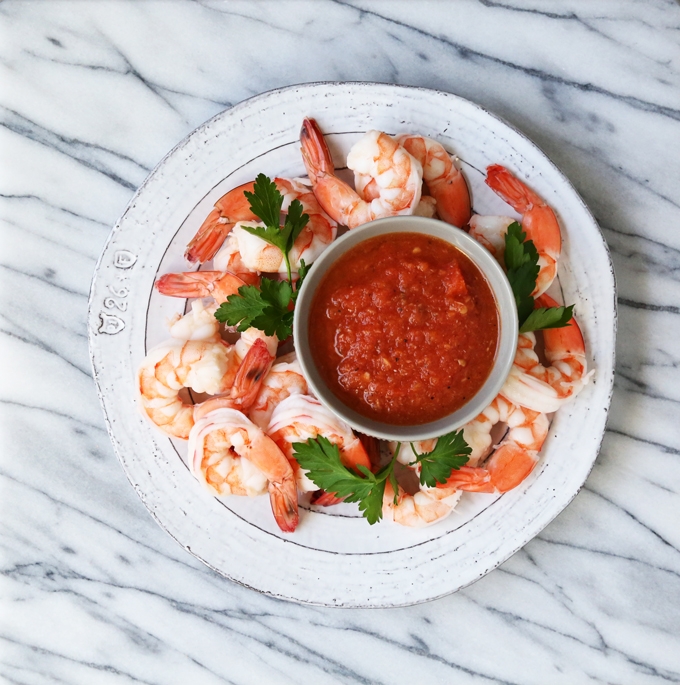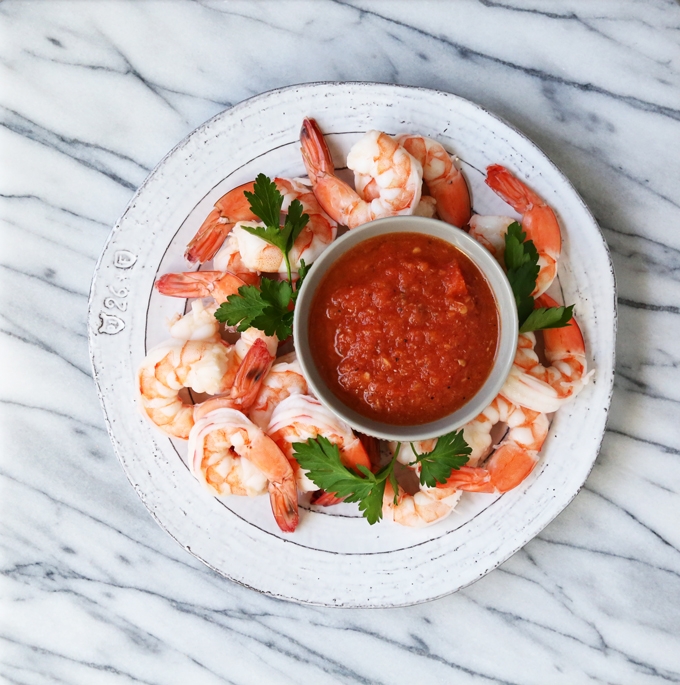 To reduce your appetizer workload, add some store-bought options to the mix, including cheese, salumi, crackers, bread, olives, salsa and guacamole.  You could even do a make-your-own Bacon Tostilocos station (pictured below)!  The main takeaway here is to not overwork yourself when putting together the appetizer table.  In the past, I've wanted everything at my parties to be homemade.  This standard had me slaving away in the kitchen all day while my guests were outside enjoying the BBQ.  Mix homemade with store-bought to maintain the WOW factor with minimal effort.
When planning salads and sides for a backyard BBQ, I like to keep things fresh, fresh, fresh.  Like my Ripe Plum Tabbouleh (pictured below) made with juicy plums, red chile, lemon and a boat-load of green herbs.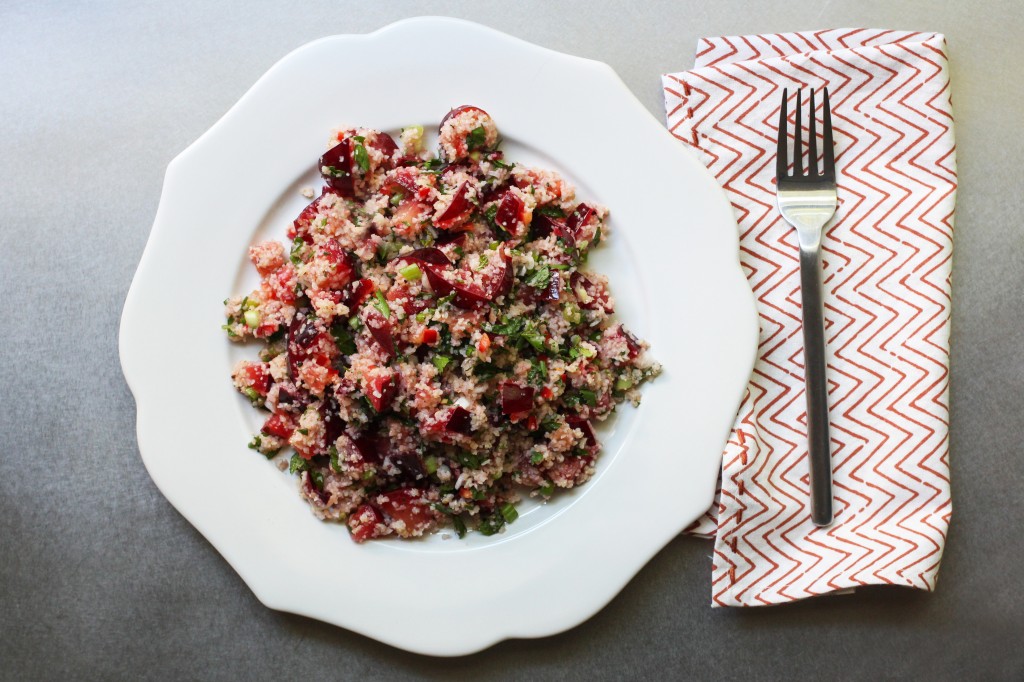 Fresh flavors help to balance the rich, smokiness of grilled meats.  Lighter salads can also keep you from feeling full and bloated in the afternoon sun.  My Heirloom Tomato and Peach Caprese (below), and Watermelon and Tomato Wedge Salad are two other good options.  All three dishes scale up nicely for a crowd, and certain elements (like dressings) can be prepared in advance.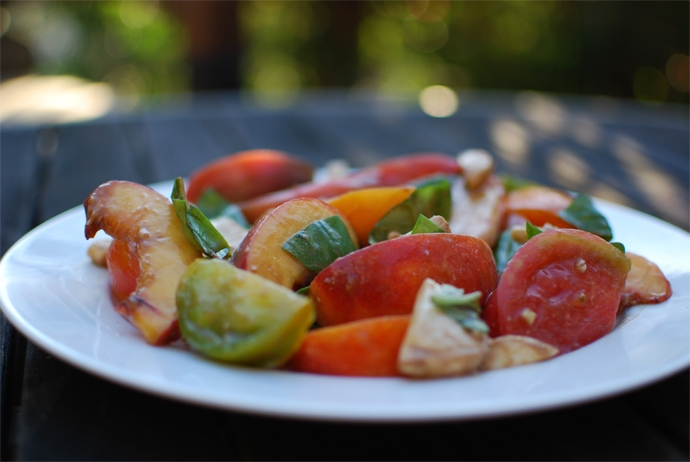 With main dishes, you have two options: 1. prepare something in advance (like this Slow Cooker Pulled Pork),  or 2. grill while the party is going on.  Typically, I try to finish all major cooking projects before my guests arrive; however, when it comes to a backyard BBQ, I usually go for option #2.  There's just something about the process of grilling that I really enjoy.  Hot coals, cold beers, conversations with friends over a landscape of sizzling meat.  The unchoreographed dance about the Weber trying to avoid sporadic outbursts of spark and smoke.  I just love all of it!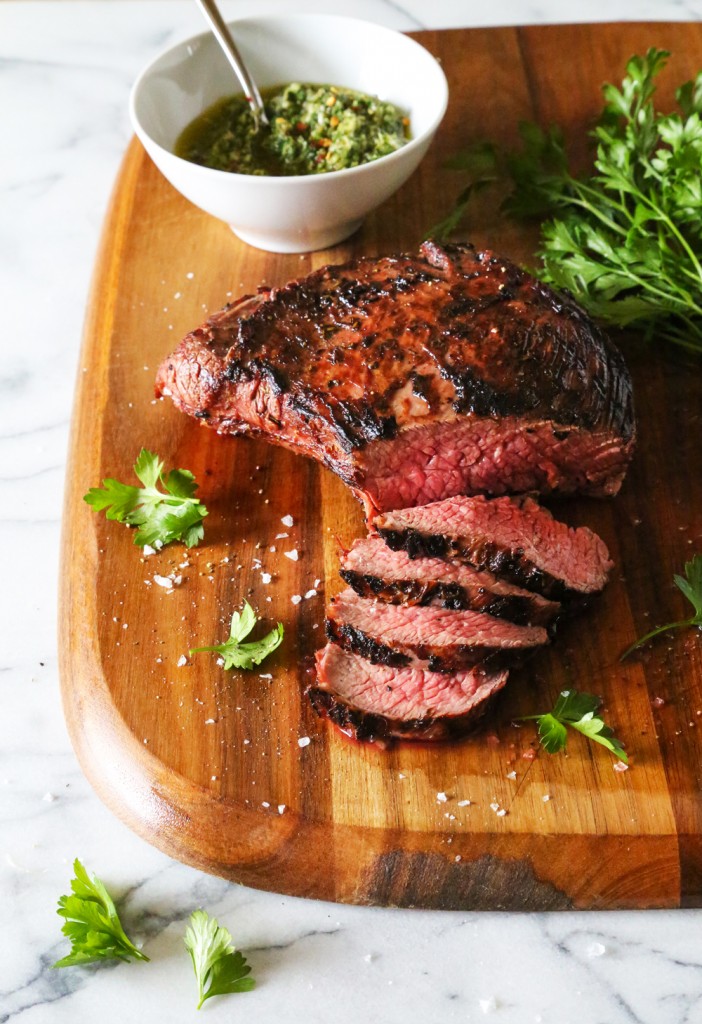 If you like the grill as much as I do, then I'd recommend you try my Grilled Tri-Tip with Green Garlic Salsa Verde (pictured above), Jorge's Bacon Cheeseburgers (pictured at the top) or Mexican Carne Asada (below).  Marinades, burger patties, and condiments can all be prepared in advance.  The grill is also a great place to get your friends and family involved.  Once you get the grill fired up, ask a guest or two to help oil the grates, flip meat, watch a timer, or pass out cooked meat to other guests.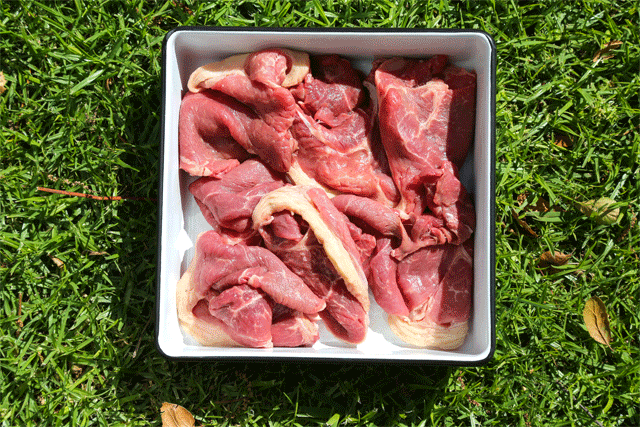 I am a firm believer that most summer dessert should be cold (but I do make exceptions every now and then).  Homemade ice pops, ice cream, sorbet or granita can all be made a day or two in advance.  Based on past experiences, a showstopper, homemade ice cream usually gets the best reaction from guests.  Here's my Strawberry Bourbon Ice Cream:
Other great options include Coconut Ice Pops, Golden Watermelon Sorbet, Goat Cheese Ice Cream, Watermelon Raspberry Granita or this Ginger Beer, Coconut and Rum Sorbet: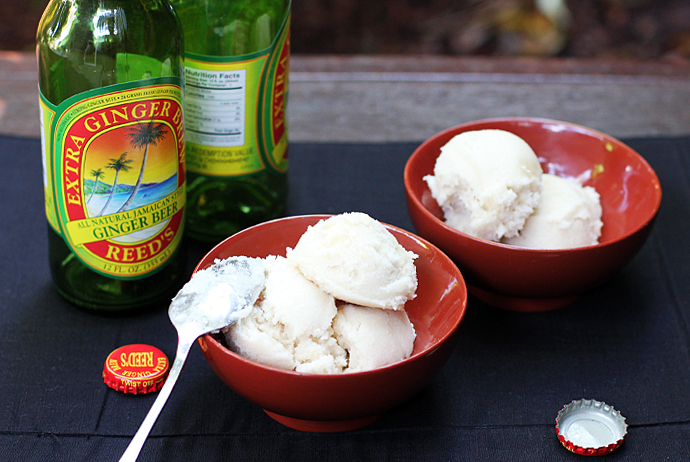 Well that's it!  I hope you enjoyed this Summer 2014 Backyard BBQ Guide.  Remember:
Start with great cocktails
Mix homemade appetizers with store-bought items
Balance grilled meats with fresh salads and sides
Get your friends and family involved around the grill
Finish strong with a showstopper dessert
Now it's your turn!  What are some of your favorite backyard BBQ recipes?  Please share in the comments below.
1