I'm giving the Bloody Mary a bit of a makeover.  A delicious, Italian makeover.
This post may contain affiliate links.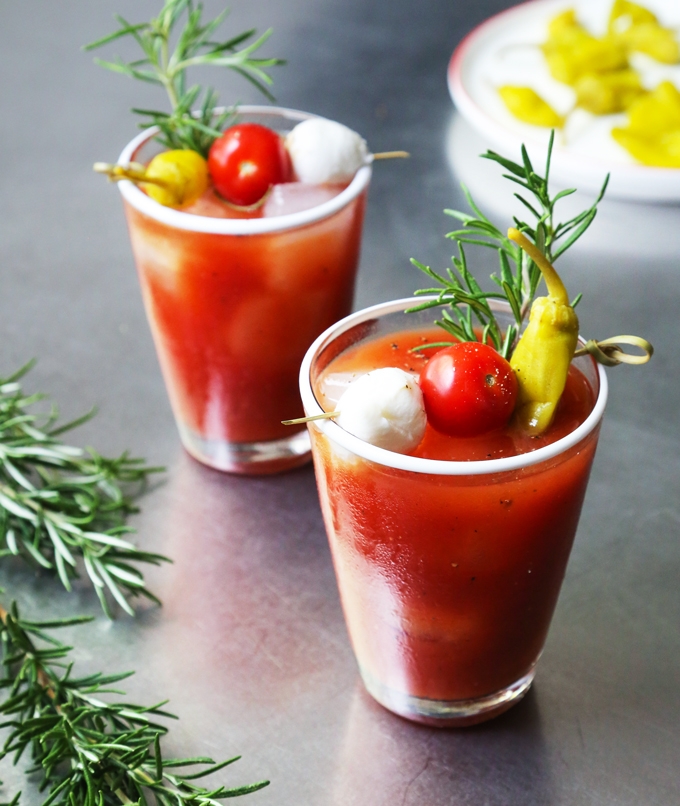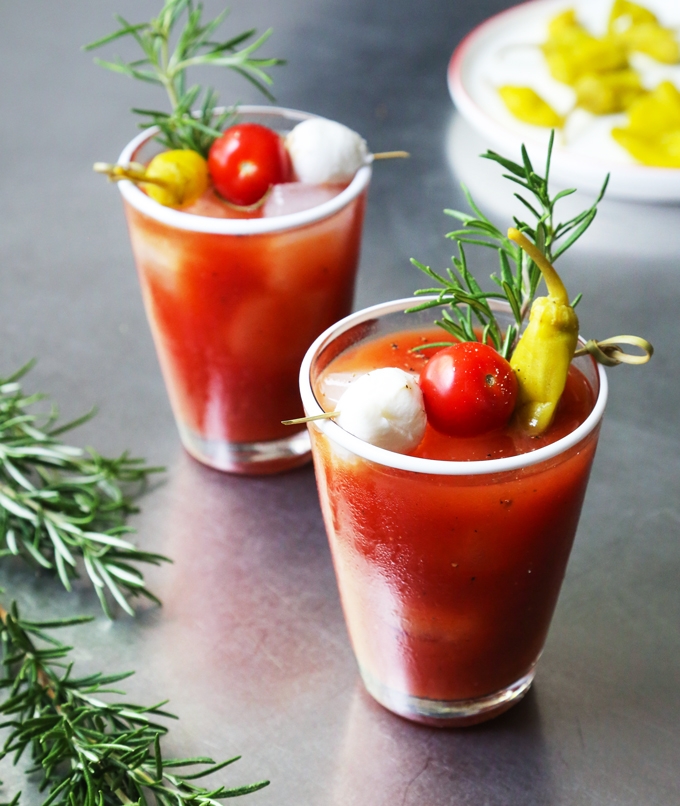 A classic Bloody Mary is made with vodka, tomato juice, hot sauce, horseradish, Worcestershire, lemon, salt and pepper, but today, I'm switching things up.  To start, Roasted Garlic Infused Vodka takes the place of regular vodka.  Garlic and tomato are a perfect pairing.  Roasting the garlic tames its biting heat while adding a deep savory note.  Next, pepperoncini pickling liquid is added with lemon juice to brighten flavors.  Using two types of acid kicks up the intrigue factor.  Finally, the ever-important garnishes get a major overhaul.  Typically, one would garnish a Bloody Mary with a celery stalk, salted rim and lemon wedge.  Here, I've adorned this savory cocktail with a pepperoncino, bocconcino (mozzarella ball) and cherry tomato skewered with a bamboo toothpick.  A sprig of fresh rosemary is added for drama and fragrance.  With each sip, you'll take in the wonderful woodsy aroma that works so well with tomato and garlic.  Next time you're in need of a bold brunch cocktail, give this Roasted Garlic Bloody Mary a try.  Continue reading for the recipe.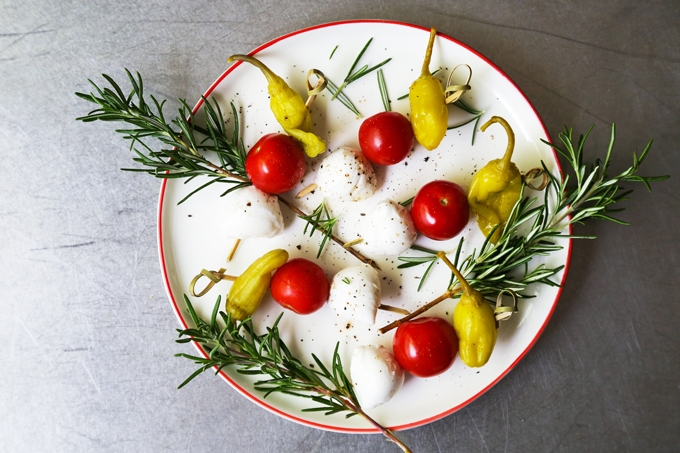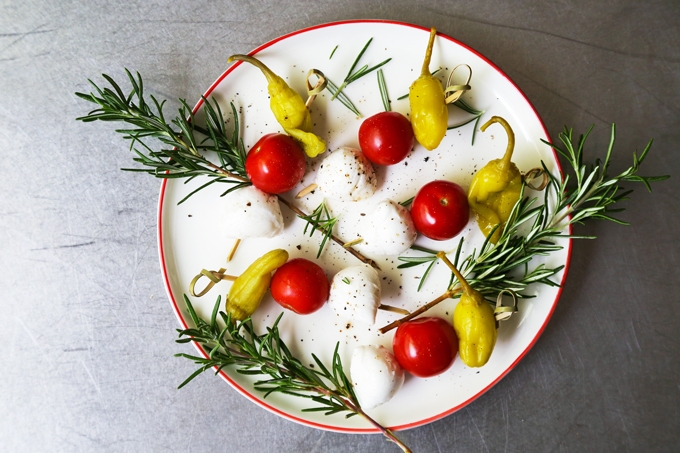 Seriously, I could probably eat just a plate of these garnishes.  So tasty.  Especially now that tomatoes are in season.  Be sure to use fresh rosemary here.  Dried just won't do.
The Roasted Garlic Infused Vodka pictured below is sooooo easy to make.  Simply roast a head of garlic in the oven, let cool, and steep in vodka for 24 hours.  Check out the full recipe here.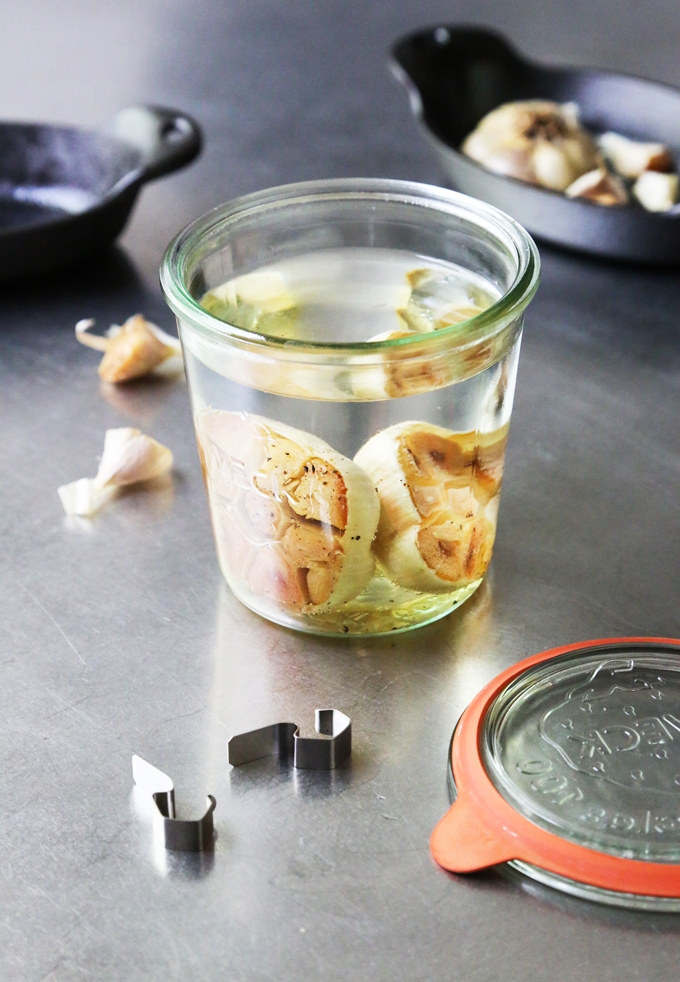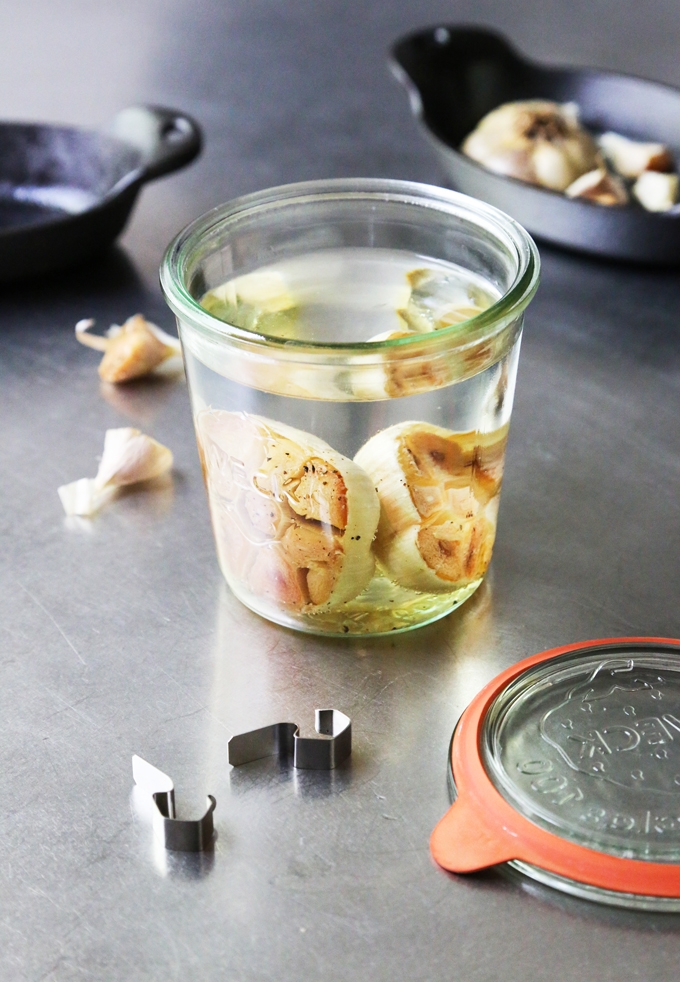 Bloody Marys can be enjoyed year round, but for me, I love drinking them during the summer months.  Especially when I am celebrating LGBT Pride weekend!  This Bacon Bloody Mary has been my go-to Pride brunch drink for the past several years, but this year, I've be serving up something new!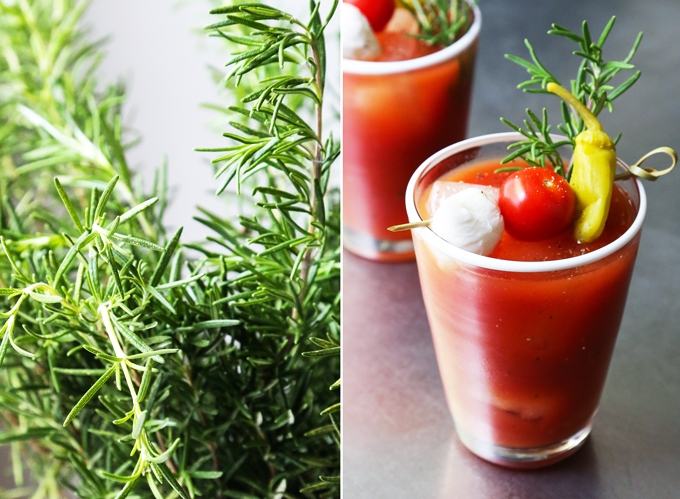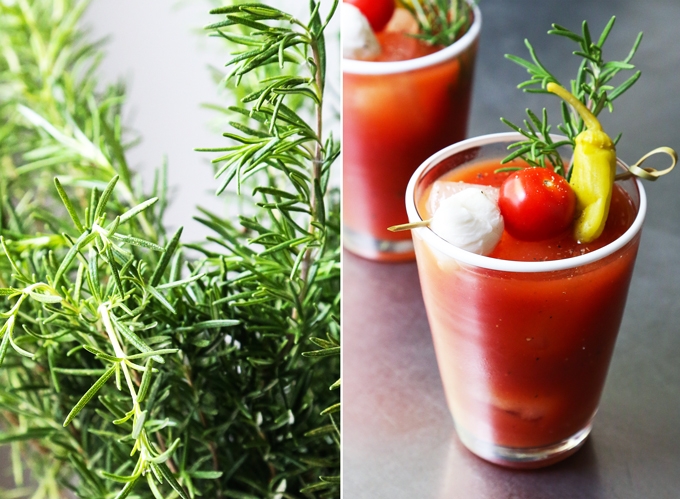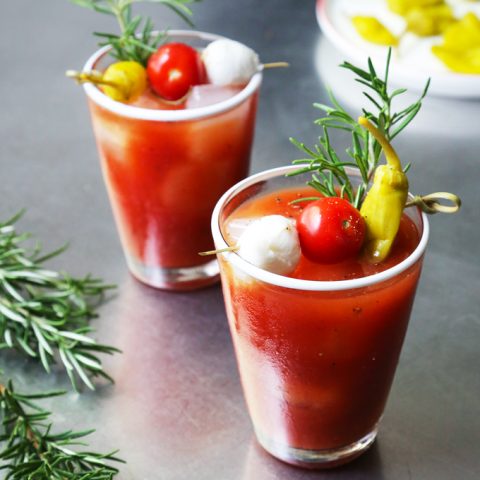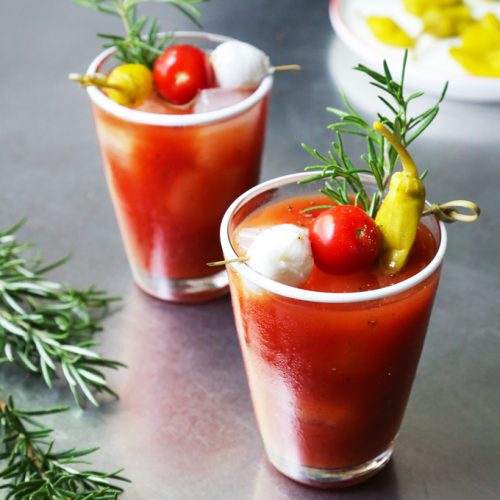 Roasted Garlic Bloody Mary
Ingredients
2

oz

tomato juice (preferably unsalted or low-sodium)

1.5

oz

Roasted Garlic Infused Vodka

3/4

teaspoon

Worcestershire sauce

1

teaspoon

lemon juice

1

teaspoon

pepperoncini pickling liquid (or more lemon juice)

5

dashes hot sauce

Kosher salt

Freshly ground black pepper
Garnishes: pepperoncini, bocconcini (mozzarella balls), cherry tomatoes, rosemary sprigs
Instructions
Add tomato juice, vodka, Worcestershire, lemon juice, pickling liquid and hot sauce to a short glass, stirring to combine. Season to taste with kosher salt and several turns of black pepper. Flavors should be bold and bright. Add ice to the glass, and stir until the cocktail is well-chilled.

Skewer 1 pepperoncino, bocconcino, and cherry tomato with a toothpick. Lay the skewer across the top of the glass. Sprinkle with a little kosher salt and black pepper. Finish with a sprig of rosemary.
Tried this recipe?
Tag @brandiego on Instagram so I can check it out!
5