With just 3 fresh ingredients and minimal effort, you can have a plate of this seasonal pasta on the table in under 1 hour.
This post may contain affiliate links.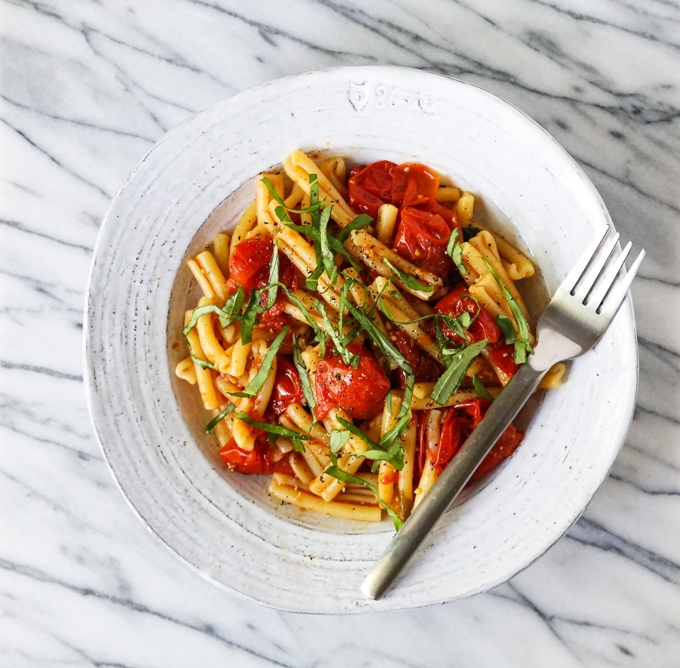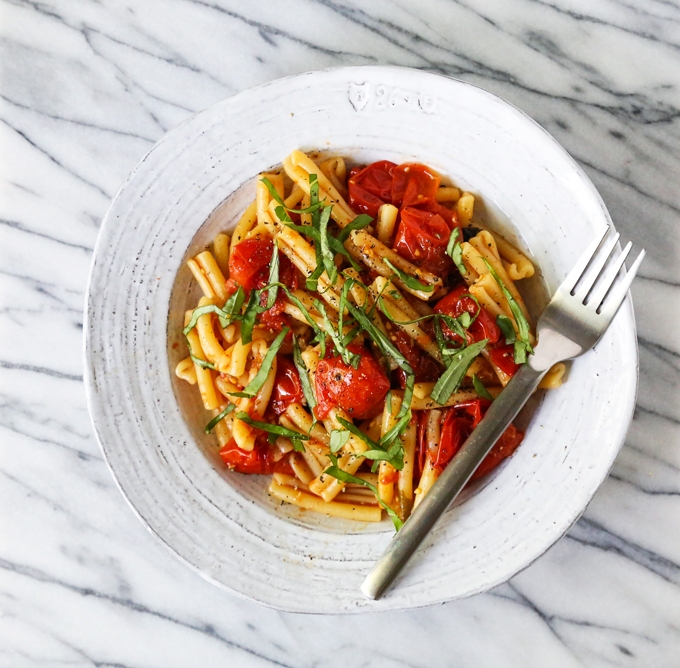 I know the word confit may conjure up some feelings of worry and anxiety, but I assure you, the process couldn't be easier.  The term confit is typically associated with meat (especially duck), but can also be applied to fruits and vegetables.  Confit simply means to cook something in fat at a low temperature for a longer period of time.
Here, I'm tossing cooked pasta with slow-roasted tomato confit and chopped fresh basil.  To make the tomato confit, simply toss cherry tomatoes, garlic and basil in olive oil, and slow-roast for 45 minutes.  The resulting tomatoes will soften and blister, releasing some of their juices on to the pan.  The tomatoes and juices will have a wonderfully concentrated tomato flavor.  The pasta cooks up while the tomatoes are in the oven, keeping cook time to a minimum.  For best results, give this recipe a try while tomatoes are in season.  Continue reading for the recipe.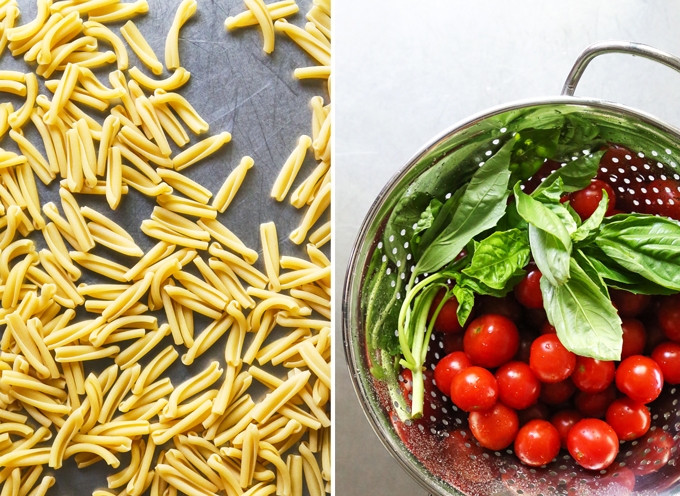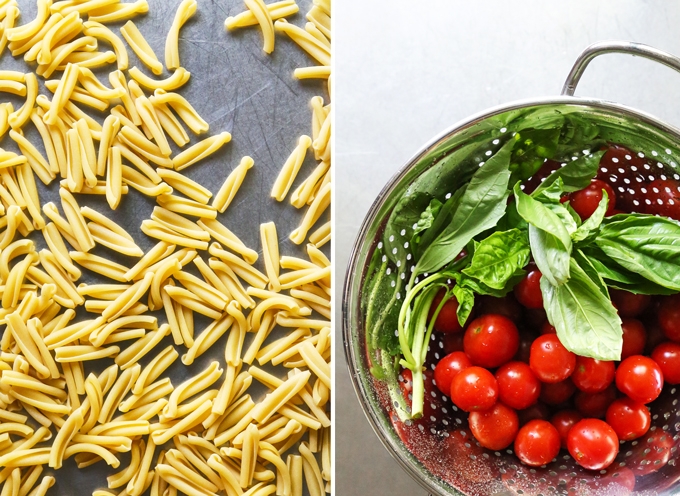 I've made this pasta a number of times, and it truly is easy to make.  Especially during the work week!  I start the tomatoes in the oven right when I get home from work, and while they are cooking, I get changed and cleaned up.  The pasta goes on 30 minutes later, and at the end of 45 minutes, I'm enjoying a super tasty seasonal pasta dish while watching reruns of Girls.  Boom.
Sometimes I like to double the recipe below and store leftovers in the fridge for later use. Tomato confit can also be used as a condiment for steak, chicken, sandwiches, salads or crostini. Just be sure to bring the mixture to room temperature before using.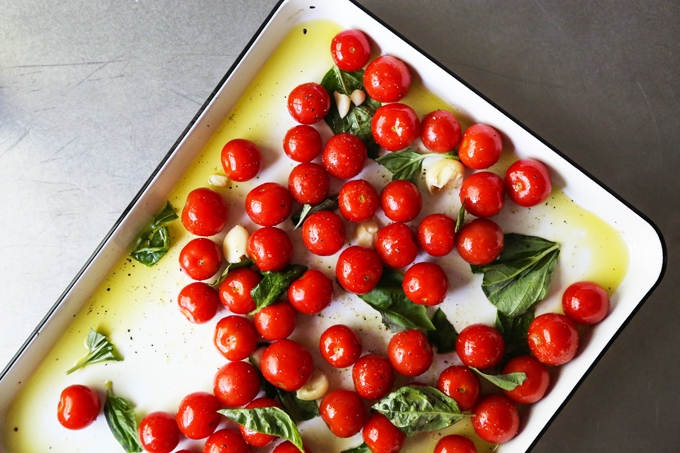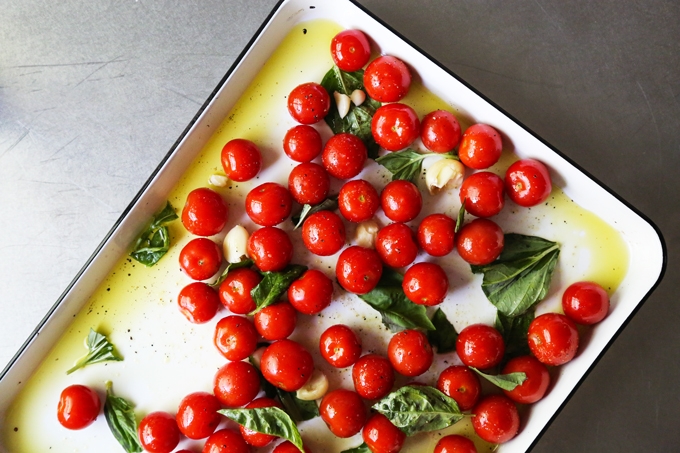 Seasoning is key with this recipe.  You need to season the tomatoes before they go into the oven, and you need to season the pasta water.  Once you combine the two, you need to check for seasoning again.  I found that I needed to add a couple more pinches of salt to really make the flavors pop.
Tomato Confit Pasta
Ingredients
2

pints

50 – 60 cherry tomatoes, stemmed

4

garlic cloves, smashed and peeled

Handful of basil leaves, torn, plus more for topping

1/3

cup

extra virgin olive oil

Kosher salt

Freshly ground black pepper

12

oz

dried pasta
Instructions
Preheat an oven to 325°F. Place tomatoes, garlic and basil on a rimmed baking sheet, and drizzle with extra-virgin olive oil. Sprinkle with a large pinch of salt and several turns of black pepper, then toss to combine. Bake until the tomatoes are soft and wrinkled, 45 – 50 minutes, stirring the tomatoes around a few times to ensure even cooking.

While the tomatoes are cooking, bring a large pot of salted water to a boil. Cook pasta until al dente (soft on the outside, but still some bite left on the inside). Place cooked pasta and tomato confit* in a large bowl, tossing to combine. Season to taste with additional kosher salt and black pepper (I added a couple additional pinches of salt).
To serve, divide pasta between 4 bowls, and finish with a drizzle of extra virgin olive oil and a sprinkling of chopped fresh basil.
Notes
*If you don't plan on using all of the tomato confit with the pasta, discard garlic, and store in the refrigerator for up to 4 weeks.
Tried this recipe?
Tag @brandiego on Instagram so I can check it out!
15