I have a confession to make.  Over the past several years, I've developed quite a jar obsession.
This post may contain affiliate links.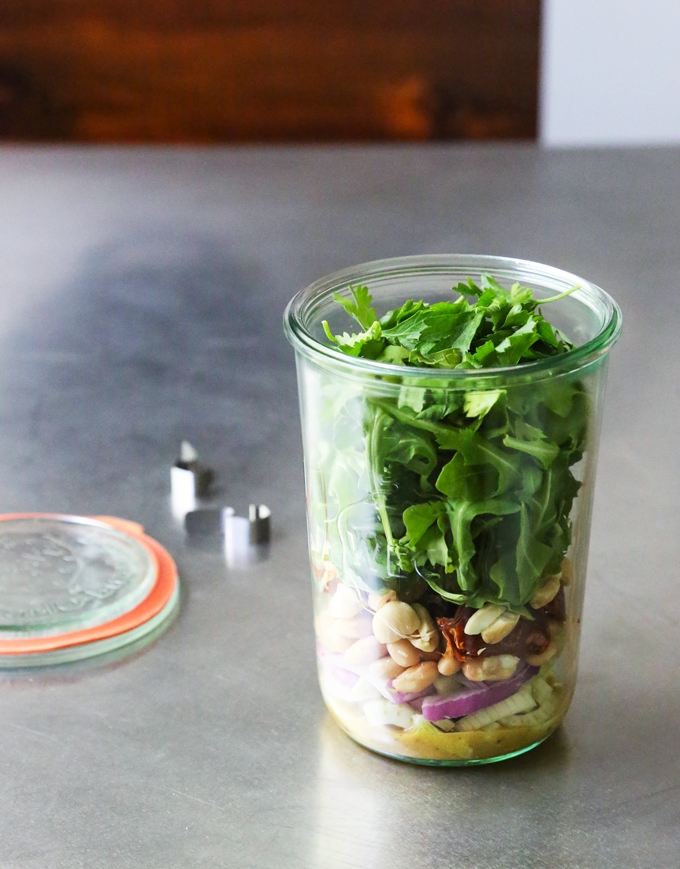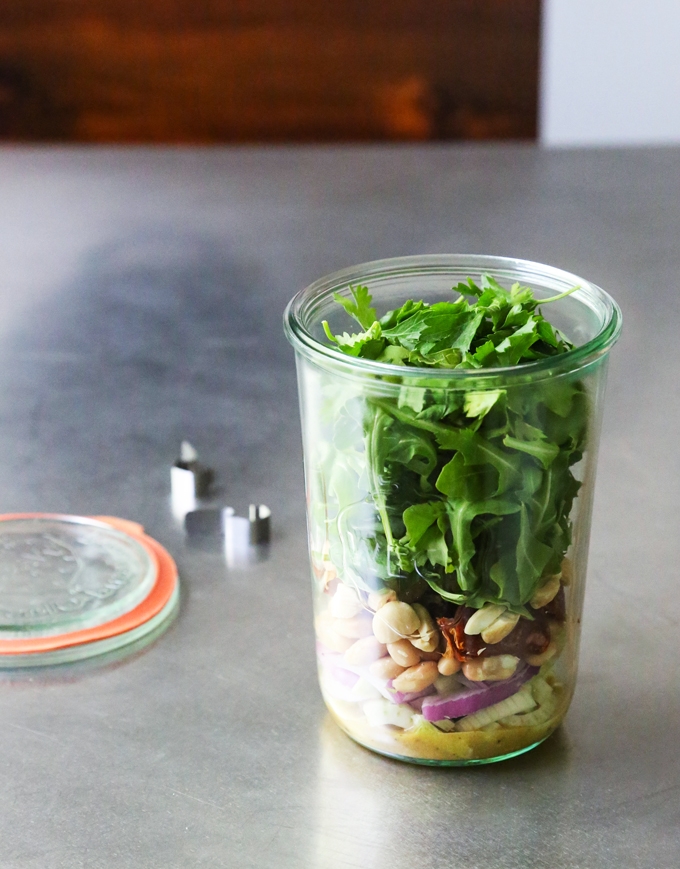 Two and half years ago, I was only a few months into dating my boyfriend Jorge.  He was heading up to San Francisco at the time to visit friends, and I asked him to bring me some items from the city.  Can you guess what I asked him for?  Not a loaf or two of glorious SF sourdough.  No chocolate from Ghirardelli.  No artisan, hand-crafted this or that.  Instead, I asked for jars.  Particularly Weck Jars from Heath Ceramics.  At the time, they were a bit of a rarity.  Crate & Barrel and West Elm hadn't started selling them yet.  I was completely elated the evening Jorge walked through the door carrying two large bags filled with carefully-wrapped Weck Jars.  This obsession has continued ever since.
With such a wide variety of glass beauties at my fingertips, I'm always looking for new ways to use my jars.  And now, I'm jumping on the Salad in a Jar bandwagon.  Here's the basic idea: salad ingredients are layered inside a large canning jar in such a way that the greens stay crisp and fresh.  Liquids at the bottom.  Greens at the top.  With this framework in place, you can make a number of jarred salads on the weekend to enjoy throughout the week.  Continue reading for my layering technique plus a Salad in a Jar recipe that uses white beans, fennel and chorizo.
Here's the breakdown:
Layer 1:  Salad Dressing.  Any liquid ingredients must stay at the bottom of the jar to keep the greens fresh.  Be sure to keep your Salad in a Jar upright while transporting to avoid a premature toss.
Layer 2:  Hard Vegetables.  Onion, fennel, bell pepper, carrot and celery can all sit in the salad dressing for several days, and still retain a pleasant texture.
Layer 3:  Beans and Grains.  Cooked beans add energy-boosting protein and nutrients while grains like rice, barley and farro provide substance.
Layer 4:  Proteins.  Cured meats like salami and chorizo can sit in the jar for several days.  Proteins like diced chicken, canned tuna, and hard-boiled eggs should be added the day you plan on eating the salad.
Layer 5:  Nuts and Seeds.  Chopped almonds, walnuts and pistachios add nice crunch.  Sunflower and pumpkin seeds are easy lower-calorie additions.
Layer 6:  Greens and Herbs.  Soft greens and herbs should be layered away from liquids to maintain a desirable texture.
Other add-ins: Softer fruit and vegetables, like avocado, tomatoes and strawberries, grated cheeses, and croutons are best out of the jar, and can be added right before eating the salad.
Infused with the flavors of Spain, the salad below is an incredibly satisfying example of the aforementioned layering strategy.  But don't feel constrained by the ingredients below.  Get creative!  Salad in a Jar variations are practically endless.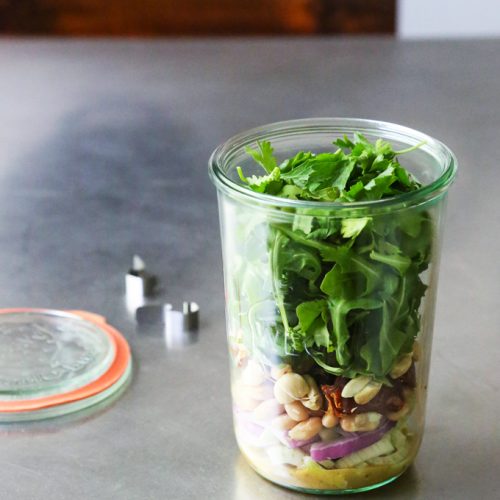 White Bean, Fennel and Chorizo Salad in a Jar
Ingredients
For the sherry vinaigrette:
2

tablespoons

extra virgin olive oil

1

scant tablespoon sherry vinegar

1

teaspoon

dijon mustard

1

dab of honey (about an 1/8 of a teaspoon)

1/2

garlic clove, minced

Kosher salt

Freshly ground black pepper
For the salad:
Sliced fennel

Sliced red onions

Cooked white beans (rinsed if from a can)

Sliced Spanish chorizo, casing removed

Chopped marcona almonds

Baby arugula (or other salad green)

Fresh parsley leaves
Instructions
Add extra virgin olive oil, sherry vinegar, Dijon mustard, honey and minced garlic to a small canning jar. Season with 2 pinches of salt and several turns of black pepper. Cap the jar, and shake until ingredients are well-combined. Add additional salt and pepper to taste. The vinaigrette should be a bit over-salty since it will be providing the salt for the other salad ingredients as well.

Put 2 – 4 tablespoons of sherry vinaigrette in the bottom of a large canning jar (26 – 32 oz.). Add ingredients to taste in the following order: sliced fennel, sliced red onions, cooked white beans, sliced Spanish chorizo, baby arugula, and fresh parsley leaves. You'll want about 1/3 of the jar filled with toppings (like the fennel and chorizo), and 2/3 of the jar filled with greens (arugula and parsley). Cap the jar, and store in the refrigerator for up to 3 days.

When you are ready to eat the salad, shake up the contents in the jar, then transfer to a large plate.
Tried this recipe?
Tag @brandiego on Instagram so I can check it out!
Have you tried making a Salad in a Jar?  If so, what are some of your favorite ingredients or combinations?
1