I'm not a big sports fan, but I sure do love game day/tailgating eats.
This post may contain affiliate links.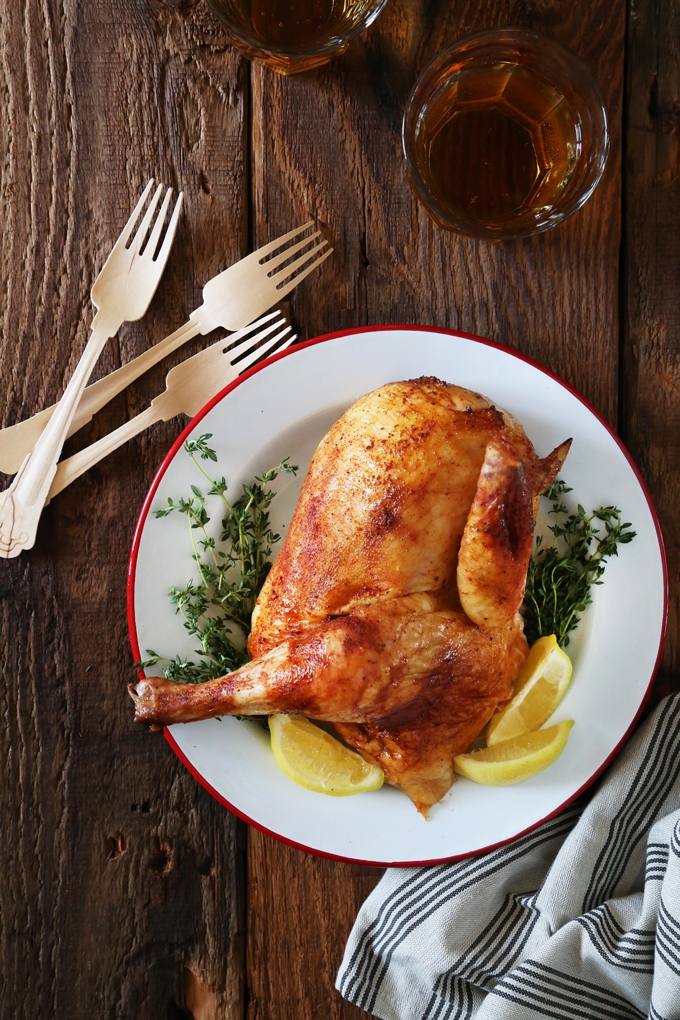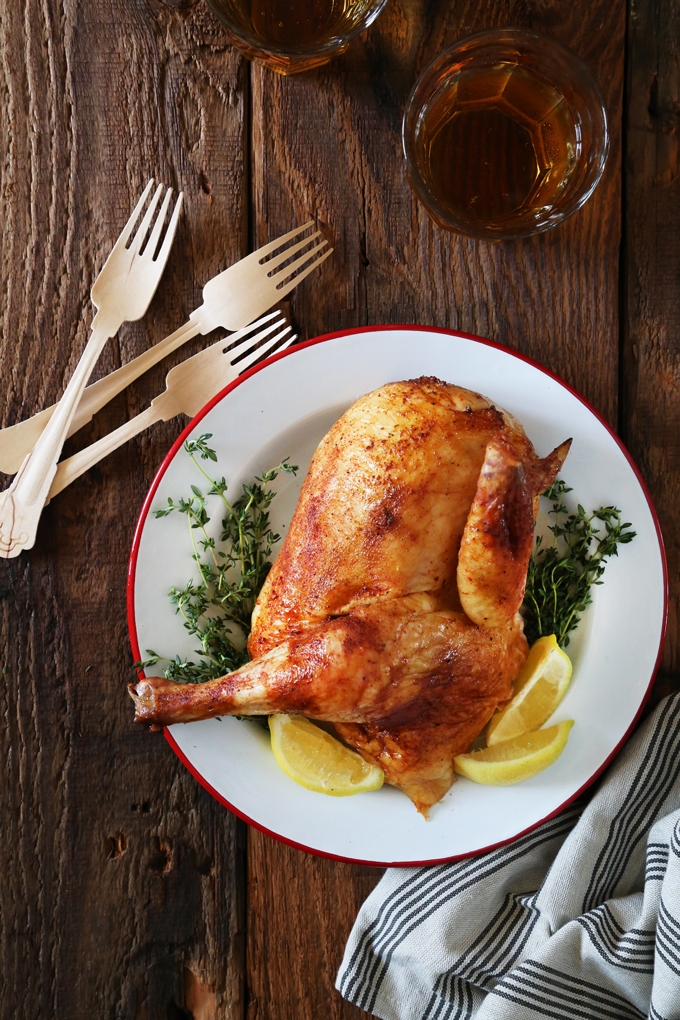 Like this Beer Can Chicken.  Kosher salt, brown sugar, paprika, cayenne and black pepper get rubbed on first.  Then, the chicken takes a seat on a can filled with light beer, onion, garlic, lemon zest and thyme.  Cooked upright on the grill, this brazen bird gets infused with flavor from the inside out.  I like to serve simply with  lemon wedges.  And beer of course 😉
If you'd like to take this recipe on the go (to your next tailgating party), prep everything in advance for easy game day execution.  The bulk dry rub can be made a week in advance, and stored at room temperature.  Give your bird a rubdown at least one hour in advance, allowing the flavors to get into the meat.  The thyme, onion and garlic can be prepped and stored together; however, don't zest the lemon in advance.  If not used immediately, the flavor of the lemon oils will diminish quickly after zesting.  Finally, when transporting chicken, make sure it's well-wrapped in plastic and well-chilled on ice.  Continue reading for the recipe.
I've tested a number of recipes for Beer Can Chicken, and at first, I was getting a little frustrated with the whole beer can situation.  Aluminum beer cans are flimsy.  They can easily get crushed, dented and/or tipped over (speaking from personal experience).  Also, the mouth is too small.  It's difficult to add aromatics, and restricts escaping steam.  To fix these issues, I replaced the beer can with a clean 14 oz. can (see photo above).  These cans are solid, sturdy, and have a wide mouth, making it easy to add liquids and aromatics.  The wide mouth also lets out more steam, infusing more flavor into the chicken.  This solution requires a little extra effort (cleaning the can), but the benefits are well worth it.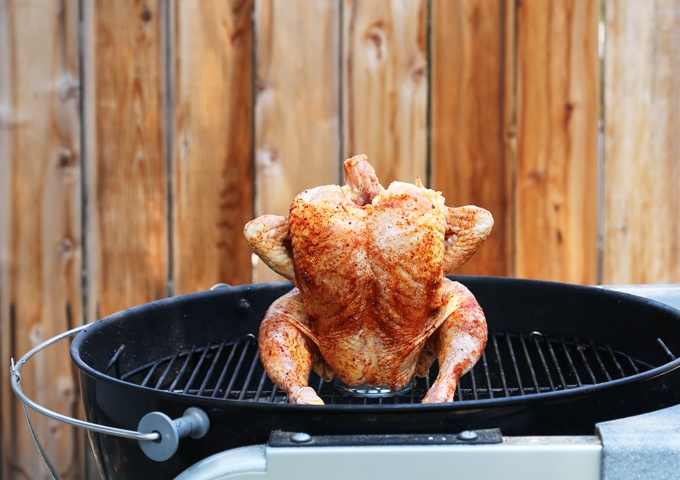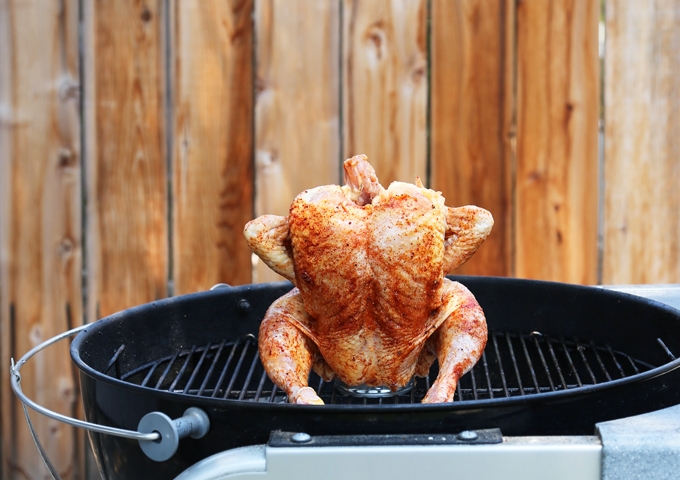 So sassy!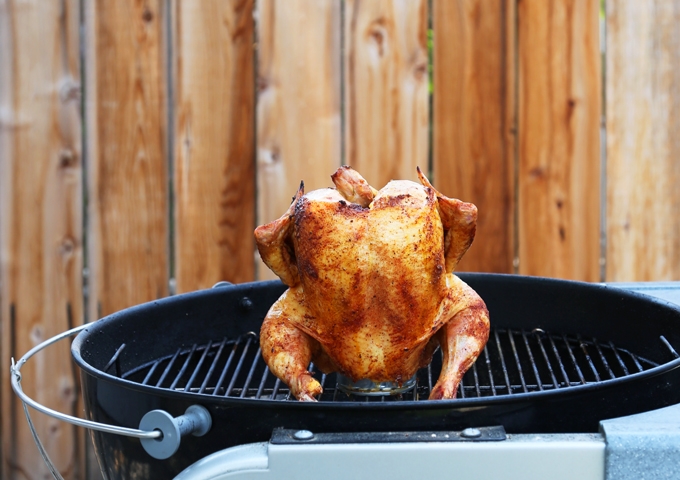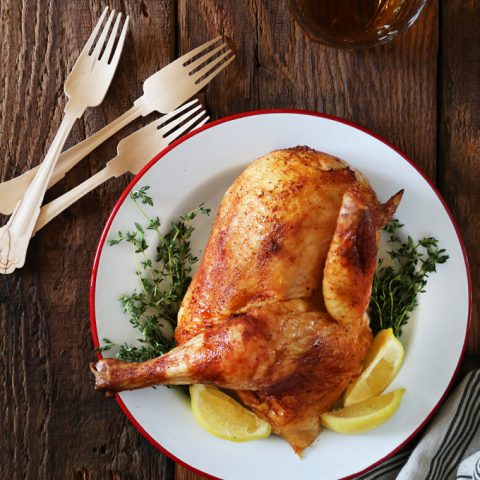 Beer Can Chicken
Ingredients
For the dry rub:
4

tablespoons

kosher salt

3

tablespoons

light brown sugar

1 1/2

tablespoons

paprika

1/2

tablespoon

smoked paprika

1/2

tablespoon

cayenne pepper

1/2

tablespoon

freshly ground black pepper
For the chicken:
1

(4 – 5 pound) whole chicken, neck and giblets removed, rinsed, and well dried

2

heaping tablespoons dry rub

6

sprigs fresh thyme

2

garlic cloves, smashed and peeled

1/4

yellow onion

2

strips lemon zest

1

can or bottle of room temperature light lager (or use whatever's available)

Lemon wedges, for serving
Special equipment: 1 14 oz. can (label removed and any glue cleaned off), charcoal or gas grill, 1 aluminum baking dish (if using charcoal grill)
Instructions
Add kosher salt, brown sugar, paprika, smoked paprika, cayenne and black pepper to a jar. Cover and shake to combine. Measure out 2 tablespoons and save the rest for another chicken. Season the chicken all over with the dry rub (including in the cavity). Transfer to the refrigerator, and let sit for at least 1 hour.

Prepare your grill for indirect heat cooking. If using a charcoal grill, place an aluminum baking dish in the middle of the charcoal grate, then surround with hot coals. The pan will catch any dripping fat, minimizing flare-ups. If using a gas grill, fire up only half of the burners.

Place thyme, garlic, onion and lemon zest in a clean 14 oz. can. Pour in beer until the can is half full. Enjoy remaining beer immediately. Lower the chicken on to the can. The can should fit snugly in the chicken's cavity. Transfer the chicken to the grill over the indirect heat zone. The chicken's legs and can should form a tripod to keep it stable. Cover, and cook until a meat thermometer inserted into the thickest part of the thigh reads 160°F - 165°F (50 – 65 minutes). Transfer the chicken upright to a cutting board, and let rest for 10 minutes before carving.

Carefully remove the can from the cavity (the beer may still be hot), and cut chicken into halves or pieces. Serve with lemon wedges.
Tried this recipe?
Tag @brandiego on Instagram so I can check it out!
6