Remember when I told you how much I enjoy Game Day grub?  Well here's another recipe I love to eat while pretending to watch the game: Charred Onion and Bacon Dip.
This post may contain affiliate links.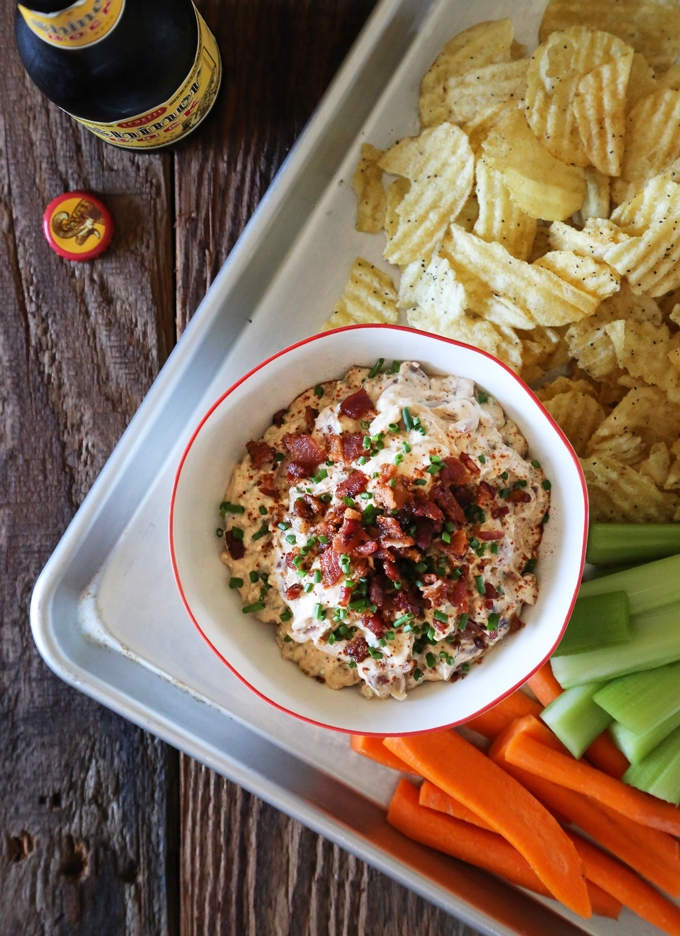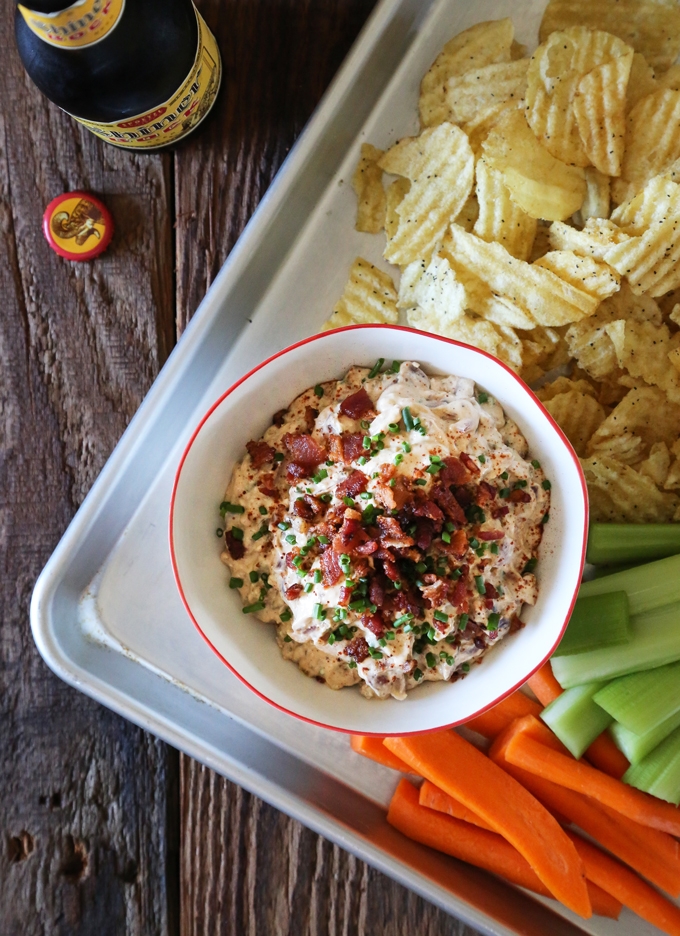 Thick slices of sweet red onion are cooked in bacon fat AND butter until melting and blackened around the edges.  Honey, garlic and white wine are added to boost sweet and savory flavors.  After a quick chop, this charred onion flavor bomb is mixed into a rich blend of cream cheese and sour cream.  The dip is finished with chopped bacon, chives, smoked paprika, cayenne pepper and lemon juice.  Pair this big, bold dip with some all-star accompaniments: crisp potato chips, sweet carrot sticks and fresh sliced celery.  I've served my Charred Onion and Bacon Dip at a number of parties, and it's always a friend favorite!
This onion dip is another recipe I put together in partnership with Jimbo's… Naturally! at Westfield Horton Plaza.  Almost all ingredients used in this recipe were organic, and I'll have to tell you, I'm really learning to love organic products.  I can truly taste a difference between organic and regular.  Especially with produce!  Check out some of my other Jimbo's… Naturally! recipes:
Jimbo's… Naturally! only has locations in and around San Diego, CA.
**This Giveaway Has Ended**
Jimbo's… Naturally! also has a huuuuge selection of pre-made food that would be perfect for a Game Day party.  Pair something homemade with store-bought bites to create an almost effortless spread that's sure to impress.  There's no need to make everything from scratch!
Charred Onion and Bacon Dip
Ingredients
4

strips of organic applewood smoked bacon (about 6 oz.), cut into small slices

2

tablespoons

organic unsalted butter

1

medium organic red onion, cut into 1/2-inch thick rings

Kosher salt

Freshly ground black pepper

1

teaspoon

organic honey

3

cloves

organic garlic, chopped

1/4

cup

white wine

3/4

cup

organic sour cream

1/4

cup

2 oz. organic cream cheese, at room temperature*

1/2

teaspoon

organic smoked paprika

Pinch

of cayenne pepper

1 1/2

tablespoons

finely chopped fresh organic chives, plus more for garnish

Organic lemon
Organic potato chips, carrot sticks and celery sticks, for serving
Instructions
Cook the bacon in a large cast iron skillet over medium heat until crispy. Take the pan off the heat, spoon cooked bacon on to a paper-towel lined plate, reserve 2 tablespoons of bacon fat, then discard remaining fat. Finely chop cooked bacon and set aside.

Add reserved bacon fat back to the skillet with butter. Warm the skillet over medium-high heat until the butter starts to foam, then add the rings of red onion. Season one side with kosher salt and black pepper. Let the onions cook and caramelize for 5 minutes, then carefully flip each ring. Season the second side with kosher salt and black pepper. Continue to cook until the onions get dark around the edges (4 – 5 minutes more). It's ok if some spots get blackened. Add the honey and garlic, and let cook until the garlic gets fragrant (about 1 minute). Add the white wine, and simmer until the liquid reduces and thickens (about 3 minutes). Take the pan off the heat and let cool to room temperature.

Add sour cream and cream cheese to a medium bowl, and, using a spatula, mix until smooth and combined. Finely chop the cooled onions, then add them to the bowl along with any juices remaining in the pan or on the cutting board. Add smoked paprika, cayenne pepper, 3/4 of the chopped bacon, chopped chives, a pinch of kosher salt, and a squeeze of fresh lemon juice, stirring to combine. Season to taste with additional kosher salt, black pepper and lemon juice.

To serve, transfer dip to a clean bowl, and garnish with remaining chopped bacon, chives and a sprinkling of smoked paprika. Place dip on a large platter, and surround with potato chips, carrot sticks and celery sticks. Enjoy with plenty of cold beers.
Notes
* The cream cheese must be at room temperature, or else it won't properly combine with the sour cream. Take the cream cheese out several hours before you plan on making this dip.
Tried this recipe?
Tag @brandiego on Instagram so I can check it out!
I partnered with Jimbo's… Naturally! and Westfield Horton Plaza on this article.  At the time this article was written, I was an employee of Westfield.  All thoughts, opinions and recipes shared in this article are my own.
PS. I do know that the Chargers won yesterday.  Go Bolts!!
6