It's about to get all sorts of tasty up in here.
This post may contain affiliate links.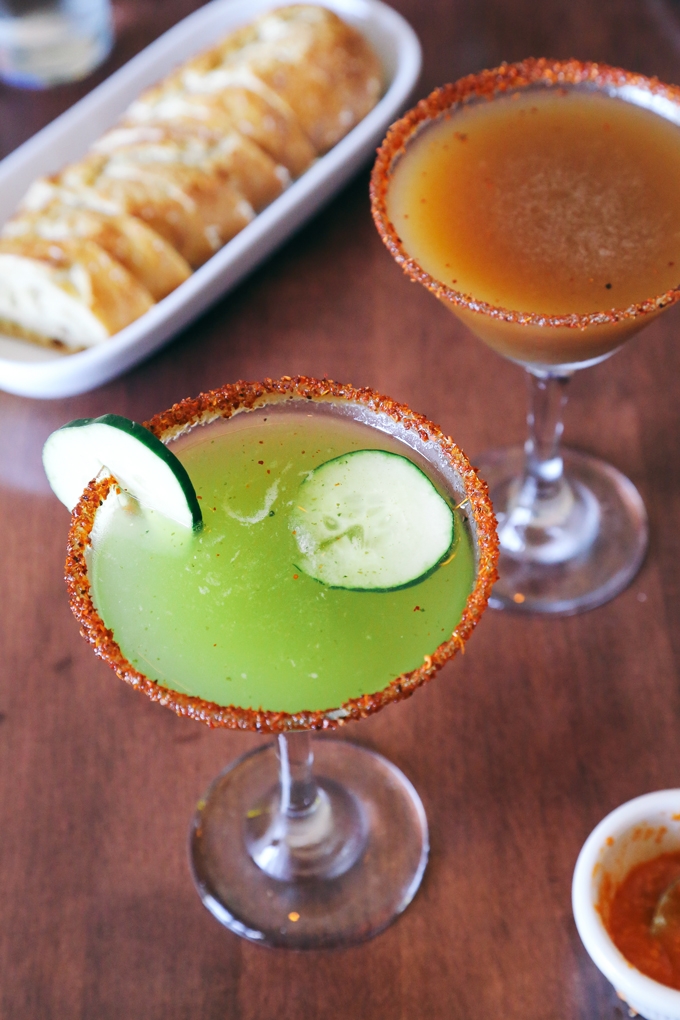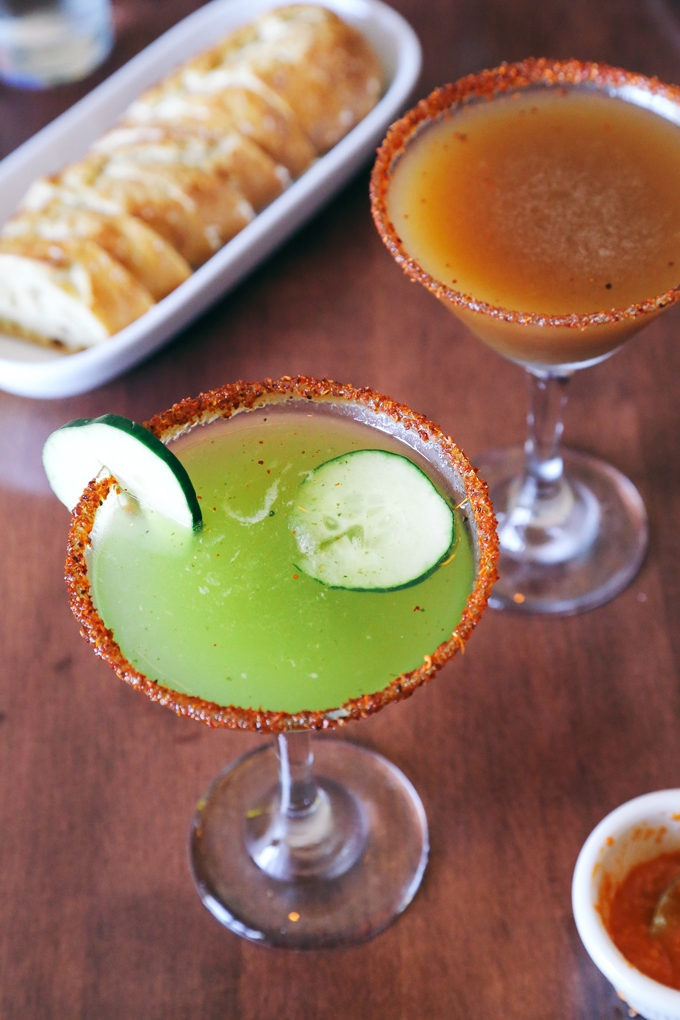 Several weeks ago, I had an outstanding meal at Romesco in San Diego with my boyfriend Jorge.  David Nelson, a friend and food writer extraordinaire, also joined us for the afternoon.  Romesco, known for its upscale Mexican-Mediterranean cuisine, is a must-visit restaurant by Chef Javier Plascencia.  Jorge and I had a fantastic experience at Misión 19, another Chef Plascencia hotspot, just months earlier in Tijuana, so I had a feeling that Romesco would be a treat.  And let me tell you.  It was.  Continue reading for highlights from our meal at Romesco, plus a recipe for their super tasty Cucumber Martini.
We started our meal with drinks and plenty of appetizers.  In addition to the Cucumber Martini (pictured above), we also had a Tamarindo Martini (below).  Both drinks were rimmed with Tajin, a seasoning made with chile and salt.  The Tamarindo Martini was sweet, tart and spicy while the Cucumber Martini was crisp and refreshing.  I've had plenty of Cucumber Martinis in the past (like this one), but this is the first that pairs salt and spice against the coolness of the cucumber.  I loved it so much that I asked for the recipe, and Romesco graciously shared.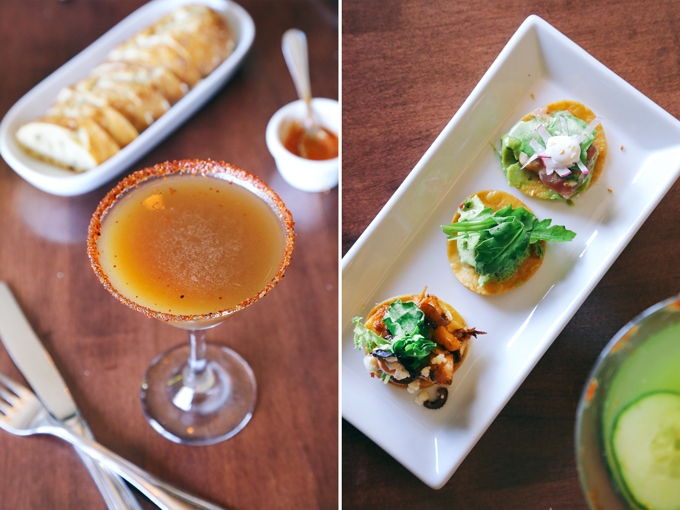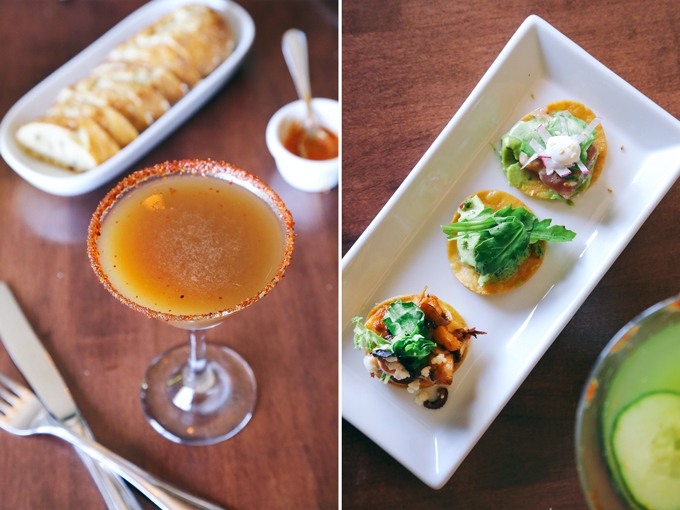 With our drinks, we enjoyed a trio of tostadas, including octopus, ahi tuna and abalone.  The abalone (my favorite) was prepared escabeche-style, dressed in a chimichurri and habanero sauce.  These bites were fresh and bright with a satisfying crunch from the fried tortilla.  Everything you want in an appetizer.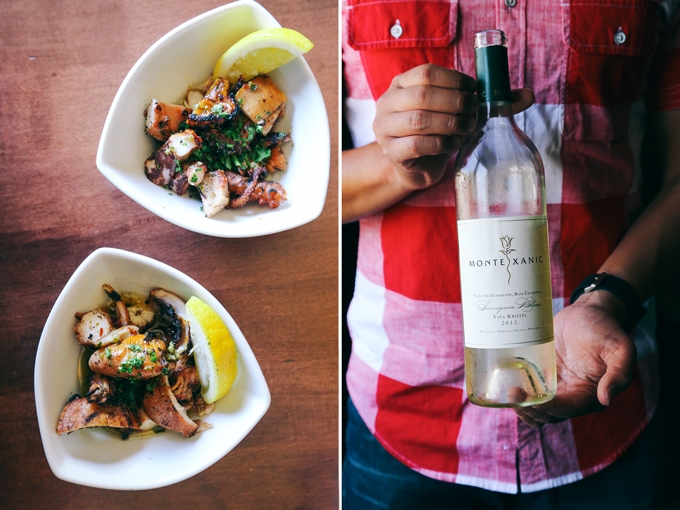 Next up, my favorite bite of the meal: Puplo Asado a las Brasas.  Wonderfully charred octopus sitting in a bath of warm butter, chile and aromatic dried oregano.  Chopped herbs and fresh lemon brightened everything up.  This appetizer was ridiculously delicious.  AND on top of it all, Romesco perfectly paired this appetizer with a crisp sauvignon blanc from Mexico's wine country, the Valle de Guadalupe (close to Tijuana).  When you go to Romesco, be sure to order these two items.  Trust me.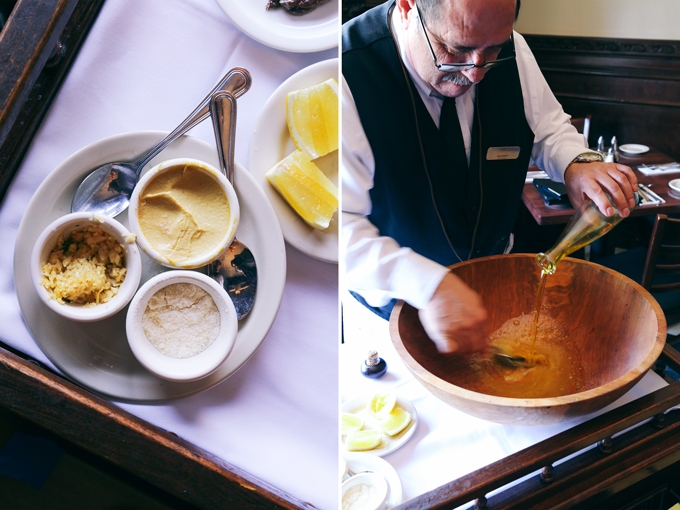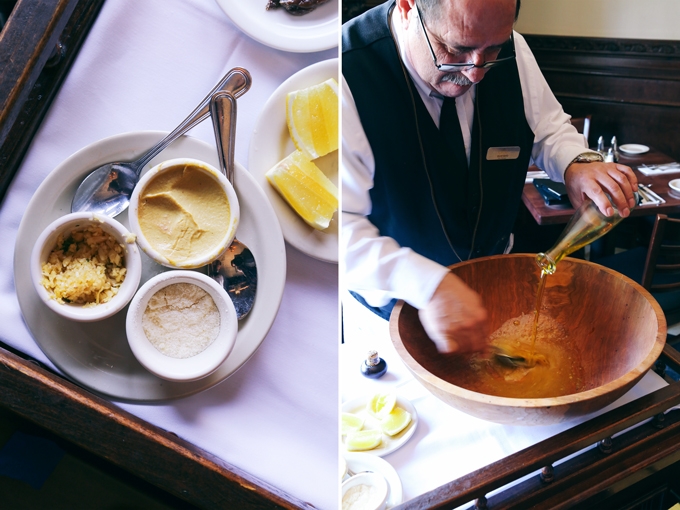 Following the incredible octopus was an entertaining table-side Caesar salad preparation.  Did you know that Caesar salad originated in Tijuana, Mexico?  There are several stories floating around on how the salad got its start, but all stories begin at Caesar Cardini's restaurant on Revolution Street in Tijuana.  Several years ago, the original Caesar's closed down, but now the restaurant is back in action under Chef Javier Plascencia.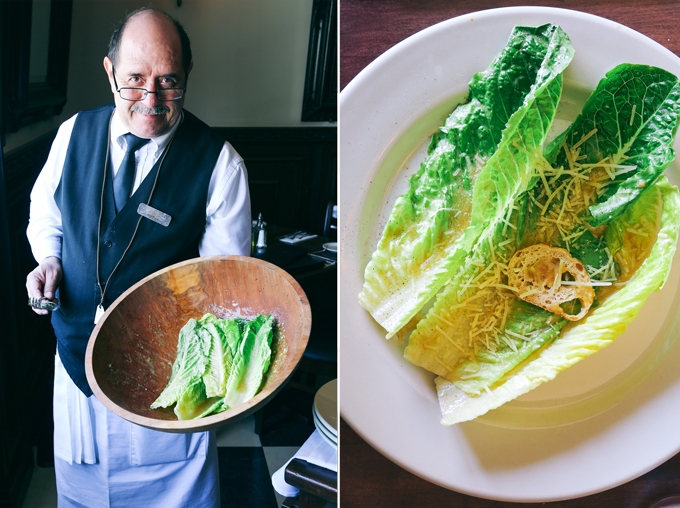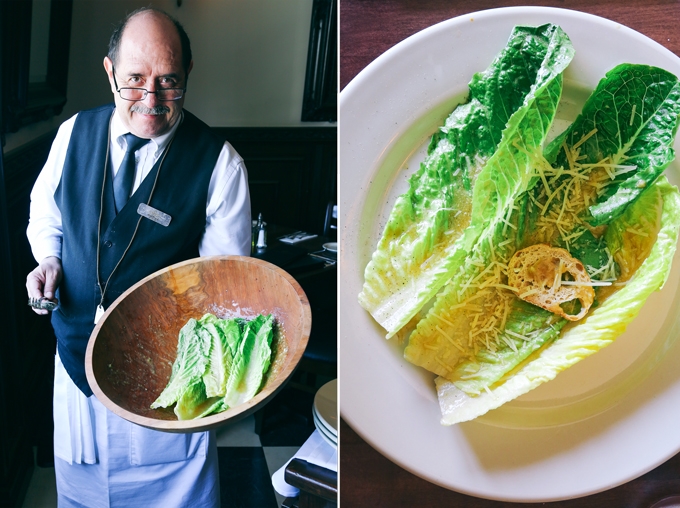 The presentation started with anchovy and lemon mashed up in the bottom of the bowl.  Next, chopped garlic, mustard and Worcestershire sauce were mixed in until combined.  A raw egg joined the bowl followed by a steady stream of olive oil.  Our server, Gustavo, whisked steadily to emulsify the dressing.  A final dusting of Parmesan and black pepper were added just before the crisp spears of fresh romaine.  The greens were tossed, then divided between the three of us.  Each plate adorned with more Parmesan, black pepper and single crostino.  I wiped my plate clean.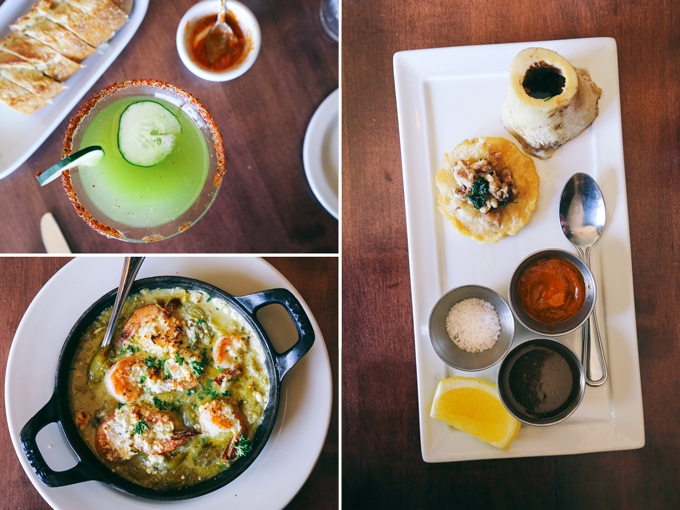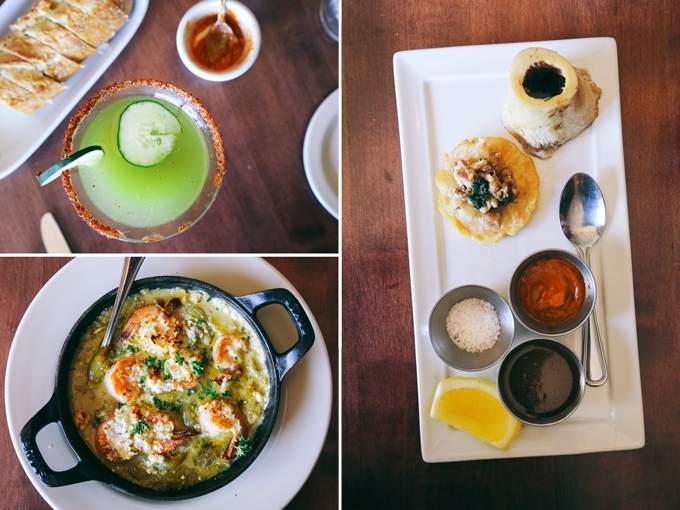 Halfway through the meal, servers brought out a piping hot skillet filled with succulent prawns swimming in a garlic tomatillo salsa (Cazuelita de Gambas) and plates of Bone Marrow Sopes, served DIY-style.  Perhaps it was the martinis and wine talking, but I kept on saying Consuela de Gambas rather than Cazuelita.  Either way, both dishes were happily gobbled up in a matter minutes.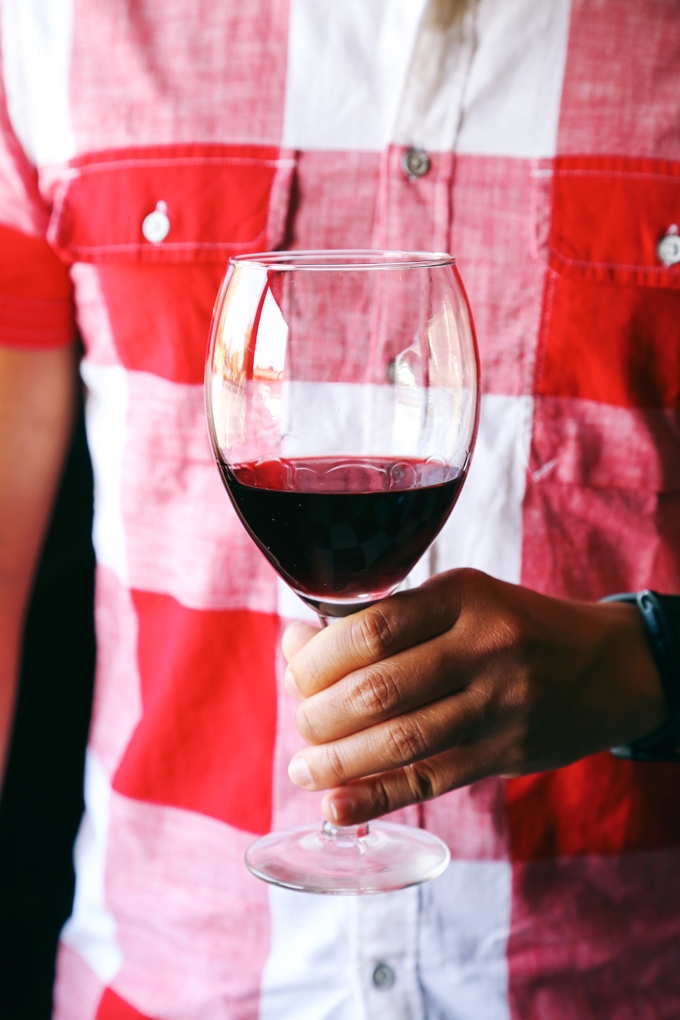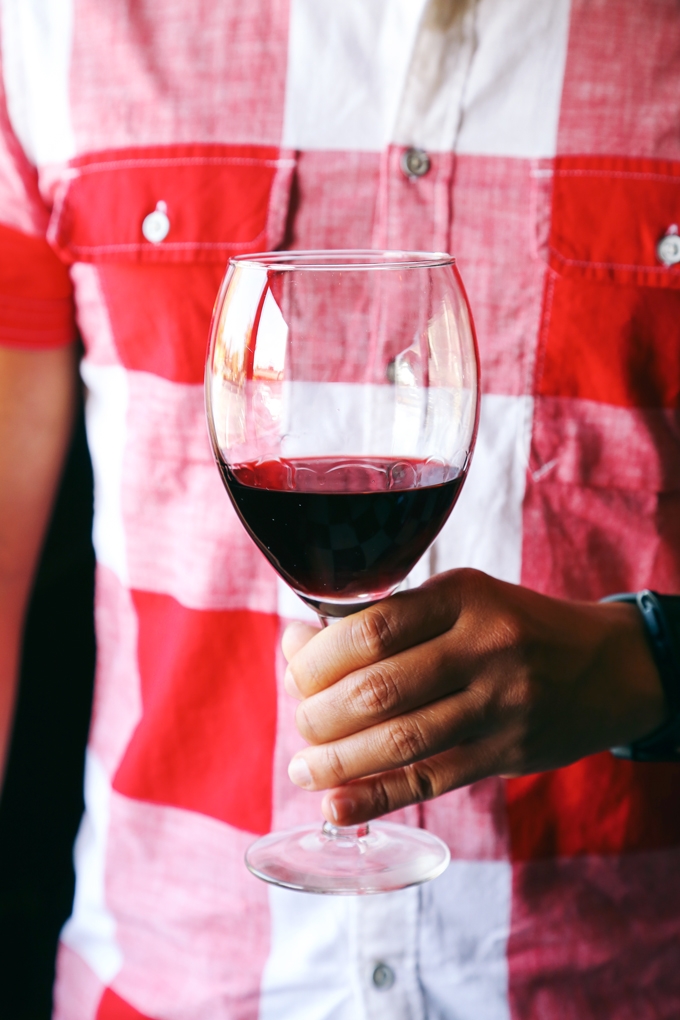 For our  main entree, we enjoyed Romesco's signature slow cooked beef short rib with braised vegetables and yukon potato puree.  The short rib was fall-apart tender with an incredible savory, meaty flavor.  And the vegetables (which, at first sight, I considered to be a throw-away) provided a nice fresh counter to the richness of the meat and potatoes.  Romesco paired this short rib with a glass of Madera 5 Tempranillo Cabernet also from the Valle de Guadalupe.  Usually I'm a cocktails and beer guy, but I can honestly say that the two wines we tried from the Valle de Guadalupe were D. Lish.  They seriously have me interested in exploring Mexican wine country.
Already stuffed and satisfied, we finished our meal with a plate of churros, dulce de leche, Mexican hot chocolate and vanilla ice cream.  And some port too 😉  Zero complaints here.  Zero complaints anywhere really.
A big thanks to the Romesco team for hosting me, Jorge and David.  The food was outstanding, and the service was top notch.  We'll definitely be back.  Continue reading for Romesco's Cucumber Martini.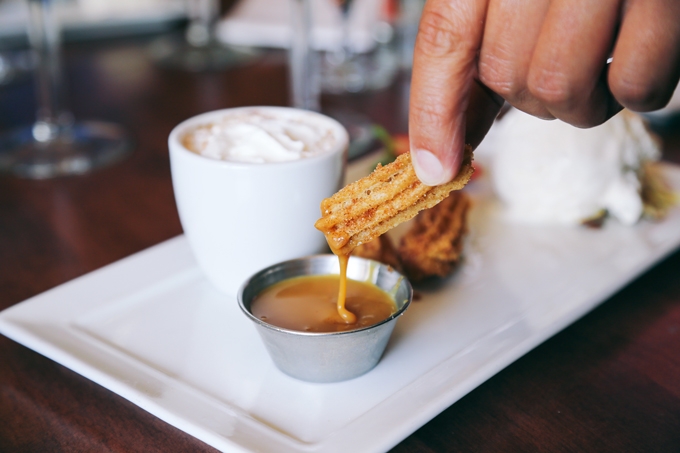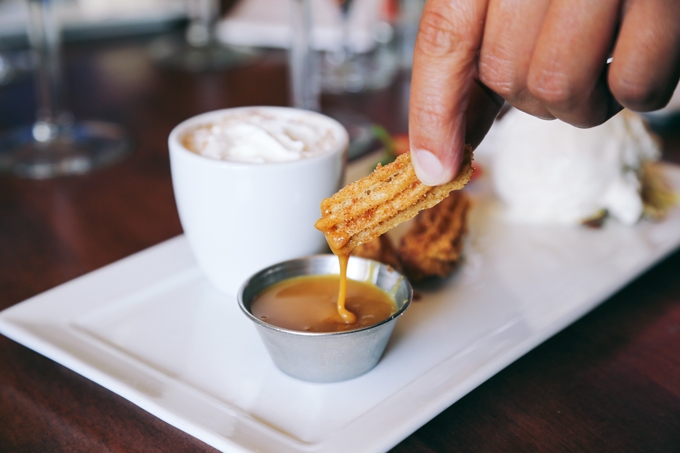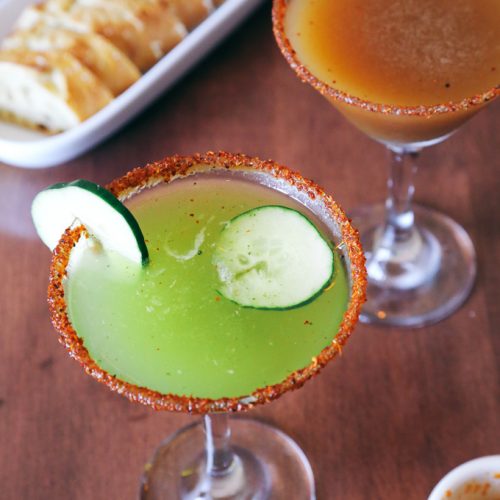 Romesco's Cucumber Martini
This recipe was provided by Romesco.
Ingredients
Cucumber Mix:
1

chopped cucumber

10

oz.

simple syrup

10

oz.

lime juice

8

mint leaves
Cucumber Martini:
1 1/2

oz.

vodka

2

oz.

cucumber mix

Agave nectar

Kosher salt

Tajin

Tamarind syrup*

Cucumber slices, to garnish
Instructions
To make the cucumber mix, add cucumber, simple syrup, lime juice and mint leaves to a blender, and blend until smooth. This is enough mix for 12 - 14 martinis.

To make the Cucumber Martini, add vodka and cucumber mix to a shaker with ice. Add a dash of agave nectar, salt and Tajin, cap the shaker, then shake until well-chilled.

Add 1 teaspoon of Tajin to a small plate with a small pinch of kosher salt. Wet the rim of a chilled martini glass with tamarind syrup. Turn the wet rim through the Tajin-salt mixture until evenly coated.

Strain the drink into the prepared martini glass, and garnish with cucumber slices.
Notes
* You can purchase tamarind syrup online or in a Mexican market. You can also make the syrup at home. I'm sure you could also use just lime juice here if you can't find tamarind.
Tried this recipe?
Tag @brandiego on Instagram so I can check it out!
23