I'm not ready to give up summer just yet.
This post may contain affiliate links.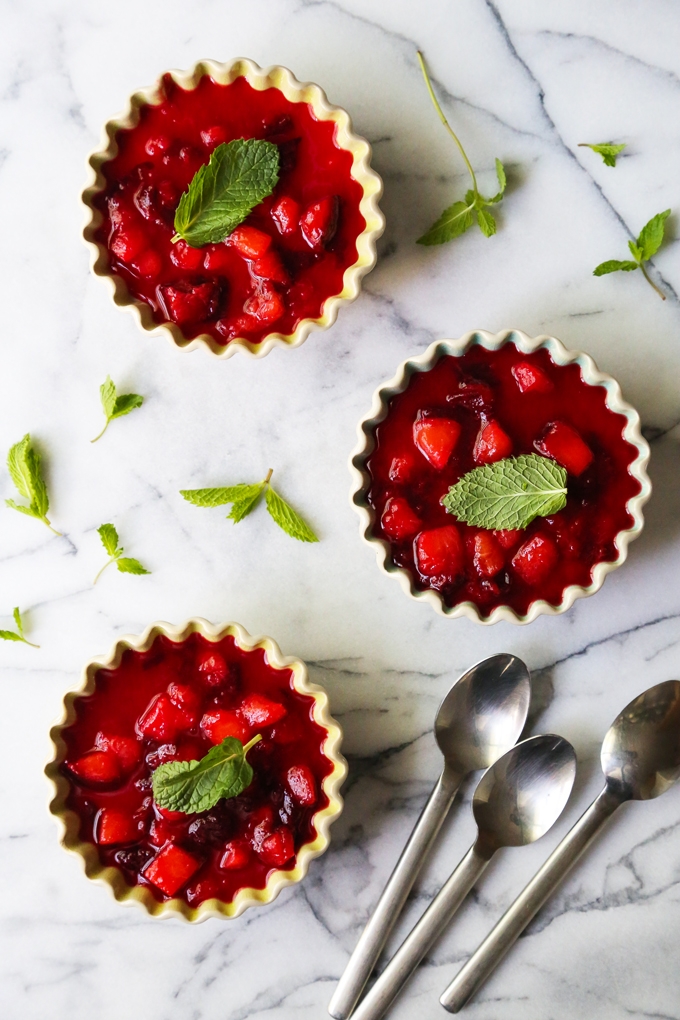 Apples, pears, quince and pumpkins will all have their turn.  But for now, I'm holding on to summer with this Yogurt Panna Cotta with Plum Compote.  Panna cotta is a favorite dessert of mine, because the process is easy, and the results are spectacular.  Typically made with heavy cream, panna cotta is custard-like dessert that is thickened with gelatin instead of eggs.  The texture is smooth, rich and silky.  In this recipe, tangy whole-milk yogurt is flavored with sugar, citrus zest and an entire vanilla bean, then firmed up with powdered gelatin.  After an overnight chill, the panna cotta is topped with a sweet-tart Plum Compote (made with 3-ingredients!), and fresh, fragrant mint leaves.  So simple.  So delicious.  Continue reading for the recipe.
This recipe starts by flavoring whole milk with lemon zest, lime zest, orange zest, and a whole vanilla bean (seeds and all).  A milk-gelatin mixture and whole-milk yogurt are then added for body, flavor and texture.  This mixture needs to chill and firm up in the fridge for at least 8 hours, so please plan accordingly.
The flavors are straightforward here, so be sure to use the highest quality ingredients possible.  You don't want to use cheap yogurt, because your finished panna cotta will taste like cheap yogurt.  A vanilla bean will add a more complex flavor compared to vanilla extract (plus the seeds are pretty).  And make sure your citrus is fresh and plump.
This recipe can also be made with just one type of citrus.  Instead of three different strips of citrus zest, use three strips of one type (orange, lime or lemon).  Play around and have fun!
Yogurt Panna Cotta
Ingredients
1 1/2

cups

whole milk, divided

2 1/4

teaspoons

(1 packet) unflavored gelatin powder

1/2

cup

sugar

1

strip orange zest (about 3 inches long)

1

strip lemon zest (about 3 inches long)

1

strip lime zest (about 3 inches long)

1

vanilla bean, split lengthwise

2

cups, plain good quality whole-milk yogurt

Plum Compote, for serving (recipe below)

Fresh mint leaves, for serving
Instructions
Add 1/2 cup milk to a small bowl, and sprinkle over gelatin powder. Let sit without stirring until the gelatin blooms (softens), about 10 minutes.

Meanwhile, place remaining 1 cup of milk, sugar and citrus zest in a small saucepan over medium heat. Scrape the seeds from the vanilla bean, and add them to the sauce pan along with the pod. Bring the mixture to a simmer, stirring to dissolve the sugar. Take the pan off the heat, and add the milk-gelatin mixture, stirring until dissolved (about 3 minutes). Let the mixture cool until lukewarm (8 - 10 minutes), then remove the vanilla bean pod and zest strips.

Pour the flavored milk into a large bowl (preferably with a pour spout), then whisk in the yogurt until well-combined. Divide the yogurt mixture between 4 8-ounce (or 6 6-ounce) ramekins (or pretty bowls), cover each with plastic wrap, and chill in the refrigerator until set (at least 8 hours).
To serve, spoon chilled Plum Compote over Yogurt Panna Cotta, then top with fresh mint leaves.
Tried this recipe?
Tag @brandiego on Instagram so I can check it out!
Easy Plum Compote
Ingredients
6

large plums (around 2 pounds), pitted and diced

1/2

cup

sugar

Fresh lemon juice
Instructions
Place diced plums and sugar in a medium saucepan (I used cast-iron here) over medium heat. Bring the mixture to a simmer, stirring to dissolve the sugar. Reduce heat to medium-low, and continue to cook, stirring occasionally, until the mixture thickens and some of the plums break down (20 - 25 minutes).

Take the mixture off the heat, and taste for sweet-tart balance. If the mixture is too sweet, add a squeeze of fresh lemon juice. Taste, and repeat until the balance is to your liking. Let cool to room temperature, transfer to a clean container, and store in the refrigerator. Make sure the compote is well-chilled before using with the panna cotta. Enjoy any leftovers with pancakes, granola, ice cream or Greek yogurt.
Tried this recipe?
Tag @brandiego on Instagram so I can check it out!
1