Jorge and I had a suuuuper tasty brunch at The Patio on Goldfinch recently.  I've got highlights from our meal below along with a recipe for their mezcal-based Plumosa cocktail.
This post may contain affiliate links.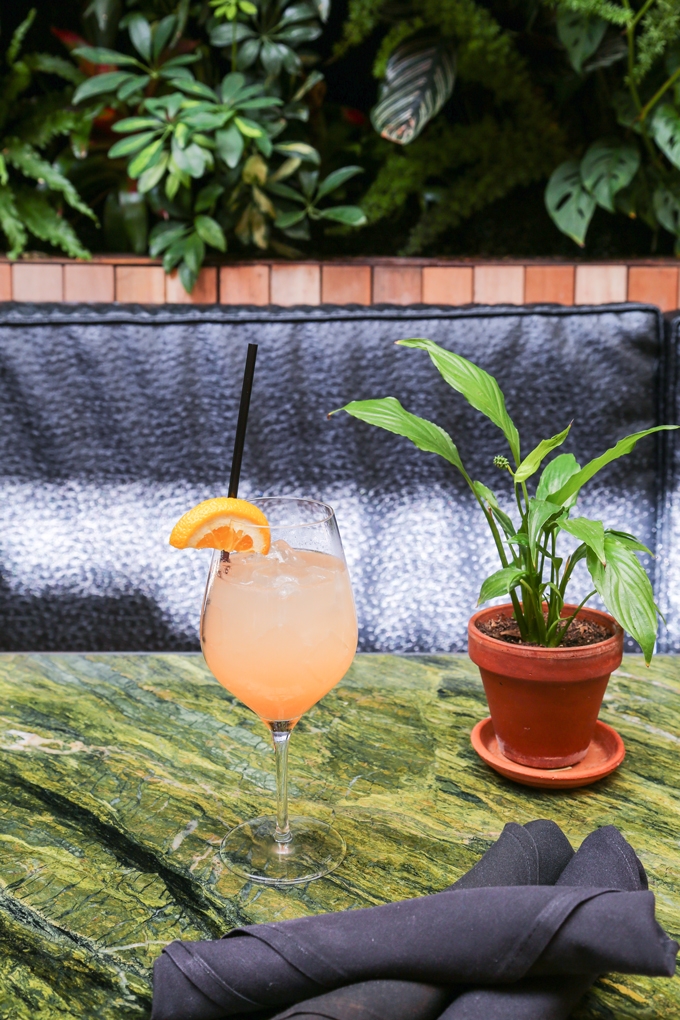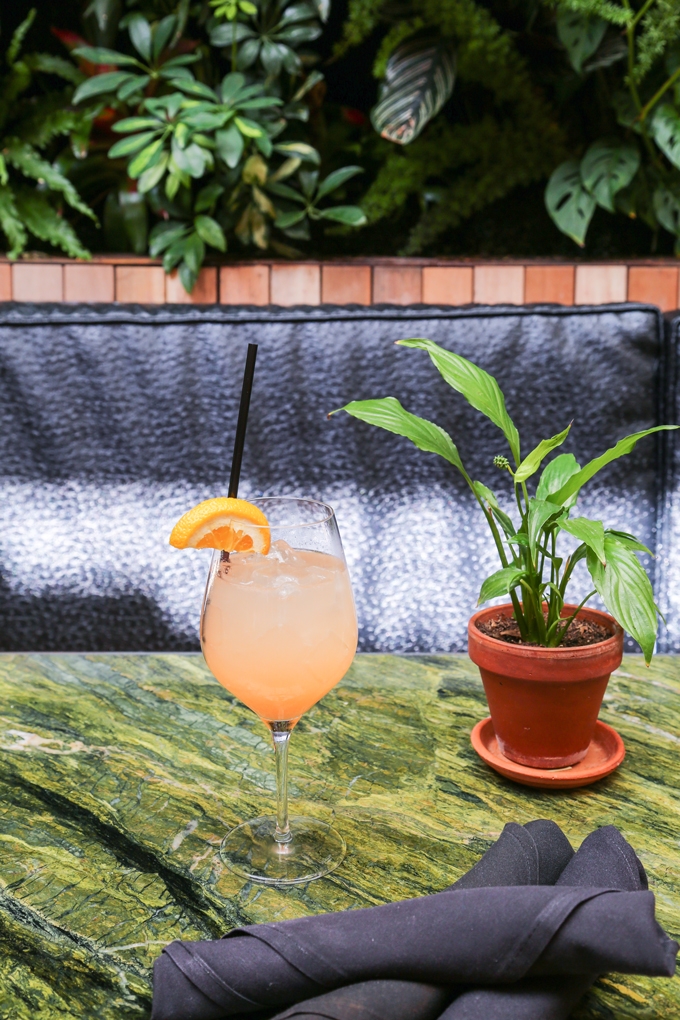 Let me start by saying that The Patio on Goldfinch is one gorgeous restaurant.  Lush living walls.  Reclaimed wood accents.  Marble counter tops in hues of red, gray and deep green.  The space is luxurious yet still comfortable and approachable.  Led by executive chef John Medall, The Patio on Goldfinch is the sister restaurant of The Patio on Lamont in Pacific Beach.  Serving breakfast, lunch and dinner (and everything in between), The Patio has an eclectic, modern menu and a killer cocktail list.  Oh, and they've also got an entire room dedicated to cheese called The Cheese Cave.  That's right, a cave of cheese.
Jorge and I sat in the back area surrounded by natural light flooding in through the massive skylights above.  Behind us was a towering wall of cascading ferns and philodendron.  My eyes danced about the space, taking in all of the thoughtful details.  Overall, A+ for atmosphere.  Now, let's get to the food.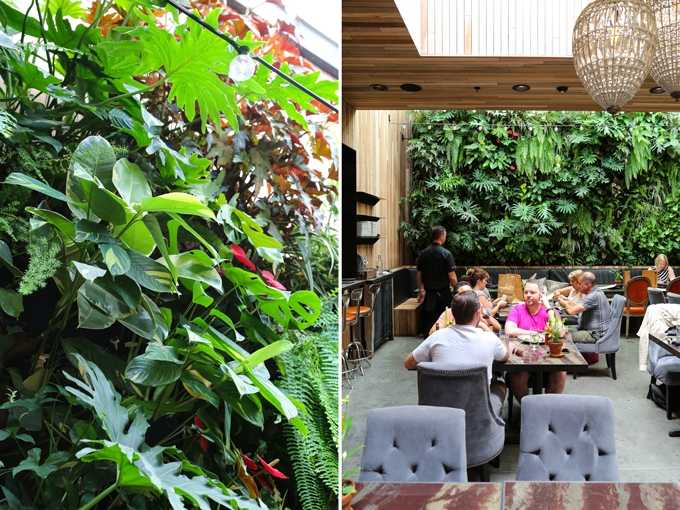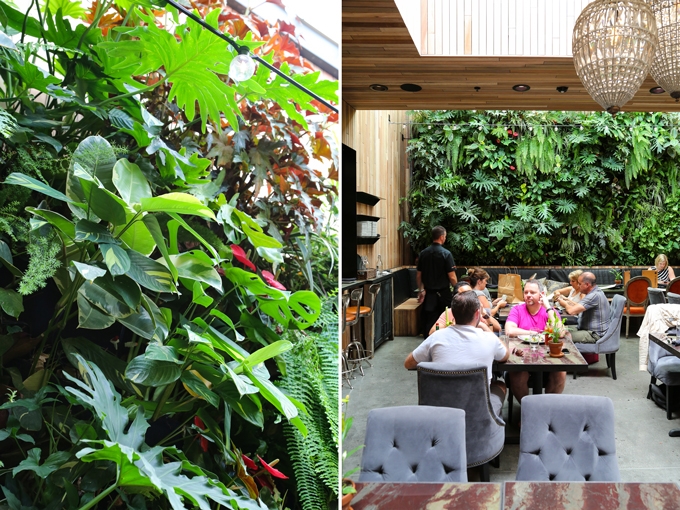 Despite my overall excitement for The Patio's Cheese Cave, Jorge and I did not order any cheese.  Brunch was the plan, and I wasn't quite in the mood for a cheese platter at that time.  Instead, I made my way into the cave to snap some photos while, with wide eyes, taking in all the shelves of cheesy goodness.  I definitely plan on making a trip back for an exclusively cheese-centric experience.
For brunch, we ordered:
Plumosa Cocktail
The Patio Breakfast Sandwich
House Cured Lox Sandwich
Bourbon Dutch Pancake
Pictured above is The Patio Breakfast Sandwich.  A housemade biscuit is split in half, then topped with a spicy pork sausage patty, over-medium egg, tomato, frisée, cheddar and Gruyère cheese, and sausage gravy.  They give you some additional gravy on the side for good measure.  This sandwich was really, really tasty.  I had one bite (this was Jorge's plate), and I wanted more!!  The buttery, crumbly biscuit was the perfect vehicle to transport all the cheesy, sauce goodness happening above.  The freshness of the tomato and frisée was a perfect counterpoint to the richness of the other flavors on the plate.
Pictured below, is the Plumosa cocktail (recipe also below).  Smoky mezcal is balanced with bright grapefruit juice and fresh ginger.  Campari and Dolin Blanc are added for depth, and lemon to round out flavors.  The color of this cocktail conjures the blush tones of a dazzling sunset.
One thing to keep in mind is that mezcal can be very, very smoky.  Mezcal comes from the agave plant, and goes through a roasting process before fermentation.  As a result, the spirit can have a strong roasty flavor.  Similar to tequila, mezcal comes in several grades, ranging from white (bright, citrusy) to Añejo (aged, oaky).  And speaking of tequila, here's a little fun tidbit: all tequilas are mezcals, but not all mezcals are tequilas!  Tequila comes specifically from the blue agave, and the plant is steamed (vs. roasted) before fermentation.  This is why tequila lacks the smoky flavor.  Both mezcal and tequila must be produced in Mexico to be considered as mezcal and tequila (just like Champagne must come from the Champagne region in France).
So if mezcal isn't really your thing, you could certainly make this cocktail with tequila.  And The Patio has a certified Catador (like a sommelier for tequila) on staff to help you select the perfect Mexican spirit while at the restaurant.
For my entrée, I enjoyed the House Cured Lox Sandwich piled high with herbed cream cheese, arugula, slices of red onion, and fried capers.  The platform for this open-face beauty was a disc of housemade croissant.  I just love how The Patio really pays attention to the details.  I mean, housemade lox??  Come on!  So good!
One special accommodation I'd like to note is that the patio of The Patio is dog-friendly.  Jorge and I would have totally brought TiVo and Boris (pug duo); however, we thought it would be difficult to manage the two dogs while taking photos for this article 😉  Next time!
For our brunch "dessert" we got the Bourbon Dutch Pancake.  I was surprised when this plate got to the table, because I was envisioning a Dutch baby pancake (a custardy pancake made in a skillet with airy, crusty sides).  Instead, we got something just as delicious.  Studded with bits of caramelized apple and banana, this light, spongy pancake had a delicious golden crust.  Tasting faintly of bourbon, the pancake was topped with a mixed berry compote, and accompanied by a saucer of pure maple syrup.  We absolutely loved this.
That's it for our brunch experience at The Patio on Goldfinch.  Jorge and I loved every plate that came out, and we'll definitely be back again.  A big thanks to The Patio team for hosting this meal for two.
The Patio's Plumosa
Ingredients
1

oz.

mezcal (tequila would work here too)

1

oz.

ginger syrup

1

oz.

freshly squeezes grapefruit juice

1

oz.

Dolin Blanc

1/2

oz.

Campari

1/2

oz.

lemon juice

Soda water
Instructions
Add all ingredients except for the soda water to a cocktail shaker with ice. Shake until well-chilled, then strain into a wine glass. Top off with soda water. Garnish with an orange slice.
Tried this recipe?
Tag @brandiego on Instagram so I can check it out!
1