Today I'm giving away a gorgeous KitchenAid 4 Quart Cast Iron Pot PLUS I'm sharing an easy (and healthy!) recipe for Pumpkin Chicken Chili.
This post may contain affiliate links.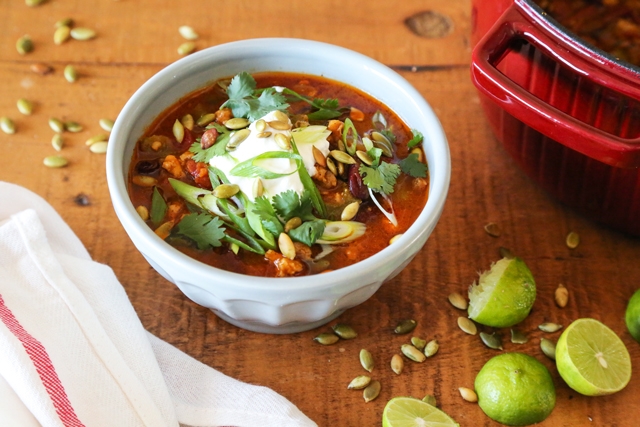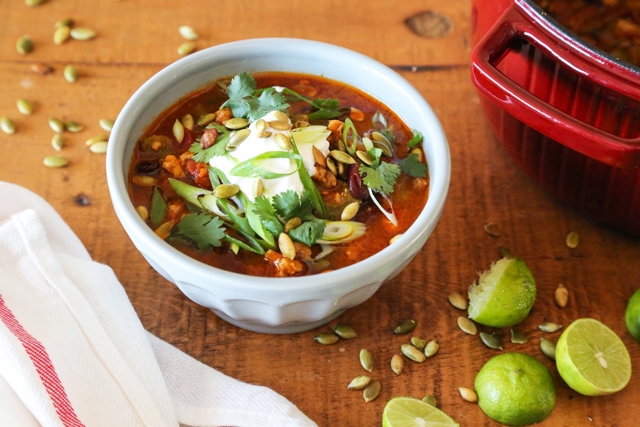 Let's start with the chili. Freshly ground chicken thighs, skin and all, are sautéed with onions, bell pepper and garlic until fragrant and brown. Flavor and body are added by way of chile powder, red pepper flake, cumin, pumpkin beer, pumpkin purée, red beans and fire-roasted tomatoes. The chili is finished with a dollop of rich sour cream, cilantro, crunchy pumpkin seeds, and a squeeze of fresh lime juice. Made in just one pot, this comforting fall soup comes together in under an hour!  Rich, bold flavors.  Hearty, satisfying texture.  So.  Yum.  Continue reading for the recipe, and giveaway details.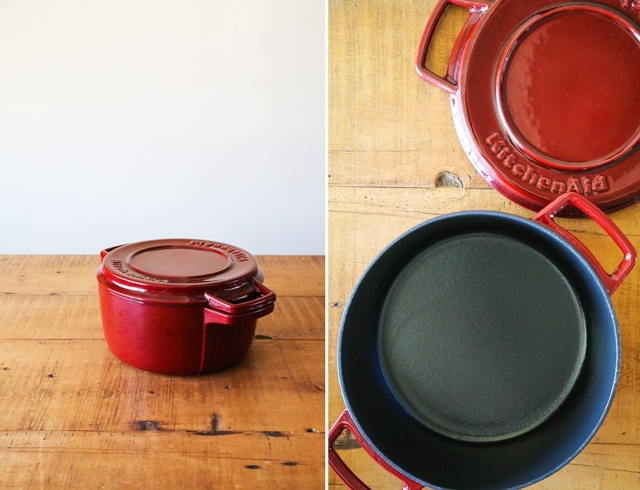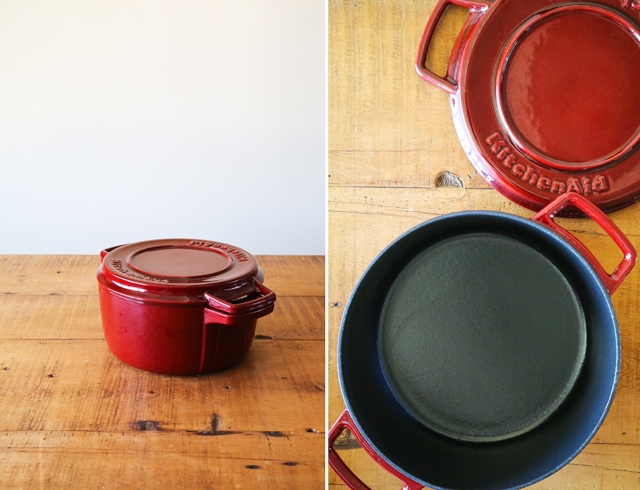 I mentioned above that this chili comes together in just one pot. The one used here is a KitchenAid 4 Quart Cast Iron Pot. When I make soups and stews, I loooove using cast iron cookware, because the thick metal holds heat well, and helps with even cooking.  Rarely do I have to scrape off burnt, stuck-on bits from the bottom of a cast iron pot.  This cast iron pot by KitchenAid is particularly nice, because the lid doesn't have a plastic knob, a part that can cause issues when placed in the oven.  Also, the underside of the lid has ridges, and can be used a small stove top grill pan!!  So cool!  KitchenAid graciously provided me with two of these 4 Quart Cast Iron Pots ($229.99 value). One to test, and one to give away!  (Giveaway has ended)
Ok back to the chili.  Let's talk about the pumpkin components.  I want to stress that this isn't a Pumpkin Spice Chili.  There are spices in this recipe (chile powder, red chile flake, pepper); however, no pumpkin pie spice.  Pumpkin purée gives this chili some nice body with earthy undertones.  Pumpkin beer adds depth of flavor and aroma.  Made with organic pumpkin (30 pumpkins per barrel!), the Twisted Manzanita Witch's Hair Pumpkin Ale that I used here is rich with notes of spice, vanilla and molasses.  As the chili cooks (for just 30 minutes!), some of the beer will burn off, leaving behind all those wonderful flavors.  Seriously, you need to give this chili a try.  It's so damn good.
PS. A big thanks to the ever-amazing Sous Chef Pryor for giving me such a beautiful bottle of pumpkin beer.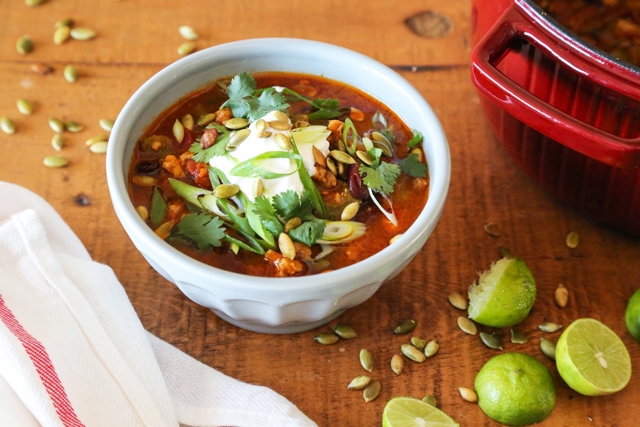 Pumpkin Chicken Chili
Ingredients
2

tablespoons

olive oil

1/2

large yellow onion, chopped

1/2

large green bell pepper, cored, seeded and chopped

3

cloves

garlic, finely chopped

1 1/2

pounds

ground chicken*

1

(14.5 ounce) can diced fire-roasted tomatoes, with their liquid

1

(15 ounce) can pumpkin purée

12

ounces

pumpkin beer (or any other beer you have on hand)

1

tablespoon

ground ancho chile**

1

tablespoon

ground New Mexico chile**

1

pinch

red chile flakes (the size of the pinch will depend on how spicy you like your chile)

1

teaspoon

ground cumin (preferably freshly ground)

1

(15 ounce) can kidney beans, rinsed and drained

Kosher salt

Freshly ground black pepper

1 1/2

tablespoons

red wine vinegar

Sour cream, for serving (Greek yogurt or creme fraiche would work well here too)

Chopped cilantro, for serving

Sliced scallion, for serving

Roasted, salted pepitas, for serving

Lime wedges, for serving
Instructions
Warm oil in a large cast iron pot (I used my

4 Quart KitchenAid Cast Iron Pot

) over medium-high heat. Add onion, bell pepper and garlic, and cook until the vegetables are tender but not brown (5 - 7 minutes), stirring occasionally. Add the ground chicken, and cook until browned all over. I like to get all the meat in the pan, stir to combine, and then let sit for a few minutes to really get some brown color. If you continuously move the meat around, no caramelization will occur. You won't get that much dark brown color here, but even just a little bit will help with flavor.

Add the fire-roasted tomatoes, pumpkin puree, pumpkin beer, chile powders, cumin, kidney beans, salt and several turns of black pepper, sitting to combine. Bring the mixture to a boil, reduce heat to medium-low, and simmer for 30 minutes, stirring occasionally to ensure nothing burns on the bottom. Stir in red wine vinegar, then taste for seasoning. Add more kosher salt, black pepper and red wine vinegar to taste. Flavors should be big and bold, but don't overdo the vinegar, because the soup is served with lime wedges (which will add more acid).

To serve, ladle the chili into a soup bowl, and top with sour cream, chopped cilantro and pepitas. Provide lime wedges for squeezing.
Notes
* I made my own ground chicken here using 4 chicken thighs (with skin) and a food processor. It's very easy to do! Here's a simple tutorial. Ground chicken usually comes in 1 pound - 1.25 pound packages at the grocery store. If that's all you can find, just use that here. Ground turkey or beef would work well too.
** When making chili, I love using a mixture of chile powders to add depth of flavor. If you don't have access to these types of chile powders (or they are super expensive), you could definitely use the spice labeled "Chili Powder." Just keep in mind that chili powders usually have other things mixed in like garlic and oregano, so the end result might taste a little different.
Tried this recipe?
Tag @brandiego on Instagram so I can check it out!
6