I know we covered Thanksgiving Appetizers here, but I'd like to elaborate a bit more on the Meat & Cheese Board element.
This post may contain affiliate links.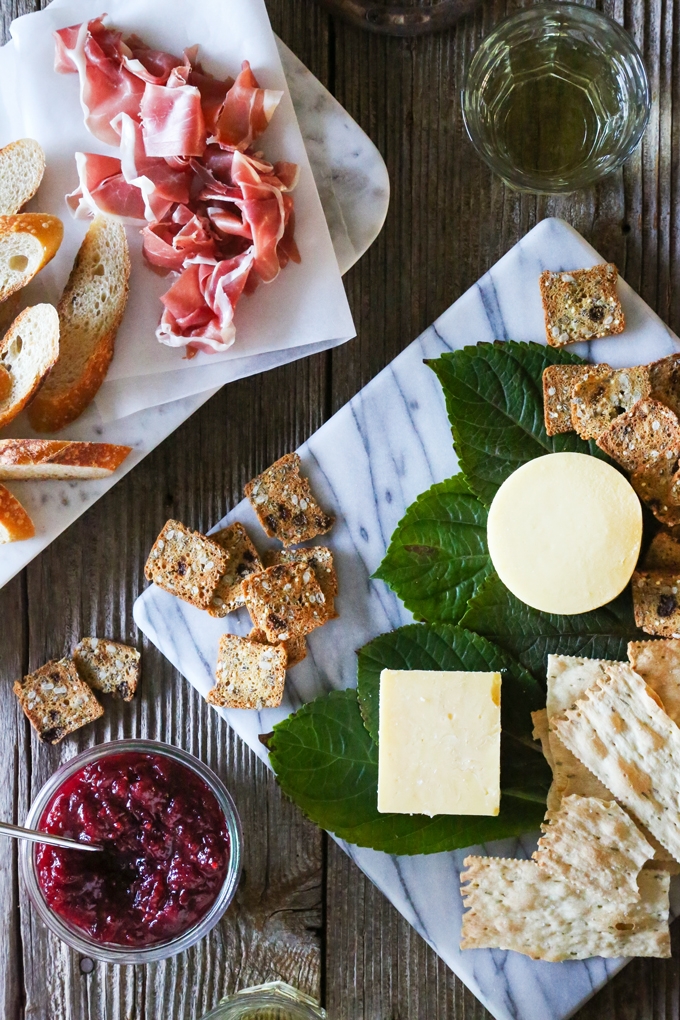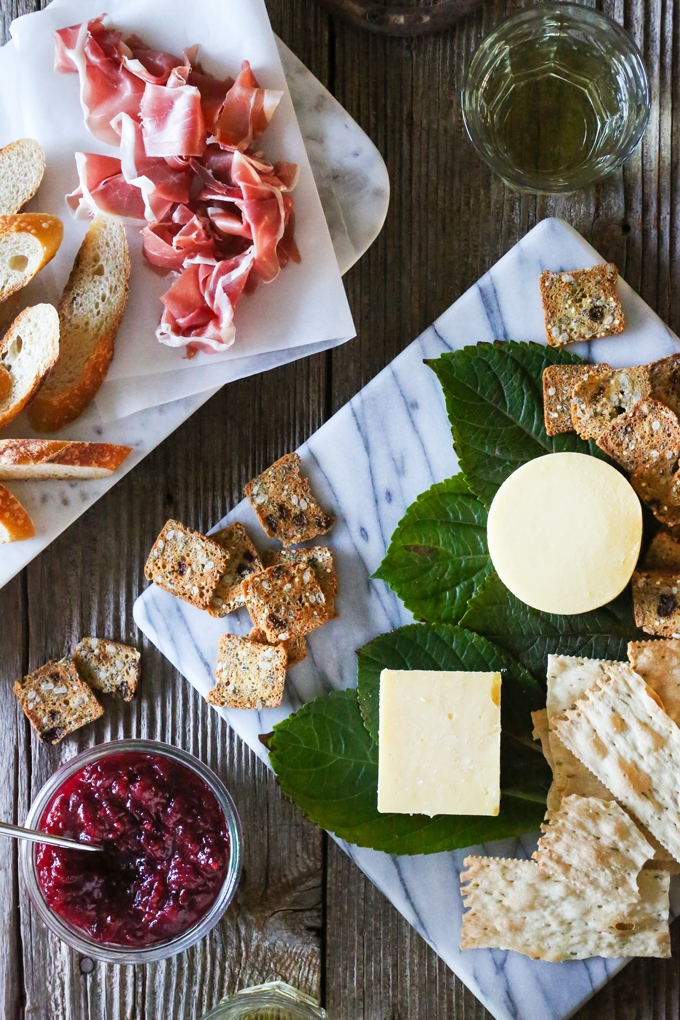 A Meat & Cheese Board is a simple way to serve a variety of crowd-pleasing flavors with minimal effort.  For a smaller dinner party (6-10 guests), start with 2 cheeses, 1 meat  and 3 types of crackers or bread.  For a larger party (20 – 25 guests) up the amounts to 5 cheeses, 2 meats and 4 types of crackers or bread.  Each meat, cheese, cracker and bread should vary in flavor to give your guests plenty of tasting options.  To up the ante, serve something homemade that will complement the Meat & Cheese Board.  This could be homemade pickles, chutney, dip, spread, aioli, or compound butter (to name just a few).  Here's what I have going on in the picture above:
Cheese: Kerrygold Dubliner, Kerrygold Sharp Cheddar with Irish Whiskey
Meat: Proscuitto
Crackers and Bread:  Trader Joe's Rosemary Raisin Crisps (best crackers EVER), Trader Joe's Rosemary Crackers, Sliced Baguette
Homemade:  Cranberry Mostarda
When preparing an appetizer spread for a smaller party, I like to serve high impact cheeses.  The Kerrygold Dubliner and Sharp Cheddar both have big, bold flavor that can easily be enjoyed as is or on a cracker topped with mostarda.  For a large party, I like to layer in some lower impact (but still delicious) cheeses, including brie and goat cheese.  Another nice touch is to serve 1 cheese that's a personal favorite.  When my guests come over for a dinner party, they can always expect to see Manchego on the table.  I just love it!
For meat, Proscuitto, salami, mortadella, sopressata or hard chorizo are all good options.  Don't go overboard with the meats though.  With too many options, guests might fill up before dinner!  For crackers and bread, I always hit up my local Trader Joe's.  They have a wide variety of basic and unique crackers, plus they are continuously releasing new seasonal flavors.  Trader Joe's also sells several types of baguette perfect for slicing and serving.  The two crackers I selected above are flavored with rosemary, a flavor I associate with the Holidays.
Finally, let's talk about this Cranberry Mostarda.  Sweet and sour, a mostarda is an Italian condiment made with fruit and a mustard-flavored syrup.  Here, fresh cranberries are cooked in a bold mixture of white wine, white wine vinegar, sugar, mustard powder, mustard seeds, cinnamon, ginger and clove until tender and collapsed.  The sauce is finished with kosher salt and a bright hit of fresh orange zest.  This seasonal sauce pairs well with most cheeses, and could event be used as cranberry sauce for dinner!  Continue reading for the recipe.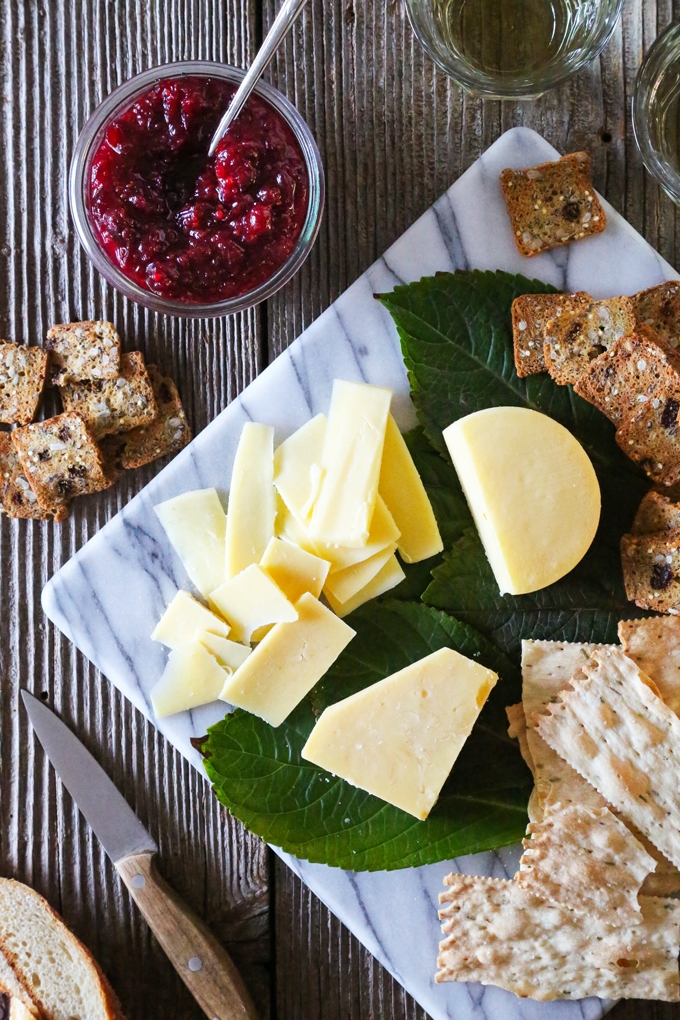 This recipe does require an overnight soak (mustard seeds), so be sure to plan your time accordingly!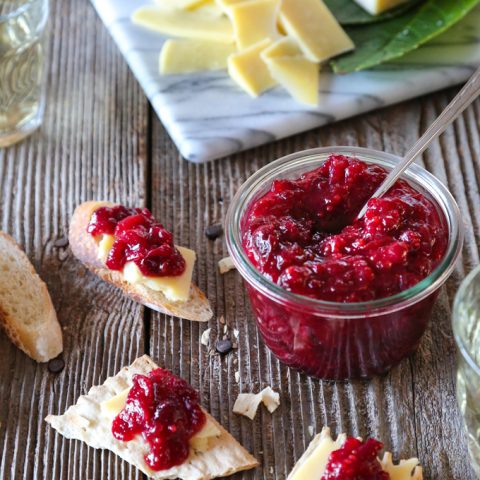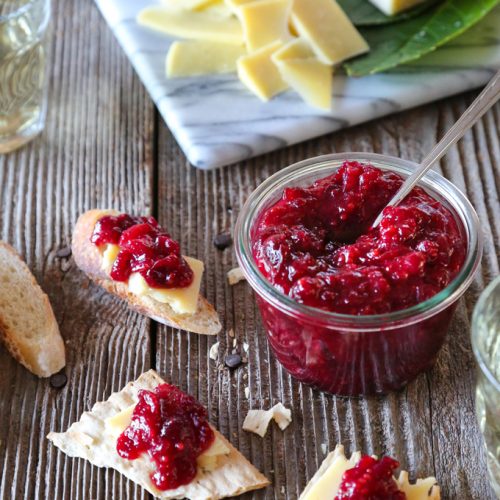 Cranberry Mostarda
Ingredients
2 1/2

tablespoons

yellow mustard seeds

3/4

cup

dry white wine

1 1/2

cups

sugar

1

cup

white wine vinegar

1

tablespoon

mustard powder

1

3-inch

piece of cinnamon stick

1

1/2-inch

slice of fresh ginger, peeled

5

whole cloves

Kosher salt

1

bag (12 oz.) fresh or frozen cranberries

1

teaspoon

finely grated orange zest
Instructions
Place mustard seeds and white wine in a small bowl, cover, and let sit overnight at room temperature.

In a medium saucepan, add mustard seeds, white wine, sugar, white wine vinegar, mustard powder and a small pinch of salt, whisking to combine. Bring the mixture to a boil over medium-high heat, then add the cranberries. Once the mixture comes back up to a boil, drop the heat to medium-low, and simmer until the cranberries have softened and the mixture thickens a bit (about 20 minutes). Take the mixture off the heat, stir in the orange zest, and carefully fish out the spices*. Let cool completely, then season to taste with additional kosher salt.
Serve Cranberry Mostarda chilled as an appetizer or pair with turkey for dinner. Cranberry Mostarda can be made up to 1 week in advance, and stored in the refrigerator for up to 1 week.
Notes
* It took me a little time to fish out the whole cloves from the mostarda. They blend in. If I had cheesecloth on hand, I might have wrapped up all the spices in a little bundle before putting in the mostarda to make the task of removing them easier.
Tried this recipe?
Tag @brandiego on Instagram so I can check it out!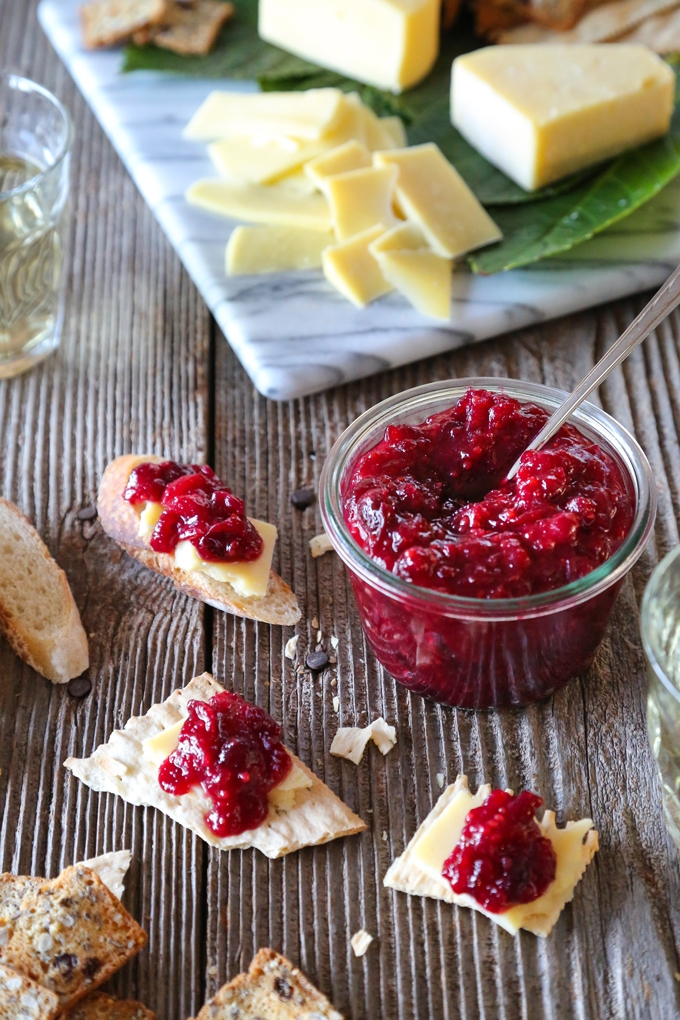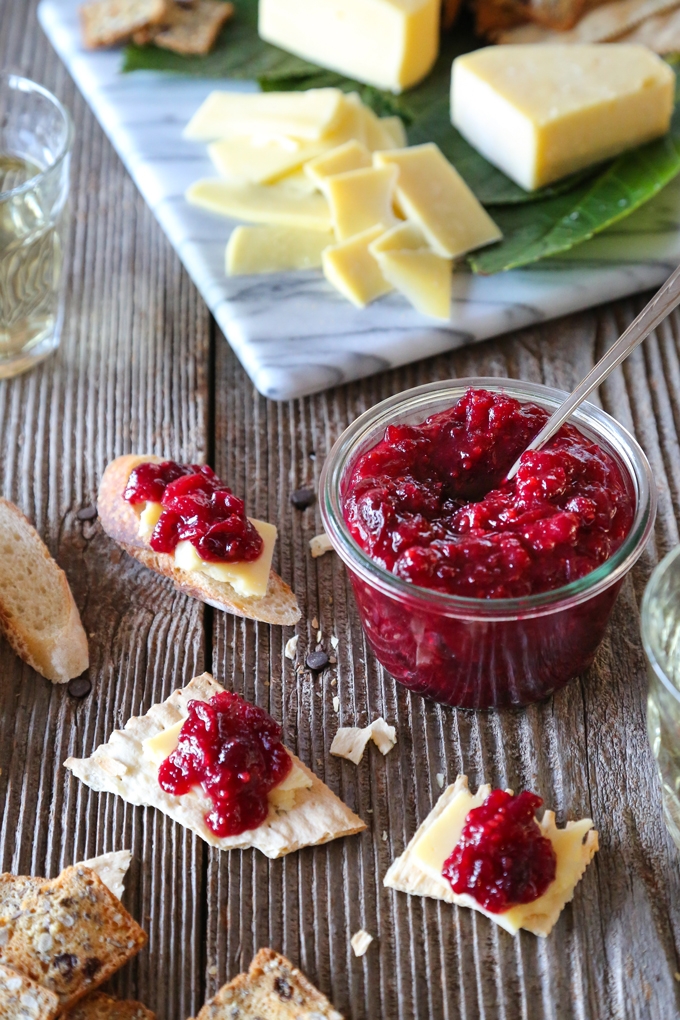 I partnered with Kerrygold on this article.  They provided me a selection of their delicious cheeses to sample.  To be honest though, I've been buying Dubliner for a while now, and last year, I served the Kerrygold Aged Cheddar with Irish Stout at Thanksgiving.  It was a huge hit!
What are your favorite cheeses to serve at Thanksgiving (or any Holiday) dinner?
9