Let's talk Holiday cookies.
This post may contain affiliate links.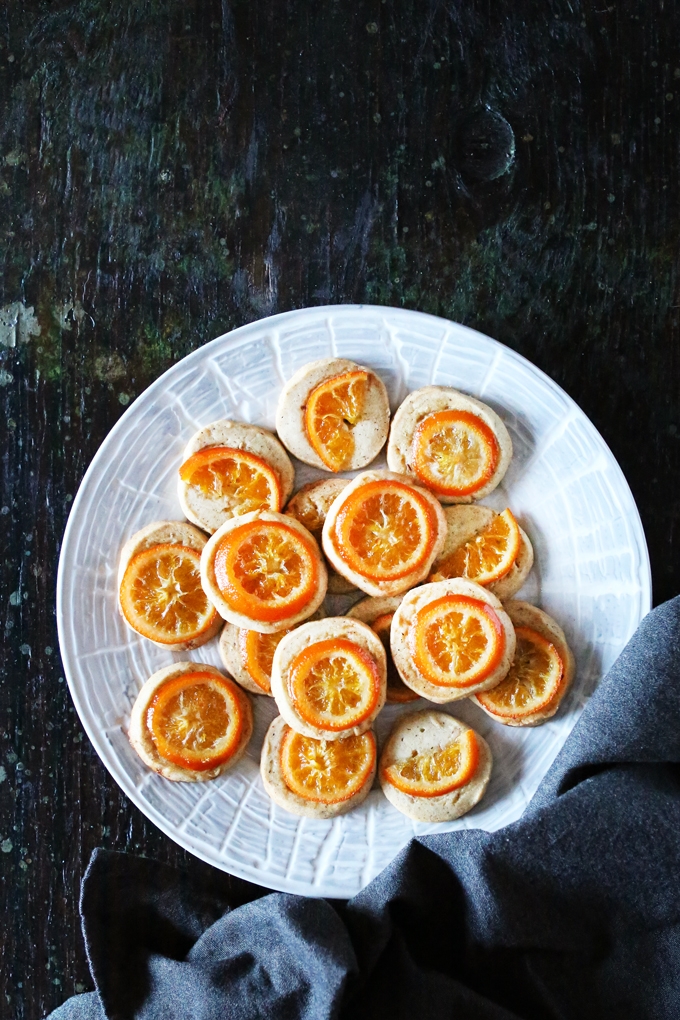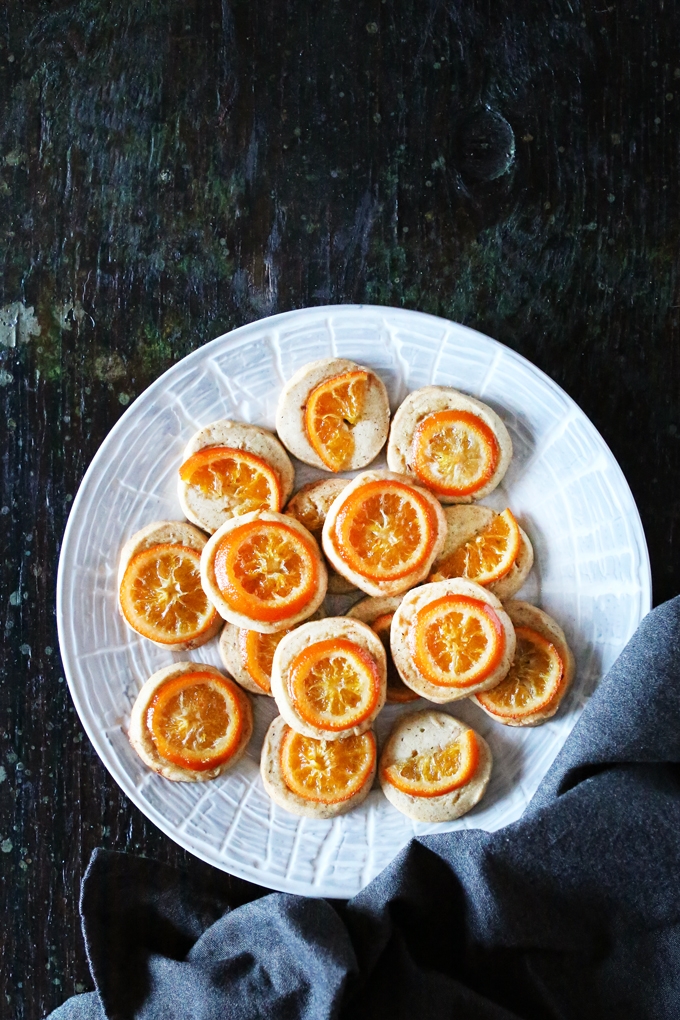 My standards are chocolate chip cookies, and super spicy ginger snaps.  But each year, I like to throw a new cookie into the mix to keep things interesting.  This year, it's these Five-Spice Shortbread Cookies with Candied Clementines.
I don't even try to hide the fact that I love Chinese Five-Spice Powder.  The five spices are: cinnamon, clove, star anise, fennel seed and Szechwan peppercorns.  Traditionally, it's more of a savory spice, but I love using it in desserts and drinks.  It's similar to pumpkin pie spice, but with a bit more intrigue.  Here, I'm spiking a traditional shortbread cookie with a tablespoon of fresh, fragrant Chinese Five-Spice Powder.  The rich buttery flavor of the shortbread works perfectly with the bouquet of pungent spices.
The cookies are finished with a slice of freshly Candied Clementine.  Clementines just scream holiday to me, and I always have them in a bowl in my kitchen during the season.  The Candied Clementines provide a mellow, sweet citrus note that really compliments the not-so-sweet cookie.  They also give these cookies some contrast in texture.  The cookies are tender and crumbly.  The clementines are a bit more substantial with a pleasant chew.  Continue reading for the recipe.
For this recipe, I decided to grind up a fresh batch of Chinese Five-Spice Powder.  I just happened to have all of these spices already in my pantry, so the process was very easy.  If you don't have these spices available, you could certainly use store-bought here.  Just make sure your powder is fresh.  Don't use the stuff that's been sitting in your cabinet for 3 years.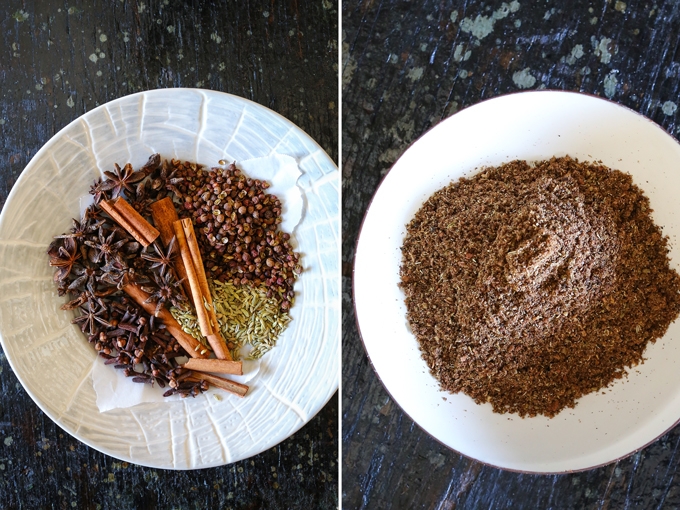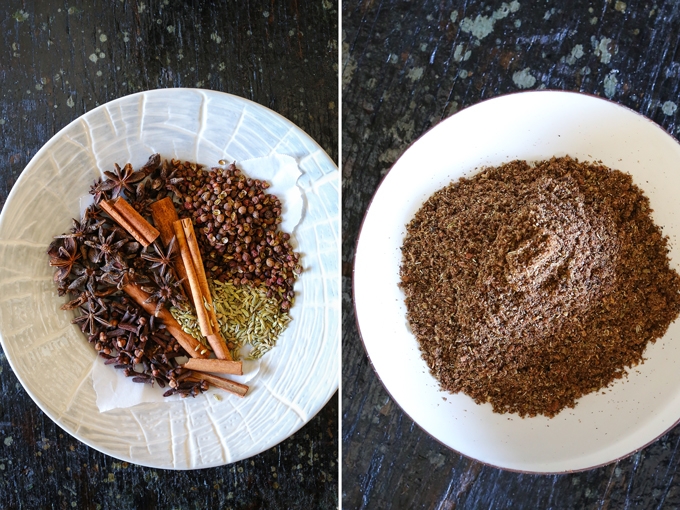 *This is a sponsored campaign on behalf of Halos.
The clementines in particular that I used for this recipe are Halos.  Having a big bowl of citrus sunshine on my counter top can perk up any dreary winter day (yes, we do get clouds here in San Diego).  For this recipe, I've sliced four Halos into rounds, then quickly candied them in a mixture of sugar and water.  This process may sound daunting, but it's actually really easy.  No thermometer needed!  Simply cook the slices for 10 minutes in simmering sugar water, and then let rest for 10 minutes.  Finish by transferring the slices to a cooling rack.  It's that easy!  These candied slices will remain soft, and you can also eat the rind.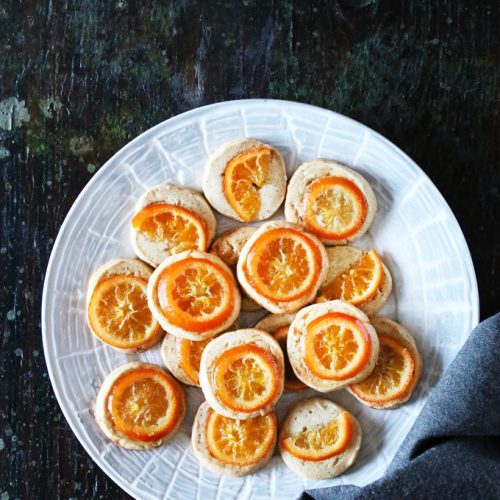 Five-Spice Shortbread Cookies with Candied Clementines
Ingredients
1

stick (4 oz.) unsalted butter, at room temperature

1/3

cup

confectioners' sugar

1

egg yolk, at room temperature

1/2

teaspoon

vanilla paste (or vanilla extract)

1

cup

all purpose flour

1/4

teaspoon

fine grain sea salt

1

tablespoon

Chinese Five-Spice Powder (recipe below)

24

slices

of candied clementine (recipe below)
Instructions
In the bowl of a stand mixer fitted with the paddle attachment, beat butter until smooth. Add the sugar, and continue to beat until smooth. Add the egg and vanilla pasta, and mix until incorporated, scraping down the sides as needed. Add the flour, sea salt, and five-spice powder, mixing just until combined. Give the dough one last mix with a spatula to smooth out any lumps and make sure no streaks of flour are still visible. Don't have a stand mixer? You can make these by hand or with a hand mixer as well.

Turn the dough out onto a piece of parchment, and roll into a log 1 1/4 - 1 1/2-inch thick. Wrap the parchment around the dough, and chill for at least 1 hour in the fridge. You can make the candied clementines while you wait (recipe below).

Preheat an oven to 325°F, and place a rack in the middle of the oven. Line a rimmed baking sheet with parchment, and set aside.

Take the cookie dough from the fridge, unwrap, and slice into 1/4-inch rounds. Place rounds 2-inches apart on the prepared baking sheet (I fit 13 on 1 baking sheet), then top each round with a slice of candied clementine. The cookies will spread a bit as they bake, so don't worry if the slice completely covers the cookie. Very large clementine slices can cut in half, and halves placed on 2 cookies.

Bake for 18 - 20 minutes until the edges of the cookies start turning a light golden brown. You don't want to get too much color here. Let the cookies cool for 10 minutes on the baking sheet before transferring to a cooling rack. These cookies are best enjoyed same day, but they'll keep at room temperature for up to 3 days.
Homemade Chinese Five-Spice Powder
Ingredients
5

whole star anise

3

cloves

4 1/2

teaspoons

Szechwan peppercorns

1

tablespoon

fennel seeds

1-

inch

pieces of cinnamon stick
Instructions
Place all spices in a spice grinder, and grind to a medium-fine powder. Store in an air-tight container for up to 1 month.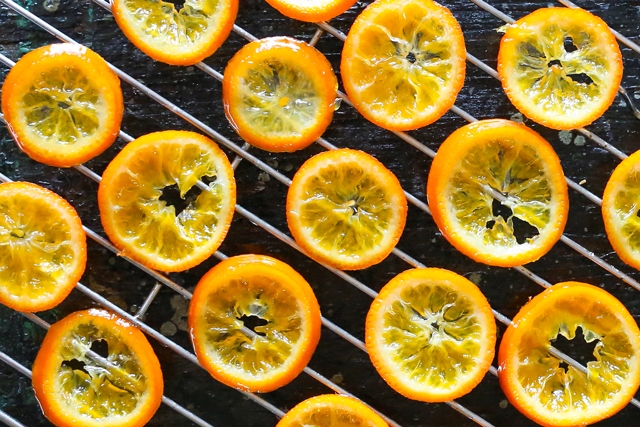 Candied Clementines
Ingredients
4

clementines (I used Halos here), washed well

1

cup

white sugar

3/4

cup

water
Instructions
Using a very sharp knife, slice clementines crossways into 1/8-inch thick rounds.

Add sugar and water to a medium saucepan set over medium-high heat. Bring the mixture to a boil, stirring to dissolve the sugar. Add the clementine slices, and bring the mixture back to a simmer. You want to make sure the slices are mostly submerged under the liquid. Drop the heat to medium-low, cover, and let the slices cook for 10 minutes. Stir the mixture twice during that time period.

Take the saucepan off the heat, uncover, and let cool for 10 minutes. Using a slotted spoon, carefully transfer the clementine slices from the saucepan to a cooling rack. Let cool a bit more, and then use for cookies above. Or enjoy as is. Once completely cooled, any leftover candied clementine can be stored in the fridge for up to 1 week.
Get your family excited about fresh food and activities they'll love. Learn more about Wonderful Halos on
Facebook
or
the Halos Fun blog
.
5