I've got a real treat for you guys today.
This post may contain affiliate links.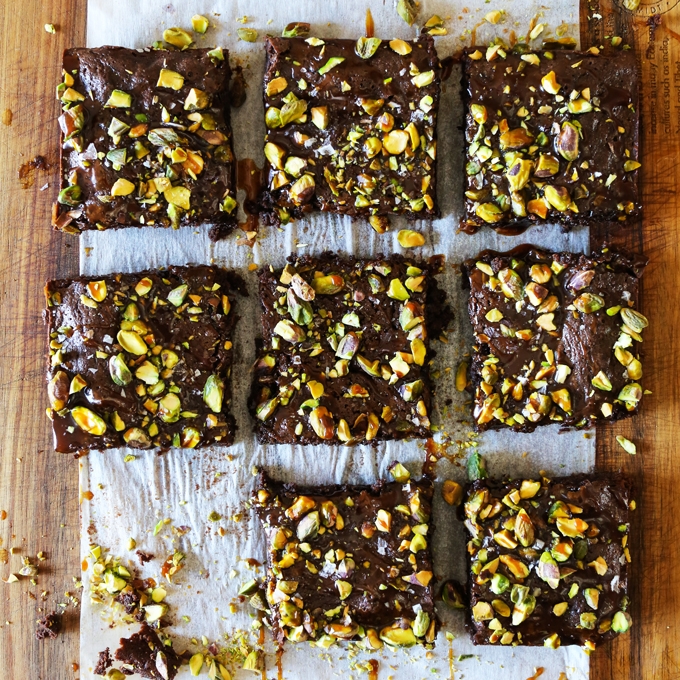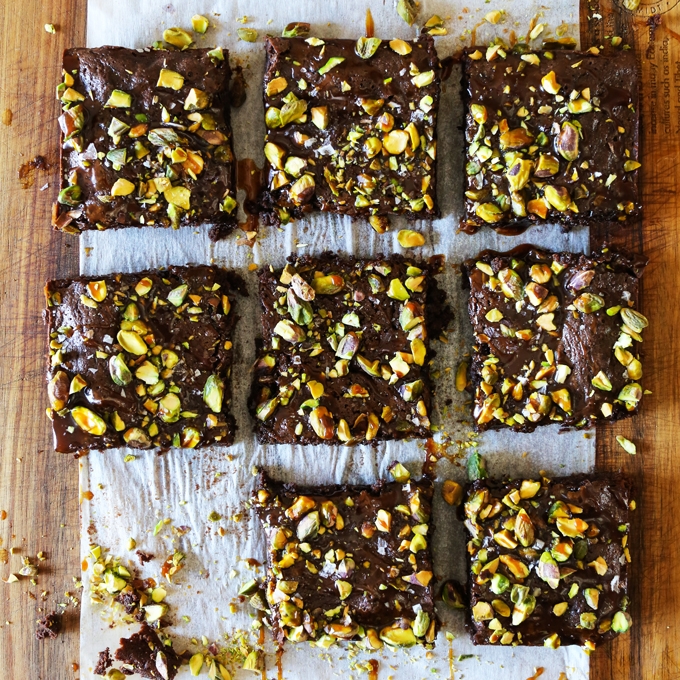 Take a moment and just indulge in these deep, dark chocolate brownies.  The delicious mess on top features several layers of rich, salty caramel, grassy shelled pistachios, and glistening flecks of flakey sea salt.  I just love the combination of salty pistachios and bittersweet chocolate.  But if you're not a pistachio fan, you can definitely substitute in pecans or walnuts.
I've actually have another recipe on Kitchen Konfidence for salted caramel sauce.  My 2011 recipe has several additional ingredients and steps that act like training wheels to help a home cook achieve a delicious caramel sauce without worry of burning or texture issues.  My old recipe also has more butter and heavy cream, resulting in a more mellow caramel flavor.  Since then, I've had much practice with making caramel at home, and I can now make a perfect sauce with minimal effort and ingredients.  I'm sharing that Easy Salted Caramel Sauce recipe today too.  It's so fast and comes together in a matter of moments!  Continue reading for the recipes.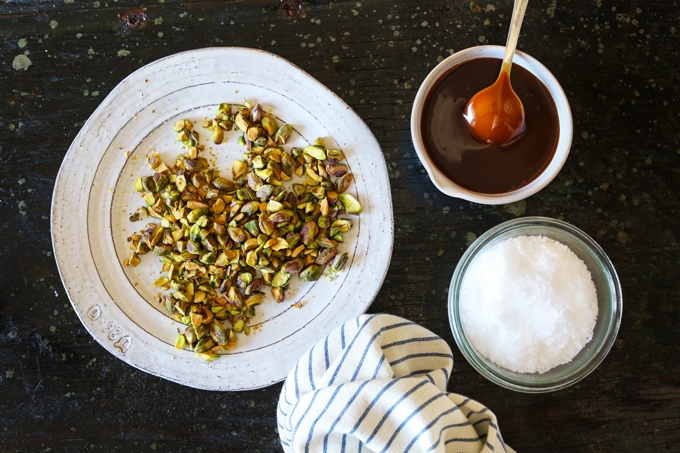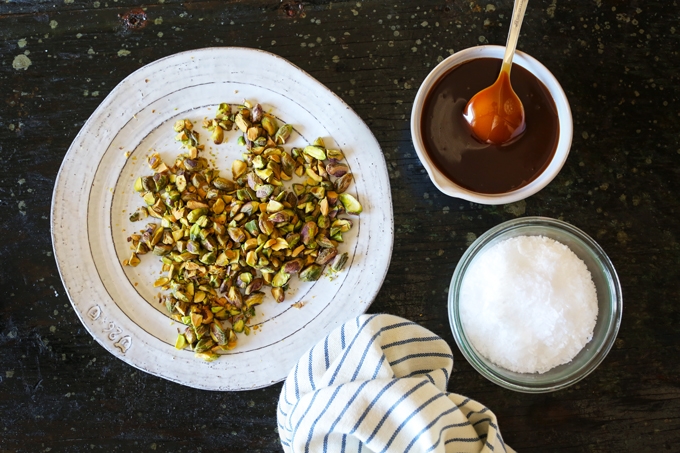 I originally featured these brownies in my Brooksters [Brownie + Cookie] recipe.  The technique below does require a double boiler situation where you have one bowl sitting atop a saucepan of simmering water.  This allows you to melt the chocolate in the bowl using gentle steam heat, avoiding any burning.  I personally don't mind using a double boiler, but if you're just not into it, then I'm sure you could melt the chocolate in a microwave.  Just be careful, because the microwave can easily burn chocolate, and nobody likes burnt chocolate!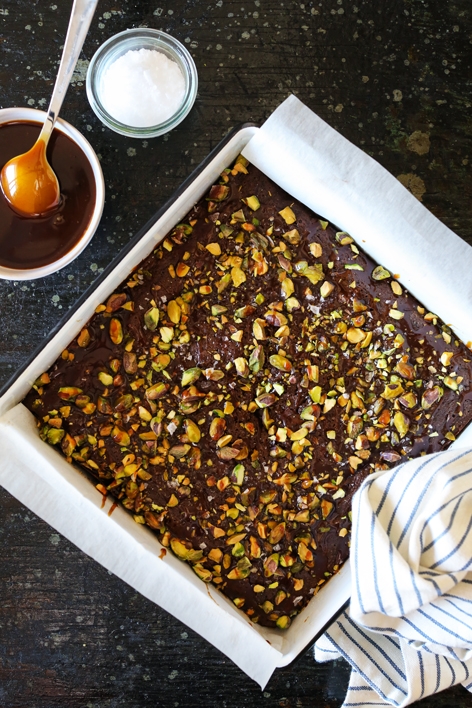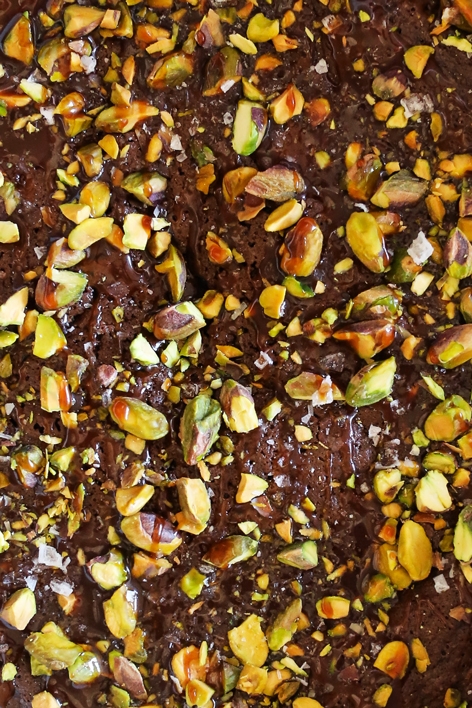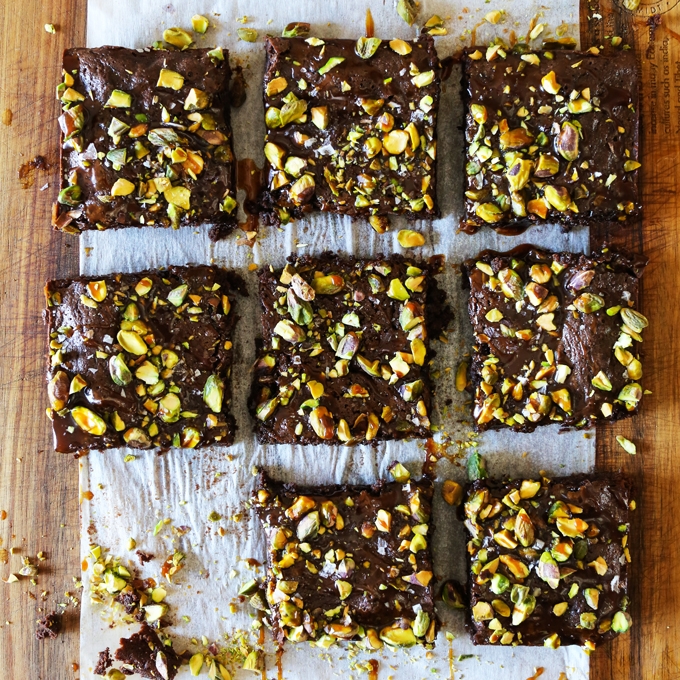 Dark Chocolate Brownies with Pistachios and Easy Salted Caramel Sauce
Ingredients
1/2

cup

(1 stick) unsalted butter, cut into 1-inch cubes, plus more for greasing

3/4

cup

all purpose flour

1

tablespoon

dark cocoa powder

1/2

teaspoon

fine grain sea salt

5

oz.

dark chocolate (top quality, 60 to 72 percent cacao), coarsely chopped

3/4

cup

white sugar

1/4

cup

light brown sugar

3

large eggs, room temperature

1

teaspoon

pure vanilla extract

Easy Salted Caramel Sauce (recipe below)

Scant 1/2 cup chopped shelled pistachios, pecans or walnuts would be nice here too

1/2

teaspoon

flaky sea salt
Instructions
Preheat an oven to 350°F and place a rack in the center of the oven. Lightly butter a 9" x 9" baking dish, line with parchment, then lightly butter the parchment. Leave some parchment overhang (see photo above), so you can easily pull the brownies out of the pan.

Add flour, fine grain sea salt and cocoa powder to a medium bowl, whisking to combine. Set aside.

Bring a large pot filled with 2 inches of water to a simmer. Set a heatproof bowl on top of the pot, but make sure the bottom of the bowl is not touching the simmering water. Add butter and chocolate to the bowl, stirring until melted and combined. Turn off the heat, but keep the bowl on the pot. Whisk white sugar and light brown sugar into the chocolate mixture. Remove the bowl from the pot and let cool to room temperature.

Add eggs to the chocolate mixture, whisking until just combined. At this point, switch from a whisk to a spatula. You want to avoid adding extra air to the batter. Add vanilla and stir until just combined. Gently fold flour mixture into the chocolate mixture until just incorporated. Do not overmix here. Pour brownie batter into the prepared baking dish.

Cook for 16 - 18 minutes, or until a toothpick inserted into the center of the brownies comes out clean. The texture should be on the cakier sider, not fudgey or gooey. The toppings are gooey, so you don't want goo on goo. Transfer the baking dish to a cooling rack, and let cool for 5 minutes before topping.

Drizzle the surface of the brownies with salted caramel sauce, then sprinkle an even layer of chopped pistachios and sea salt. Repeat the layers once more to ensure a decadent coating. Cut into 9 even squares and enjoy!
Tried this recipe?
Tag @brandiego on Instagram so I can check it out!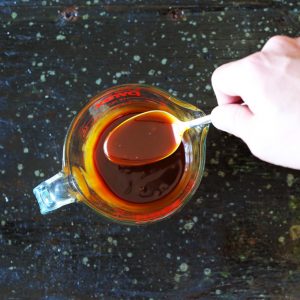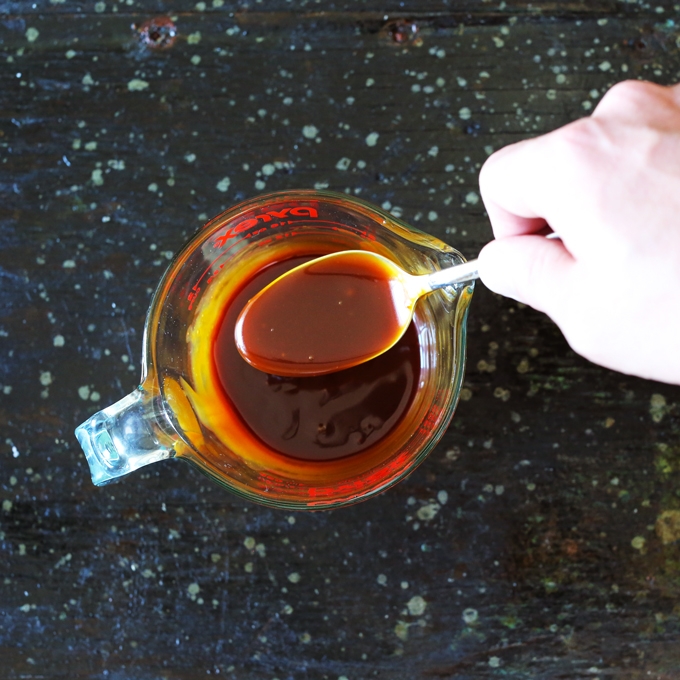 Easy Salted Caramel Sauce
Ingredients
1

cup

white sugar

3

ounces

6 tablespoons unsalted butter

1/4

teaspoon

kosher salt

1/2

cup

heavy cream, at room temperature
Instructions
Add sugar to a large pot over medium-high heat. As the sugar melts, stir occasionally to ensure even cooking. The sugar will liquify, and then quickly start turning brown. Once the caramel turns a deep brown, almost smoking, stir in all the butter and kosher salt. Once the butter is completely melted in, take the pan off the heat, and add the heavy cream, stirring until smooth.

Use the sauce immediately or store covered in the fridge for up to 2 weeks. If the sauce has thickened after refrigeration, you can warm it in the microwave for 30 - 60 seconds to thin it out.
Tried this recipe?
Tag @brandiego on Instagram so I can check it out!
Here are some other chocolate desserts on Kitchen Konfidence: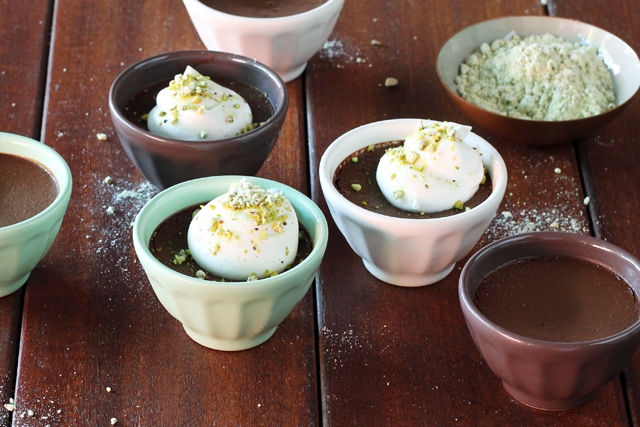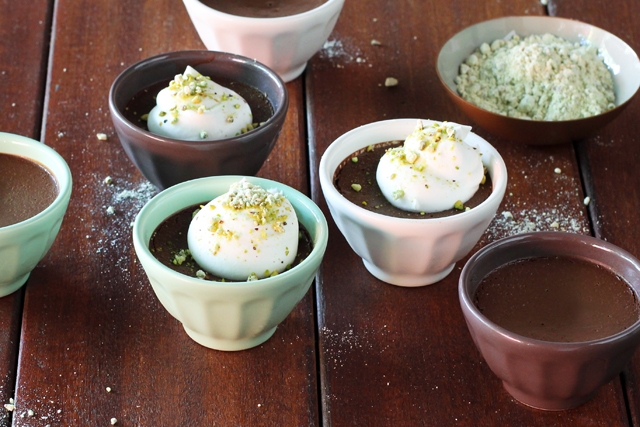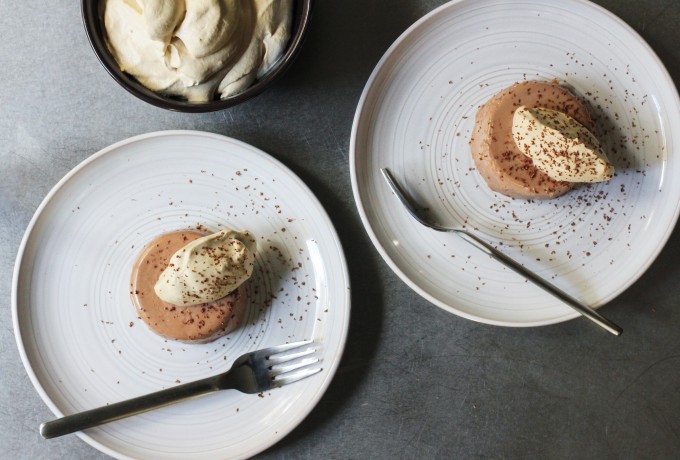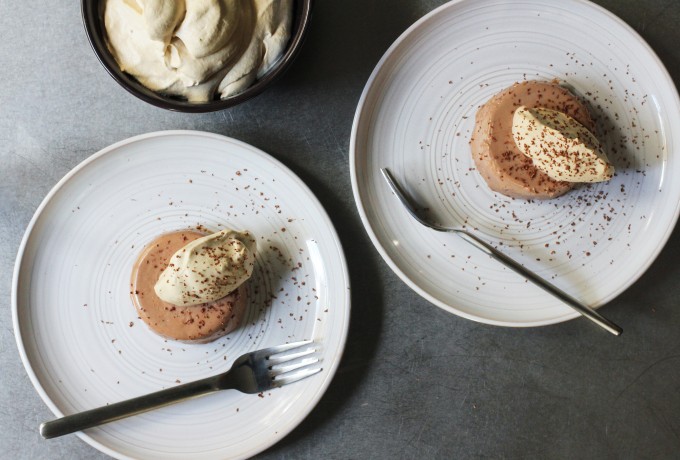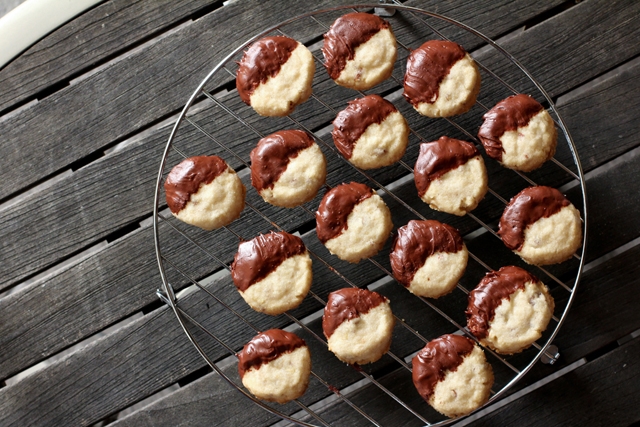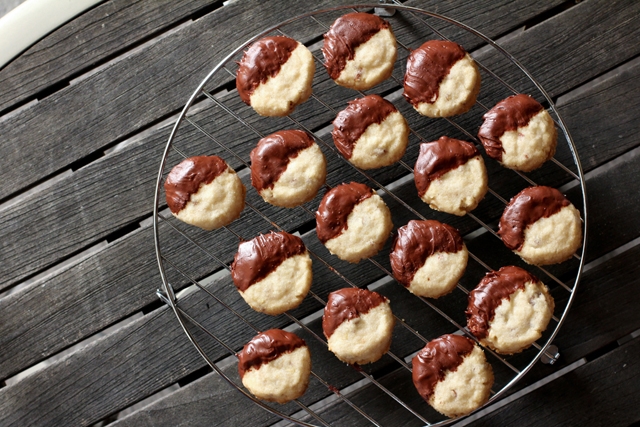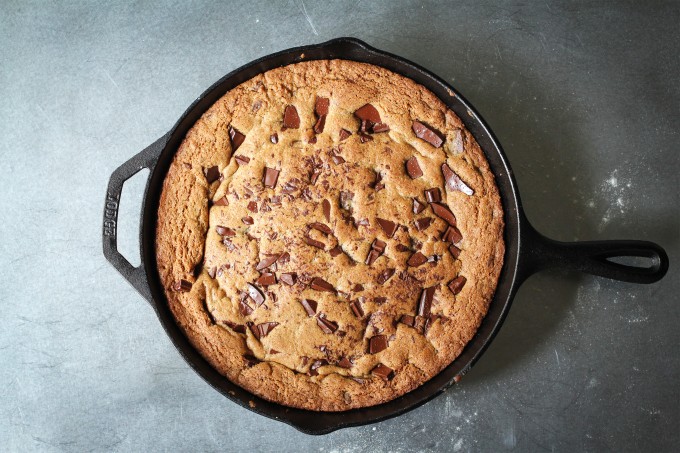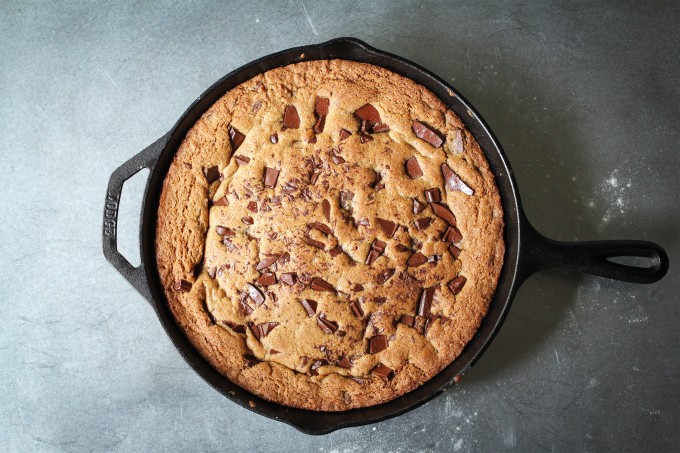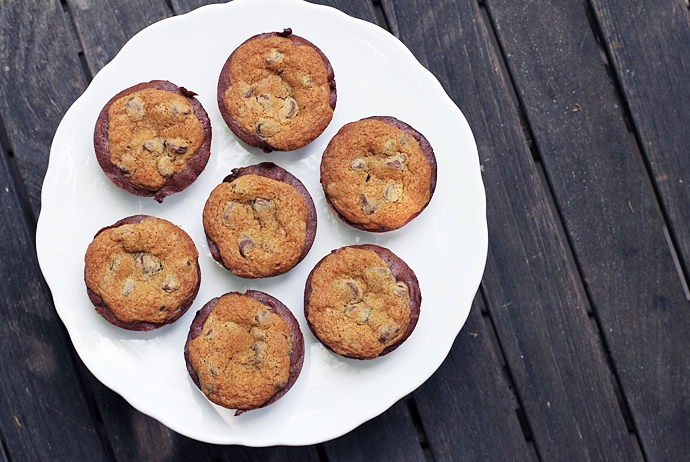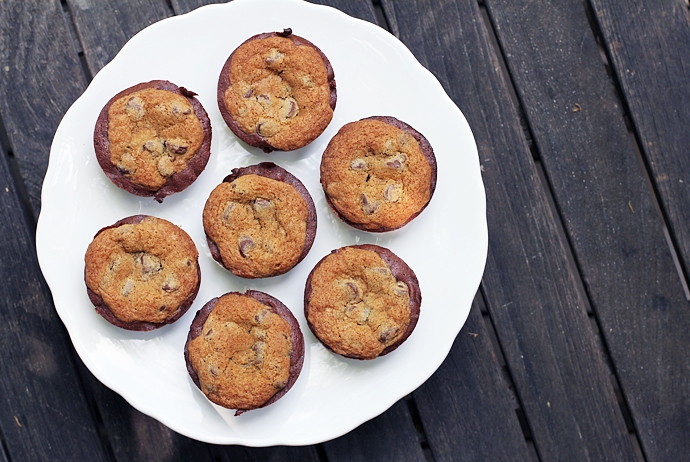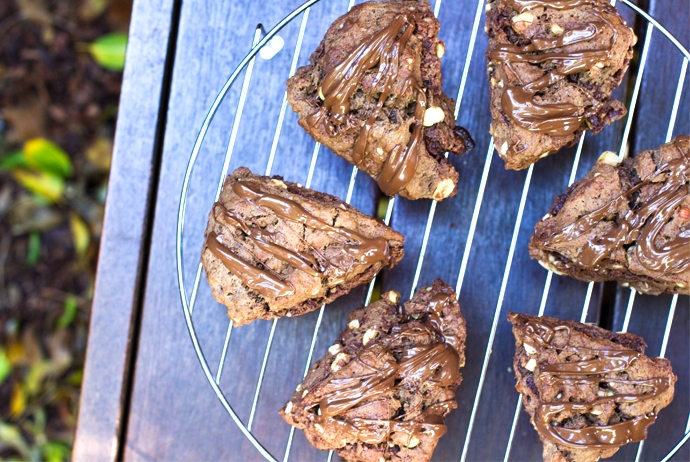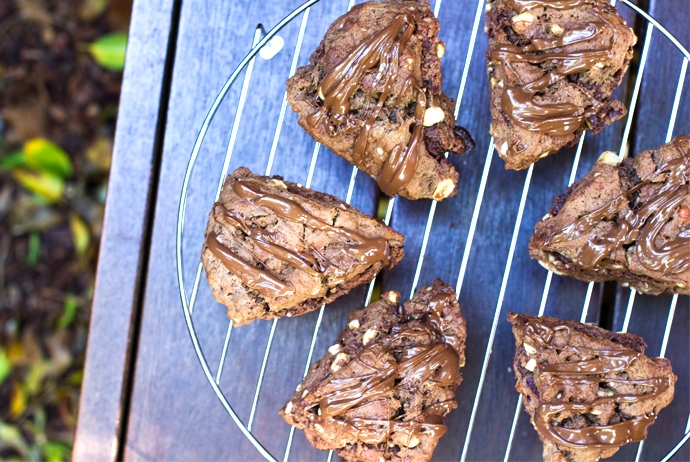 63