This post may contain affiliate links.
It's a well-known fact that San Diego is the craft beer capital of the US, but did you know that our cocktail game is equally on point?  We've got bars and restaurants that are making their own flavored syrups, ginger beer, bitters, shrubs and alcohol infusions. Pairing these handcrafted elements with thoughtful flavor combinations results in some seriously inventive and damn tasty cocktails. Below, I teamed up with Expedia Viewfinder to share a variety of libations from 3 hot bars and restaurants in San Diego plus a recipe for an incredible tequila cocktail.
This Inventive San Diego Cocktails list starts with a series of beautiful beverages from Zymology 21, a laboratory-themed restaurant in the heart of Downtown San Diego.  I went to the grand opening of Zymology 21 last year, and I was so impressed with their cocktail program.  They present intriguing flavor combinations with a real sense of showmanship.  Alcoholic entertainment through modern mixology.
Since opening, Zymology 21 has mastered the art of the shrub, a fermented drinking vinegar.  Flavors include carrot, ginger and grapefruit; pear and blackberry; strawberry balsamic; honey, cranberry and apple; and beet and pomegranate.  These vibrant, sweet-tart blends are then mixed with an alcohol of choice (tequila pictured here).  You can get a flight and try all five!
Zymology 21 is currently working on a new bitters program.  All of the little bottles on the back wall (photo below) each contain a different bitter / tincture infusion.  I can't wait to go back and try them out!
Here are my cocktail picks at Zymology 21:
Calavera Catrina: Tequila, Grapefruit Ginger Carrot Shrub, Piloncillo, Habanero Bitters, Cucumber & Cilantro.  This was my favorite libation.  Bright, fresh with just a hint of heat. (click here for the recipe!)
The Resurrectionist: Fords Gin, Currant Pimms, Strawberry Shrub, Lime, Cardamom Bitters, Absinthe Strawberries.  A local favorite with strong berry notes and a subtle absinthe undertone.  The Currant Pimms is made in-house.  The strawberry garnish is soaked in absinthe then torched before topping the drink.
Shrub Flight.  5 test tubes + 5 shrubs + 1 liquor = a flight.  This is a fun way to experience all the shrubs while achieving a pleasant buzz.  Incredible fire and dry ice presentation.
While you're trying out all of these fun cocktails, be sure to order one of their salad or sandwich boards.  Once again, the presentation and flavors are over-the-top delicious.  Next up, Sycamore Den.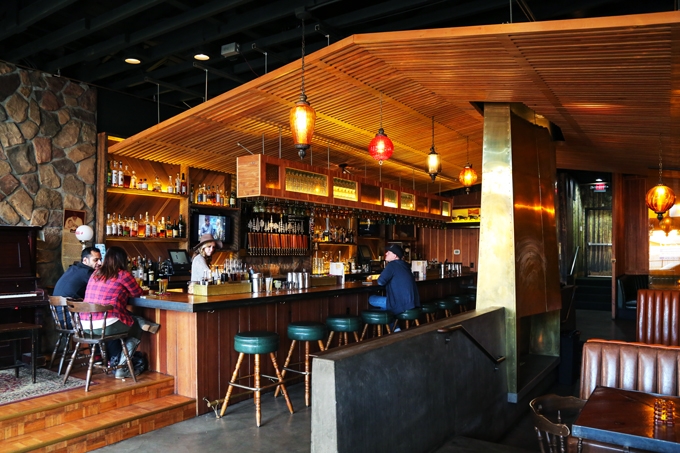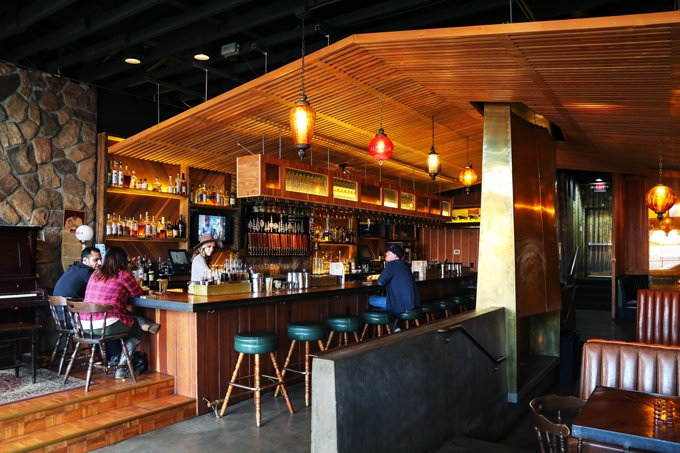 Located in the hip, eclectic neighborhood of Normal Heights, Sycamore Den is serving up some of the best cocktails around San Diego.  In various hues of copper and brown, this 70's themed bar is fully equipped with wood walls, stone accents, antique fixtures, leather seating, and a shotgun wall in the back.  Along with a sizeable list of beer and whiskey, the Sycamore Den is known for their contemporary cocktails.  They make many of their syrups in-house, including coconut, celery, ginger-cinnamon, and cinnamon-honey.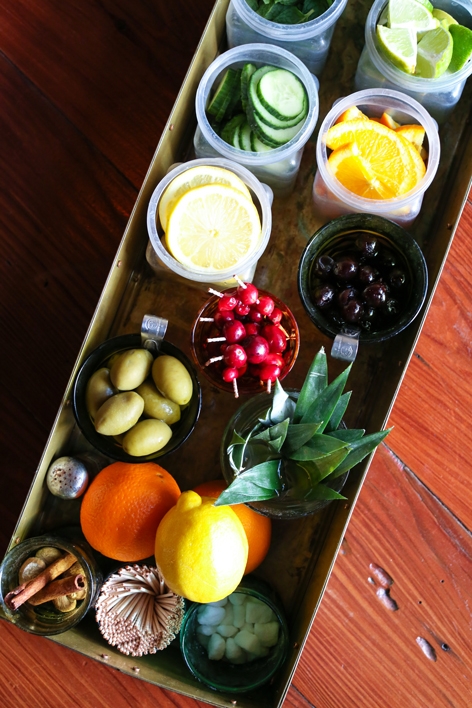 Here are my cocktail picks at the Sycamore Den:
Holiday Highball: Apple Bandy, Lime, Ginger-Cinnamon Syrup, Soda, Whiskey Barrel-Aged Bitters.  A well balanced seasonal favorite with a hint of Holiday spice.  I loved the accompanying cube of crystallized ginger.
Autumn Java: Scotch, Aged Rum, Curacao, Dark Horse Coffee, Mole Bitters.  Coffee forward with plenty of warmth.  Dark Horse is a local San Diego coffee roaster.
Genever Lopez: Tequila, Genever, Lime, Celery Syrup, Serrano Tincture.  My favorite of the three.  Each sip is light and bright, finishing with a pleasant, vegetal heat.
Sycamore Den switches out most of their cocktails seasonally.  These cooler weather drinks will be around for several more weeks.
The final cocktails on my list come from Polite Provisions also in Normal Heights. Polite Provisions is a gooooorgeous bar themed like a vintage apothecary on the corner of 30th and Adams Ave.
Their extensive cocktail list is peppered with housemade products including syrups, bitters and ginger beer. They've also got a selection of cocktails on tap (see photo below). That's right. On tap.
Here are my cocktail picks at Polite Provisions:
Kentucky Buck: Bourbon, Fresh Lemon, Strawberry and Housemade Ginger Beer.  A fresh and balanced local favorite.  This cocktail takes bourbon in a completely unexpected direction.
Tijuana Slowdance: Blanco Tequila, Blackberry and Pedro's Pomegranate Soda.  On tap.  The sweetest drink of the 3, but still very refreshing.  An easy drinker.
Peppermint Butler:  Fernet Mentha, Creme de Cacao and Cream.  Sweet, but not too sweet.  A seasonal cocktail with deep notes of fresh mint.  This was my favorite.
Polite Provisions doesn't serve food; however, they are attached to Soda & Swine next door.  You can take your drink from Polite Provisions to Soda & Swine through a back entrance, and enjoy amazing cocktails with dinner.
Here's the recipe for the Calavera Catrina provided by Zymology 21.


Calavera Catrina
Recipe provided by Zymology 21. I have not personally tested this recipe.
Ingredients
1/2

ripe cucumber, peeled and sliced

5

cilantro leaves

1 1/2

ounces

U4RIK silver tequila

1

ounce

Carrot Grapefruit Shrub (see note below)

1/4

ounce

freshly squeezed lemon juice

3/4

ounce

Contratto Blanco Vermouth

3

dashes Habañero Bitters
Garnishes: baby carrot with greens, cucumber slice, strip of lemon zest
Instructions
Muddle cucumber and cilantro leaves in a cocktail shaker to release flavor and juice. Add silver tequila, shrub, lemon juice, vermouth, habañero bitters and ice. Cap the cocktail shaker and shake until well-chilled. Strain into a short tumbler filled with ice.

Garnish with a baby carrot, cucumber slice and strip of lemon zest.
Notes
The Zymology 21 team provided me with a very loose recipe for making the Carrot Grapefruit Shrub. This process is best done to taste, so specific ingredient amounts really aren't needed. The finished shrub should have a nice sweet-tart balance with notes of carrot and grapefruit. Here's notes from Louis Chavez, Zymology 21's head mixologist:
Peel equal parts ripe grapefruit and orange, completely removing the pith. Cube or thinly slice all fruit, and place in a large jar or bowl. Coat fruit with sugar and let sit loosely covered for a few days. Check, taste, and stir the fruit each day (bubbles are okay, it means it's fermenting a little). Keep adding a little sugar each day. Next, make the vinegar syrup: equal parts champagne vinegar and sugar. Stir until sugar is dissolved. Add vinegar syrup to the shrub. Stir until all sugar on the fruit is dissolved. If sugar remains, add a touch of vinegar until it is liquid. Juice an equal amount of carrots, then stir in the fruit-vinegar mixture. Pour the shrub through a fine strainer, pressing on the solids to extract as much liquid as possible. Taste and bottle. Adjust the flavor by adding more sugar, vinegar, or freshly squeezed juice to taste.
Tried this recipe?
Tag @brandiego on Instagram so I can check it out!
Discover more of what you can see in San Diego by exploring the Expedia Viewfinder Image Library.
I partnered with Expedia on this article.  All thoughts and opinions shared in this article are my own.  A big thanks to Zymology 21, Sycamore Den and Polite Provisions for hosting these cocktail experiences.
2