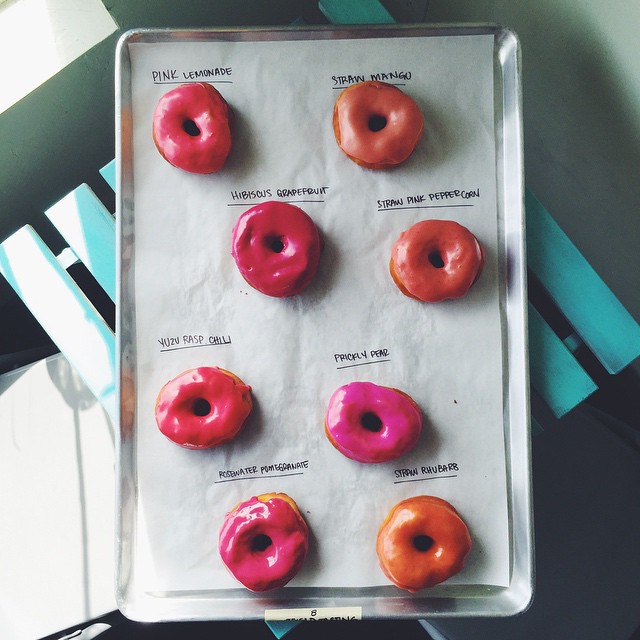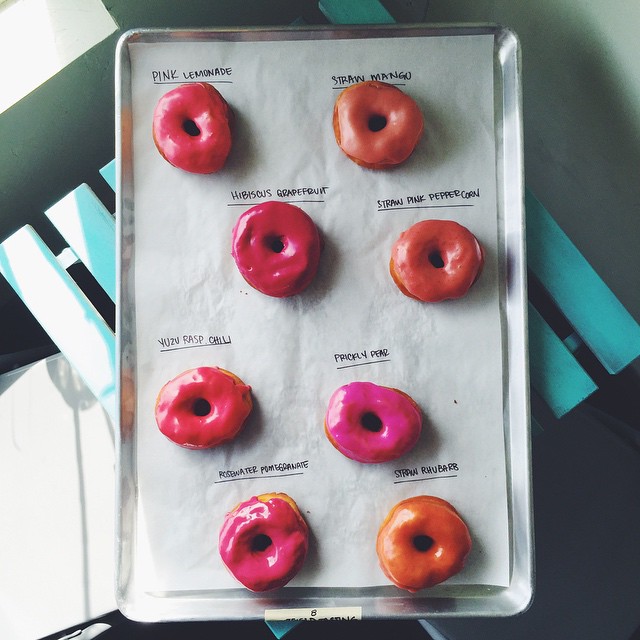 This post may contain affiliate links.
Good afternoon and Happy Sunday!!  I am kicking things off today with a photo from a pink donut tasting I experienced on Friday.  Yes, a pink donut tasting.  On May 3, I am hosting a VIPink Brunch at Westfield Mission Valley (my full-time gig), and there will be a pink Nomad Donut station at the event.  Nomad Donuts is my new favorite donut spot in San Diego, because they can bring. the. flavor.  Seriously, they switch up their donut flavors daily, and they're always coming up with new, intriguing combinations (sweet and savory).  Check out some of my Nomad Donut Instagram shares here, here, here and here.  If you live in San Diego, and you'd like to attend the VIPink Brunch, you can purchase tickets here.  They're $10, and 100% of the proceeds benefit Bright Pink.  Plus you'll get to sample 3 of the pink donuts I selected from the choices above!
I should mention that as May 3 approaches, much of my time and energy will be devoted to the success of the event.  Weekends will be used to decompress (yoga, video games, beach time, etc.).  I apologize in advance for a decrease in posting and possible delays in comment replies.   Now on to other tasty food news from the past several weeks.  Let's dish (including 3 new recipes below)!
The nibbles: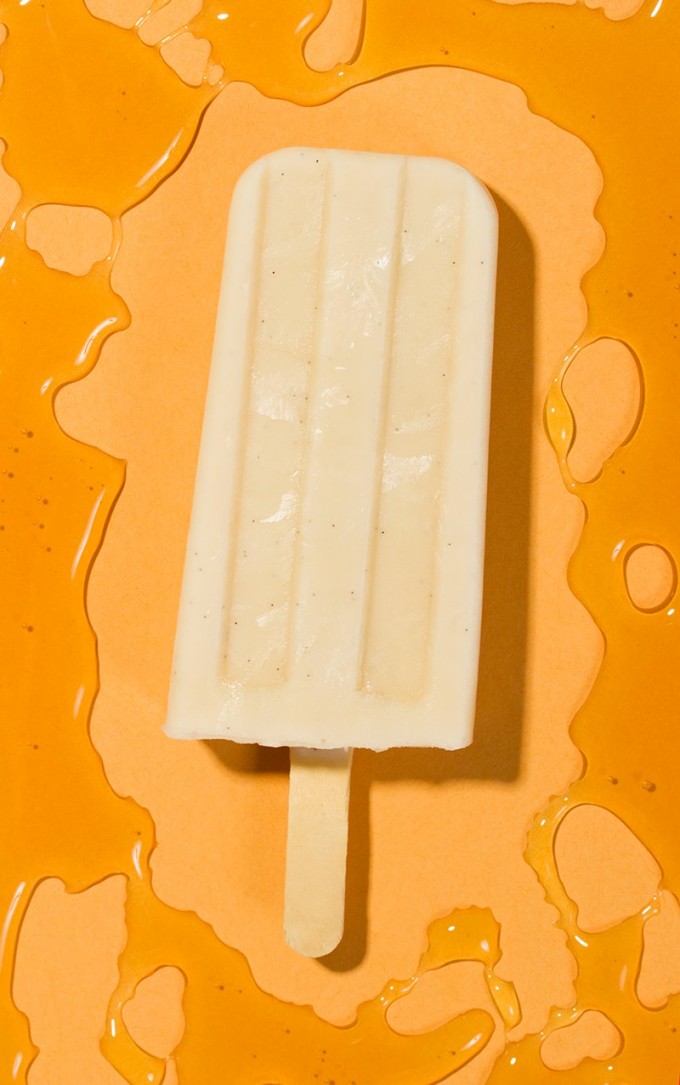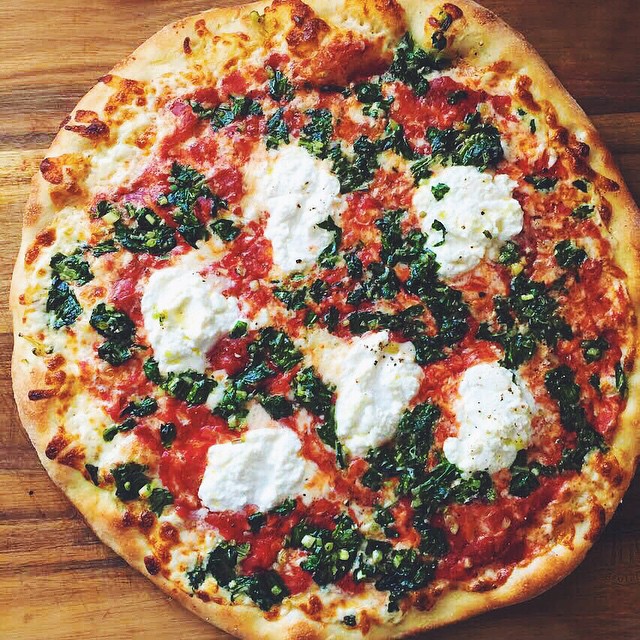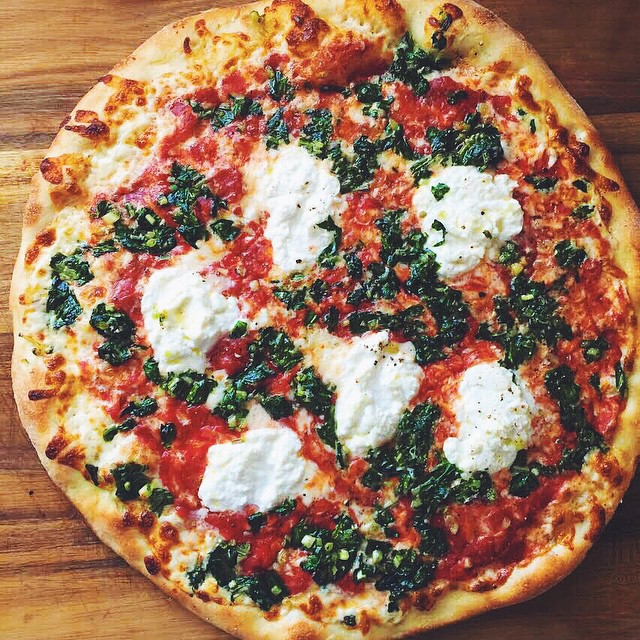 Spring produce is in full effect, and I am loving it.  I've been sharing a number of food photos on Instagram of my recent creations, and many of you have been asking for recipes or if I am going to share on the blog.  Since my time is short right now, I most likely will not be sharing any dedicated recipe posts, so I thought I would share some more informal recipes here.  First up, Wild Ramp and Ricotta Pizza (above).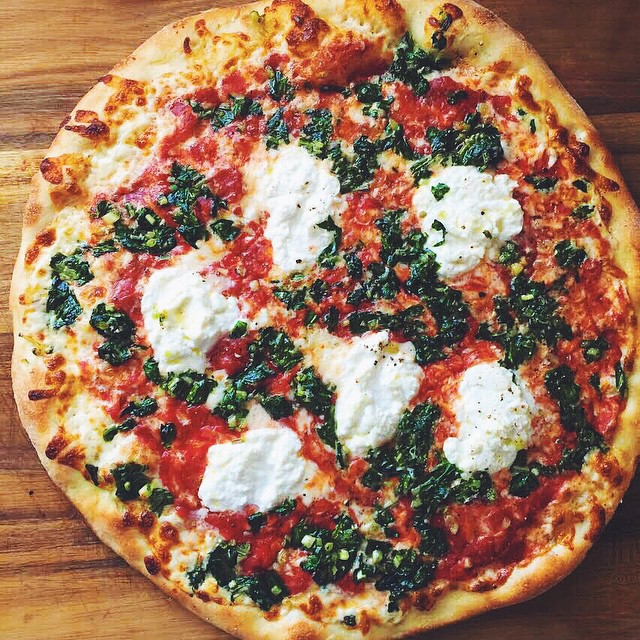 Wild Ramp and Ricotta Pizza
Ingredients
A handful of ramps (about 1/4 pound), rinsed thoroughly and root ends trimmed

1

tablespoon

unsalted butter

Extra virgin olive oil

Kosher salt

Freshly ground black pepper

Nonstick spray

1

ball of pizza dough (I get mine from a local pizzeria)

Grated part-skin mozzarella cheese (a few handfuls)

Canned tomato sauce (I used about 1/2 a can per pizza)

6

tablespoons

ricotta cheese

Freshly grated Parmesan cheese
Instructions
Preheat an over to 500°F and set an oven rack on the lowest possible position.

Cut each ramp where the bulb/stem (white and pink part) meets the leaves. Thinly slice the bulbs/stems, and chop up the leaves. Warm butter plus 1 tablespoon olive oil in a medium skillet set over medium heat. Once the skillet is hot, add the sliced bulbs/stems with a small pinch of salt, and cook until soft, but not brown (3 to 4 minutes). Stir in the chopped ramp leaves, and cook for 1 more minute. Season to taste with kosher salt and black pepper. Set aside.

Lightly coat a pizza pan with nonstick spray. Using your hands, stretch the dough out into a large round that fits the pizza pan. Drizzle the surface of the dough with a little olive oil, and spread the oil around evenly with your hands. Sprinkle the dough with a little salt. Cover the surface of the dough with several handfuls of grated cheese, and spoonfuls of tomato sauce. I don't like to drown my pizza in sauce, so I spoon sparingly. Dot the surface of the pizza with tablespoons of ricotta cheese, then sprinkle the sauce and cheese with kosher salt. Spoon the sautéed ramp mixture evenly over the pizza, followed by a dusting of Parmesan cheese and a light drizzle of olive oil.

Bake on the bottom rack until the bottom of the pizza is golden brown (for me, this is 10 minutes). Let rest for a few minutes, then slice and serve.
Ramps and fiddlehead ferns are only available for a few months/weeks out of the year, and timing can vary depending on weather conditions.  Ramps were running late this year because of extended cold weather on the East Coast.  If you can find either of these items in your local market, I would highly recommend getting some and trying them out.  Ramps are one of my favorite seasonal ingredients ever.  This morning, I baked them into a frittata :).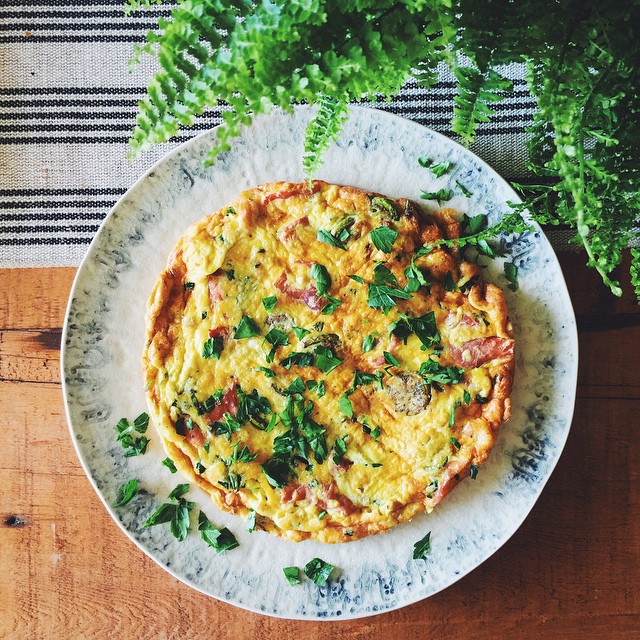 Fiddlehead, Ramp and Prosciutto Frittata
Ingredients
4

thin slices of prosciutto, torn into pieces

2

tablespoons

unsalted butter

6

ramps, thoroughly rinsed and root ends trimmed

A couple handfuls of fiddlehead ferns, rinsed and trimmed

Kosher salt

Freshly ground black pepper

8

eggs

1/2

cup

freshly grated Parmesan cheese

2

tablespoons

crema (sour cream, creme fraiche, milk or cream would also be fine)

Extra virgin olive oil

Chopped parsley, for serving
Instructions
Preheat a broiler to high, and set a rack close to the heating element.

Add prosciutto to a 10-inch skillet, and cook, stirring occasionally, over medium-low heat until the edges start to crisp. While the prosciutto is cooking, cut the white/pink portion of the ramp from the leaves. Thinly slice the white/pink portion and chop up the leaves. Transfer prosciutto to a plate, increase the heat to medium, add butter to the skillet along with the fiddlehead ferns, sliced white/pink portion of the ramps and a pinch of salt. Cook until tender (3 - 4 minutes), then stir in the chopped ramp greens and cook for 1 minute longer.

Beat together the eggs, Parmesan, crema, a couple of pinches of salt and several turns of black pepper with a fork, then add to the skillet with the ferns and ramps. Add cooked prosciutto. Using a spatula, stir the eggs as if you were scrambling them for 1 minute. Continue to cook the eggs until the sides start to set, but the top still looks wet (about 2 minutes). Run your spatula around the edge of the skillet to create a little space, then drizzle olive oil around the edge. Run your spatula once more around the edge, so the olive oil gets between the sides of the skillet and the eggs. Move the skillet below the broiler, and cook until the top gets golden brown and bubbly (3 to 4 minutes).

While the skillet is still warm, carefully use a spatula to transfer the frittata to a plate or cutting board. Sprinkle with chopped parsley and serve.
Finally, Grapefruit and Aperol Granita with Vanilla Ice Cream.  Jorge recently had some family in town, and we had them over for dinner yesterday.  I had a surplus of citrus on my kitchen counter, so I decided to make a simple granita (Italian shaved ice).  I then paired this granita with vanilla ice cream similar to a Gelati at Rita's.  Much better though 🙂
Grapefruit and Aperol Granita with Vanilla Ice Cream
Ingredients
1 1/3

cup

sugar

1

cup

water

3

cups

fresh citrus juice (I mainly used ruby red grapefruit here, but I also mixed in some tangerine and blood orange juice)

1/4

cup

Aperol

Kosher salt

Freshly squeezed lemon juice

Vanilla ice cream, for serving
Instructions
Warm sugar and water in a small saucepan over medium, stirring until the sugar dissolves. Bring mixture to a boil, bubble for 1 minute, then take the saucepan off the heat. Let cool completely.

Combine sugar-water mixture, citrus juice and Aperol in a medium bowl, stirring to combine. Add a small pinch of salt, then season to taste with lemon juice. The flavors should really pop. I squeezed in about 1/2 a lemon. Pour mixture into a baking dish (preferably metal), and transfer to the freezer. Wait 2 hours, then, using a fork, stir up the mixture, scraping any icy bits from the edges to the center. Continue freezing, and stir/scrap every 30 minutes until the mixture is frozen and flaky.
To serve, place 1 scoop of vanilla ice cream in a bowl, and top with several spoonfuls of granita.
3