Chermoula.  Sounds crazy, but it's super tasty.  Let me explain.
This post may contain affiliate links.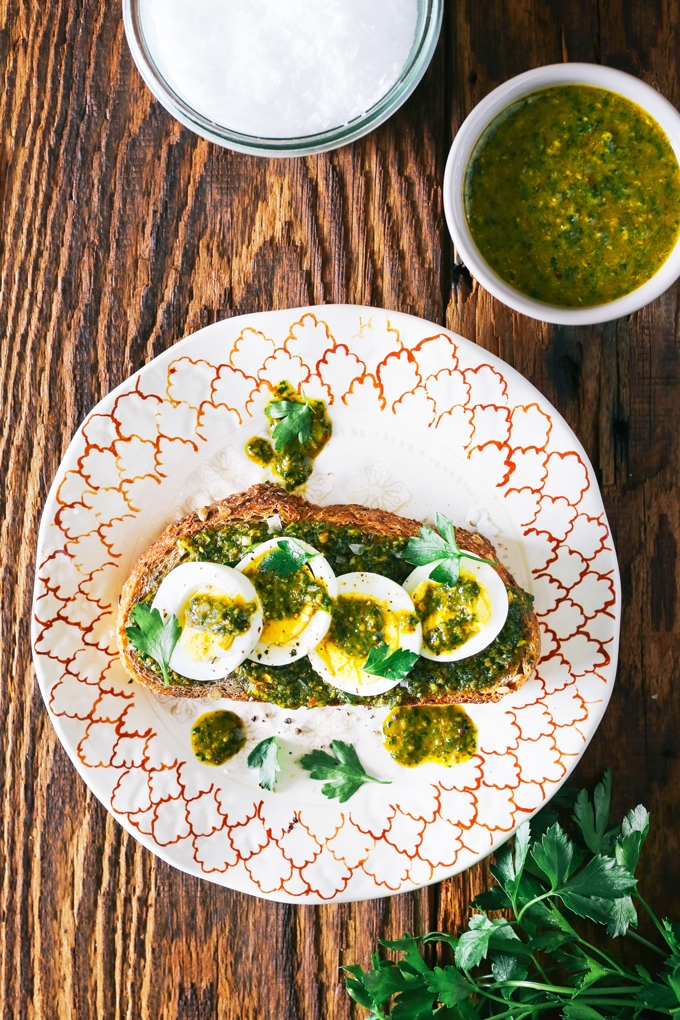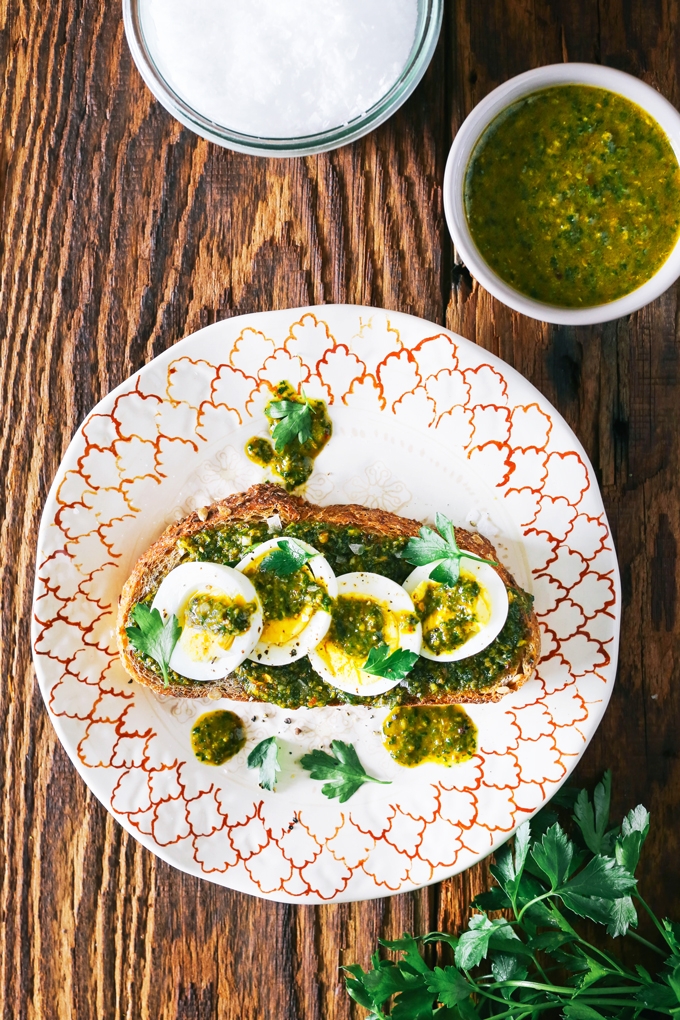 Chermoula is a North African sauce made with herbs, spices, lemon, garlic and olive oil, similar to a chimichurri or an Italian salsa verde.  It's bright.  It's fresh.  And it's just packed with flavor.  For the past few years, North African condiments and spice blends have really been coming to the forefront in home kitchens (harissa, za'atar, preserved lemon), providing big hits of flavor with minimal effort.  I think Chermoula might take the spotlight next.
Here, I've paired this bold North African sauce with hard-boiled eggs and toast as a satisfying lunch or snack.  But that's not the only thing you can do with Chermoula.  Far from it actually!  Dress up some broiled white fish with several spoonfuls of Chermoula to take a weeknight fish dinner to the next level.  Rub chicken thighs with this sauce then roast until tender and golden.  Serve extra Chermoula on the side!  Drizzle over charred slices of rare flank steak.  Mix with mayo for a vibrant burger topping.  So many tasty options!  Continue reading for the recipe.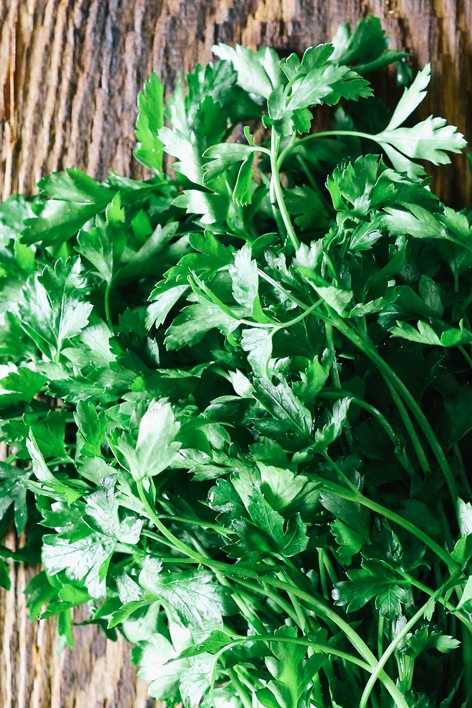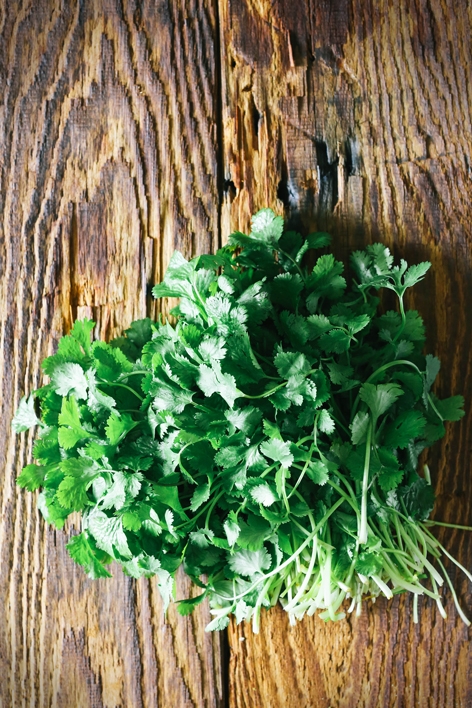 This recipe for Chermoula calls for fresh cilantro and Italian parsley.  I've always got bunches of parsley and cilantro sitting in my fridge from making homemade tomato sauce or carne asada tacos, and this is the perfect use up for the leftover leaves.  With summer right around the corner, you may find yourself with an abundance of backyard herbs.  Put them to good use with this recipe :)!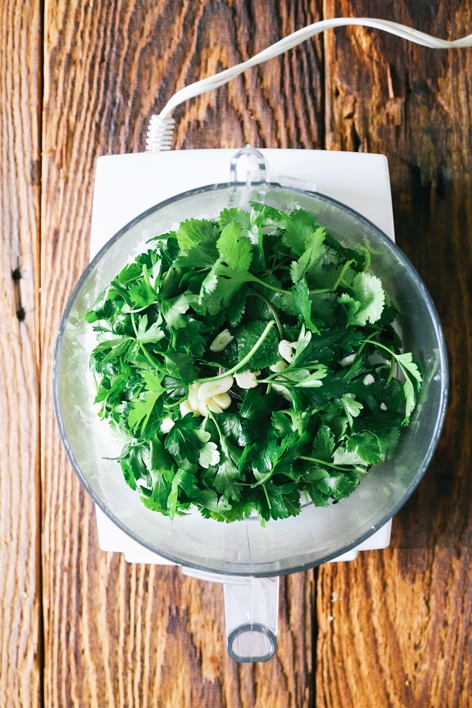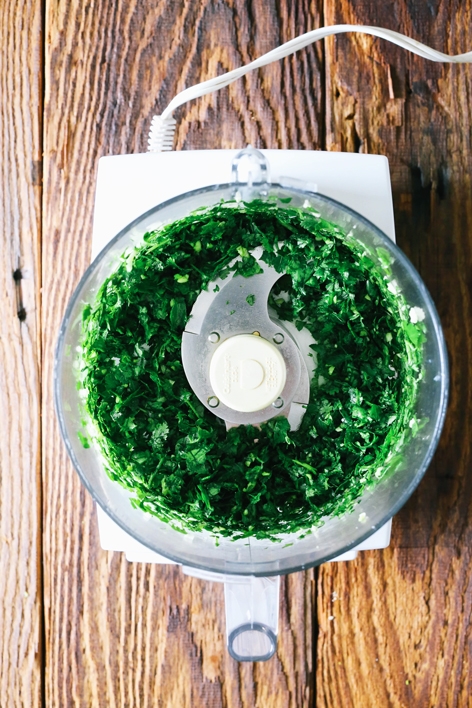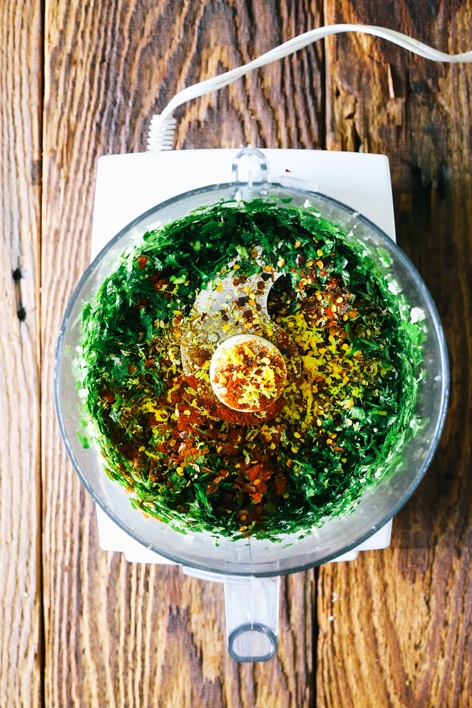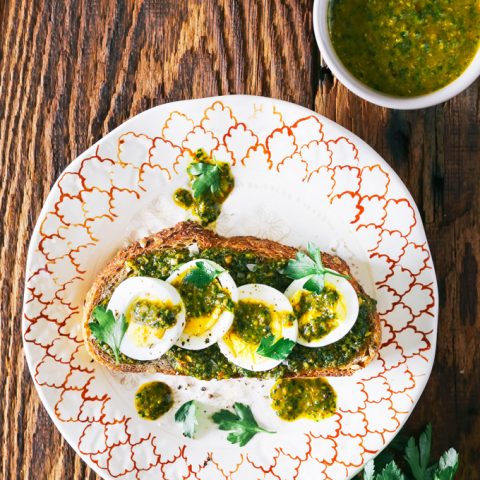 Hard-Boiled Egg Toast with Chermoula
Ingredients
1

cup

packed cilantro

1/2

cup

packed Italian parsley

2

cloves

garlic, roughly chopped

1/2

cup

olive oil

Zest and juice of 1 lemon

2

teaspoons

ground cumin

2

teaspoons

group coriander

1

teaspoon

paprika

1

teaspoon

red chile flakes

Kosher salt

1 3/4-

inch

thick slice of bread (multigrain used here)

1

hard-boiled egg, sliced

(check out my Foolproof Hard-Boiled Eggs)

Parsley leaves

Freshly ground black pepper
Instructions
Place cilantro, parsley and garlic in a food processor, and pulse until chopped. Add olive oil, lemon zest, lemon juice, cumin, coriander, paprika, red chile and a pinch of salt, pulsing to combine. Season to taste with additional kosher salt. The Chermoula should be somewhat thin and not completely smooth. You'll see bits of herb and spice in the sauce.

Preheat an oven to 450°F. Toast bread in the oven until lightly golden (about 5 minutes). Spread a spoonful of Chermoula over the toasted bread, then top with sliced hard-boiled egg, another drizzle of Chermoula, and several small parsley leaves. Season to taste with kosher salt, and freshly ground black pepper. Store any unused Chermoula in the refrigerator for up to 2 weeks.
Tried this recipe?
Tag @brandiego on Instagram so I can check it out!
Chermoula is just one of the exotic flavor bombs available in my culinary arsenal.  Here are some others I like to keep around whenever I need to punch up flavors.  These recipes come in handy during the week when my time and energy are short!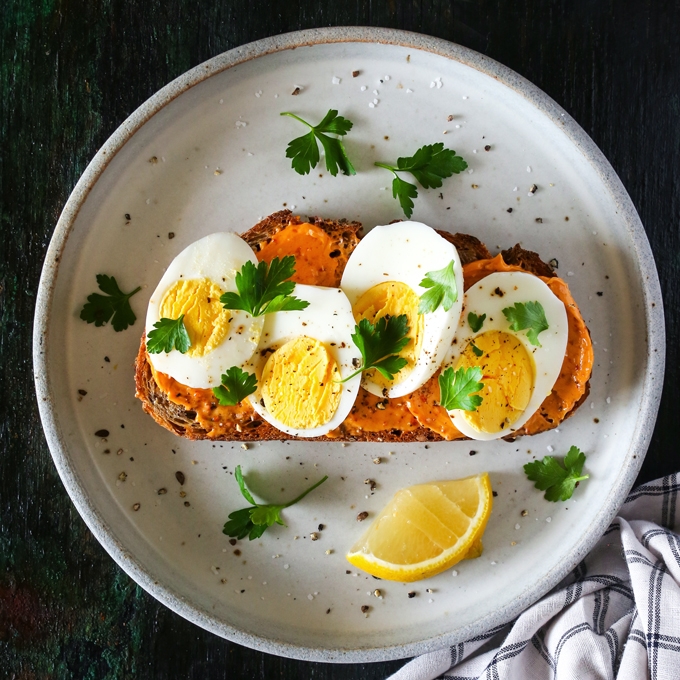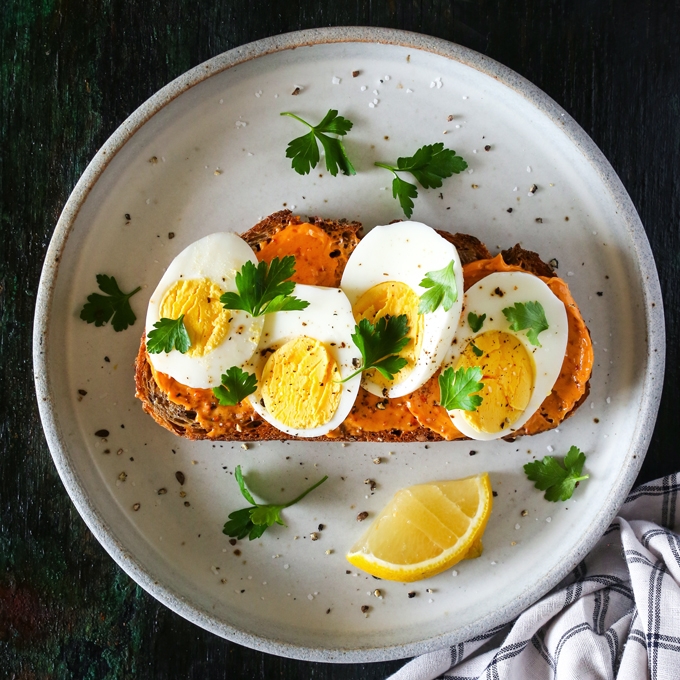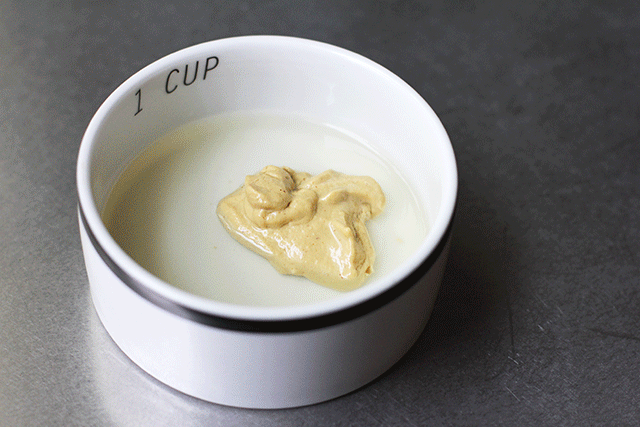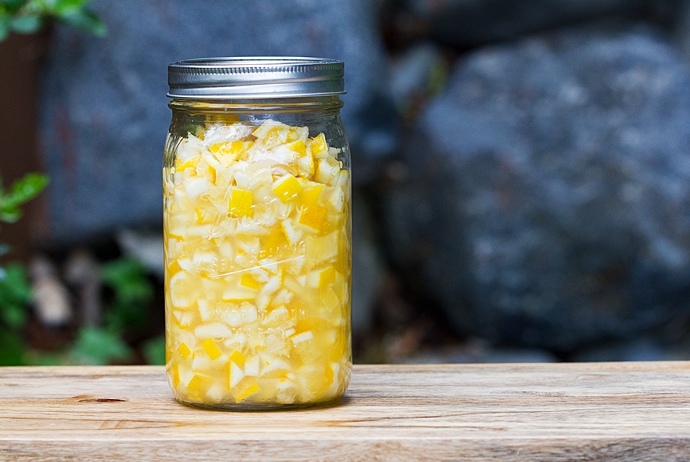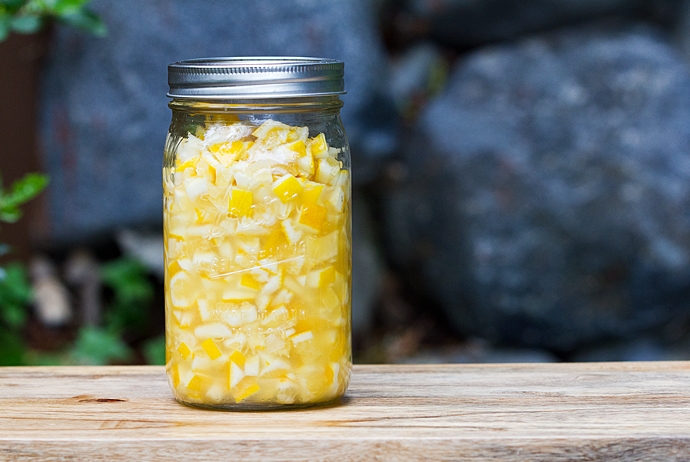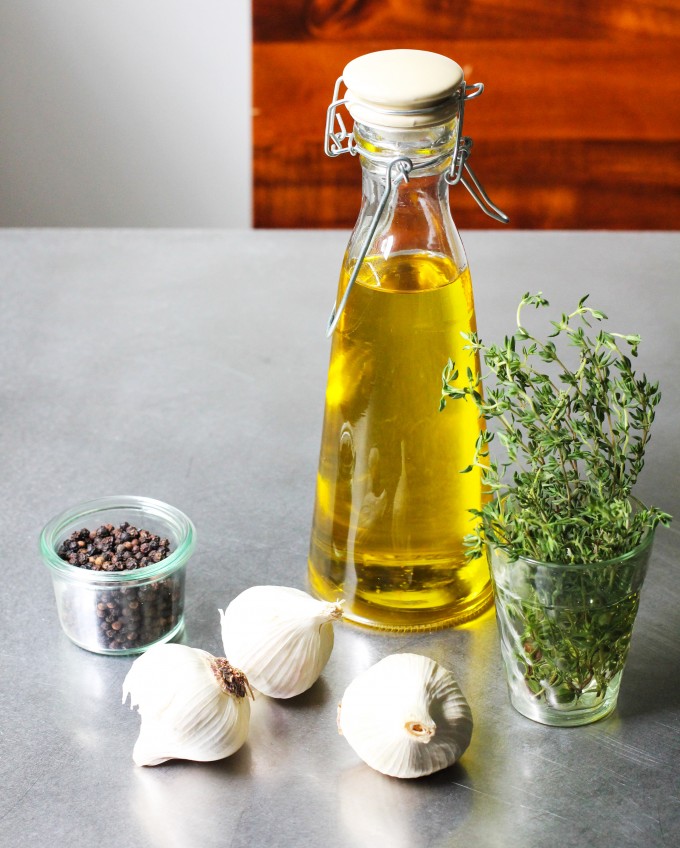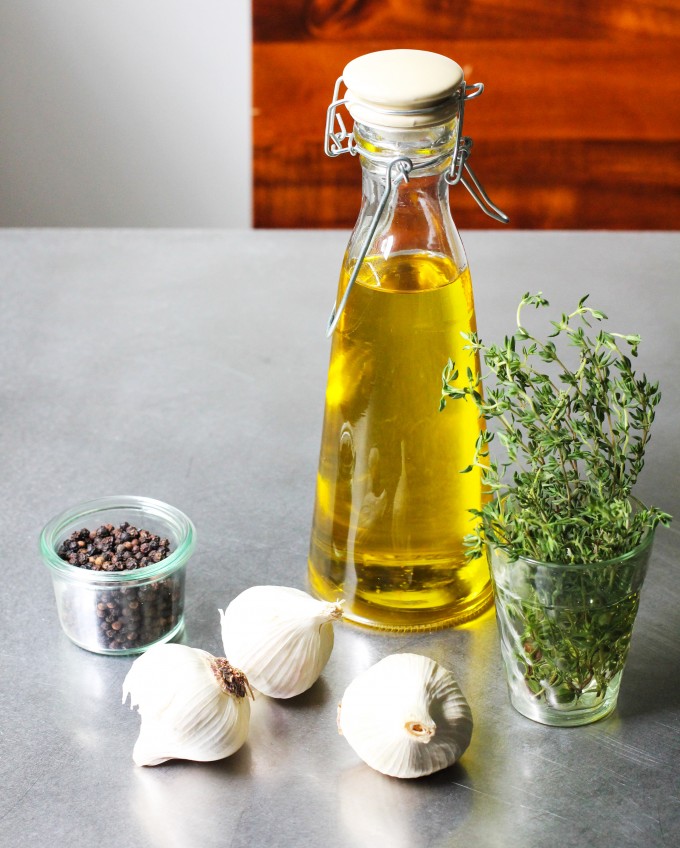 1