You guys are in for a treat today!  Two treats really.
This post may contain affiliate links.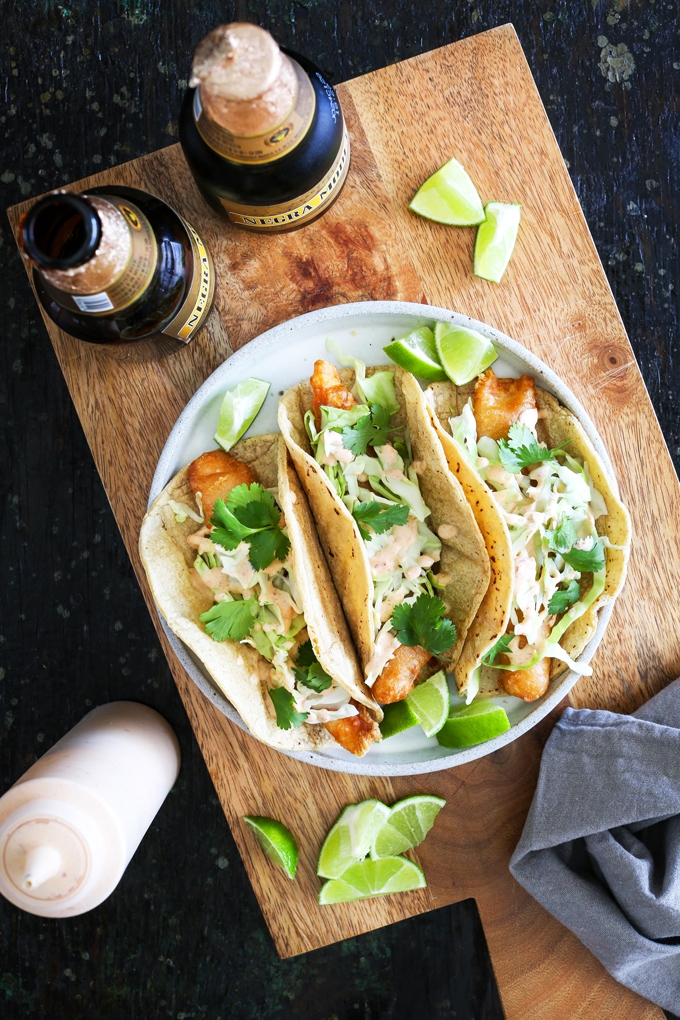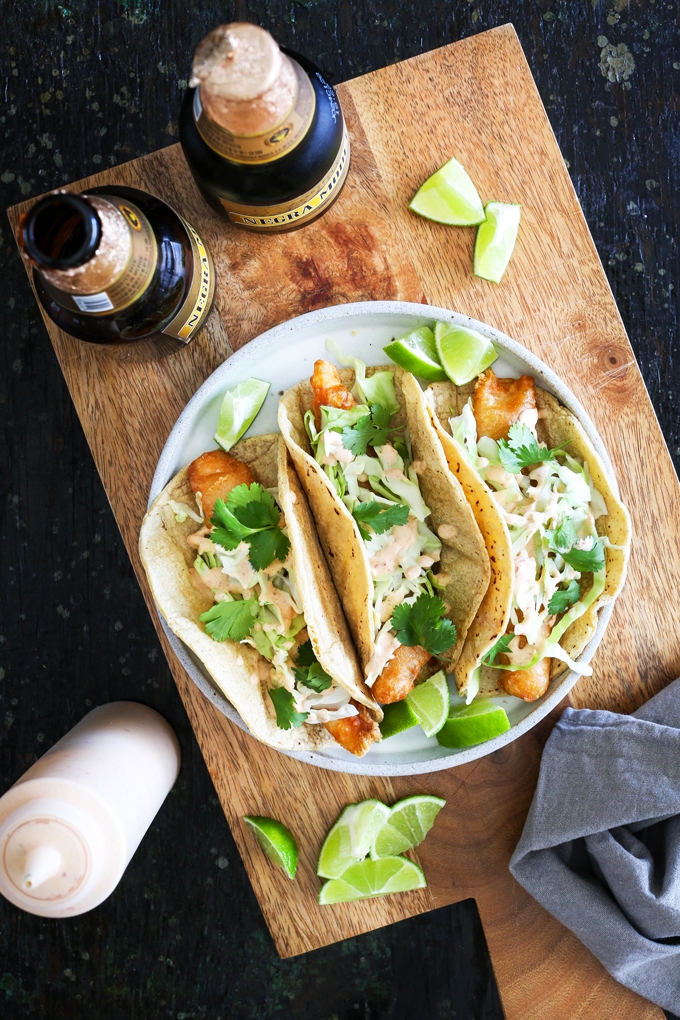 A few months ago, Jorge and I went on a hunt for the best battered fish taco in San Diego.  Given the massive amount of fish taco options available, we decided to start our search by polling friends, family and fellow foodies about their favorite spots for fish tacos.  This poll resulted in these top 3 restaurants/trucks (also vetted on Yelp): Mariscos Alex, TJ Oyster Bar and Oscar's Mexican Seafood.  After we found a favorite fish taco, I then made my own Crispy Fish Taco recipe paired with a spicy Chipotle Crema.  This week, I'm sharing my pick for the best fish taco in SD plus my fish taco recipe over on Salt & Wind, a food and travel blog by Aida Mollenkamp.  Continue reading for photos from the hunt plus links to the winner and recipe.
Let me start by saying that this was one of the tastiest "assignments" I've ever been on.  I love crispy fish tacos, and all three spots did not disappoint.  Here's the criteria I had in mind when tasting each taco (more details here):
Authenticity
Flavor
Fish-to-Batter Ratio
Texture
Blow Out Factor
Fillings-to-Tortilla Ratio
Sauce selection
Our first stop was Mariscos Alex in City Heights:
Next we went to TJ Oyster Bar in Bonita:
Finally, Oscar's Mexican Seafood in Hillcrest:
For full details on each restaurant plus my final pick for best crispy fish taco in San Diego, visit Salt & Wind here.
Now, on to my fish taco recipe.  This recipe starts with strips of cornstarch-dusted, air-dried tilapia dipped in beer batter and fried to puffy, golden perfection.  The crispy fish is then placed in a warm corn tortilla and topped with crunchy cabbage, bright cilantro and a healthy squeeze of smoky crema infused with chipotle in adobo and lime juice.  If you love fish tacos as much as I do, then you will absolutely love this recipe.  I should mention it also gets a Mexican seal of approval (provided by my Mexican boyfriend) :)!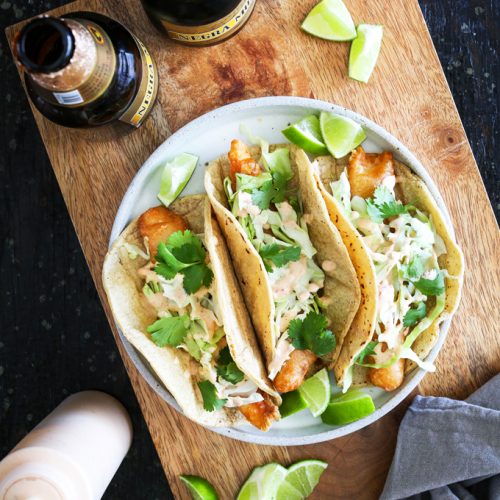 Crispy Fish Tacos with Chipotle Crema
Ingredients
For the fish:
2

pounds

tilapia fillets

3/4

cup

cornstarch, divided

1

teaspoon

baking powder, divided

Kosher salt

1/2 – 3/4

cup

all purpose flour

1

cup

beer, preferably Mexican

For the chipotle crema:

2/3

cup

Mexican crema or sour cream

1/3

cup

mayonnaise

3

chipotle chiles in adobo sauce

2

tablespoons

freshly squeezed lime juice, plus more to taste

Kosher salt
For the tacos:
Vegetable, canola or peanut oil, for frying

Corn tortillas, warmed in a skillet

2

cups

shredded cabbage

Lime wedges, for serving

Cilantro leaves, for serving
Instructions
Cut each tilapia fillet in half lengthwise. Keep the shorter half of the fillet whole, but cut the longer half in half again widthwise. To a large bowl, add 1/4 cup cornstarch, 1/2 teaspoon baking powder and 2 teaspoons kosher salt, whisking to combine. Add the strips of tilapia, and toss until evenly coated. Transfer the fish to a wire rack set over a rimmed baking sheet, and refrigerate uncovered for 30 minutes or overnight. Meanwhile, make the crema.

Combine the Mexican crema, mayo, chipotles, lime juice and a pinch of salt in a small food processor or blender, and process until smooth. The crema should be fairly thin. Season to taste with additional kosher salt and lime juice. Flavors should be bright and bold.

When ready to fry, whisk together 1/2 cup cornstarch, 1/2 teaspoon baking powder, 1/2 cup flour and 2 teaspoons kosher salt in a large bowl. Add beer, and whisk until smooth. To test the consistency, dip a whisk into the batter, then pull up. If the batter runs off the whisk in a steady, thin stream, it's perfect. If it doesn't hold to the whisk, it's too thin. Whisk in a little flour and test again. If the batter runs off the whisk in a slower, thicker stream, it's too thick, whisk in a little beer and test again. Set batter aside for 15 minutes before using.

Meanwhile, fill a large cast-iron pot with enough oil to reach a depth of 2-inches, and preheat oil to 350°Working in batches, dip the fillets in the beer batter one at a time, making sure the fish is fully coated. Let excess batter drip off, then carefully lower the fish in the oil. Don't overcrowd the batches as this will cause the temperature of the oil to drop quickly. Fry the fish until golden brown and cooked through (4 to 5 minutes). Transfer to a wire rack and immediately sprinkle with salt.

To make the fish tacos, place 1 or 2 pieces of fried fish in a warm tortilla with shredded cabbage. Squeeze a lime over the fish and cabbage, then drizzle with chipotle crema. Finish with a few cilantro leaves. The fish tacos are best enjoyed immediately!
Tried this recipe?
Tag @brandiego on Instagram so I can check it out!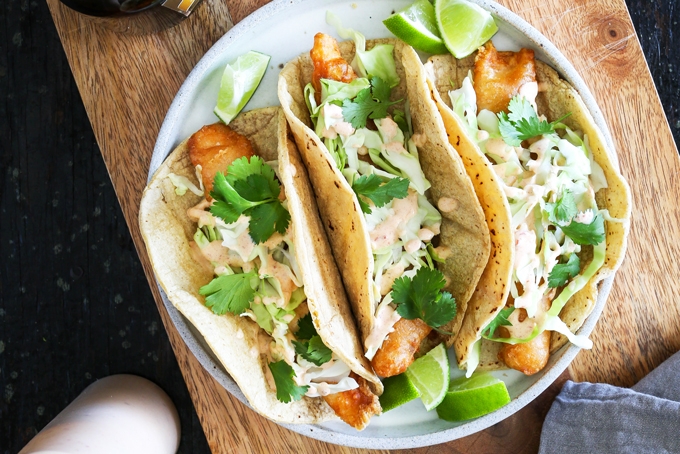 Looking for the best fish taco in San Diego?? Click this link.
Now it's your turn to share! Do you have a favorite battered fish taco spot in San Diego? If so, please share below.
26