It has been so HOT in San Diego recently.
This post may contain affiliate links.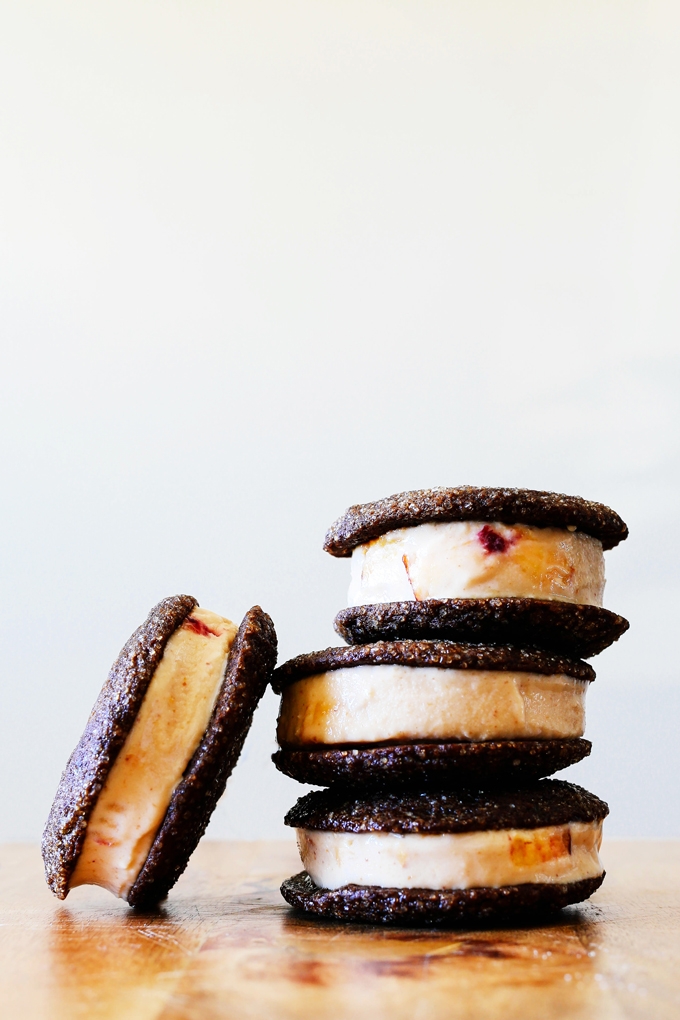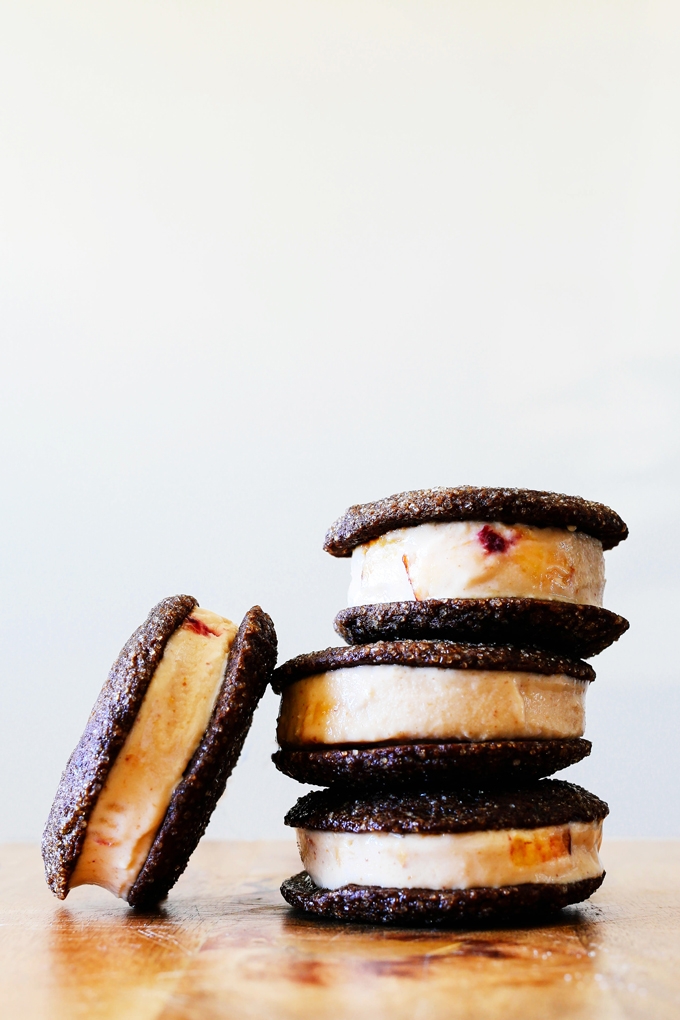 For those of you in typically warmer summer climates, you may laugh at me when I say that it's been an uncomfortable 75 – 80 for the past week.  But those seemingly normal temps have been accompanied by a thick blanket of humidity, something that we rarely get here in San Diego.  I used to deal with humidity all the time when I lived in New Jersey, but I'm coming up on my 11th year in SD, and I've completely lost all tolerance.
This uncharacteristic heat has me craving cold, sweet treats nighty.  My freezer is stocked with various tubs of homemade and store-bought ice creams, including this Fresh Peach Ice Cream.  Made with both a blended peach puree and macerated bits of yellow peach, this egg-free ice cream is just packed with peach flavor.  Like scoopable summer.
When I'm feeling lazy, I'll enjoy a scoop or two of ice cream with some fridge staples, including jam, caramel sauce, or ginger syrup.  OR I'll make ice cream sandwiches with store-bought cookies.  When I'm feeling a bit more ambitious, I'll whip up a fresh batch of cookies for ice cream sandwiches.  Here, I've paired this Fresh Peach Ice Cream with dark, glistening Gingersnaps.  These cookies are bursting with notes of ginger, star anise, brown sugar and molasses. Ginger pairs harmoniously with peach here, forming an addicting sweet treat.  Continue reading for the recipe.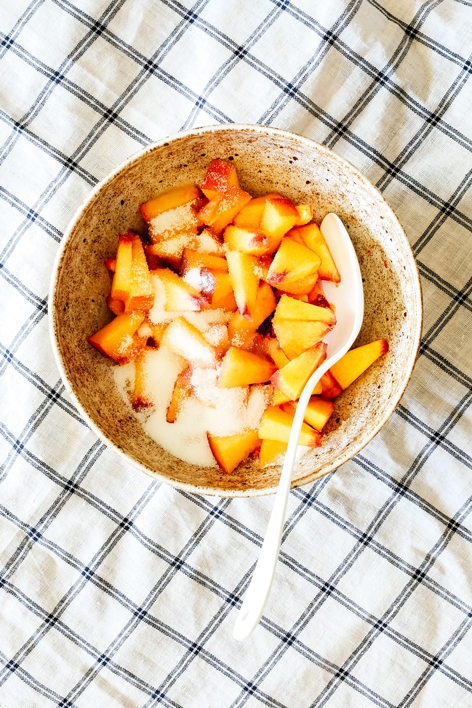 Peach is the dominant flavor in the ice cream, so starting with ripe, fragrant peaches is a must. To tell if a peach is ripe, bring it up to your nose and smell. If it smells strongly like a peach, it's ripe!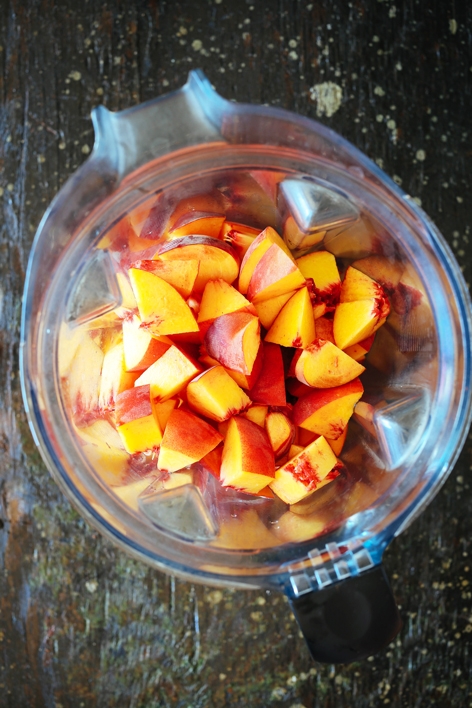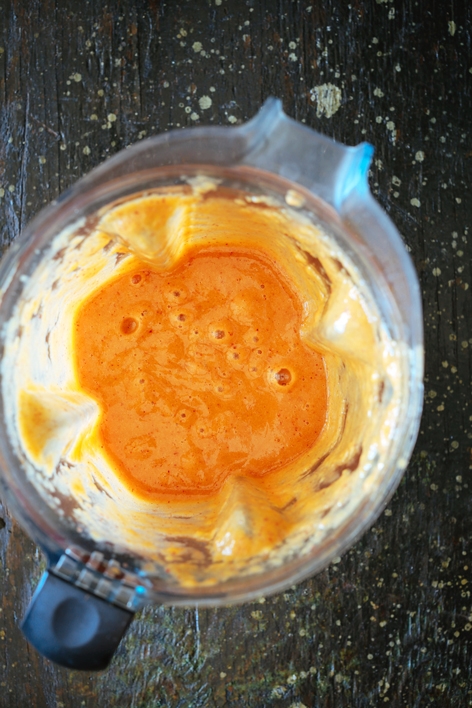 Freshly baked gingersnaps are a dream, but if the thought of turning on the oven on a hot day is unfathomable, store-bought gingersnaps can be used here. I like to wrap each sandwich in parchment paper to catch any drips or crumbs that may drop while devouring.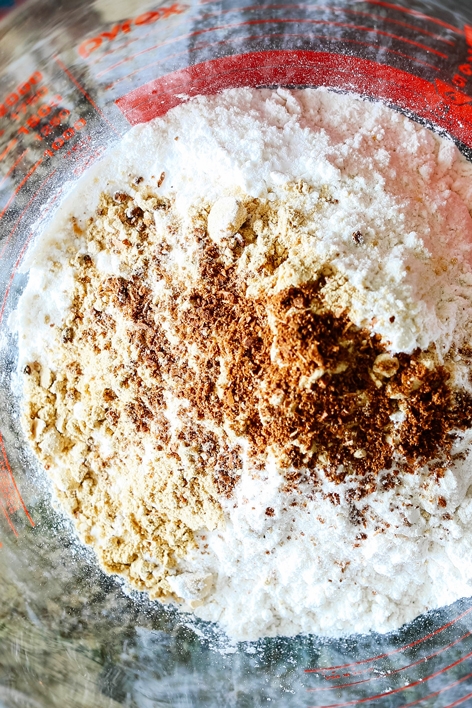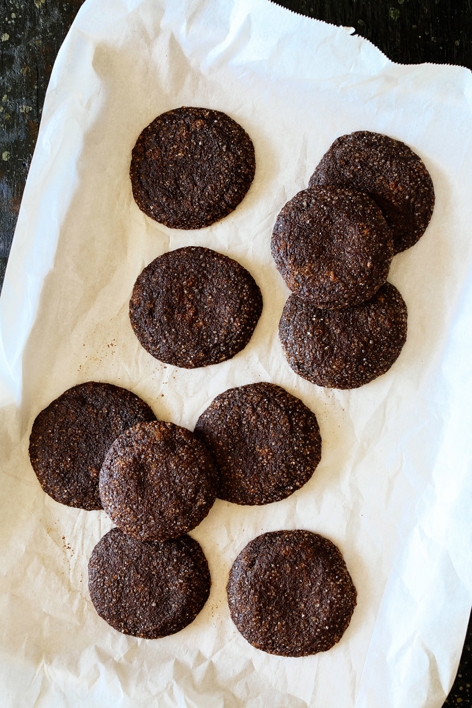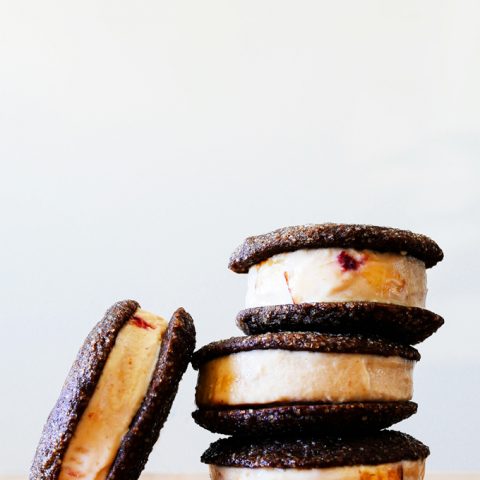 Peach Gingersnap Ice Cream Sandwich Recipe
Keep in mind! There are several resting periods (both ice cream and cookies) required in the recipes below, so be sure to plan accordingly.
Ingredients
For the Peach Ice Cream:
2

pounds

firm ripe yellow peaches (about 4 peaches)

1 1/4

cup

sugar, divided (1/2 for the peaches, 3/4 for the ice cream base)

1/4

cup

St. Germain Elderflower Liqueur (vodka, bourbon or white rum would also work here)

2

cups

half and half

1/2

cup

light corn syrup

1/2

teaspoon

kosher salt, plus more to taste

2

teaspoons

freshly squeezed lemon juice, plus more to taste
For the Gingersnaps:
2 1/4

cups

281 grams all-purpose flour

2

teaspoons

baking soda

1/2

teaspoon

fine grain sea salt

4

teaspoons

ground ginger

1

teaspoon

ground star anise (can't find this? try cinnamon!)

2

sticks (8 ounces or 1 cup) unsalted butter

1/2

cup

sugar

1/2

cup

packed light brown sugar

1

tablespoon

finely grated fresh ginger

1/3

cup

unsulphured molasses

1

large egg, lightly beaten

1/2

cup

turbinado, raw sugar
Instructions
To make the Peach Ice Cream:
Halve the peaches and remove the pits. Chop up 1 1/2 peaches into small bits and add to a medium bowl. Set aside the remaining 2 1/2 peaches. To the bowl with the chopped peaches, add 1/2 cup sugar and liqueur, stirring to combine. Cover and let macerate in the fridge for at least 2 hours. Coarsely chop remaining 2 1/2 peaches, then add them to a blender. Puree at high speed until very smooth. Measure out 1 1/2 cups of peach puree, and set aside. Use any leftover puree in a smoothie or spoon over ice cream.

In a large bowl, whisk together 1 1/2 cups peach puree, half and half, corn syrup, 3/4 cup sugar, salt and lemon juice, until fully combined. Whisk in additional salt and lemon juice to taste. Flavors should be full and balanced. Cover the bowl and refrigerate until cold (at least 4 hours). Freeze mixture in an ice cream maker according to the manufacturer's instructions. Once the ice cream has finished churning, strain the macerated peaches, and add them to the ice cream maker. Churn for a few moments more to mix in the peach bits. Transfer to an airtight container and chill in the freezer for 2 to 3 hours before serving. Reserve remaining peach syrup for cocktails, ice cream or morning yogurt.
To make the Gingersnaps:
Add flour, baking soda, sea salt, ground ginger and ground star anise to a large bowl, whisking to combine. Add butter to a small saucepan set over medium-low heat, and warm until just barely melted. Take the saucepan off the heat, and stir in sugars, fresh ginger and molasses. Let the mixture cool until just warm to the touch, then whisk in the egg. Pour the wet mixture into the bowl with the dry ingredients, stirring until combined. Don't overwork the dough here. Cover the bowl, and let chill in the refrigerator for 2 hours.

Preheat an oven to 350°F, and set an oven rack to the middle position. Spread turbinado sugar out on a large plate. Scoop a heaping tablespoon of dough into one hand, then roll into a ball. Roll the ball around in the turbinado sugar, then place on a parchment-lined baking sheet. Repeat this process, placing dough balls 2-inchs apart on the baking sheet. Working in batches, bake cookies for 12 – 14 minutes until crisp. Let rest for 5 minutes on the baking sheet before transferring to a cooling rack to cool completely.
To make the Ice Cream Sandwiches:
Place a large scoop of peach ice cream on a cooled gingersnap, then top with another gingersnap. Press gently to flatting the scoop of ice cream and bind the sandwich. Enjoy immediately!
Tried this recipe?
Tag @brandiego on Instagram so I can check it out!
What are some of your favorite sweet treats that help beat the heat?  Another favorite ice cream sandwich combination of mine is simply vanilla ice cream and store-bought chocolate chip cookies (good ones…).  Do you have a favorite combo??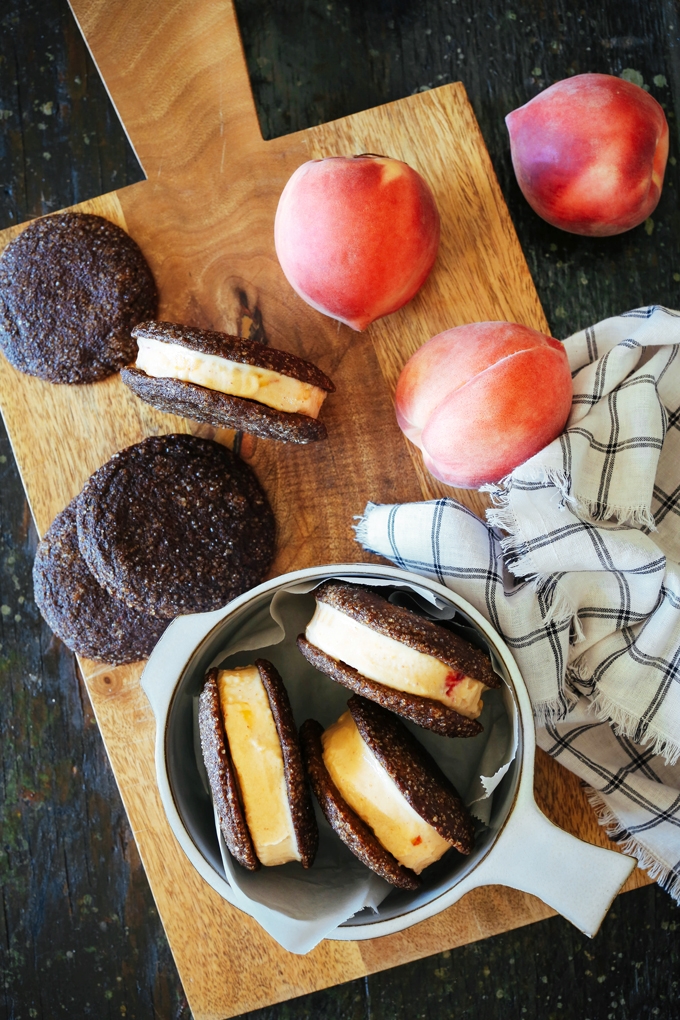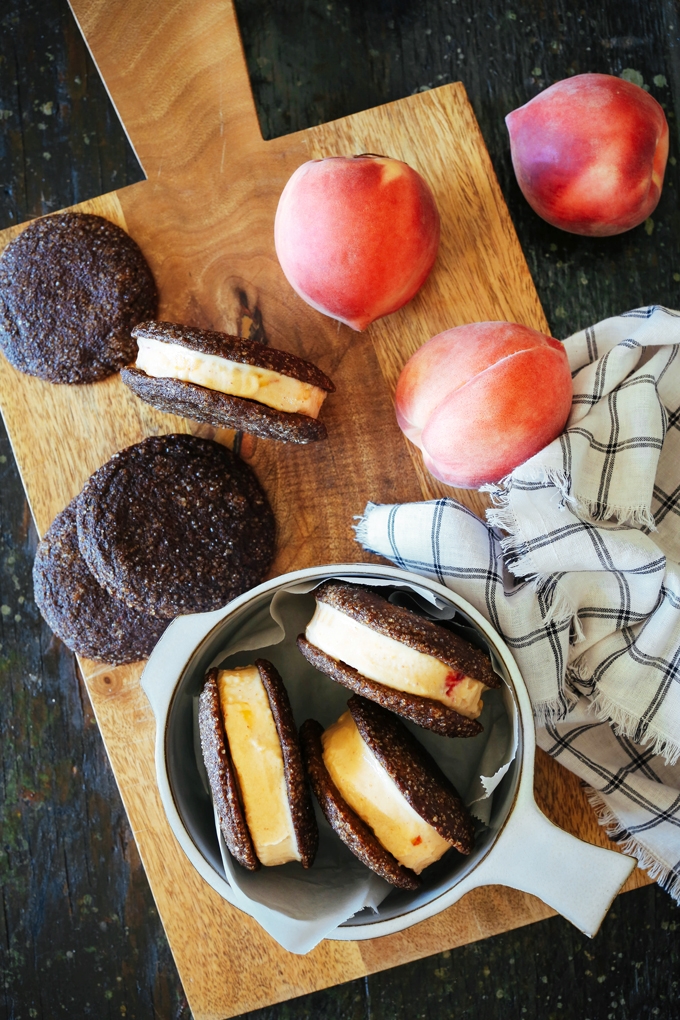 Here are some other cold, sweet treats on Kitchen Konfidence: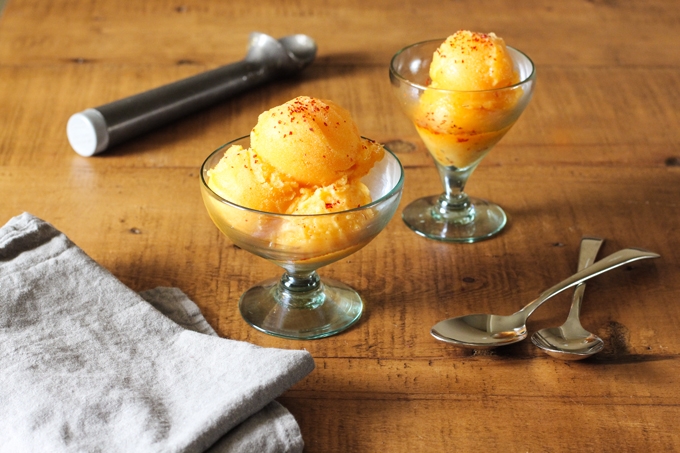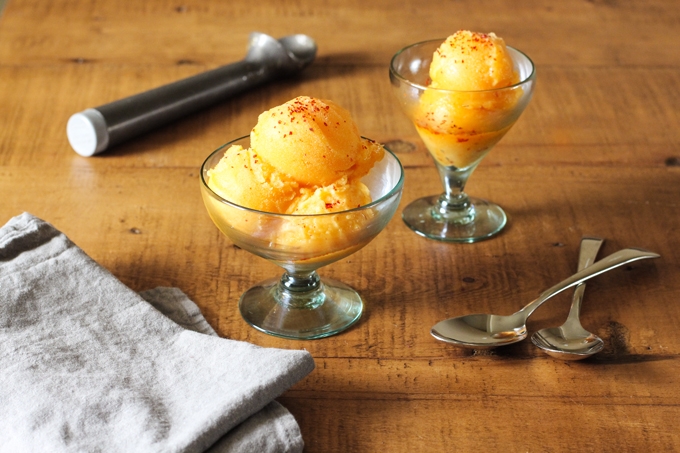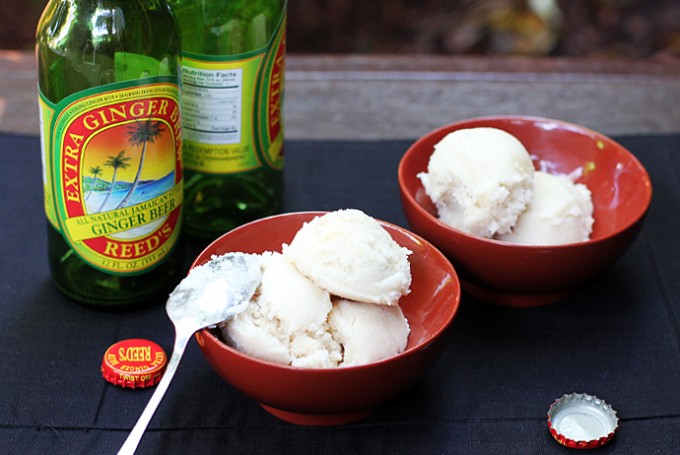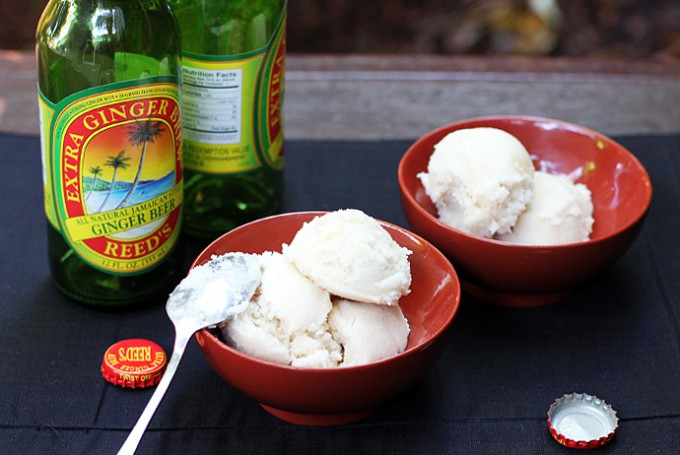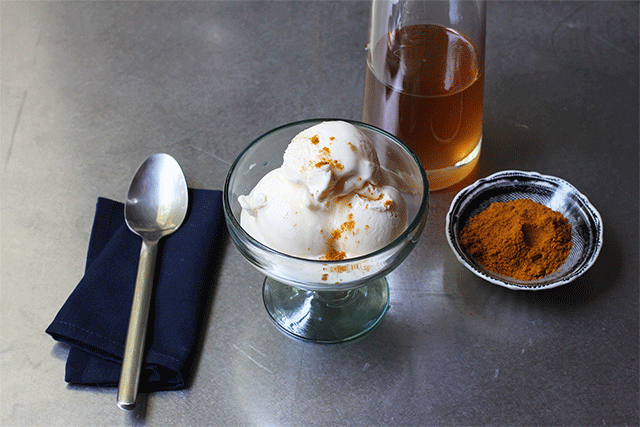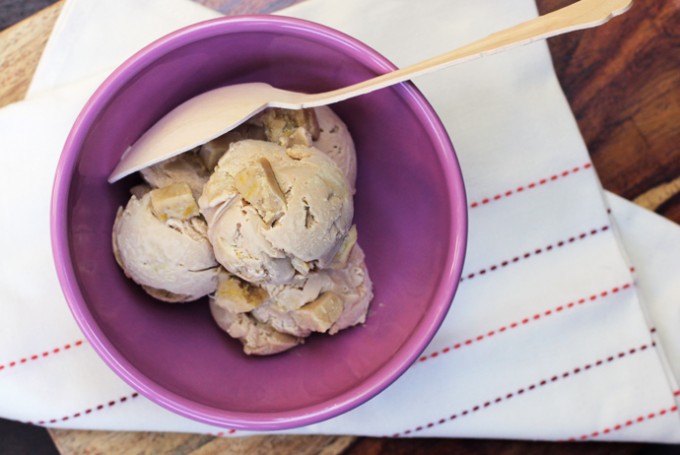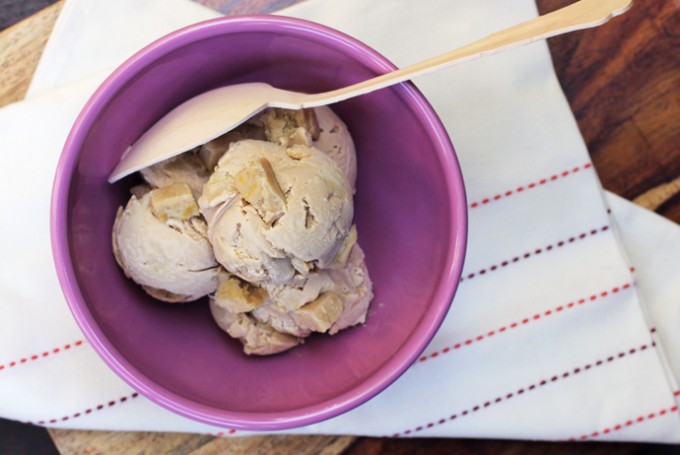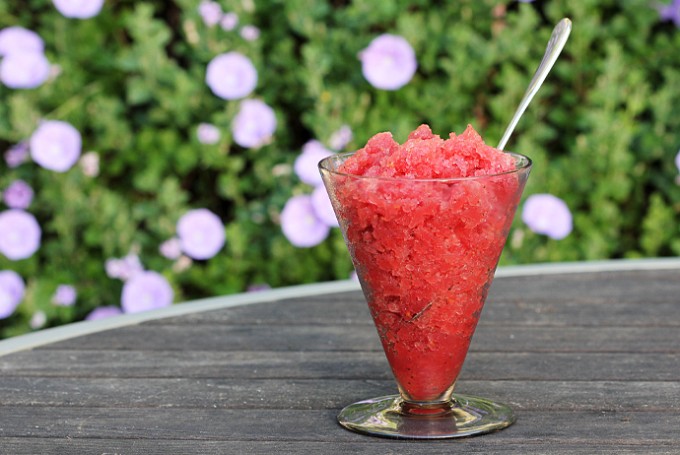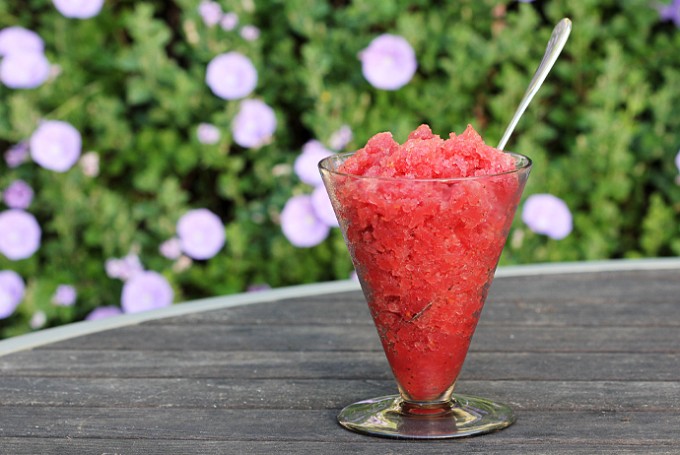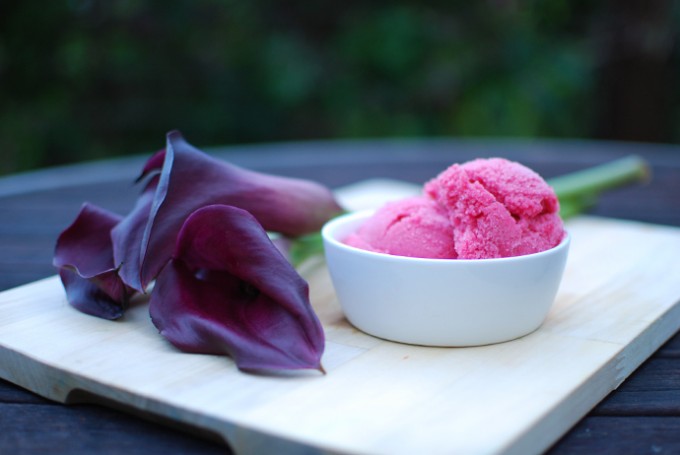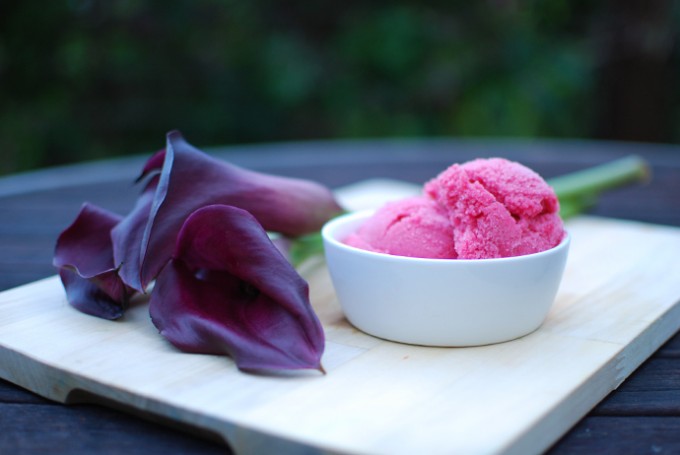 1