I'm diving into a new realm of delicious DIY today with this recipe for Plum Butter.
This post may contain affiliate links.
I was at Specialty Produce several weeks ago when I spotted an entire section of ripe, fragrant plums, each colorful variety separated into various boxes.  After sampling most of them, I decided to get a couple pounds of these Honeysuckle Rose Plums.  I'm not sure if the naming of the plum influenced my flavor perception, but at first, juicy bite (a juice explosion really), I swear they tasted of honeysuckle.  Sweet, tart and just a hint of floral honey.  With a bag of speckled rubies in hand, I headed home, determined to make them into preserves.
During the summer months when gorgeous fruit is abundant yet fleeting, I just love making all sorts of preserves (jams, jellies, and now butters).  This allows me to enjoy seasonal flavors several months after the actual fruit has gone out of season.  I usually make jam, so this year, I wanted to tackle something new: fruit butter.  Continue reading for the process plus a bonus toast recipe.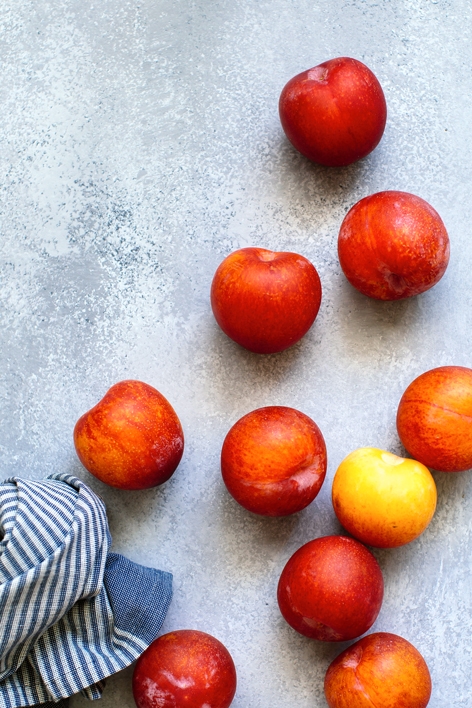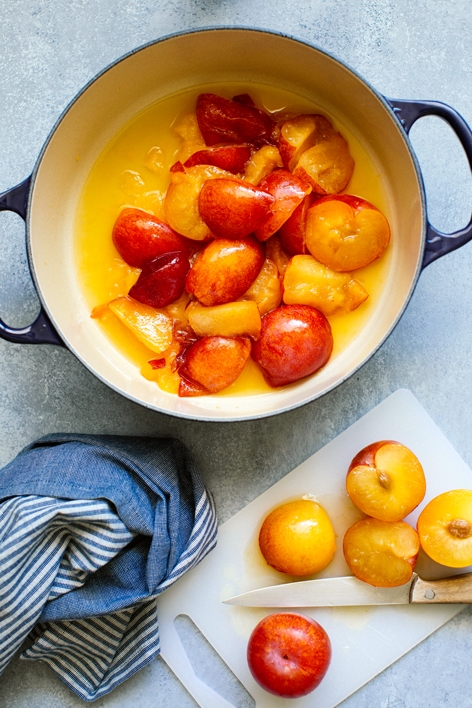 First, let's talk about the differences between fruit butter and jam.  Jam is made by cooking fruit with a lot of sugar and (sometimes) pectin to achieve a thick texture.  Fruit butter is made by cooking fruit with some sugar for a longer time period until it thickens.  It's basically a reduced fruit puree.  With both butter and jam, flavorings like herbs, spices, alcohol and citrus can be added to taste.  Because fruit butter lacks pectin and copious amounts of sugar, it stays smooth and spreadable.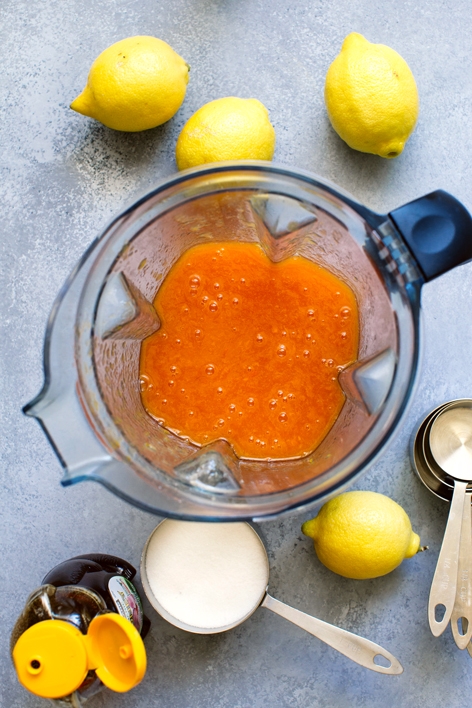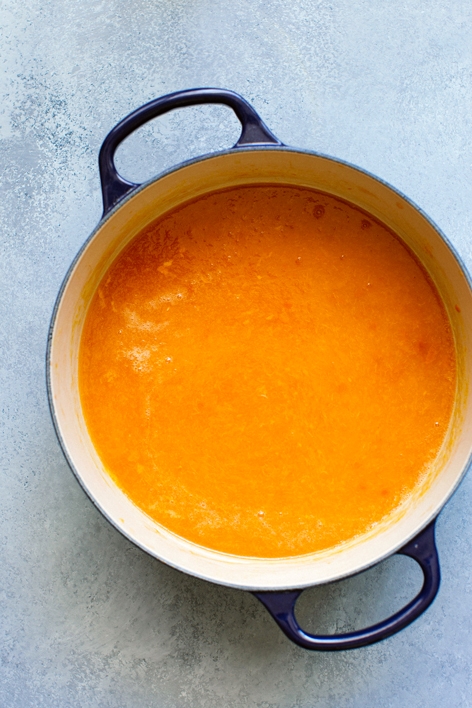 Here, I started with 2 pounds of gorgeous Honeysuckle Rose Plums.  These blushing beauties were plenty flavorful on their own, so I simply enhanced their flavor a bit with the honey and lemon.
One thing to keep in mind when making preserves is that the taste of the finished product will vary based on the starting fruit.  If you start with plums that are really tart, you may need to add some more sugar to balance flavors.  More sugar can be added at the beginning if you are certain your plums are tart.  Honey can be added at the end if you need to balance the flavor just a bit.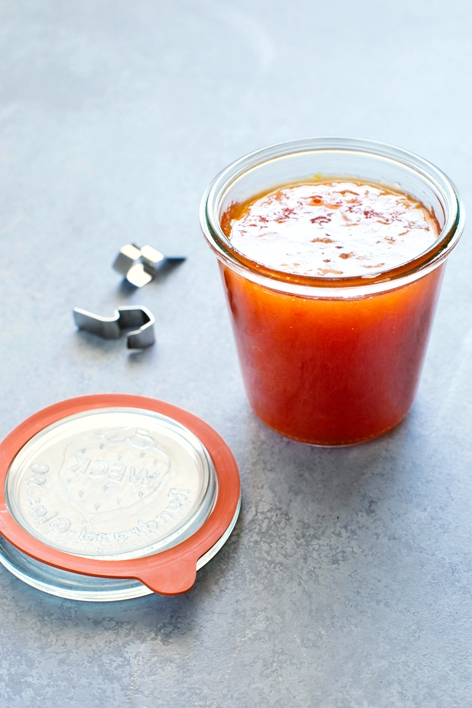 The trickiest part of this recipe is to figure out when the fruit butter is done cooking.  And really, it's not that tricky at all.  Spoon some of the hot fruit butter on a cold plate, chill for 1 minute, and then take a look.  If the butter doesn't hold it's shape, or you see thin liquid at the edges, it's not done.  If it's thick and it holds its shape with no liquid at the edges, it's done!  Just remember to put some small plates in the freezer before you start cooking your fruit butter.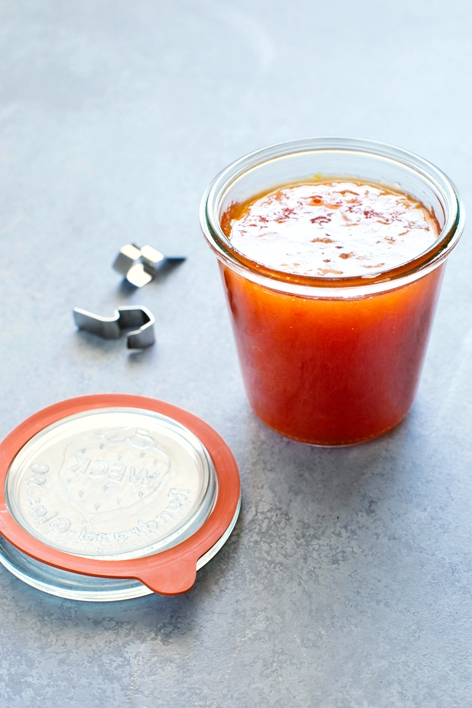 Plum Butter
Ingredients
2

pounds

ripe plums, halved and pitted

3/4

cup

sugar

2

tablespoons

honey

1

tablespoon

freshly squeezed lemon juice

Kosher salt
Instructions
Set several small plates in the freezer. They'll be used to test the consistency of the butter later on.

Place the plum halves in a medium saucepan along with any of the juices that may have run out onto the cutting board. Cook over medium heat until the fruit is very soft (10 - 15 minutes). Transfer to a blender, and carefully blend until pureed (I used the lowest setting on my Vitamix). Measure out 2 cups of plum puree, and reserve the rest for another use (I add to chia pudding!).

Return the plum puree to the medium saucepan along with the sugar, honey, lemon juice and pinch of kosher salt, stirring to combine. Bring the mixture to a boil over medium-high heat, reduce the heat to medium-low, then cook until sufficiently thickened (18 - 20 minutes).

To test the consistency of the butter, place a small spoonful of the hot butter on a cold plate, and return to the freezer for 1 minute. If the mixture looks thin and runny, it's not done. If it's thick and holds it's shape it's done.

Transfer Plum Butter to a clean jar, and let cool before storing in the refrigerator for up to 1 month.
Tried this recipe?
Tag @brandiego on Instagram so I can check it out!
This Plum Butter can be enjoyed for breakfast on toast or for dessert as an ice cream topping.  It can also be paired with cheese as an appetizer.  Here, Plum Butter is spread over slices of crisp baguette, then topped with goat cheese, thyme leaves and freshly ground black pepper.  A perfect app for an elegant summer affair.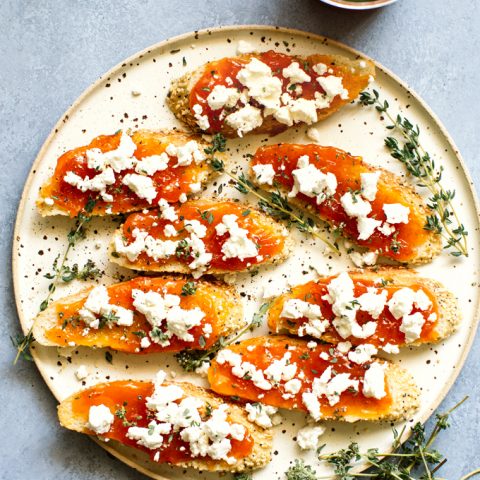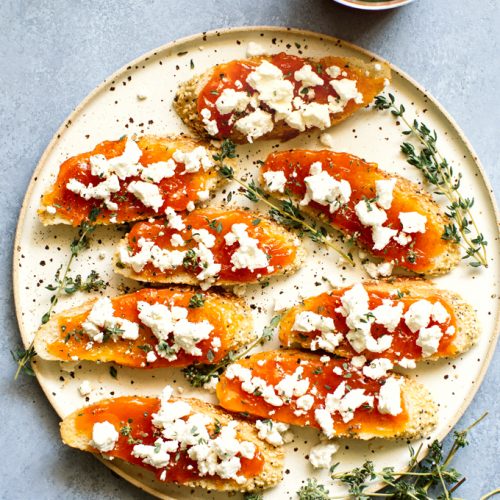 Plum Butter, Goat Cheese and Thyme Toast
Ingredients
20

slices

of baguette, toasted

Plum Butter (see recipe above)

4

ounces

goat cheese, crumbled

Fresh thyme leaves

Freshly ground black pepper
Instructions
Arrange toasted bread on a serving platter. Spread a spoonful of Plum Butter on each slice of toast, then top with goat cheese, fresh thyme leaves and freshly ground black pepper. Enjoy immediately!
Tried this recipe?
Tag @brandiego on Instagram so I can check it out!
Here are some other recipes for summer preserves on Kitchen Konfidence: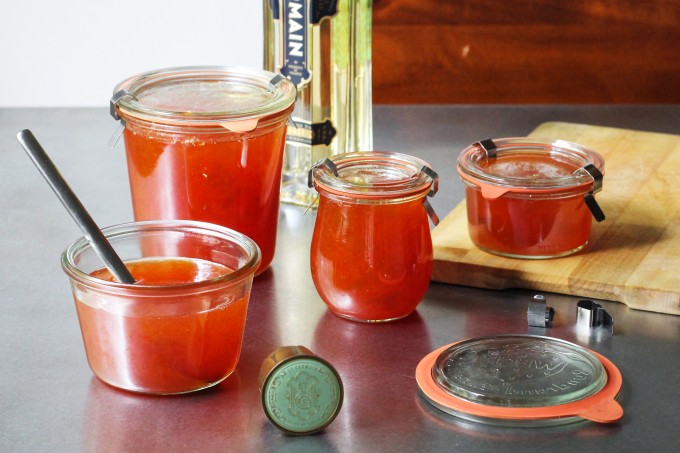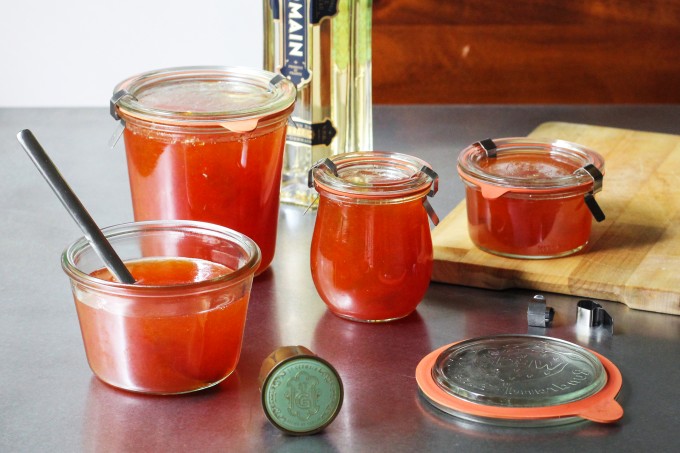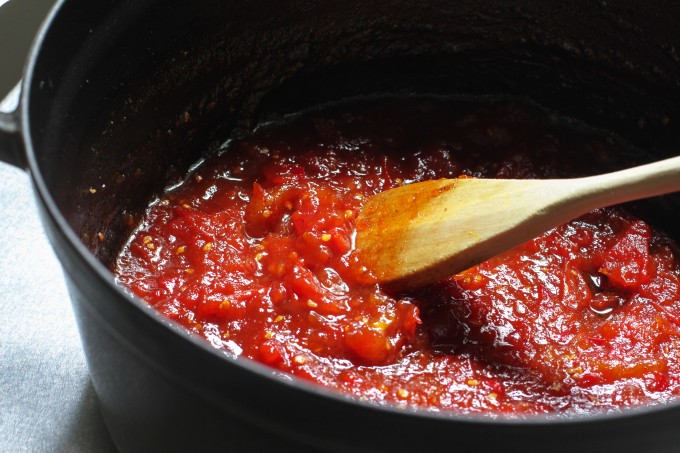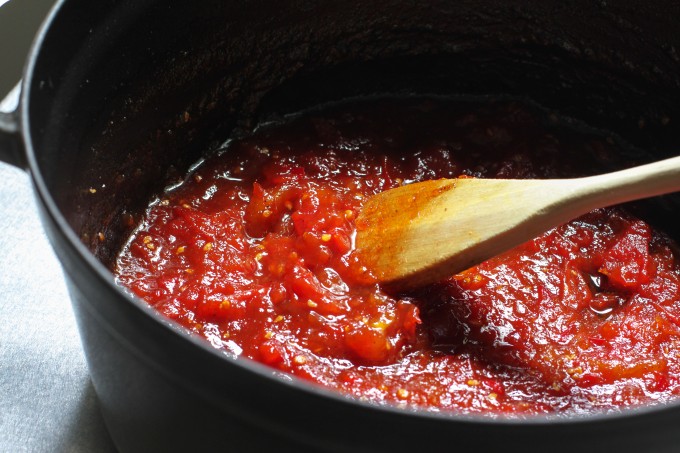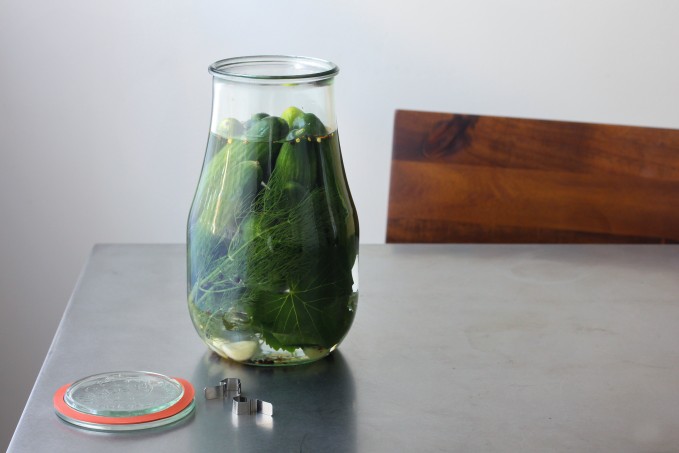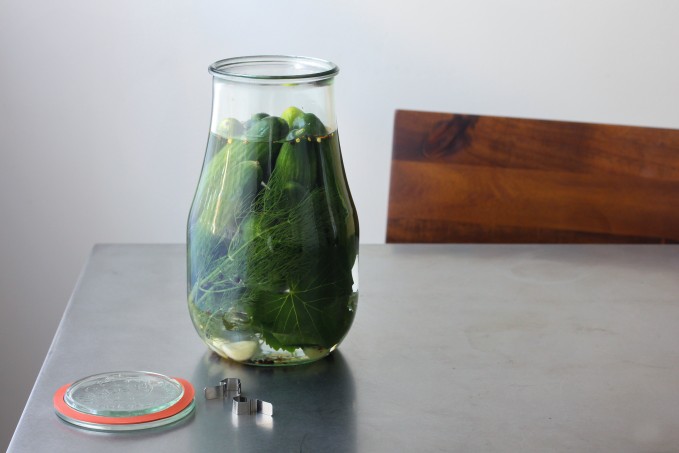 8