Similar to last week's post, today's article is a double feature.
This post may contain affiliate links.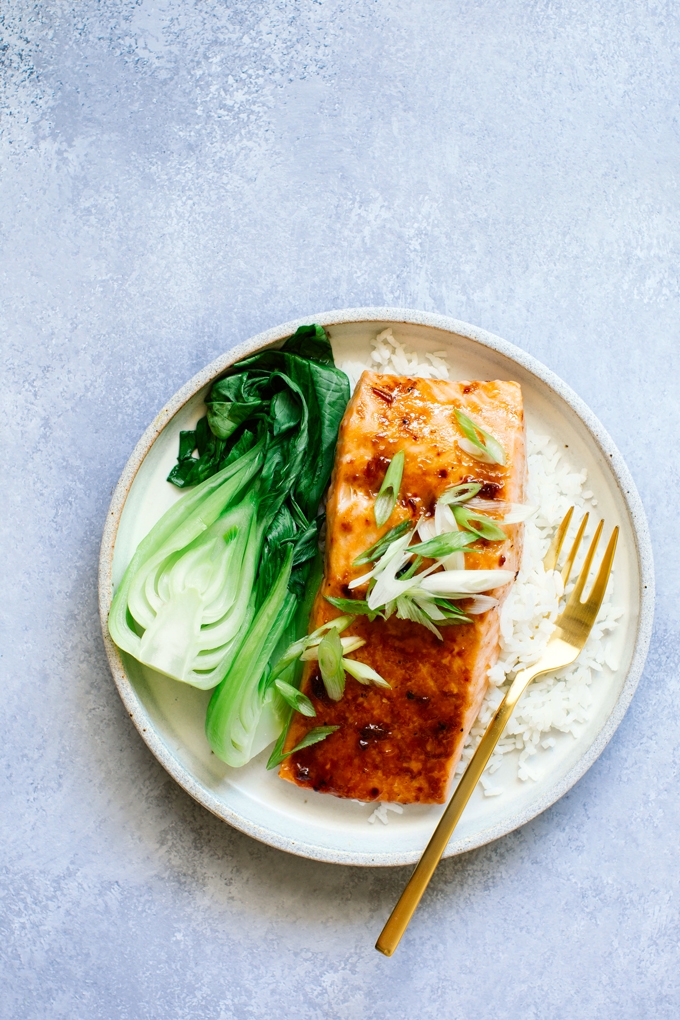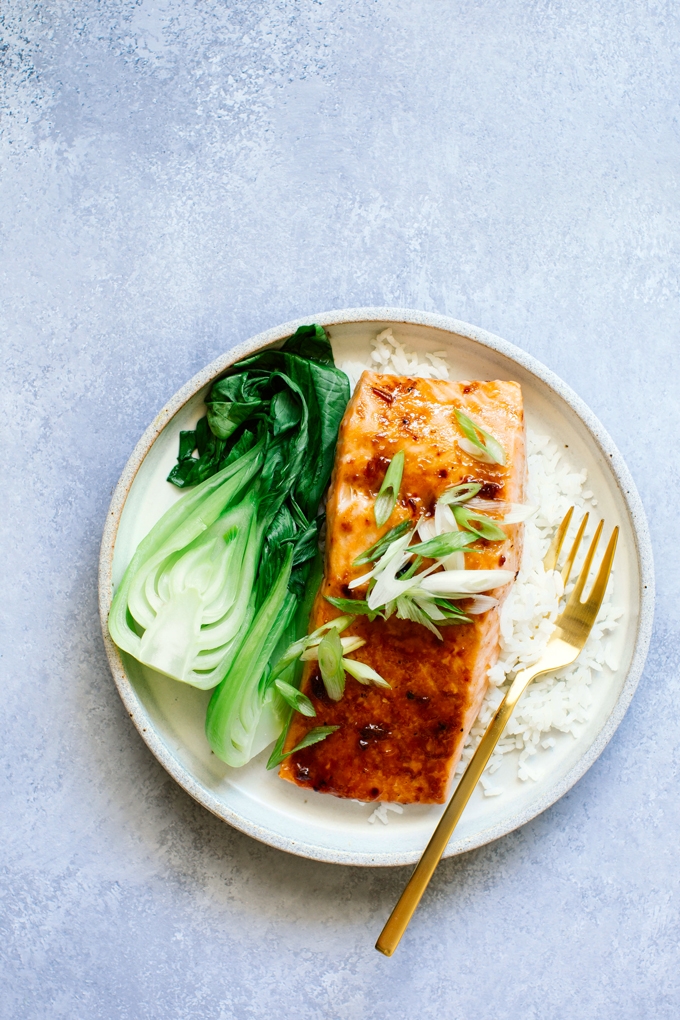 Recipe #1 is Plum Glazed Salmon, a simple dinner recipe that comes together in a snap. Recipe #2 is a Fish Brine recipe that may just vastly improve your fish-making skills (it definitely improved mine!).  Let's dive into #1.
Over the past several years, I've found that I really enjoy cooking salmon fillets (check out this affiliate link for $15 off a Wild Alaskan Salmon Box!) during the week. They're simple to prepare, healthy and cook up in a matter of minutes. Just what I need when I come home tired from work. But, I recently realized that I've yet to share a single salmon recipe here on Kitchen Konfidence! That's all about to change.
The glaze for this salmon is a simple mix of pantry/fridge staples: plum jam, Dijon mustard, soy sauce, olive oil, garlic, salt and pepper. The salmon then gets cooked under the broiler until firm, glossy and golden. A final scattering of sliced scallions provides contrast in color and flavor. So simple, but so incredibly delicious. PS. If you can't find plum jam, apricot would work well here too. Continue reading for the recipes plus more on #2.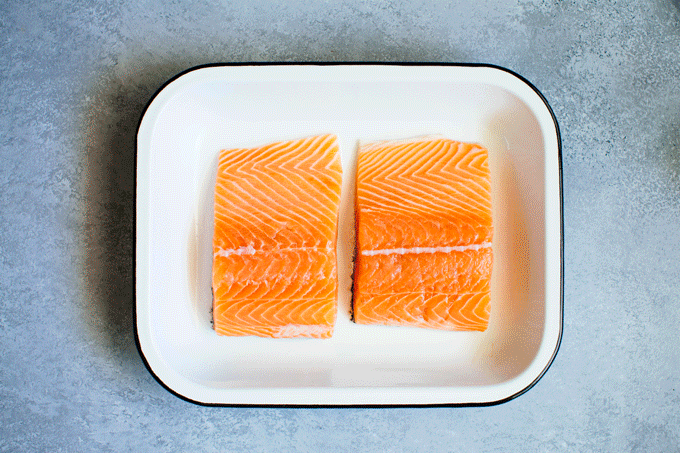 Let's talk Fish Brine. I'm a big fan of brining in general, but I've grown especially fond of brining fish. A brine is a simple mixture of salt and water. I've also thrown some sugar in the mix to balance the salt.  The fish sits in the brine for about 30 minutes (or up to overnight), and after a quick rinse and dry, it's ready to cook!  Here are the benefits of brining fish:
Protection against overcooking. Fillets cook quickly, and the time frame between perfectly cooked and overdone is a small one. Brining helps the fish retain moisture as it cooks, so it's harder to dry out.
Seasoning throughout. As the fish sits in the brine, the salt will penetrate the flesh, resulting in a well-seasoned finished product.
Albumin in check.  Albumin is the white protein that can leach out of salmon as it cooks.  It looks gross and I hate it.  Brining prevents the albumin from surfacing, resulting in a gorgeous cooked piece of fish.
Definitely give this brine a go the next time you are cooking salmon (or any other fish fillet!).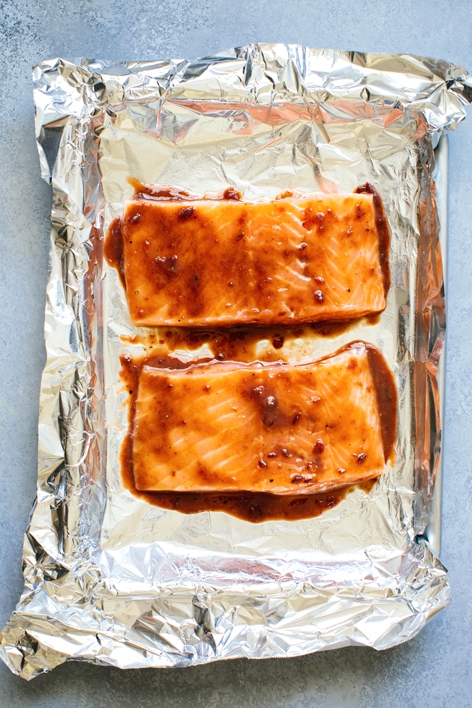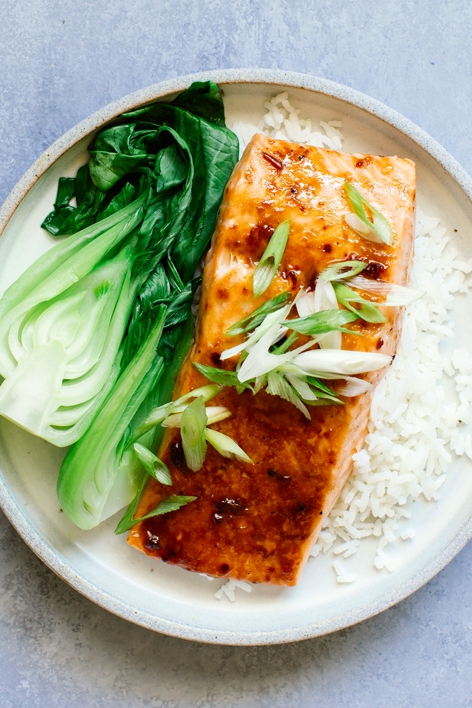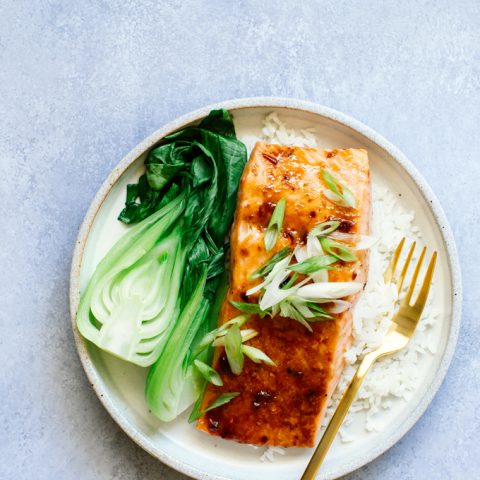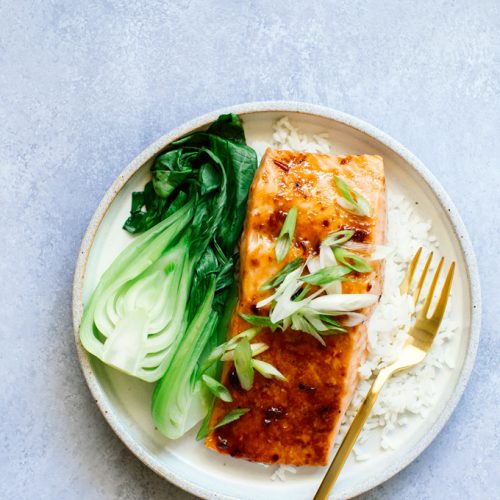 Plum Glazed Salmon
If you've got 30 minutes to brine the salmon in advance (see Fish Brine recipe below), I would highly recommend doing so. If not, you can make the recipe as is without brining.
Instructions
Preheat a broiler to high. Line a baking sheet with aluminum foil. If the salmon was brined, rinse under cold water, dry thoroughly, and place on the prepared baking sheet.

In a medium bowl, stir together jam, mustard, soy sauce, olive oil, garlic, a small pinch of salt and several turns of black pepper until well-combined. Taste and add more salt if needed. Brush the glaze all over the salmon fillets, then move the baking sheet under the broiler.

Cook until the salmon is firm and the glaze starts to darken in spots (6 to 8 minutes), or until the internal temperature of the thickest part of the salmon reaches 131°F. Let salmon rest for 8 to 10 minutes before serving.

To finish, sprinkle salmon fillets with sliced scallions. Round out the plate with white rice and greens (steamed bok choy shown above).
Tried this recipe?
Tag @brandiego on Instagram so I can check it out!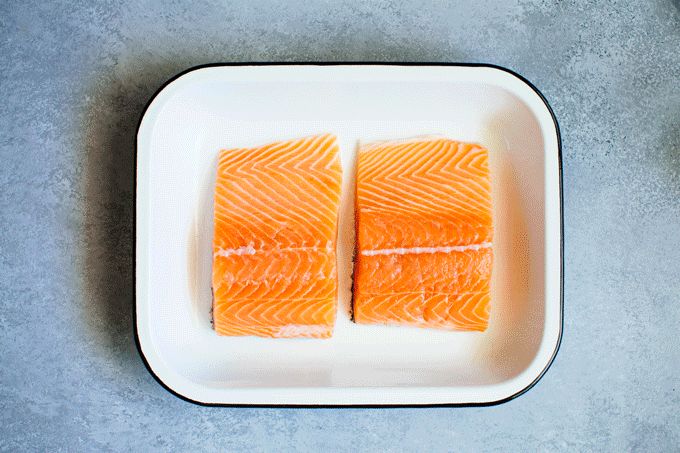 Fish Brine Recipe
Ingredients
1

cup

water

1

tablespoon

kosher salt

1

teaspoon

sugar

Fish fillets (any type or quantity)
Instructions
Whisk together water, kosher salt and sugar in a medium bowl (preferably with a pour spout). Heat in the microwave for 30 seconds on high. Whisk again to dissolve salt and sugar. If needed, repeat heating and whisking until salt and sugar are completely dissolved. Let brine cool completely before using.

To brine fish, cover fillets with brine, cover and let sit in the refrigerator for at least 30 minutes or up to overnight. The fish should be completely submerged in the brine, so scale up the recipe as needed. For example, I used 3 cups water, 3 tablespoons of salt and 3 teaspoons of sugar to make enough brine for the 1 1/2 pounds of salmon above.

Once you are ready to cook the fish, take the fillets from the brine, rinse under cold water and dry thoroughly.
Tried this recipe?
Tag @brandiego on Instagram so I can check it out!
Here are some other fish recipes on Kitchen Konfidence: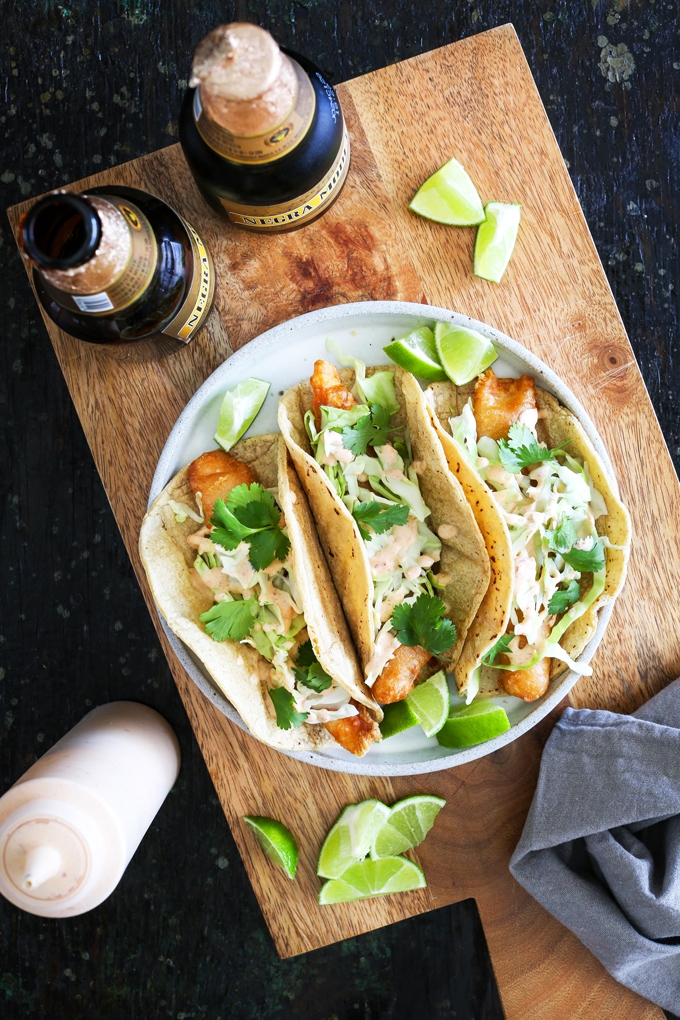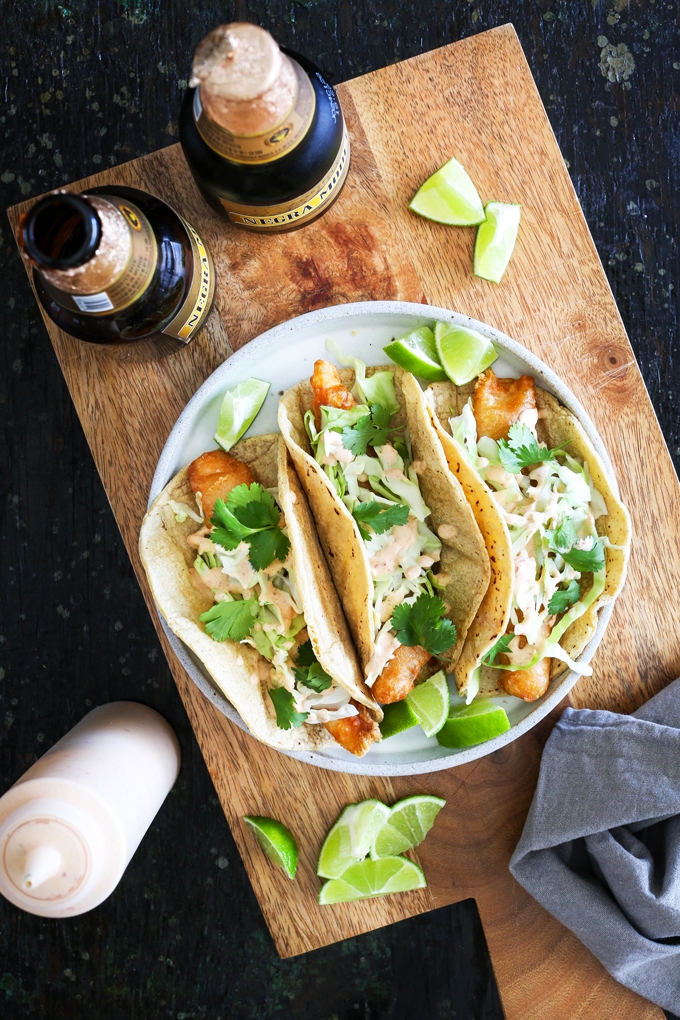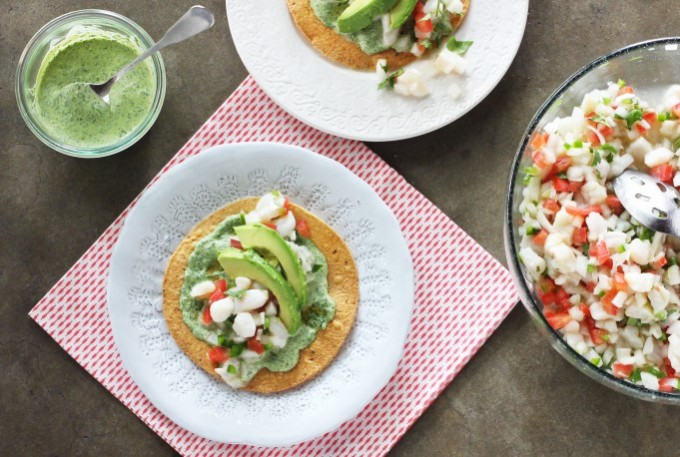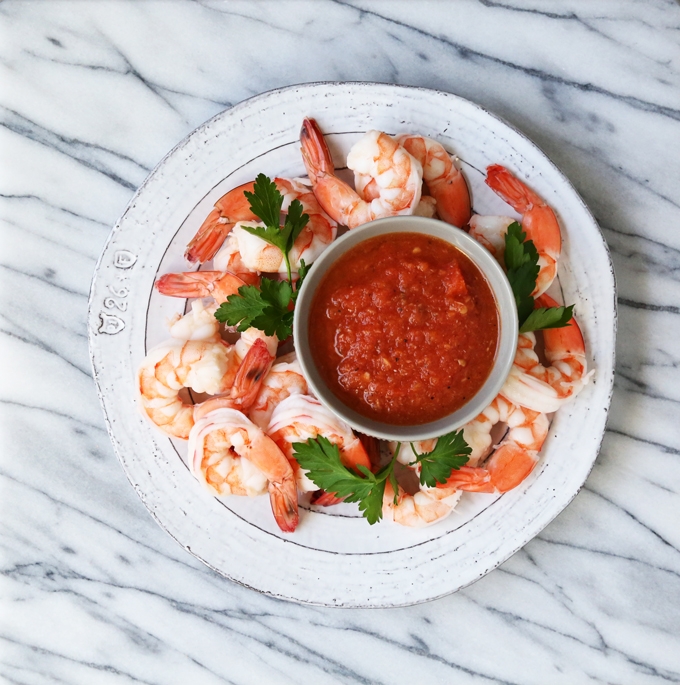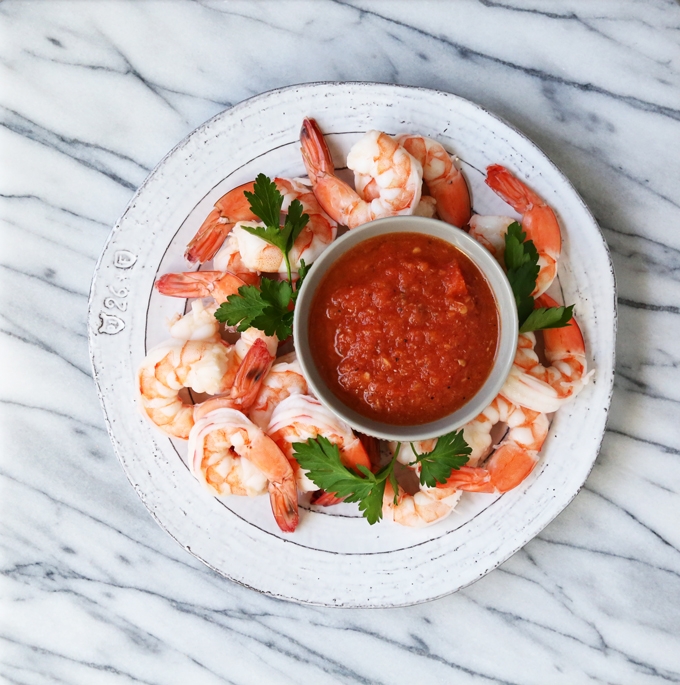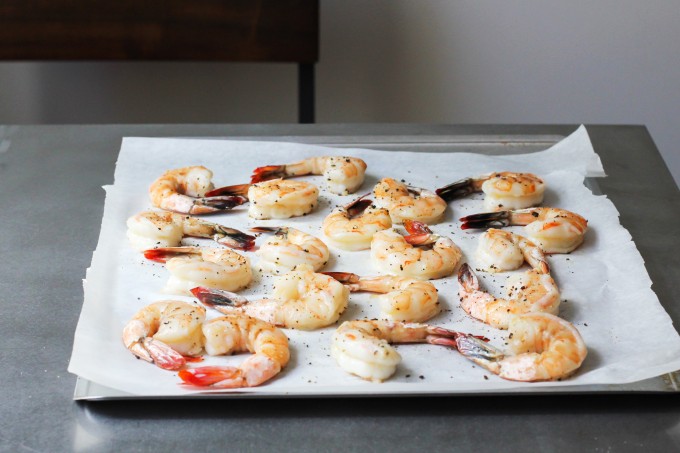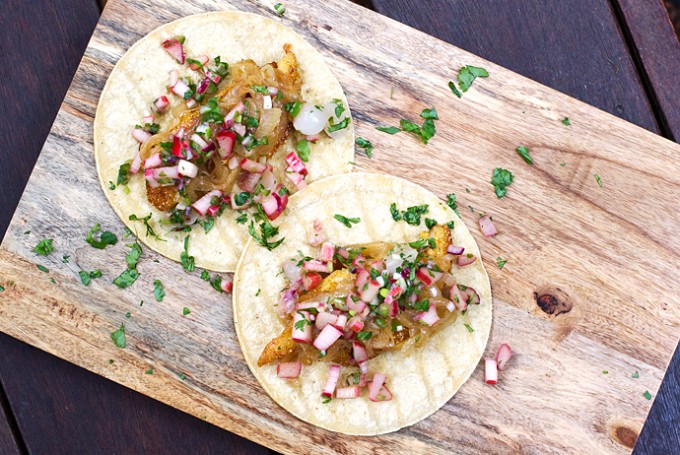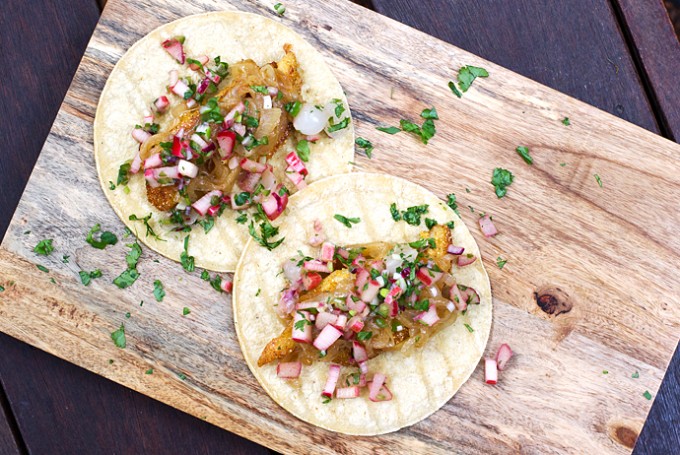 8