Hello from Portland, Oregon!!
This post may contain affiliate links.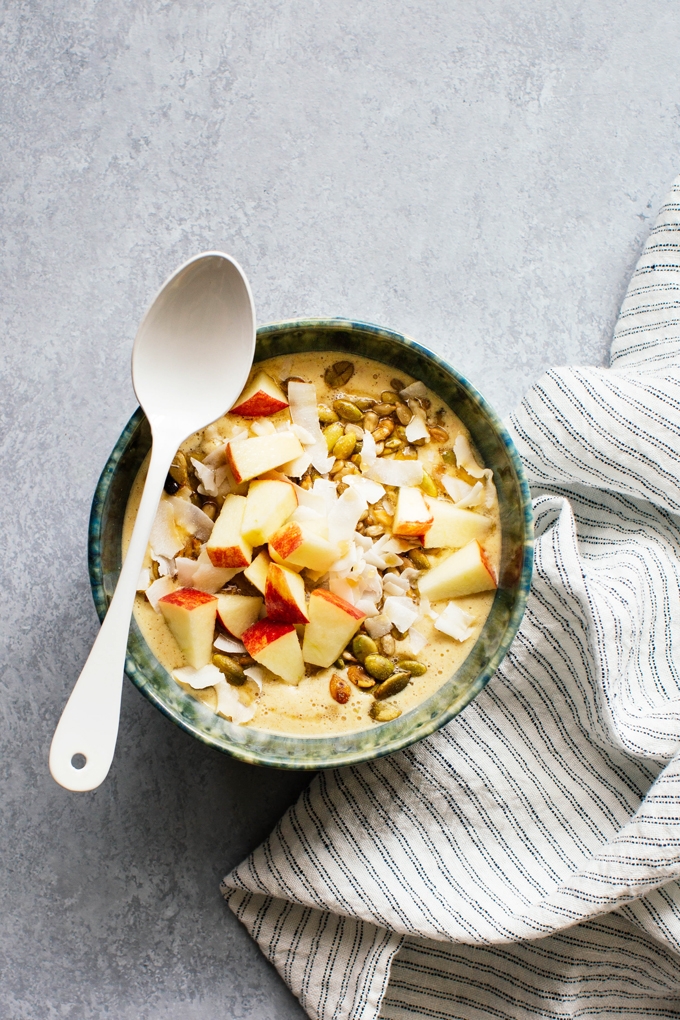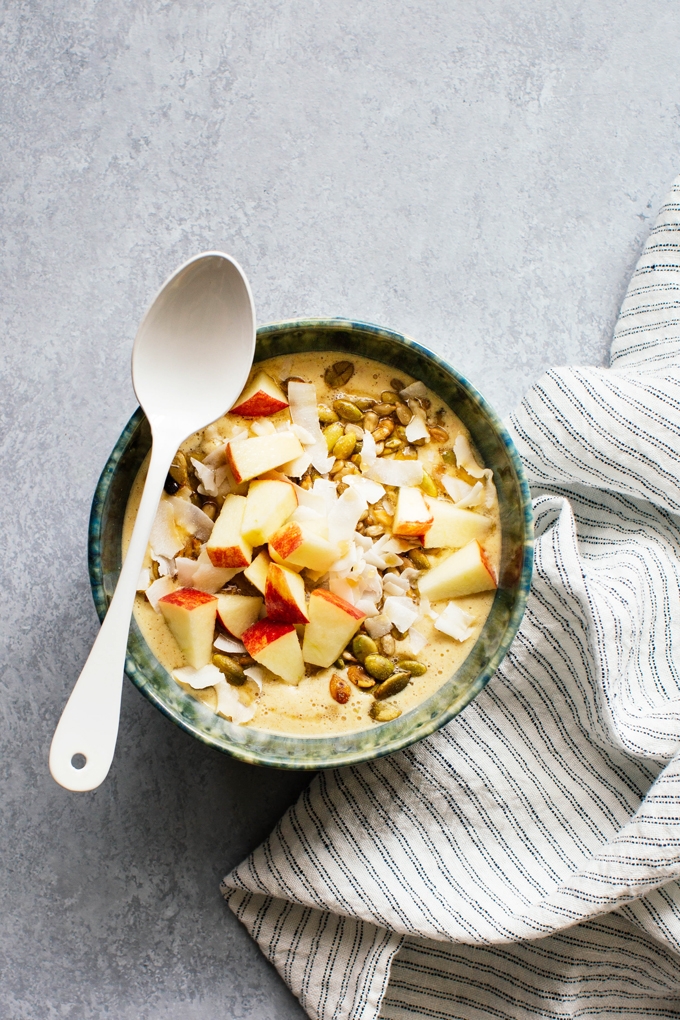 Jorge and I are eating our way through the city over Labor Day Weekend, and if you're interested in checking out all of our delicious travels, come say hello on Instagram!  We're sitting at Pip's Original Doughnuts at the moment, enjoying a plate of freshly-fried mini doughnuts while I finish up this article 🙂
Now, on to the recipe.
This Spiced Oatmeal Smoothie Bowl takes one of my favorite breakfast beverages to the next-level with the addition of healthful toppings, a motley mix of crunchy seeds, shaved coconut, fresh fruit and sweet maple syrup. Out of the glass and into the bowl, the thick smoothie base, flavored with apples, oats and spices, is consumed using a spoon rather than a straw. Toppings are scattered over the surface of the bowl, providing contrasting flavors and textures. Packed with various nutrients, this smoothie bowl can easily fuel an entire morning.  Given how sinfully I've been eating this vacation, I am going to be having one of these smoothie bowls every morning for the next week to balance things out!  Continue reading for the recipe (plus fun variations!).
Here are some variations of the souped-up smoothie below.  I like to adjust flavors occasionally to keep morning mealtime interesting.
Apricot & Cardamom: Switch out the apple for 2 ripe, pitted apricots, and blend in a pinch of ground cardamom. Add a spoonful of apricot preserves with the toppings.
Mixed Berry: Switch out the apple and ice cubes for 2 cups frozen mixed berries, and sweeten with honey instead of maple syrup. Add some chopped, toasted almonds with the toppings.
Banana Walnut: Switch out the apple for 1 ripe banana, and blend in a small pinch of grated nutmeg. Add some chopped, toasted walnuts with the toppings.
Peach & Pecan: Switch out the apple for 1 ripe, pitted peach. Add some chopped, toasted pecans and a dollop of peach preserves with the toppings.
Pumpkin Spice: Switch out the apple for 1/2 cup pumpkin puree. Add 1 teaspoon pumpkin pie spice, and additional maple syrup to taste.
Spiced Apple and Oatmeal Smoothie Bowl Recipe
Ingredients
1/2

cup

old-fashioned oats (not quick cooking)

1/4

cup

sweetened almond milk (any milk will work here really)

1/3

cup

plain Greek yogurt

1

teaspoon

maple syrup, plus more to taste

1/2

teaspoon

ground cinnamon

1/4

teaspoon

vanilla extract

Pinch

of ground turmeric (optional)

1

apple, cored and chopped

1

date, pitted (optional)

Squeeze of fresh lemon juice

Small pinch of kosher salt

6– 8

ice cubes
Toppings: roasted pumpkin seeds, roasted sunflower seeds, coconut, chopped apple, and additional maple syrup drizzled over.
Instructions
Place all ingredients in a blender, and blend until smooth. The texture should be thick enough to eat with a spoon. Adjust flavors by adding more maple syrup or lemon juice.

Pour smoothie into a bowl, and add toppings to taste. Enjoy immediately!
Tried this recipe?
Tag @brandiego on Instagram so I can check it out!
Here are some other healthy breakfast ideas on Kitchen Konfidence: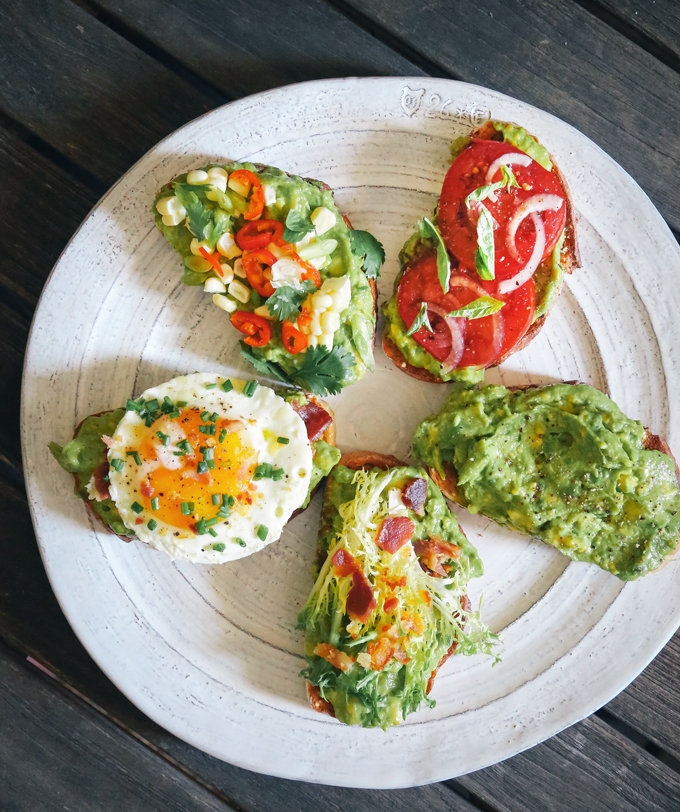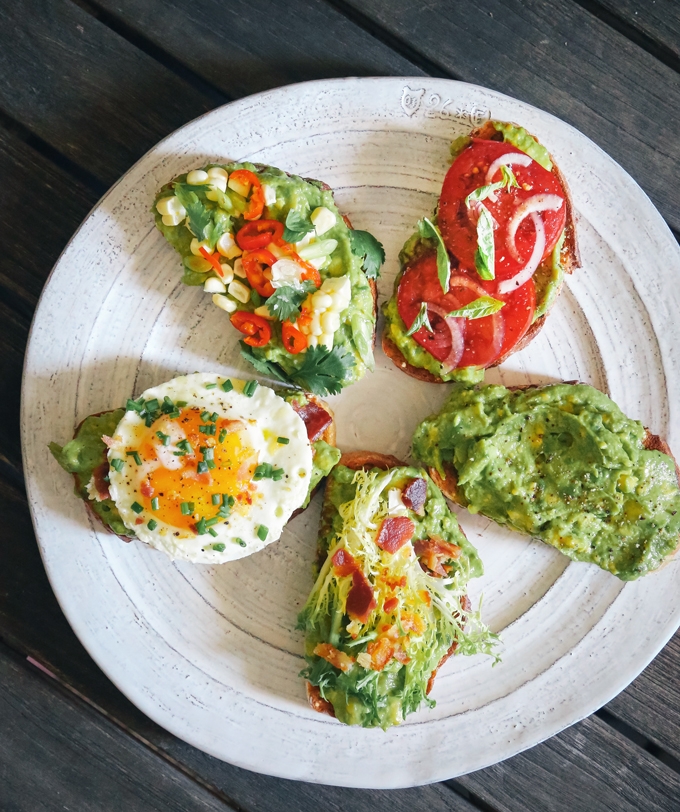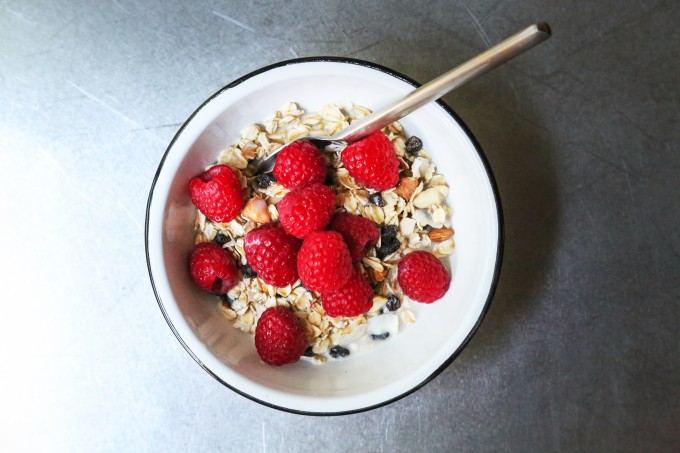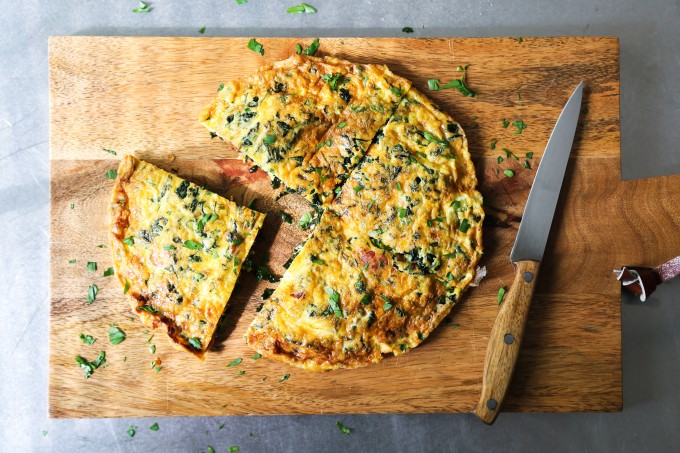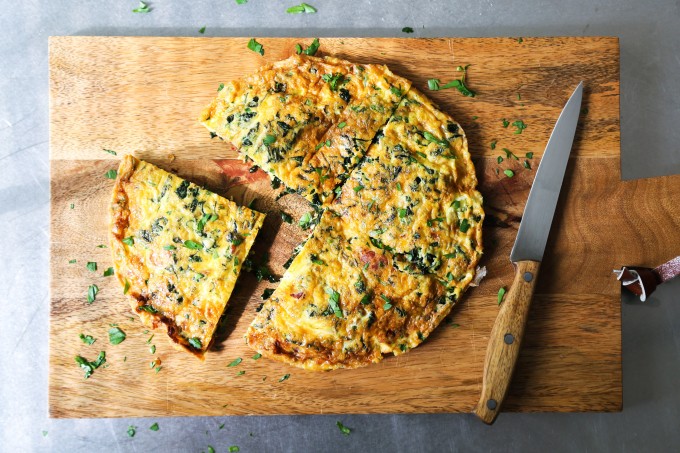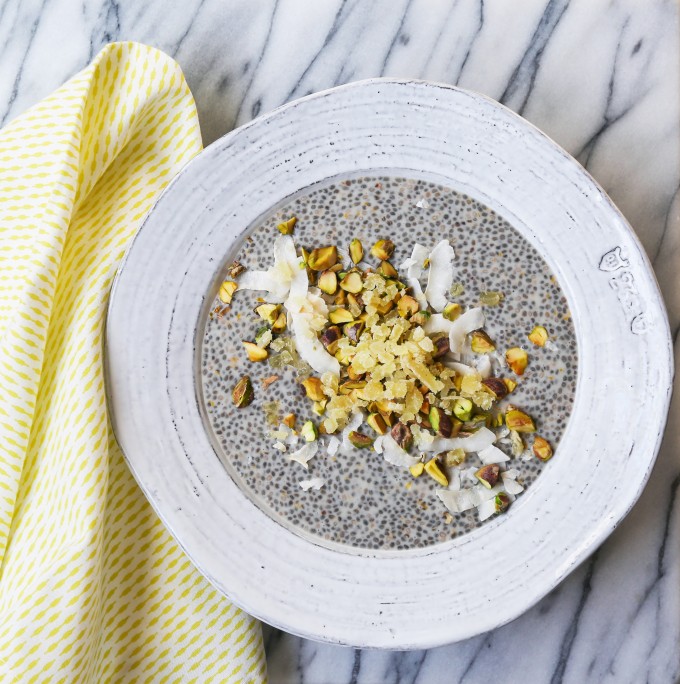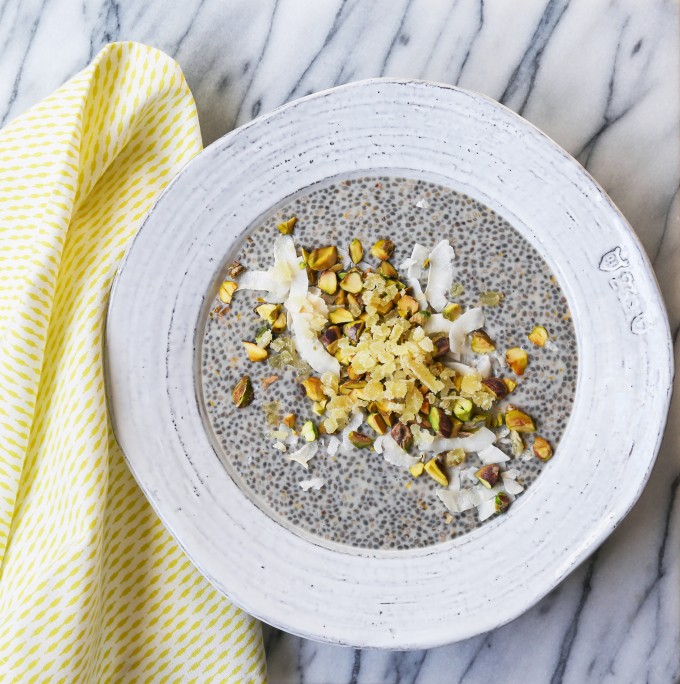 6