Good morning and Happy Friday friends!!
This post may contain affiliate links.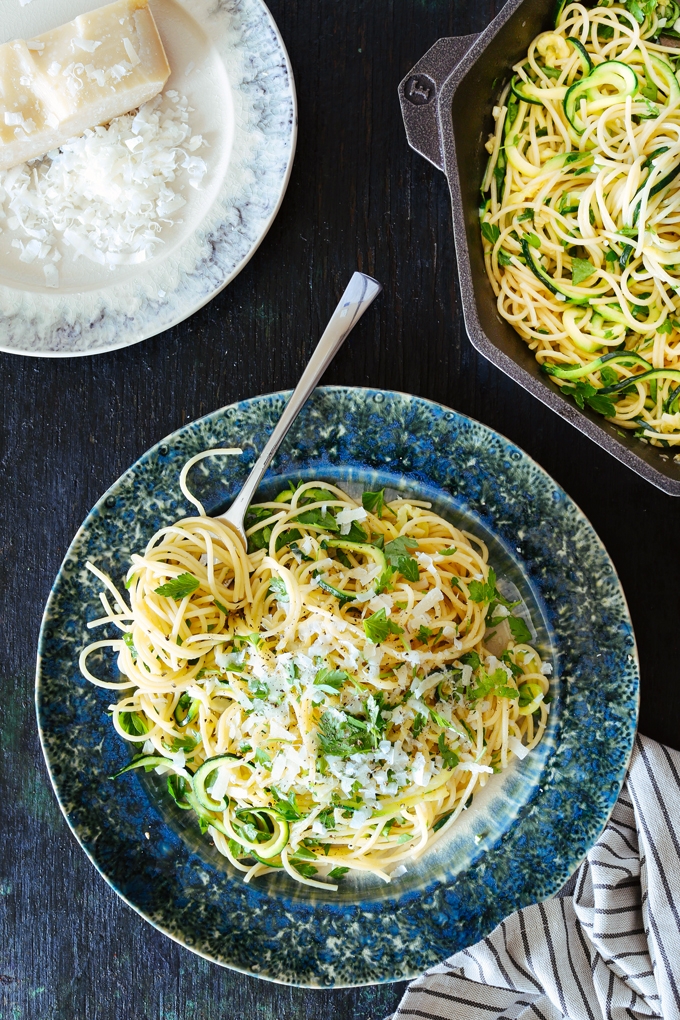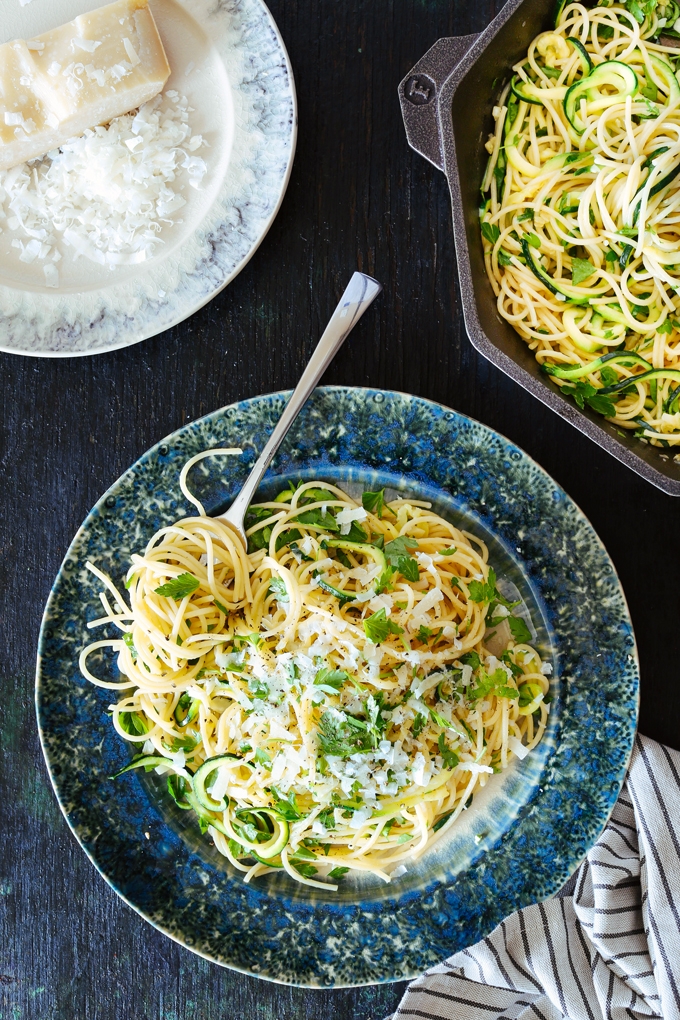 I've been playing catch up all week long after my recent adventures in Tuscany.  Particularly: Halloween and Holiday preparations at the mall, laundry at the house, dinner celebrating Jordan & Jocelyn's latest cookbook last night, and detailed meal prep each morning to keep me from eating fast food throughout the week (something I'm guilty of each time I come back from a trip).  Dinners have mainly been simple preparations of pizza and pasta plus one evening of homemade, from-scratch green chilaquiles wHipped up by the boyfriend (his mother's recipe).
One of my go-to pasta dishes that I made this week is my Garlic Butter Spaghetti with Zucchini Noodles.  Two-toned curls of fresh zucchini are sautéed in garlic butter, then tossed with cooked spaghetti, herbs, Parmesan cheese and black pepper.  A final squeeze of lemon sets off flavors.  What I love most about this recipe is that it comes together in about 15 minutes.  The prep work, sauce and zucchini can all be done while the pasta is cooking.  Everything gets tossed together at the end, and dinner is ready on the table in a matter of moments.  Exactly the recipe I need this week when energy is low and I crash at 8PM because of jet lag 😛  Continue reading for the recipe.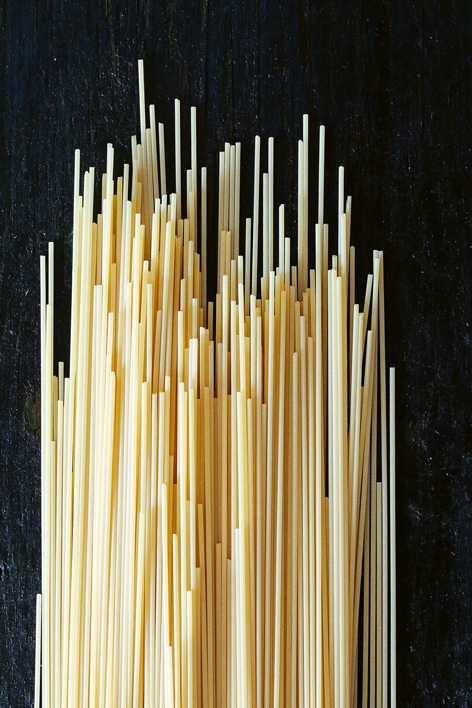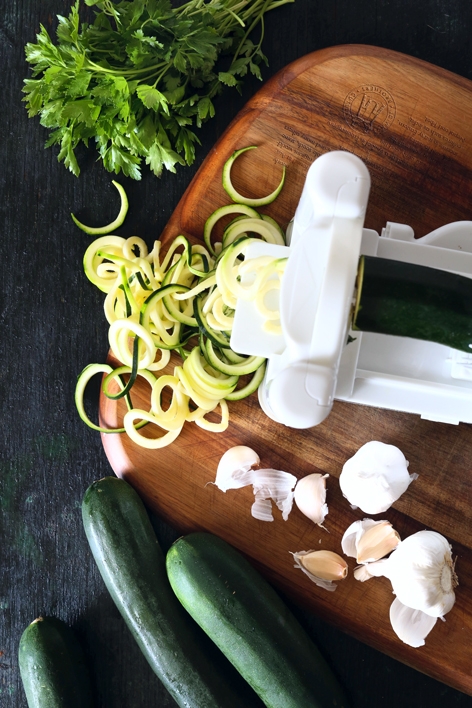 First, let's talk zucchini noodles.  Spiralizing is a popular technique right now, because you can easily prepare vegetables in fun, noodle-like shapes to be used in entrees, side dishes, salads or stand-alone.  Spiralized vegetables do resemble noodles or pasta, so they can be a healthy substitution for wheat noodles or pasta.  When making a dish like this one, I prefer to use a mix of wheat pasta and zucchini noodles.  This cuts out some of the carbs, while still maintaining good structure and substance for the sauce.  This is the spiralizer that I like to use.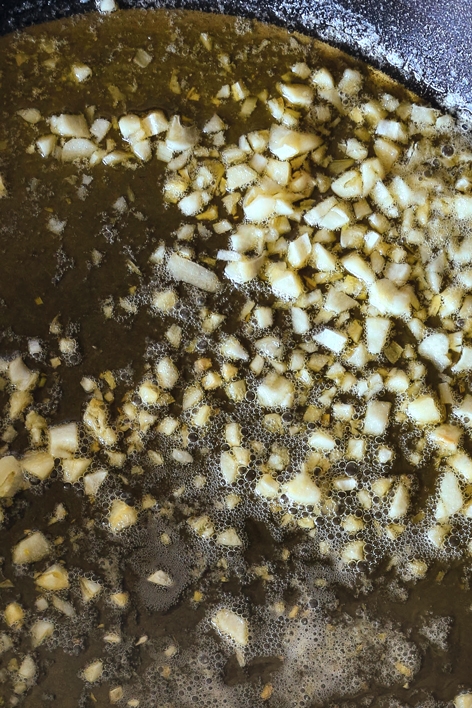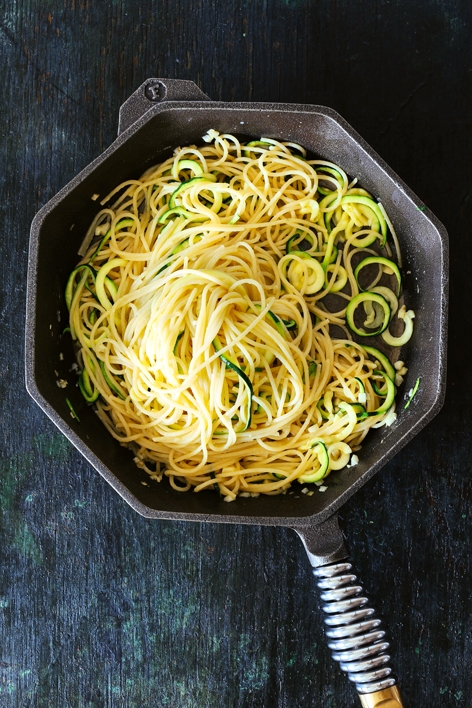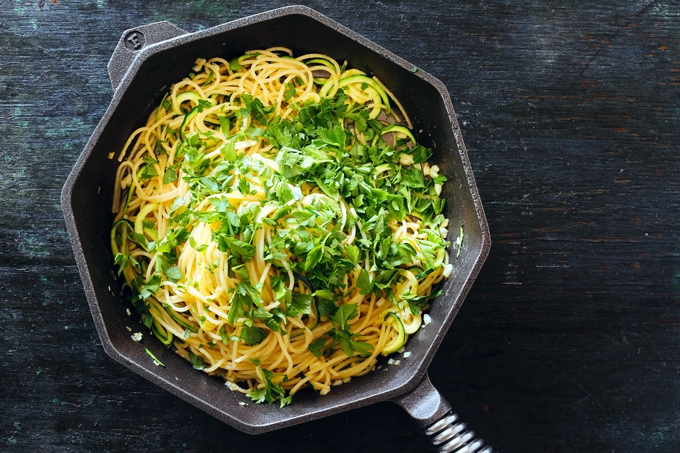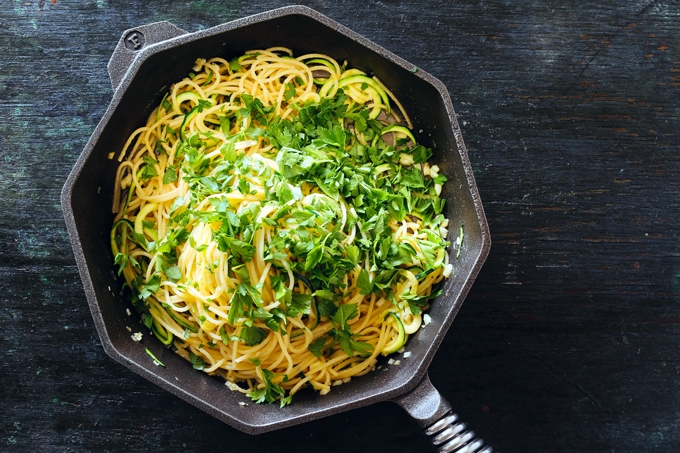 I always have spaghetti, garlic, Parmesan cheese and black pepper at my house, so when I want to make this dish, I just pick up a couple of zucchini, some herbs and a lemon on my way home from work.  During the summer months, we've got zucchini and herbs growing in our back yard, and we can also reach across the neighbors fence to pick lemons when needed (shhhhhh, don't tell), so this dish gets made more frequently.  Although I haven't tested this recipe with other vegetables, I'm sure you could switch up the green element with sliced swiss chard, shredded kale, baby spinach leaves or even arugula.  They all pair well with butter, garlic and Parmesan cheese.  Enjoy!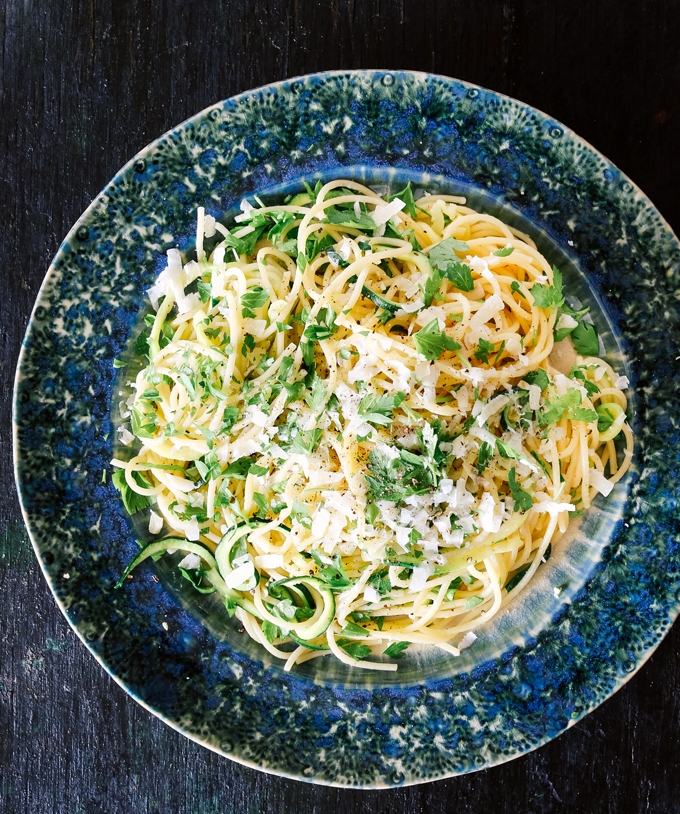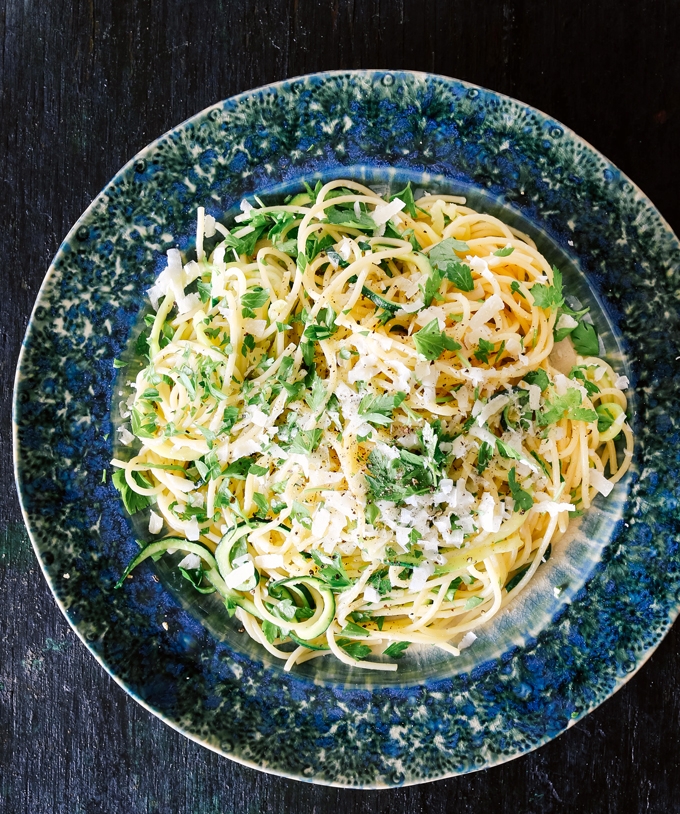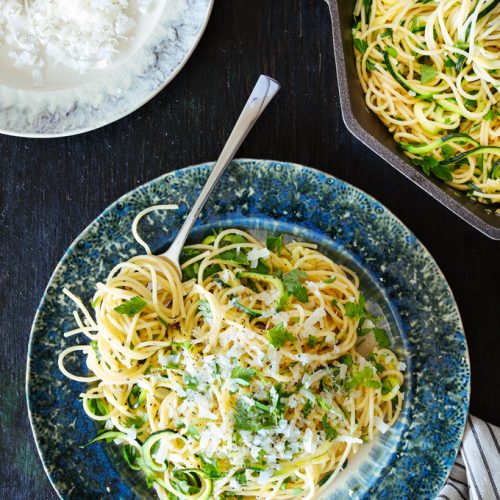 Garlic Butter Spaghetti with Zucchini Noodles
Ingredients
3/4

pound

spaghetti

Kosher salt

6

tablespoons

unsalted butter

8

garlic cloves, finely chopped

1

pound

zucchini, ends trimmed and spiralized (I used this spiralizer)

Freshly ground black pepper

1/4

cup

chopped fresh parsley, you could also use a mix of parsley and basil

1/4

cup

finely grated Parmesan cheese
Lemon wedges, for serving
Additional Parmesan cheese, black pepper and chopped parsley, for serving
Instructions
Bring a large pot of water to a boil over high heat. Drop in spaghetti and a few big pinches of kosher salt, stirring to combine. Once the water comes back to a boil, reduce heat to medium-low and cook spaghetti according to the package instructions. Before you drain the spaghetti, scoop out a cup of starching cooking water, and set aside.

Meanwhile, warm butter and garlic in a large skillet over medium-low heat. Cook until the garlic is soft and fragrant (but not brown, 3 - 5 minutes). Add the spiralized zucchini, a big pinch of salt and several turns of black pepper, and toss in the garlic butter. Cook just until the zucchini starts to soften (about 2 minutes).

Drop heat to low and add drained spaghetti, chopped herbs, Parmesan cheese and a splash of starchy cooking liquid to the skillet, tossing to combine. Season to taste with salt and black pepper. If the pasta is looking a little dry, add more starchy cooking liquid. You want to add just enough to make the butter sauce creamy, but not so much that it starts pooling in the bottom of the pan. Take the pan off the heat once you're done making adjustments.
To serve, pile spaghetti on a plate, and top with additional grated Parm, black pepper and chopped herbs. A squeeze of lemon will provide a nice sharp contrast to the rich, buttery sauce.
Tried this recipe?
Tag @brandiego on Instagram so I can check it out!
Here are some other sauce and spaghetti recipes on Kitchen Konfidence: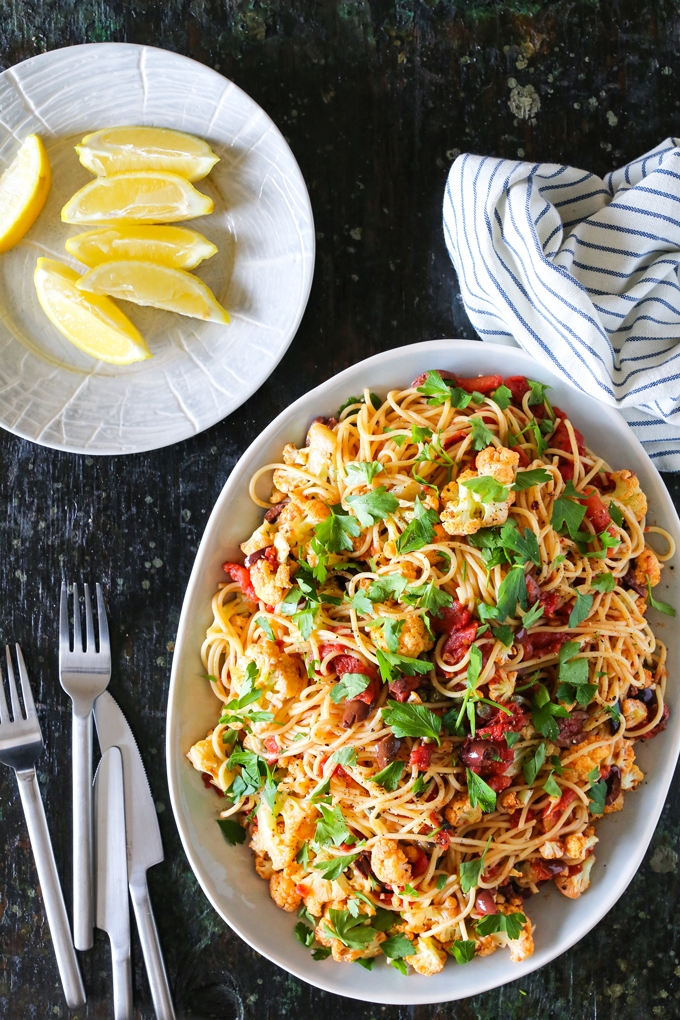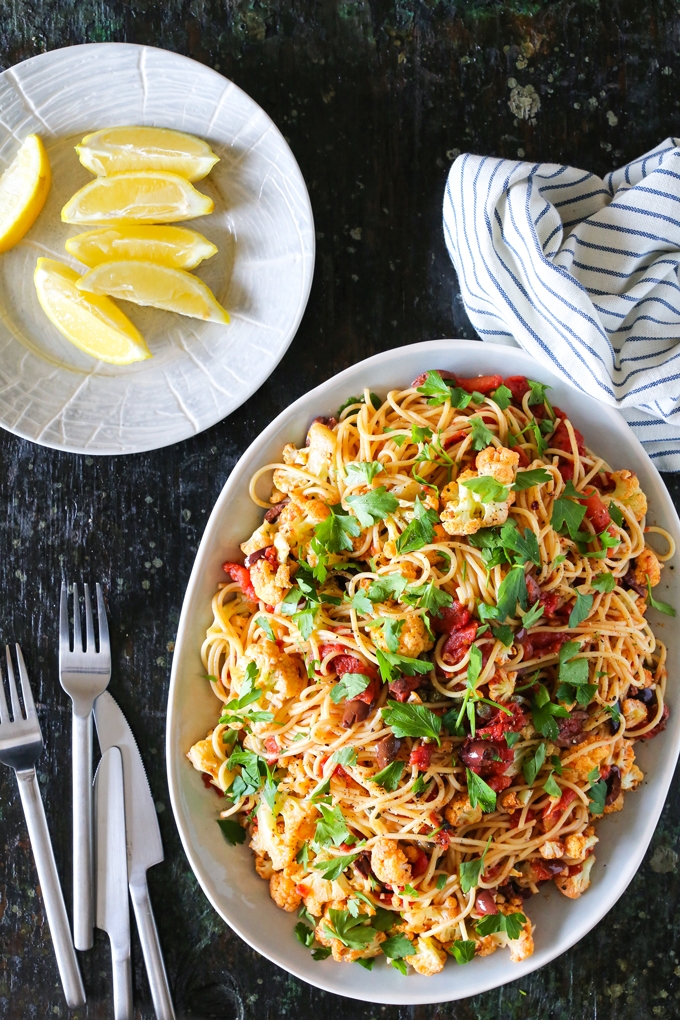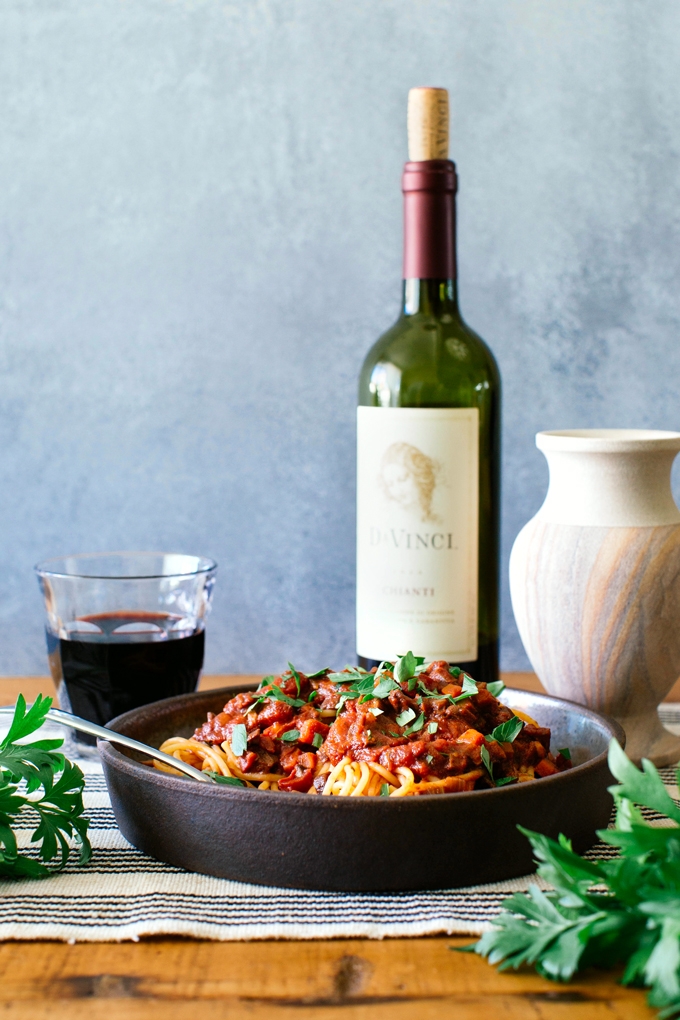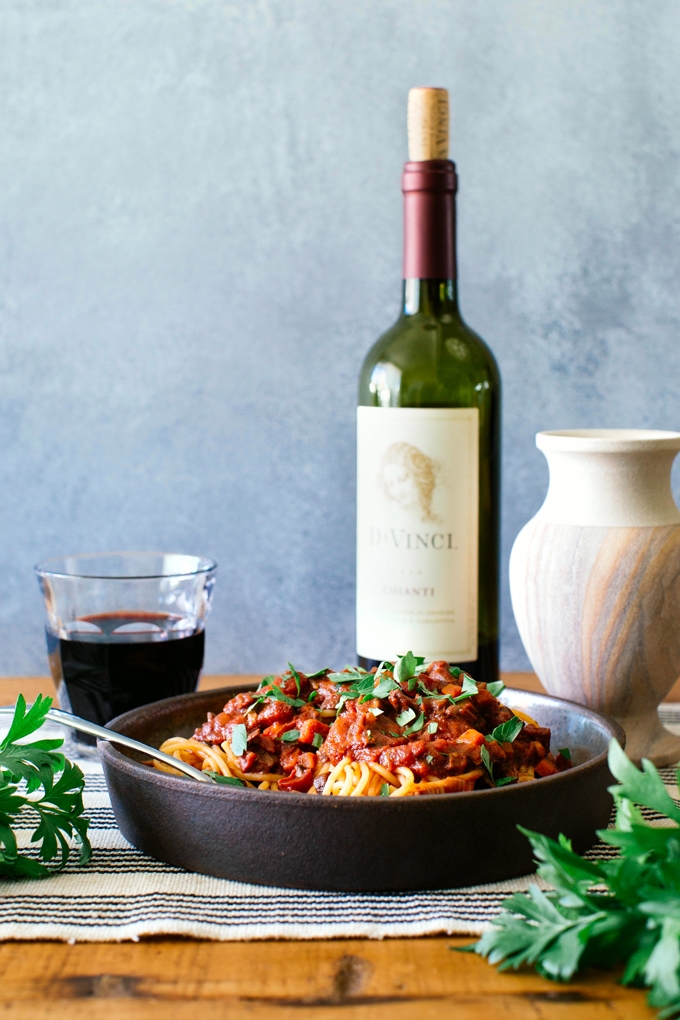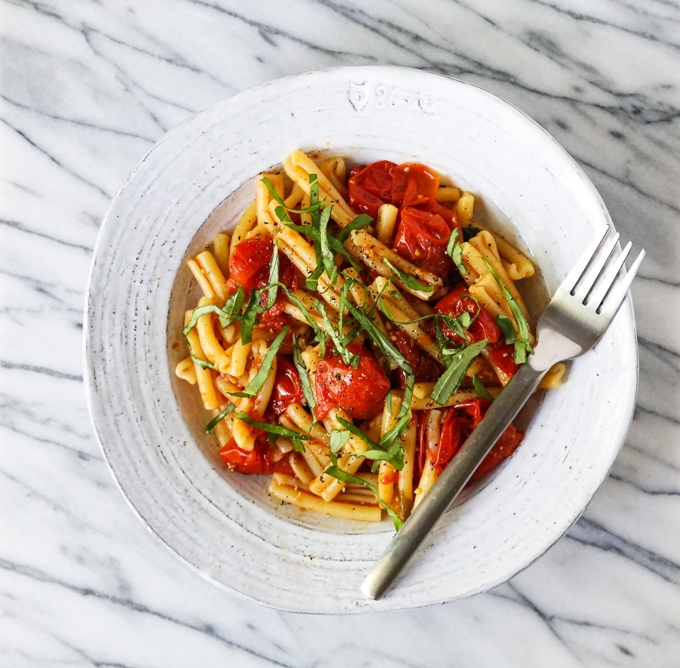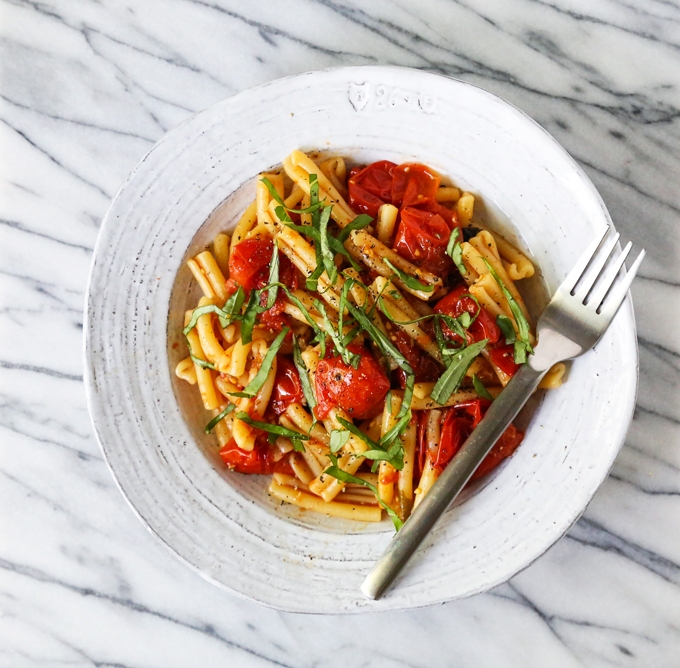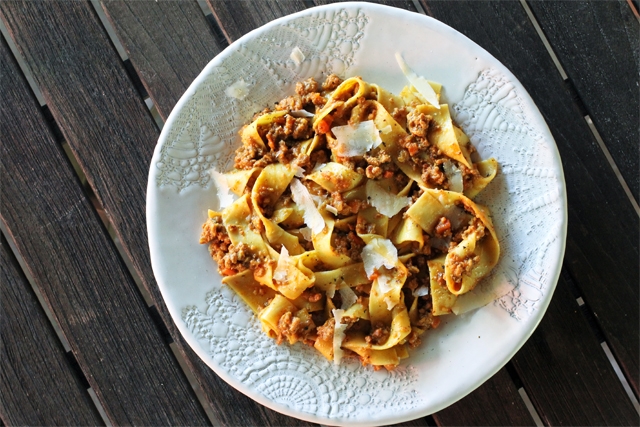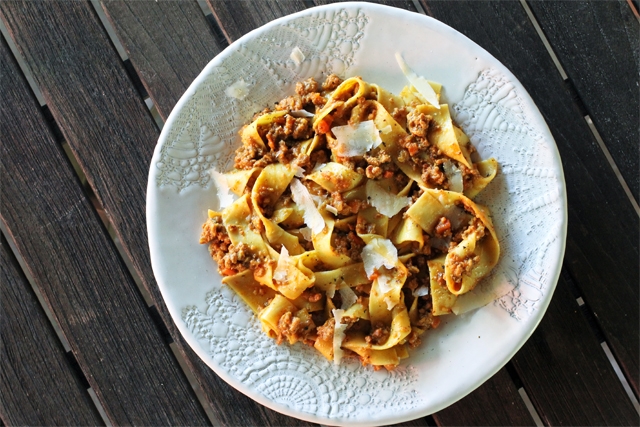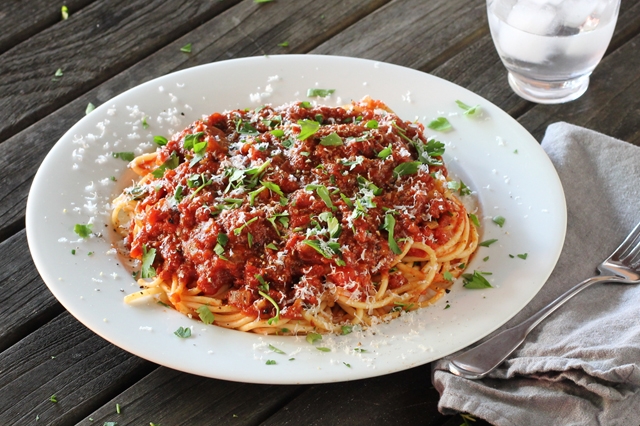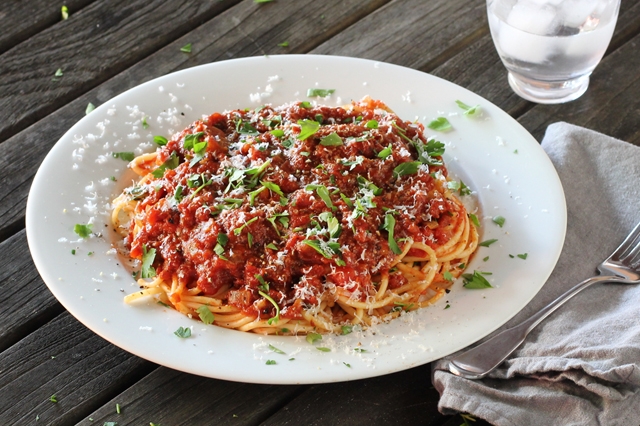 31