Where all my stuffing lovers at??
This post may contain affiliate links.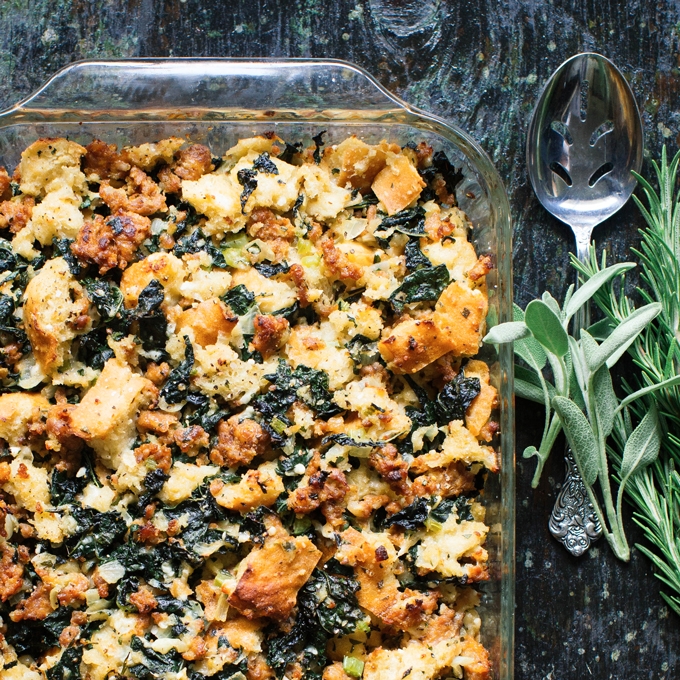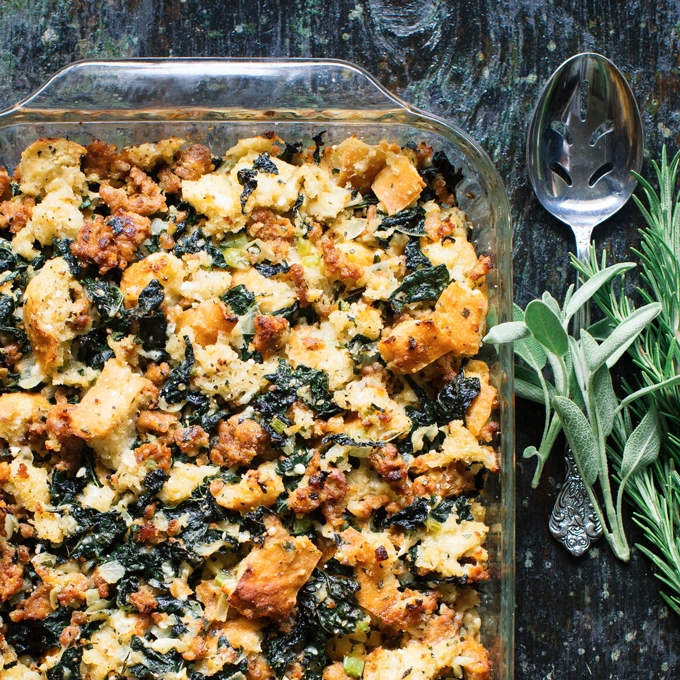 I've been making a version of this Italian Kale and Sausage Stuffing recipe each Thanksgiving for the past five years.  It's a staple.  Everyone loves it.  Stuffing is actually my favorite Thanksgiving side dish.  I mean what's there not to love about a savory bread casserole studded with vegetables?  Crispy on top and tender below.  It's heaven!
Over the years, I've tried many other stuffing recipes, and all were good, but somehow, I always come back to this one.  It's just so darn good.  Milk-soaked pieces of airy ciabatta are tossed with a savory mixture of cooked Italian sausage, onion, celery, garlic, parsley and Tuscan kale.  Parmesan cheese, basil, sage and rosemary are folded into the mixture, and then the entire casserole is baked until gloriously golden brown.  With each bite, you'll get hits of rich sausage, bitter kale, fresh herbs and salty Parmesan.  For Thanksgiving this year, you must make this stuffing.  Continue reading for the recipe
Since I've been making this dish for so long, I've got a few tips to share to make the process super simple and approachable:
Prepare this dish the day before Thanksgiving, and let the flavors meld together overnight.  You'll want to cover the baking dish and store in the refrigerator.  Bring to room temperature and uncover before baking with other sides.
If you want to make this dish, but you don't want to buy all those fresh herbs, you can substitute dried versions for the basil, rosemary and sage (quantities below).  Fresh parsley is a must though.
This recipe calls for 1 1/4 cups grated Parmesan cheese, and I would highly recommend "grating" your cheese in a food process using the regular steel blade.  This makes the process quick, and the cheese easy to measure.  Do not use canned Parmesan cheese here.  Or ever really.
If kale's not your thing, try any other hearty green here (swiss chard, regular spinach, collard greens, mustard greens, etc.).
French bread can be used if ciabatta is not available.
Seasoning is very important here, because most of the ingredients are not naturally salty.  Once you've mixed up all the ingredients (through step 3 below), taste several bites of the stuffing and add more salt as needed.  Gently mix as you season, so you don't break up the bread pieces.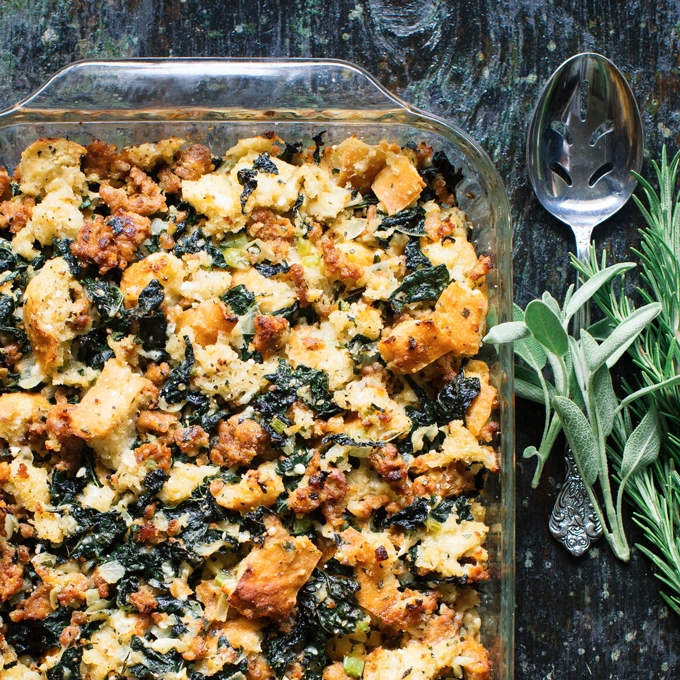 Italian Kale and Sausage Stuffing Recipe
Ingredients
3/4

pound

ciabatta bread, sliced 1/2-inch thick

1 1/2

cups

whole milk

2

pounds

mild Italian sausage, casings removed

1

medium onion, chopped

1/2

cup

finely chopped celery

1

cup

chopped fresh parsley

3

cloves

garlic, finely chopped

Kosher salt

Freshly ground black pepper

1 1/2

pounds

kale, ribs removed and leaves coarsely chopped

1 1/4

cups

grated Parmesan cheese*

2

tablespoons

chopped fresh basil or 1 1/2 teaspoons dried

1

teaspoon

chopped fresh sage or 1/4 teaspoon dried

1

teaspoon

chopped fresh rosemary or 1/4 teaspoon dried
Instructions
Place sliced bread in a shallow baking dish or bowl, and drizzle with milk to saturate. Let sit for 30 minutes, gently flipping occasionally to ensure even soaking.

Meanwhile, warm a large cast iron pot (6 - 8 quarts) over medium-high heat. Add sausage and cook, stirring often to crumble, until lightly golden (10 - 15 minutes). Stir in the onion, celery, parsley and garlic along with a pinch of kosher salt and several turns of black pepper. Cook until the onion and celery soften (5 to 8 minutes), stirring occasionally. Add kale, 1/2 cup water and a pinch of kosher salt, and cook until the kale wilts (about 5 minutes). I like to switch to tongs here to easily mix up the kale and the sausage mixture.

Using your hands, break up the bread into bite sized pieces, then place in a large bowl. Add the sausage-kale mixture to the bowl along with the Parmesan cheese, basil, sage, rosemary, 2 pinches of salt and several turns of black pepper. Gently toss the mixture until all ingredients are evenly incorporated (I like to use my hands here). Season to taste with additional salt and pepper. Spoon stuffing into a 9 by 13 baking dish.

Preheat an oven to 350°F. Bake uncovered until hot (at least 150° in center) and lightly browned (25 - 30 minutes).
Notes
This stuffing can be prepared 1 day in advance up to step 3. Cover and store in the refrigerator. Bring casserole to room temp before continuing with step 4 or bake the chilled casserole for a longer time period (may take up to 1 hour).
If you are preparing this dish on Thanksgiving with other sides in the oven, the stuffing can be baked at 325°F or 350°F, depending on temperatures needed bake other casseroles. If baking at 325°F, plan on cooking for 30 - 35 minutes.
Tried this recipe?
Tag @brandiego on Instagram so I can check it out!
Here are some other Thanksgiving side dish recipes on Kitchen Konfidence: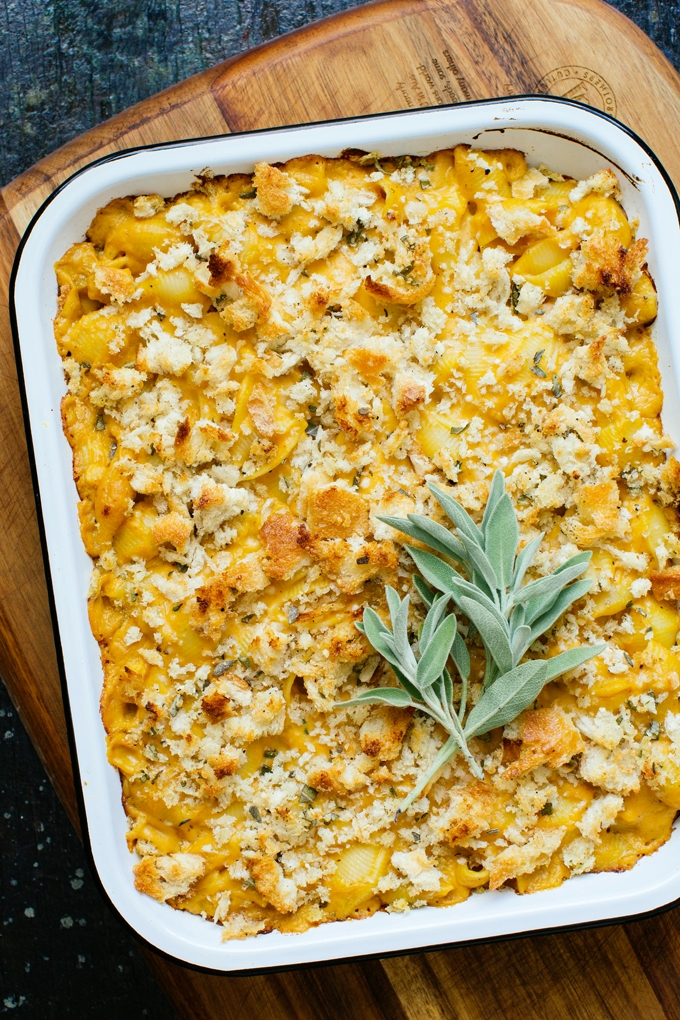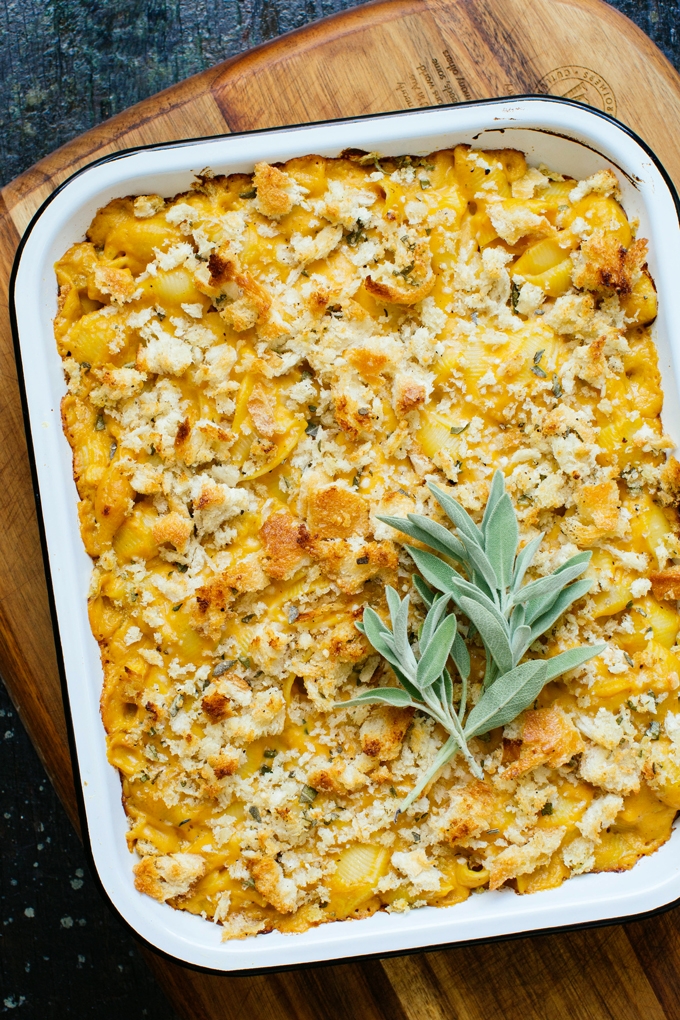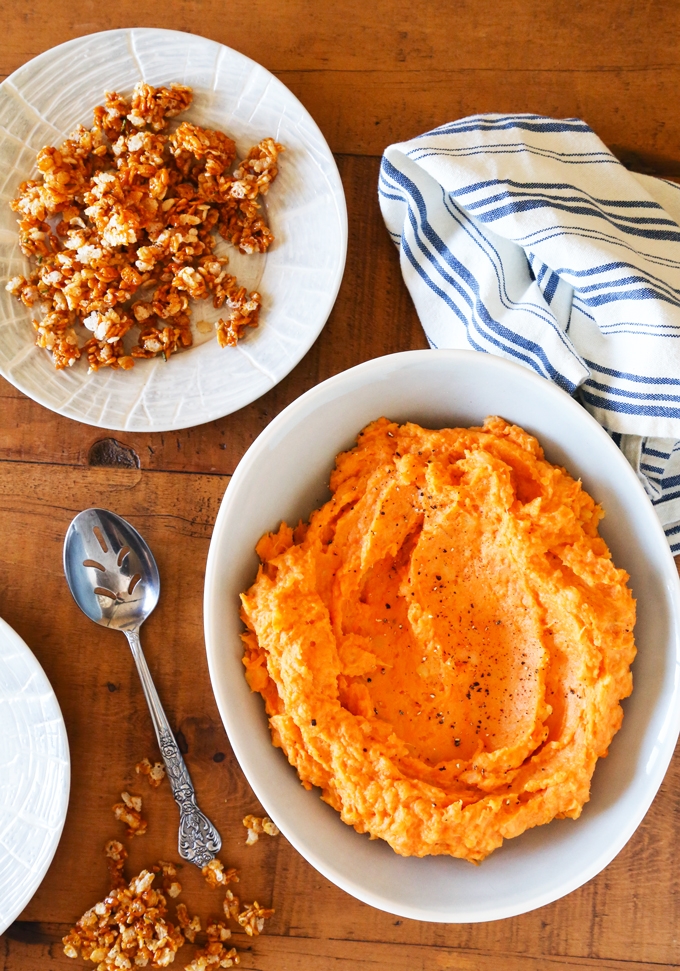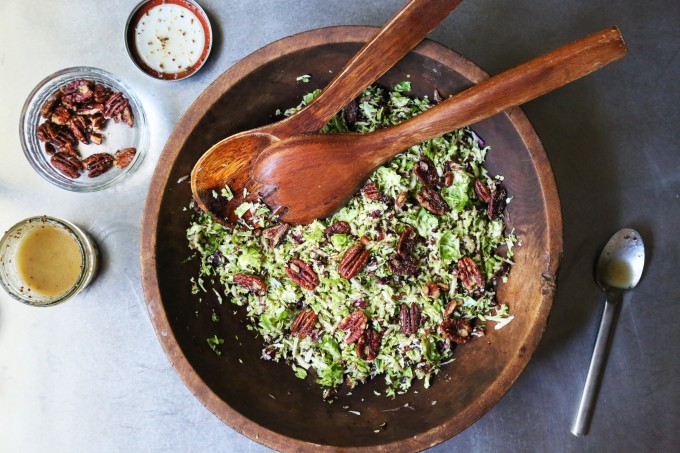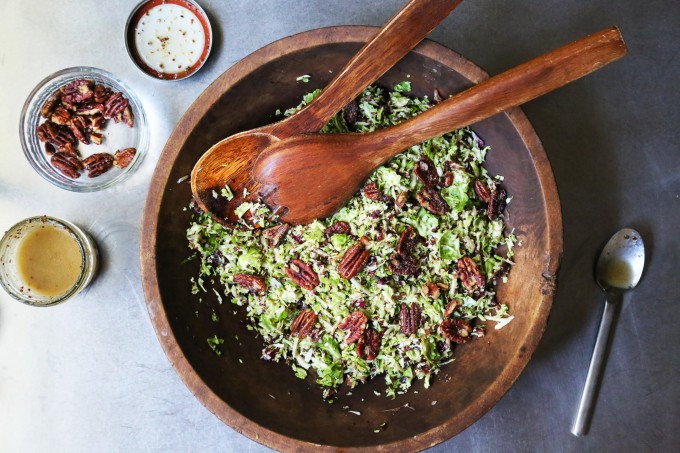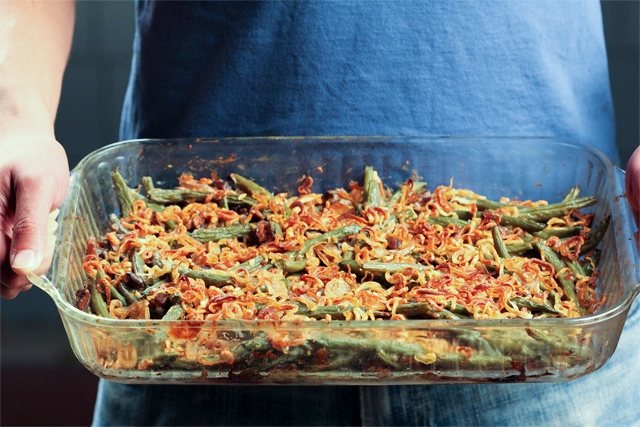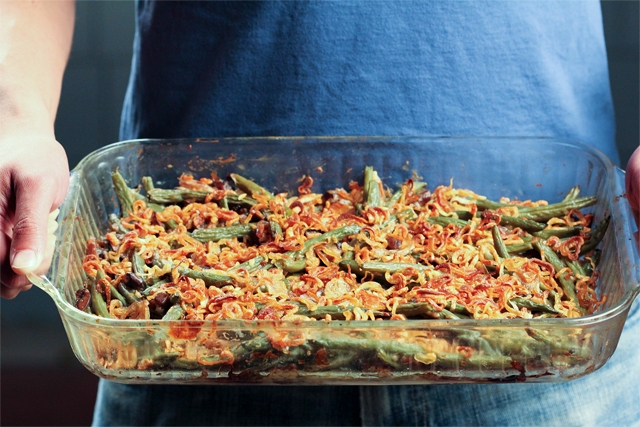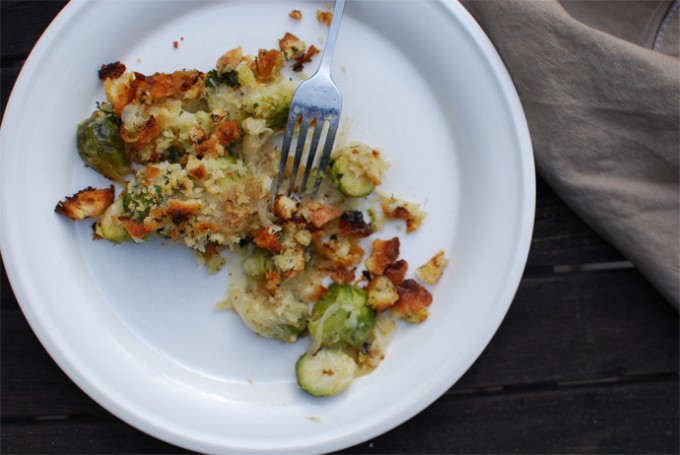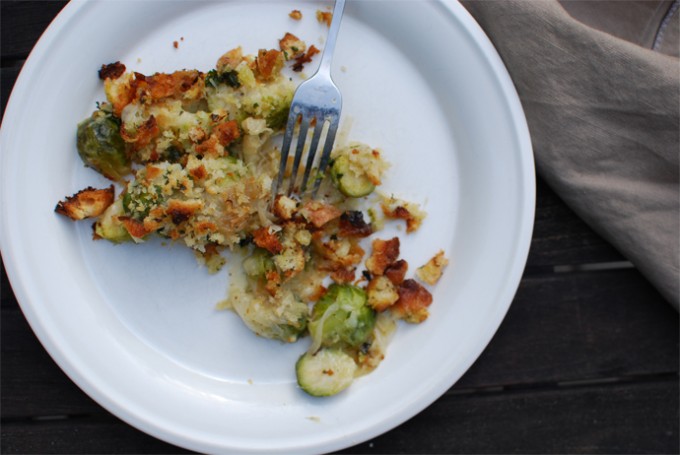 10