Two words: Pizza. Party.
This post may contain affiliate links.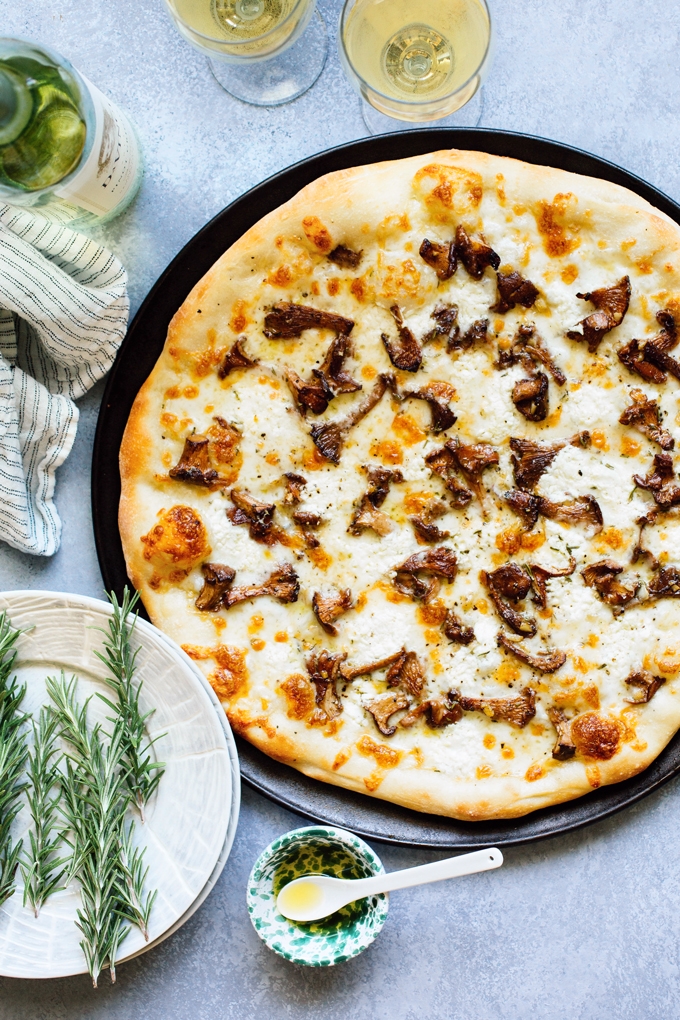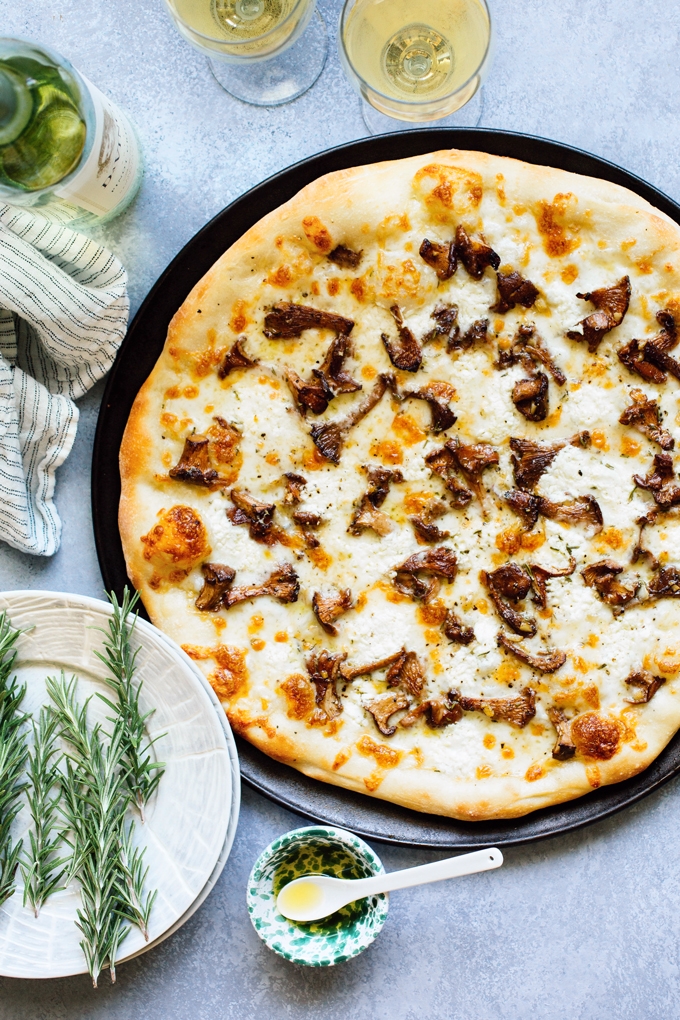 Today, I'm throwing a Pizza Party along with my fellow DaVinci Storytellers: Alana, Molly and Rebecca. A few weeks ago, I was describing the pizza-making competition that went down while in Vinci, Italy. In the spirit of that competition, we've all come together again to share a series of pizza recipes, utilizing the skills we learned while in Tuscany.
The pie that I'm bringing to the table is this Mushroom and Goat Cheese Pizza. Throughout our week in Italy, we had so many wonderful porcini mushroom dishes, and various types of goat cheese were also a staple item on the Tuscan table. With that inspiration in mind, I topped this pizza with wild mushrooms sautéed with garlic, mozzarella cheese, goat cheese, fresh rosemary, and a dusting of grated Parmesan. Finished with just the slightest drizzle of truffle oil that I purchased in San Miniato, the pizza is rich and earthy with a wonderful tang from the goat cheese. The aroma of white truffle escapes from the oil as it hits the bubbling hot cheese. Truly mouthwatering.
Below you'll find the recipe for my Mushroom and Goat Cheese pizza along with links from the other Storytellers. I am also sharing a series of photos from my first few days in Vinci, Italy!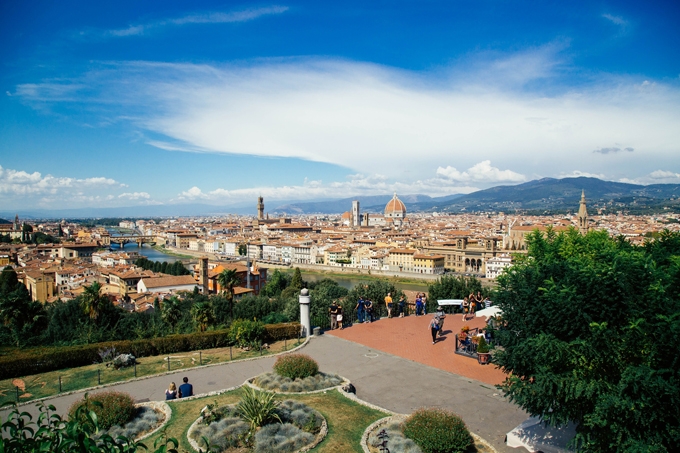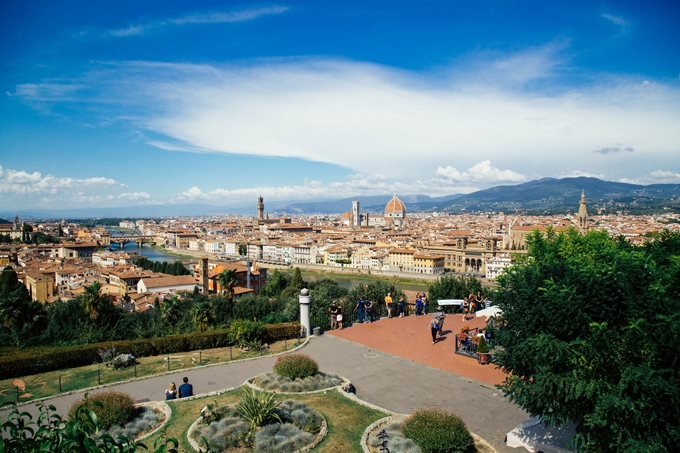 Would you just look at that view of Florence? So perfect! After a long flight from San Diego to Italy, this was a much welcomed stop. Later that day we arrived at the Casale di Valle, our home base for the week. Surrounded by rolling hills painted with rows of vineyards, soaring cypresses and shimmering olive trees, the Casale is a large, Tuscan hunting lodge fully equipped with a vegetable garden, chicken coop and wood-burning oven in the expansive backyard.
We were greeted at the Casale with platters of pecorino, salami, prosciutto, Tuscan bread and bruschetta along with chilled glasses of DaVinci Pinot Grigio. In the background, the sky was ablaze with reds, oranges and pinks as the sun set over the rolling hills. A perfect first taste of Tuscany.
I'm not going to get into all the details of the trip in this article. Instead, I'm going to share some of my favorite moments and valuable learnings. You may notice a lack of dinner photos each day, and that's because I only shoot in natural light, something that's usually missing at dinnertime. I will still describe some of my favorite dinner bites though 🙂 Like the pappa al pomodoro we enjoyed the first evening. Made with stale Tuscan bread and fresh tomatoes, this soup was finished with bright green pesto, olive oil and shaved pecorino cheese. A simple preparation made with the best ingredients.
On our first full day, we spent the morning exploring the vineyards with our guide Carolina and DaVinci Wine expert, Filippo Volpi. I was so impressed with the level of knowledge these two had. It was clear we were in good hands.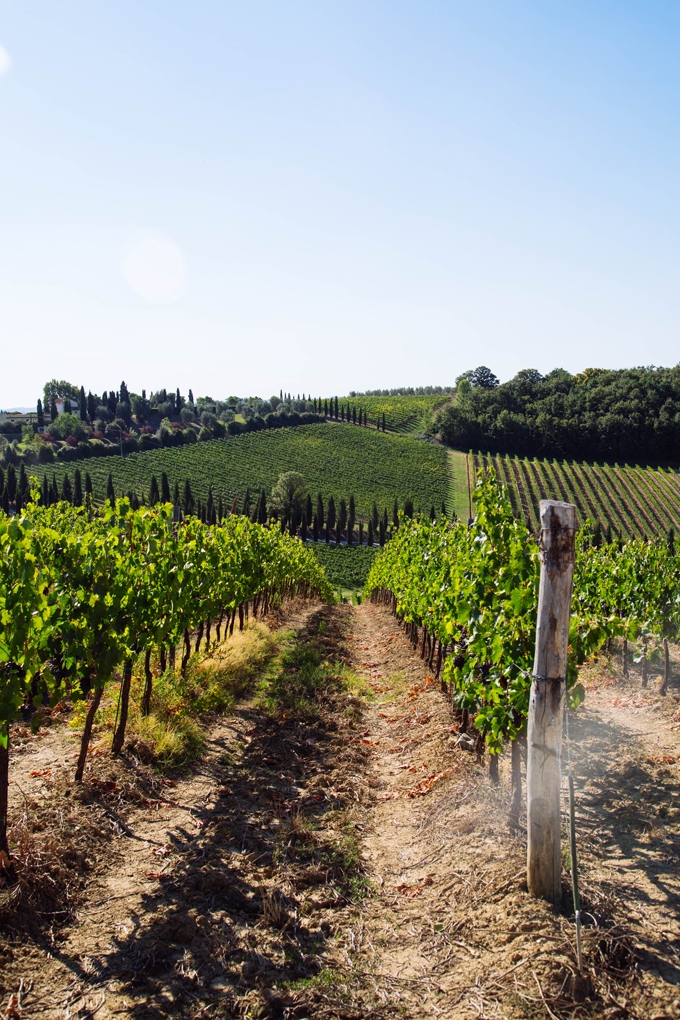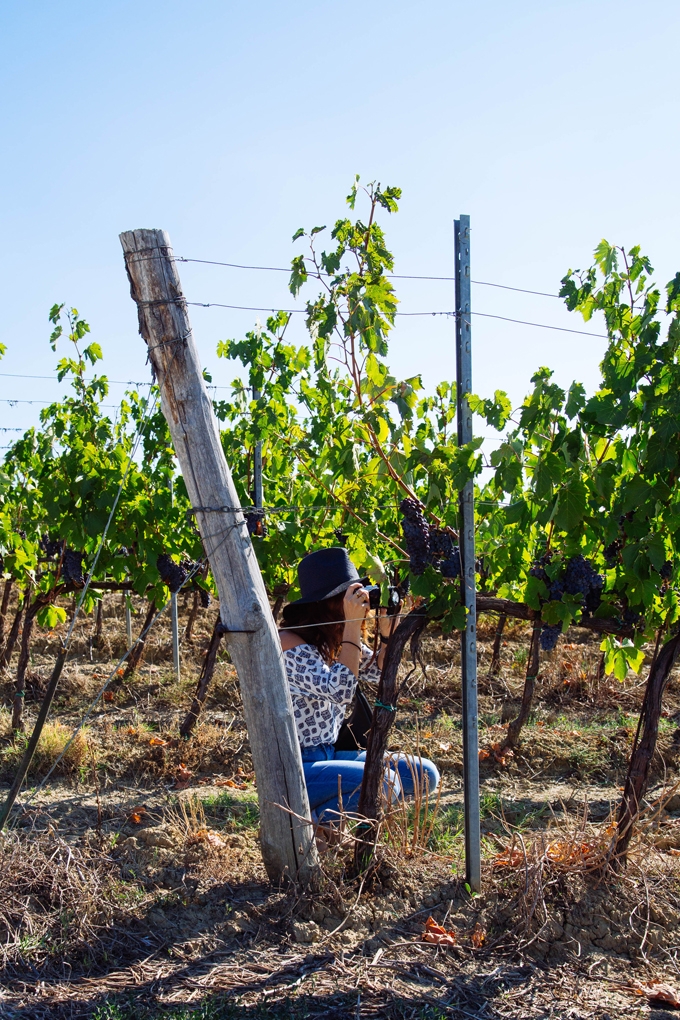 I had two main takeaways from this walk. First, to make excellent wine, you need to start with excellent grapes. The care that the DaVinci Wine team puts into their vines is clearly present in the finished product. Second, I learned that Leonardo da Vinci created a vineyard trellis system that brought the vines up off the ground to make it easier to harvest grapes. This system inspired the way the DaVinci vineyards are planted even to this day!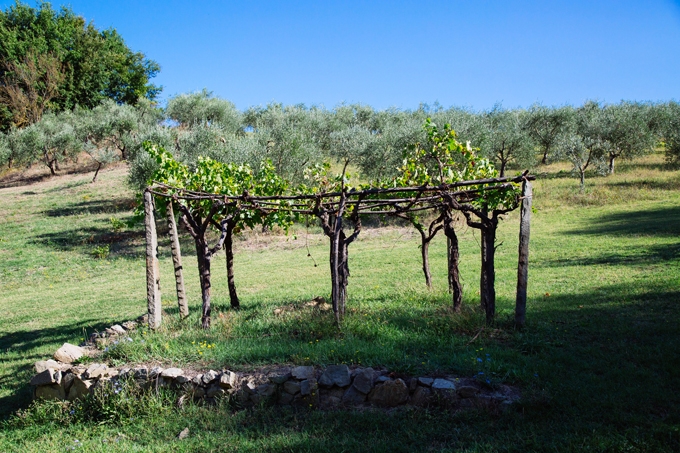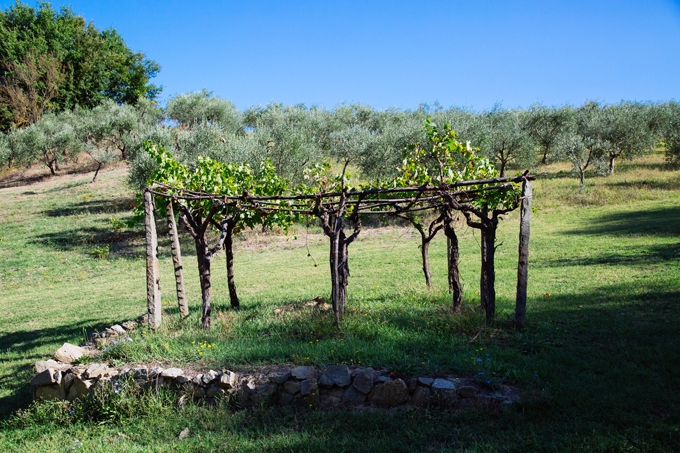 After the vineyard walk, we traveled a short distance to the town of Vinci where we toured the Leonardo da Vinci museum and his birthplace. You can see some spectacular views of the town below plus Leonardo's Vitruvian Man. During our tour we learned that Leonardo da Vinci may just have been a homosexual. Who knew?!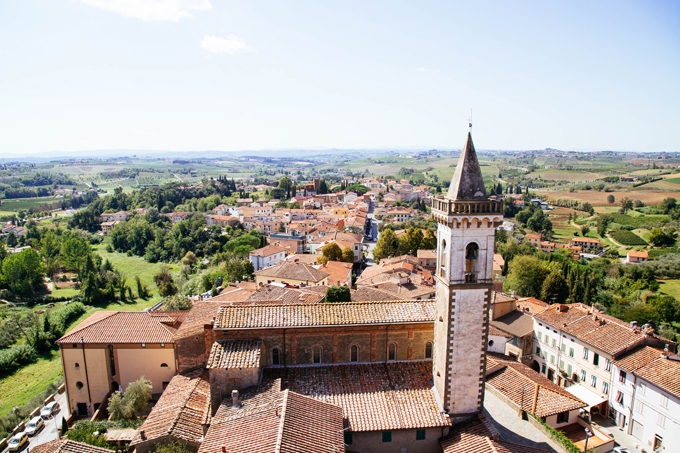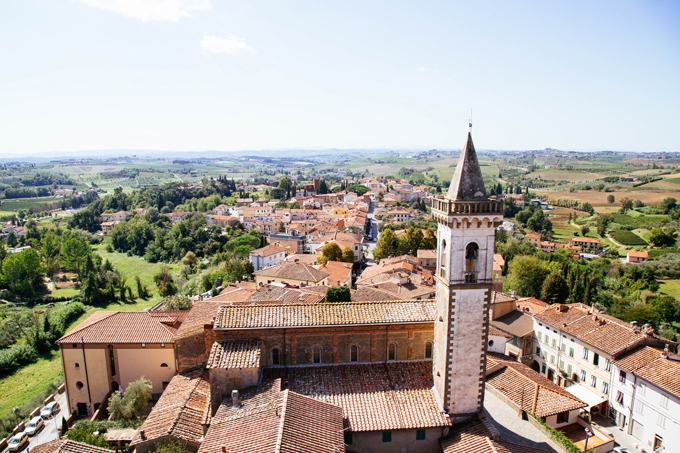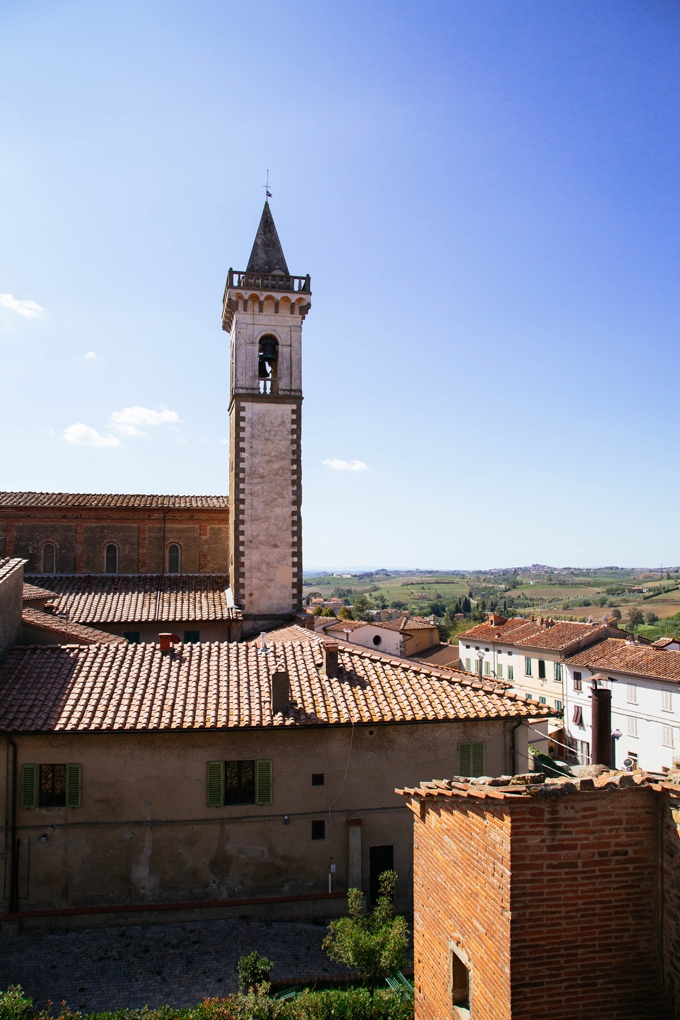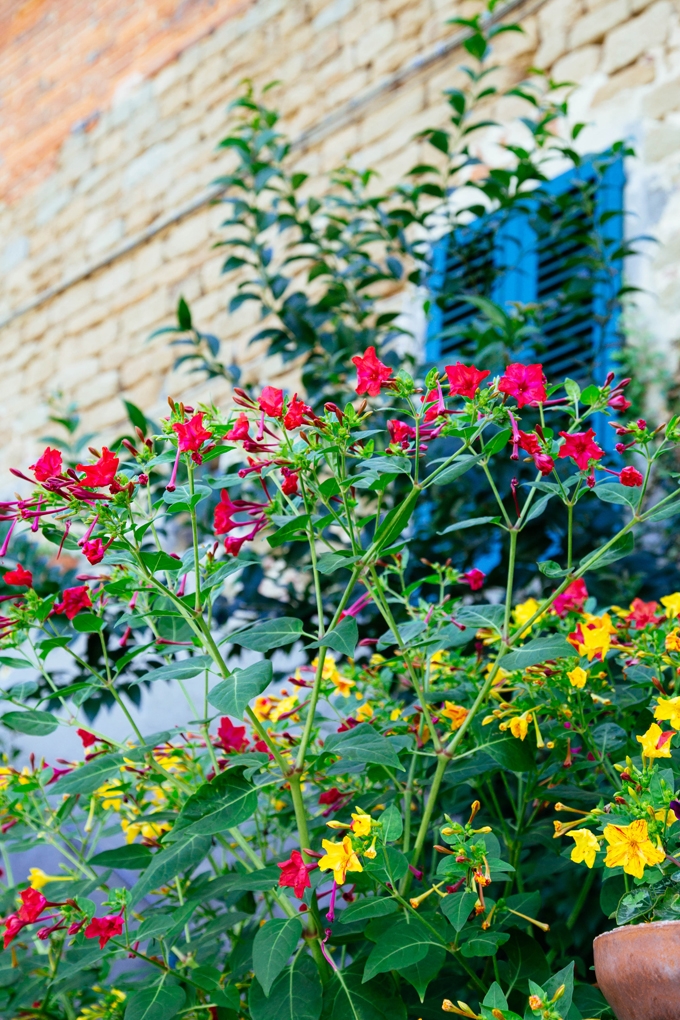 The lunch post-Vinci was one of my favorites the entire trip. The centerpiece of the lunch was a 4.4 pound bistecca alla fiorentina. Cut from the special white Chianina cow, this massive steak is cooked over a wood and charcoal fire. It's seared on all sides, and then cooked standing up with the T portion of the t-bone close to the fire. As the bone heats up, it cooks the inside of the steak ever so slightly. The finished bistecca has the most incredible golden, crunchy crust, and an almost-raw interior.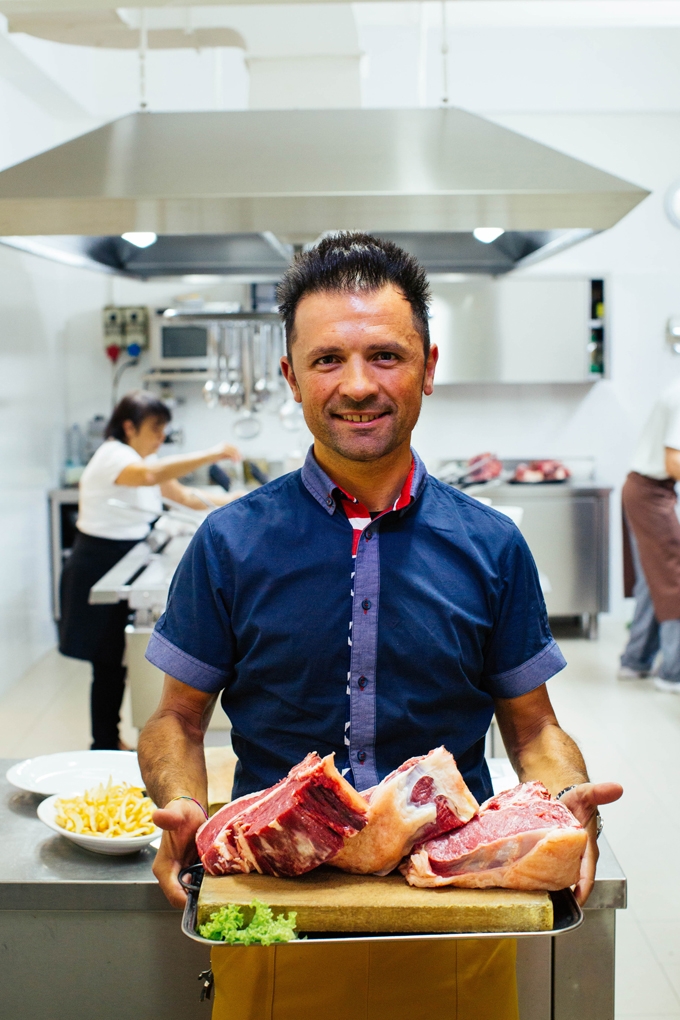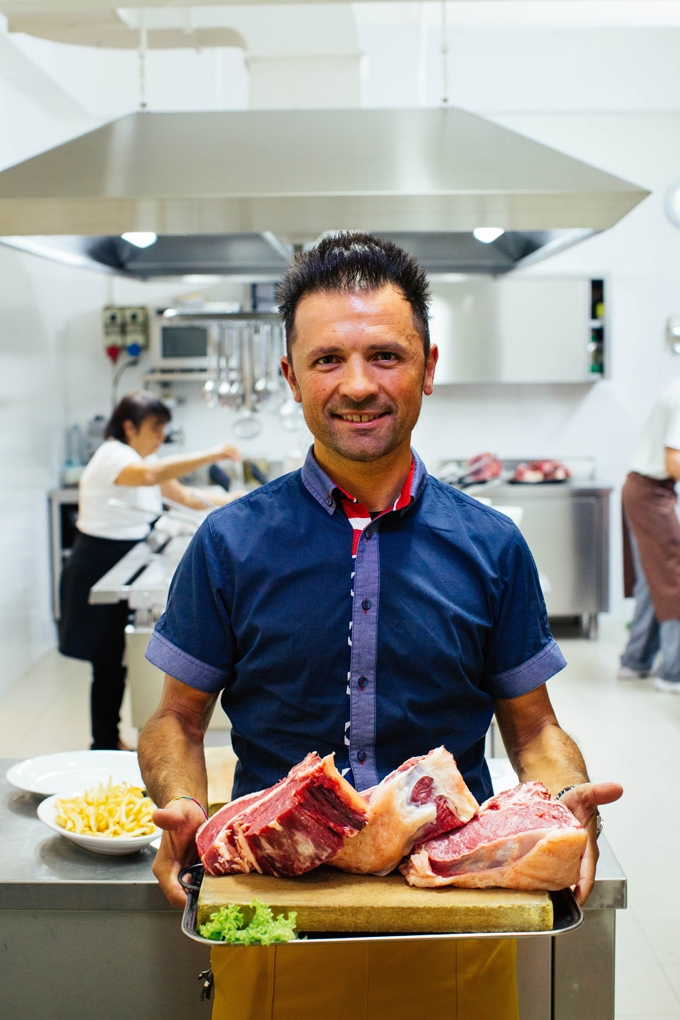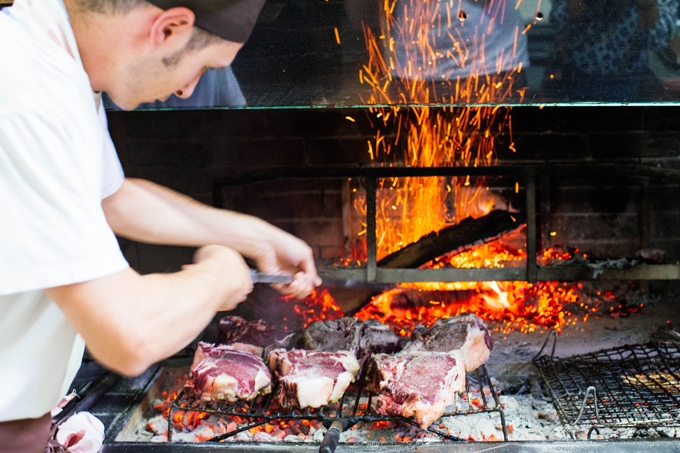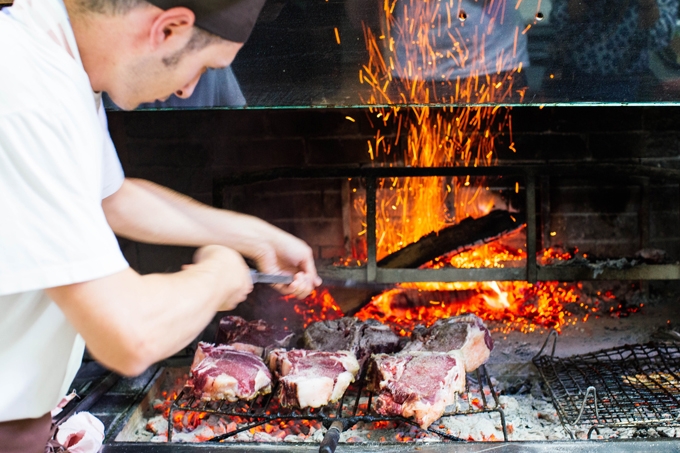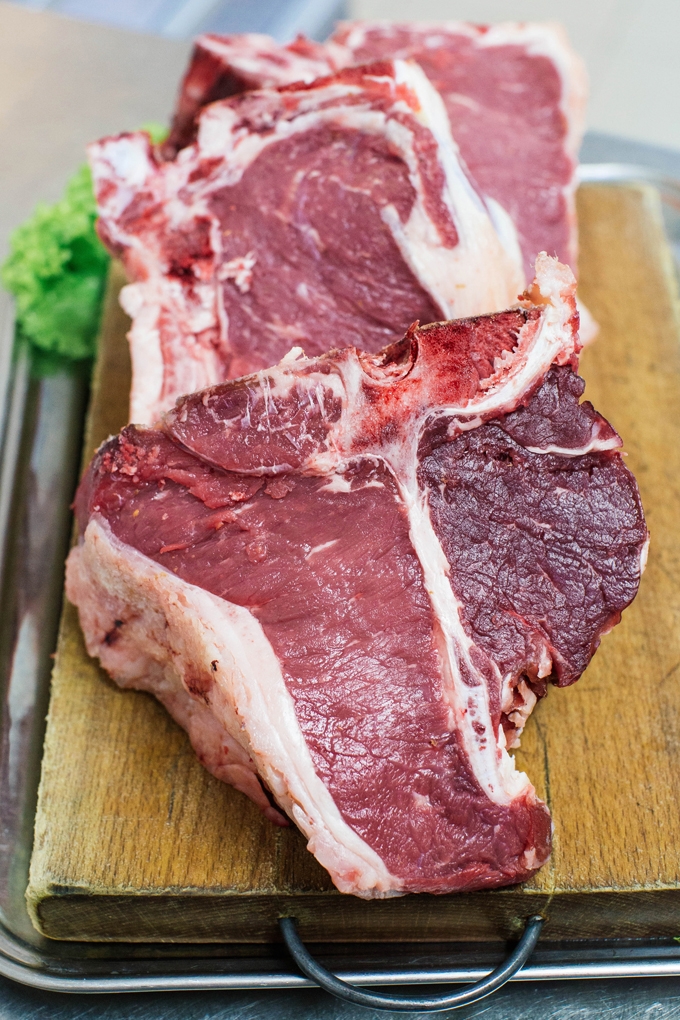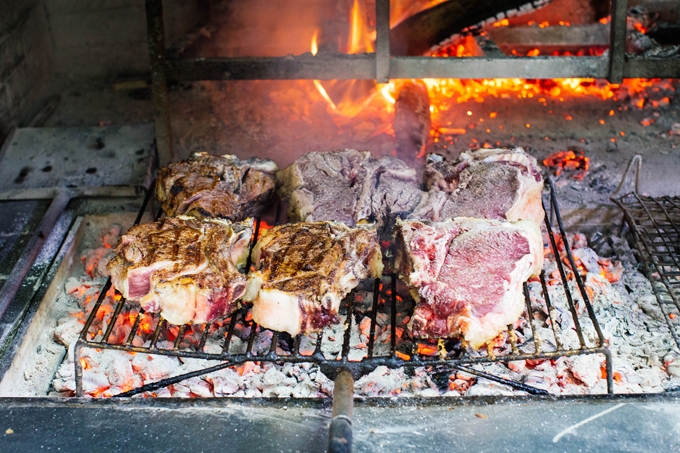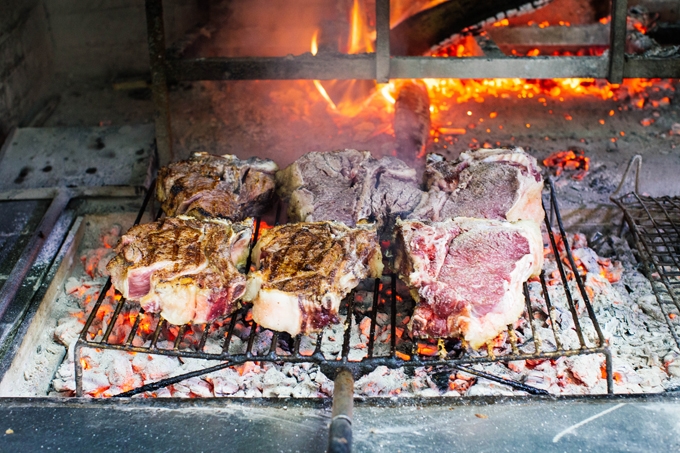 We enjoyed this steak along with a variety of tasty sides and glasses of Chianti Riserva and Brunello di Montalcino.  These bold reds could easily stand up to the big flavor of the steak.  Sides included spinach topped with pancetta breadcrumbs, raw porcini and celery salad (YUM!), chicken liver crostini, and creamy borlotti beans with steamed greens (FAV!!).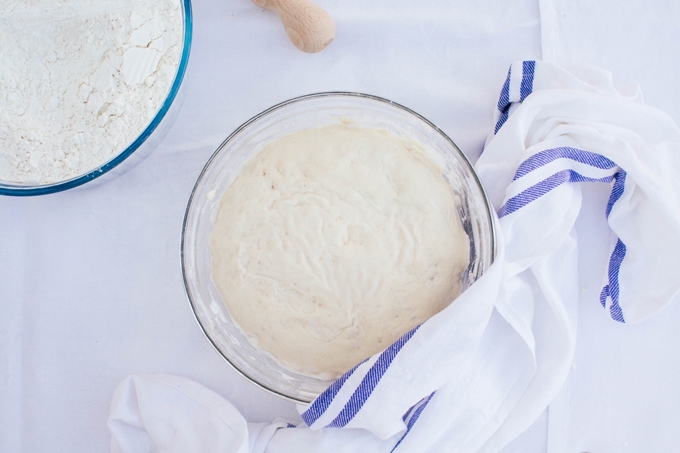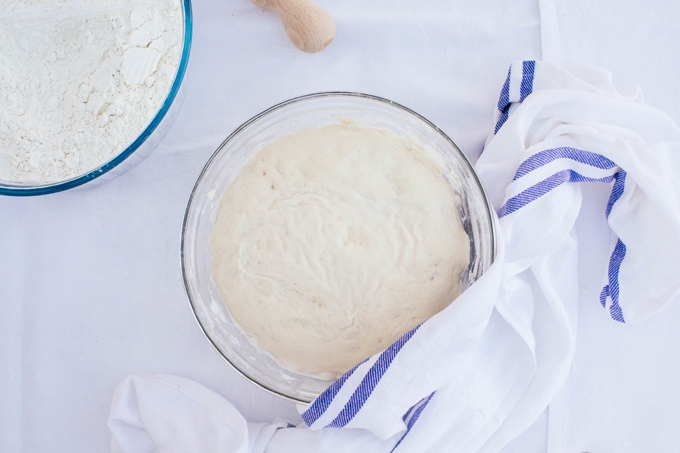 That evening we finished our day with a homemade pizza competition.  I managed to get an A+ on my dough, but my salami, pepper, caper and olive stromboli lost to Molly's grape and rosemary white pizza.  I was ROBBED.
Hahaha just kidding!  I mean would you look at all those toppings and tasty pizzas.  We were all winners in the end 🙂  During this pizza extravaganza, we familiarized ourselves with DaVinci Chianti.  The fruitiness of the wine worked well with the various pizza toppings while the round tannins helped cut the richness of the cheese.  DaVinci Chianti is a medium-bodied red wine, so it was easy to enjoy all evening long.  Before we get to my pizza recipe, I'm going to briefly chat about Day 2 (yes, that was all just Day 1!!).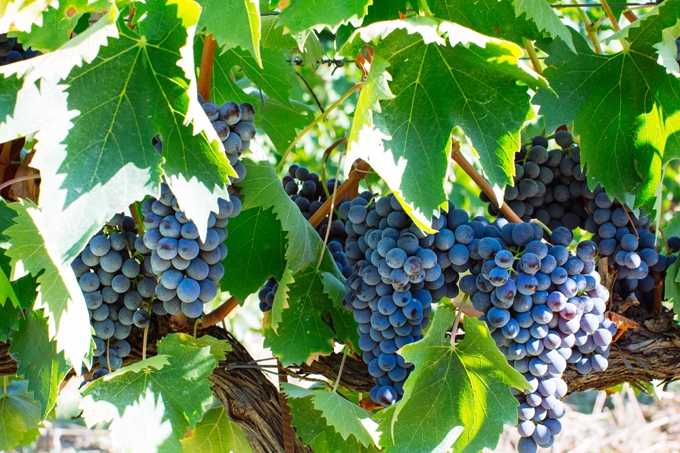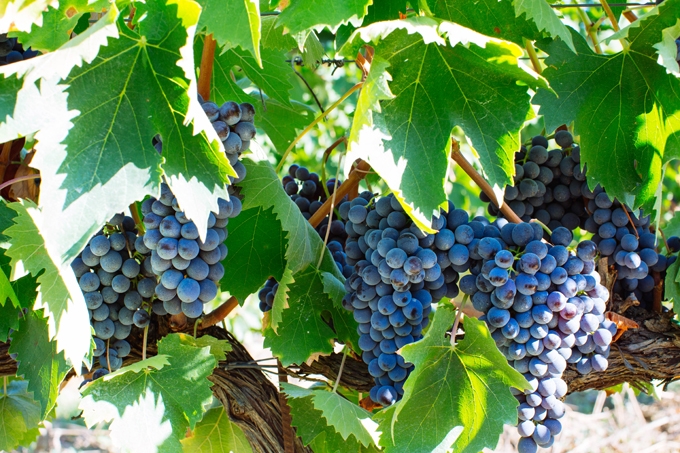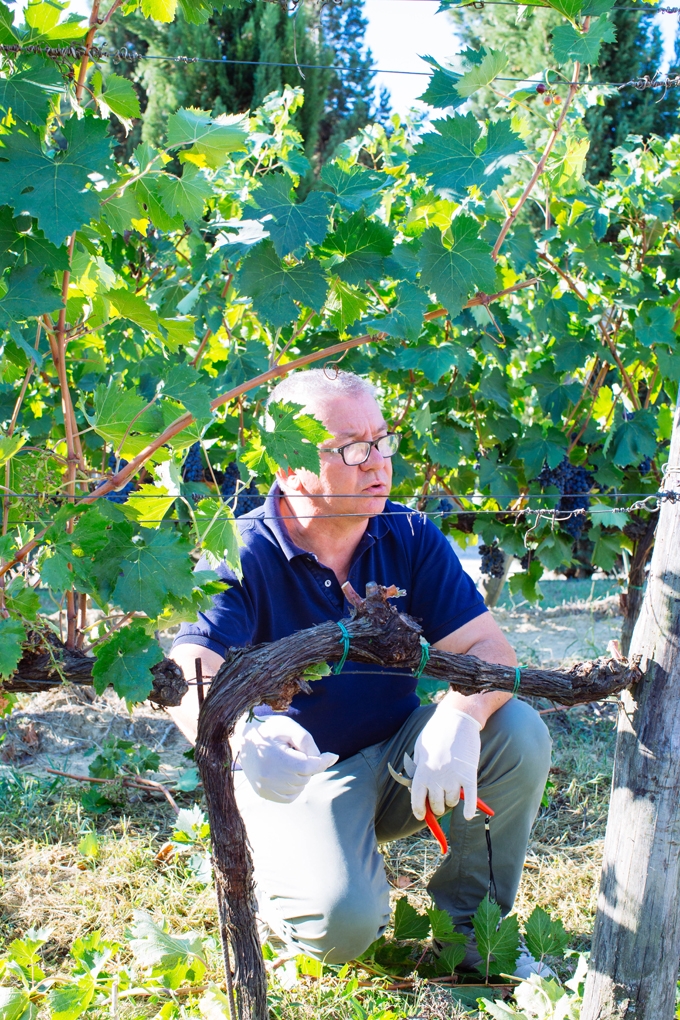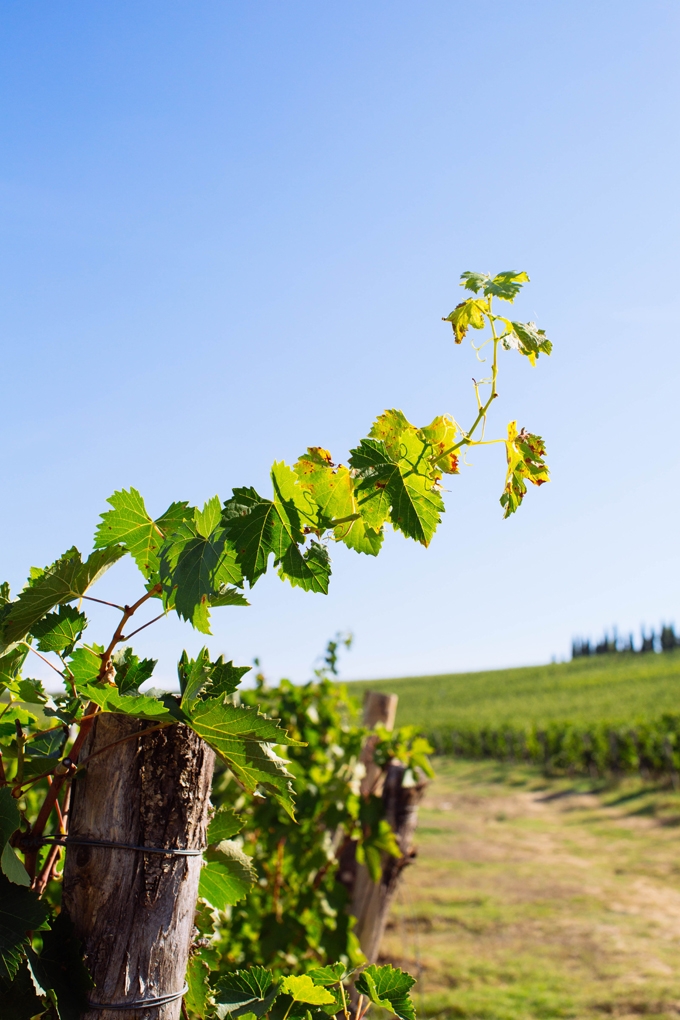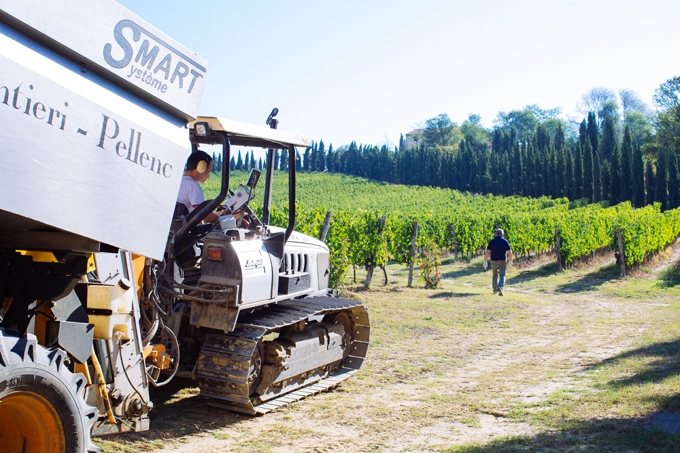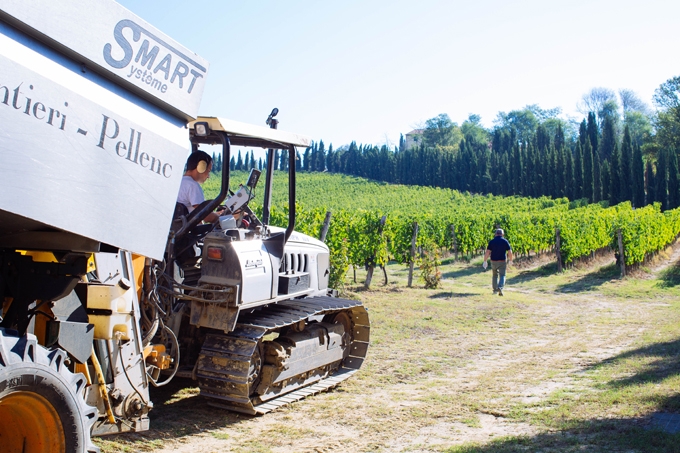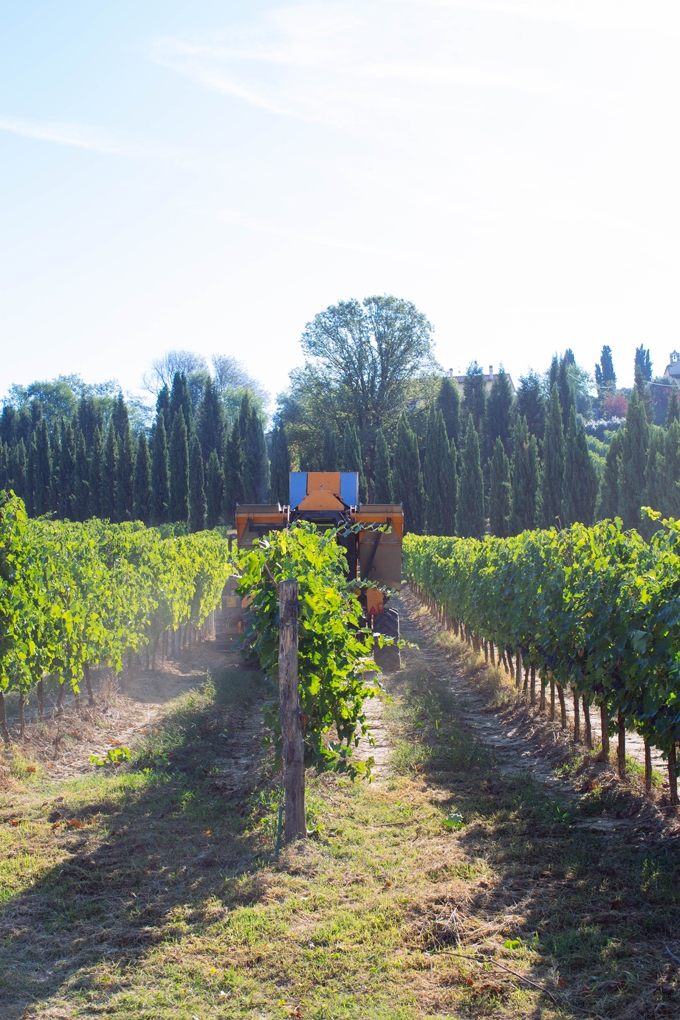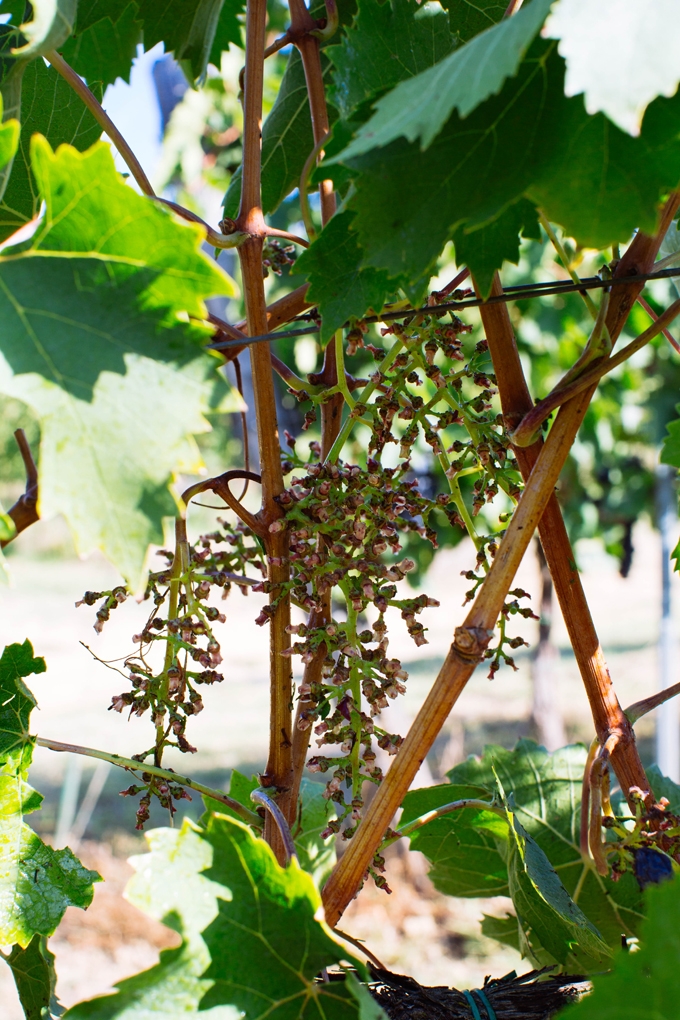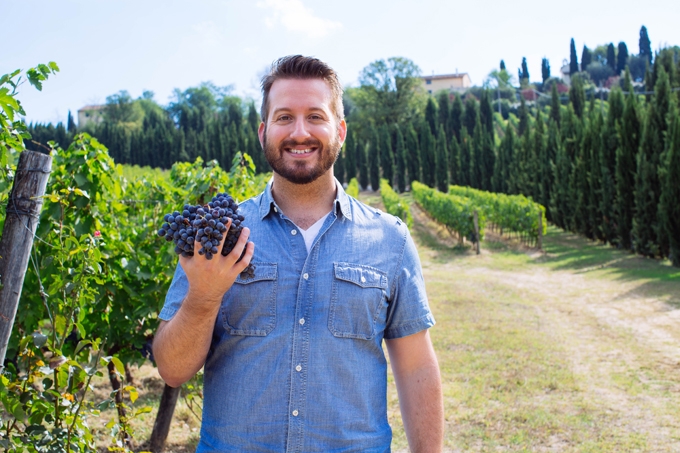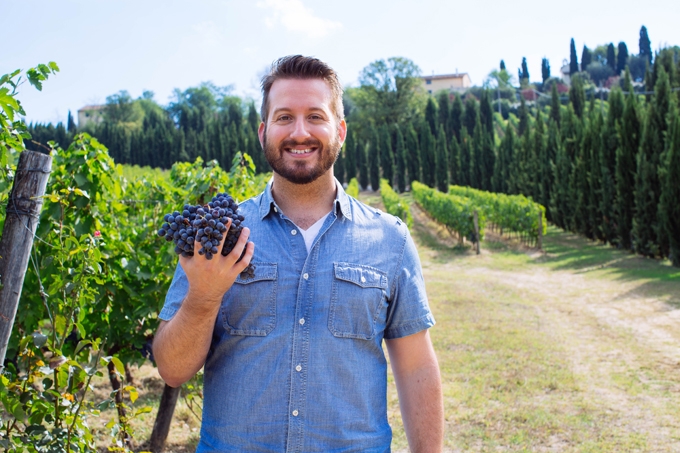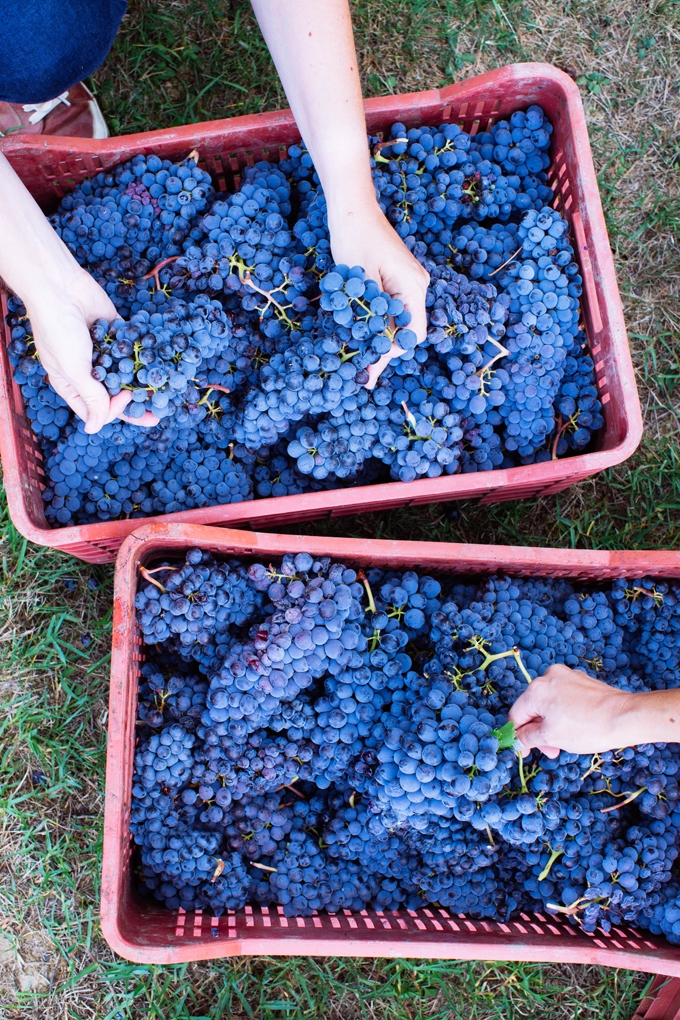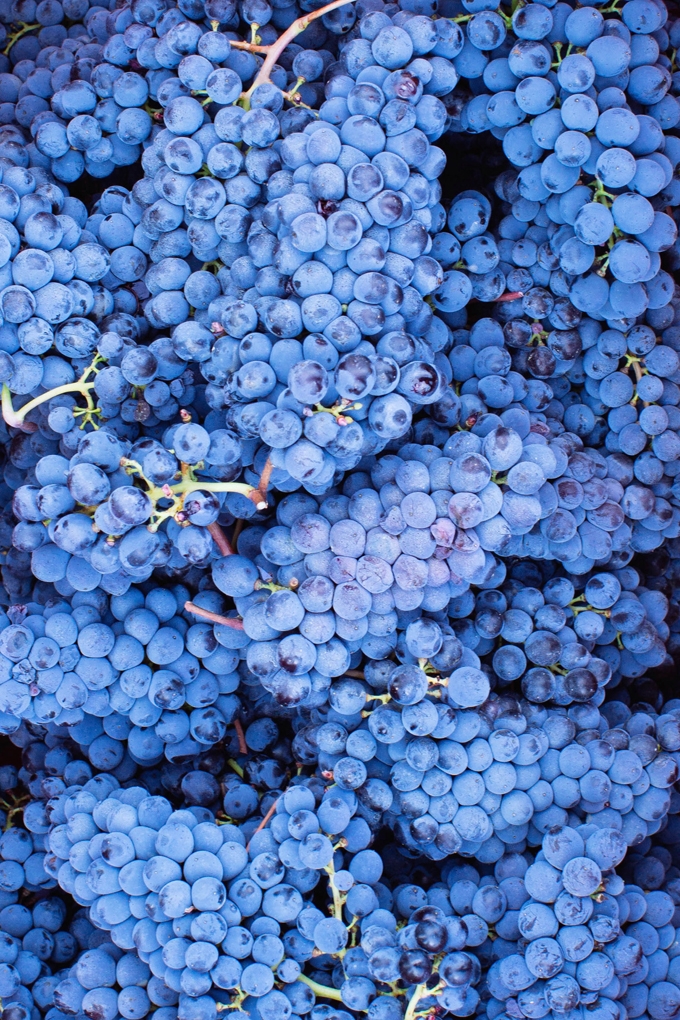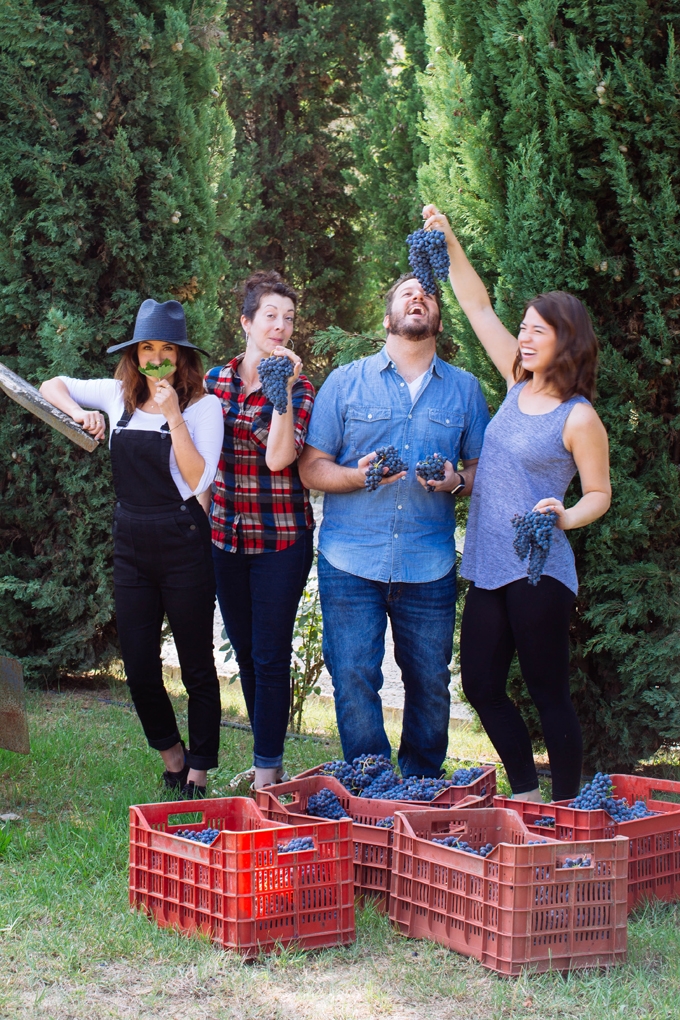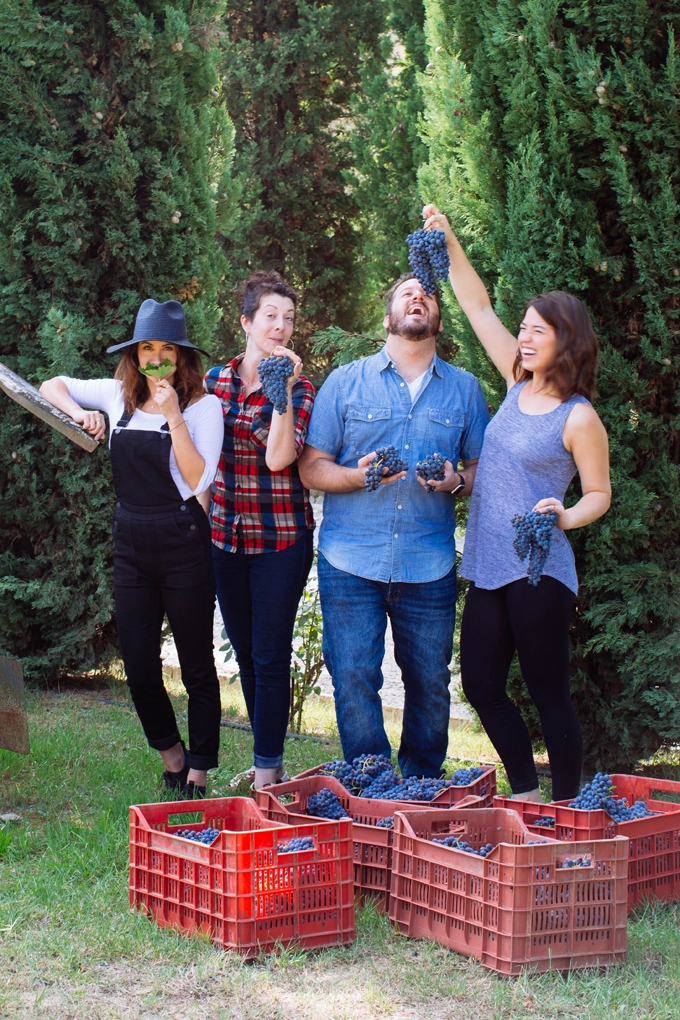 Day 2 consisted of a grape harvest (FUN!), wine tasting, lunch with a local wine grower (and his very large family!), and a spectacular seafood dinner with DaVinci Pinot Grigio  winemaker, Fabrizio Gatto.
The photos above are from the grape harvest.  DaVinci's agronomist, Andrea Meini, explained the many factors that affect the flavor of the grapes.  Rain, sun, soil and wind, to name a few.  We harvested the grapes the old-fashioned way (with shears); however, we got to see a modern machine in action.  The grape harvester shakes the vines as it passes by, causing the grapes to drop while leaving the rest of the vine intact.
The photos below are from lunch.  Cured meats along with hard and soft pecorino.  A bread-forward panzanella studded with marinated vegetables.  Anchovy fillets marinated in vinegar and tossed with olive oil and red onion.  Schiacciata dotted with grapes from the vineyard.  A traditional Tuscan lunch paired with DaVinci Pinot Grigio, Chianti and Chianti Riserva.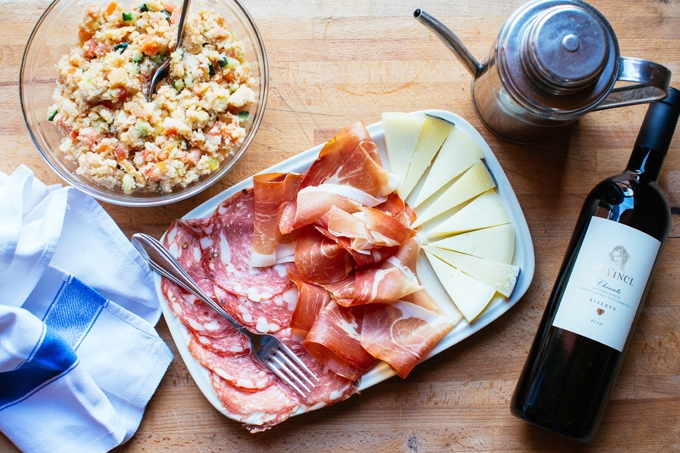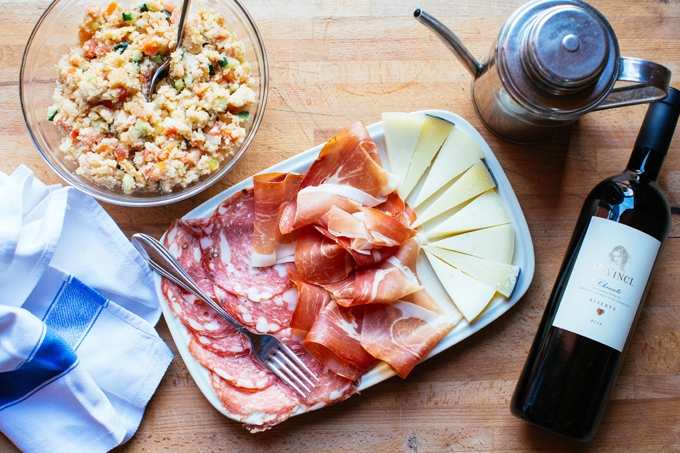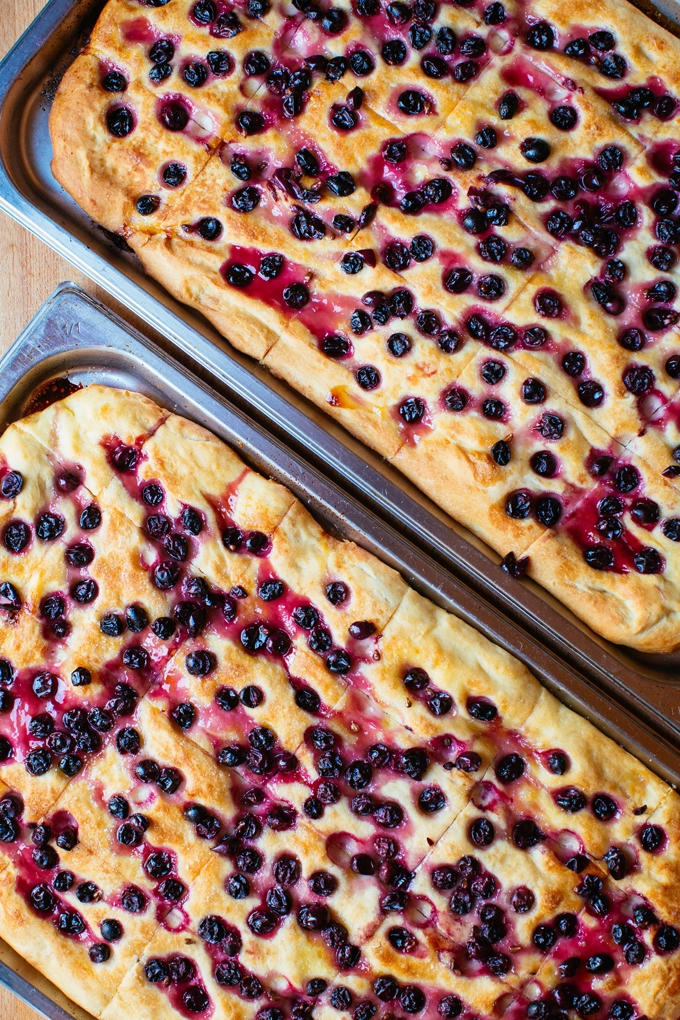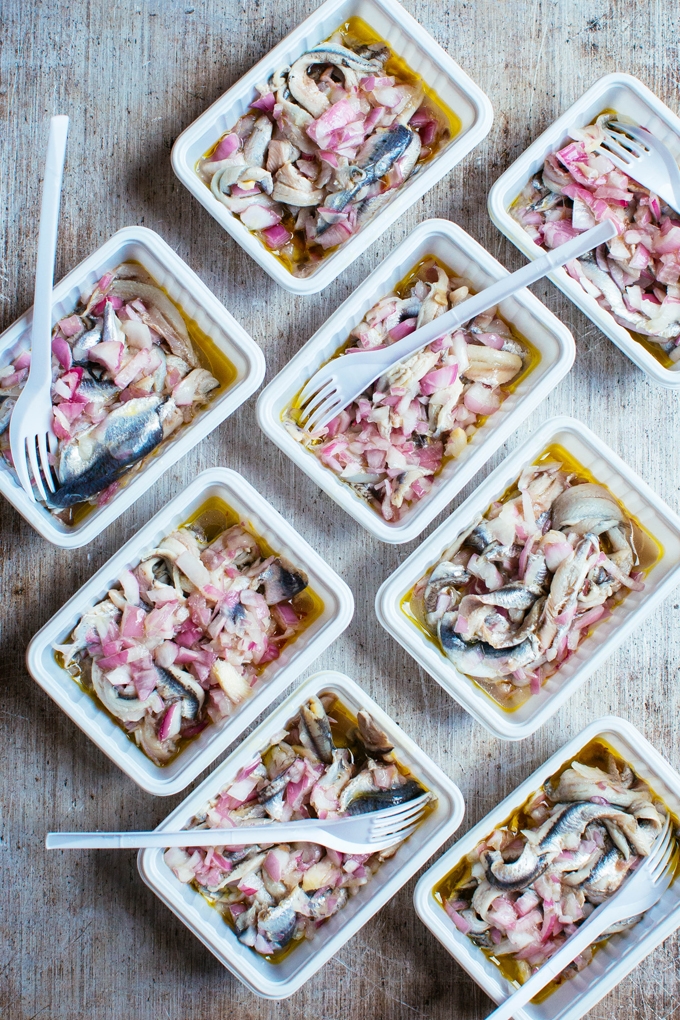 Now, on to the pizza recipe!  I've paired DaVinci Pinot Grigio with this Mushroom and Goat Cheese Pizza, because the crisp wine complements the nuanced flavors of the pizza without overwhelming them.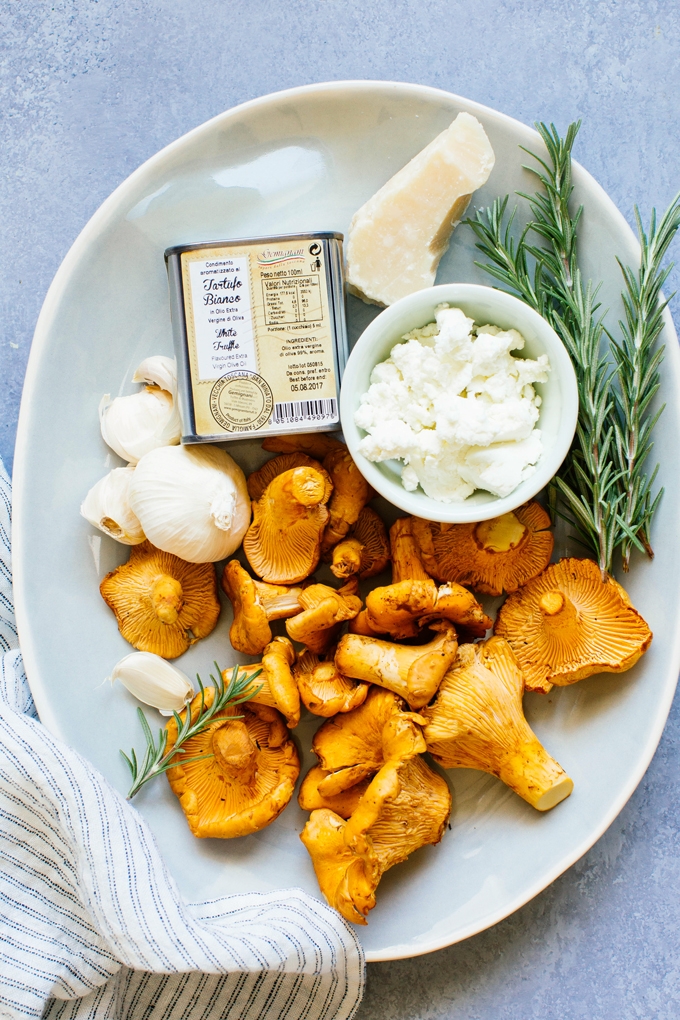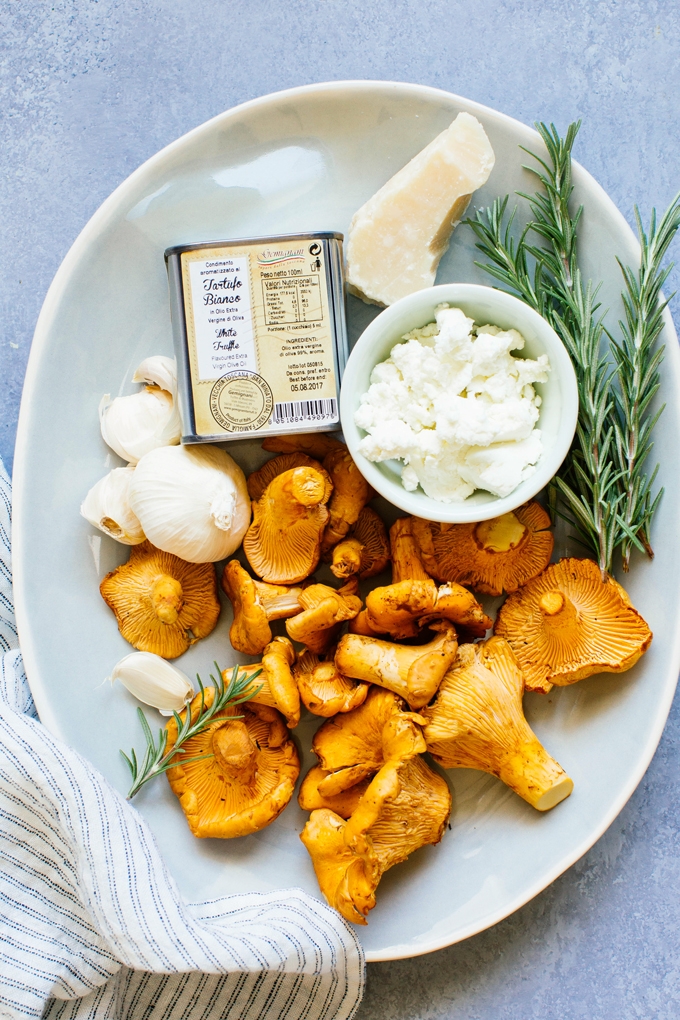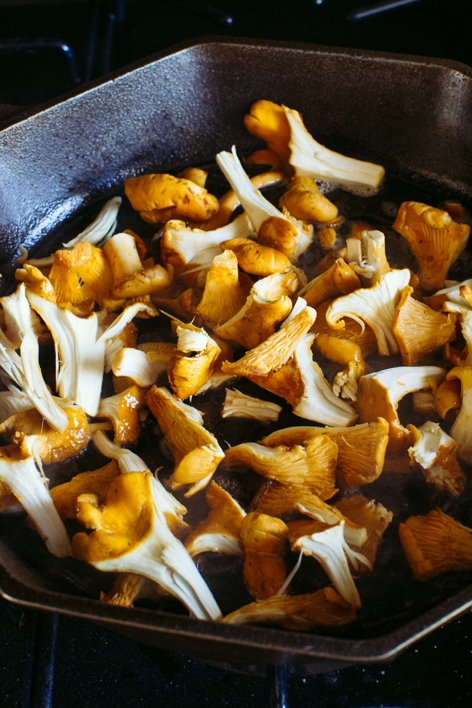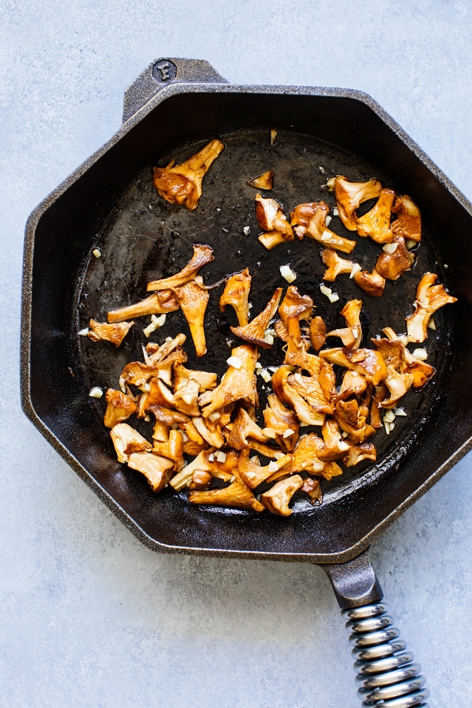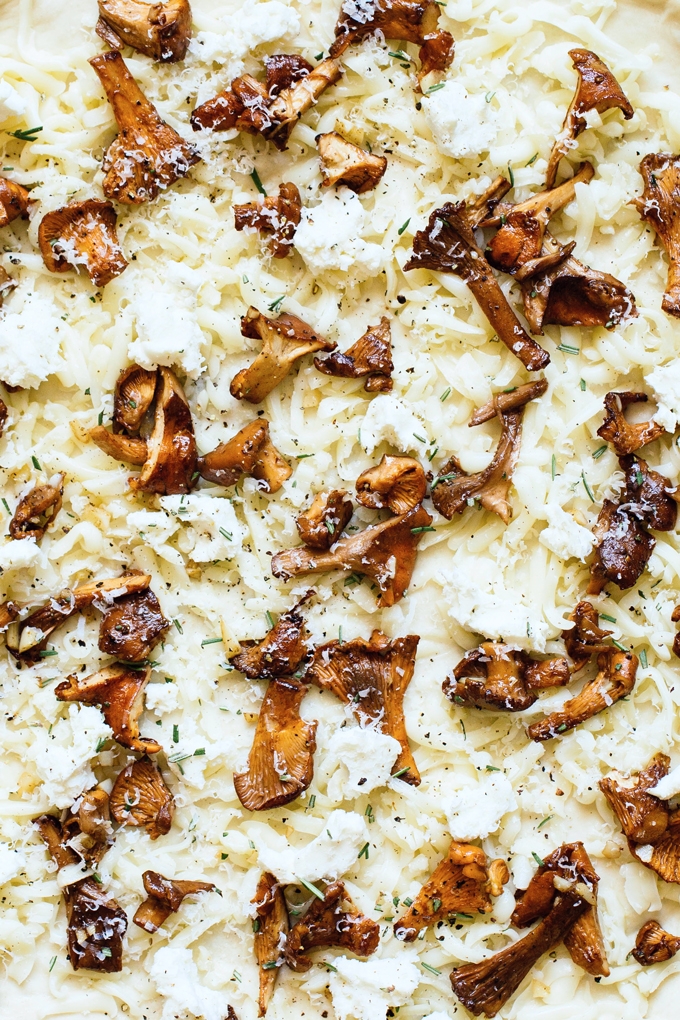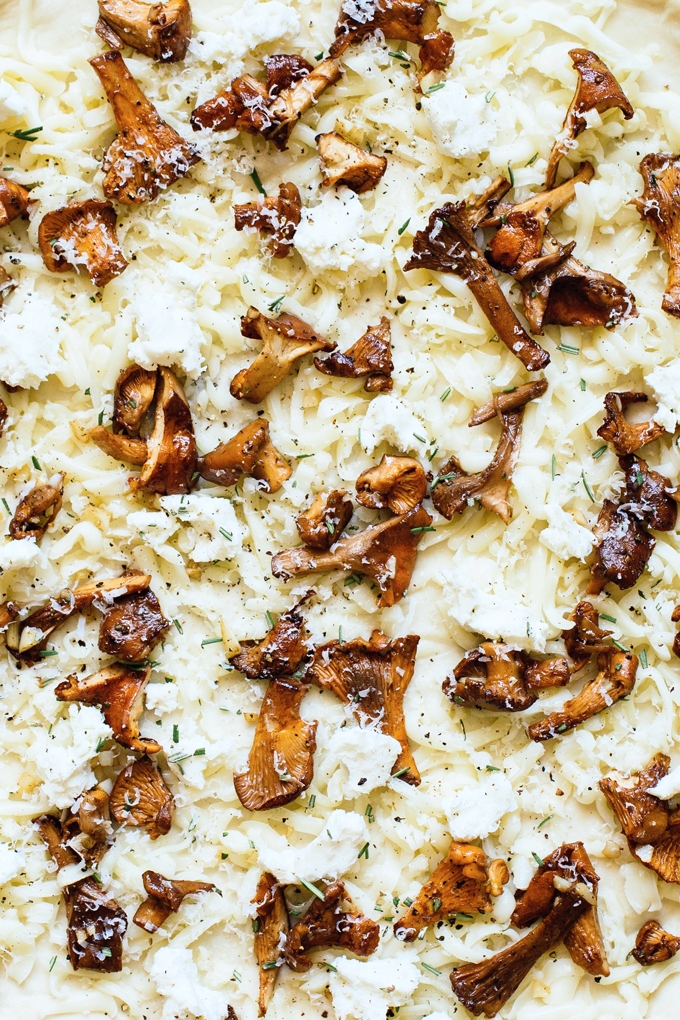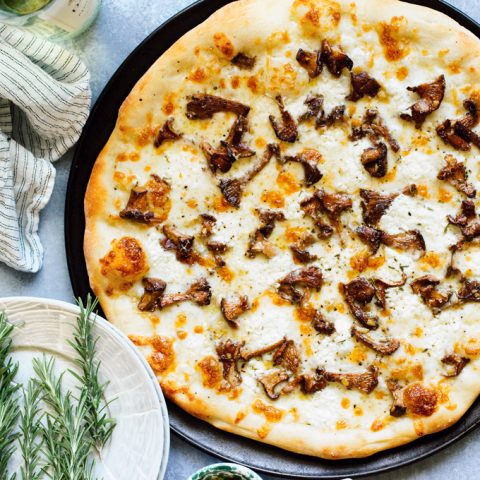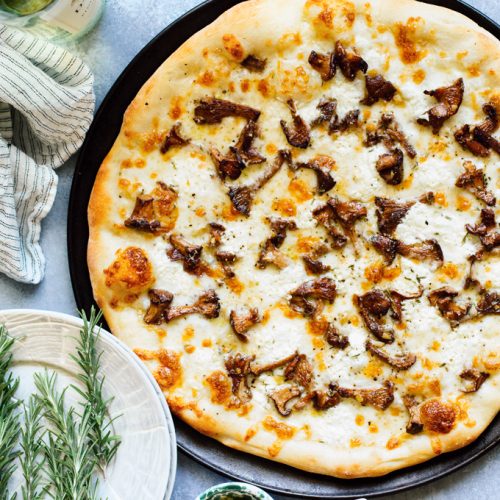 Mushroom and Goat Cheese Pizza Recipe
Ingredients
1/2

pound

chanterelle mushrooms (other mushrooms besides white button would work as well)

1 1/2

tablespoons

unsalted butter

2

cloves

garlic, minced

Kosher salt

Freshly ground black pepper

Nonstick cooking spray

1

ball of pizza dough

Extra virgin olive oil

8

ounces

grated mozzarella cheese

2

ounces

soft goat cheese, crumbled

½

teaspoon

chopped fresh rosemary

Parmesan cheese, for grating

Truffle oil, for drizzling
Instructions
Cut the base of the stems off the chanterelles. Wipe any gritty mushrooms clean with a damp paper towel. Tear any large mushrooms into bite-sized pieces, and leave any smaller ones whole.

Warm unsalted butter in a large skillet over medium-high heat. Add the chanterelles and cook, stirring occasionally, until tender (about 5 minutes). During the last minute, stir in minced garlic. Season mushrooms to taste with kosher salt and pepper, then set aside.

Preheat an oven to 500°F, and set an oven rack in the lowest possible position. Lightly coat a pizza pan with nonstick cooking spray.

Stretch pizza dough into a round large enough to fit the pizza pan. Very lightly drizzle the dough with olive oil, using your hands to evenly spread the oil around. Sprinkle dough with a small pinch of kosher salt. Top pizza evenly with grated mozzarella cheese, crumbled goat cheese, sautéed chanterelles and rosemary. Finish with a sprinkling of kosher salt and black pepper, then an even dusting of Parmesan cheese.

Transfer pizza to the oven on the lowest rack and cook until the crust is golden brown (bottom and crust) and the cheese is nice and bubbly (9 - 11 minutes). Drizzle pizza very lightly with truffle oil before serving.
Tried this recipe?
Tag @brandiego on Instagram so I can check it out!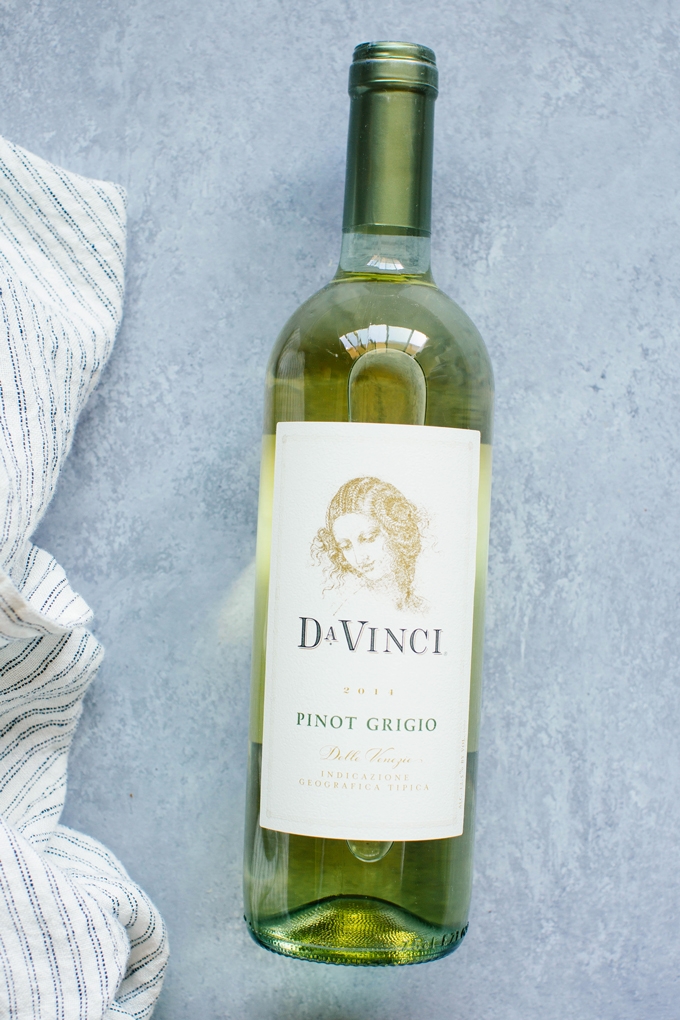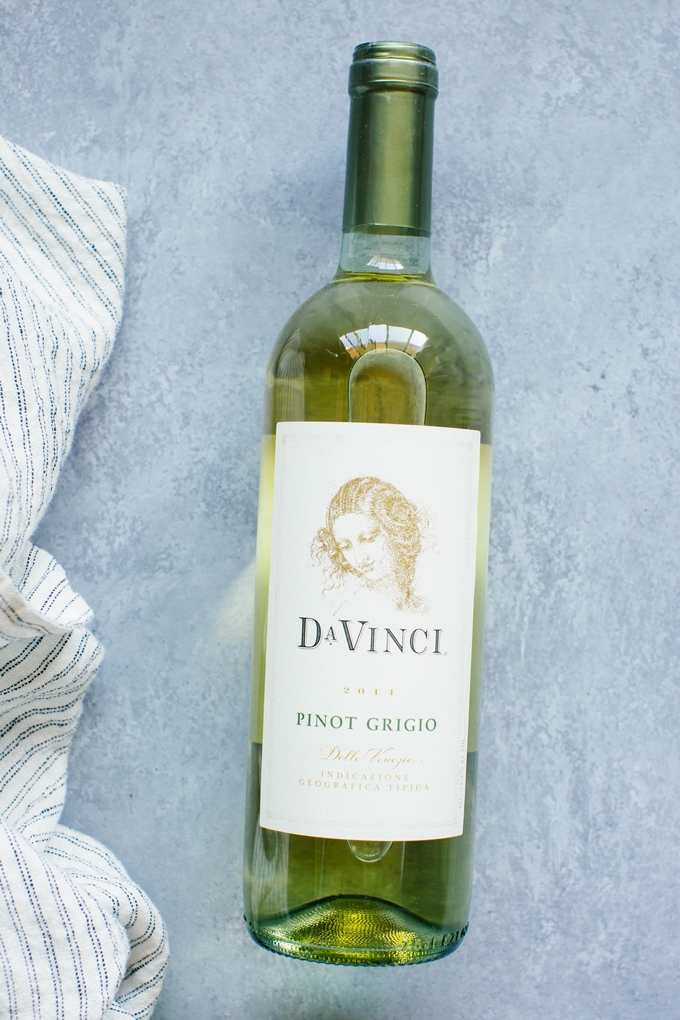 As a 2015 DaVinci Storyteller, this post was written in partnership with DaVinci Wine.  DaVinci Wine has provided me with this experience.  All thoughts, opinions and recipes are my own.
Check out these pizza posts from the other DaVinci Storytellers: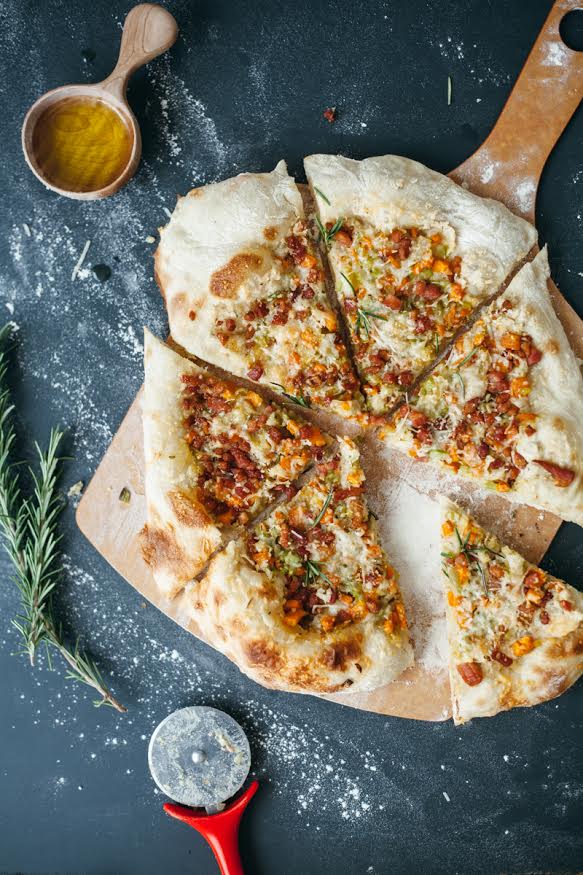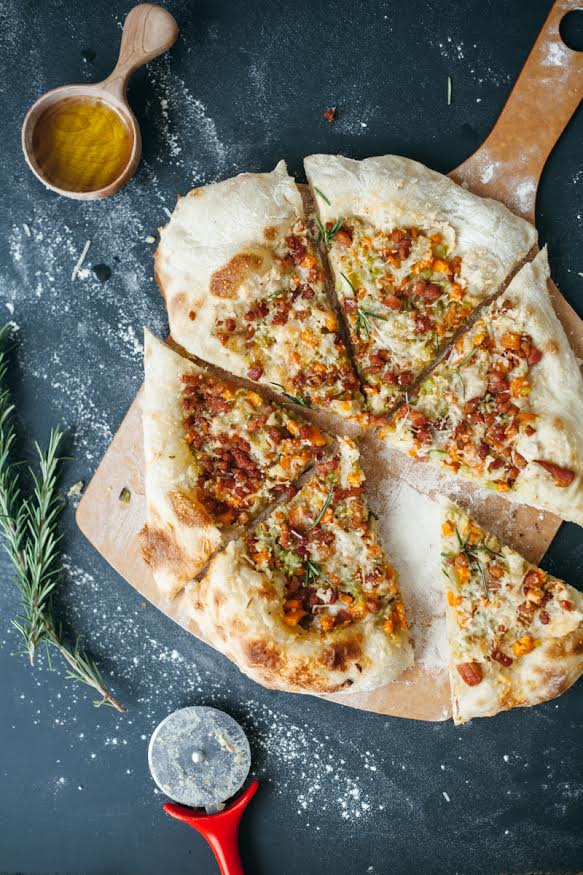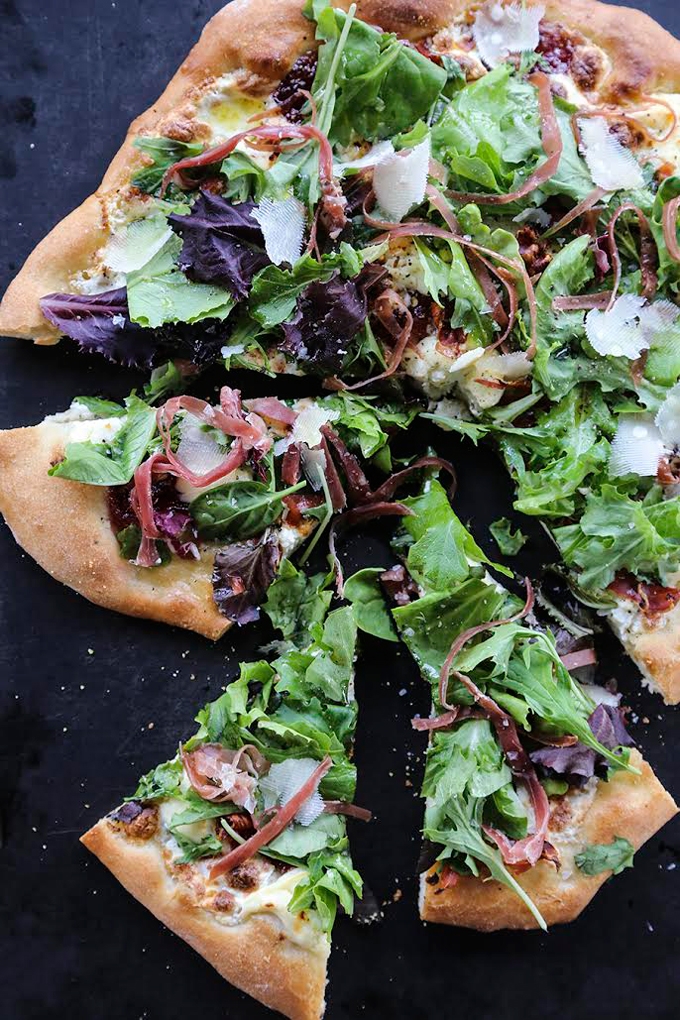 16