Thanksgiving is just three weeks away.  Now would be a good time to start thinking about menu options.
This post may contain affiliate links.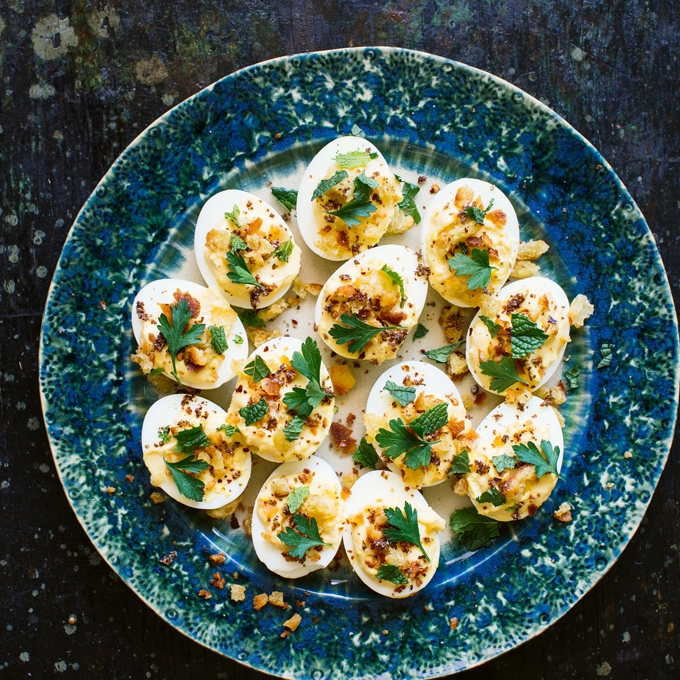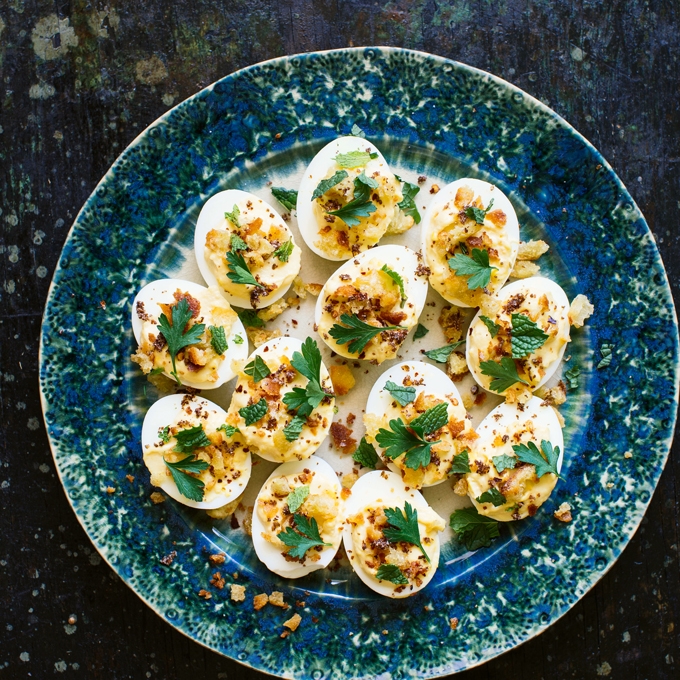 Like these Falafel-Spiced Deviled Eggs!  Traditionally a Middle Eastern food, falafel is a deep-fried ball made of ground chickpeas and flavorings like onion, garlic, herbs and spices.  They're crunchy on the outside and tender on the inside.  Here, I've taken some of these elements and applied them to one of my favorite appetizers, deviled eggs.  The yolk mixture is prepared simply with hummus and fresh lemon juice.  The eggs are then topped with golden bread crumbs, aromatic falafel spice, and a scattering of torn mint and parsley.  Each deviled egg is just bursting with falafel flavor, and the crunch of the breadcrumbs resembles the crisp, outer shell of a deep-fried falafel.  This appetizer is truly a fun and tasty experience.
Each year, I like to serve an unexpected appetizer along with more traditional offerings.  Last year it was my Miso Deviled Eggs, and this year, I'll be serving these Falafel-Spiced Deviled Eggs.  It's the risky menu item that gets people excited and talking.  It's also the thing they usually remember the most once Thanksgiving is over.  Continue reading for the recipe.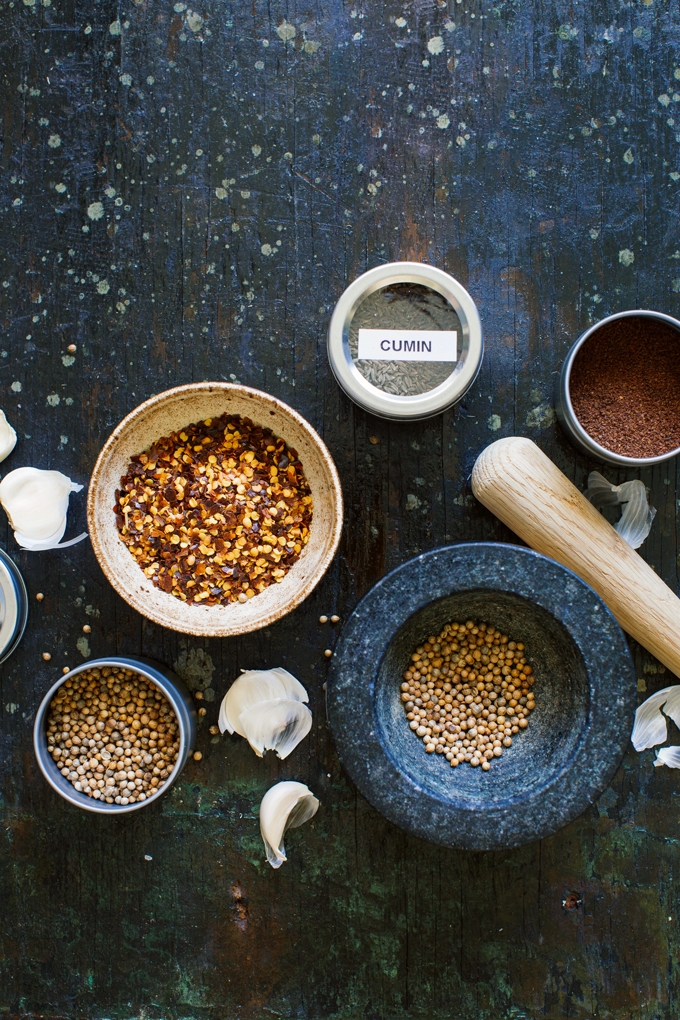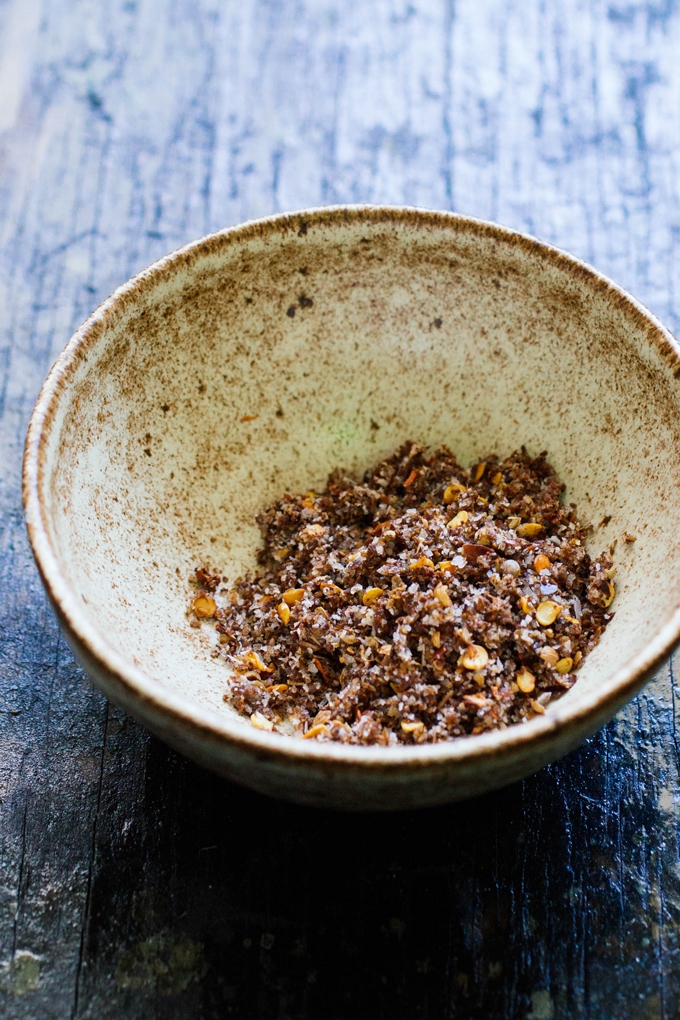 I wish I could take credit for this genius falafel spice, but unfortunately, I can't!  I saw this recipe in Bon Appetit magazine over the summer, and I've been obsessed ever since.  The spice mix is a blend of fresh garlic, sumac, red pepper, cumin, coriander and kosher salt.  It's bold, aromatic and wonderfully spicy.  Aside from this deviled egg recipe, the spice can be sprinkled over hummus, roasted vegetables, chicken, fish, regular hard-boiled eggs, flatbread, pizza, and more!  I'm still finding new uses for it.
For Thanksgiving, I would recommend preparing this spice mix the day before.  It can be stored in the fridge for up to several weeks, but the flavor is best during the first couple of days.  The hard-boiled eggs and yolk mixture can also be prepared a day in advance.  The breadcrumbs can be made Thanksgiving morning, and the herbs should be chopped fresh.
I should also mention that the base of this recipe, egg + hummus + lemon, is amazing on it's own.  If you want to take the simple route, just make hummus deviled eggs and top with a sprinkling of smoked paprika or cayenne pepper.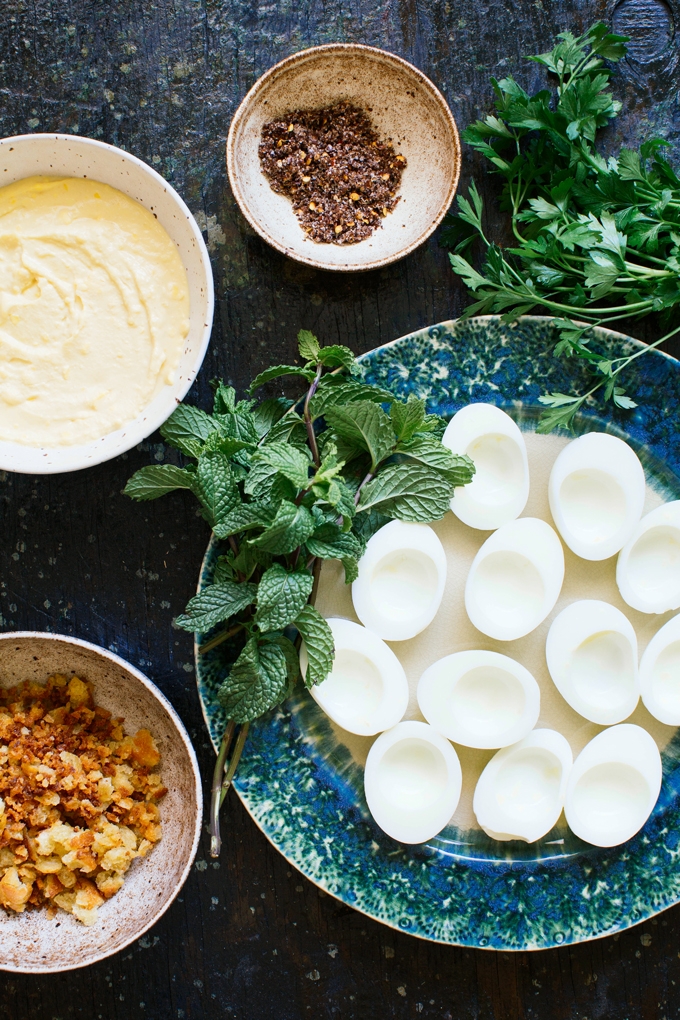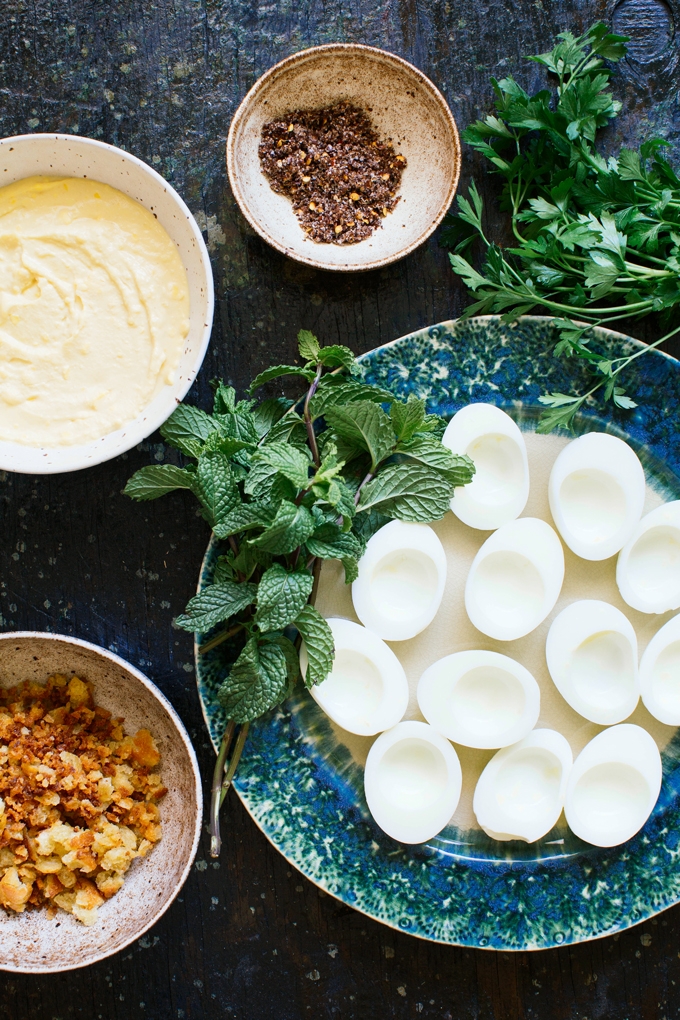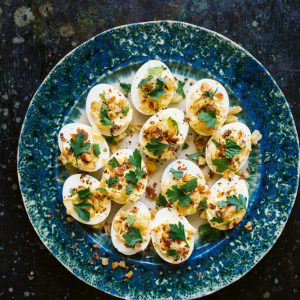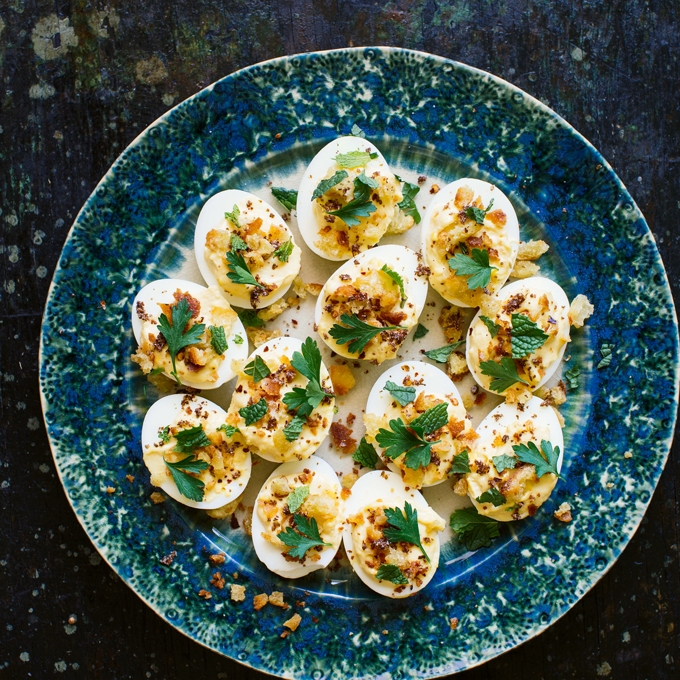 Falafel-Spiced Deviled Eggs Recipe
Falafel spice adapted from
here
.
Ingredients
For the Falafel Spice:
2

garlic cloves, grated or minced

1

teaspoon

sumac

1/2

teaspoon

crushed red pepper flakes

1/2

teaspoon

ground coriander

1/2

teaspoon

ground cumin

1

teaspoon

kosher salt
For the Deviled Eggs:
1

cup

bread crumbs, preferably fresh

2

tablespoons

extra virgin olive oil

Kosher salt

6

hard-boiled eggs, peeled and halved

3

tablespoons

mayonnaise

3

tablespoons

hummus

1

tablespoon

freshly squeezed lemon juice
Falafel Spice, for sprinkling
Torn mint, for sprinkling
Torn Italian parsley, for sprinkling
Instructions
Start by making the Falafel Spice. Combine garlic, sumac, red pepper, coriander, cumin and kosher salt in a small bowl, stirring until evenly combined. Set aside.

Cook breadcrumbs in olive oil in a medium skillet over heat until golden and crunchy (about 5 minutes), stirring occasionally. Transfer to a paper towel-lined plate and set aside.

Separate the egg yolks from egg whites. Place the yolks in a medium bowl, and the whites on a large plate. Add mayo, hummus and lemon juice to the bowl with the yolks. Using a fork, mash and mix to combine. You don't want any big chunks of yolk remaining. Season to taste with kosher salt.

To serve, spoon or pipe the yolk mixture into the well of each egg white. Top each egg with a sprinkling of breadcrumbs and falafel spice (you'll have leftovers of both). Finish with a sprinkling of torn mint and parsley.
Notes
*Leftover Falafel Spice should be stored in the refrigerator. It's incredible sprinkled on hummus, salad greens, roasted root vegetables or on just plain hard-boiled eggs.
Tried this recipe?
Tag @brandiego on Instagram so I can check it out!
Here are some other Thanksgiving appetizer recipes on Kitchen Konfidence: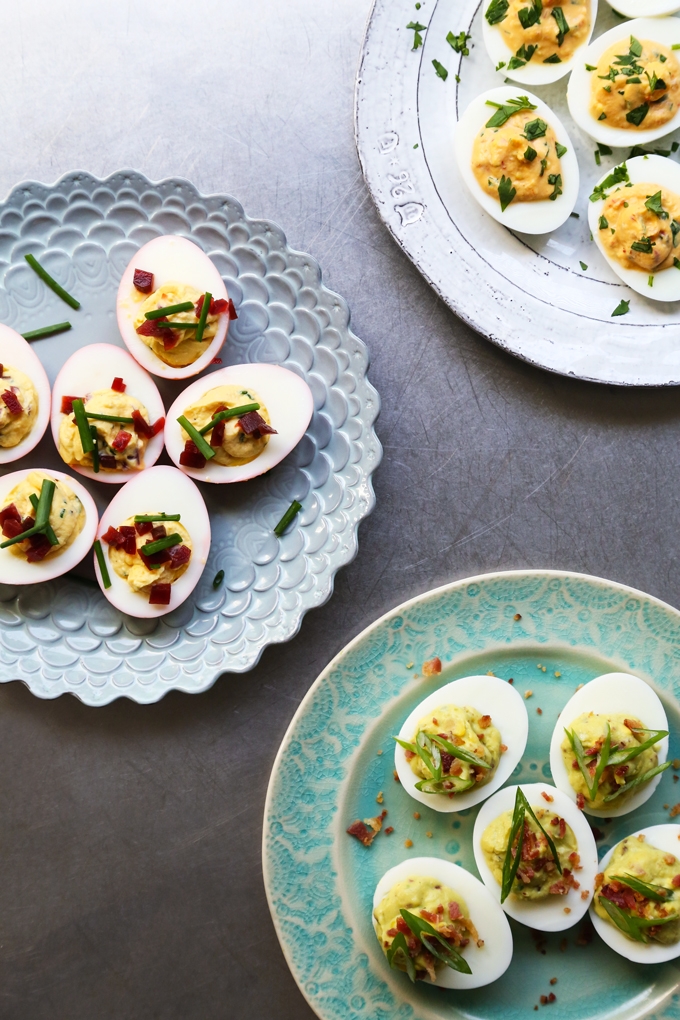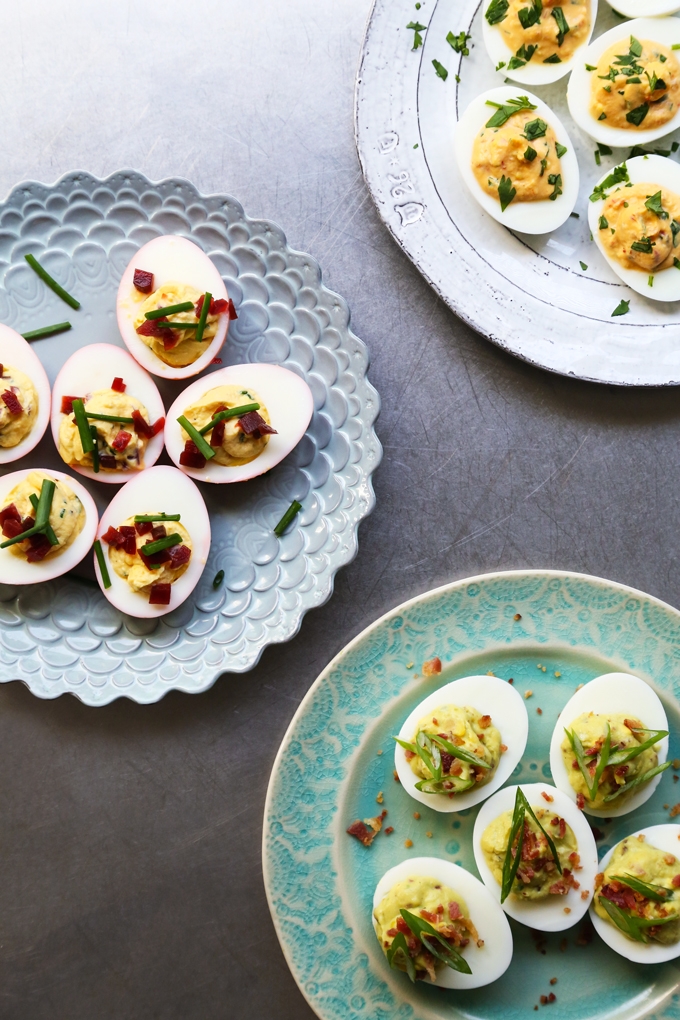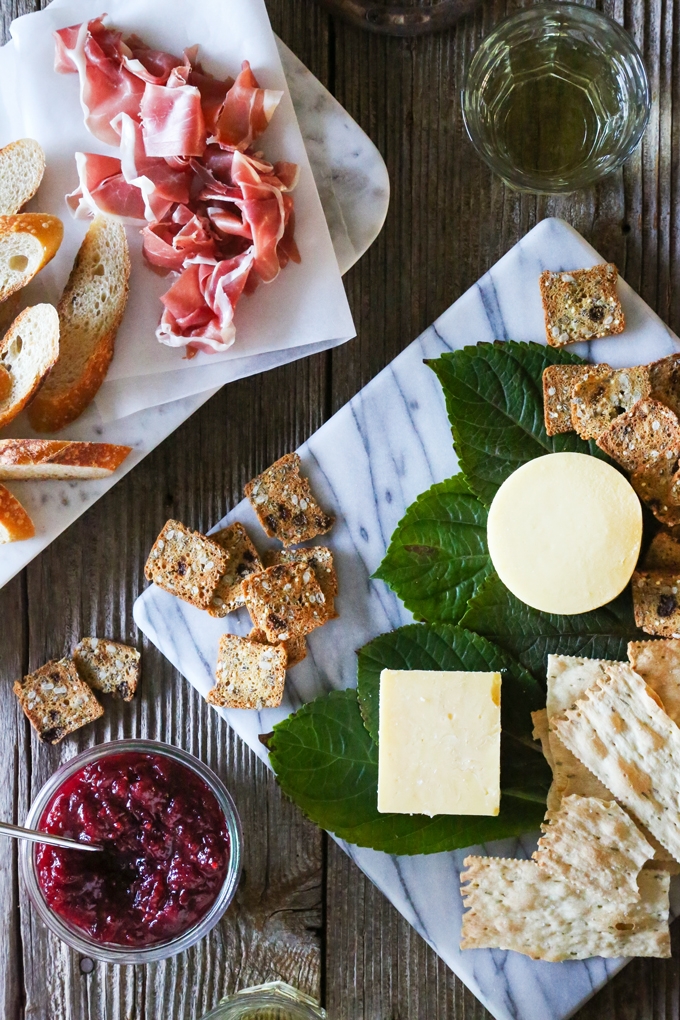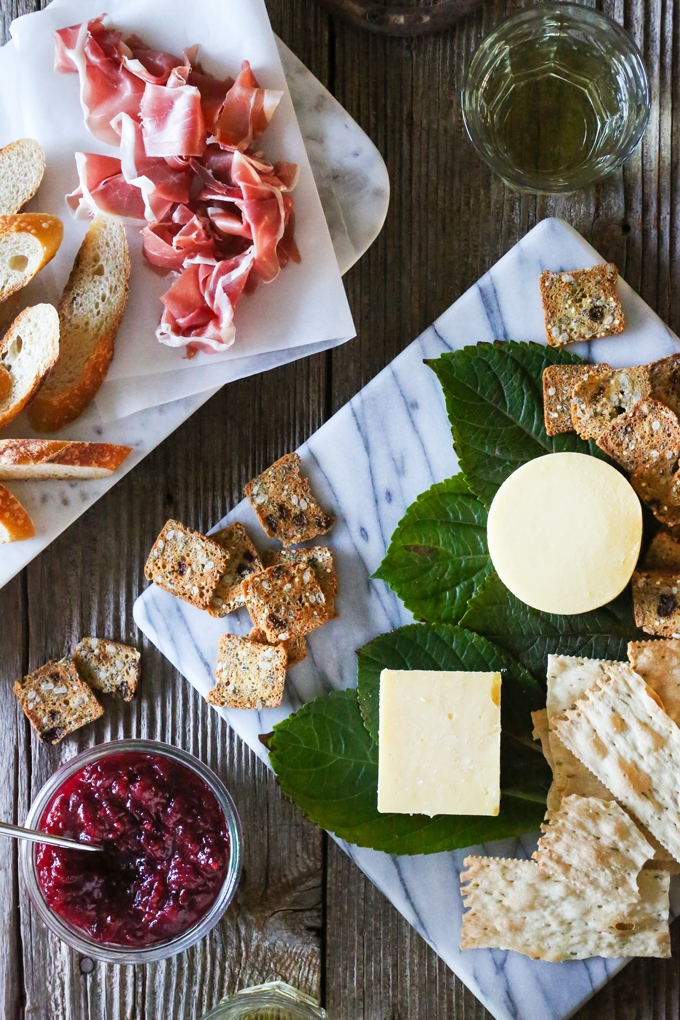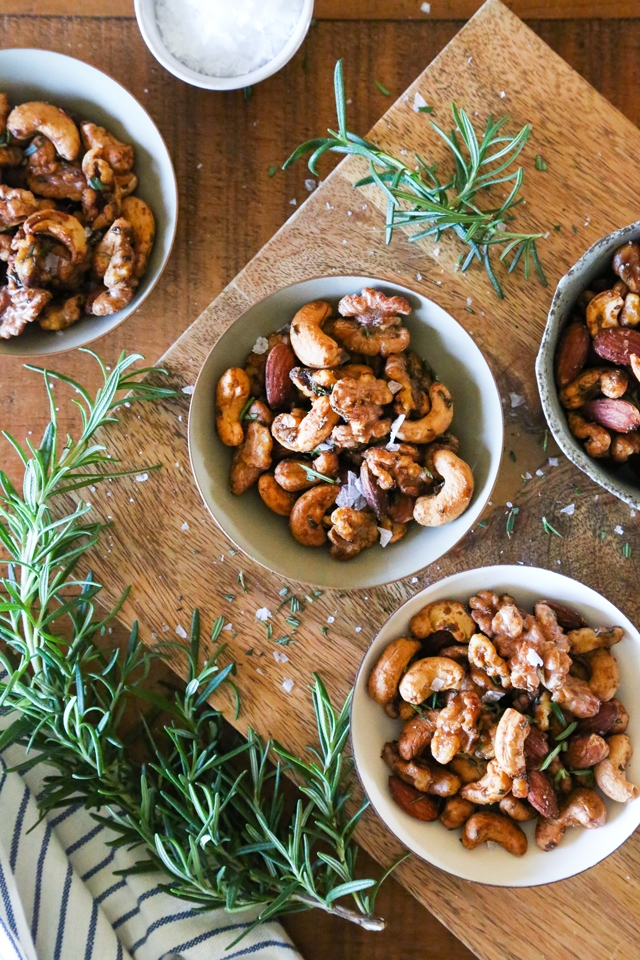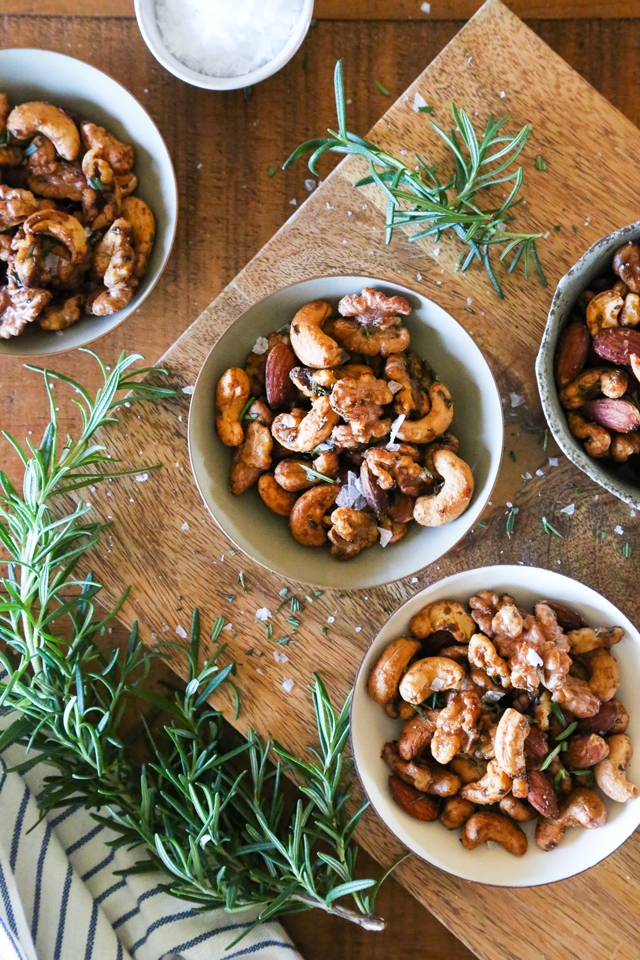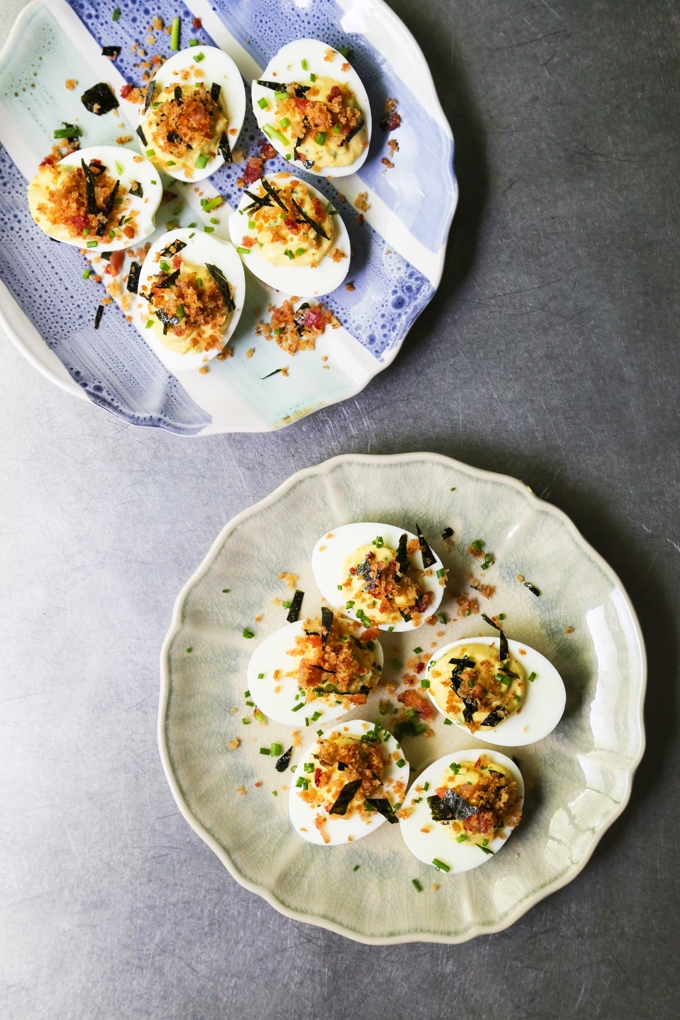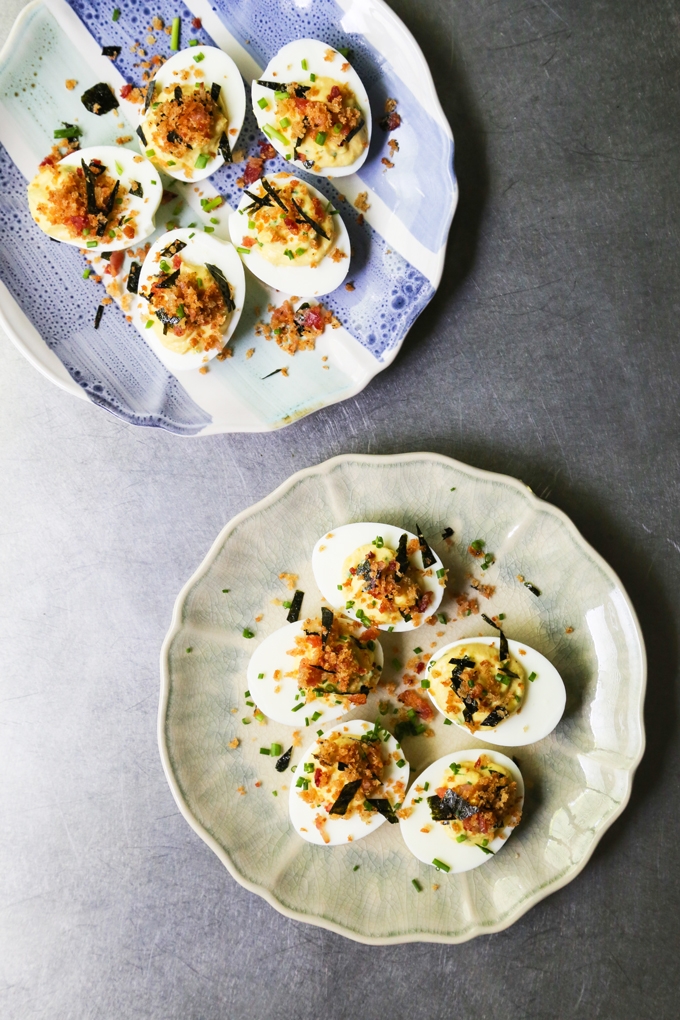 3