You guys are in for a treat today!
This post may contain affiliate links.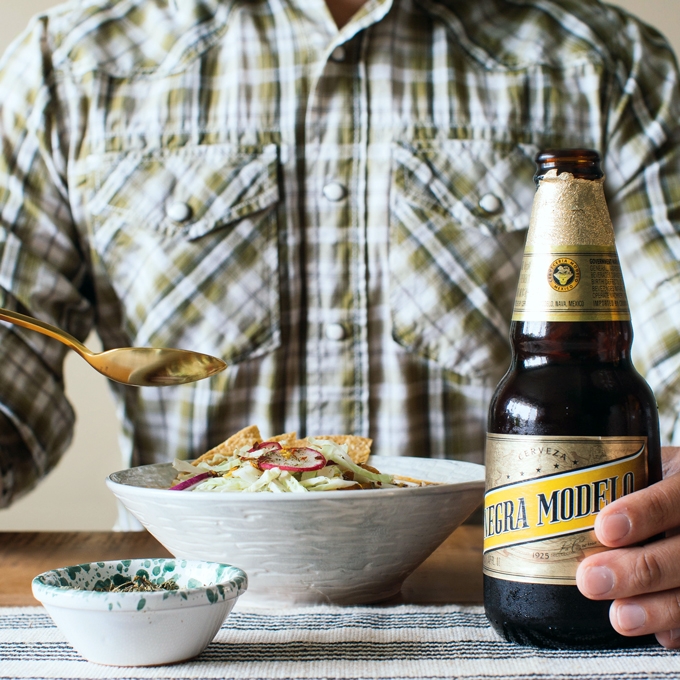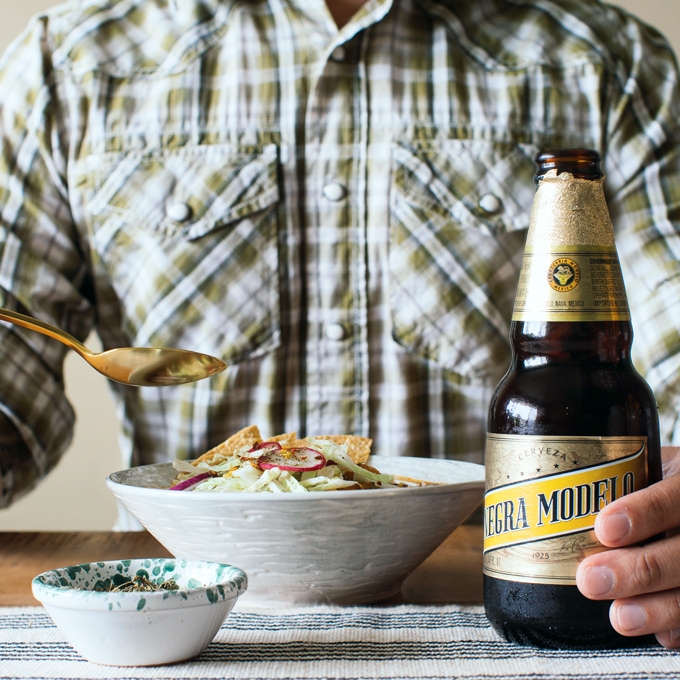 Red Pozole is one of my favorite Mexican soups. It's rich, it's spicy, it's hearty, and it's exactly what I want to eat as soon as the weather cools down. The only problem with Red Pozole, is that it requires many big pots to cook all of the various elements, and it can take an entire afternoon to prepare! I don't mind the traditional preparation from time-to-time, but if I get a pozole craving on a hurried weeknight, I need a faster solution. This Pork and Hominy Stew fits the bill.
The ingredient list here is simple: pork shoulder, chicken stock, dried chiles, onion, garlic and canned hominy. Most items might already be sitting in your pantry! The preparation is also simple, and you can multitask while various things steep and sizzle (game plan below). Bold in color and flavor, this Pork and Hominy Stew tastes similar to Red Pozole, but requires just a fraction of the effort to prepare. Continue reading for the recipe.
I've made this soup a number of times, and I've come up with the perfect game plan to get this soup on the table in 1 hour. The process does require a pressure cooker.
First, try to prepare the pork in advance. I like to buy a big hunk of pork shoulder occasionally, and then break it down into 1 or 2 pound portions. I vacuum seal the pork, and store in the freezer, so whenever I need pork for a stew, I've got the perfect amount at-the-ready.   Just remember to transfer the pork from the freezer to the fridge the day before, so it can thaw out in time!
Next, season the pork right out of the refrigerator, so the salt can penetrate the meat while it comes up to room temperature. Meanwhile, get the chiles steeping in hot chicken stock. While you are waiting, you can chop the onion and garlic, and get them sautéing in olive oil. Stir in the pork and chile stock, clamp on the pressure cooker lid, and quickly bring to high pressure. At this point, the cook time is just 30 minutes, and the finished pork will be fall-apart tender. While the pork is cooking, prepare the toppings. Finish the stew by stirring in drained hominy. It takes just a minute to warm through.
That it's! Follow this game plan, and you'll have a wonderfully rich and deeply flavored stew done in 1 hour.
So one of the things I love most about this stew (and pozole) is the table-side customization. The toppings. The fixings. The perfect complements. You start with a big bowl of stew, and add the following to taste:
Shredded cabbage
Sliced radish (pickled radish would be fun here too)
Mexican oregano that you crumble fresh in your hands
Red chile flakes
Tostadas on the side are a must to soak up the spicy broth, and to help move stew contents on to the spoon. And the meal wouldn't be complete without an ice cold beer. I love a good Negra Modelo with this stew, because its notes of roasted caramel and dark chocolate help to balance out the richness and spice of the broth. A perfect pairing!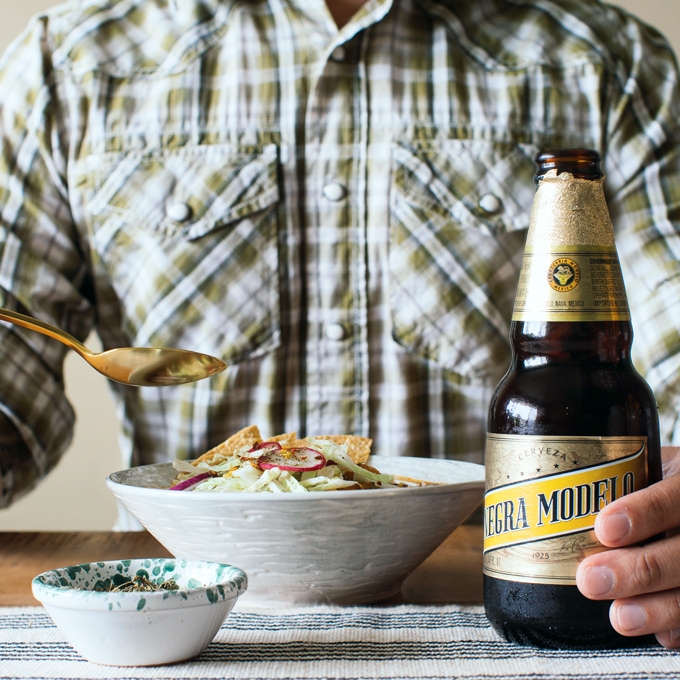 Pork and Hominy Stew Recipe
Ingredients
2

pounds

boneless pork shoulder, trimmed of excess fat and cut into 1-inch cubes

Kosher salt

Freshly ground black pepper

4

cups low-sodium chicken stock

learn how to make your own here

1 1/2

ounces

dried chiles (I used a mix of ancho, pasilla negro and morita chiles*), stems and seeds removed

2

tablespoons

olive oil

1

white onion, finely chopped

6

cloves

garlic, minced

1

25 ounce can of hominy, drained

Toppings: shredded cabbage, sliced radish, tostadas, crumbled Mexican oregano, chile flakes

Serve with: a cold bottle of

Negra Modelo
Instructions
Season cubes of pork shoulder evenly with kosher salt and black pepper. Set aside.

Bring chicken stock to a boil in a medium saucepan over high heat. Take the pan off the heat, add the chiles, cover, and let sit for 20 minutes. Transfer chiles and stock to a blender, and blend until smooth (working in batches if needed). Set aside.

Warm olive oil in a large pressure cooker** over medium heat. Add onions, garlic and a big pinch of salt, and cook, stirring occasionally, until onions are soft and translucent (about 5 minutes). Stir in the seasoned pork, and then pour the chile stock into the pressure cooker through a fine-mesh strainer, pressing on any remaining solids to extract all of the flavor. Secure the lid on the pressure cooker, and bring to high pressure over medium-high heat. As soon as pot reaches high pressure, reduce heat to medium-low and cook for 30 minutes, adjusting heat as needed to maintain high pressure.

Remove pot from heat and allow pressure to release naturally (this takes 10 – 15 minutes). Carefully remove the lid, and return the pressure cooker to a medium-low heat. Stir in the hominy, and cook just until warmed through.
To serve, ladle soup in a bowl, and top with shredded cabbage, sliced radish, crumbled Mexican oregano and a sprinkling of chile flake (if needed). Serve with crunchy tostadas and a cold Negra Modelo.
Notes
* I specifically used 2 ancho chiles, 1 pasilla negro chile and 1 morita chile here. I like the depth of flavor that the blend of chiles gives; however, you can certainly use just 1 chile here if the others aren't available. Using 100% ancho chiles would result in a flavor very similar to Mexican Red Pozole. If you decide to make up your own chile blend, be sure the bulk of the chiles fall in the sweet-raisiny category (like ancho). I used just 1 morita chile (smoked red jalapeno), and the soup was plenty spicy. Any more, and it would have been too spicy.
** I like this pressure cooker, and I would highly recommend getting one to make dishes like these (typically slow cooked) in under 1 hour! If you want to make this recipe, but you don't have a pressure cooker, you can prepare through step 3, and just simmer on low heat (partially covered) until the pork is very tender ( 1 1/2 – 2 hours).
Tried this recipe?
Tag @brandiego on Instagram so I can check it out!
This is a sponsored post, developed in partnership with Negra Modelo. All thoughts, opinions and recipes are my own.
7