Today, I'm wrapping up my DaVinci Storyteller Experience, and sharing a suuuuuper tasty risotto recipe. If you missed Part 1, check out this article.
This post may contain affiliate links.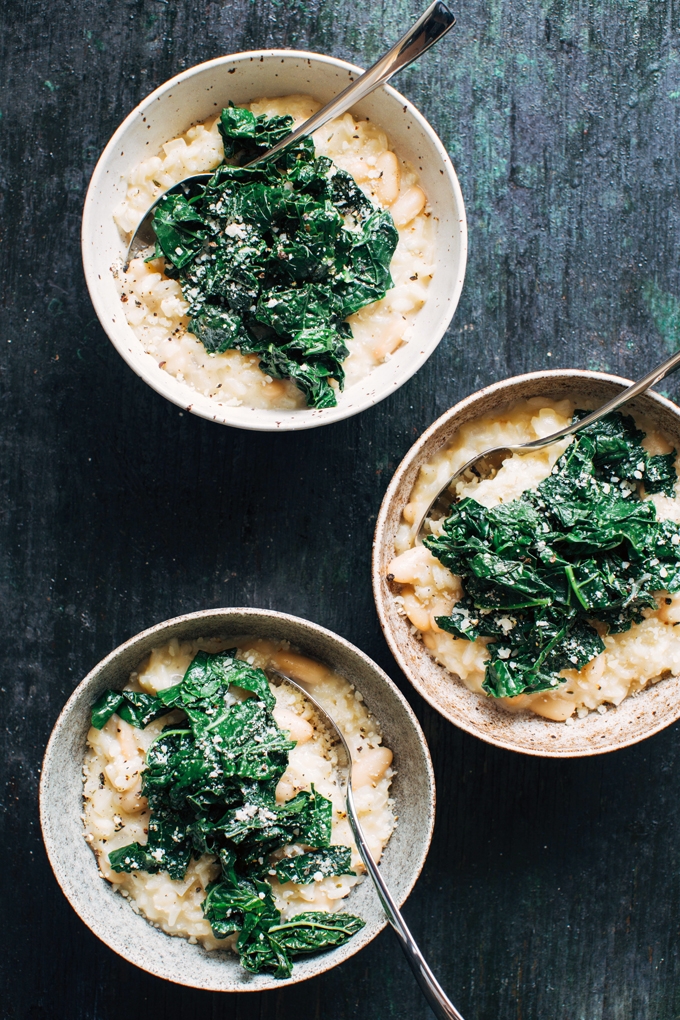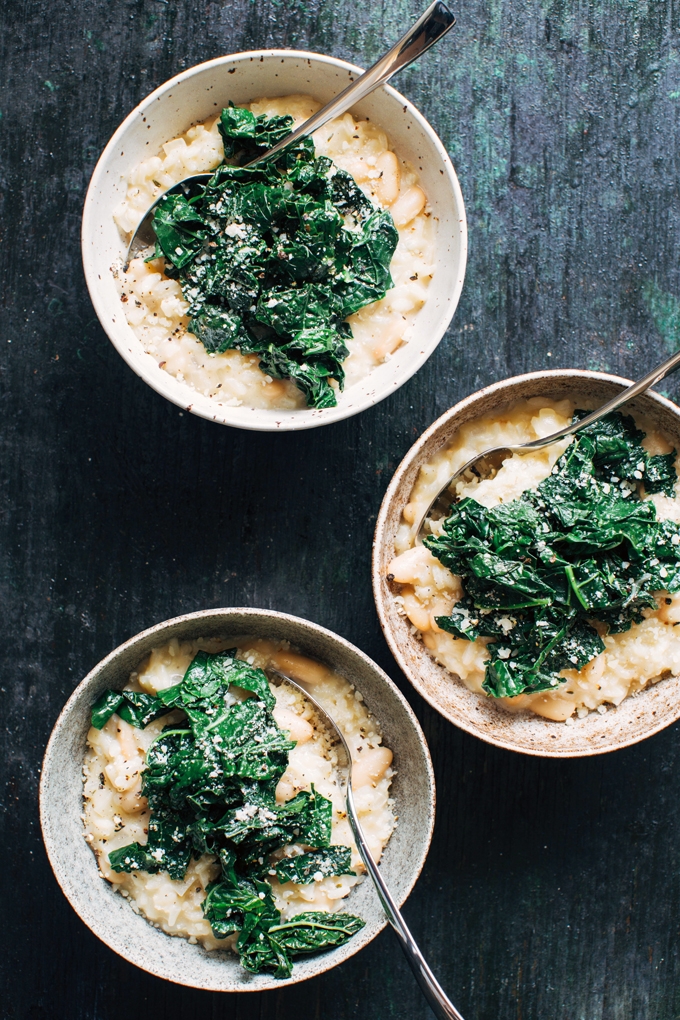 This recipe is inspired by the bistecca alla fiorentina lunch we had on day 1 of our trip to Vinci, Italy. Two of the sides served that day were creamy borlotti beans and a big pile of steamed greens dressed in garlic olive oil. I decided to marry the two, using a creamy, Pinot Grigio-infused risotto as the base. Each bite is wonderfully rich with pops of earthy white bean, tangy Parmesan cheese, and slightly-bitter melting greens. A comforting dinner on a cool winter evening. Continue reading for the recipe plus the second half of my DaVinci Storyteller Experience.

Day 3 was dedicated to Montalcino, Italy, the home of DaVinci Brunello.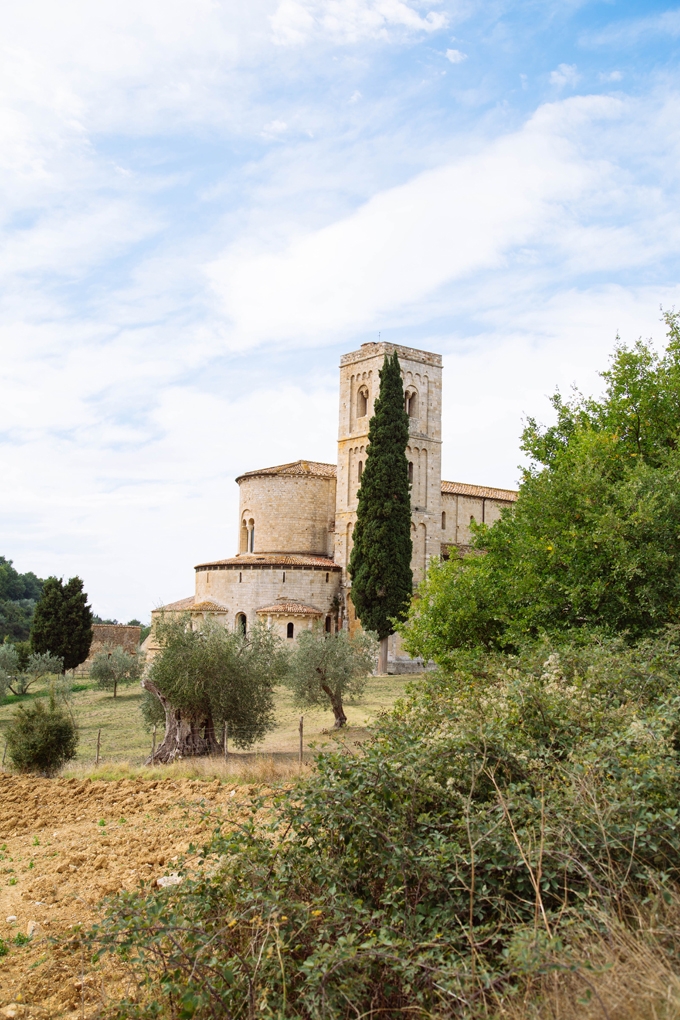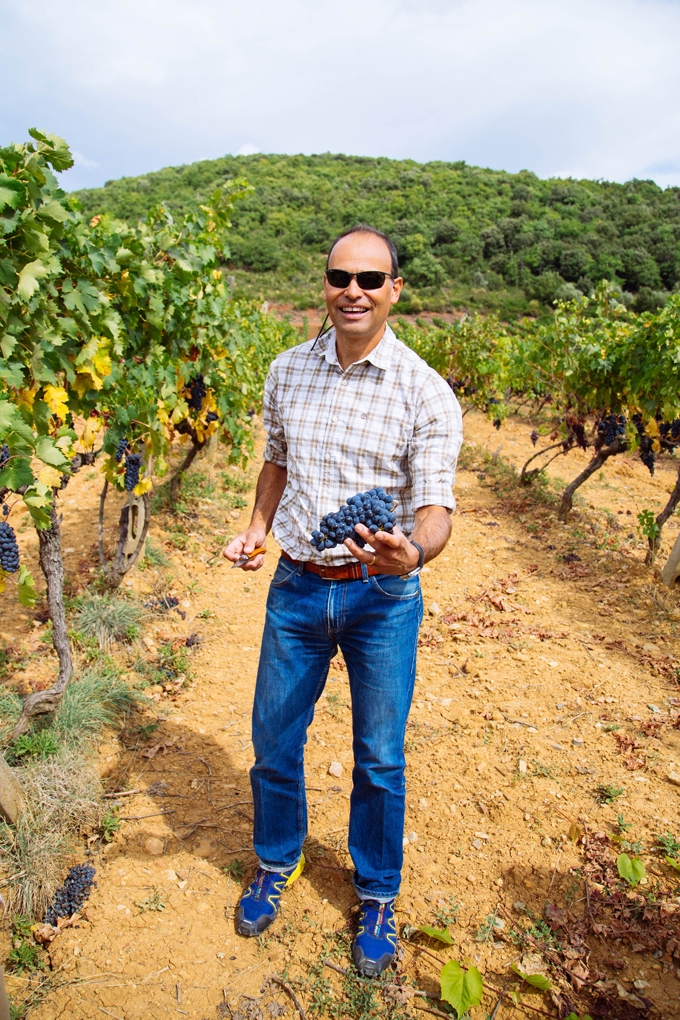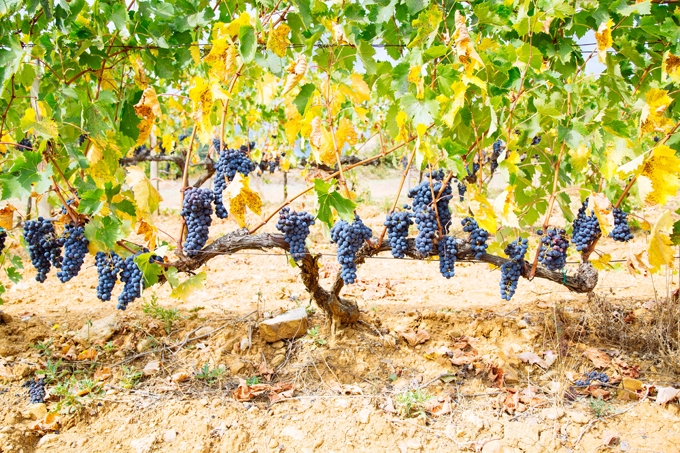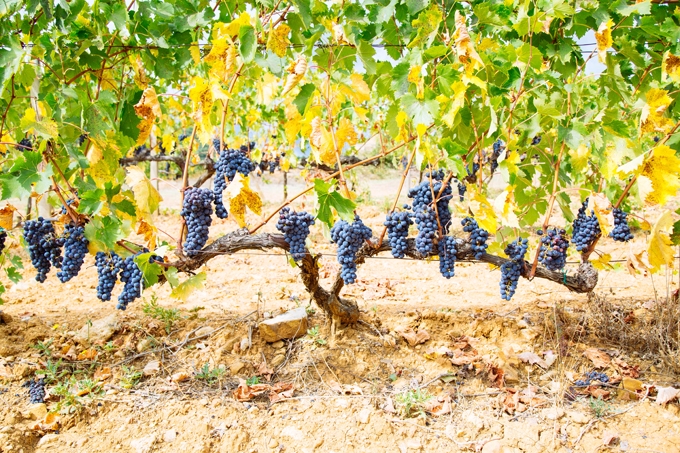 Brunello di Montalcino is a full-bodied, aged wine, rich with notes of dark jam, blackberry, cherry and black currant. It's smooth and well-balanced with mild tannins and minerality. Brunello di Montalcino can only be made from Sangiovese Grosso grapes grown in the Montalcino region, according to DOCG regulations. It was also one of my favorite wines we tasted. Given the higher price tag, Brunello di Montalcino is more of a special occasion wine.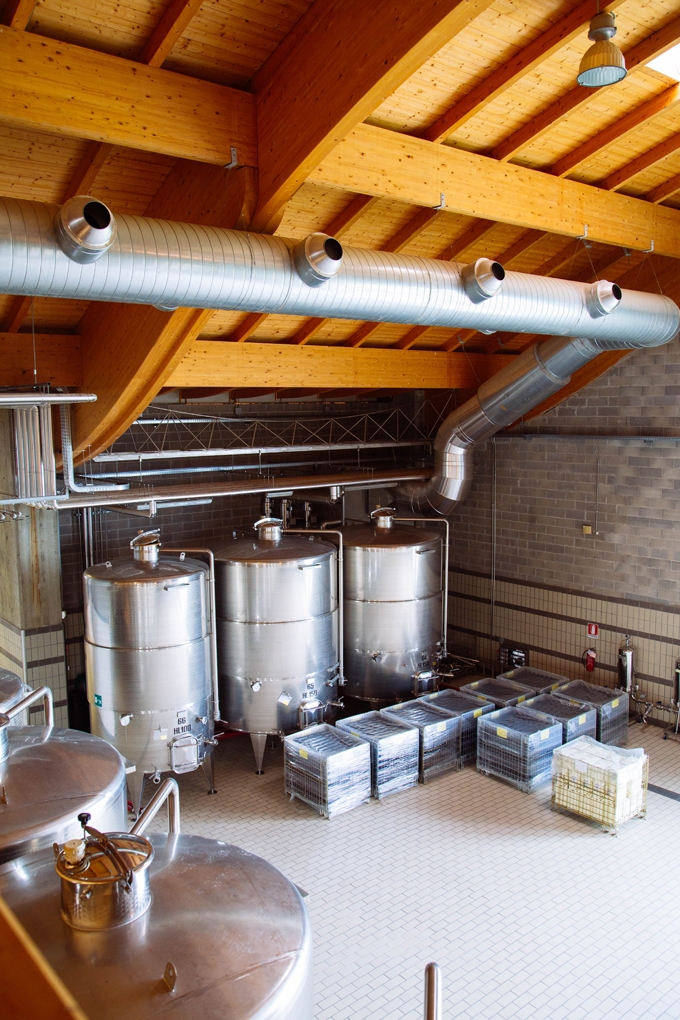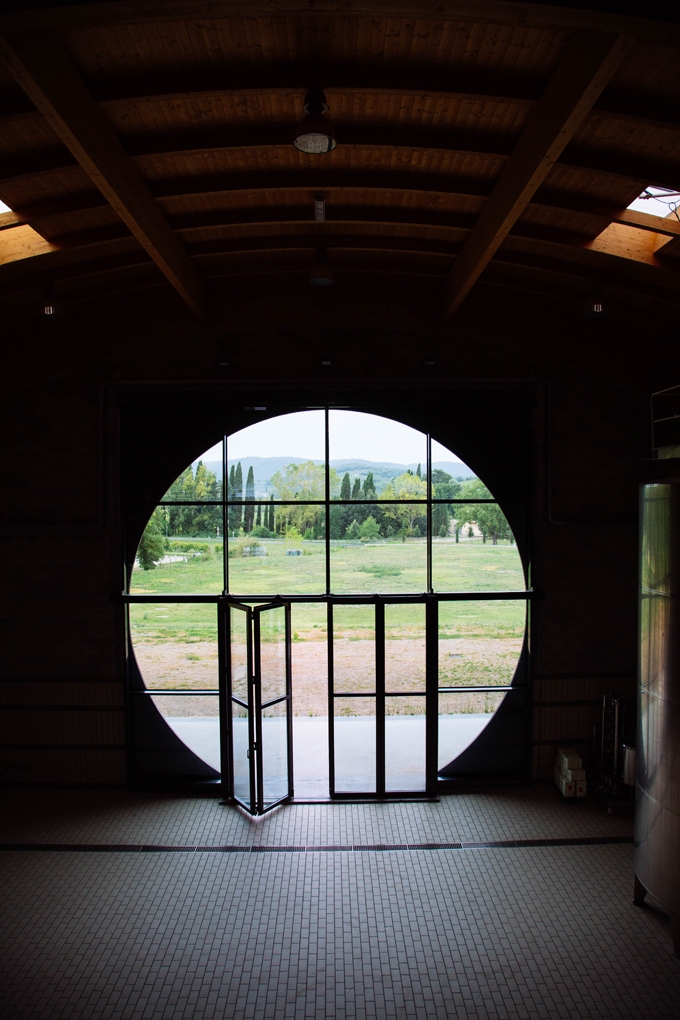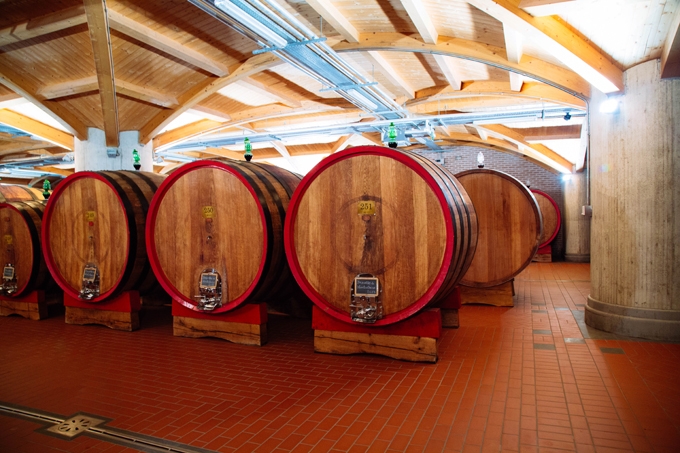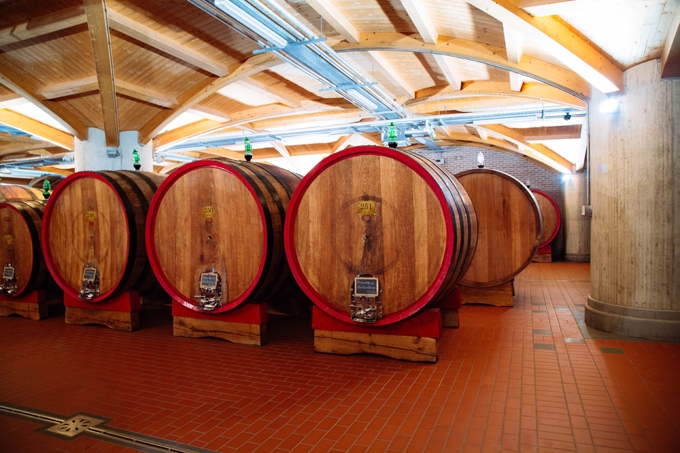 One of my favorite activities that we did all week was a Brunello barrel/vertical tasting. First, we tried a number of 2014 Brunellos from different barrels. Some of the barrels were old. Some new. Some big. Some small. The age and size of the barrel affects the tannin level of the wine along with the flavors of oak, black pepper, tobacco and spice. Once the wine has finished aging in the barrels, the winery team will then mix the different wines from the different barrels to form the final blend. Next, we did a vertical tasting where we sampled Brunellos from different years (2005 – 2010). As the wine ages in the bottle, it becomes more smooth and round. Grapes also vary each year, and some years are rated better than others. For Brunello, 2006 and 2010 are the most sought-after vintages. 2006 is robust while 2010 is smooth and balanced. I really loved this experience, because I learned how various factors (other than the grapes themselves) influence the flavor of the wine.
Dinner that evening was at, a Michelin-starred restaurant in the town of Cerbaia. I really wish I had some good photos of this meal, because it was truly spectacular. We started the meal with salmon caramels, a savory salmon appetizer individually wrapped in plastic as if it was candy. Other stand out plates included truffle-covered ravioli, the best poached egg EVER and a pumpkin crème brulee.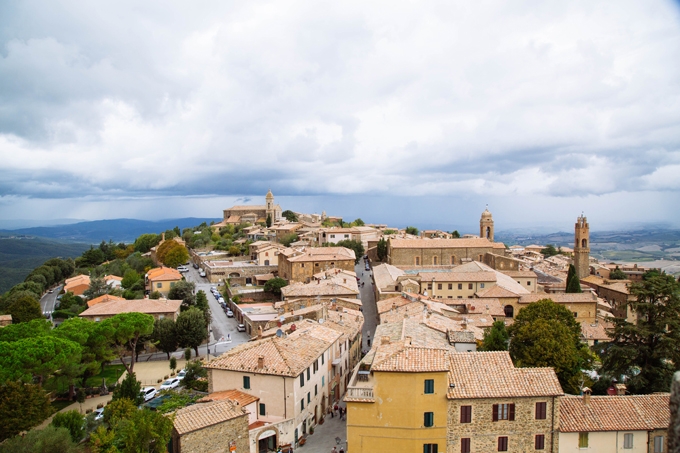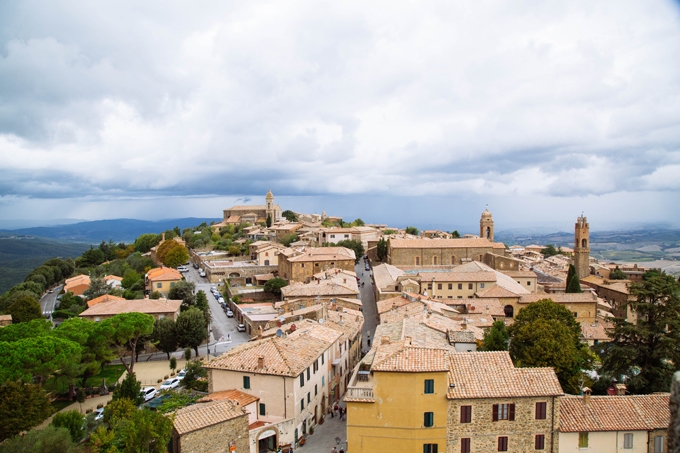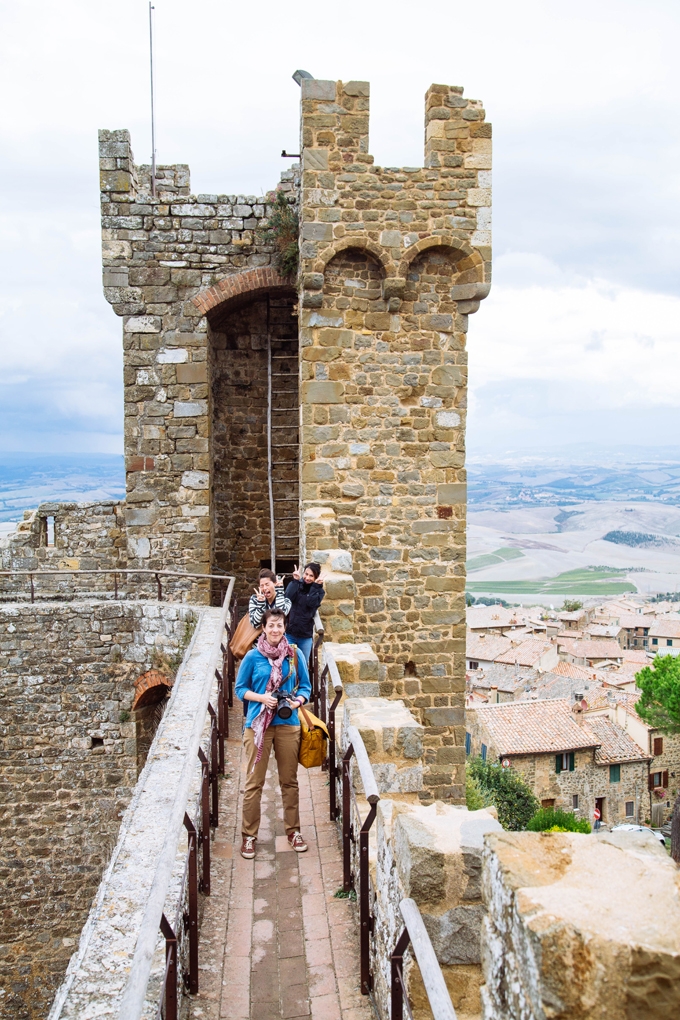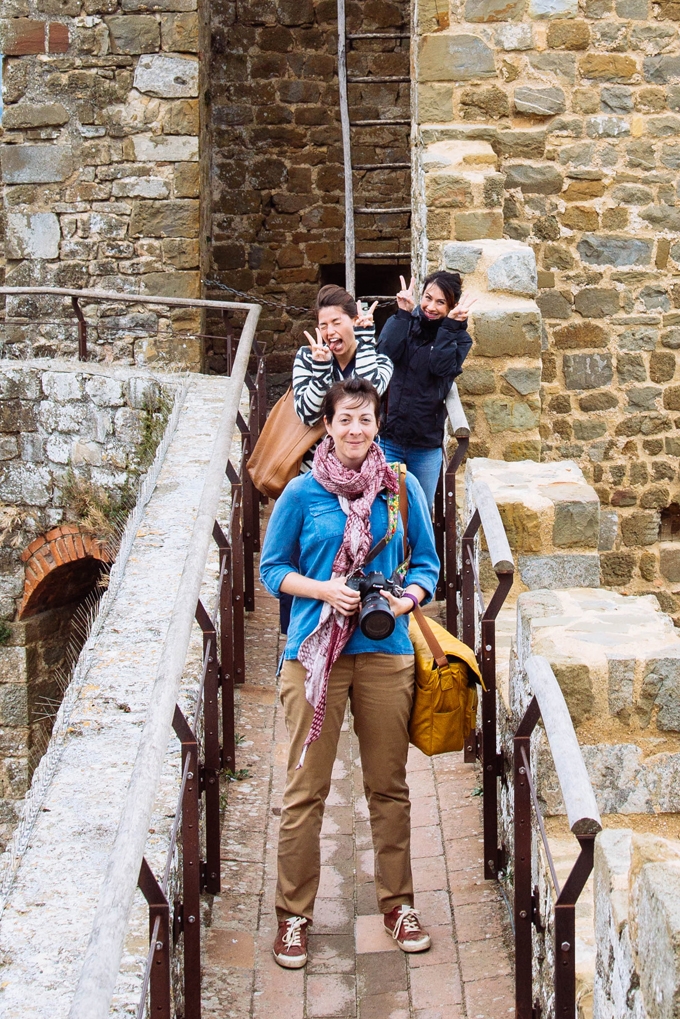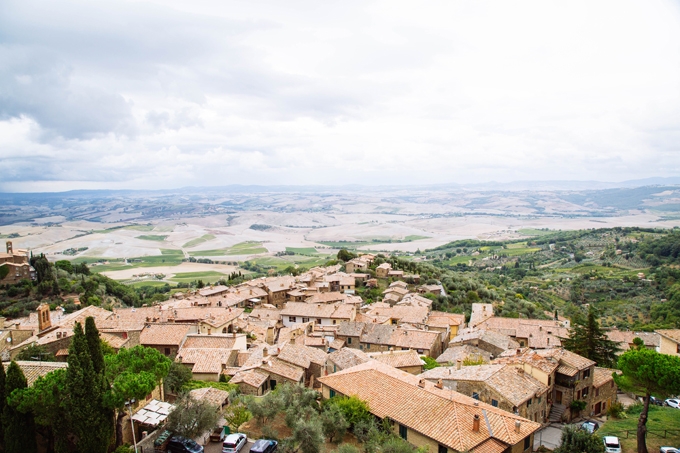 We finished out our week strong with Day 4 focused on cheese and Day 5 focused on salumi.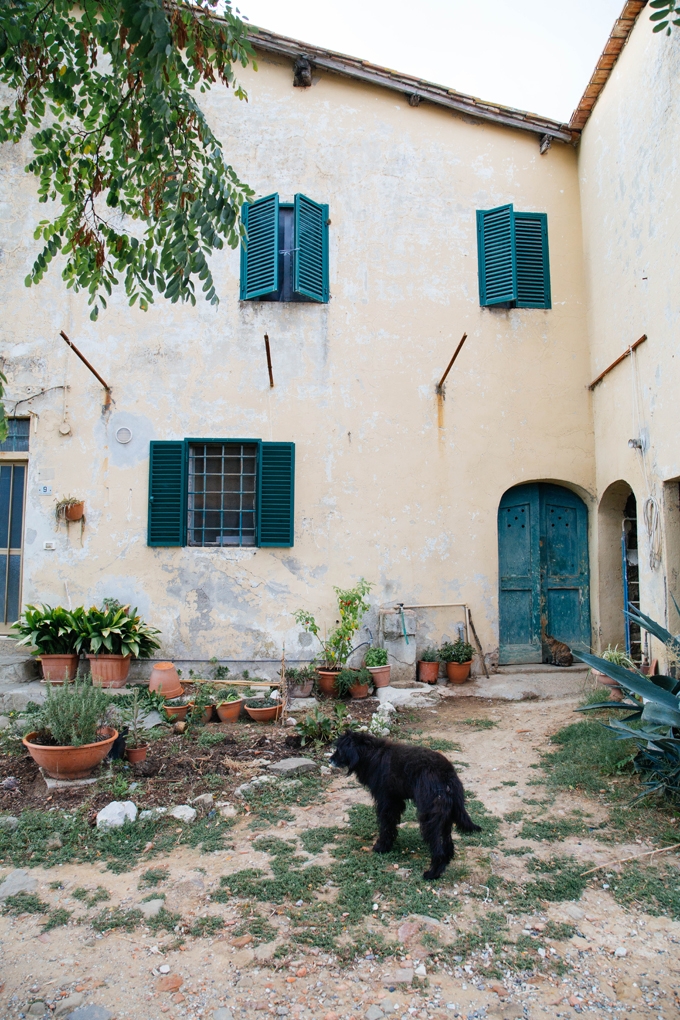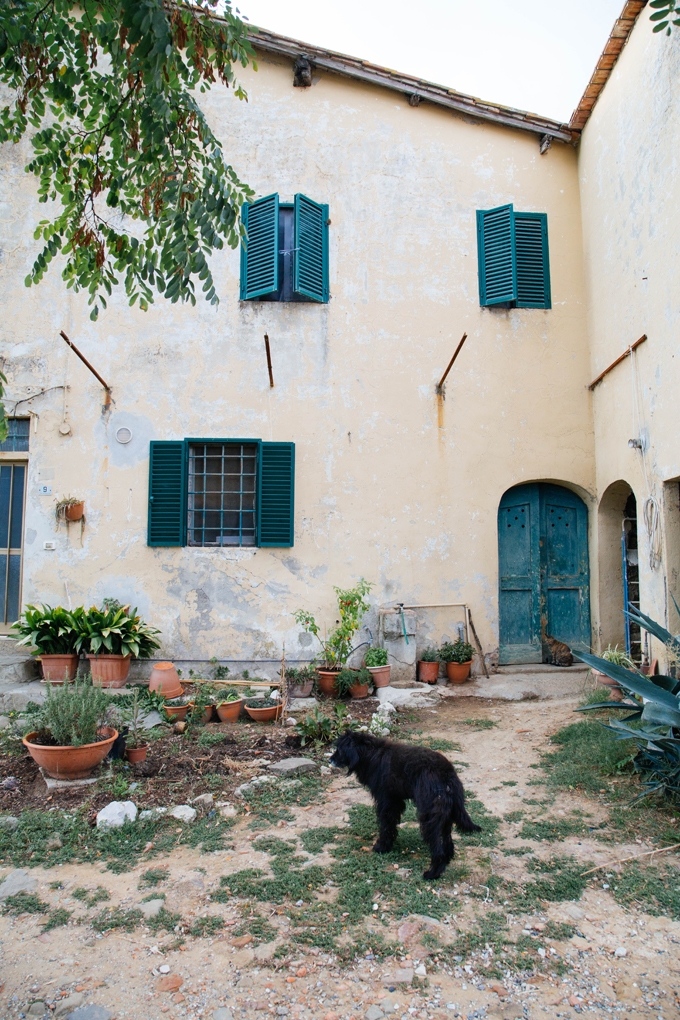 After a long trip through winding country roads, we arrived at a small farm nestled amongst towering olive trees and sprawling cacti. This rustic plot of land is home to two brothers who gave up city life to make cheese for a living. They've got 11 cows, and each has a name. The cows are free to roam around, and graze on anything they come across, including grass, olives and acorns.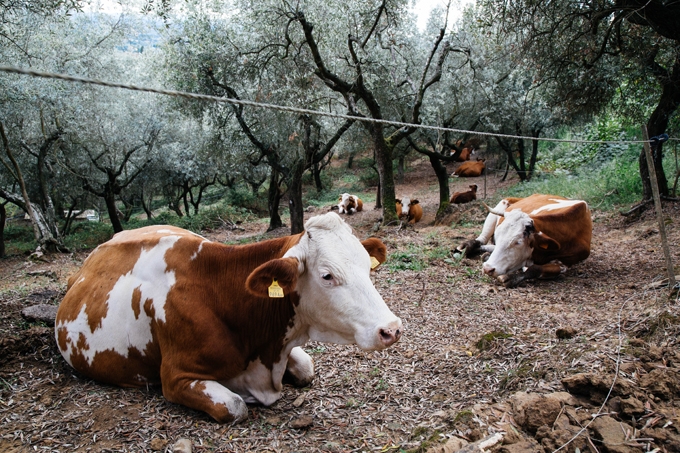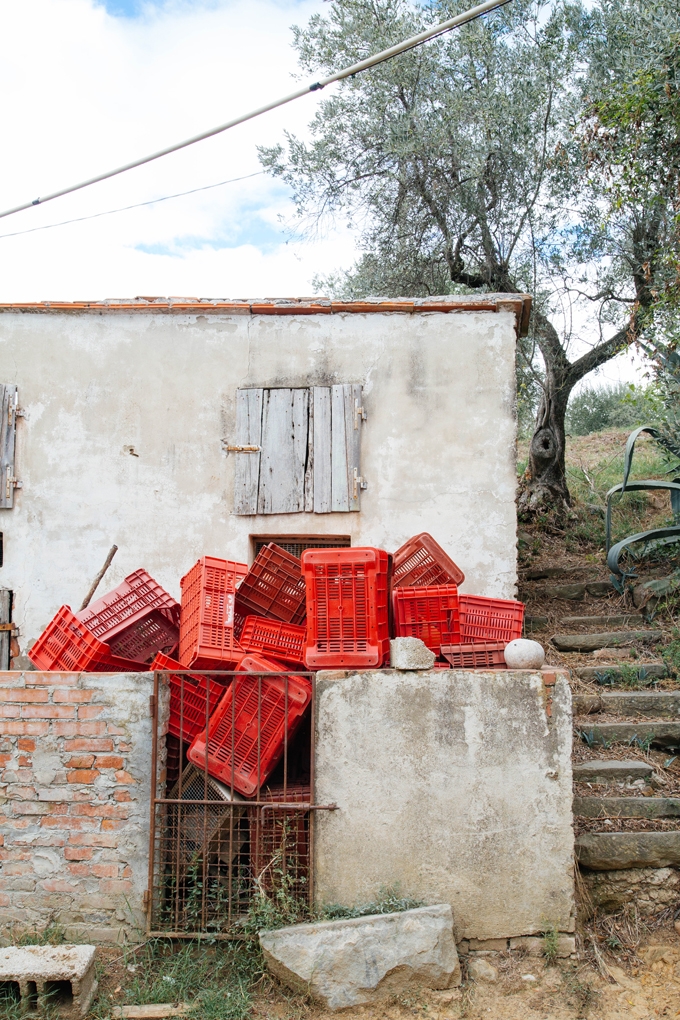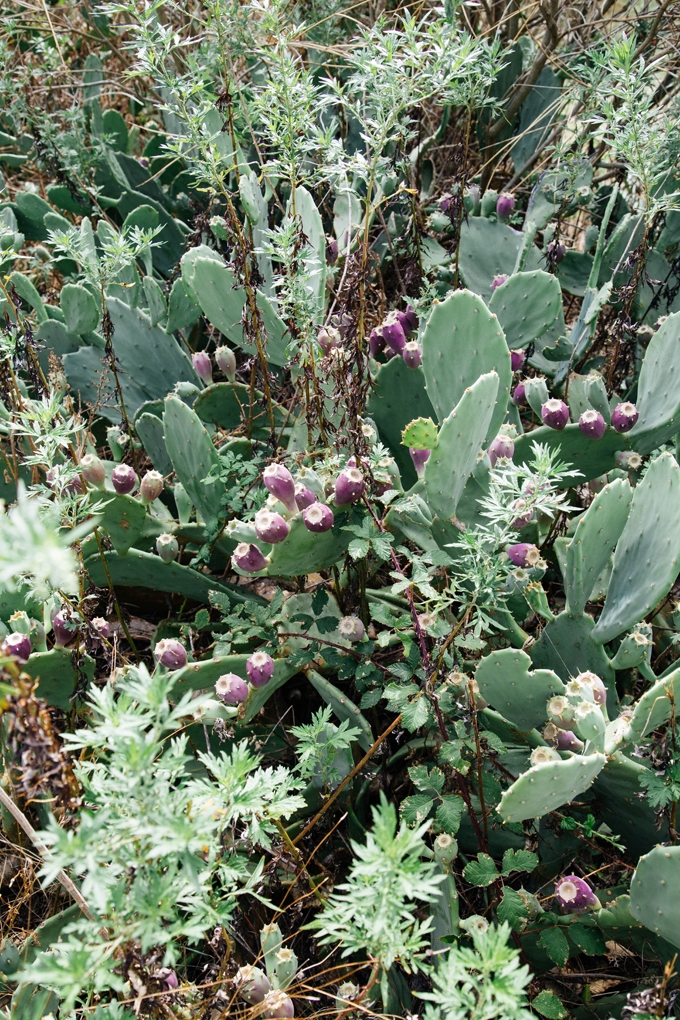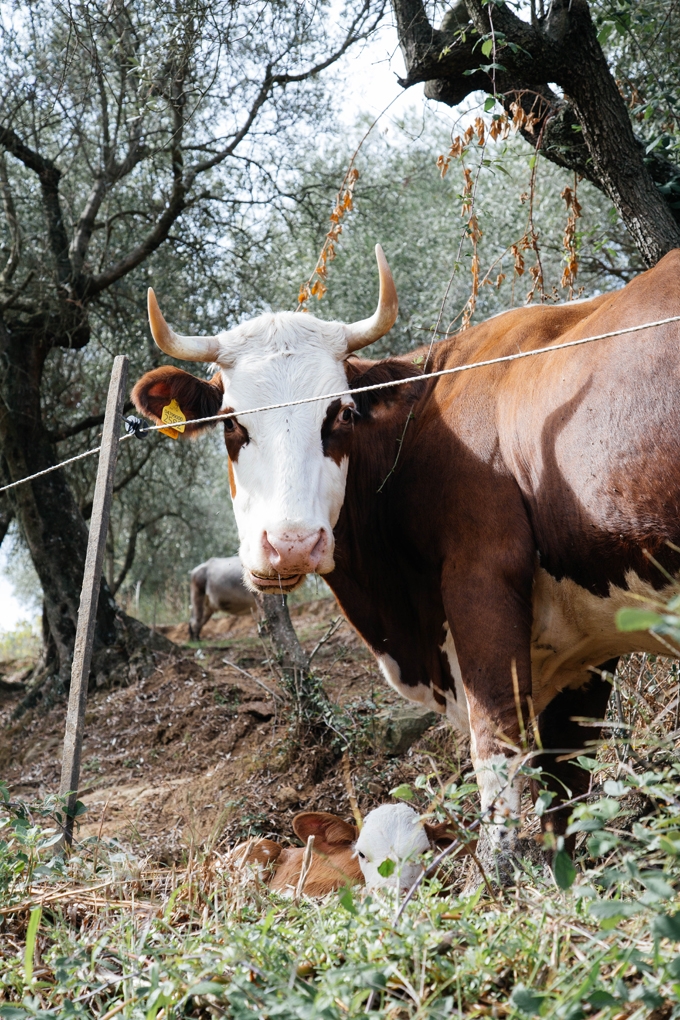 Francesco Bagnoli, one of the brothers, then demonstrated how they make their fresh cheese using cow's milk and vegetable rennet.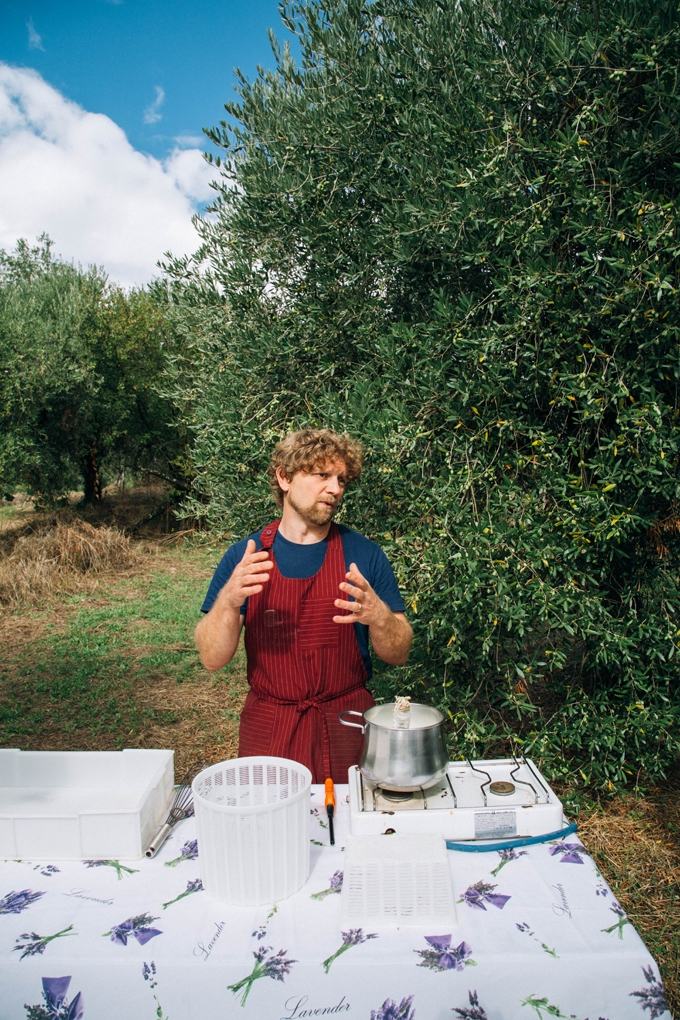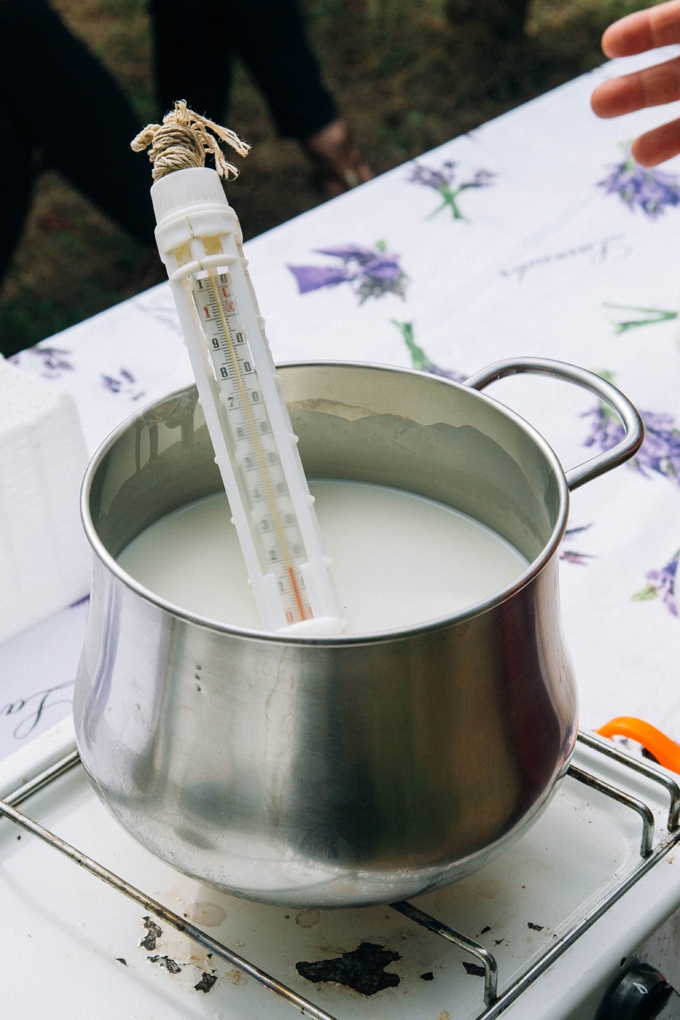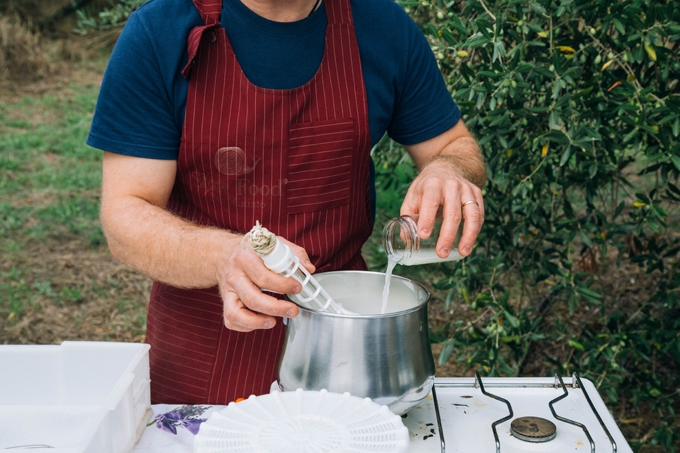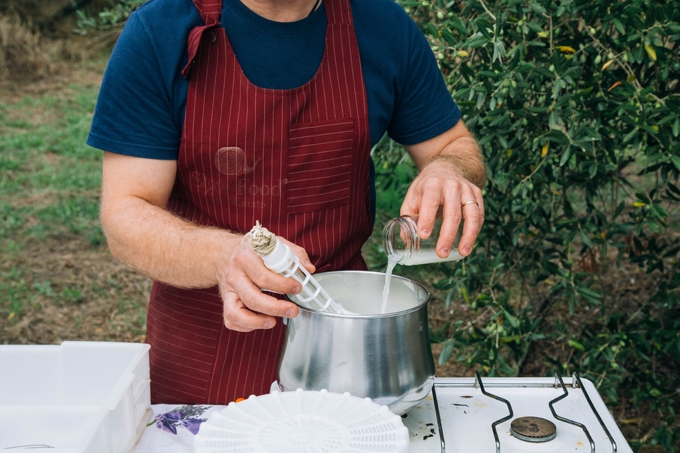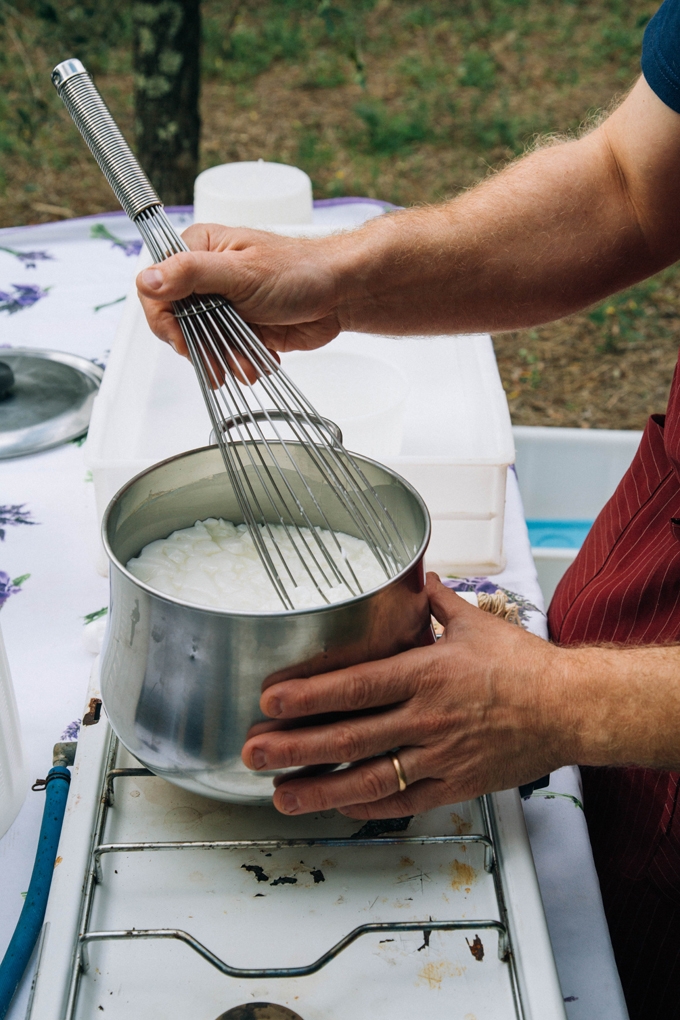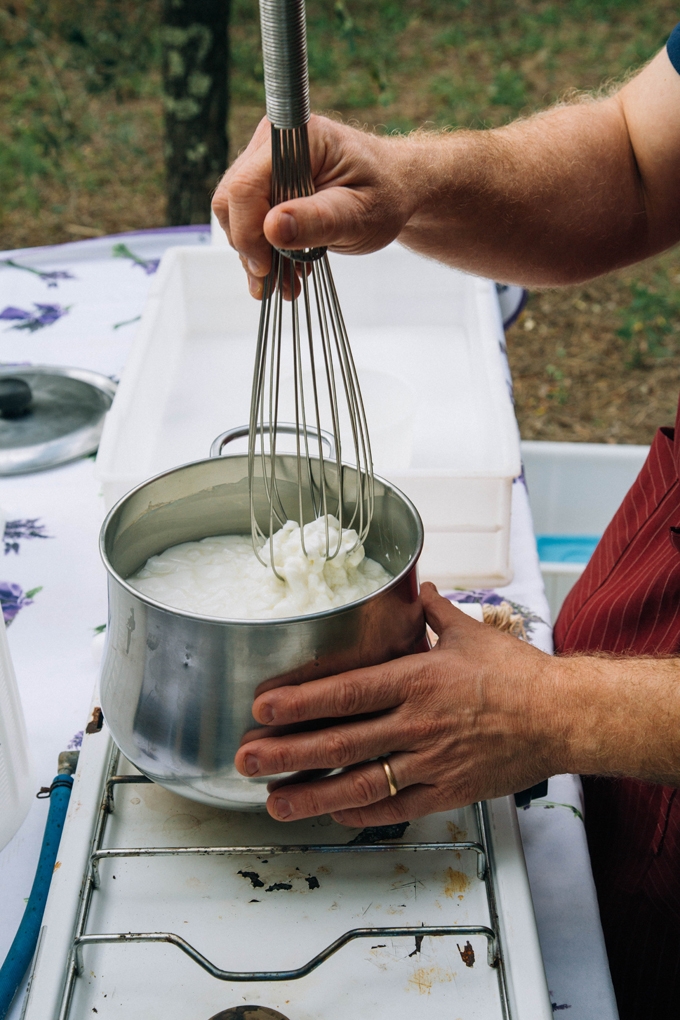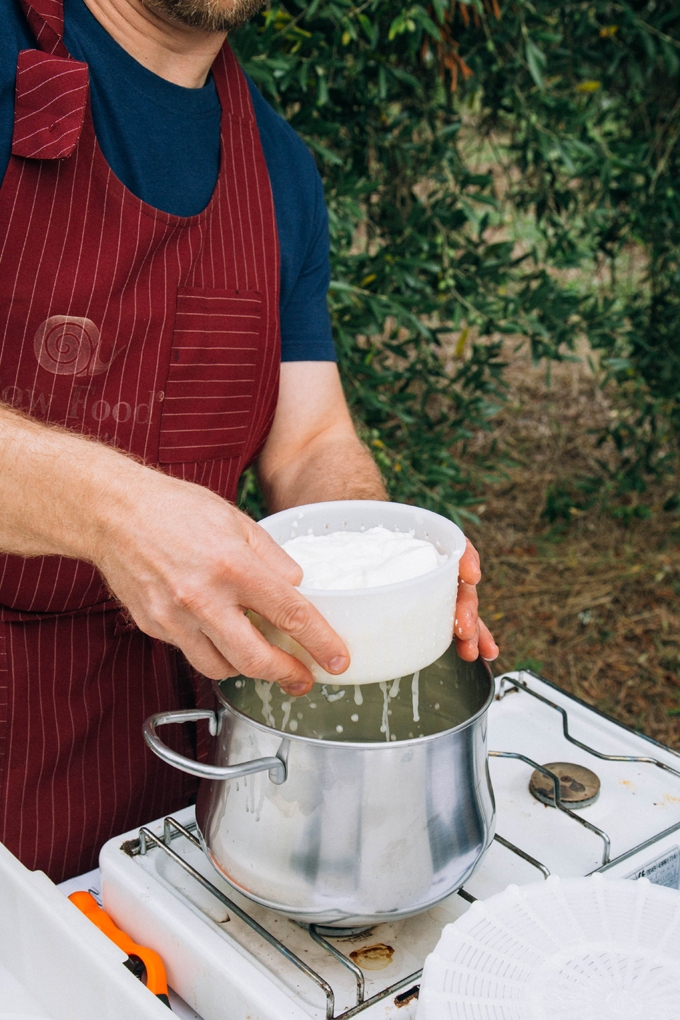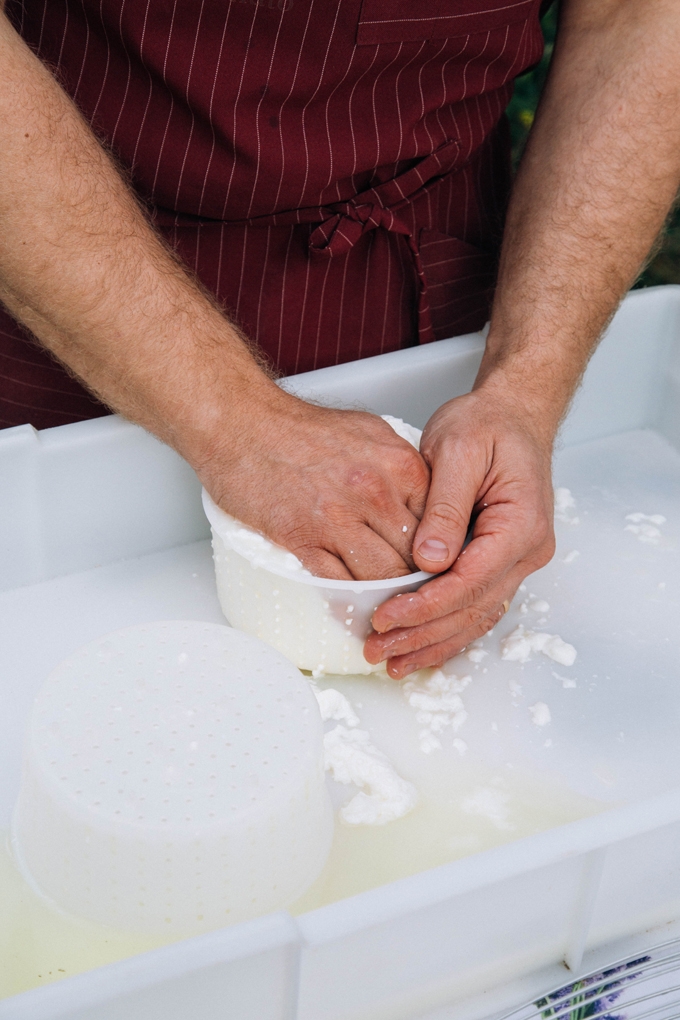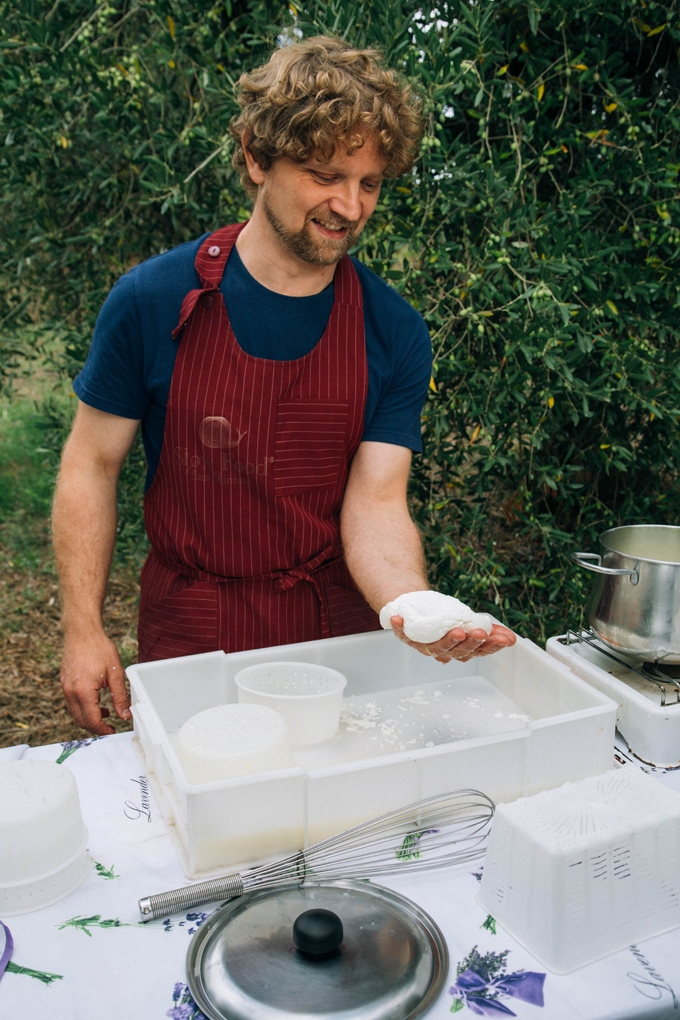 We finished our trip with a cheese and DaVinci Wine tasting. I know I keep saying favorite this and favorite that, but I must say that this was definitely one of my favorite wine and food pairings. All of the cheeses, ranging from soft fresh to hard aged, paired perfectly with the Pinot Grigio, Chianti, Chianti Riserva and Brunello di Montalcino. During the tasting we learned a valuable rule of thumb: pair young wines with young cheeses and aged wines with aged cheeses. Try this at home!
Our dinner (once again, no photos) was focused on porcini mushrooms. Porcinis are earthy and meaty, and can be eaten raw or cooked. My favorite dish of the evening was a sizeable stack of steak tartar topped with raw porcini mushrooms and fruit olive oil.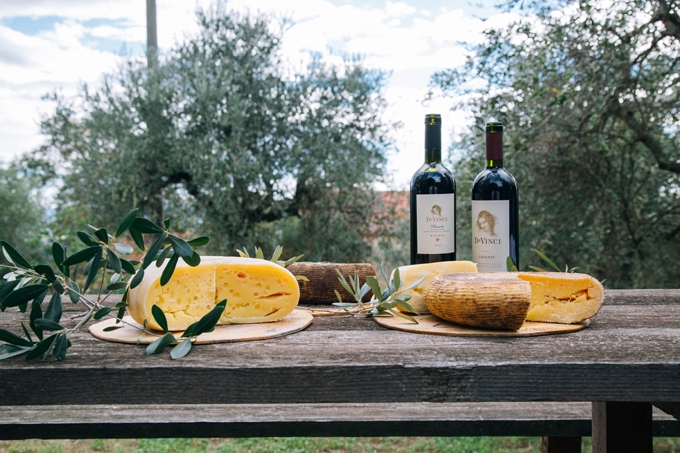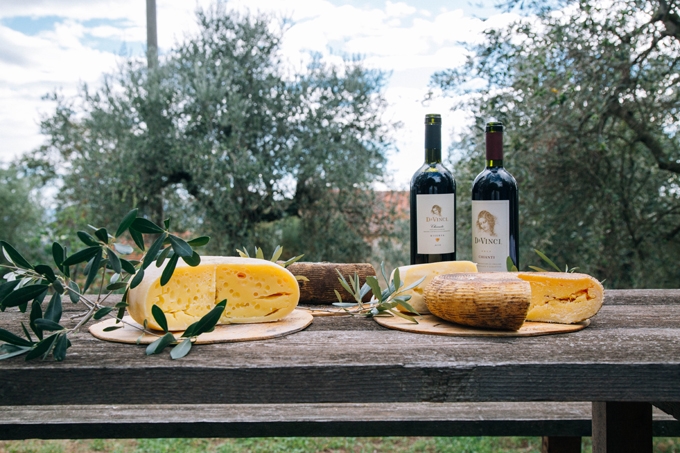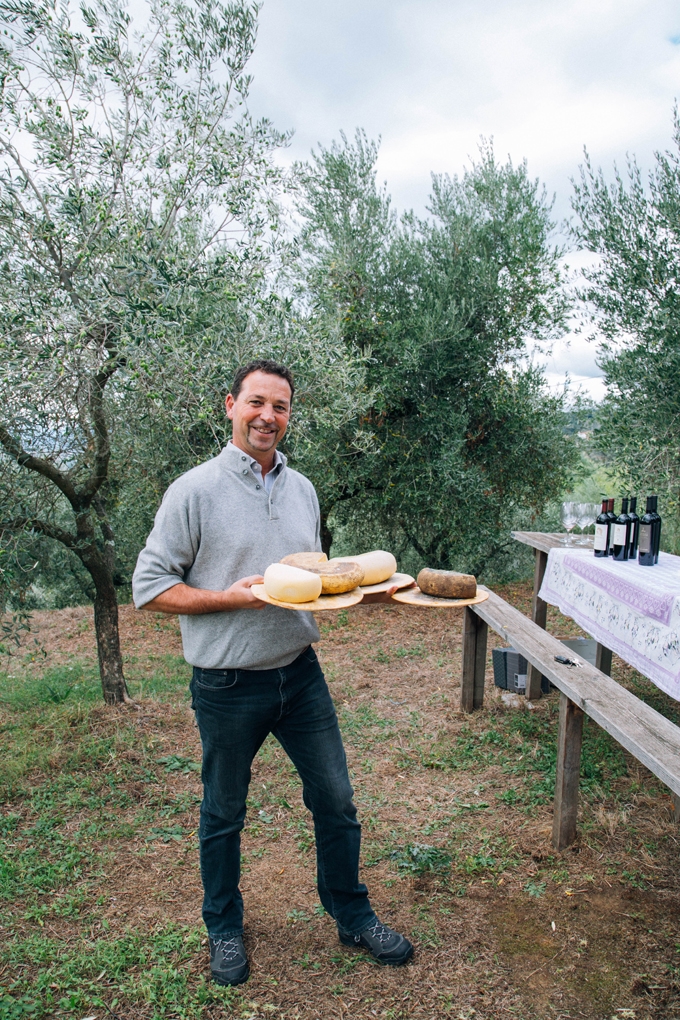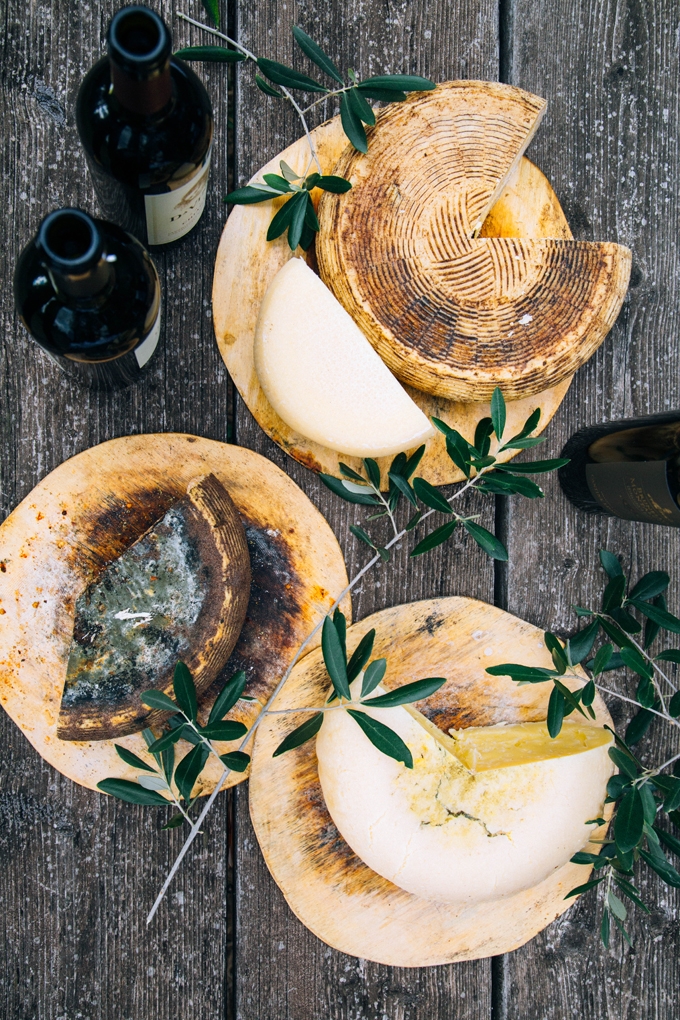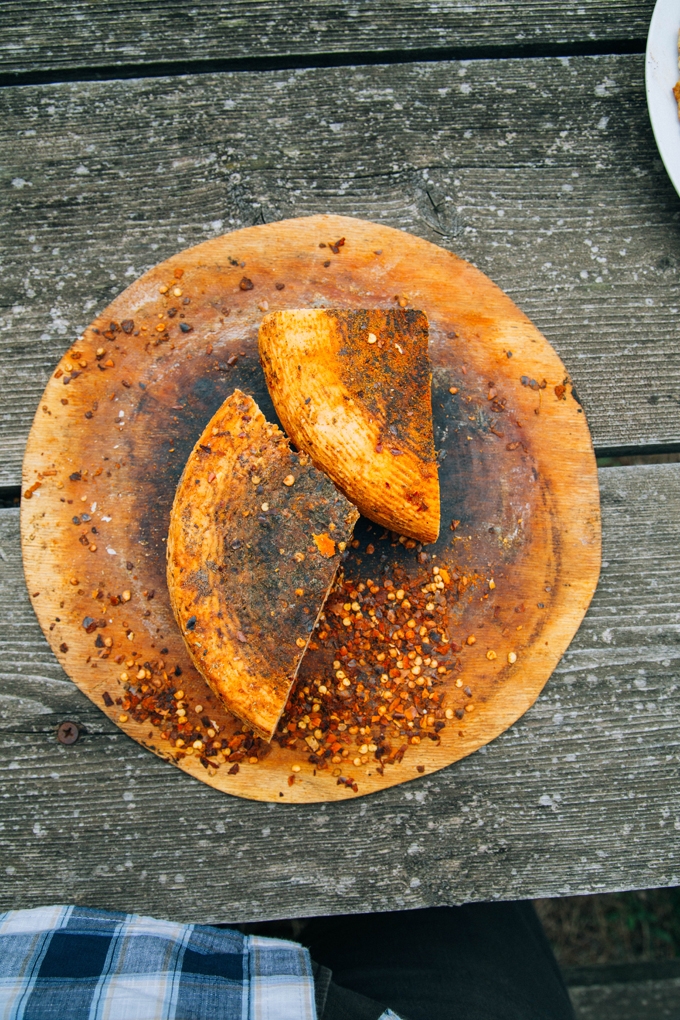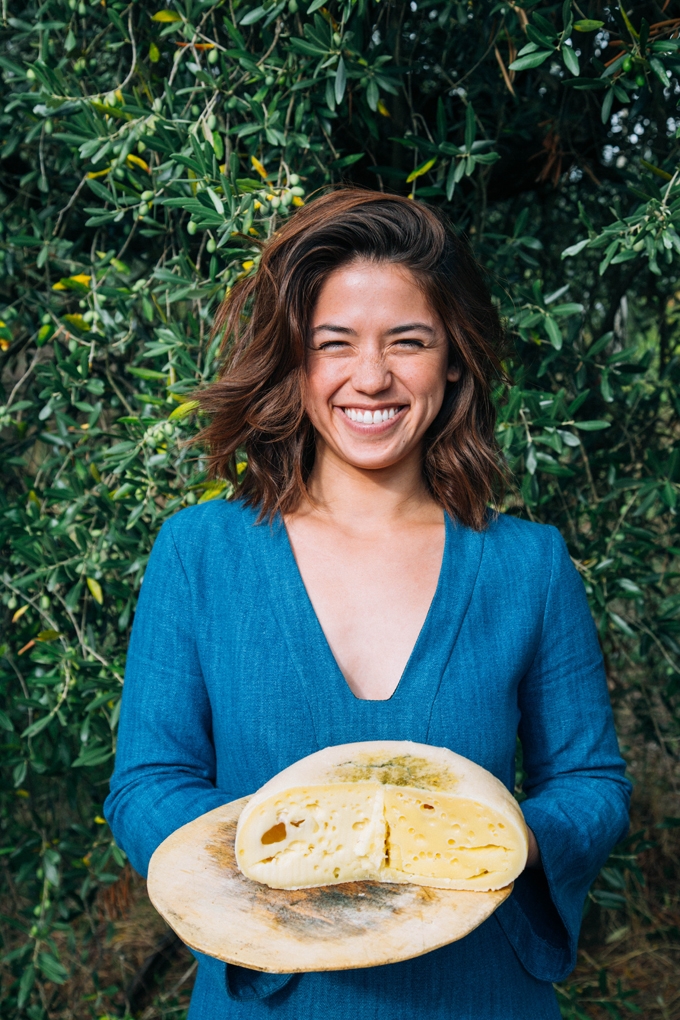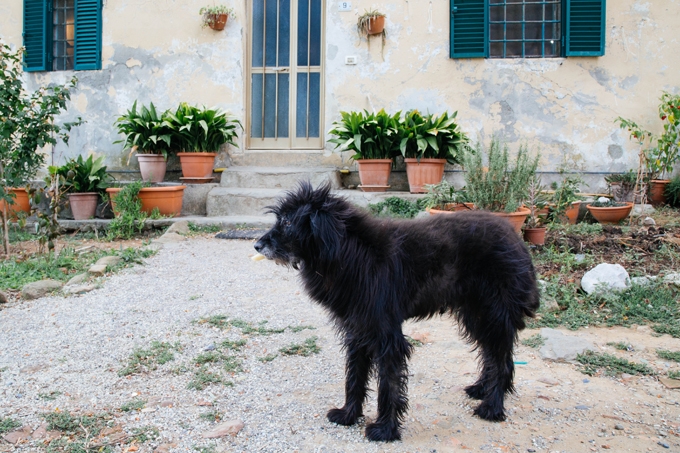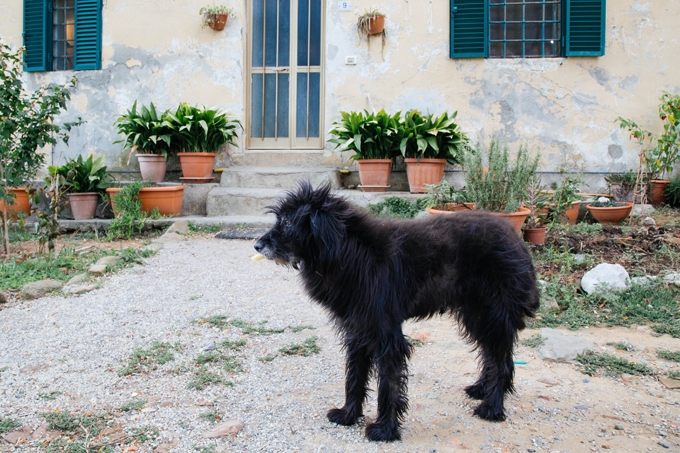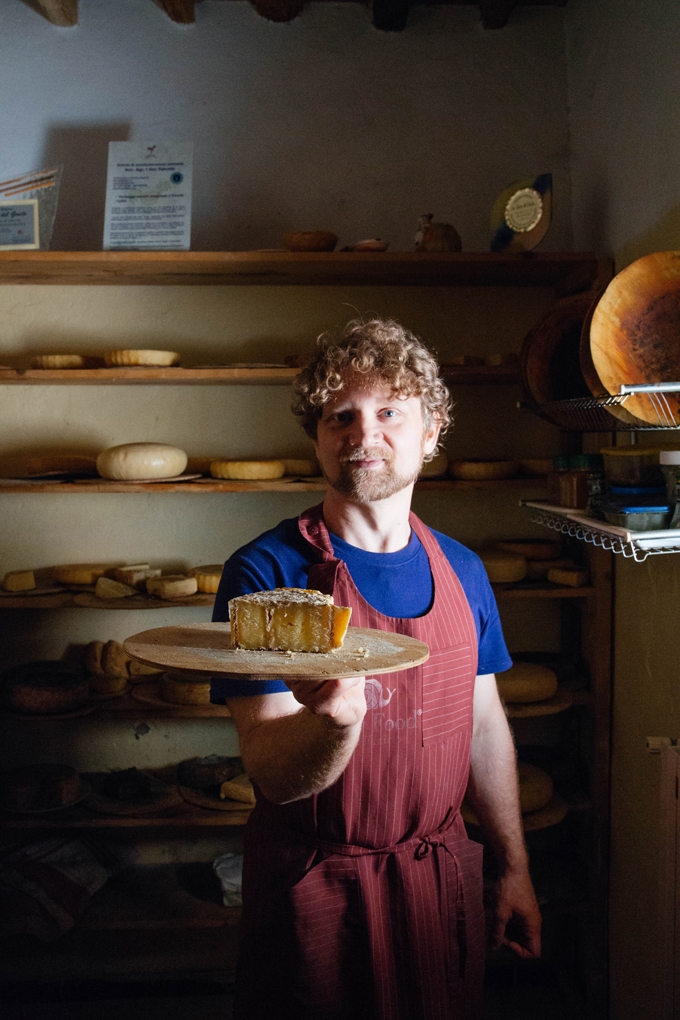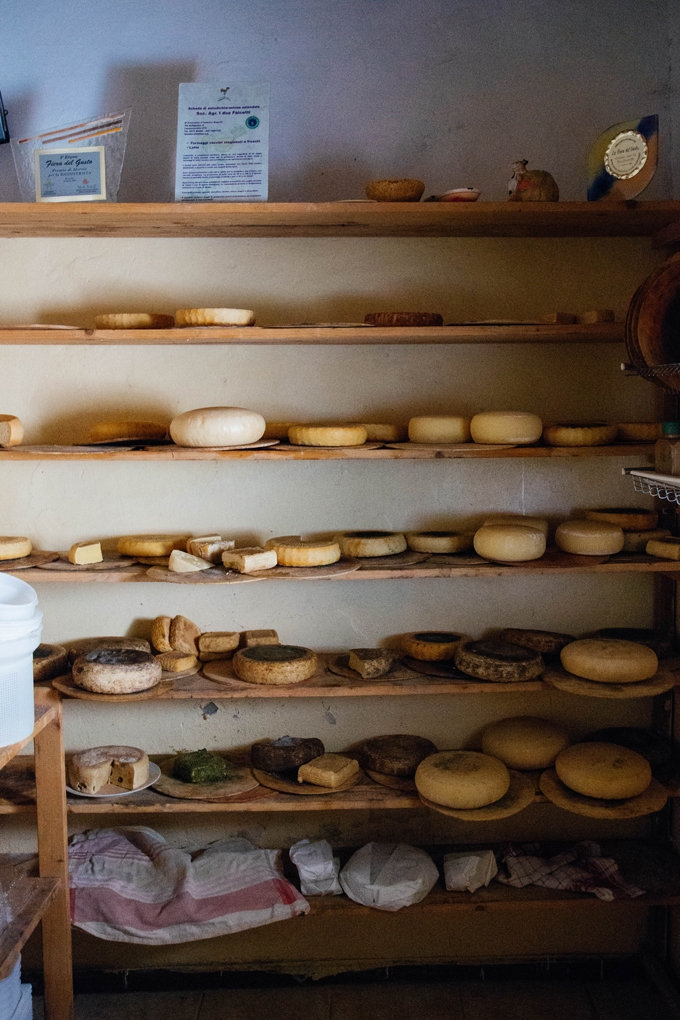 The final day started with a trip to a prosciutto/salumi facility. This was pretty much heaven for me given how much I love pork 😛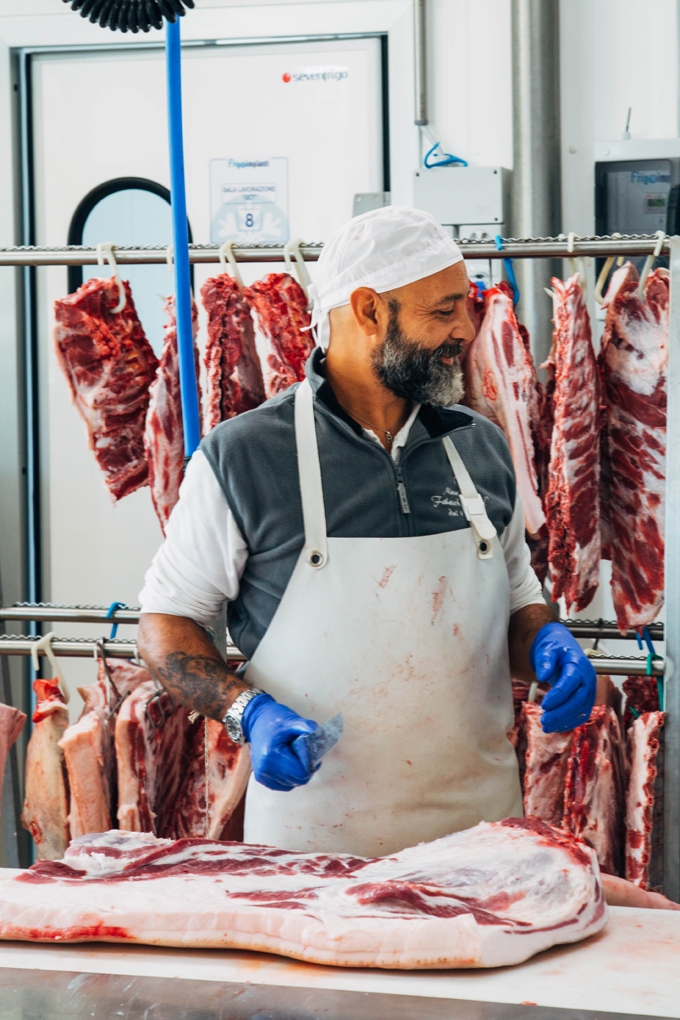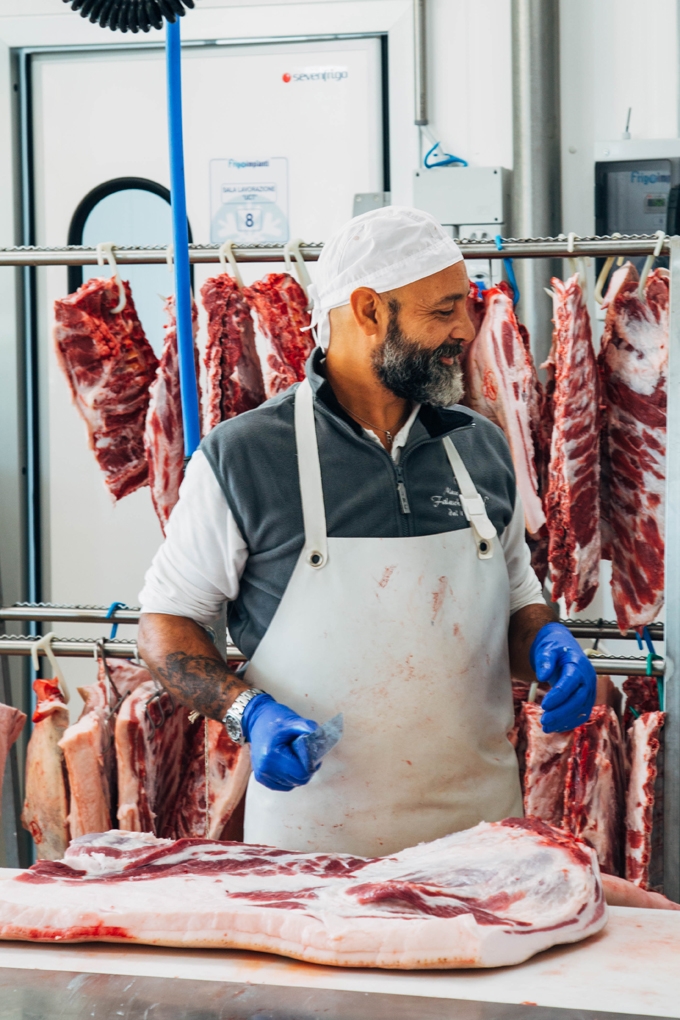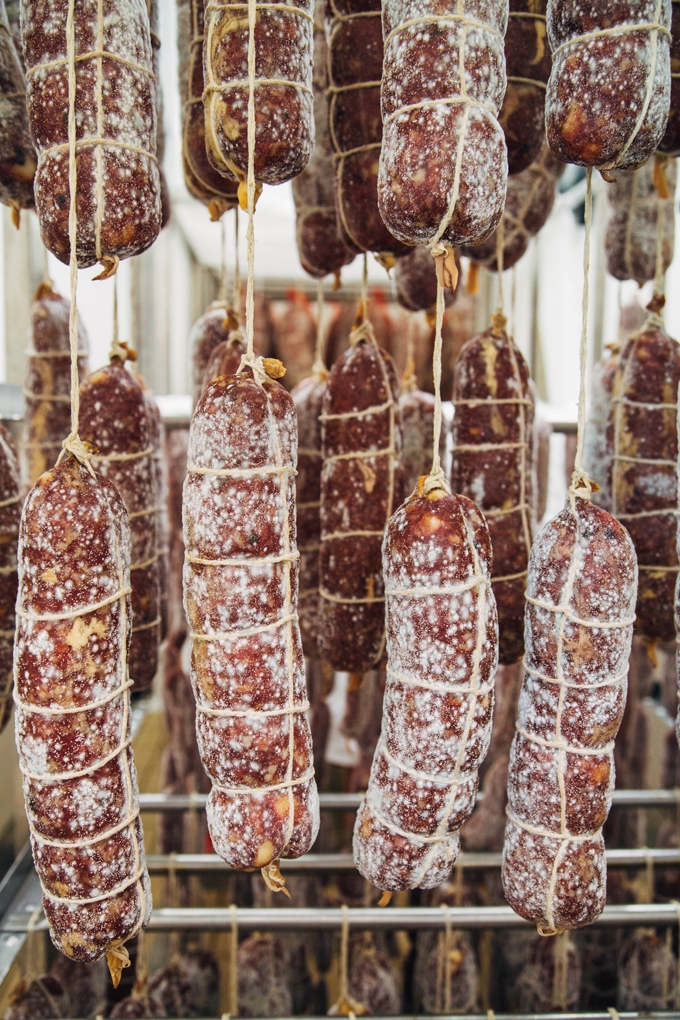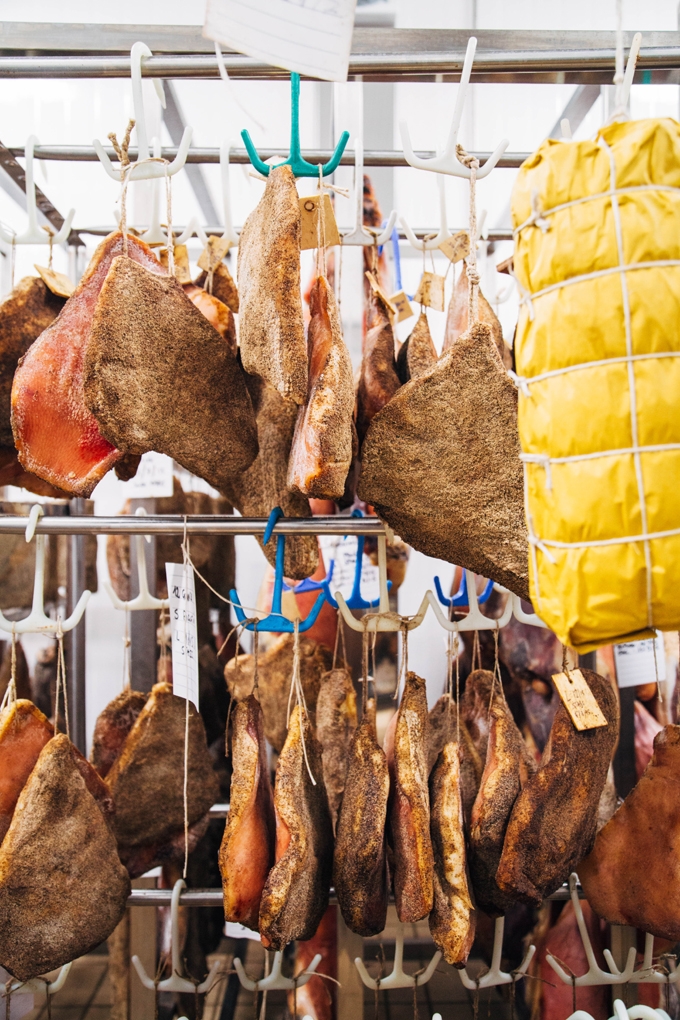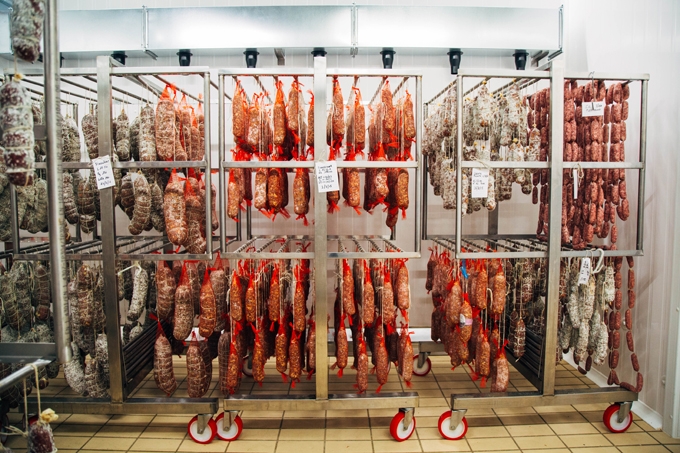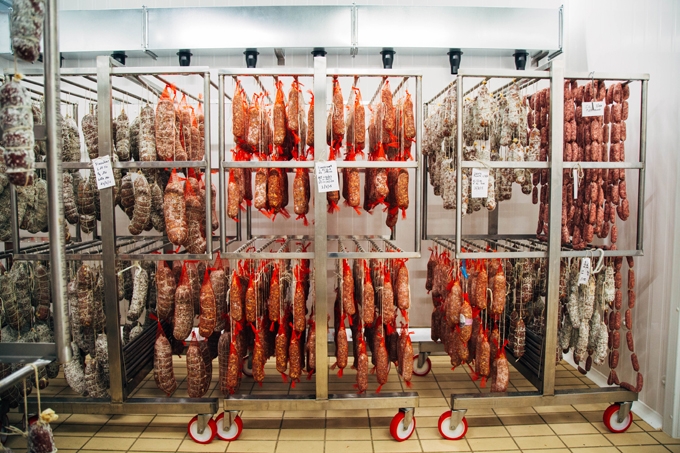 Afterwards, we enjoyed a meat-centric lunch at a small butcher shop with a spectacular view of the rolling Tuscan hills. Pancetta wrapped Tuscan bread, cured sausage, lardo-slathered crostini topped with apple, prosciutto with succulent figs, and salami with semi-ripe peach. Each bite was SO tasty, and the DaVinci Chianti really helped to refresh the palate throughout the meal.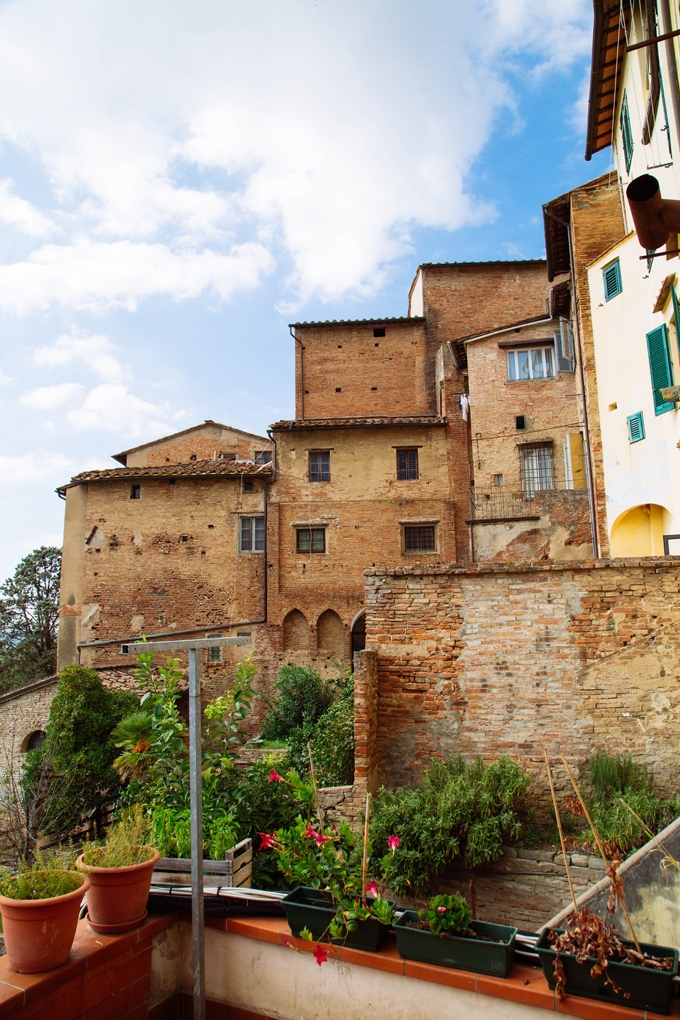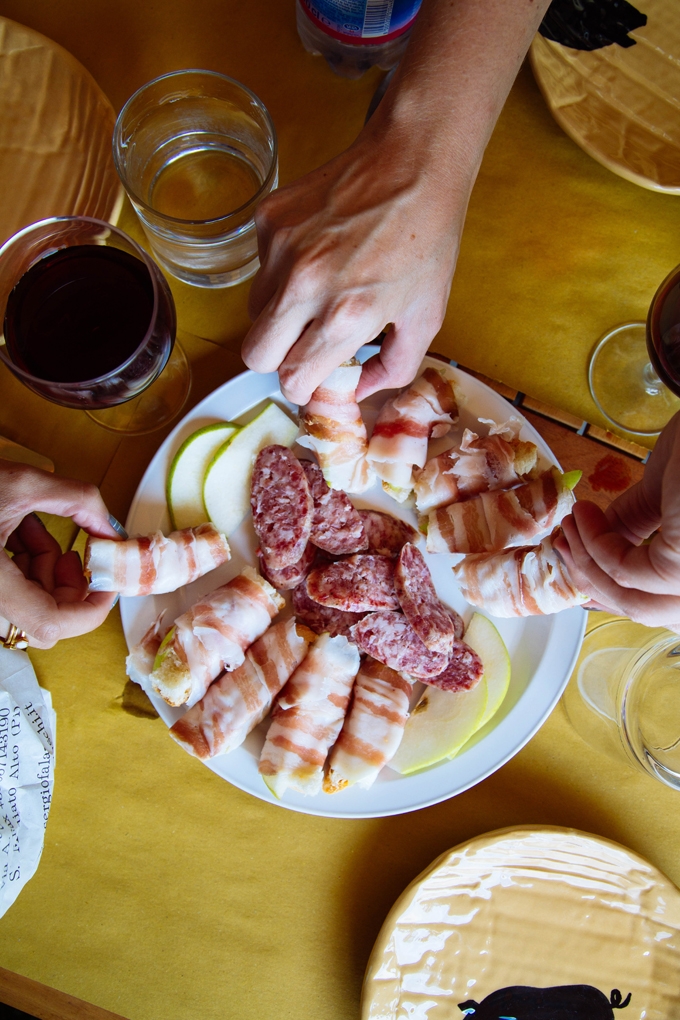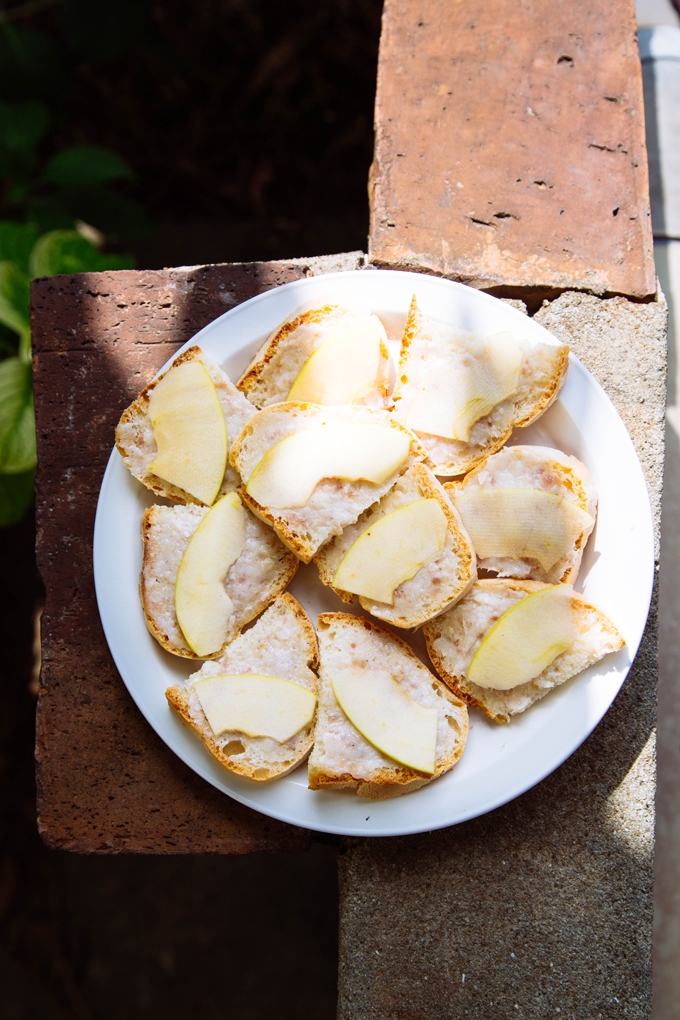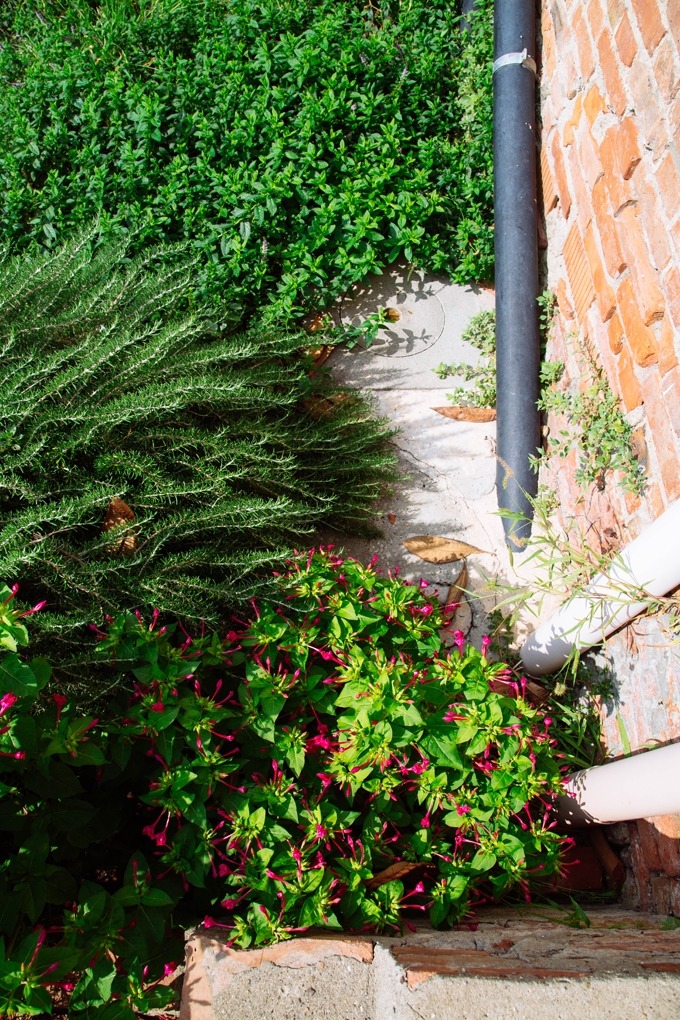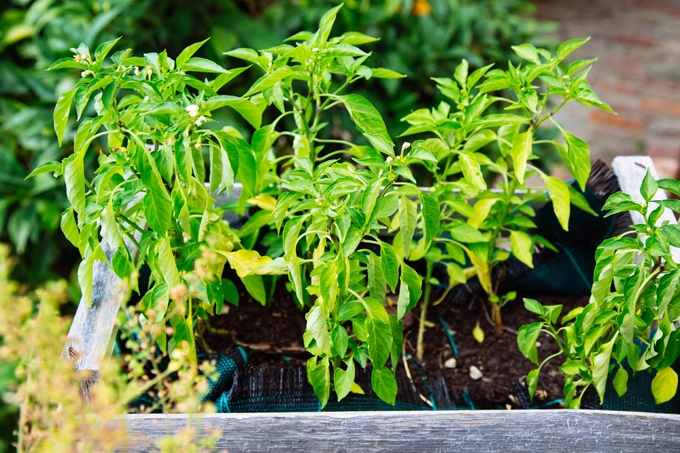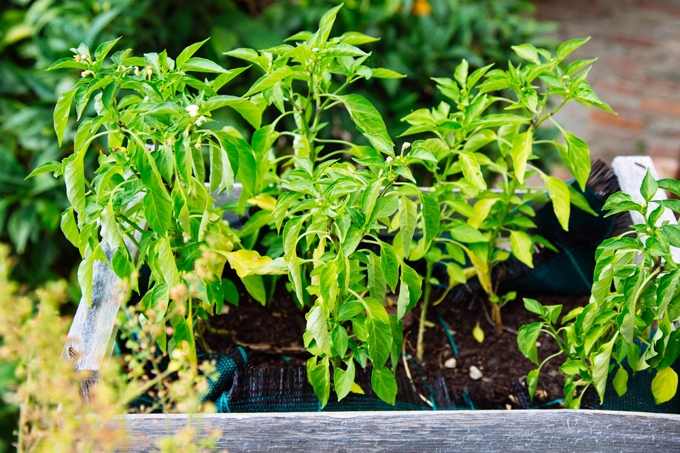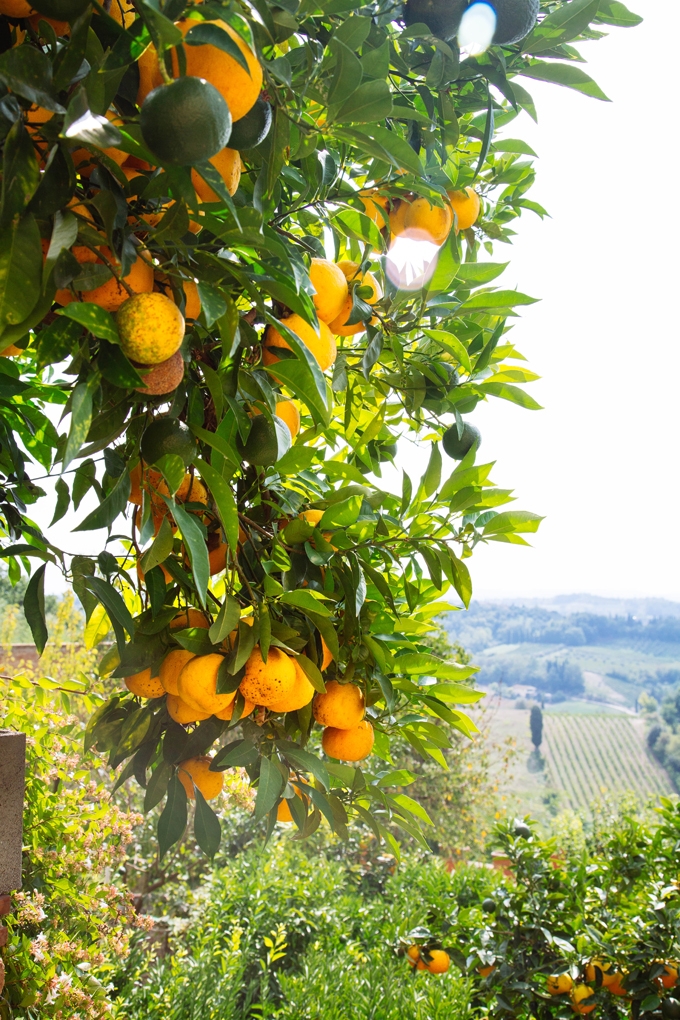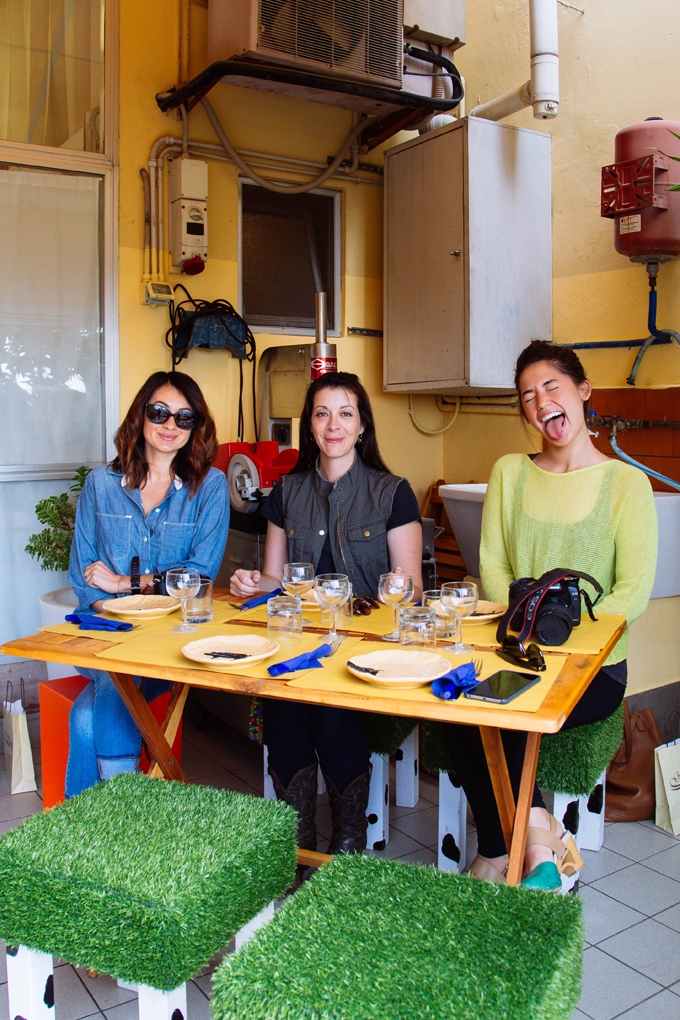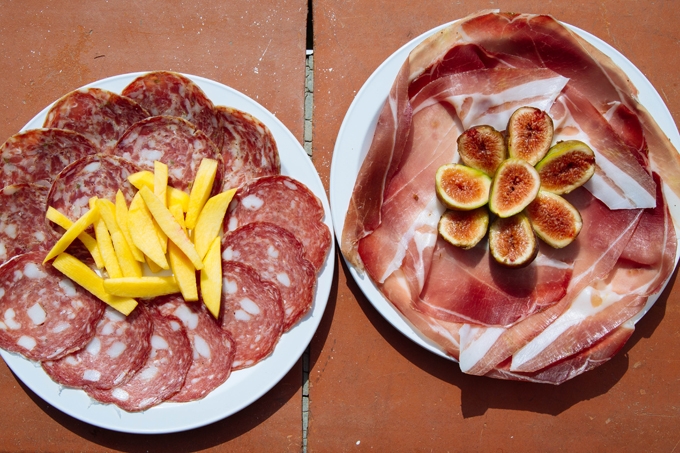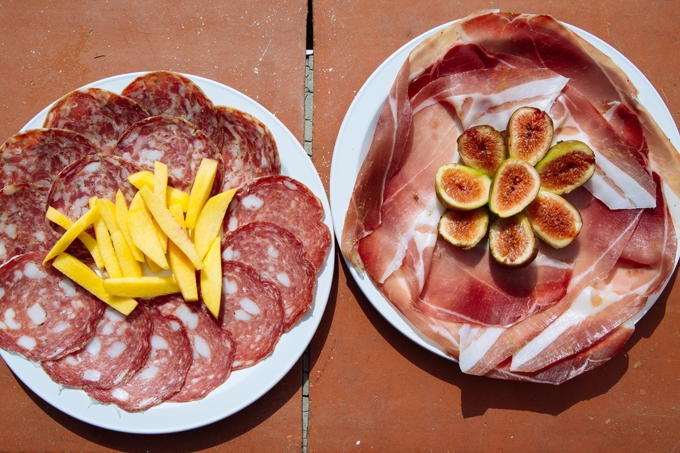 Our final activity for the week was a wine blending session at the Enoteca Dalle Vigne with DaVinci winemaker, Roberto Baldi. We were given six different types of wine, four made from Sangiovese grapes, one from Merlot and one an international blend. We then had to taste and blend all six to make a wine similar to DaVinci Chianti. The final wines were judged by an all-star panel of DaVinci Wine experts including Filippo Volpi and Giacomo Alari. I placed third (out of 6) in the competition and Molly won AGAIN. I thought this experience was really fun, because it put all of our skills that we learned throughout the week to the test. I was happy with third place J
That evening, we closed out our trip with a fantastic group meal at the Casale di Valle. I want to give a big thanks to the DaVinci Wine team for such a spectacular week in Tuscany. Incredible wine. Incredible food. Incredible people.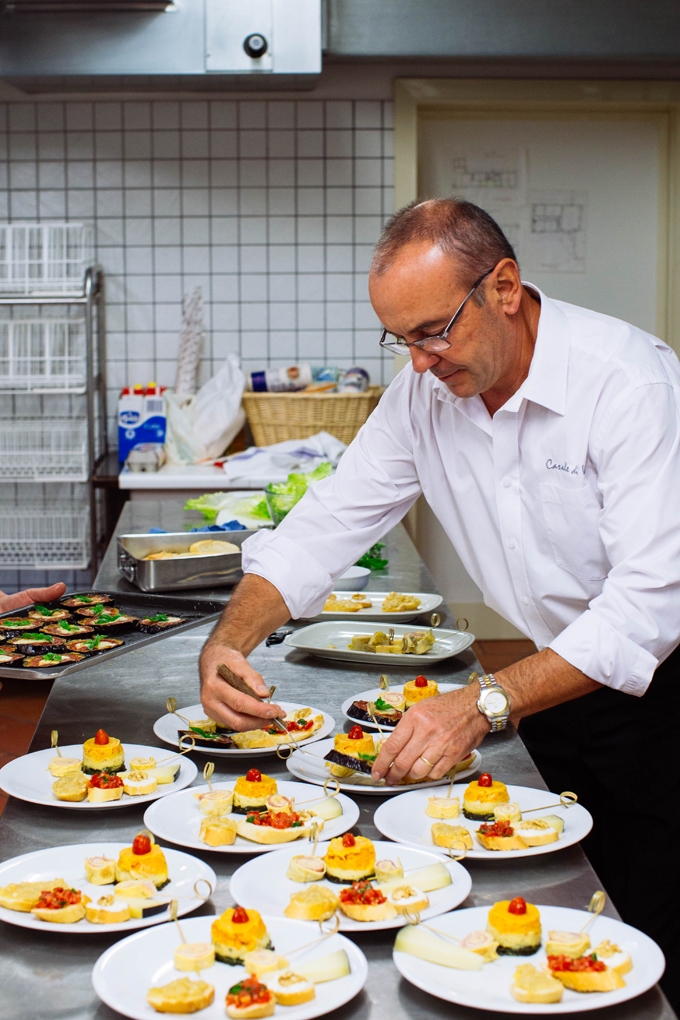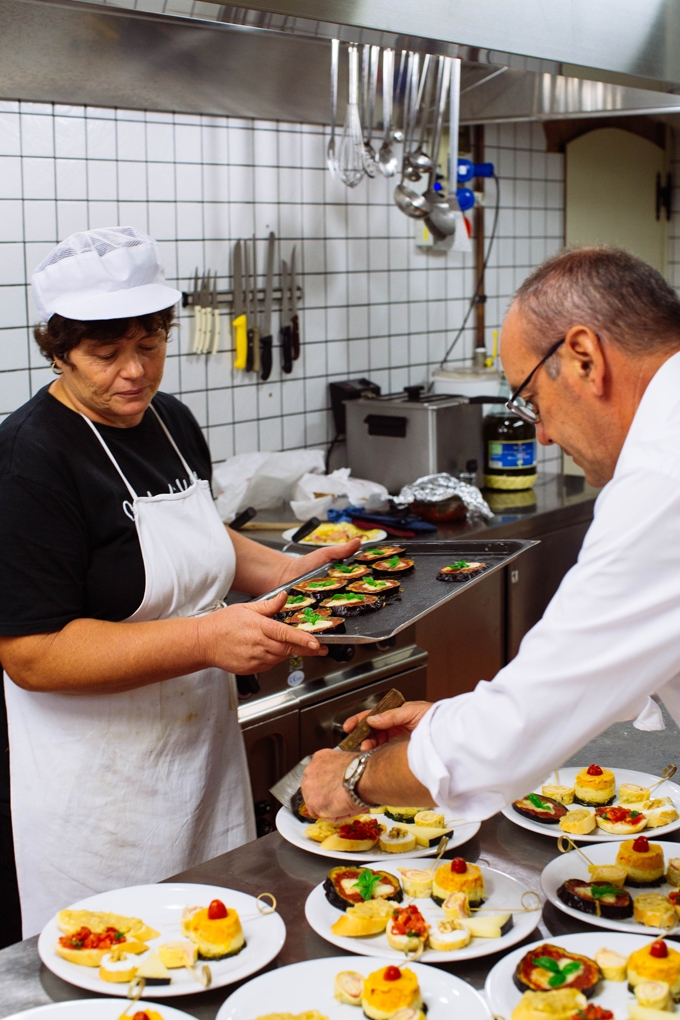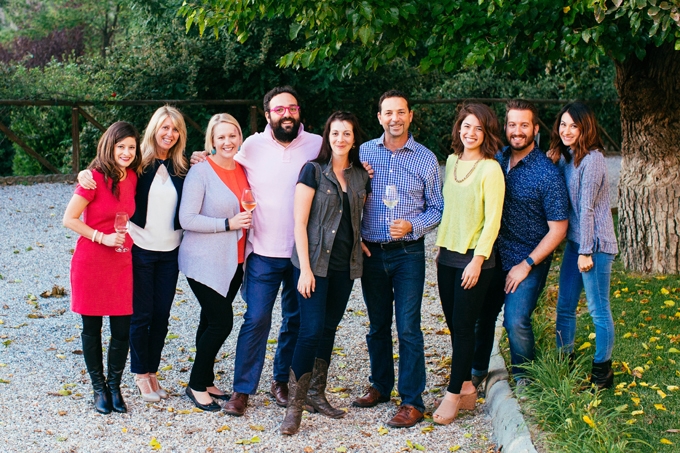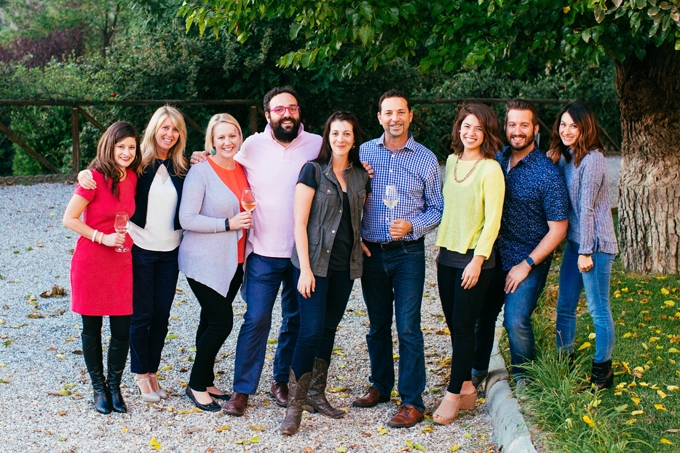 Now, on to the risotto recipe!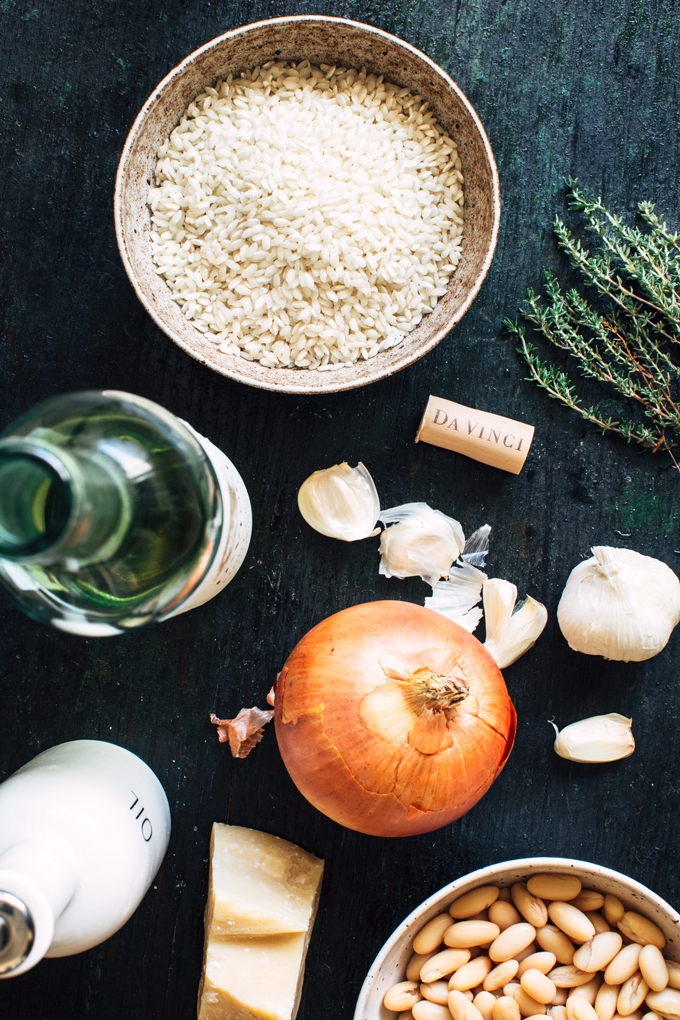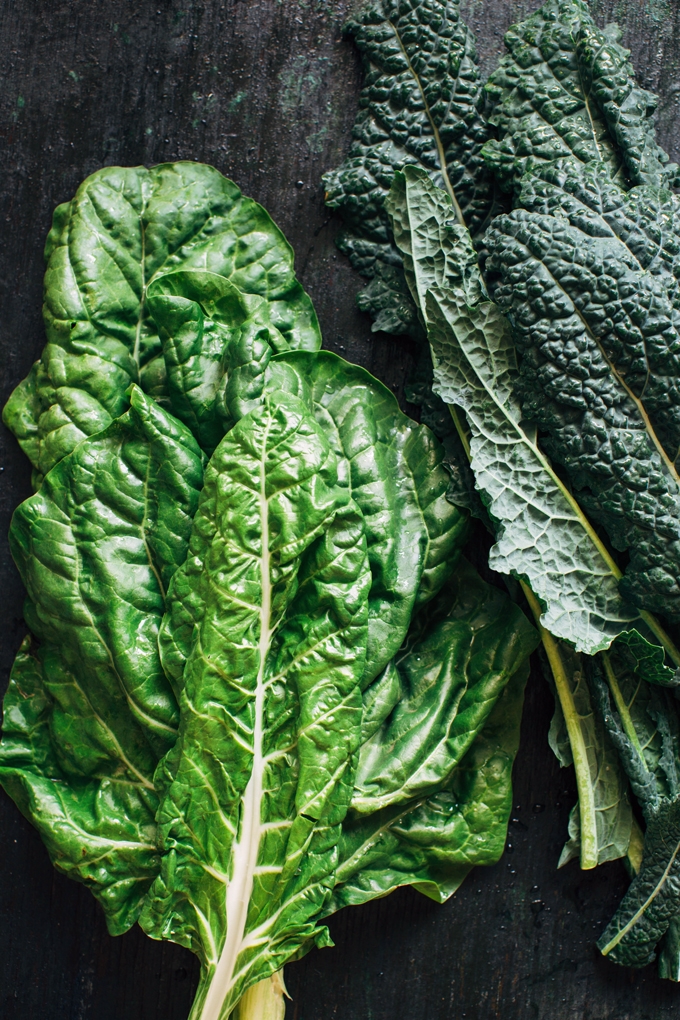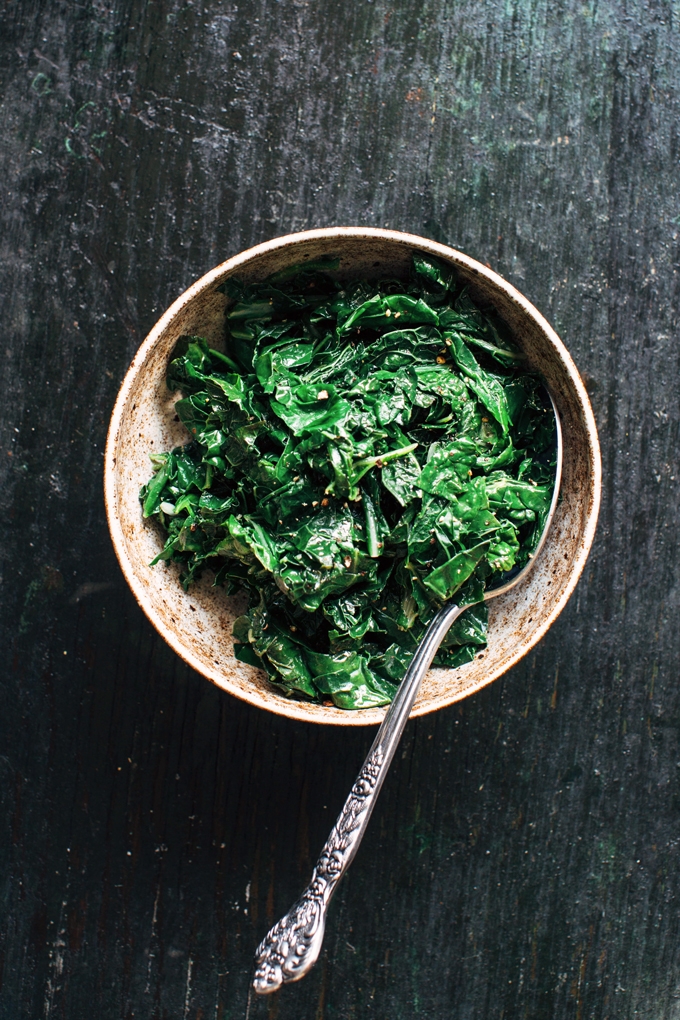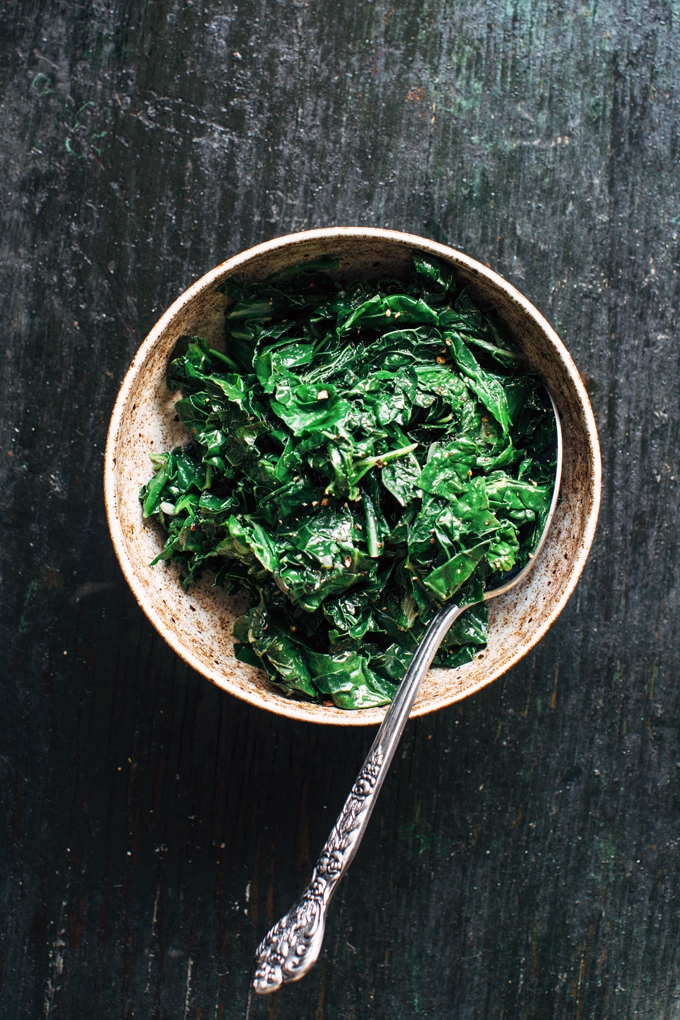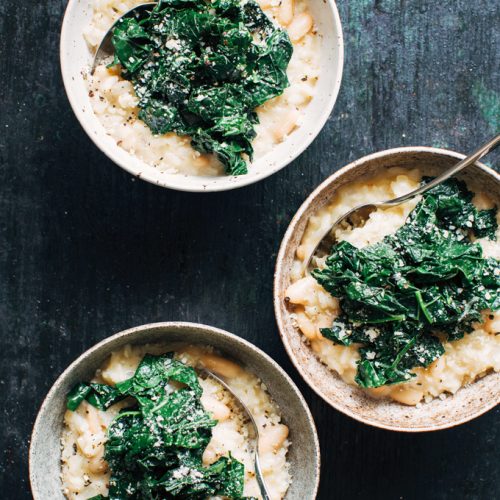 White Bean Risotto with Garlicky Greens
Ingredients
1/2

cup

extra-virgin olive oil

3

cloves

garlic

5

cups

low-sodium chicken stock

2

tablespoons

garlic oil (see step 1)

1

medium yellow onion, chopped

1/4

teaspoon

fresh thyme leaves

Kosher salt

1/2

cup

DaVinci Pinot Grigio

1

cup

risotto rice (I used carnaroli rice)

1

cup

cooked white beans (I used canned cannellini beans)

1/2

cup

grated Parmesan cheese, plus more for sprinkling

2

tablespoons

unsalted butter

Freshly ground black pepper

2

bunches (1 3/4 pounds) bitter greens (I used kale and swiss chard), stems removed and chopped
Instructions
Warm 1/2 cup olive oil and garlic in a small saucepan over medium-low heat. Cook until the garlic starts to brown (8 – 10 minutes). Strain oil into a clean container, and discard solids.

Bring chicken stock to a simmer in a medium saucepan over medium heat. Once simmering, reduce heat to low, and keep warm.

In a large, heavy-bottom pot, warm 2 tablespoons of the garlic oil made in step 1 over medium heat. Add the onion and thyme along with a pinch of salt, and cook until the onion is tender but not browned (6 minutes). Stir in the rice and cook for 2 minutes, then add the Pinot Grigio and cook for 1 more minute. Add 1 cup of warm chicken stock and a pinch of salt, and cook, stirring occasionally, until all of the liquid has been absorbed. Continue adding warm chicken stock 1/2 cup at a time, waiting until the stock is absorbed before adding again, and stirring frequently to make sure the bottom doesn't burn. Continue until the rice is cooked through, but still al dente, about 30 - 35 minutes total. You may not use all of the chicken stock. Stir in the beans and cook until heated through (1 - 2 minutes). Take the risotto off the heat, and stir in Parmesan cheese and butter. Season to taste with salt and black pepper.

During the last 5 minutes of cooking, fill a large pot with an inch or two of water. Place a vegetable steamer on the bottom of the pot, then bring the water to a boil over high heat. Add the chopped greens to the steamer, cover and cook for 5 minutes. Transfer greens to a medium bowl, and drizzle with garlic oil (from step 1), and season to taste with salt and black pepper.
To serve, spoon risotto into a bowl, and top with garlicky greens. Additional Parmesan cheese and black pepper are always welcome.
Tried this recipe?
Tag @brandiego on Instagram so I can check it out!
As a 2015 DaVinci Storyteller, this post was written in partnership with DaVinci Wine.  DaVinci Wine has provided me with this experience.  All thoughts, opinions and recipes are my own.
Now check out some other recap posts from my fellow DaVinci Storytellers!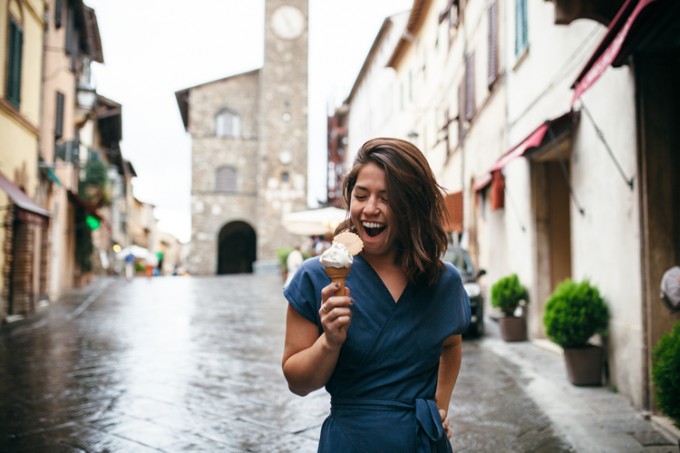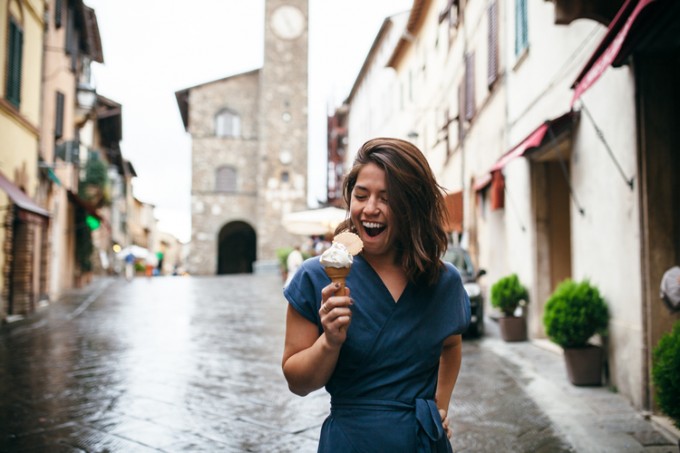 34