I recently made a delicious discovery, and I just had to share.  Hummus with salad.
This post may contain affiliate links.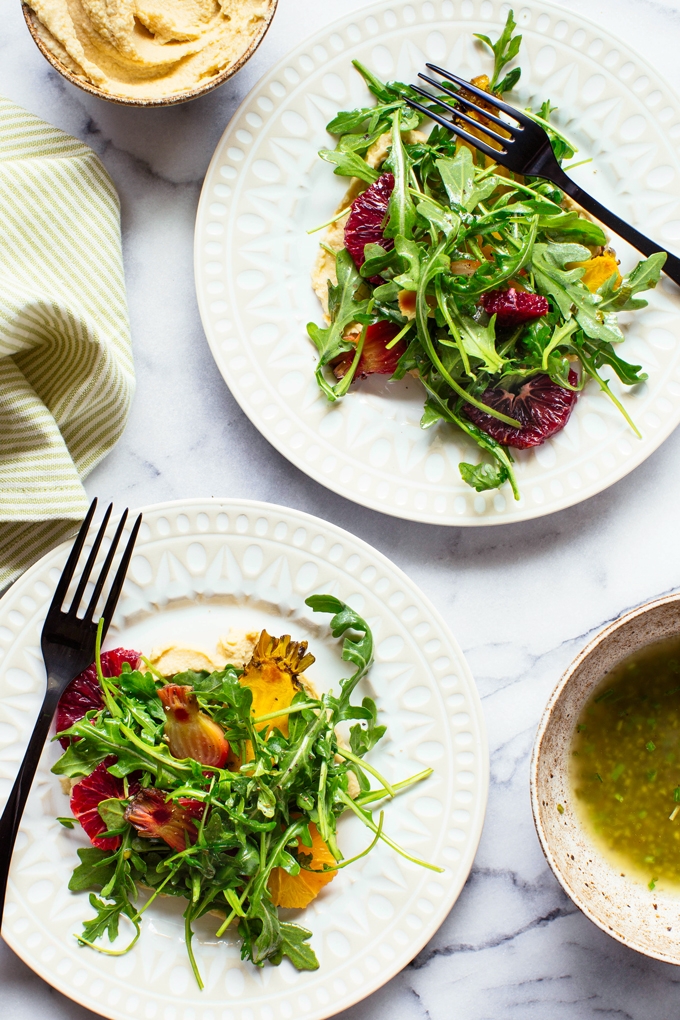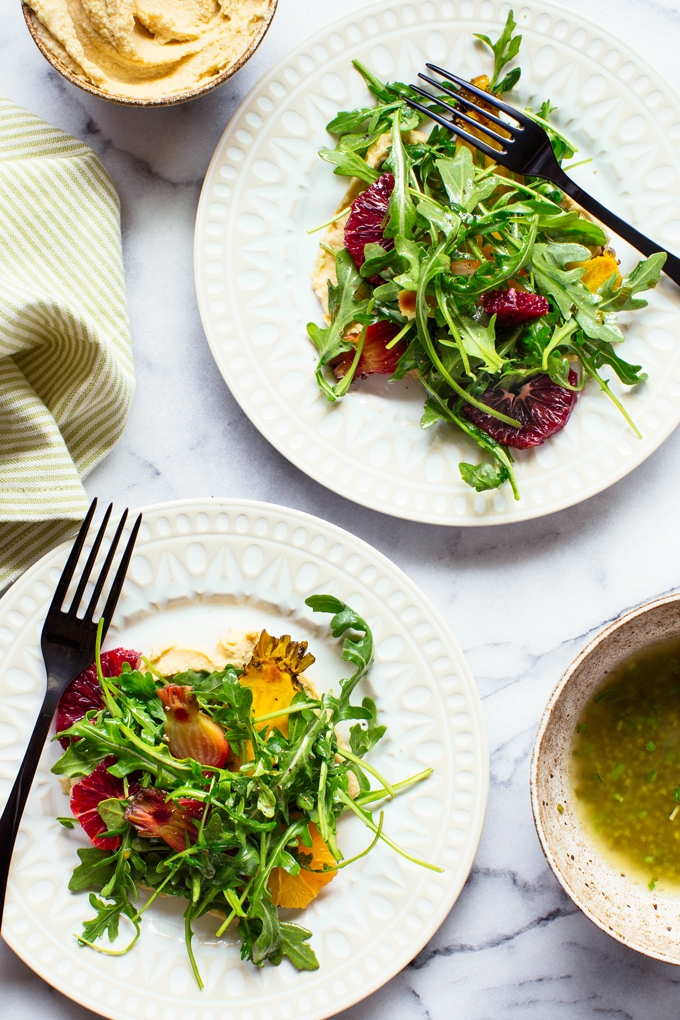 Hummus, that Middle Eastern dip made with chickpeas, tahini, lemon juice, garlic and olive oil, is always in the fridge at my house.  I mainly find myself dipping things into it like pita (regular or crisp), vegetables or chunks of warm, crusty bread.  But I also like to use hummus in more untraditional ways like as a spread for a turkey sandwich or whisked into a lemony vinaigrette.  Here, hummus is the flavor-packed base upon which a bright, sweet-tart salad sits.  Let's dig into it.
This recipe starts with a pale swath of creamy hummus (store-bought is fine here) centered on a salad plate.  Next, a tangle of peppery arugula dressed in a chive vinaigrette is placed on the hummus.  There's three tablespoons of acid to four tablespoons of oil, placing this dressing solidly in the tart-acidic camp.  The salad is finished with sweet rounds of juicy citrus and tender halves of roasted baby beets scattered about.  Each bite is a little tart, a little sweet and a little peppery with a balanced richness from the hummus.  So damn tasty.  Continue reading for the recipe.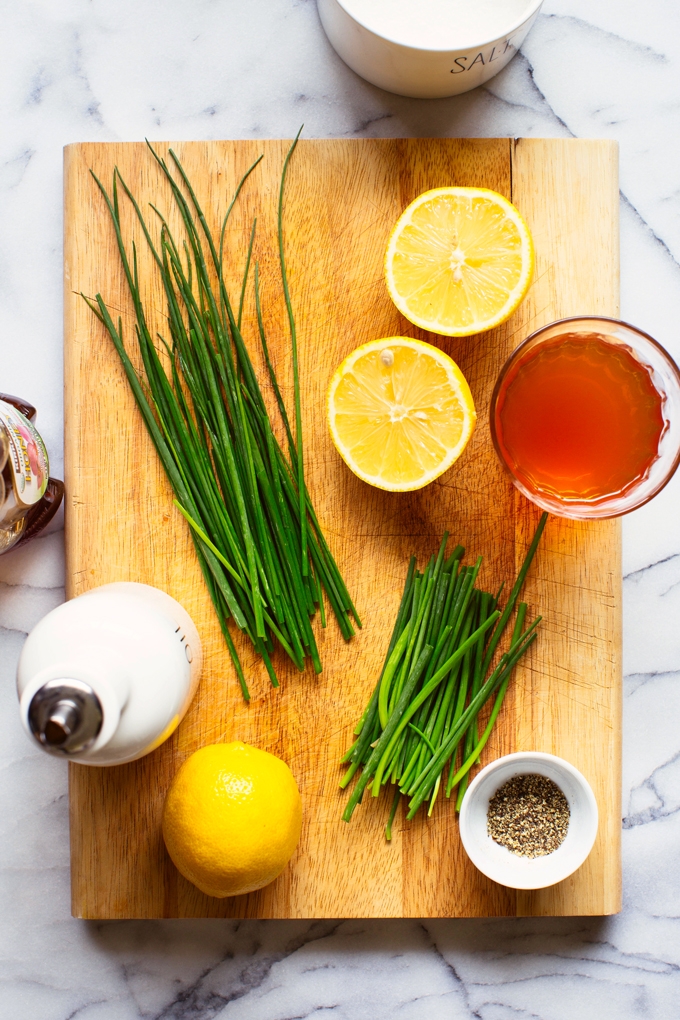 What are your favorite ways to use hummus?  Please share below!
Arugula Salad with Hummus, Oranges and Roasted Beets
Ingredients
For the vinaigrette:
2

tablespoons

of fresh lemon juice

1

tablespoon

red wine vinegar

A dab of honey, plus more to taste

Kosher salt

Freshly ground black pepper

1/4

cup

olive oil

2

tablespoons

finely chopped chives
For the salad:
3

ounces

of arugula

3/4

cup

hummus

8

ounces

cooked and peeled baby beets*, halved

2

oranges, peel and pith removed, sliced horizontally into rounds
Instructions
To make the vinaigrette, whisk together lemon juice, vinegar, honey, 2 pinches of salt and several turns of black pepper. Whisk in olive oil in a slow steady stream, and continue whisking until emulsified. Whisk in chopped chives, then season to taste with additional honey, salt and pepper. Flavors should be bright and acidic.

To assemble the salad, toss arugula with a few spoonfuls of the vinaigrette. The greens should be glistening with, but not drowning in, the dressing. Spoon 3 tablespoons of hummus onto the middle of a salad plate, then spread it into a flat, wide disc. Top with dressed arugula and a scattering of halved beets and orange slices. Finish with a small drizzle of vinaigrette and some freshly ground black pepper. Repeat with 3 other salad plates. You could also divide ingredients between 2 large plates for a more substantial salad.
Notes
* Pre-roasted beets can be purchased for convenience and used here. If you'd like to roast your own beets, start with 2 to 3 bunches of baby beets. Trim root and stem ends, then rinse the beets thoroughly with cold water. Dry beets and place on a large square of aluminum foil. Drizzle beets with olive oil, salt and pepper, then bring the foil up around the beets to form a sealed package. Roast beets at 400°F until tender (30 - 40 minutes). If you want to roast various colored beets, I would recommend roasting each color in it's own foil package to avoid mixing/bleeding of colors. Let the beets cool slightly, then peel off skins (they should just slip right off).
Tried this recipe?
Tag @brandiego on Instagram so I can check it out!
Beets and citrus are in season right now!!  Here are some other recipes on Kitchen Konfidence to use them up: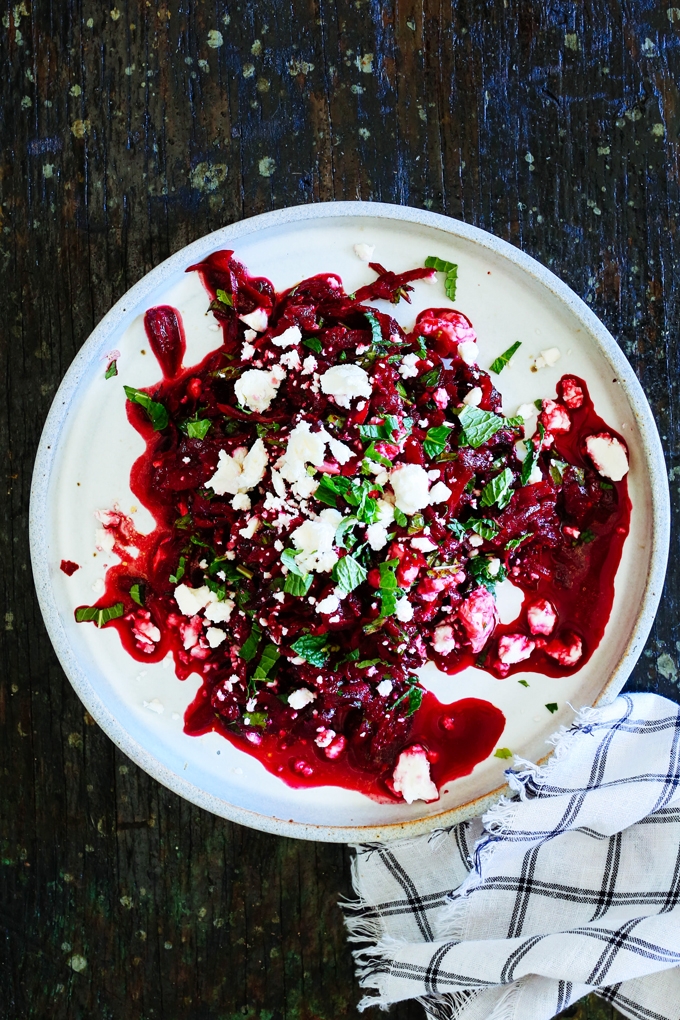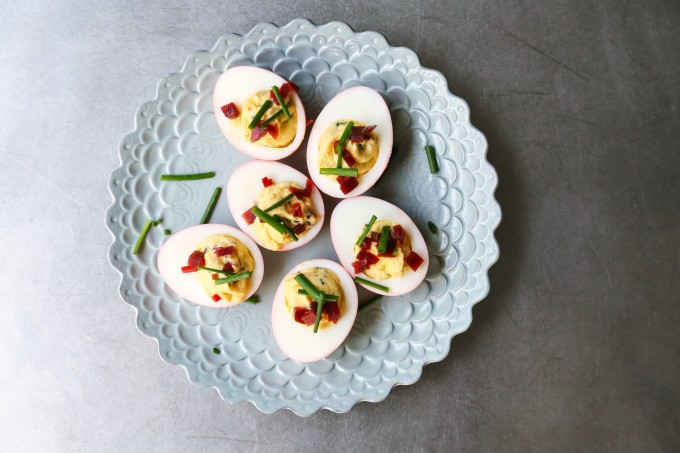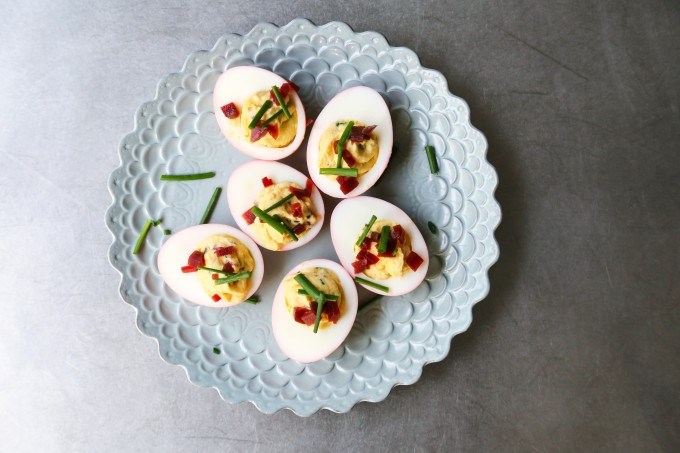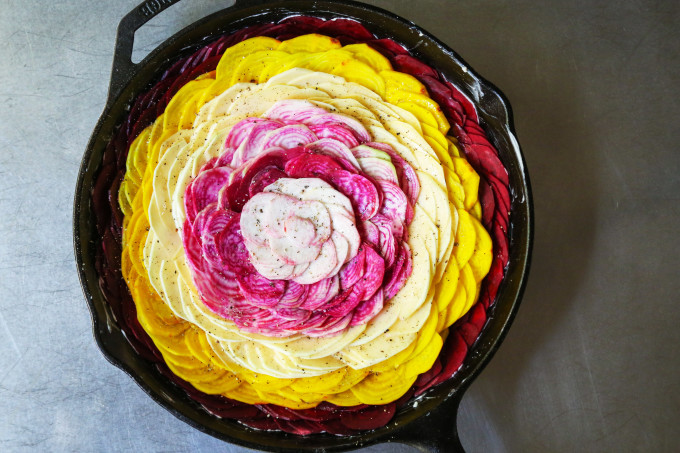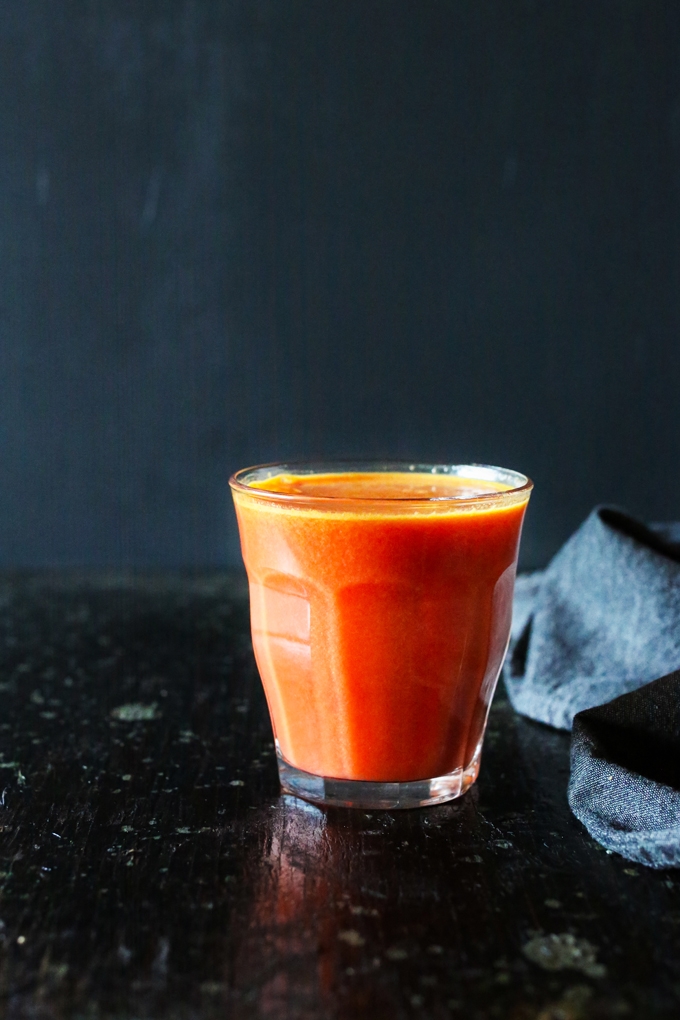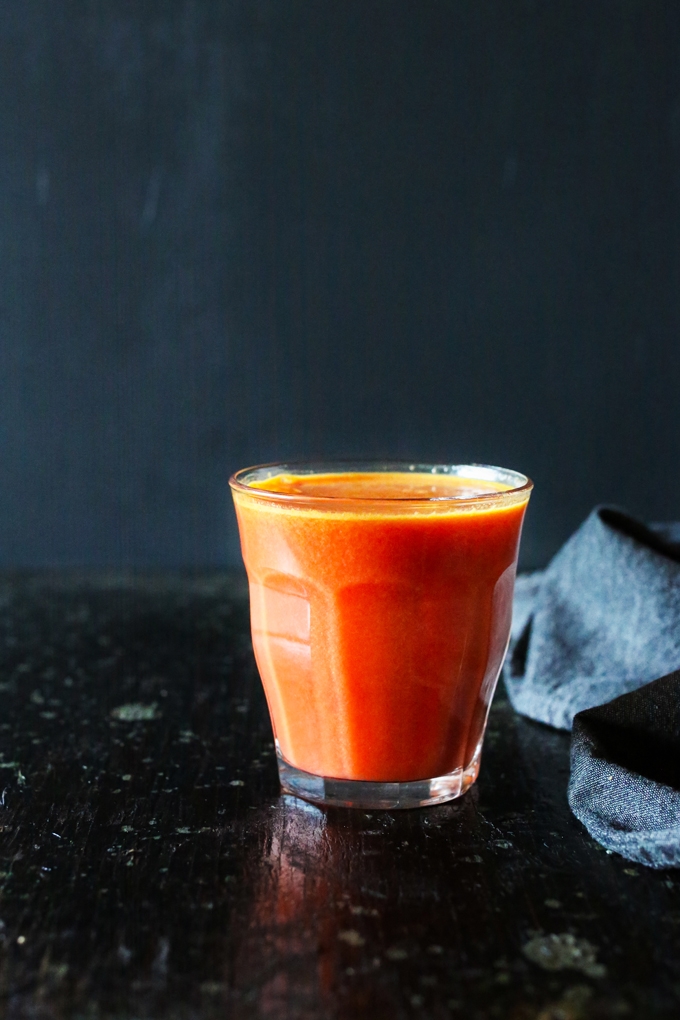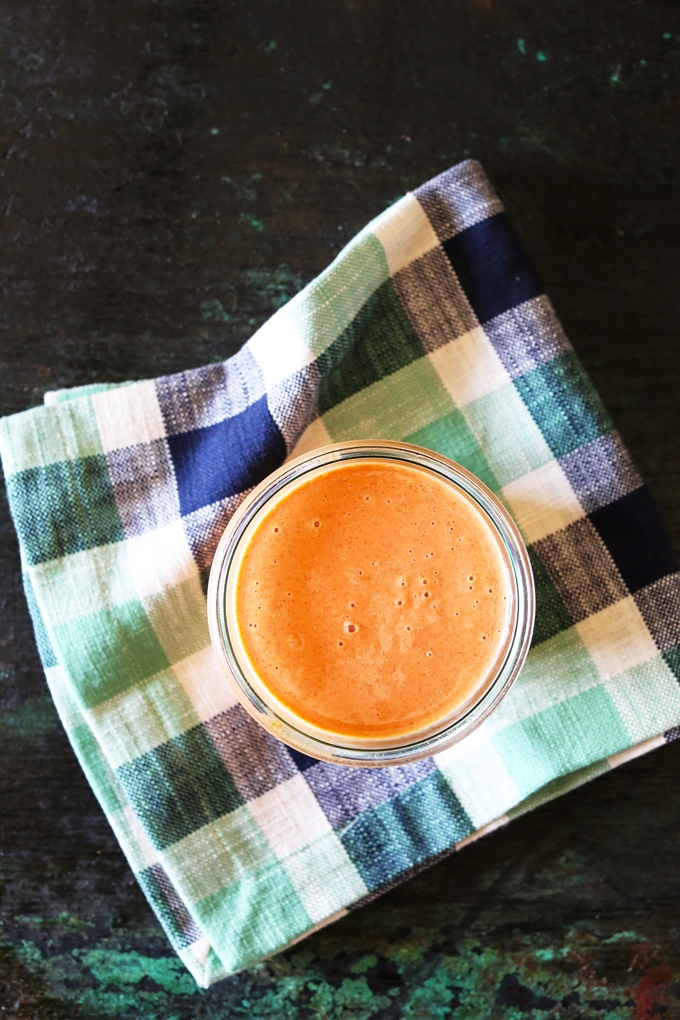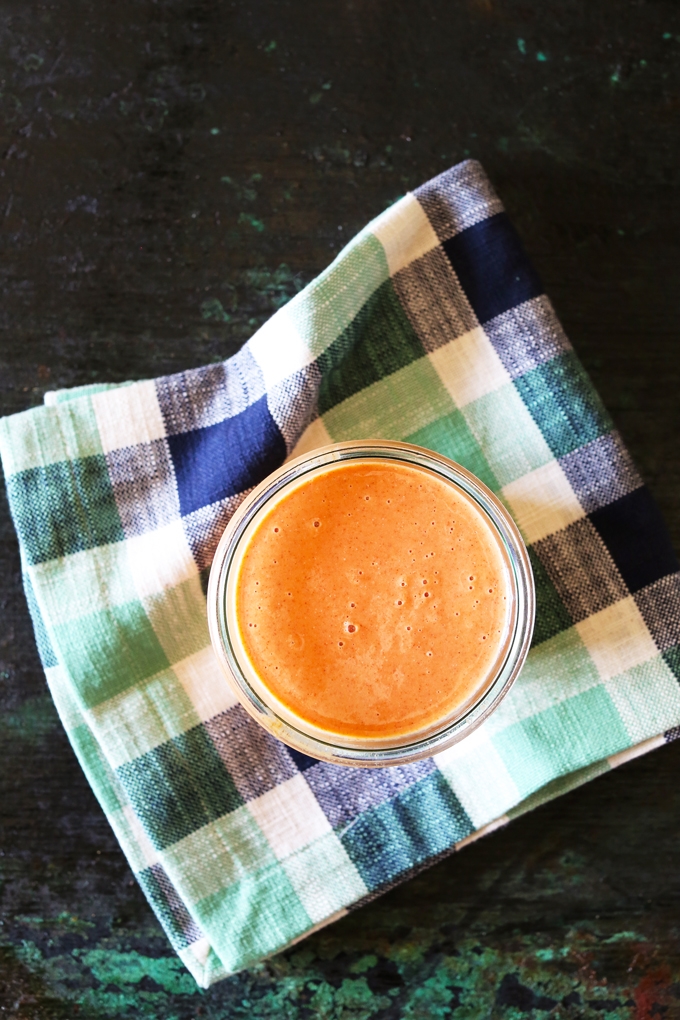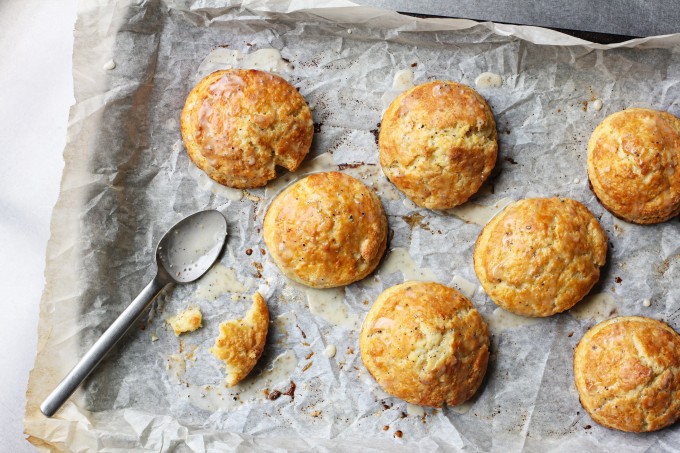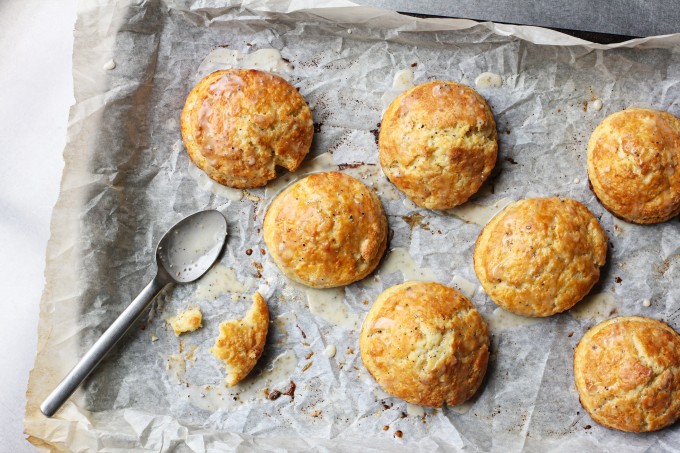 2