You guys, this may just be my best steak recipe yet. Take a look:
This post may contain affiliate links.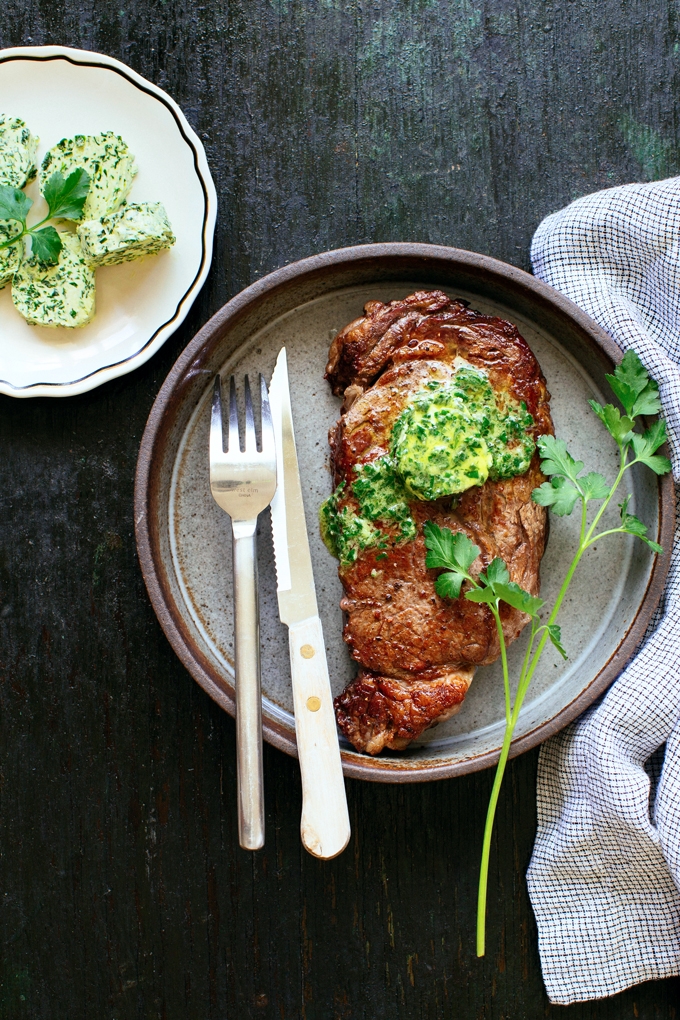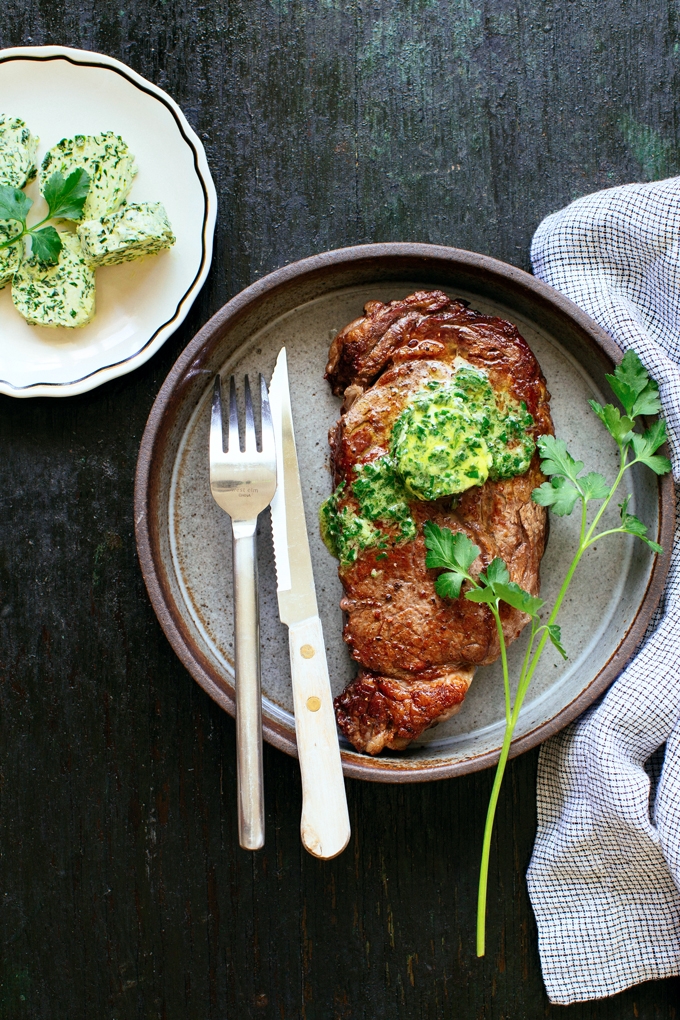 We're big fans of steak at my house, so I'm always looking for new ways to cook them up. Since I first released my Frozen Seared Steak recipe (over 4 years ago!!), I would hear about a reverse sear method time-to-time from readers, and I finally decided to test it out. Let's dig in.
The reverse sear method starts with a seasoned steak cooking in a low oven (250°F) until the internal temperature hits 125°F. This can take about 45 to 55 minutes. After a brief rest, the steak is then seared on a smoking-hot cast-iron skillet for just 45 seconds per side! Surrounded by a gloriously golden crust, the finished steak is tender and medium rare from top to bottom. No tough layers of gray meat here! I've topped this steak with a pad of compound butter infused with parsley, garlic, chive, lemon and black pepper. The combination of the two is sure to induce a yum face.
Cooking the steak in the oven first helps to break down the fat and connective tissue, resulting in a steak that's both melting and juicy. The time spent in the oven also dries out the surface of the meat which helps to achieve a perfectly even sear across the surface of the steak. As long as you've got a meat thermometer (preferably instant read), this method really is foolproof! Continue reading for the recipe.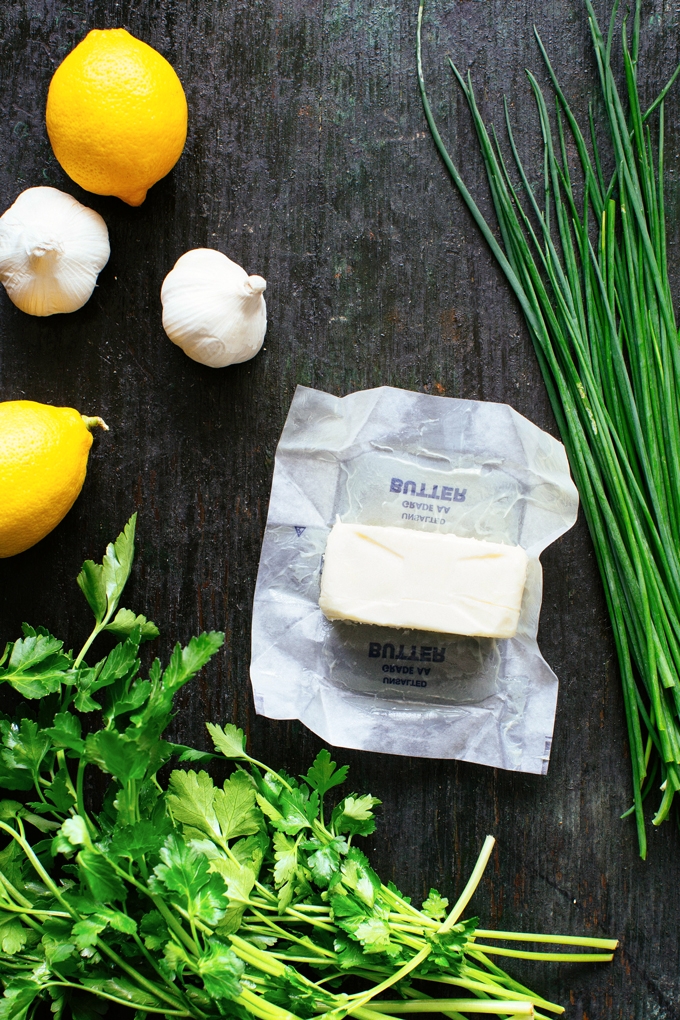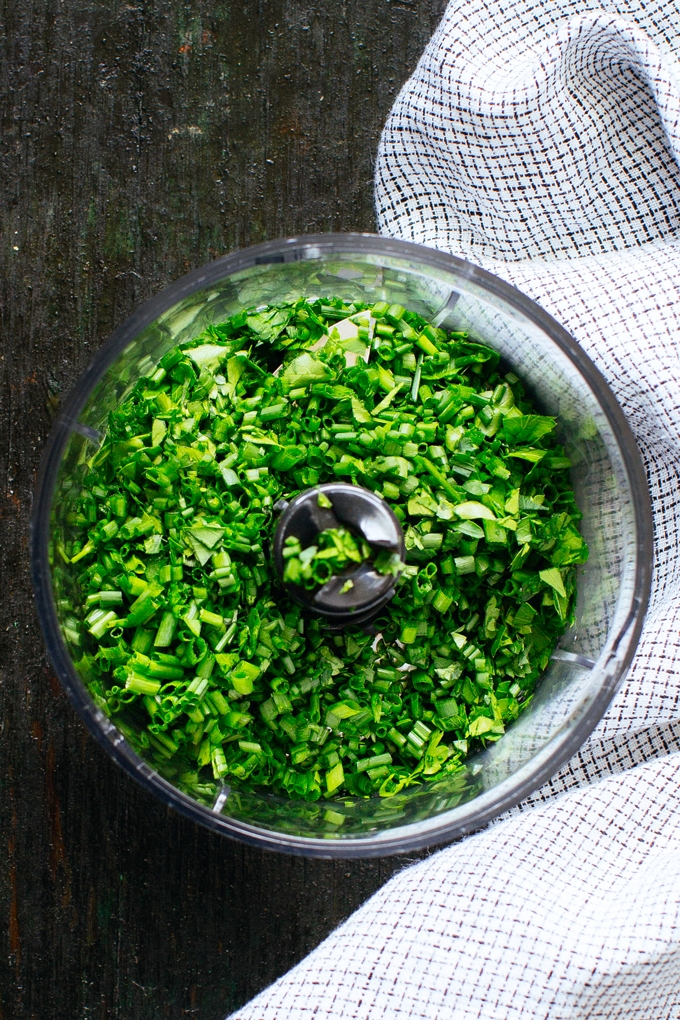 How do you do a reverse sear on a steak?
To reverse sear a steak, you start by placing a thick steak (about 1 1/2 inches) on a wire rack set over a rimmed baking sheet. You then season the steak all over with salt and pepper.
The steak cooks in a 250°F oven until an instant read thermometer hits 125°F. After a 5 minute rest, you finish the steak by searing on a hot cast iron skillet until a golden crust forms. This is known as a reverse sear, because normally, you would sear the steak first and finish it in a low oven.
This recipe can easily scale up for 2 to 4 people. Simply cook all the steaks on one baking sheet, and then sear in two cast-iron pans. You could even use one pan given the quick searing time (1 1/2 minutes total). The compound butter recipe below will make enough for 8 large ribeye steaks.
What temperature do you reverse sear steak?
The two temperatures you need to keep in mind are:
An oven temp of 250°F.
An internal temp of 125°F (for a medium-rare steak).
How long does it take to reverse sear a steak?
The entire process takes about 1 hour and 15 minutes. You'll need to cook the steak in a 250°F oven for 45 to 55 minutes (don't rush this part). Then, the steak rests for 5 minutes. After that, it takes about 1 1/2 to 2 minutes to sear the steak. And finally, a 10 minute rest.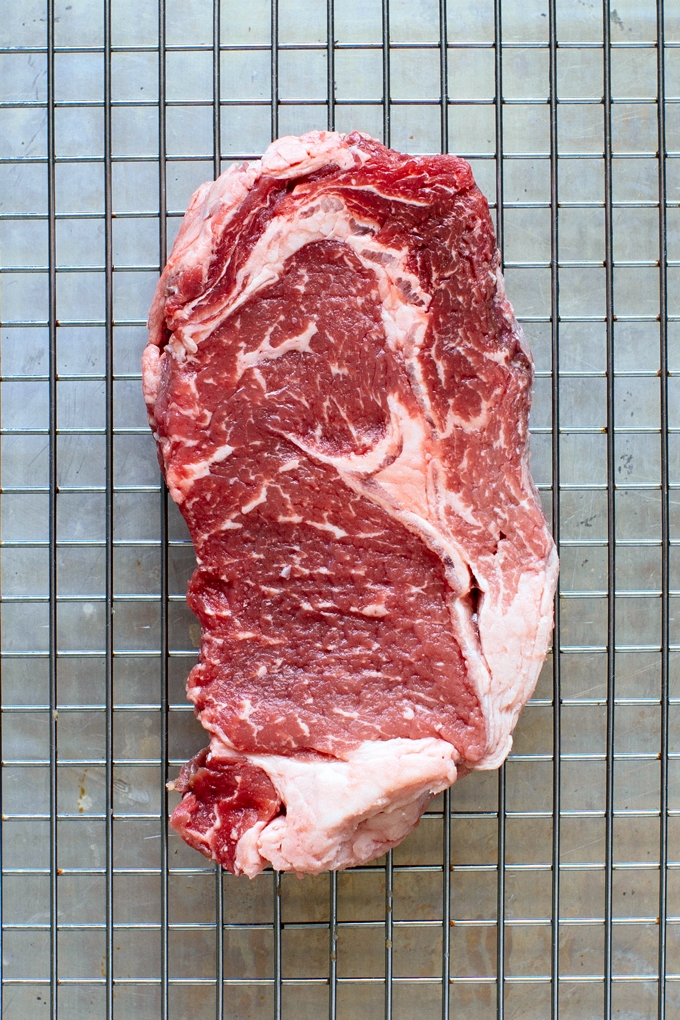 Is it better to reverse sear a steak?
Personally, I really love this method, because the steak comes out perfect each and every time. Cooking the steak in a low oven first ensures that the entire steak reaches the desired doneness while drying out the surface of the steak. Because the surface of the steak is dry, it's easier to get a perfect sear in the hot skillet.
And because it's easier and faster to sear the steak this way, you get can a golden crust in just 45 seconds. This is important, because you won't develop that gray band of overcooked meat around the outside.
Can you reverse sear a 1 inch steak?
You can reverse sear a 1 inch steak; however, it's not ideal. A thicker steak allows you to get a sear on the outside without worrying about overcooking the inside. If you'd like to try this method with a 1 inch steak, it will cook faster in the oven, so start checking the temp of the steak earlier.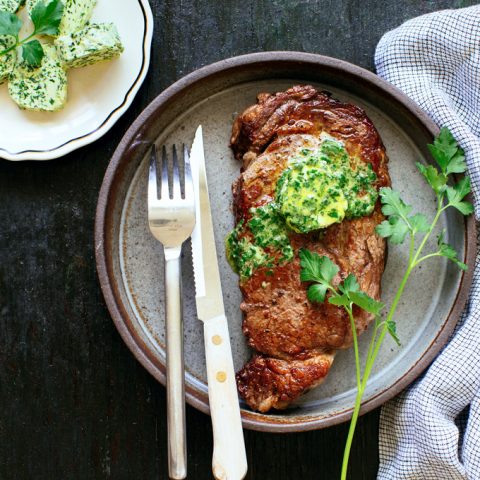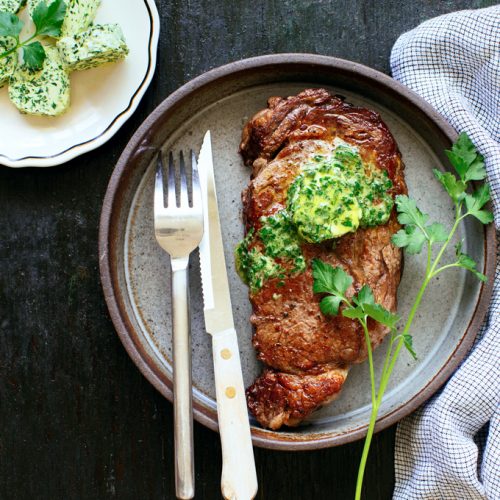 Reverse Seared Steak with Garlic Herb Butter Recipe
Ingredients
For the butter:
1/2

cup

finely chopped Italian parsley

2

tablespoons

finely sliced chives

2

cloves

garlic, grated or minced (1 teaspoon)

1

tablespoon

extra virgin olive oil

3/4

teaspoon

kosher salt

1/4

teaspoon

freshly ground black pepper

1

stick (1/2 cup) unsalted butter, at room temperature

1

tablespoon

lemon juice
For the steak:
1

(1 1/2-inch) thick boneless rib-eye steak

Kosher salt

Freshly ground black pepper
Instructions
Start by making the flavored butter. Place parsley, chive, garlic, olive oil, salt and pepper in a food processor (I like to use this small one), and pulse several times until herbs are well-combined and finely chopped. Add the butter and lemon juice, and process until well-combined. Scrape butter onto parchment paper, then roll into a tight log, twisting the ends to seal. Chill for 2 hours before serving.

Preheat an oven to 250°F. Season steak generously with kosher salt and black pepper, then place on a baking sheet fitted with a rack. Roast in the oven until an instant-read thermometer reads 125°F for medium rare (45 - 55 minutes). Let rest for 5 minutes.

Preheat a cast iron skillet over medium-high heat while the steak rests. The skillet should be smoking hot. Sear the steak in the hot skillet until deeply golden on both sides (about 45 seconds per side). Let rest for 10 minutes. Serve with slices of Garlic Herb Butter.
Notes
*This recipe can easily be scaled up for multiple steaks. I've cooked 4 steaks in the oven, then seared them in 2 skillets. You'll have enough flavored butter for 8 steaks.
Tried this recipe?
Tag @brandiego on Instagram so I can check it out!
Here are some other steak recipes on Kitchen Konfidence: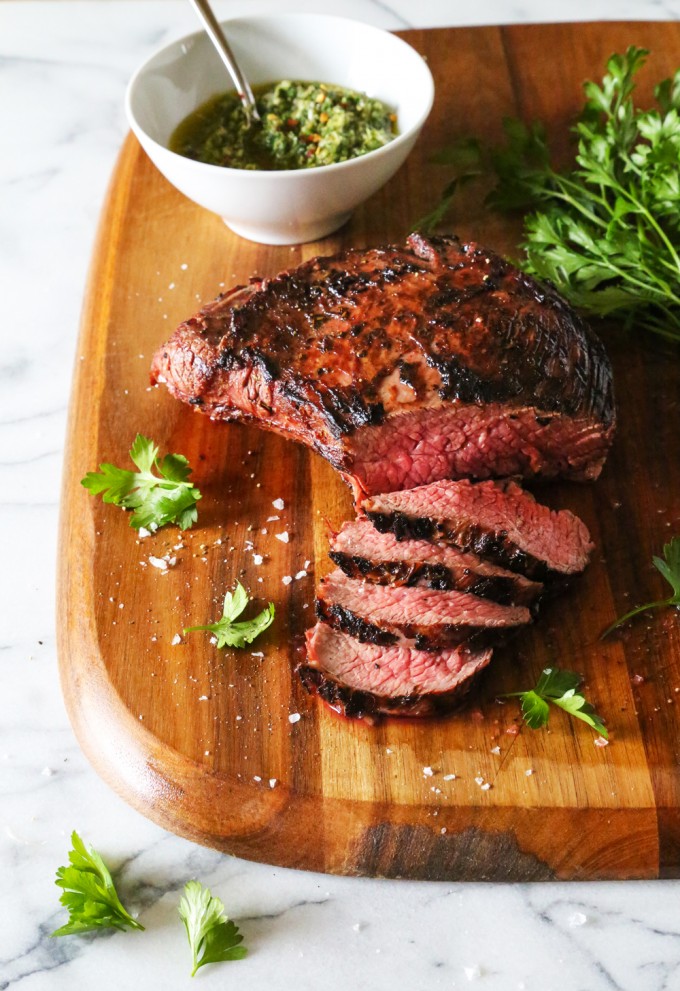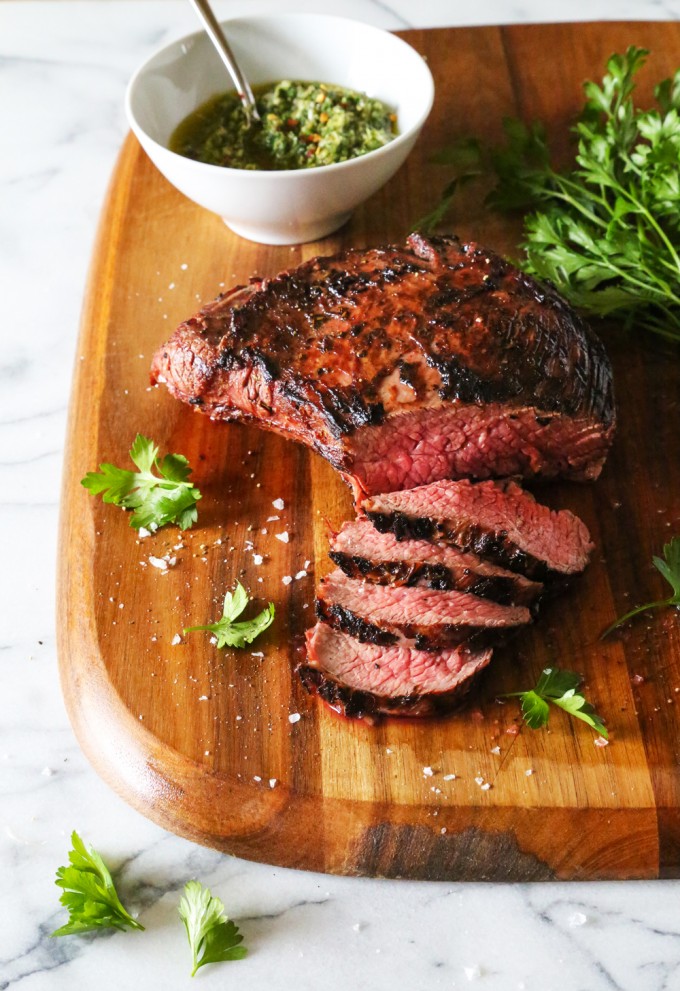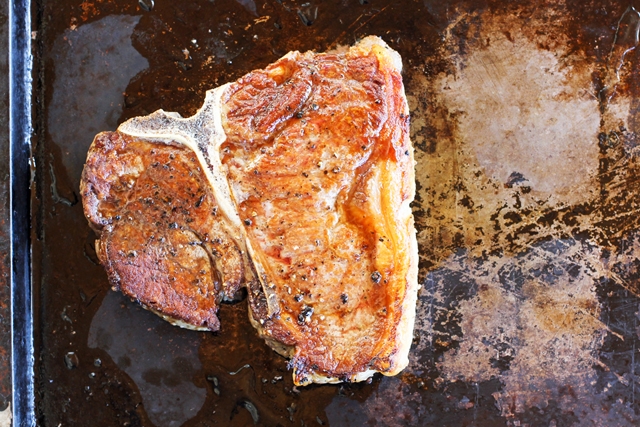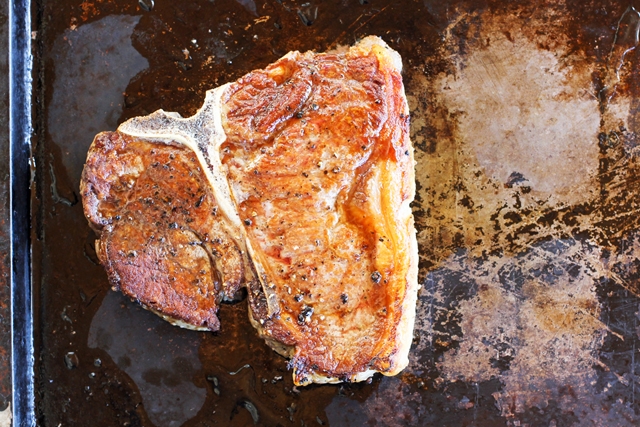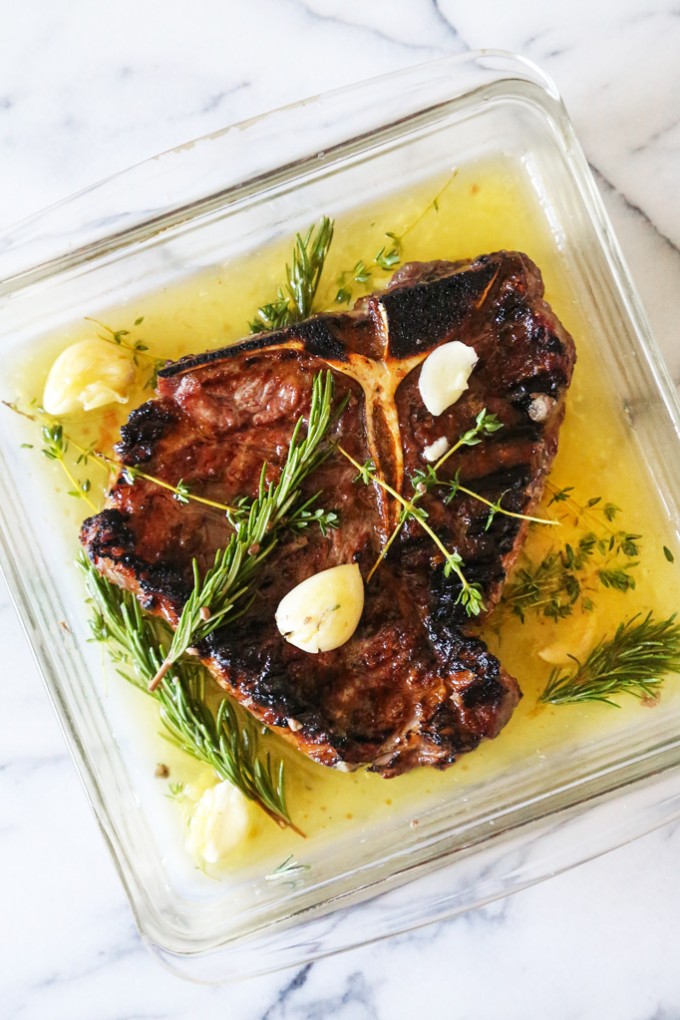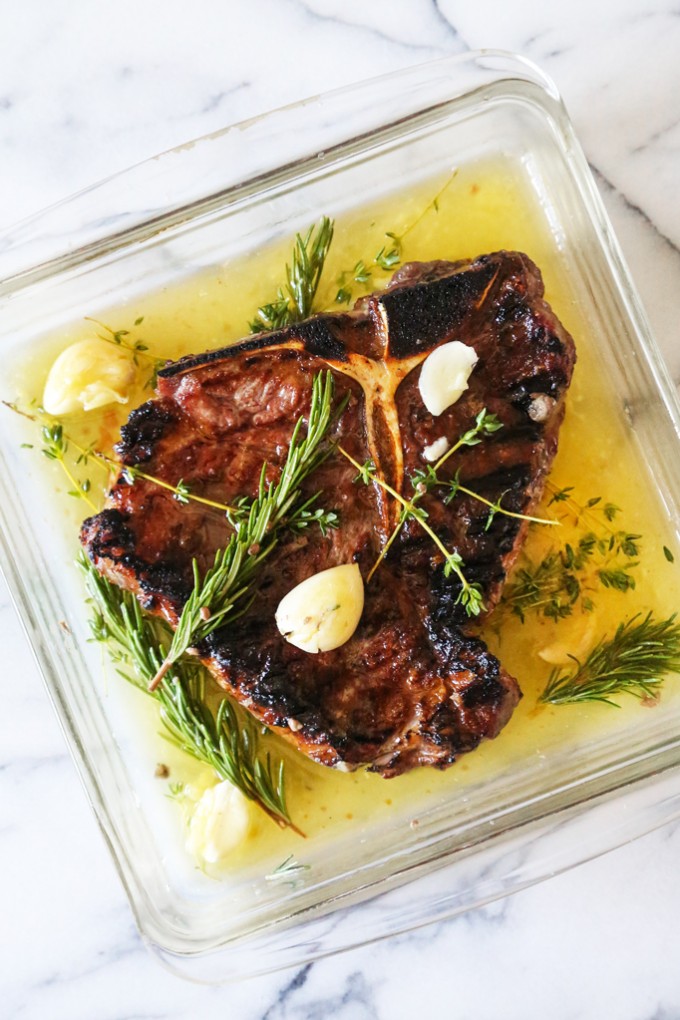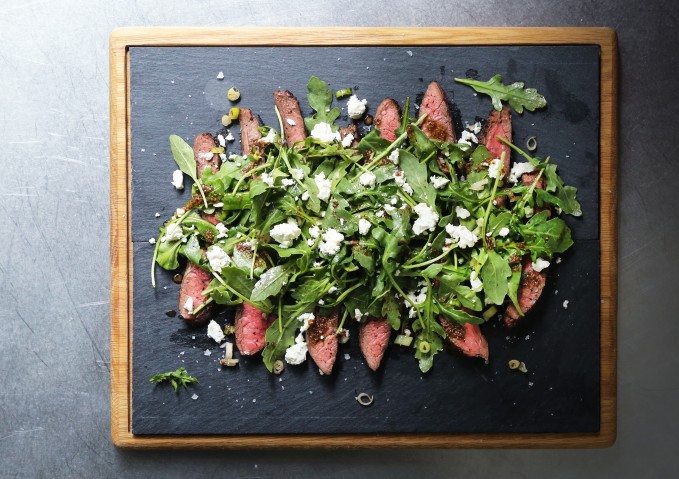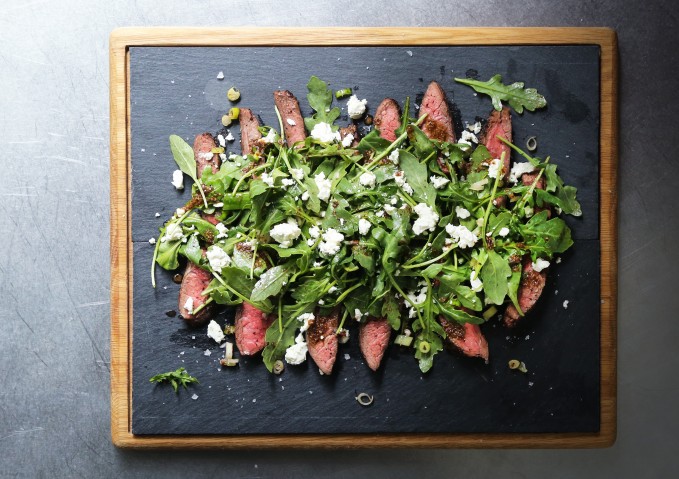 210