A simple stew recipe inspired by Jorge's Mom!
This post may contain affiliate links.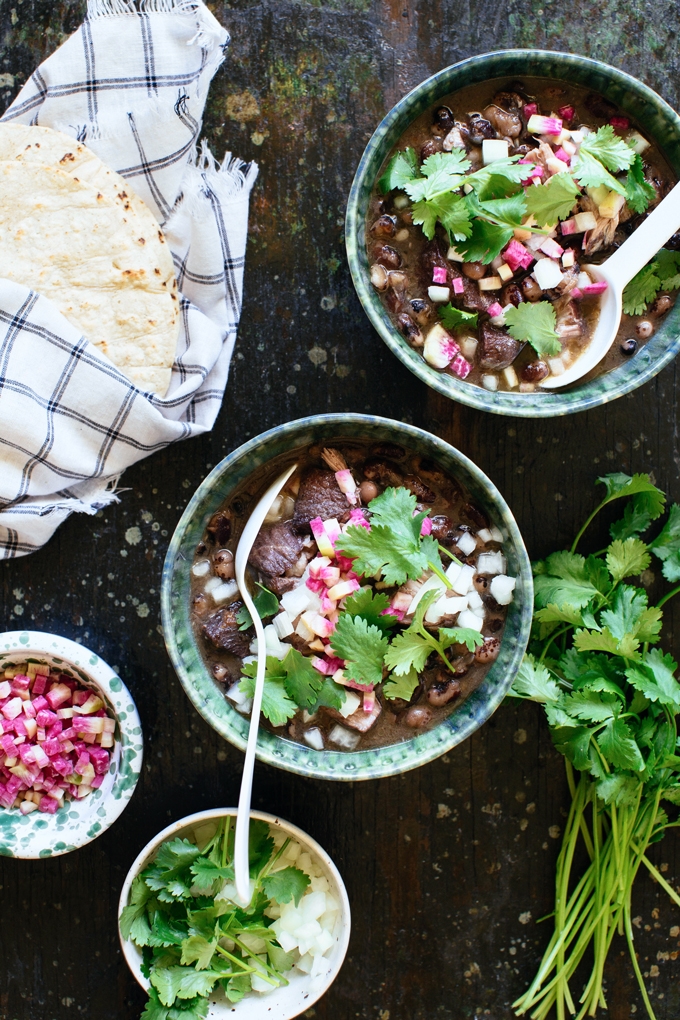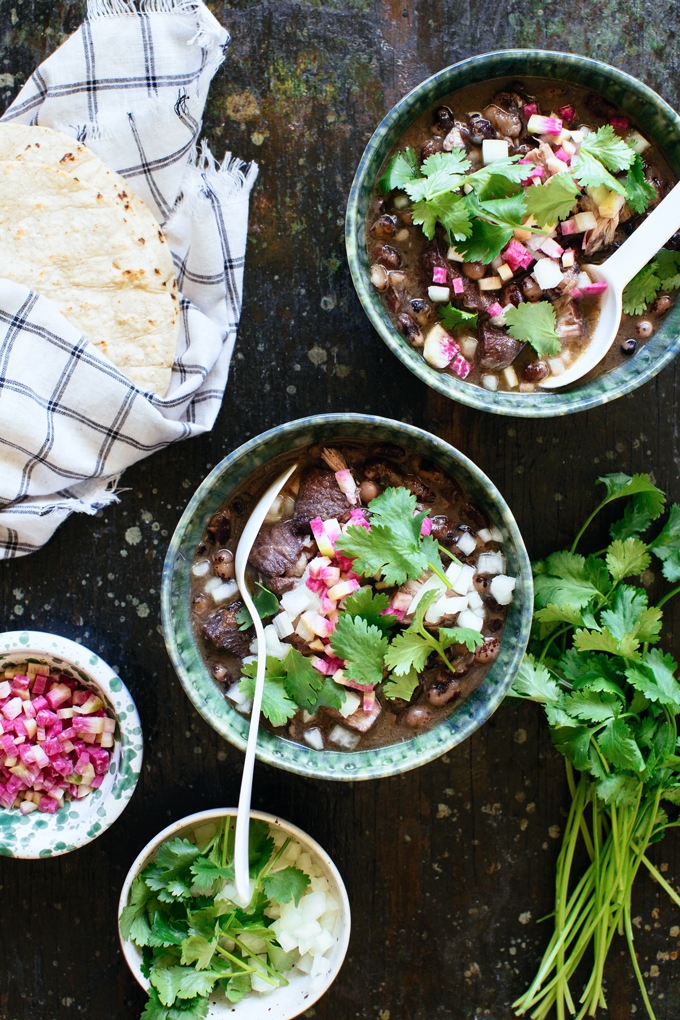 Calypso beans, speckled in black and white, are simmered slowly with golden chunks of pork shoulder, onion, garlic and fragrant bay leaf.  The finished stew is adorned with a colorful mix of chopped radish, onion and cilantro.  Lime wedges on the side add a punch of acid while warm corn tortillas round out the meal.  This fuss-free stew is prepared in a slow cooker, so you can let it simmer away while at work or overnight.  Dried beans made in a slow cooker are a real treat.  They're tender and creamy with a flavor seemingly better than canned.
Make this stew for a crowd at your next Mexican-themed party.  I always like serving an interactive meal where guests can add toppings and adjust flavors to their liking.  Continue reading for the recipe.
Bay leaves and calypso beans are not part of the original recipe provided by Jorge's Mom.  She uses regular black beans and a fresh herb called epazote.  Epazote is very common here in San Diego, but not so much in the other parts of the country, so I subbed in bay leaf for ease.  If you can find fresh epazote, definitely use it here.  I actually like the flavor even better with epazote, but this stew is still really tasty with bay leaf.
Jorge's Mom also prepares this stew in a pressure cooker.  She sautées onion and garlic in oil, then adds browned pork, salt and water.  The pork is cooked for an hour in the pressure cooker until tender.  Pre-cooked black beans and epazote are stirred in and simmered to combine flavors.  Toppings are the same.
Slow Cooker Pork and Black Bean Stew Recipe
Recipe inspired by Jorge's Mom.
Ingredients
1 1/2

pounds

boneless pork shoulder, excess fat trimmed

Kosher salt

2

tablespoons

vegetable oil

1

onion, chopped

4

garlic cloves, finely chopped

1

pound

dried black beans (Calypso beans used here), rinsed and picked over

2

fresh bay leaves or 5 fresh epazote leaves

6

cups

water
Warm corn tortillas, for serving
Toppings: chopped onion, radish and cilantro
Instructions
Cut pork shoulder into 1 1/2 to 2-inch cubes. Season generously with kosher salt. Warm oil in a large cast-iron pot over medium-high heat. I've actually got an All-Clad Delux Slow Cooker with removable cast-iron insert, so I just use that. Brown pork in batches, making sure you don't crowd the pan. Browning just 2 sides is sufficient, and transfer to a plate when finished. This should take 8 to 10 minutes per batch.

Add onion and garlic to the hot oil with a pinch of salt, and cook, stirring occasionally, until tender and fragrant (4 to 5 minutes). Stir in the dried black beans, bay leaves (or epazote), water and browned pork. Bring the mixture to a boil, then take off the heat. If you're using a slow cooker insert, simply transfer the insert to the slow cooker. If you're using a cast-iron pot, transfer the contents to a slow cooker. Cook on low until the beans and pork are tender (6 to 8 hours). During the last hour of cooking, season to taste with kosher salt (I added about 2 1/2 teaspoons).
To serve, ladle soup into a bowl, then top with chopped onion, radish and cilantro. Serve with lime wedges and warm corn tortillas.
Tried this recipe?
Tag @brandiego on Instagram so I can check it out!
Here are some other soup and stew recipes on Kitchen Konfidence: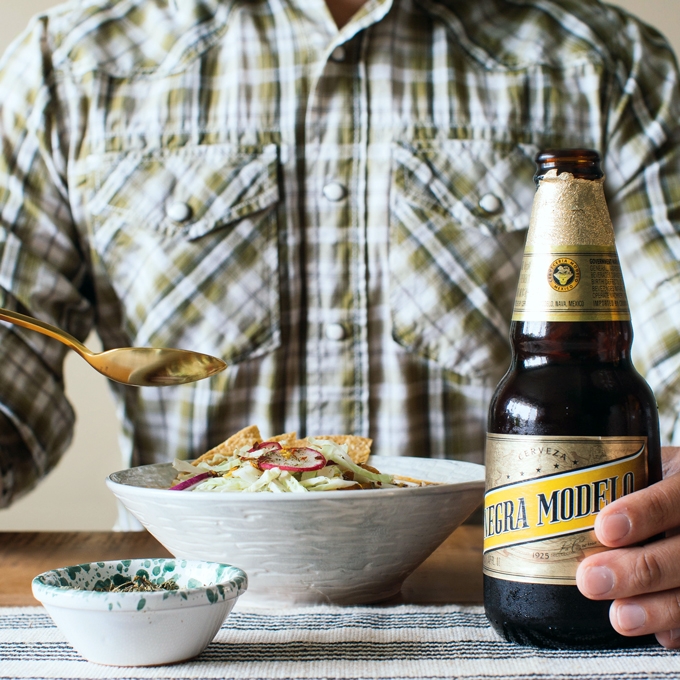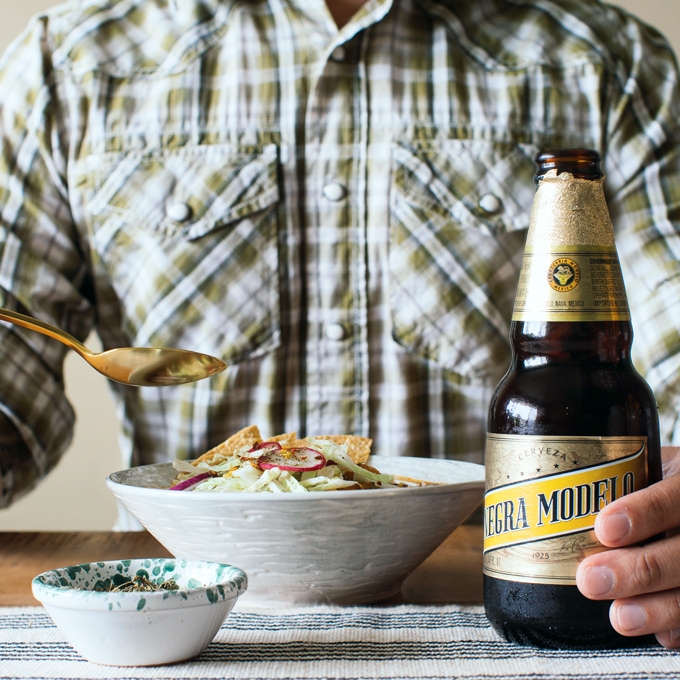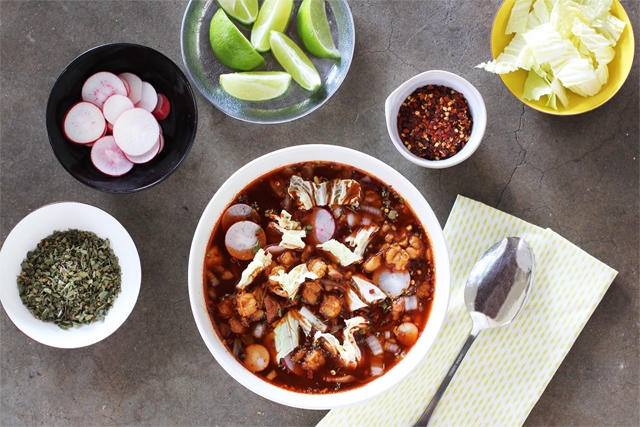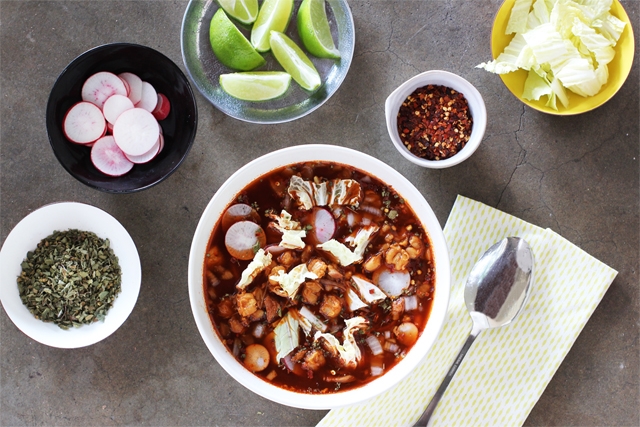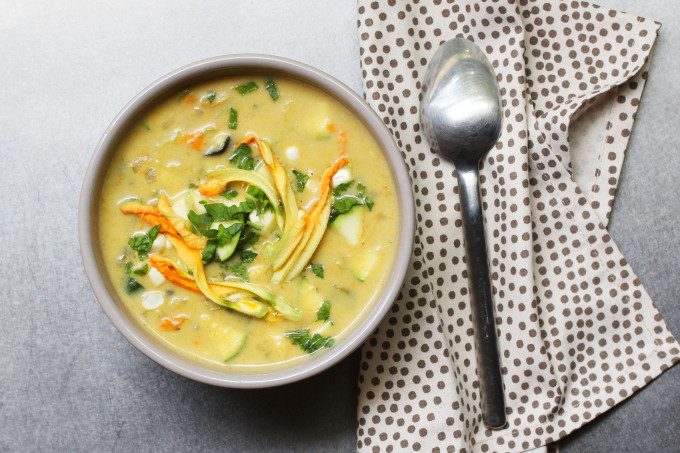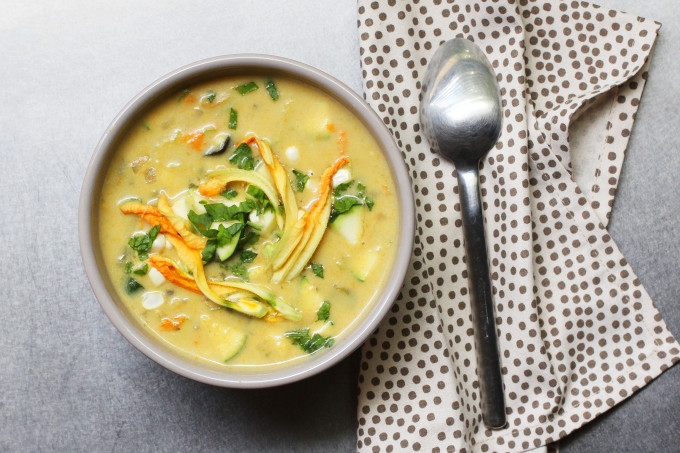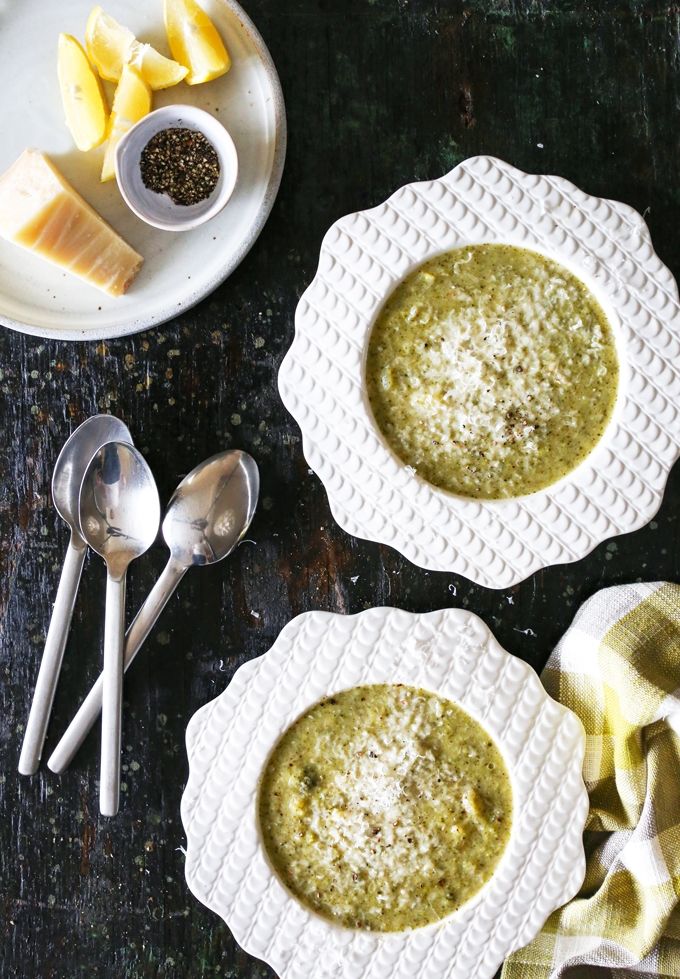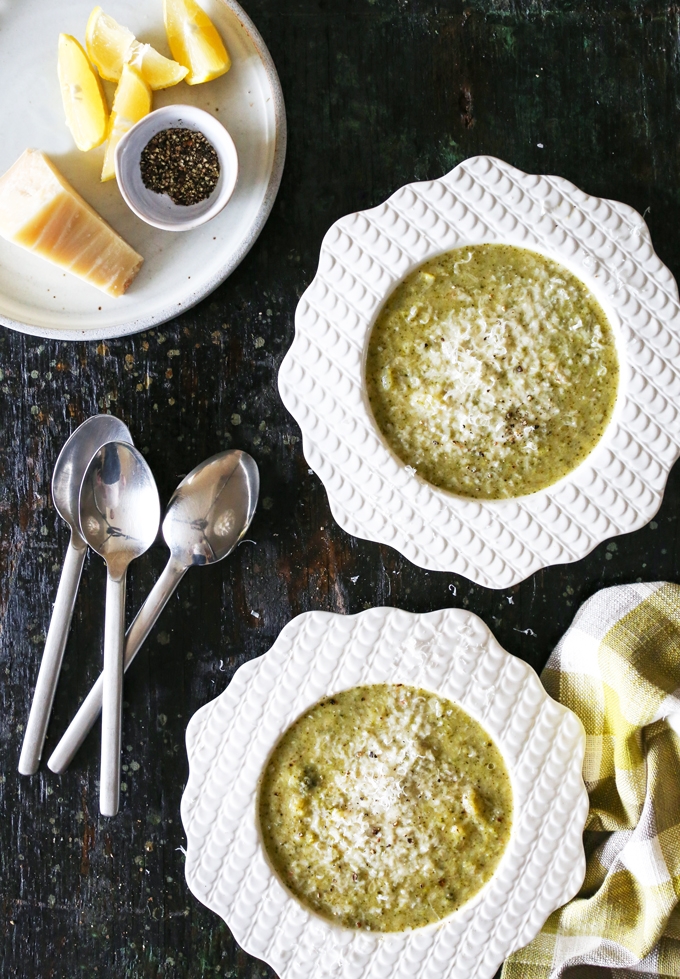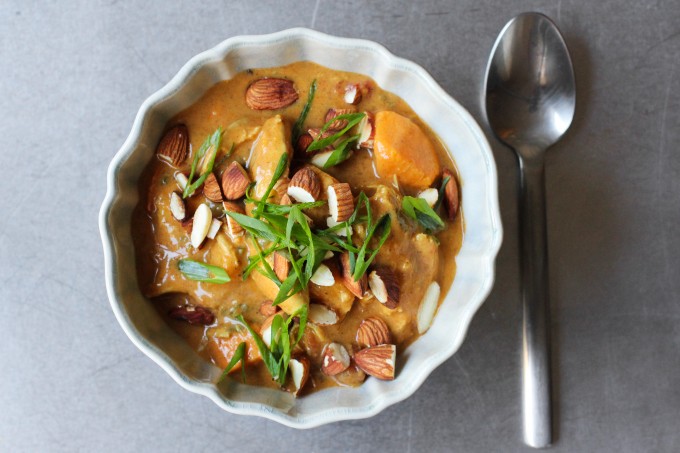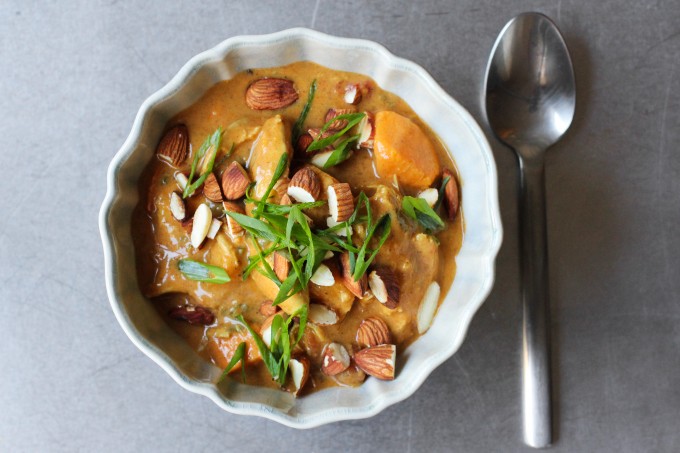 15