I've been particularly smitten recently with the combination of grapefruit and jalapeño. A couple of weeks ago, I showed off this pairing with vodka and St. Germain. This week, it's tequila and basil.
This post may contain affiliate links.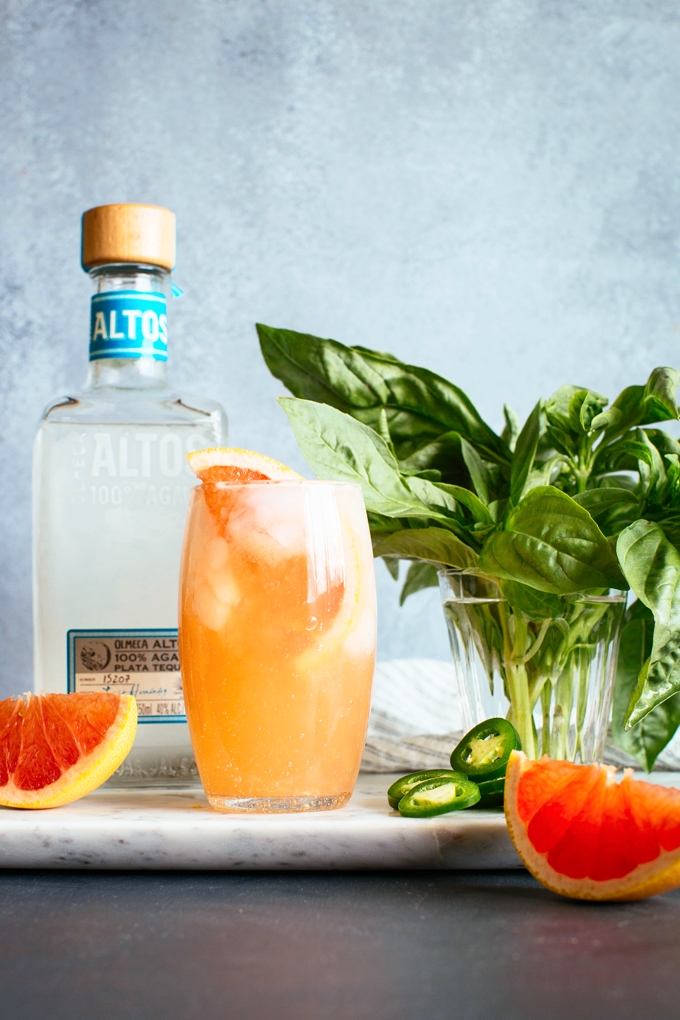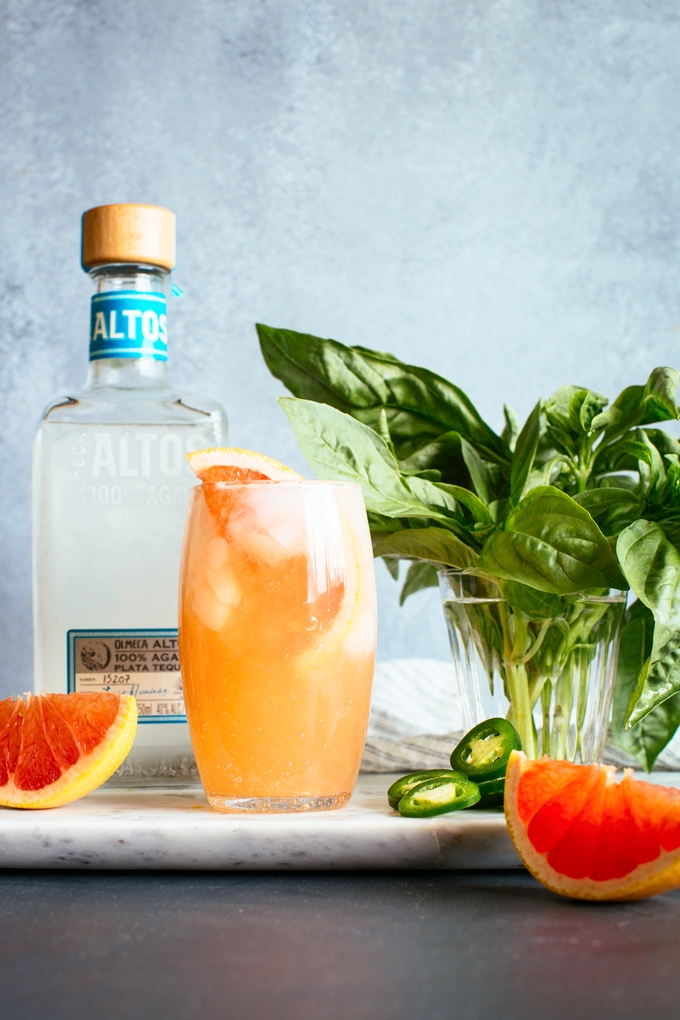 The Paloma cocktail in its simplest form is just tequila, grapefruit soda (usually Squirt) and a lime wedge for garnish. Here, I'm taking things to the next level with muddled jalapeño and basil, lime juice, simple syrup, fresh pressed grapefruit and fizzy water to finish. Small quantities of basil and jalapeño provide interesting notes of anise and spice while the tart freshness of grapefruit takes center stage.
I've partnered with Olmeca Altos Tequila on this cocktail, and their Altos Plata Tequila is a perfect pairing here. Bright, citrusy and fruity, Altos Plata is a smooth, silver tequila infused with the herbaceous aroma of cooked agave. The citric and herbal notes of the tequila compliment the grapefruit, basil and jalapeño, resulting in a damn tasty beverage. Continue reading for my Spicy Paloma recipe.
Palomas can be enjoyed year-round, but they're especially delicious right now when citrus season is in full effect. In my previous grapefruit cocktail recipe, I featured the sweeter Oro Blanco varietal. Here, I'm using a local Ruby Red grapefruit that's got a good balance of sweet and tart.
Freshly muddled jalapeño adds a nice hit of spice to this cocktail. Try not to go overboard with the spice though as it can overpower the nuanced flavors of the basil and tequila. Given that jalapeños can vary in heat, I would recommend you start with 1 to 2 thin slices of jalapeño. If the spice is a too mild or not noticeable, muddle an additional slice into your next beverage!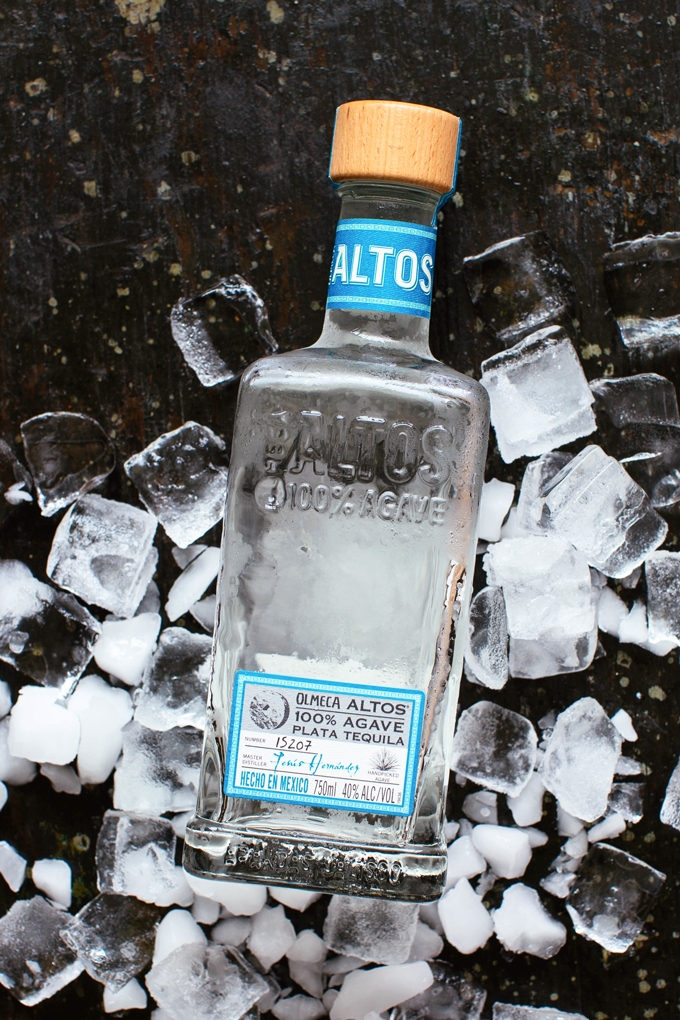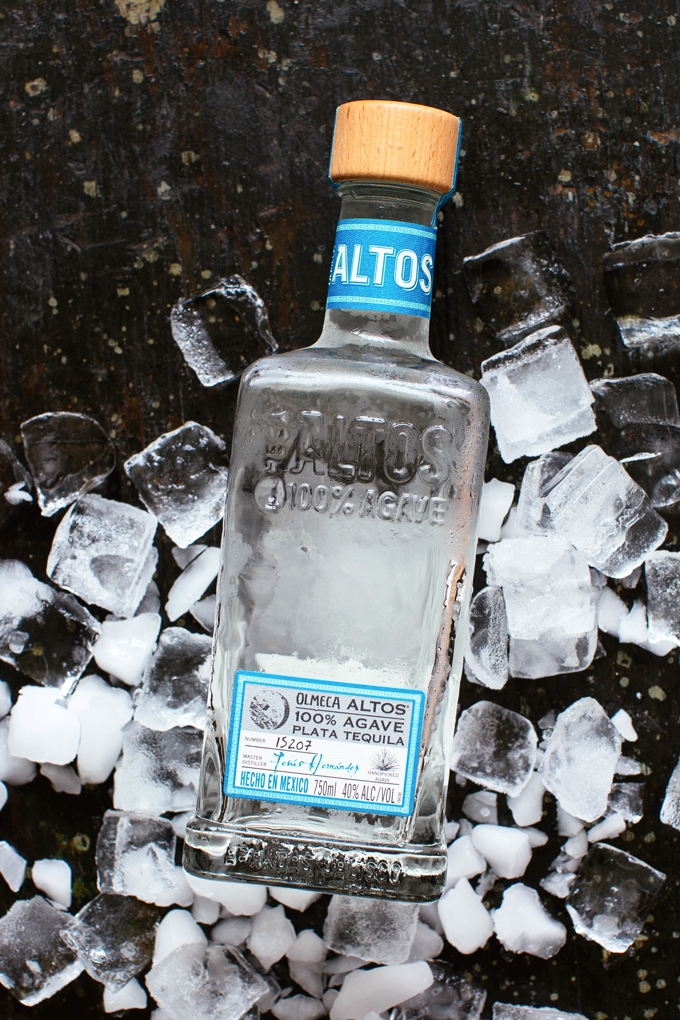 Spicy Paloma Recipe
Ingredients
2

basil leaves

1– 2

thin slices of jalapeño*

1

grapefruit wedge with skin

Juice of 1/2 lime

1/2

ounce

simple syrup**

2

ounces

Olmeca Altos Plata Tequila

3

ounces

fresh grapefruit juice

Chilled soda water, to top off
1 grapefruit wedge, for garnish
Instructions
Place basil, jalapeño slice(s) and grapefruit wedge in a cocktail shaker, and gently muddle to release oils and flavors. Add lime juice, simple syrup, tequila, grapefruit juice and ice. Cap the shaker, and shake until well chilled. Strain into a tumbler filled with ice, then top off with soda water. Stir to combine. Garnish with a grapefruit wedge.
Notes
* Jalapeño is used here to add subtle spice, so don't go overboard with the heat. Jalapeños can vary in spice level, so start with just 1 to 2 thin slices. If you really can't taste the heat, muddle in an additional slice in the next drink.
** Simple syrup is made by warming up equal parts sugar and water, and stirring until the sugar is dissolved. Recently I've been making this in the microwave! But you can also easily prepare on the stovetop.
Tried this recipe?
Tag @brandiego on Instagram so I can check it out!
This post was written in partnership with Olmeca Altos Tequila. All thoughts, opinions and recipes are my own.  Connect with Olmeca Altos Tequila on Facebook, Instagram and Twitter.
8