Hello friends and Happy Wednesday!!  I've got two treats to share with you today.  The first is a 5-ingredient warm corn salad that would be perfect for a Memorial Day barbecue.  Well, any barbecue really.  The second is a GIVEAWAY!  The All-Clad d5 All-in-One Pan is my new favorite kitchen goodie, and I'm giving one away below.
This post may contain affiliate links.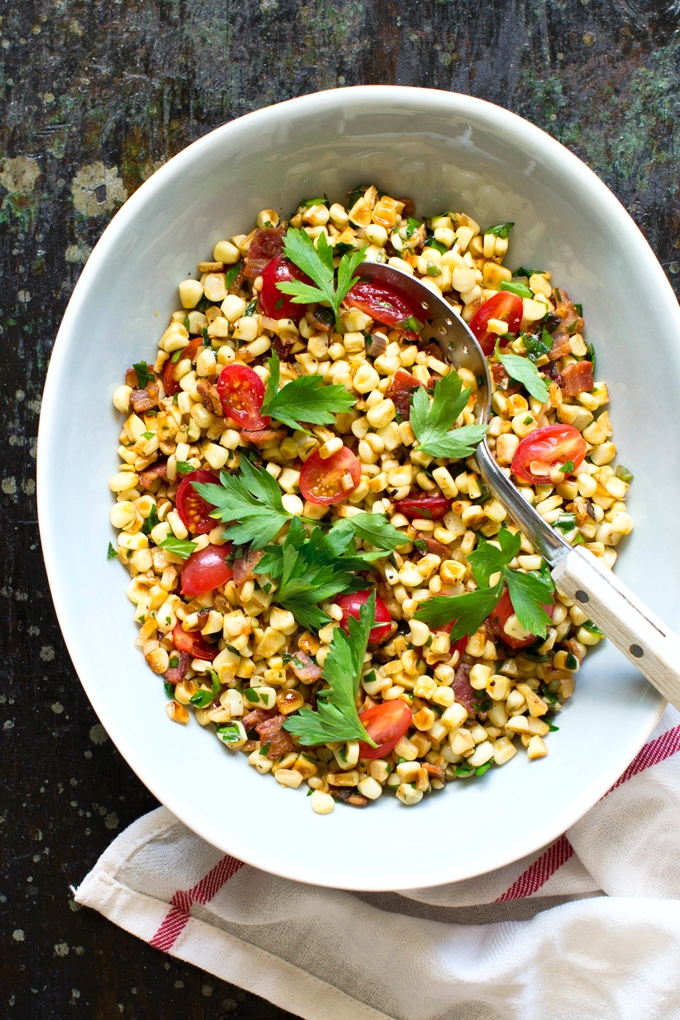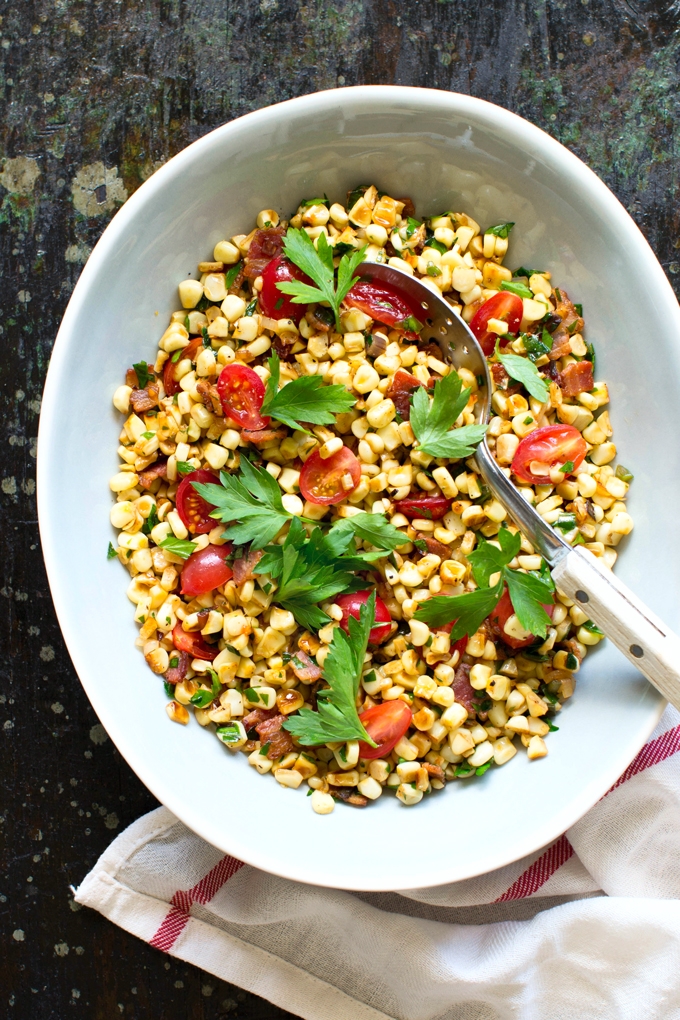 Corn salads are a frequent addition to my summer dinner table.  They're simple to prepare, easy to switch up and irresistibly delicious.  A few weeks ago, I shared this Mexican Grilled Corn Salad, but today, I'm going with a more American flavor profile.  Fresh yellow corn kernels are sautéed in bacon fat until tender and golden, then tossed with cherry tomatoes, ramps, crisp bacon and chopped parsley.  Ramps, a seasonal favorite of mine, are like green onions on steroids (photo below).  The white part is cooked in with the corn, and the greens are chopped up and mixed in at the end.  If you can't find ramps in your local market, you can use scallions instead.  The finished corn salad can be enjoyed warm or at room temperature, and can sit out for a while since there's no dairy involved.  Continue reading for the recipe plus giveaway details!!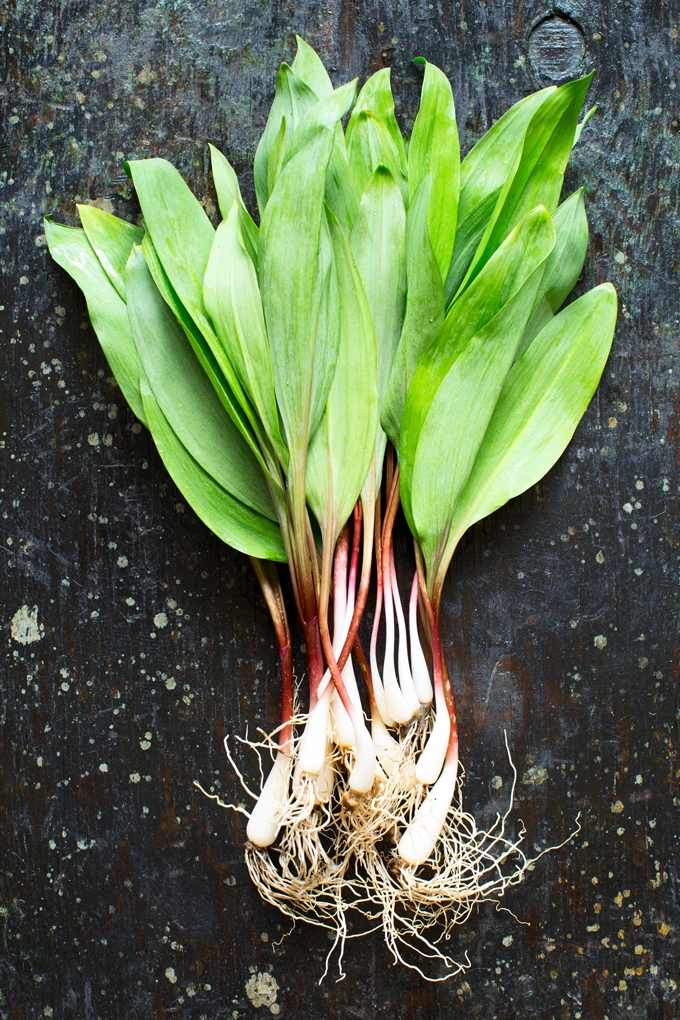 For the longest time, I was in the market for a braiser-style pan, so when All-Clad offered to send me the d5 All-in-One Pan, I jumped at the chance.  I've been cooking with it for several weeks, and I'll have to say that this pan is a beauty.  It's got a wide base and shallow, straight sides, making it perfect for searing, sautéing and braising.  The All-in-One Pan can easily go from stovetop right into the oven too.  I recently made this Pan Seared Chicken with Harissa Chickpeas using the All-in-One Pan, and it turned out wonderfully.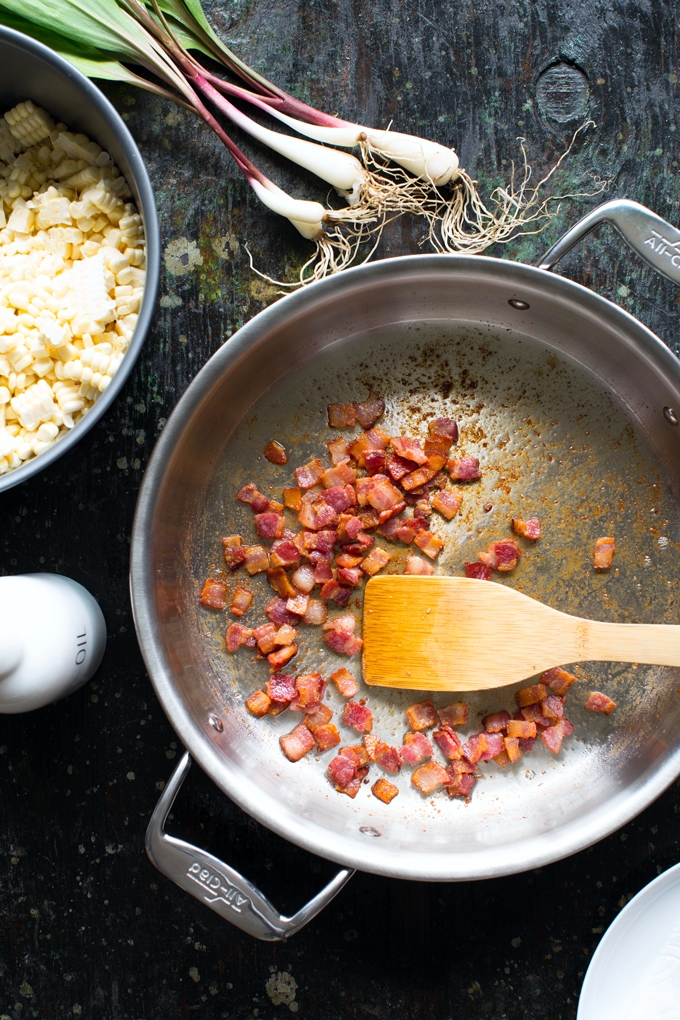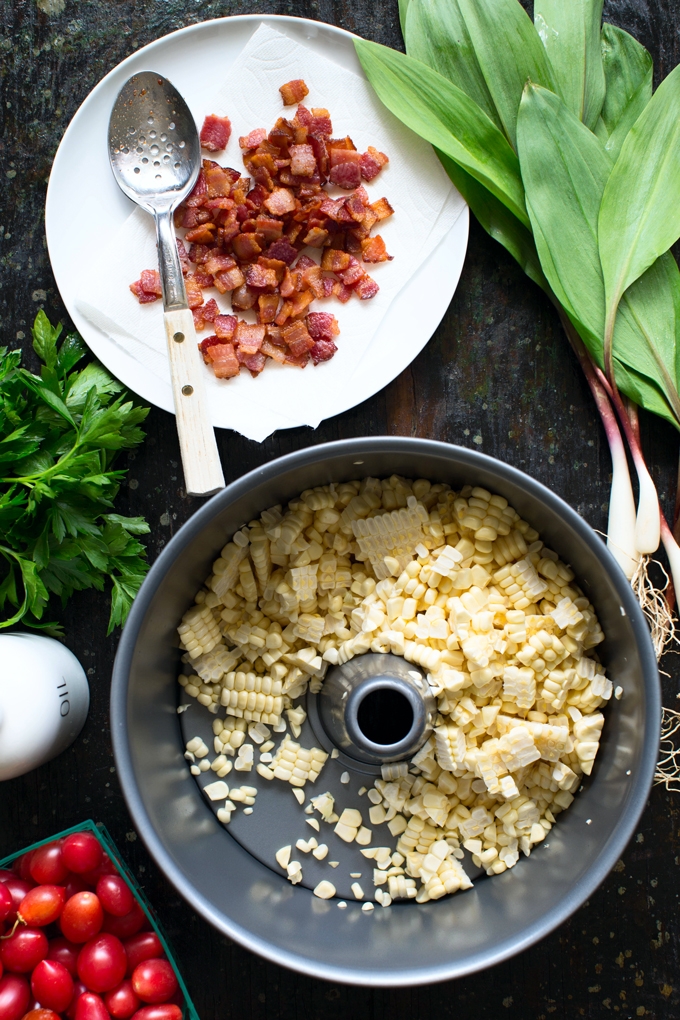 I've got a brand new All-Clad d5 All-in-One Pan available for giveaway.  US residents can enter for a chance to win below!  Giveaway ends 6/3/2016.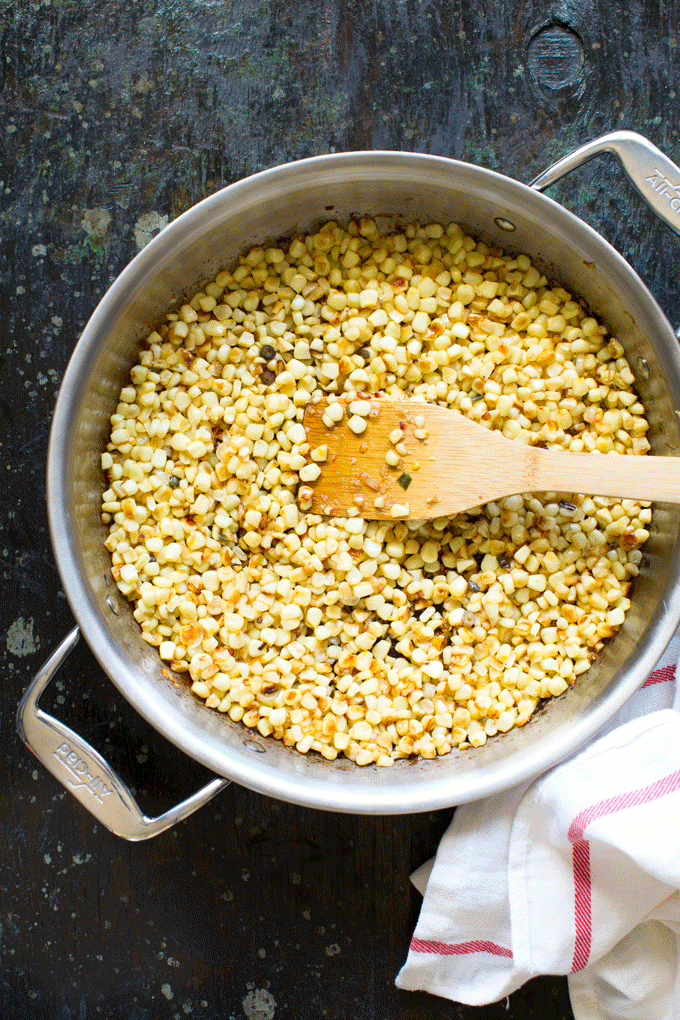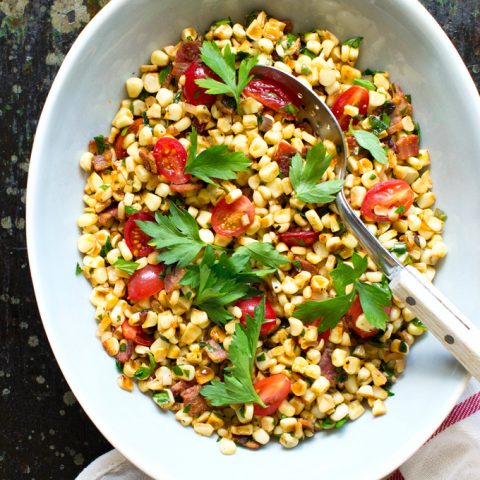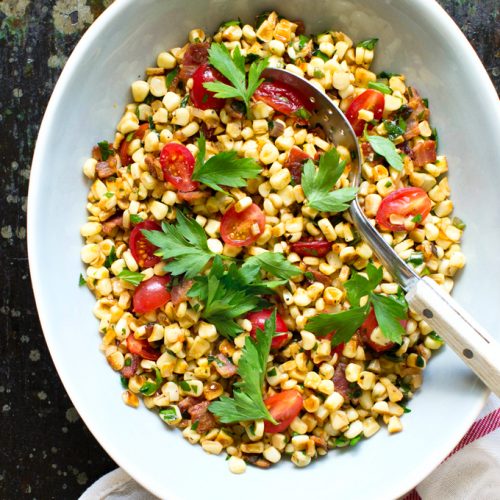 Warm Corn Salad with Bacon and Ramps
Ingredients
4

thick-cut slices of bacon, chopped

Olive oil

4

ears of corn, husks and silks removed

4

ramps, root ends trimmed, white and green parts separated (you can also use scallions here)

Kosher salt

3/4

cup

halved cherry tomatoes

2

tablespoons

chopped parsley

Freshly ground black peppper
Instructions
Add bacon to a large pan (I used my All-Clad d5 All-in-One Pan) with a drizzle of olive oil, and cook over medium heat until just crispy (12 - 15 mins). Using a slotted spoon, transfer bacon to a paper towel-lined plate. While the bacon is cooking, cut the corn off the cob into a large bowl (I like to do this in an angel food cake pan). Also, slice the white part of the ramps and chop up the greens (you should have a scant 1/2 cup chopped greens).

Drain off all but 2 tablespoons of fat. Return pan to medium-high heat, then add the corn, sliced ramps (the white part), and a few pinches of salt. Cook, stirring every 2 minutes, until the corn starts to turn golden brown (about 8 minutes total). Try not to move the corn around too much. Let to cook undisturbed for 2 minutes, then stir.

Take the pan off the heat, then stir in chopped ramps (the green part), tomatoes, reserved bacon and chopped parsley. Season to taste with salt and pepper. Serve warm or at room temperature. A squeeze of fresh lime juice is nice here as well!
Tried this recipe?
Tag @brandiego on Instagram so I can check it out!
I was provided an All-Clad d5 All-in-One Pan to test out, and an additional pan to give away to one  Kitchen Konfidence reader.  All thoughts, opinions and recipes are my own.
Planning a Memorial Day bash this weekend?  Here are some other fun recipes: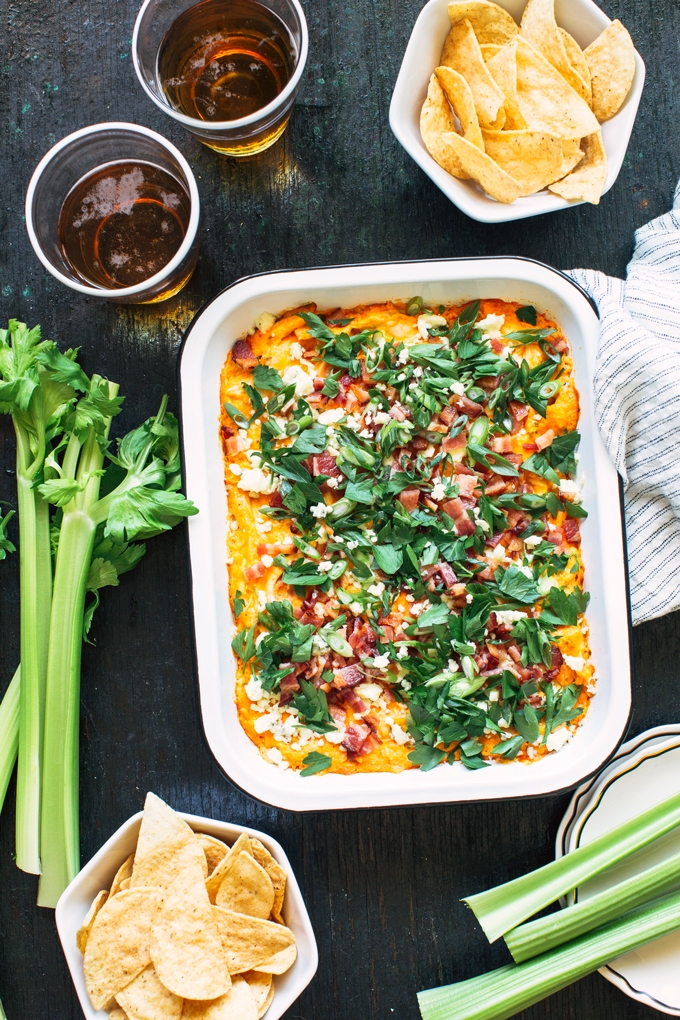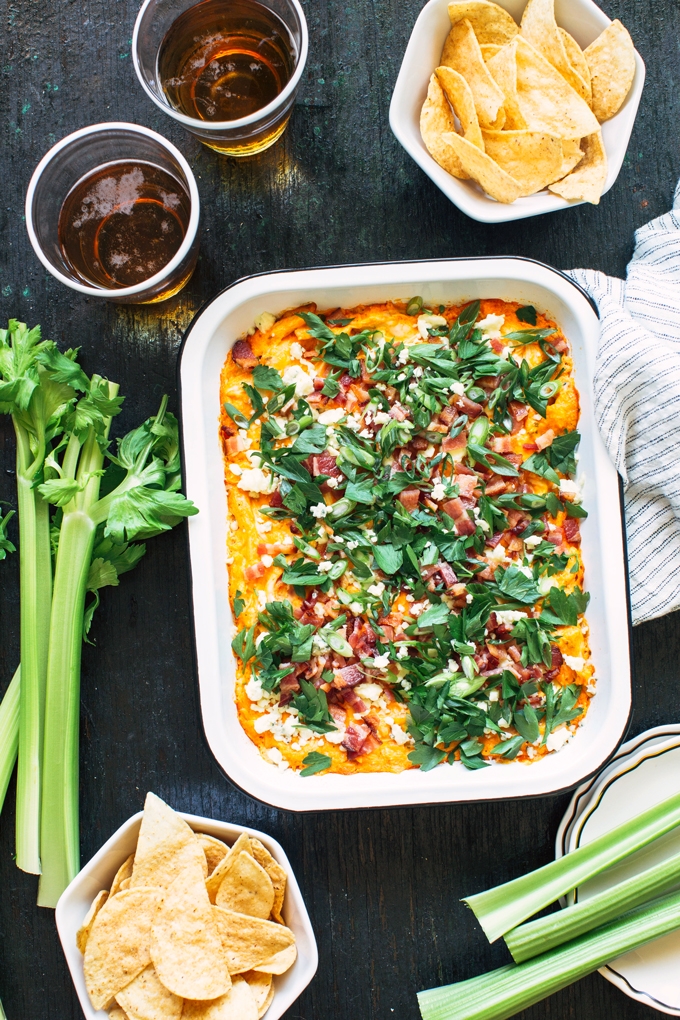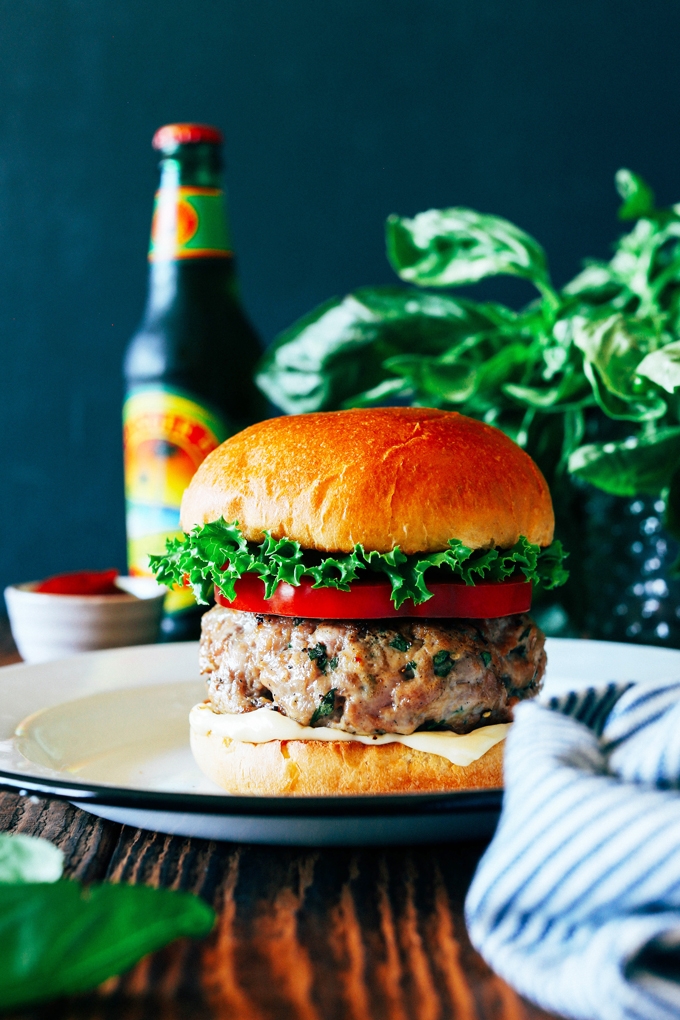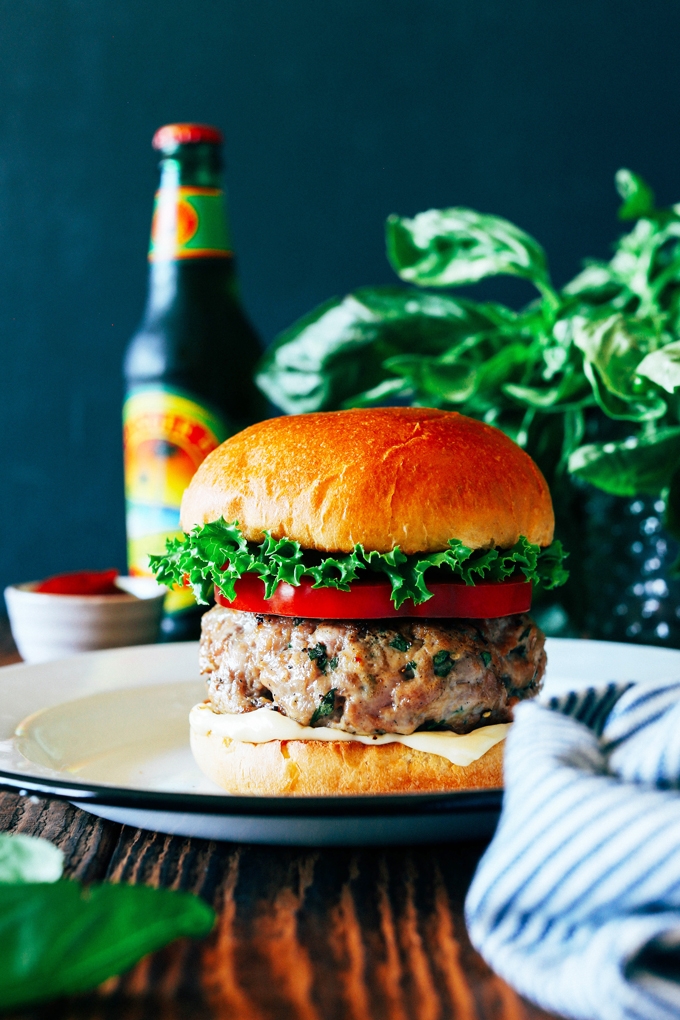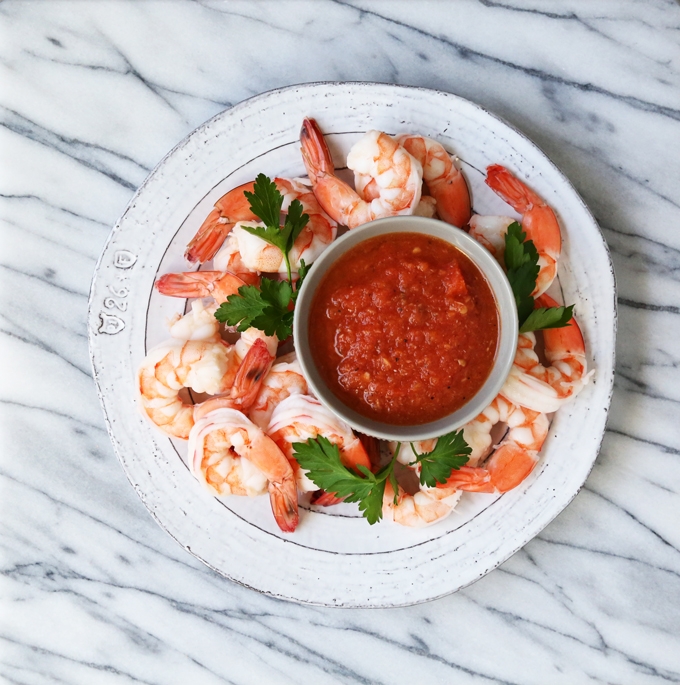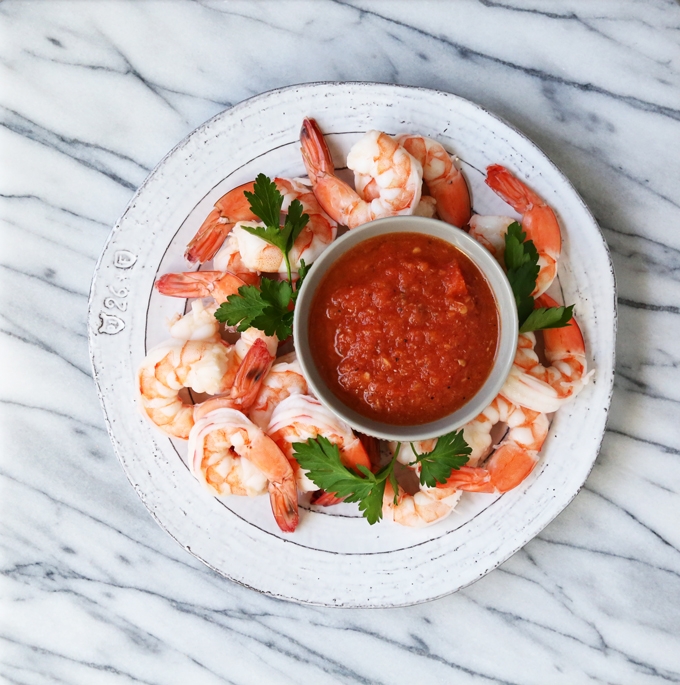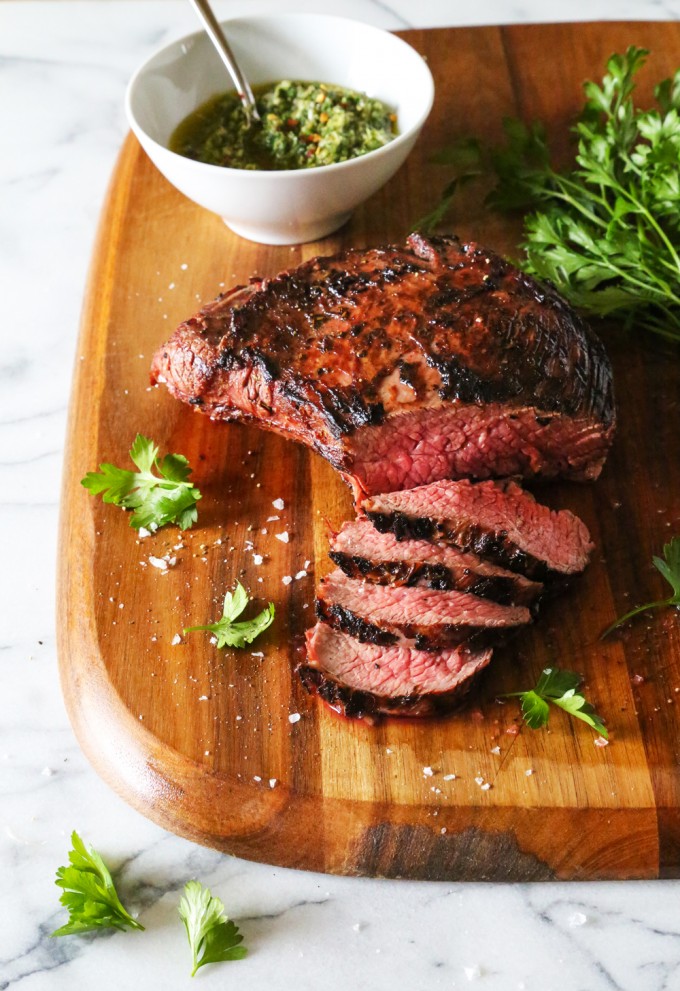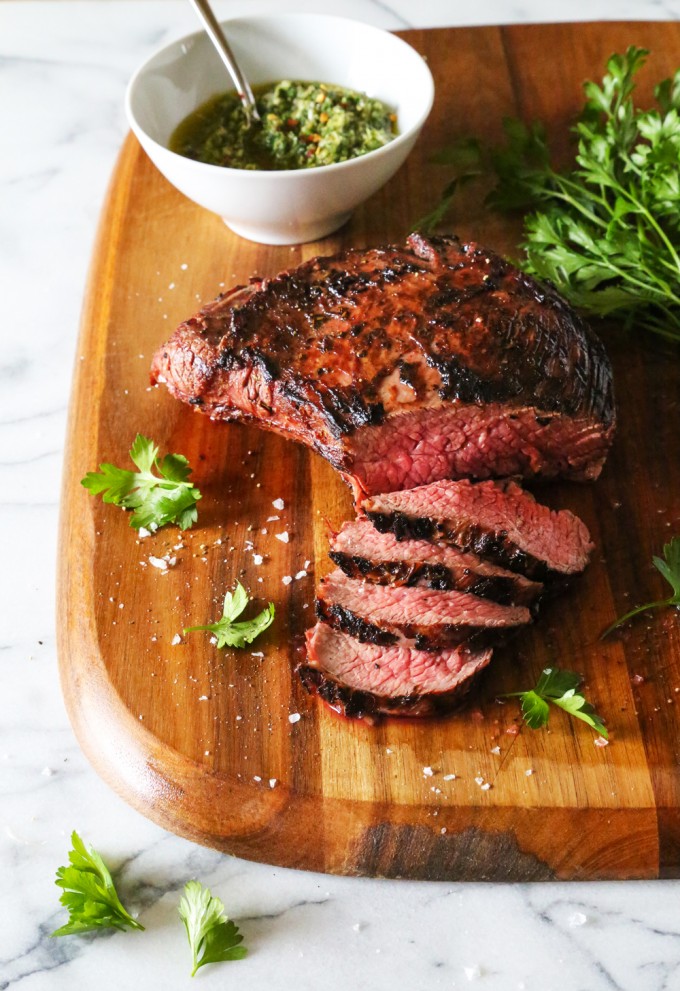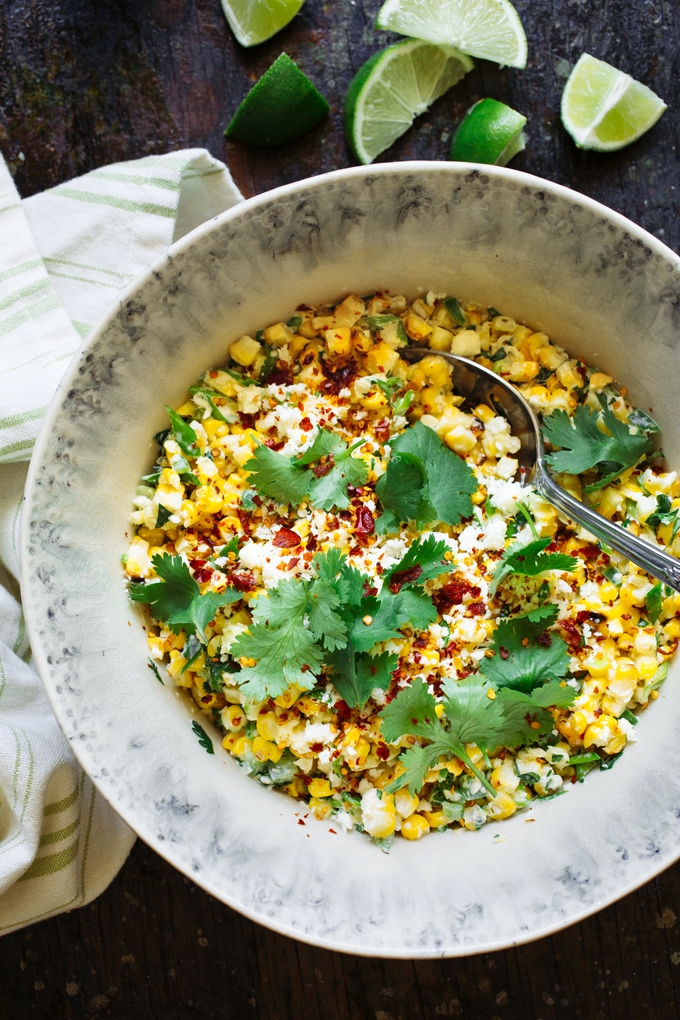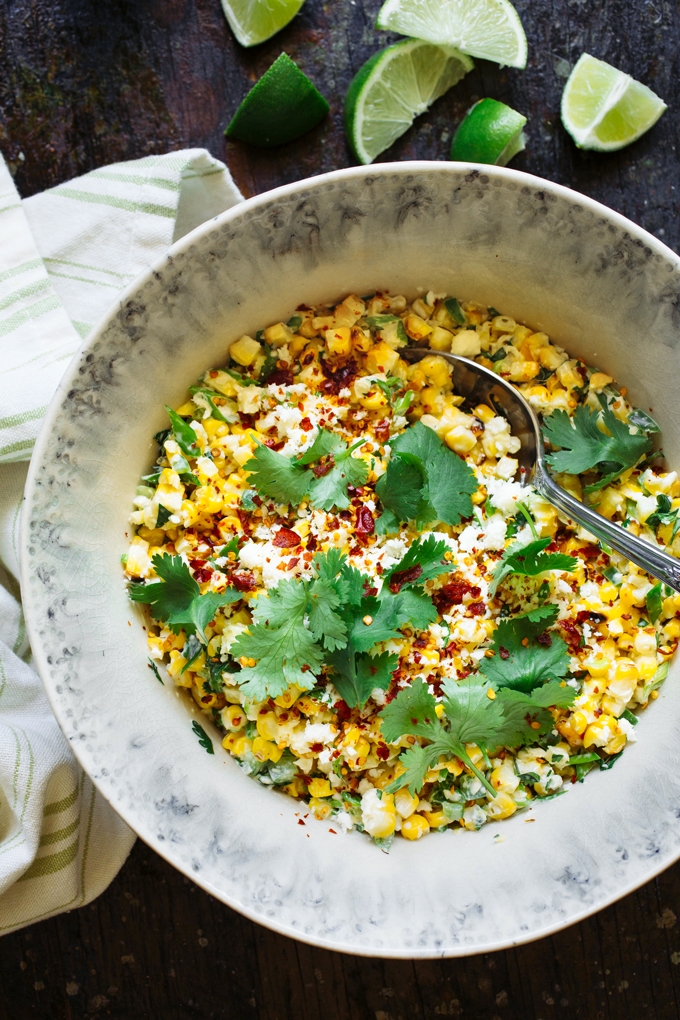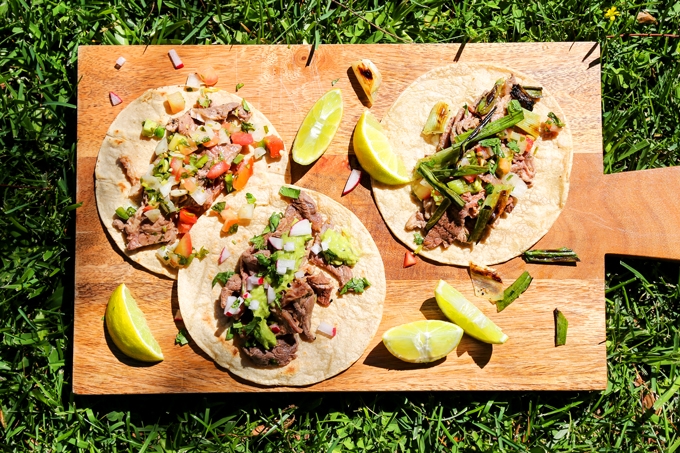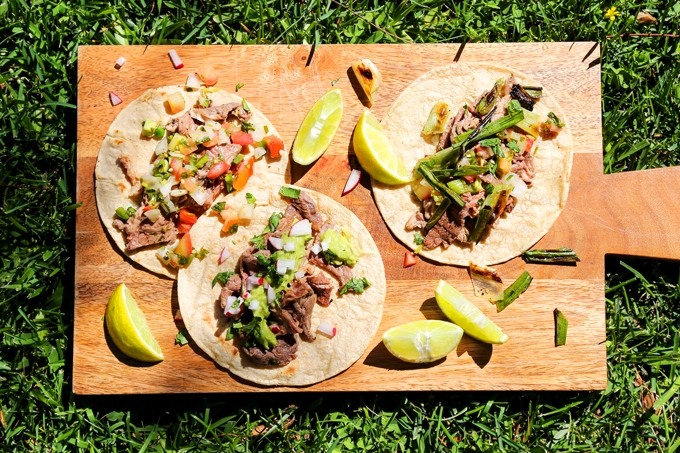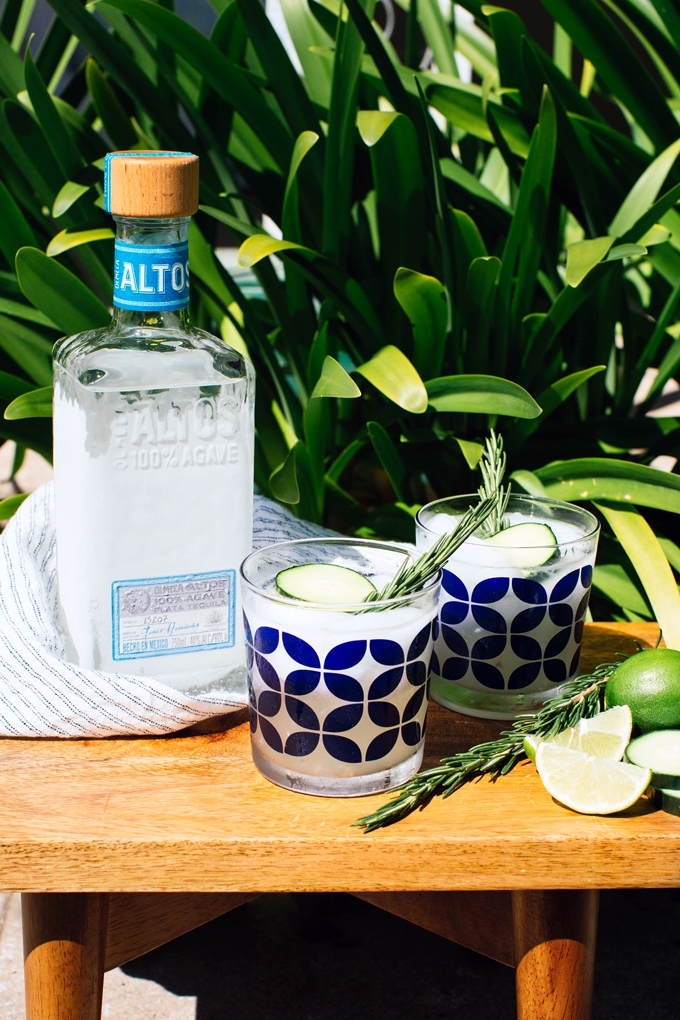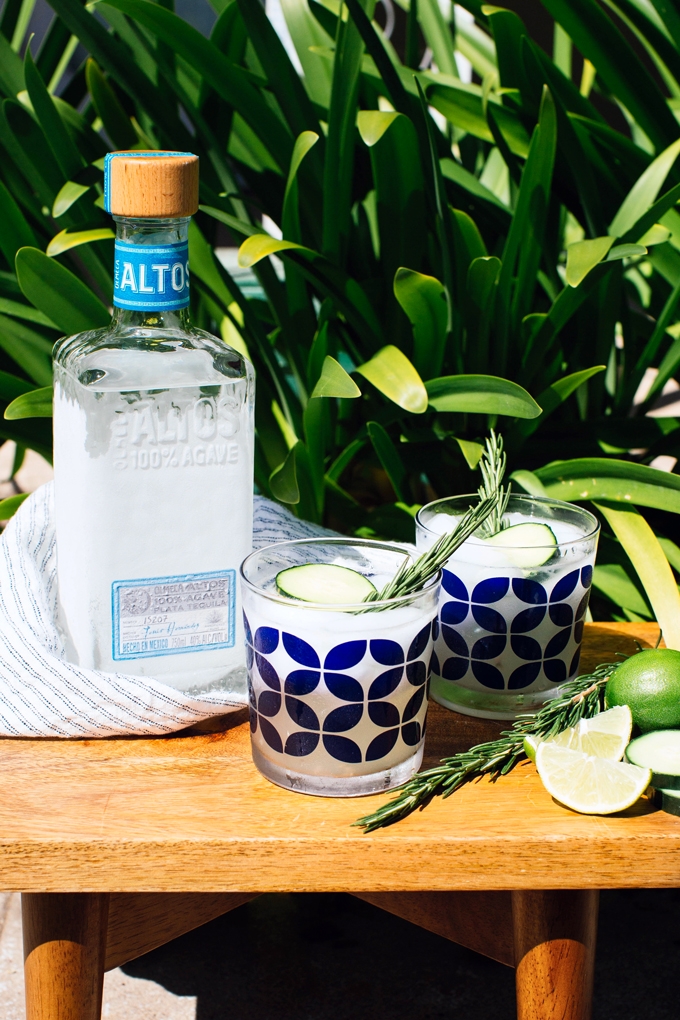 8