You guys, did you know that Popsicle Week 2016 is happening right now?!
This post may contain affiliate links.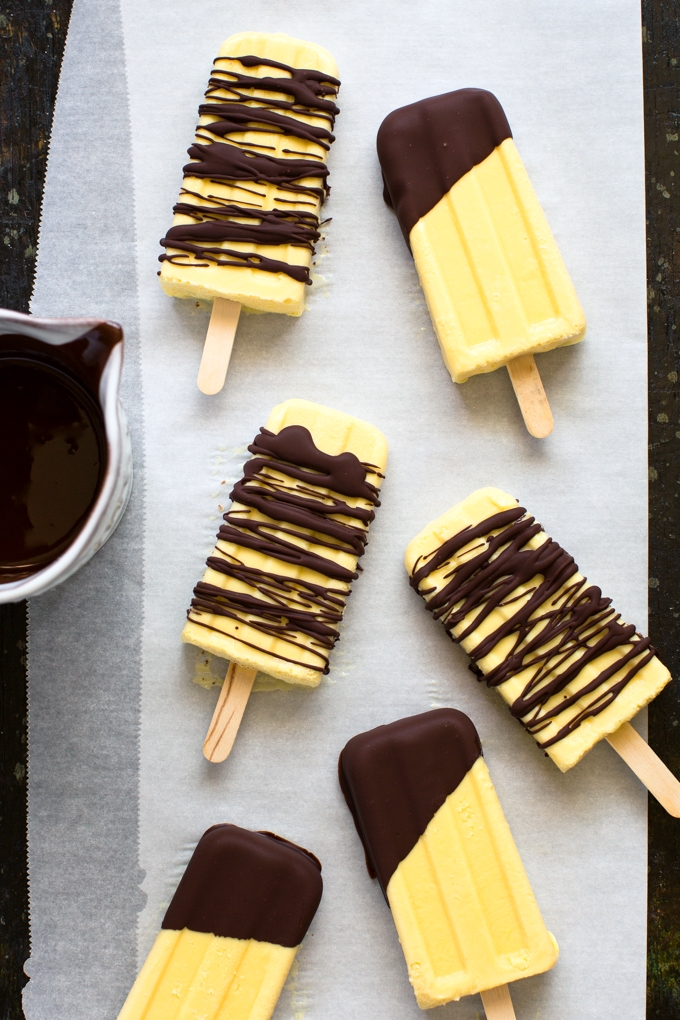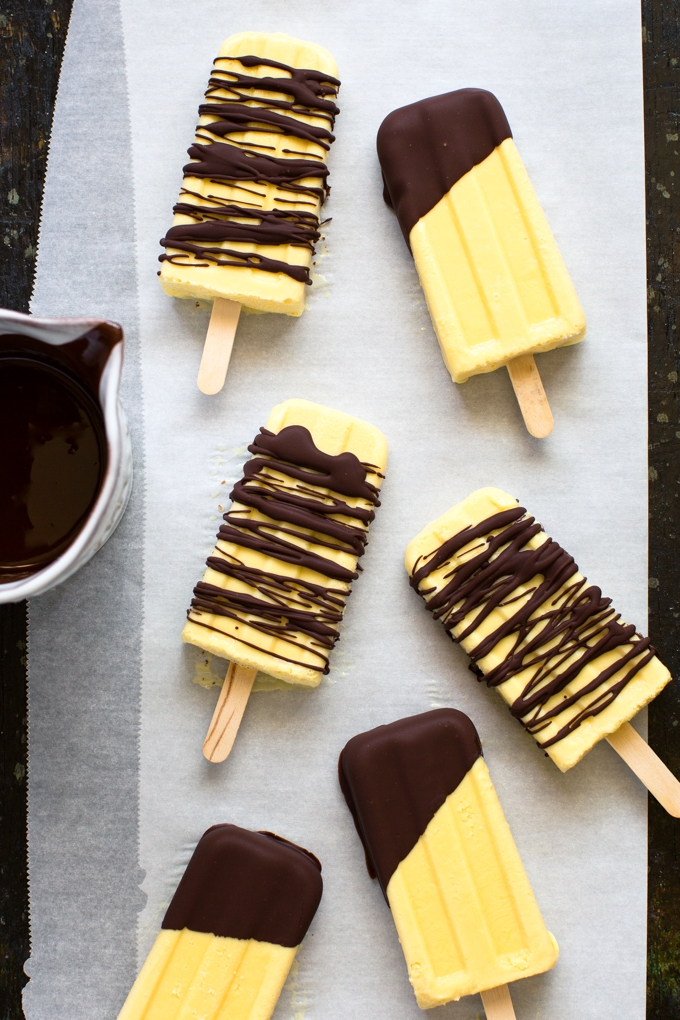 Billy from Wit & Vinegar has been hosting Popsicle Week since 2013, and this year, I'm joining in with these Chocolate Passion Fruit Pops!  All throughout the week, 50+ bloggers will be sharing fun popsicle recipes perfect for the summer months ahead.  I can't wait to see what everyone comes up with 🙂  I'll be sharing some of my favorites below.
This popsicle recipe starts with an orange-hued custard flavored with tangy passion fruit and aromatic Nielsen-Massey vanilla.  The richness of the egg custard helps to balance the vibrant tartness of the passion fruit while the vanilla adds an interesting back note.  These pops are delicious as-is, but I've paired them with some homemade dark chocolate magic shell to take things to the next level.
Chocolate magic shell, a simple mix of melted chocolate, coconut oil and vanilla, is soft at room temperature, but hardens instantly when it hits something cold.  The combination of dark chocolate and passion fruit is a pure delight.  If you've never experienced it, you must try these pops.  Continue reading for the recipe.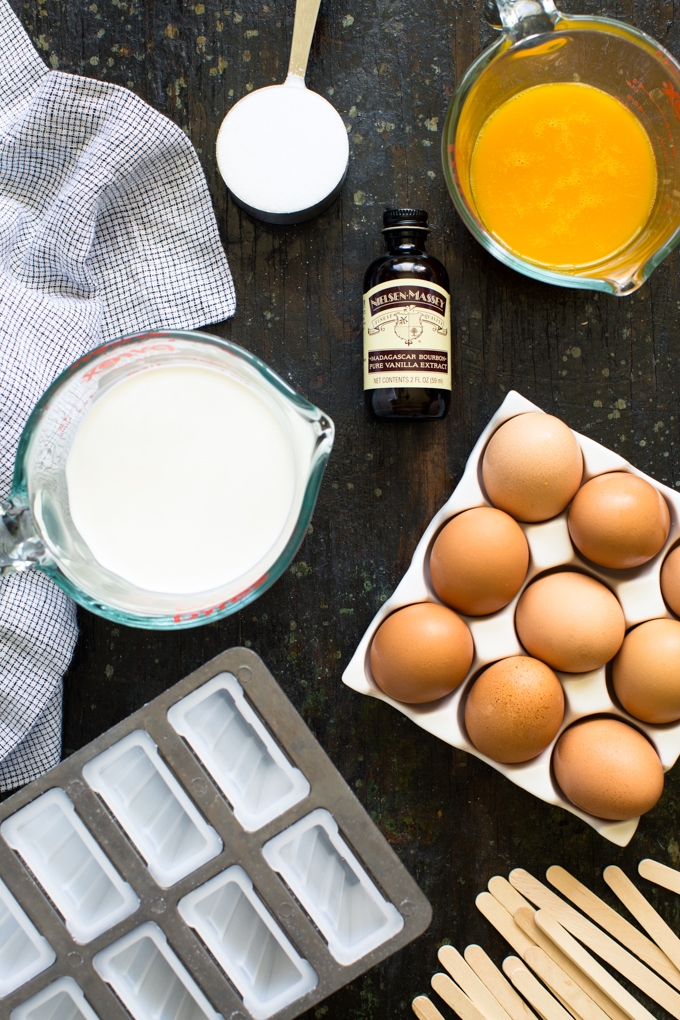 The passion fruit flavor in these pops comes from a high quality frozen concentrate.  Normally, I prefer using fresh fruit, but passion fruits can often be hard to find and expensive when you do find them!  The frozen concentrate simply needs to be diluted with water (1:1 ratio), and then it's ready to go.  The taste is very similar to fresh passion fruit, and it's much easier and cheaper to work with.  If you'd like to use fresh passion fruit here, you'll need about 8 to 10 fruits.
Along with passion fruit, the other main flavor here is Nielsen-Massey Madagascar Bourbon Vanilla Extract.  This sweet, rich vanilla adds some depth of flavor to these cream pops, and pairs perfectly with both passion fruit and chocolate.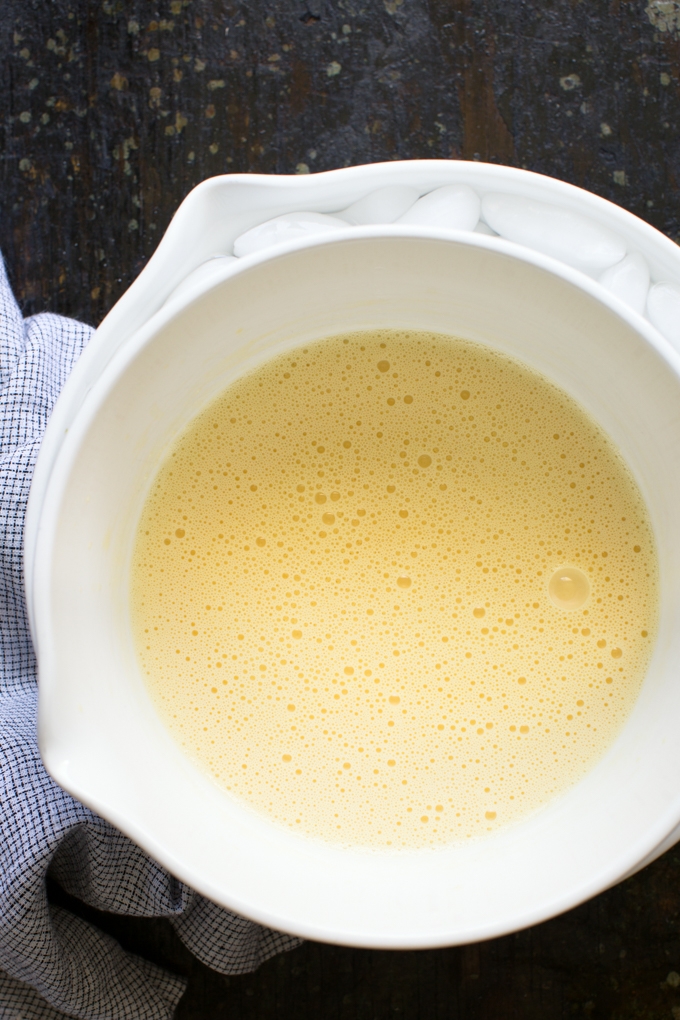 Here are some of my favorite pops so far from Popsicle Week 2016:
These Chocolate Passion Fruit Popsicles (plus others above) would be a perfect dessert for you next backyard BBQ.  This recipe makes 8 pops, so make a double batch if you're expect a big crowd!
Chocolate Passion Fruit Popsicles Recipe
Ingredients
For the dark chocolate magic shell:
Instructions
Prepare an ice bath in a large bowl and have a strainer ready. Whisk together passion fruit puree and 1/2 cup half and half in a medium bowl and set aside.

Heat remaining half and half and sugar in a saucepan over medium-low heat, stirring to dissolve the sugar. Remove from heat once you see steam rising from the surface and the mixture is completely heated through. Meanwhile, whisk egg yolks in a bowl until slightly thickened. Slowly, while whisking, add 1/2 cup of the warm half and half mixture to the yolks. Once the 1/2 cup is incorporated, whisk in the remaining half and half mixture. Return the half and half-yolk mixture to the saucepan, and cook over medium heat, stirring constantly with a wooden spoon. You will know the custard is thick enough when you see steam rise from the surface and the custard coats the spoon (about 5 minutes). Strain the custard into the bowl with the passion fruit puree. Stir to combine.

Add the vanilla extract to the custard mixture and stir. Place the bowl in the prepared ice bath and stir occasionally to cool (be sure not to get any water in your custard mixture). Refrigerate until chilled, then pour evenly into an ice pop mold (I used this one). Freeze until solid.

While the pops are freezing, make the chocolate magic shell. Melt chocolate in a small bowl set over a pan of simmering water. Stir in the coconut oil and vanilla extract until incorporated. Let cool before using. Store at room temperature.

To serve, dip the cold pops in the chocolate shell or drizzle the pops with chocolate. As soon as the chocolate hits the cold pops, it will harden. Enjoy immediately!
Notes
* I used a high quality frozen passion fruit concentrate here. To use this product, dilute the concentrate with water (1:1 ratio), then measure out for the recipe. If you'd like to use fresh passion fruit, you'll need 8 to 10 fruits. Passion fruit can be hard to find and often expensive when you do find them, so I'd recommend getting a contain of the frozen puree. It lasts a long time, and the flavor is just as good.
Tried this recipe?
Tag @brandiego on Instagram so I can check it out!
This is a sponsored post, written by me, and created in partnership with Nielsen-Massey. All recipes, thoughts and opinions are my own. I've actually got a number of other Nielsen-Massey products in my spice drawer, including vanilla extract, almond extract and vanilla paste, and I'd highly recommend them all!  Be sure to check out Nielsen-Massey on Twitter, Facebook, and Pinterest for product updates, recipe ideas, special events and more!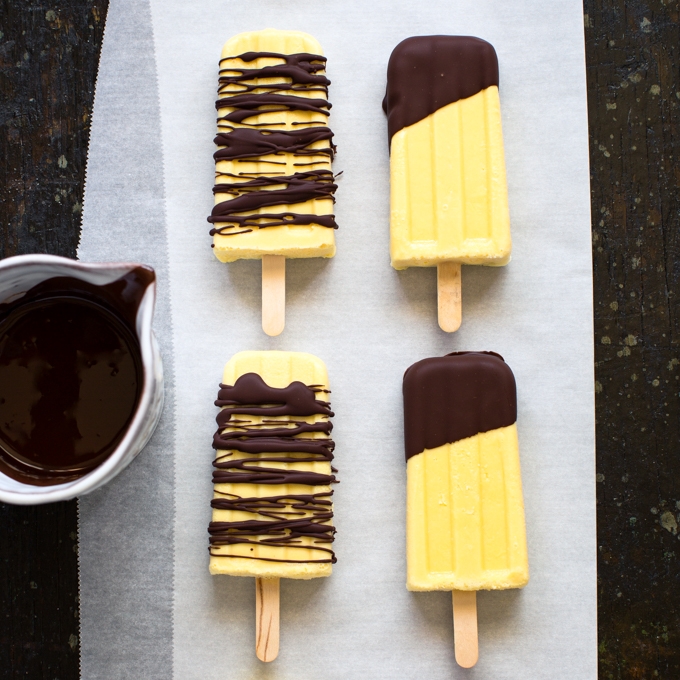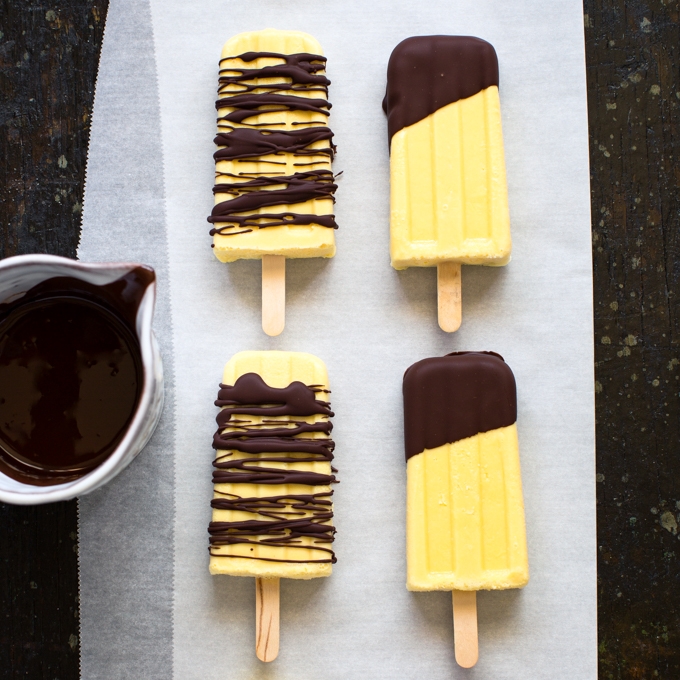 27