You guys, this salad is pure summer sunshine.
This post may contain affiliate links.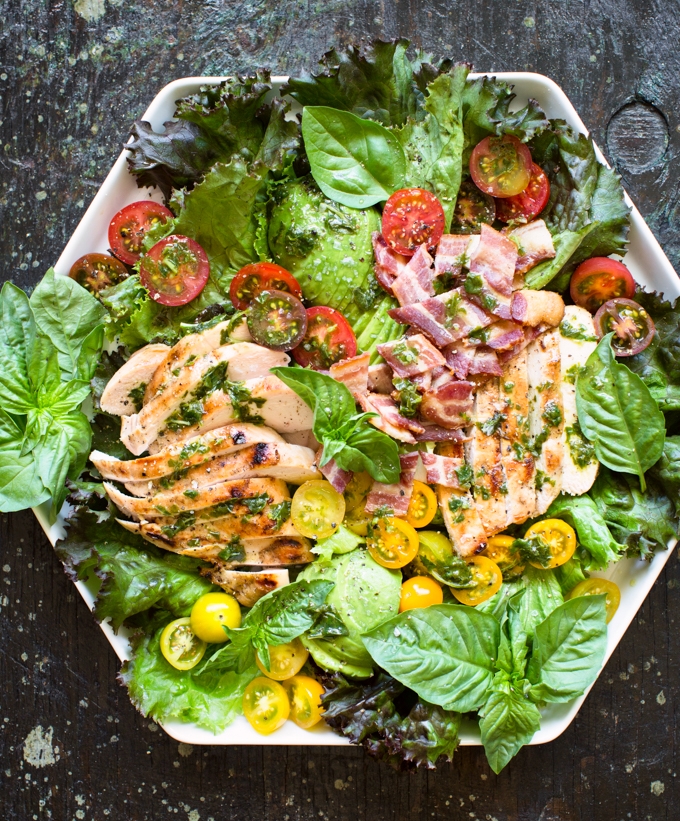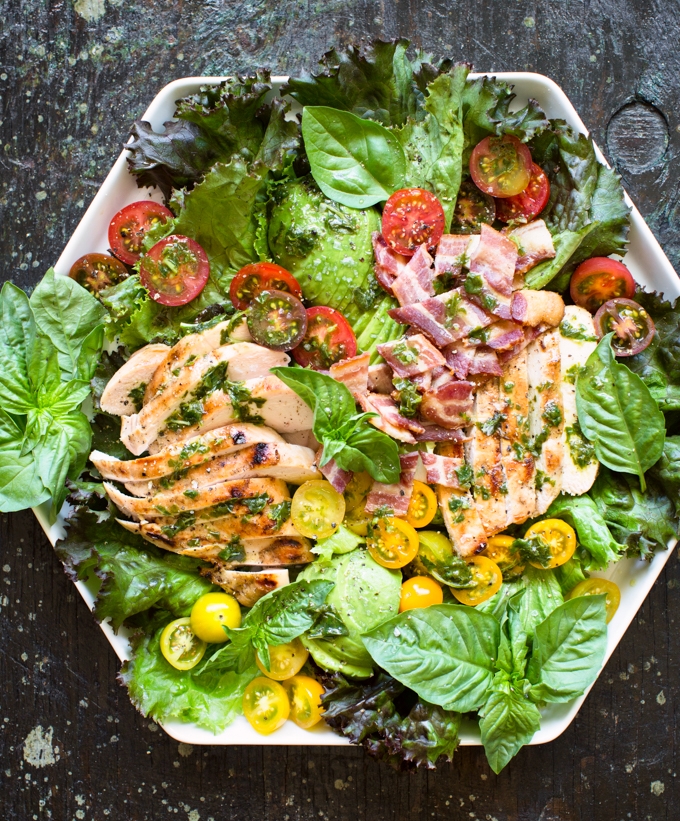 Chicken breasts are marinated in a simple mix of lemon juice, olive oil, salt, sugar and pepper, then grilled over dual-heat fire until golden on the outside and tender within.  The lemon grilled chicken is then sliced and paired with curly lettuce, rich avocado, crispy bacon, colorful cherry tomatoes and a rustic basil dressing.  Each bite of this salad always seems to be better than the last.  There are lot different flavor combinations on the plate, making this salad a pure delight to eat.  It's not that bad on the eyes either 😉  Continue reading for the recipe.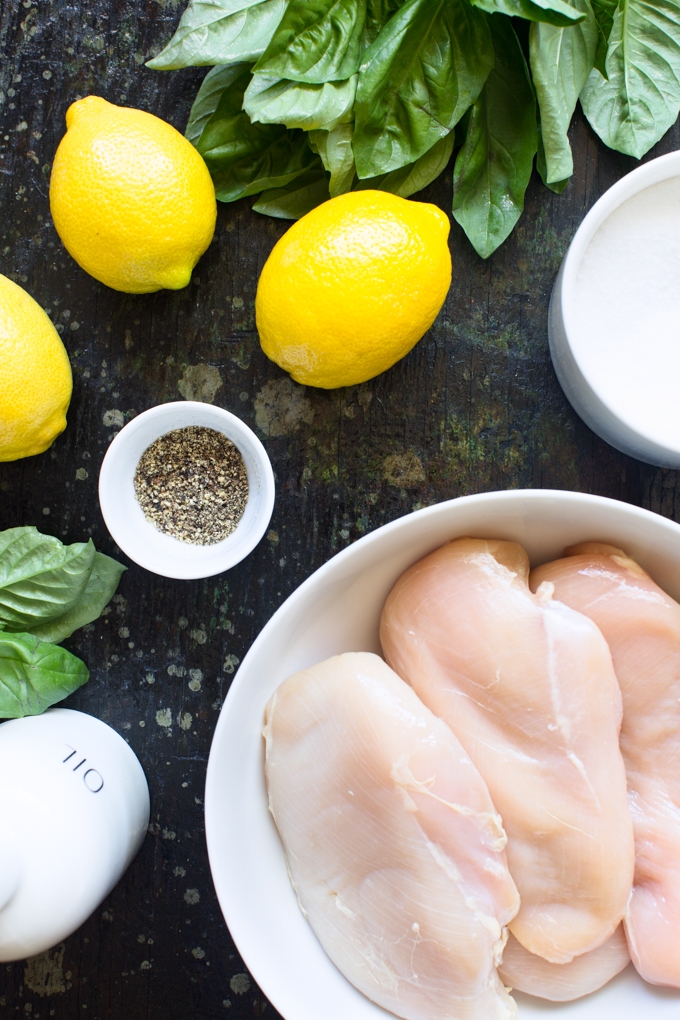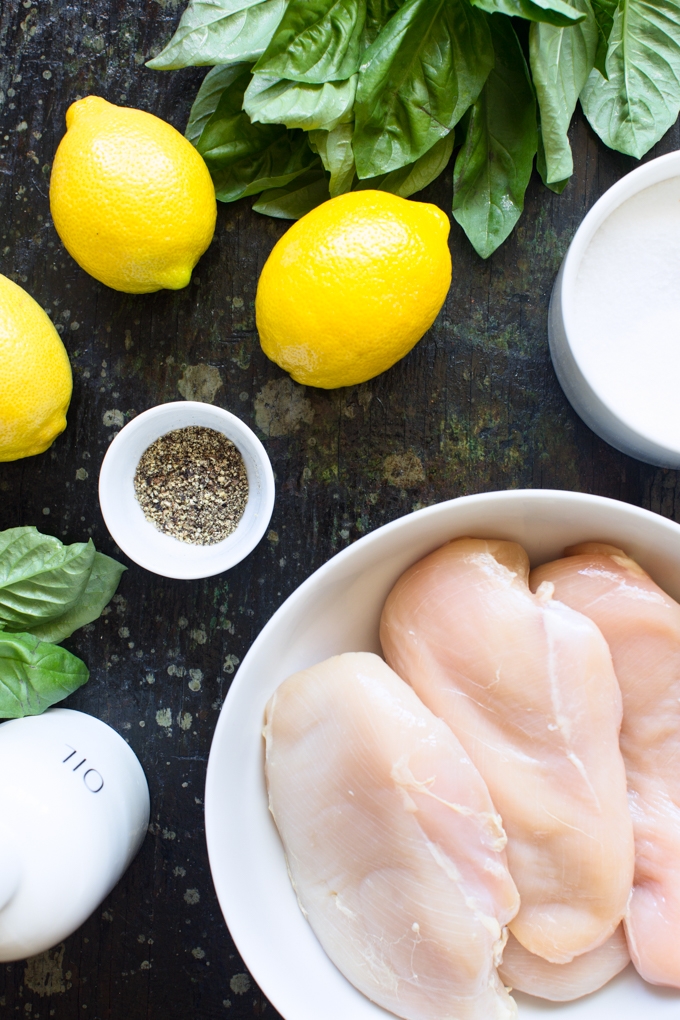 The key to cooking perfectly juicy boneless, skinless chicken breasts on the grill is a dual-heat setup.  This means that part of the grill is hot (direct heat) and part is warm (indirect heat).  You cook the breasts over indirect heat until they reach 140°F, then finish them on the hot side to get that golden exterior.  The indirect cooking will allow the chicken to slowly heat through while the direct cooking provides the flavorful exterior.  The finished chicken is tender and juicy on the inside with a savory, smokey crust.  This method couldn't be easier too.  Just make sure you've got a good thermometer!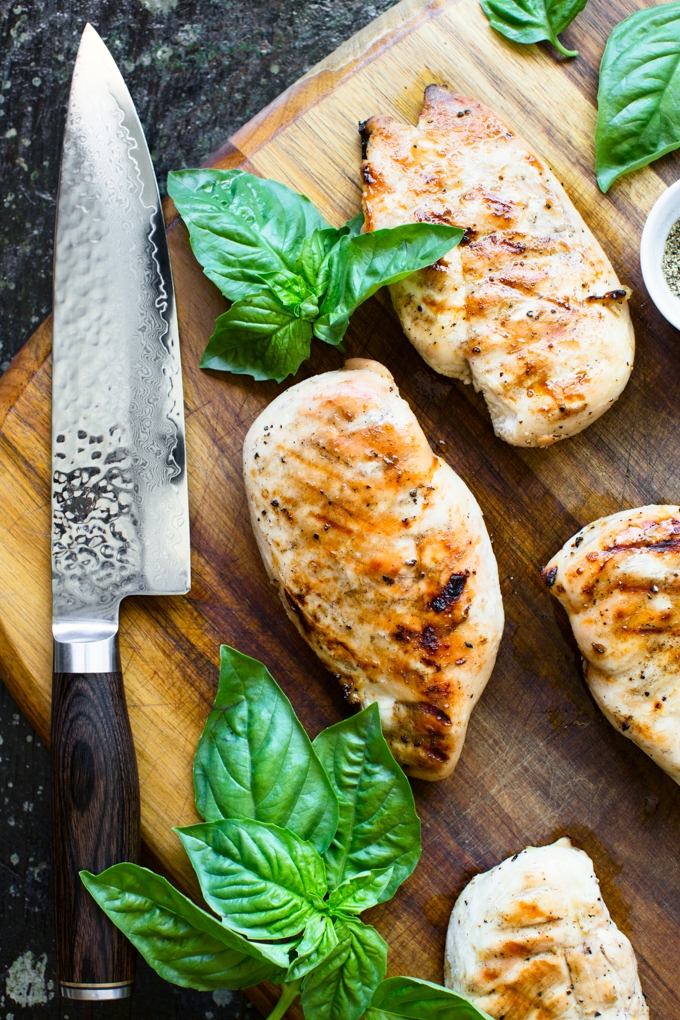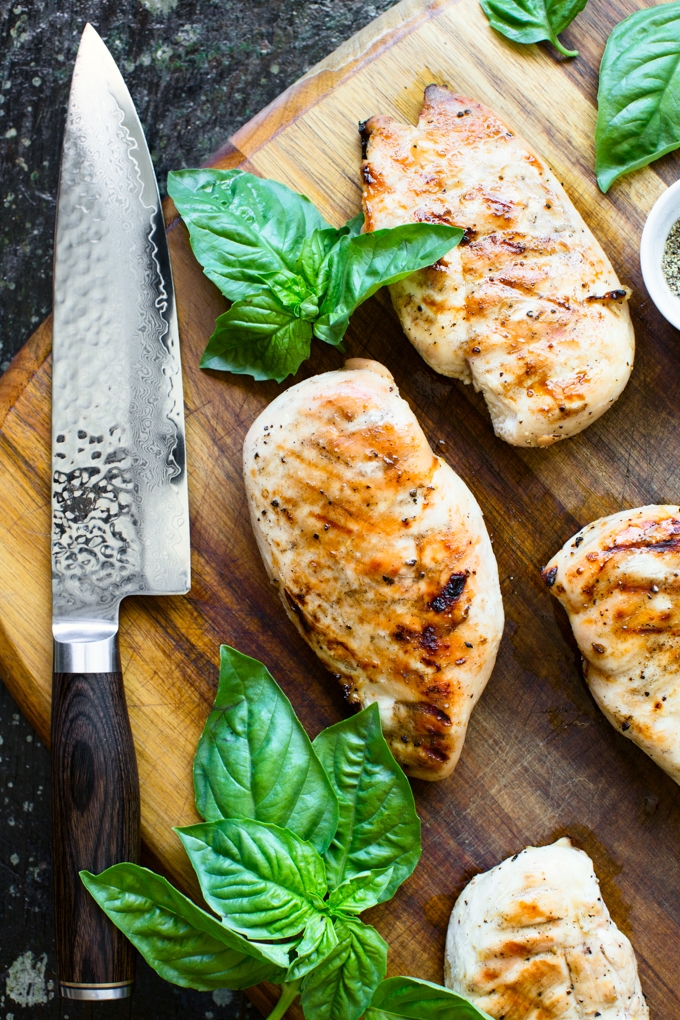 Basil dressing is a great way to use up that excess of basil you may have growing in your garden.  Simply blend together two handfuls of basil leaves (about 2/3 cup) along with lemon juice, honey, olive oil, salt and pepper, and you've got basil dressing!  There's no emulsifiers in this recipe (mustard or mayo), so it'll be more of a loose dressing flecked with bits of basil rather than a smooth cohesive sauce.  Seriously give this a try.  You'll want to put it on all of your salads for the rest of the summer!  Store any leftover in the fridge for up to 2 days.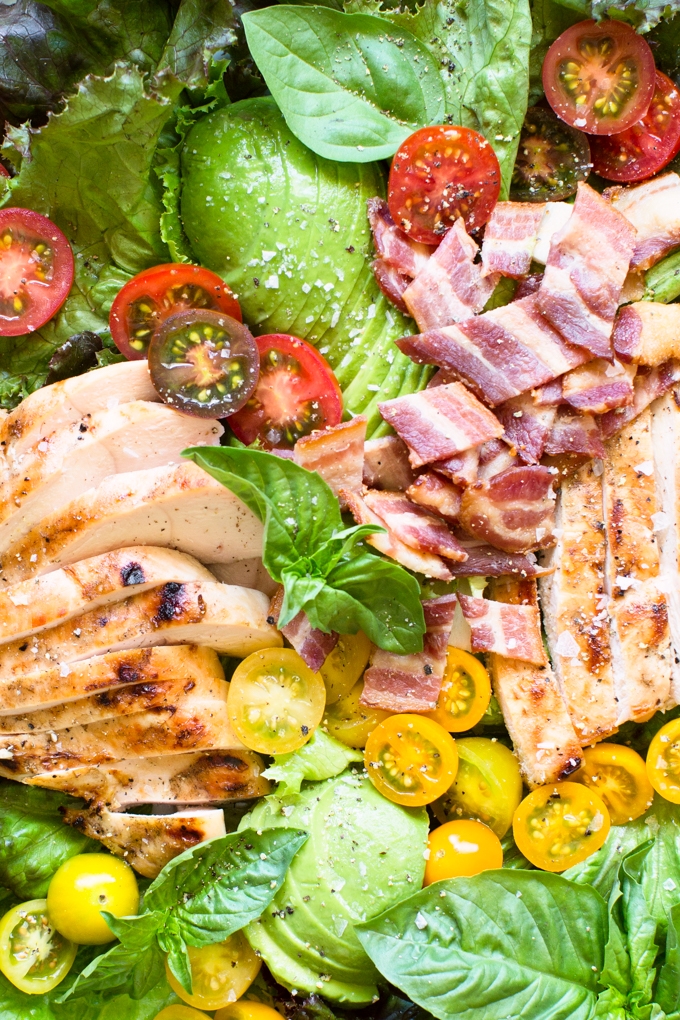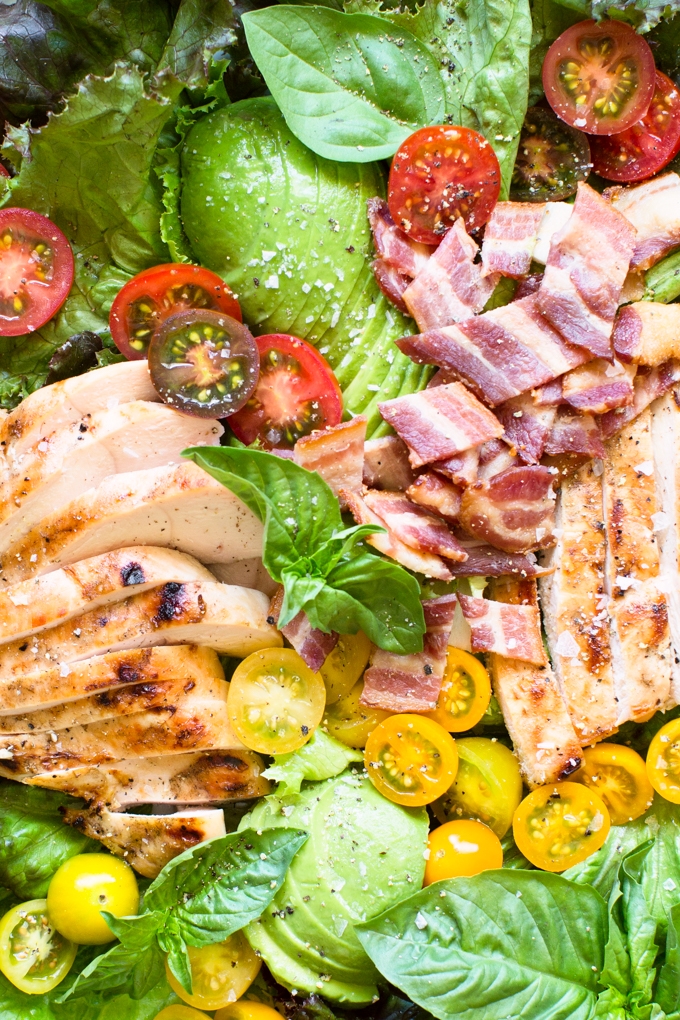 This lemon grilled chicken recipe will make enough chicken for 8 salads.  Below, I've provided salad ingredient guidelines in a per person format, so you can scale this recipe up or down as needed.  Make a salad for 1 or for 8!  Leftover chicken can be stored in the fridge for up to 2 days.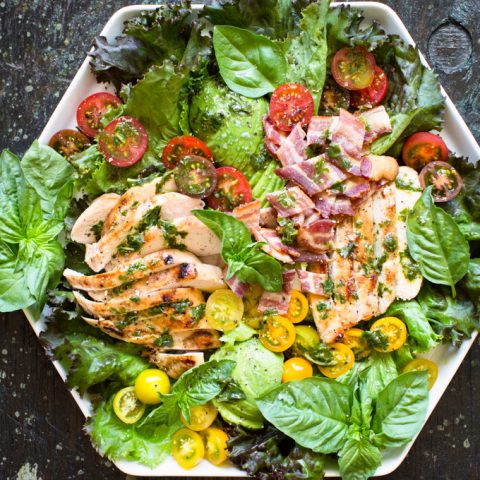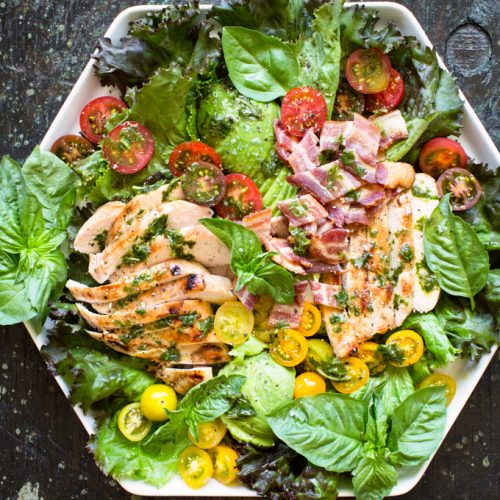 Grilled Lemon Chicken Salad with Basil Dressing
Chicken method adapted from
here
.
Ingredients
For the chicken:
1

tablespoon

fresh lemon juice (about 1/2 lemon)

1 1/2

teaspoons

kosher salt

1/2

teaspoon

black pepper

1

teaspoon

sugar

3

tablespoons

olive oil

4

boneless skinless chicken breasts

For the dressing:

2

handfuls of basil, about 2/3 cup

2

tablespoons

fresh lemon juice

Kosher salt

Freshly ground black pepper

1

teaspoon

honey

6

tablespoons

olive oil
For the salad:
Grilled lemon chicken, 1/2 a breast per person

Leafy lettuce greens, 3 large leaves per person

Sliced avocado, 1/2 an avocado per person

Halved cherry tomatoes, 10 halves per person

Chopped crispy bacon, 2 slices per person
Instructions
In a small bowl, whisk together lemon juice, salt, pepper, sugar and olive oil. Place chicken in a large zip-top bag and pour over marinade. Seal the bag, pressing out as much air as possible. Let rest in the fridge for 30 minutes, flipping halfway through.

Meanwhile prepare a dual heat grill*. Pull the chicken out of the marinade and let any excess drip off. Place the breasts on the cooler part of the grill, thicker part towards the direct heat. Cover and let cook until the bottom develops light grill marks (6 to 8 minutes). Flip the breasts and this time have the thinner part of the chicken towards the direct heat. Continue cooking until the thickest part of the chicken registers 140°F (8 - 11 minutes). Move chicken over to the direct heat and cook until the exterior turns golden and darker grill marks form (2 - 4 minutes). Flip and repeat with other side until chicken hits 160°F (2 - 4 minutes longer). Let rest for 5 minutes, then slice as needed.

To make the dressing, place the basil leaves in a small food processor or blender, and pulse until chopped. Add the lemon juice, a couple pinches of salt, several turns of black pepper and honey, pulsing to combine. Add the olive oil, and process until combined. Season to taste with additional salt, pepper and honey.

To assemble the salad, line a large platter with lettuce leaves, then top with sliced chicken, avocado, tomatoes and bacon. Drizzle basil dressing over top. Sprinkle lightly with salt and pepper. Enjoy immediately!
Notes
* To prepare a dual-heat setup on a gas grill, preheat the grill with all burners on. When you're ready to cook, turn off the flames on one side of the grill and proceed with instructions above. For a charcoal grill, mound hot coals on one side of the grill, then preheat the grate and proceed with instructions above.
Tried this recipe?
Tag @brandiego on Instagram so I can check it out!
Here are some other summer salad recipes on Kitchen Konfidence: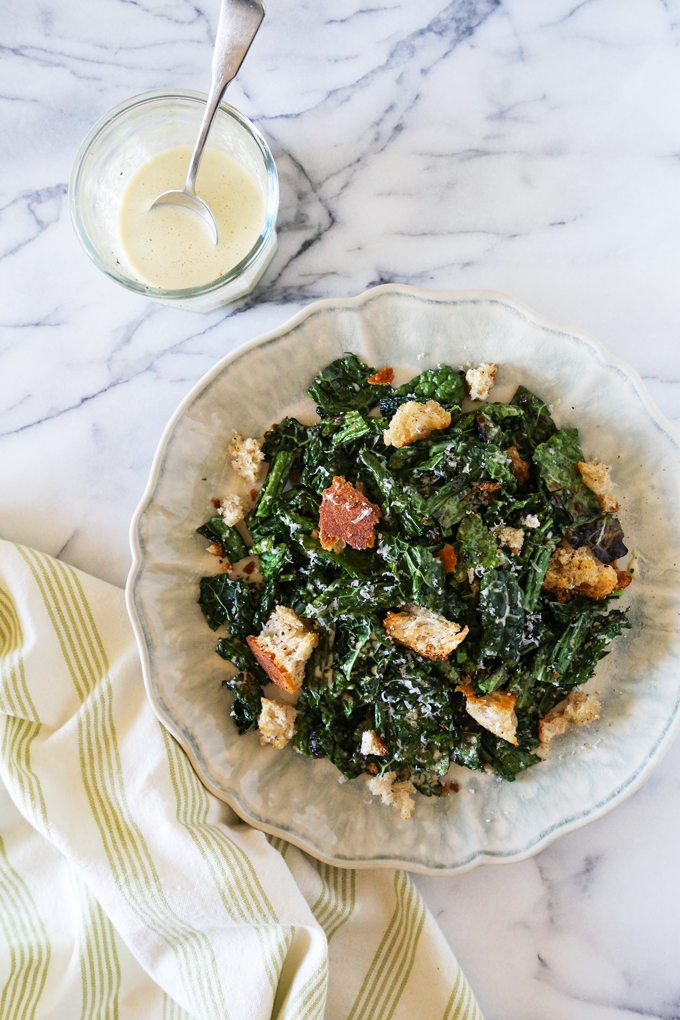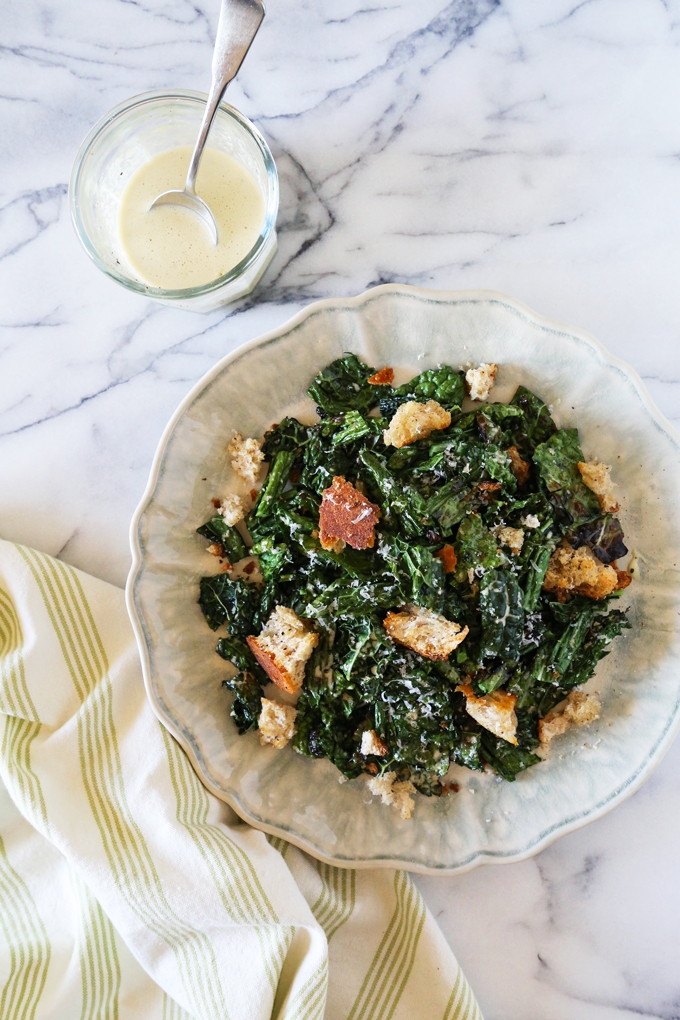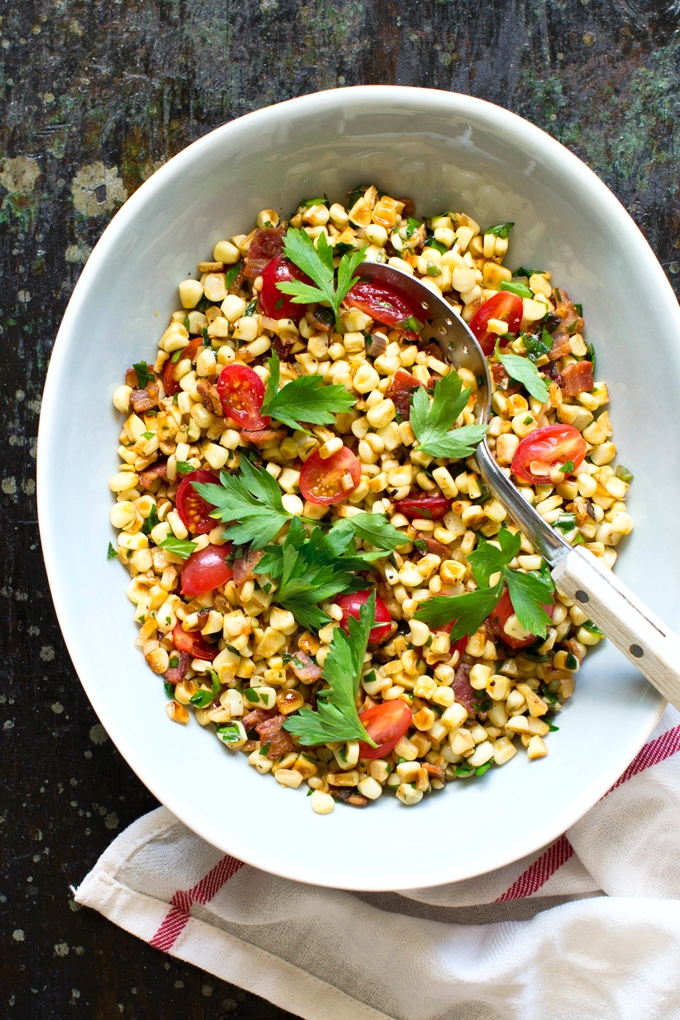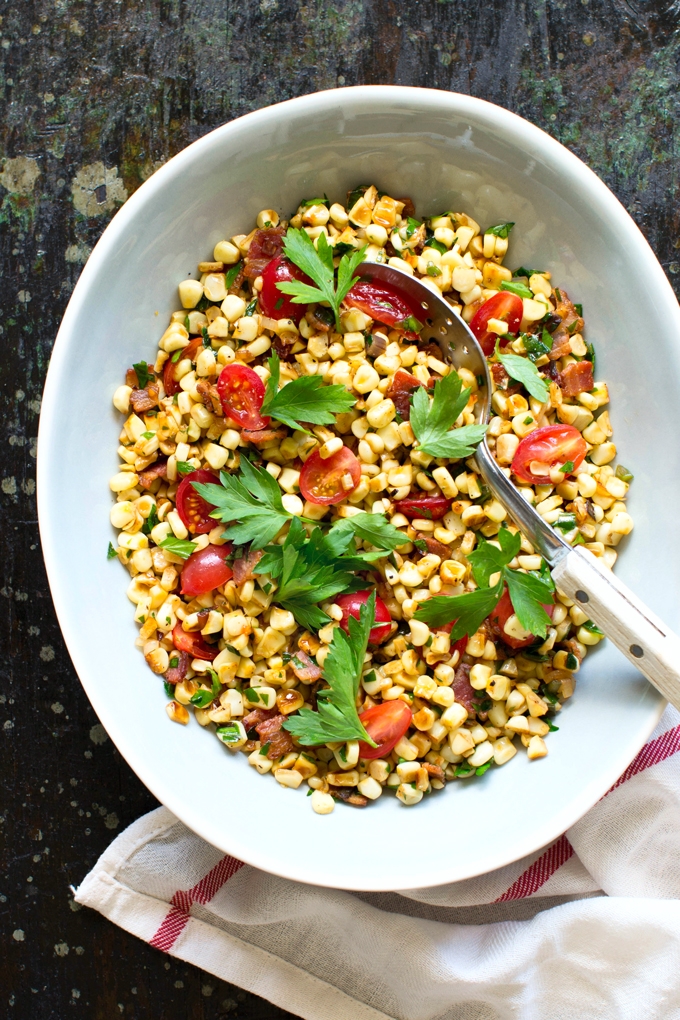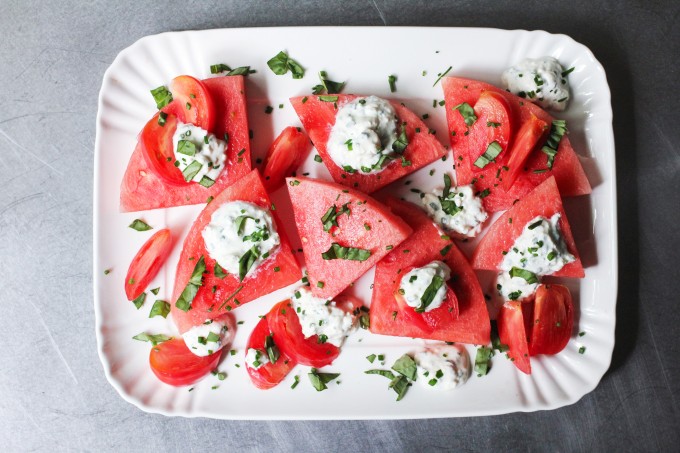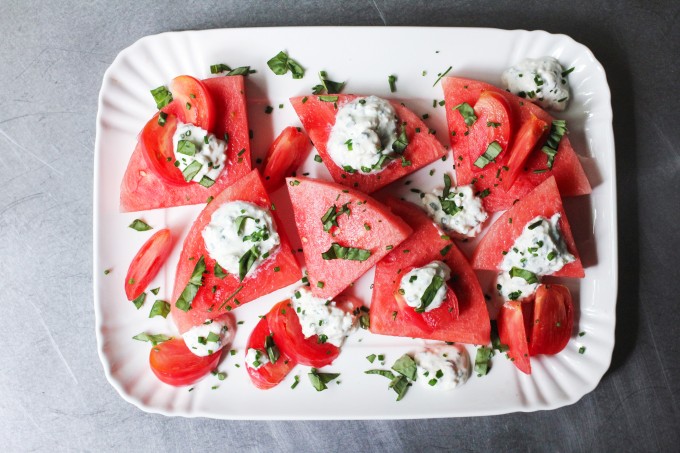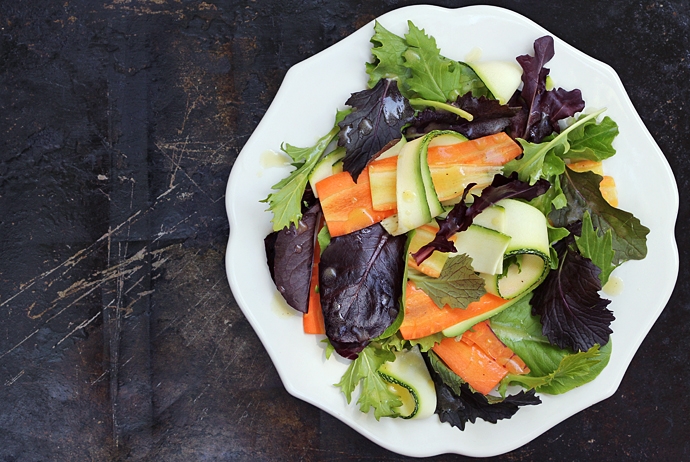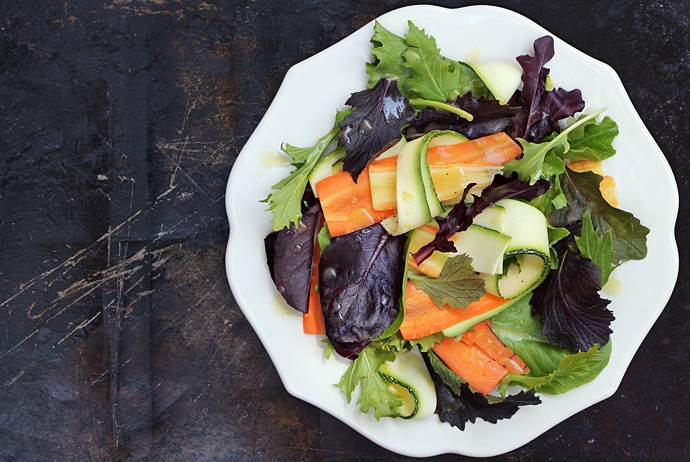 28