Are you ready for this?!
This post may contain affiliate links.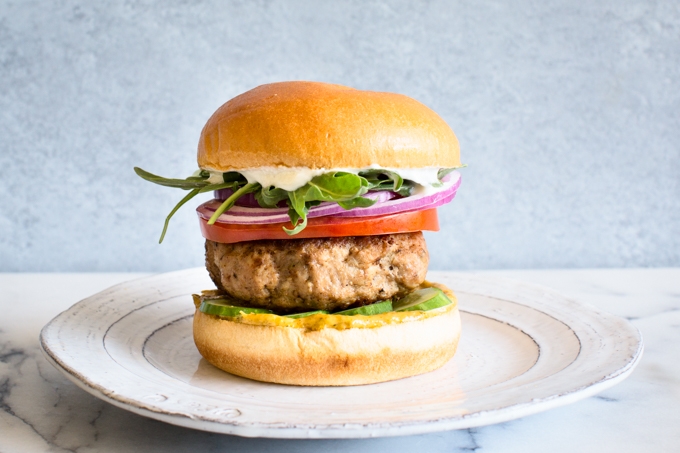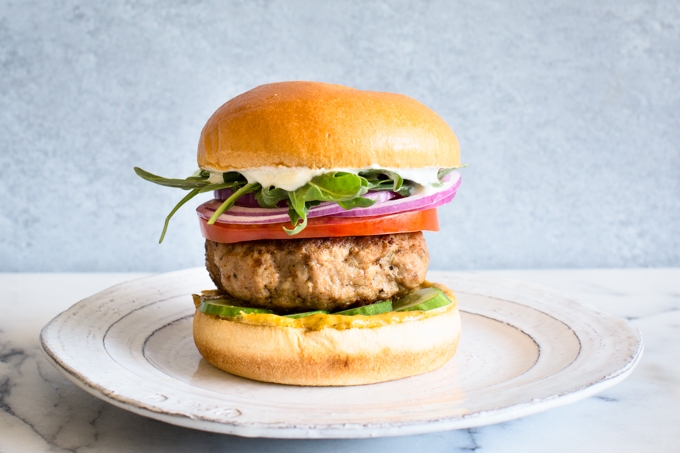 We're big burger fans at my house, so I'm always testing out new flavor combinations.  This Ultimate Mediterranean Turkey Burger was inspired by an incredibly delicious block of feta that I recently got a local market.  Both rich and salty, the brined cheese is transformed into a creamy wHipped feta, just 1 of the 2 sauces in this recipe.  To compliment the feta, I stacked up the burger as follows:
Bottom bun (brioche highly recommended)
Sun-dried tomato mayo
Sliced Persian cucumber
Turkey burger infused with garlic and fresh oregano
Tomato
Red onion
Arugula
wHipped feta
Top bun
Now THAT is a mouthful!  With each large bite, you'll get plenty of freshness from the veggies along with a sharp saltiness from the feta.  The 2-ingredient sun-dried tomato mayo adds some good moisture to the bottom half of the burger along with a surprising depth of flavor. And the turkey burger patty is hardly a throw-away.  Fresh oregano is quite strong compared to its dried counterpart, and when paired with garlic, it really takes turkey to the next level.  The marriage of all these flavors is what makes this burger recipe ultimate.  Continue reading for the recipe.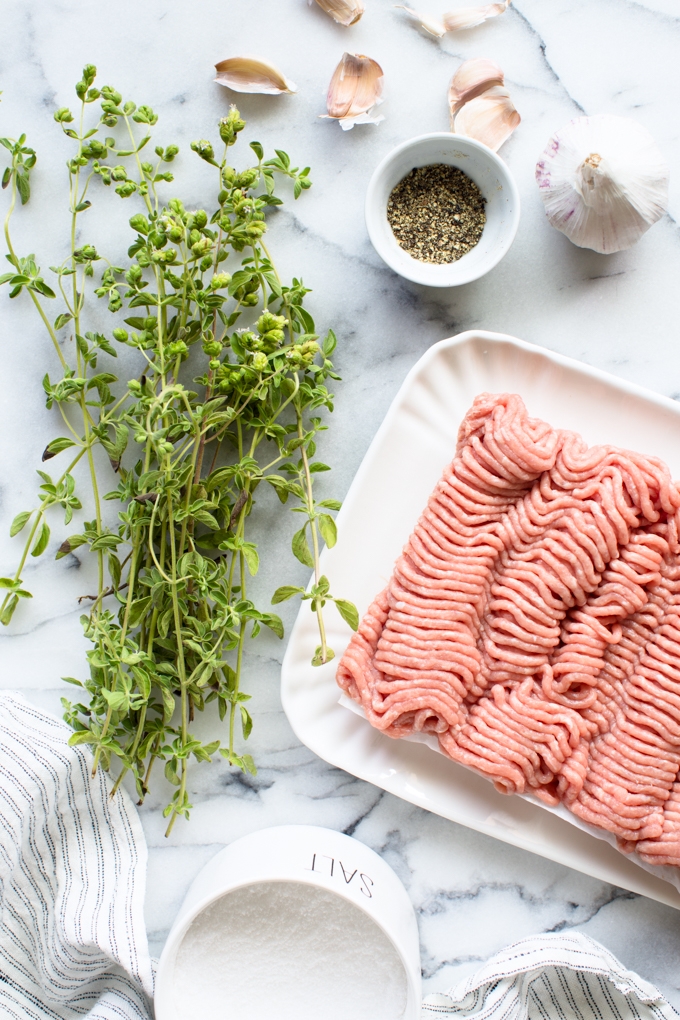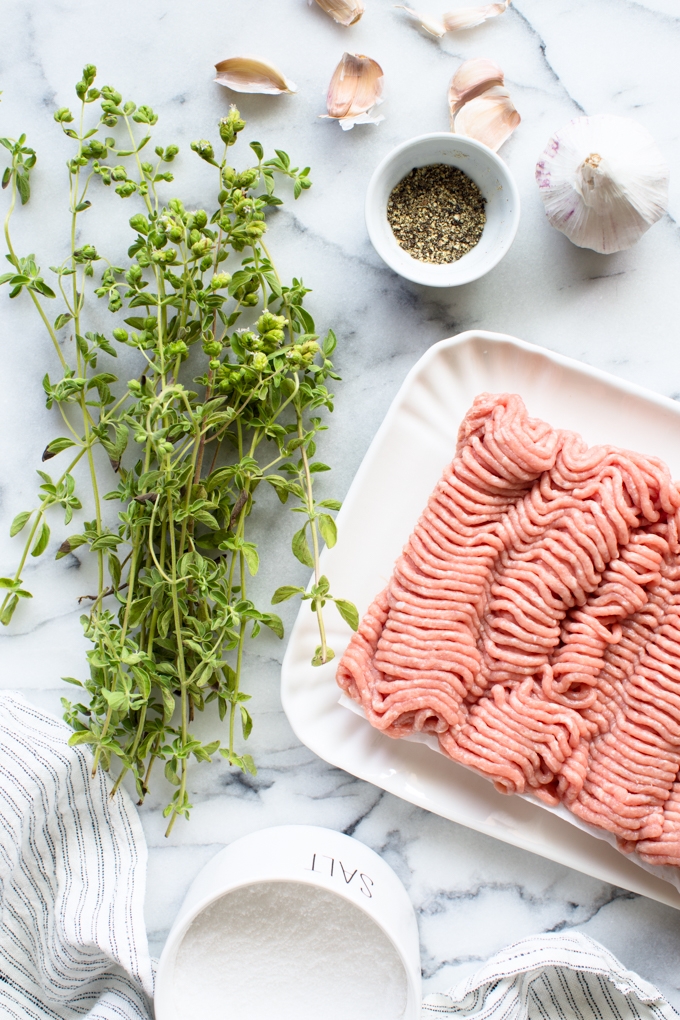 Before we get to the full recipe, let's talk turkey.  Ground turkey can be a tricky thing to work with because it easily dries out.  I would recommend finding a blend that's either 100% or part ground dark meat.  This will help to keep the burgers juicy.  Try to avoid 100% white meat.  The ground turkey pictured here is from Trader Joe's and I've also found a good option at Whole Foods.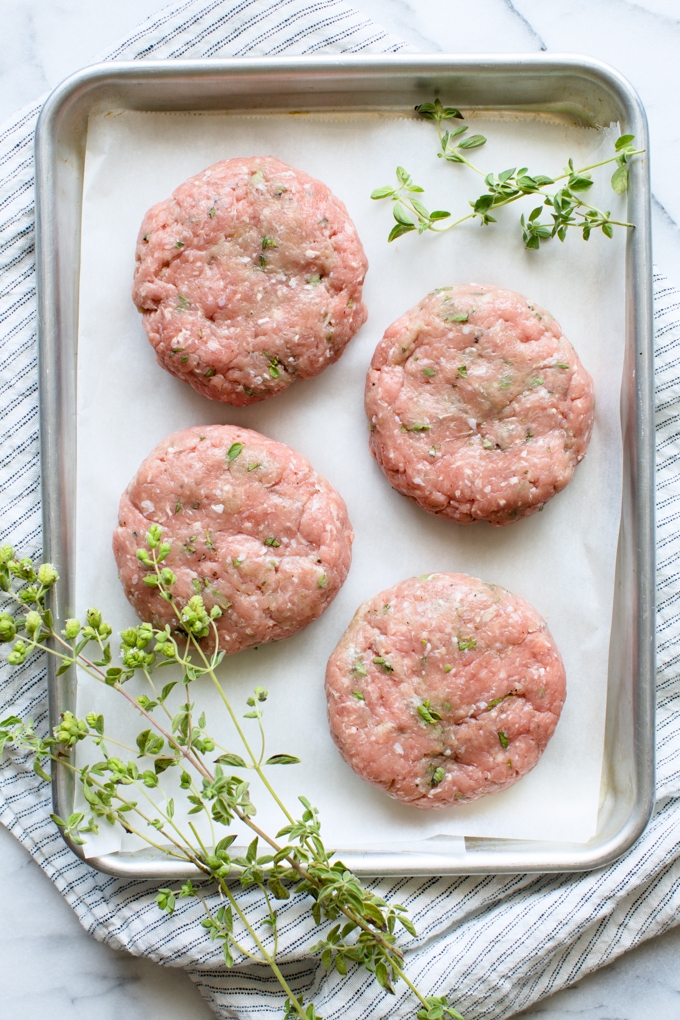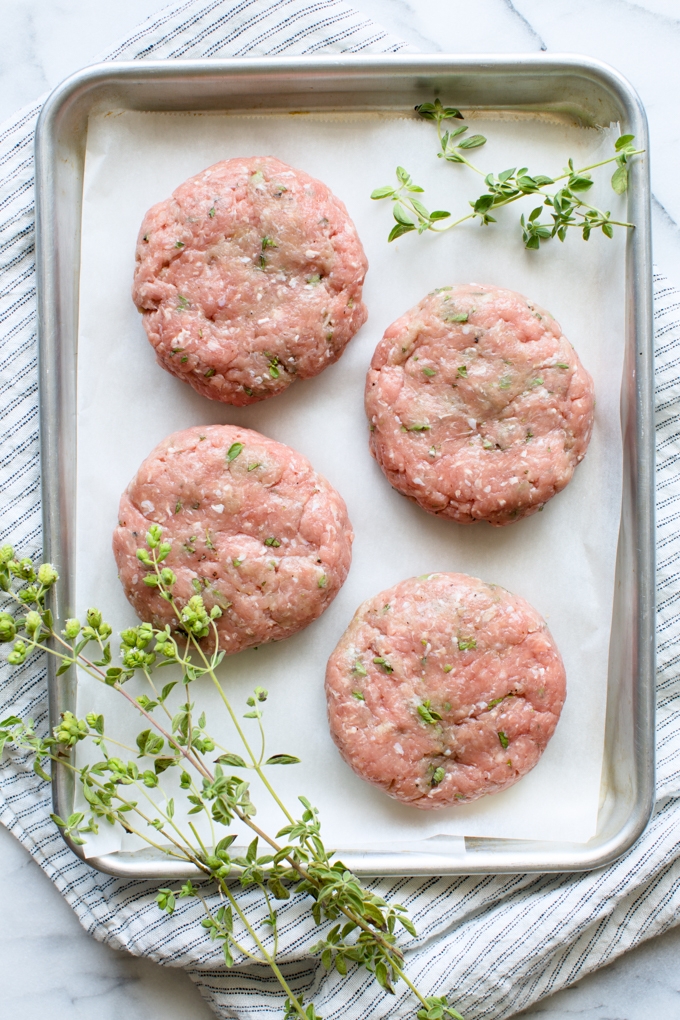 I've made these burgers on the grill and in a skillet.  Cooking them on a grill will add a nice smokey flavor, but cooking them on the skillet results in a beautiful sear.  Either option is tasty.  When cooking fresh turkey burgers, I would highly recommend using a thermometer to test for doneness.  When the burgers reach 160°F, they're done!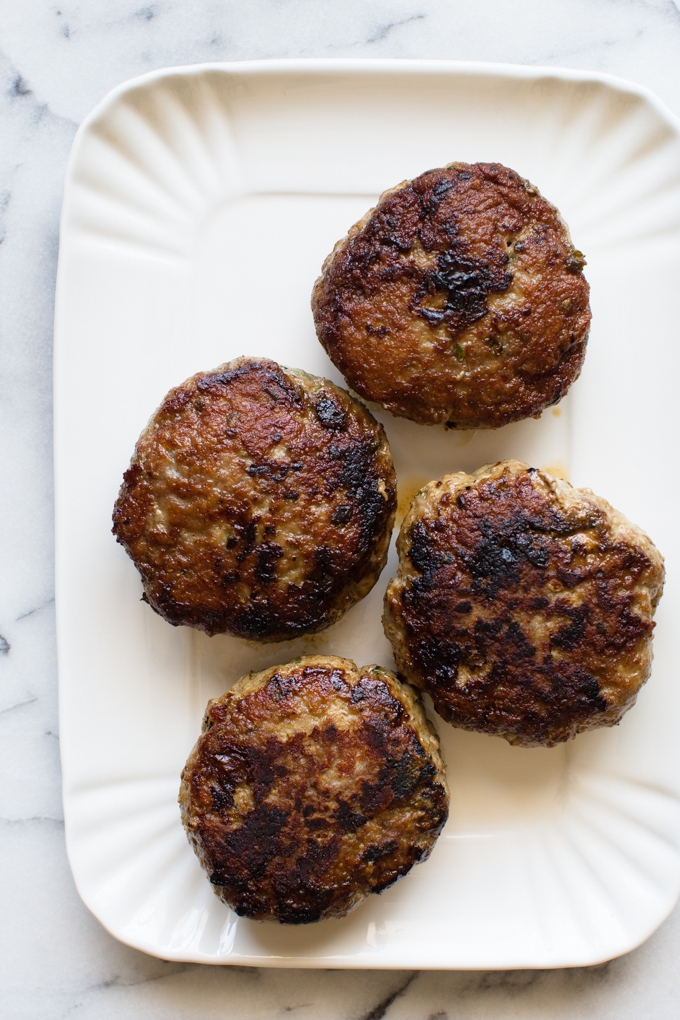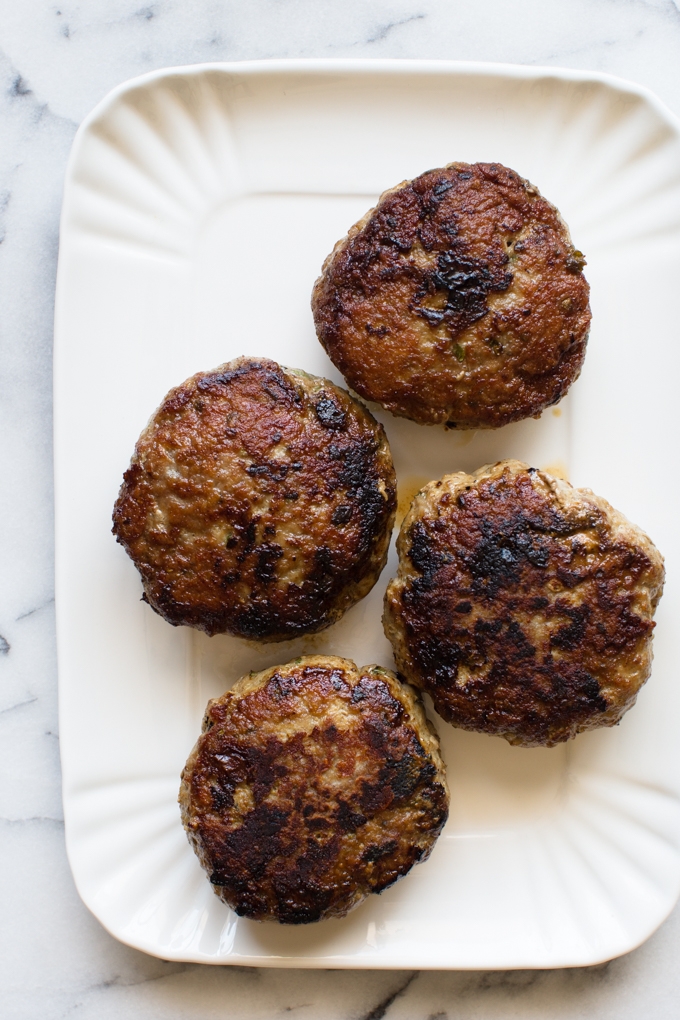 wHipped feta is truly a thing of beauty, and once you try it out, you'll want to make it all the time.  Start by pulsing crumbled feta and soft cream cheese in a food processor.  Add lemon juice, olive oil, salt and pepper, then blitz until smooth and creamy.  The finished sauce is perfect for this burger, but can also be used as a dip or as a spread for toast.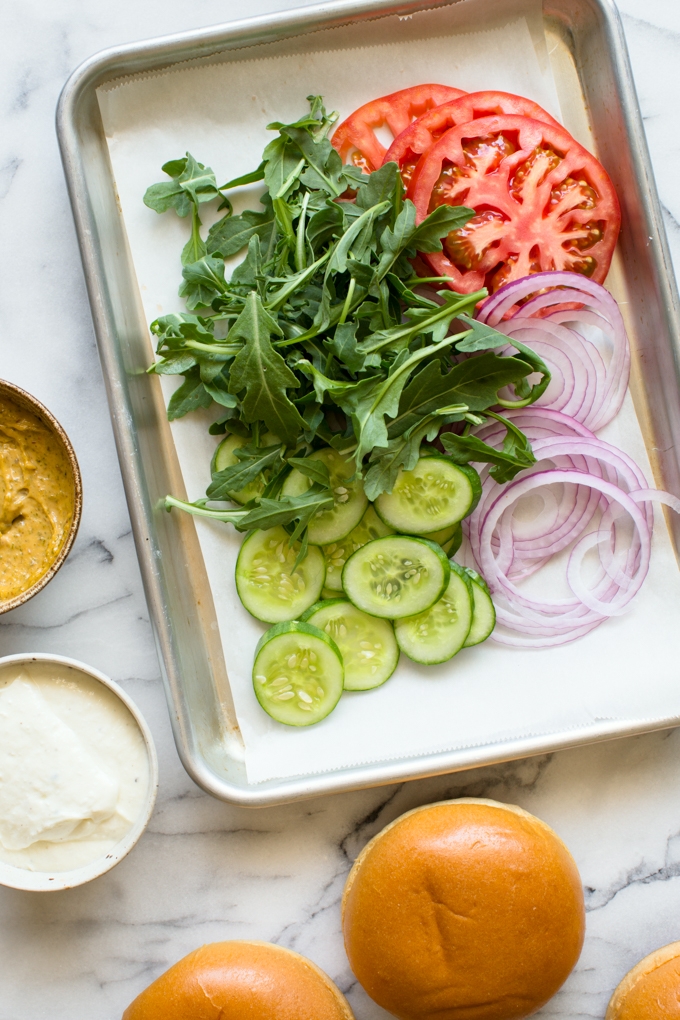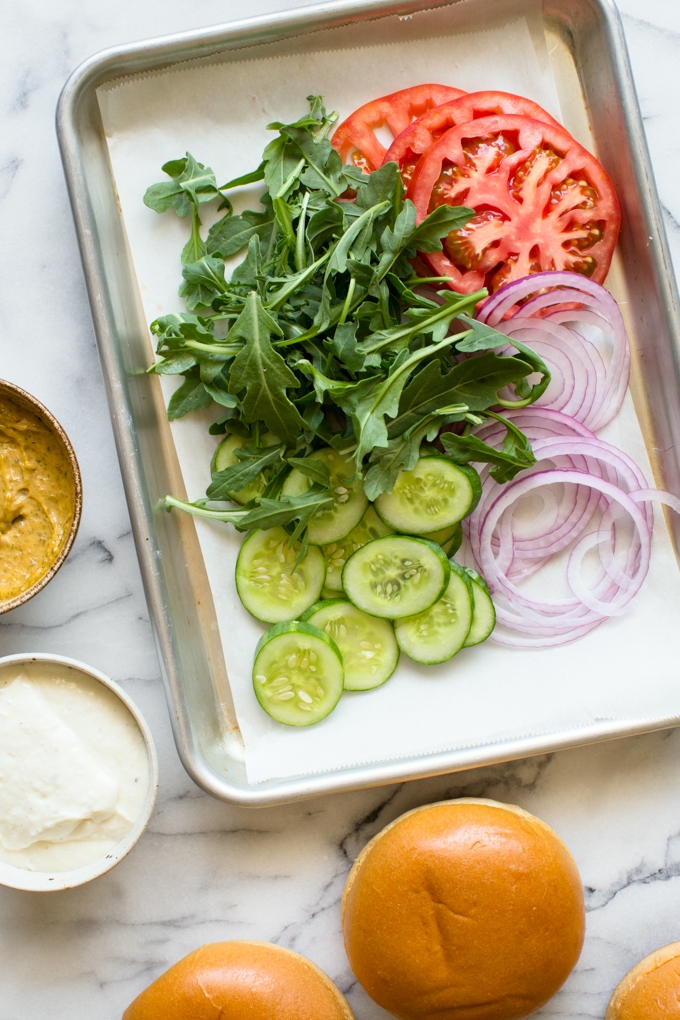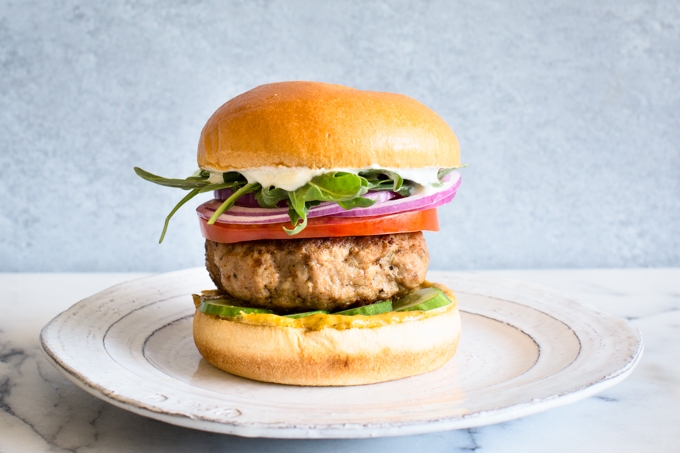 The Ultimate Mediterranean Turkey Burger Recipe
Whipped feta adapted from
here
.
Ingredients
For the wHipped feta:
6

ounces

feta, crumbled

2

ounces

cream cheese, at room temperature

1/3

cup

olive oil

2

tablespoons

fresh lemon juice

1/4

teaspoon

kosher salt

1/4

teaspoon

freshly ground black pepper
For the mayo:
1/2

cup

mayonnaise

2

tablespoons

sun-dried tomato pesto
For the burgers:
1 1/2

pounds

ground turkey, preferably 100% or part dark meat

2

tablespoons

chopped fresh oregano

2

garlic cloves, grated or minced

1 1/2

teaspoons

kosher salt

1/2

teaspoon

freshly ground black pepper

Canola oil, for grates or skillet
Toasted brioche buns, for serving
Toppings: arugula, sliced tomato, sliced red onion, sliced Persian cucumber
Instructions
Start by making the sauces. Add feta and cream cheese to a food processor and pulse a few times to combine. Add the olive oil, lemon juice, salt and pepper, then process until smooth. Season to taste with additional salt and pepper. Store wHipped feta in the refrigerator until ready to use. Stir together mayo and pesto in a medium bowl until combined. Store mayo in the refrigerator until ready to use.

Place turkey in a large bowl along with the oregano, garlic, salt and pepper. Using your hands, gently mix the turkey and seasoning until evenly distributed. Don't overwork the turkey here. Divide mixture into 4, and form into burger patties.

Preheat a charcoal grill, gas grill or cast-iron skillet over medium-high heat. Grease grates or skillet with a little canola oil, then cook burgers until golden and charred in spots or the internal temperature reaches 160°F (about 5 minutes per side, 10 minutes total). Let burgers rest for 5 minutes before serving.

To serve, stack up as follows: bottom bun, sun-dried tomato mayo, sliced cucumber, burger patty, tomato, red onion, arugula, whipped feta, top bun. Enjoy immediately!
Tried this recipe?
Tag @brandiego on Instagram so I can check it out!
Here are some other summer grilling recipes on Kitchen Konfidence: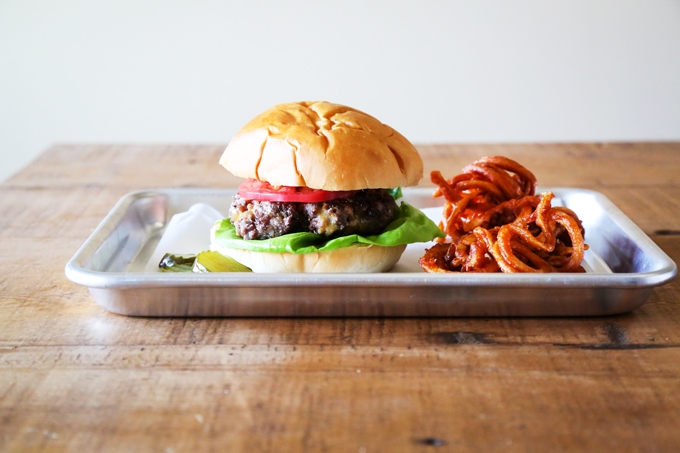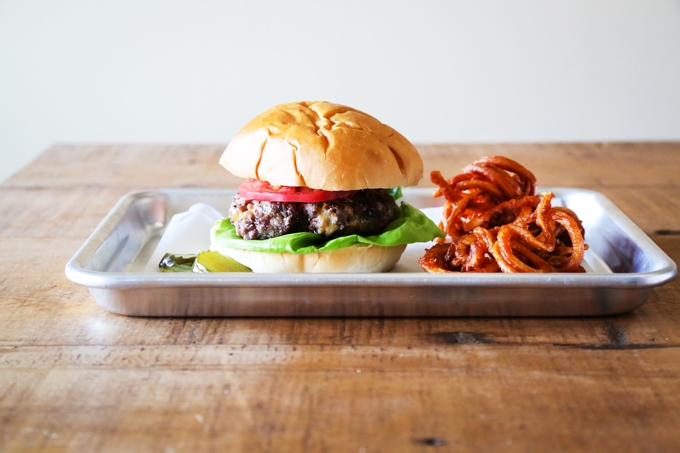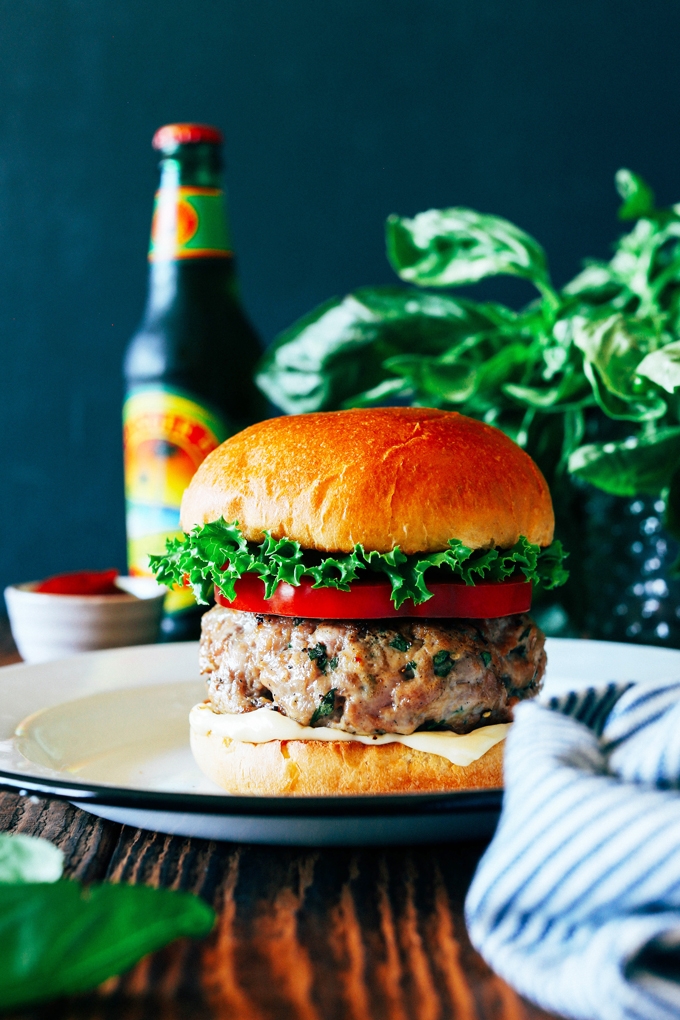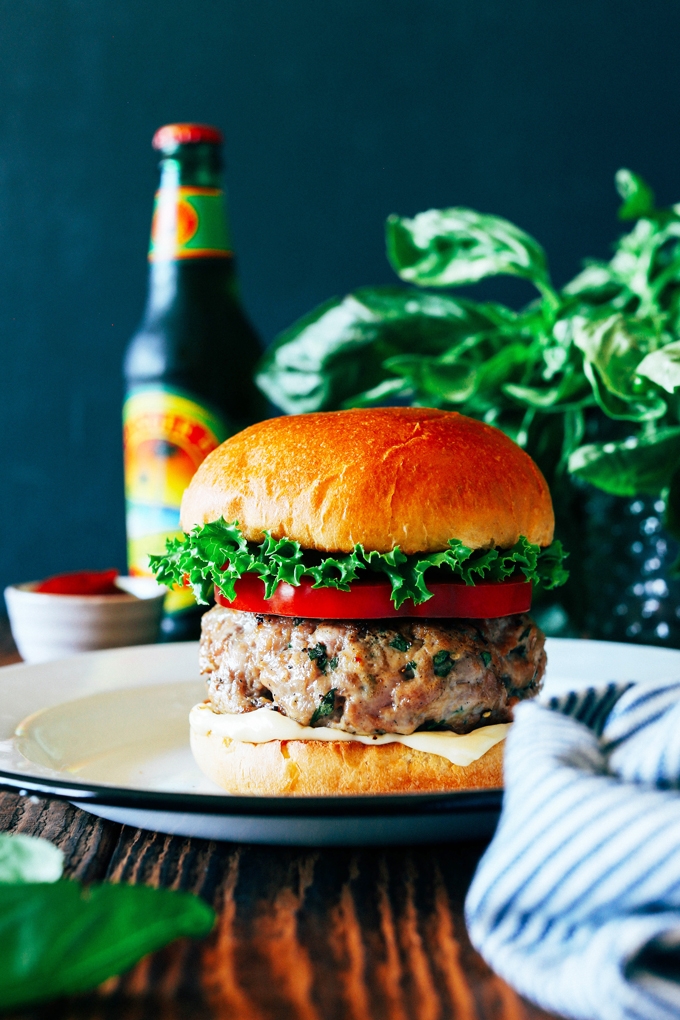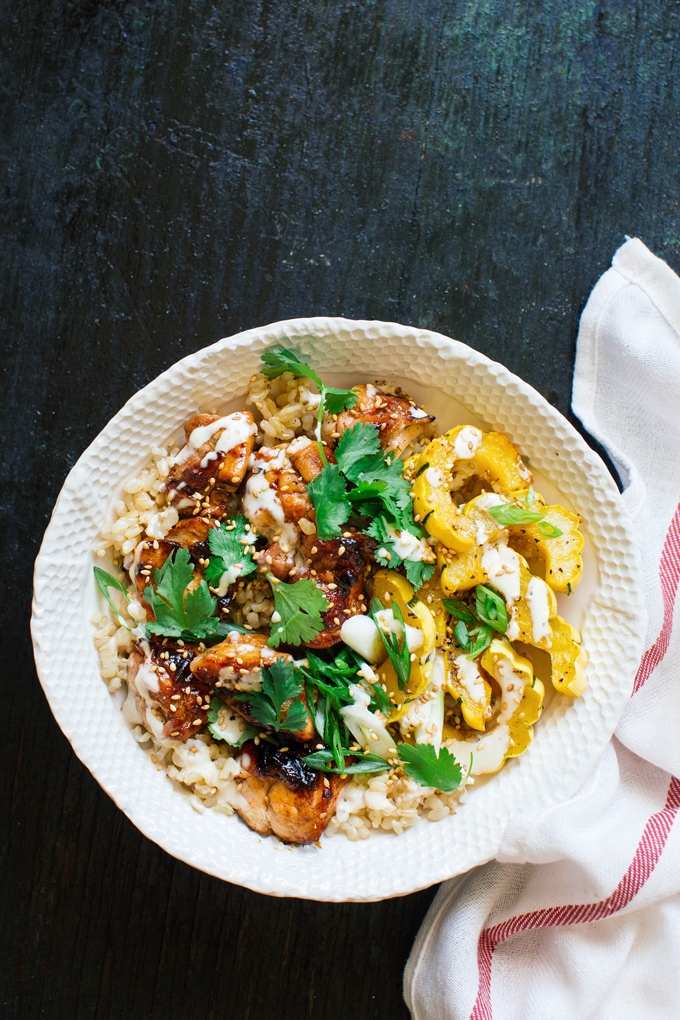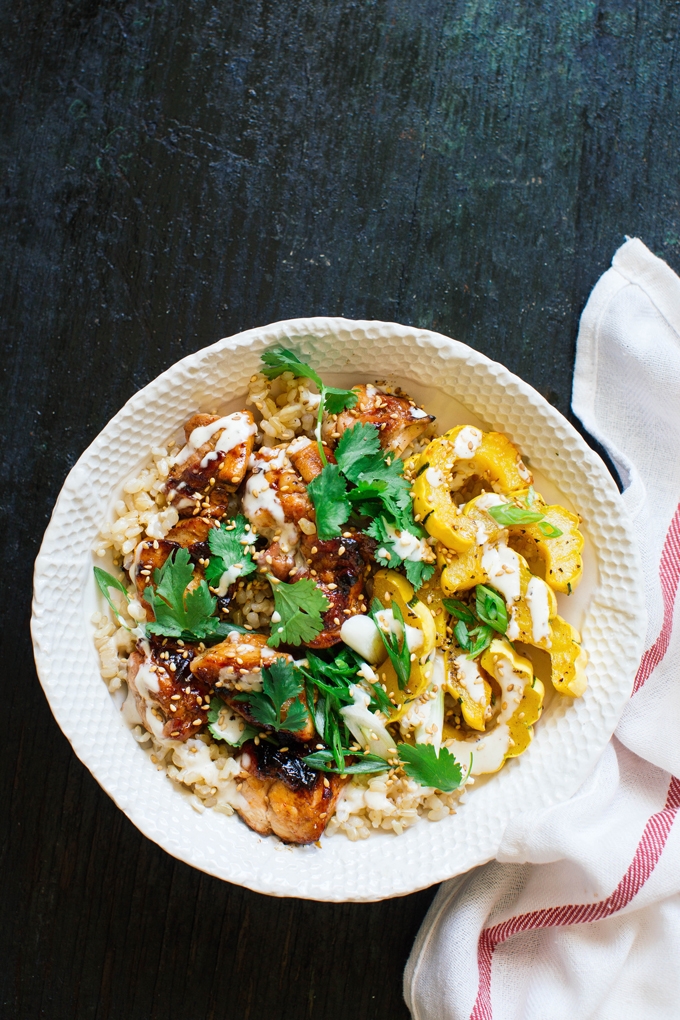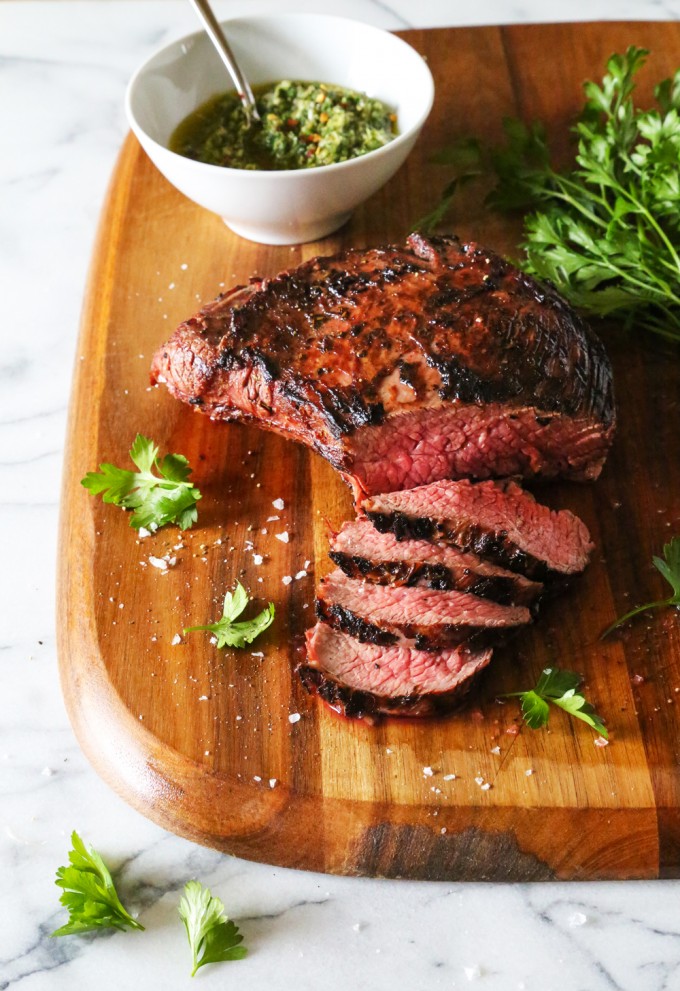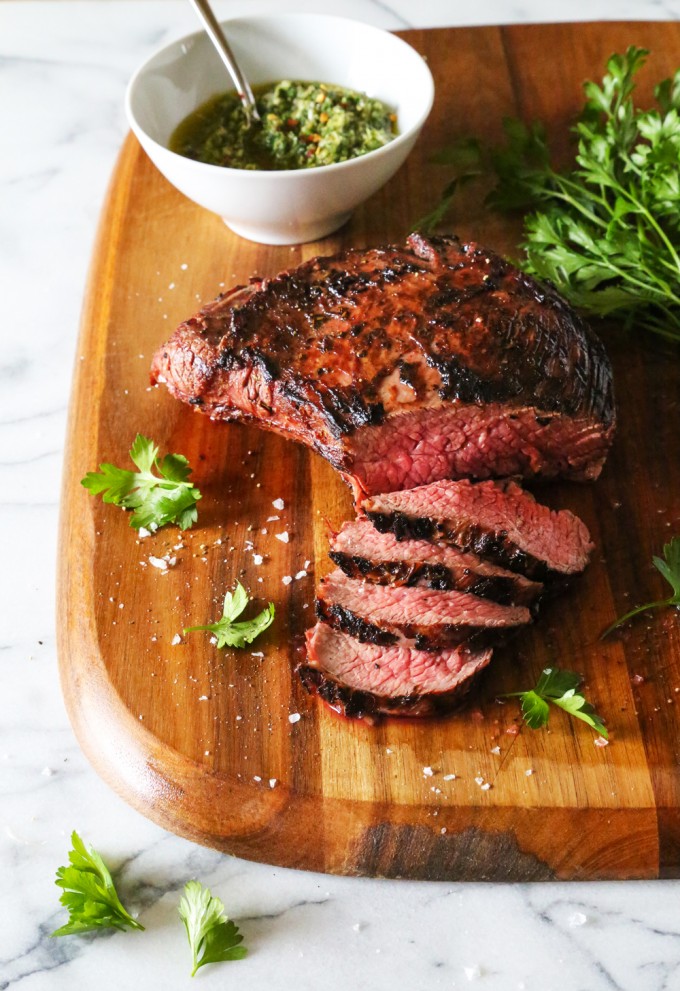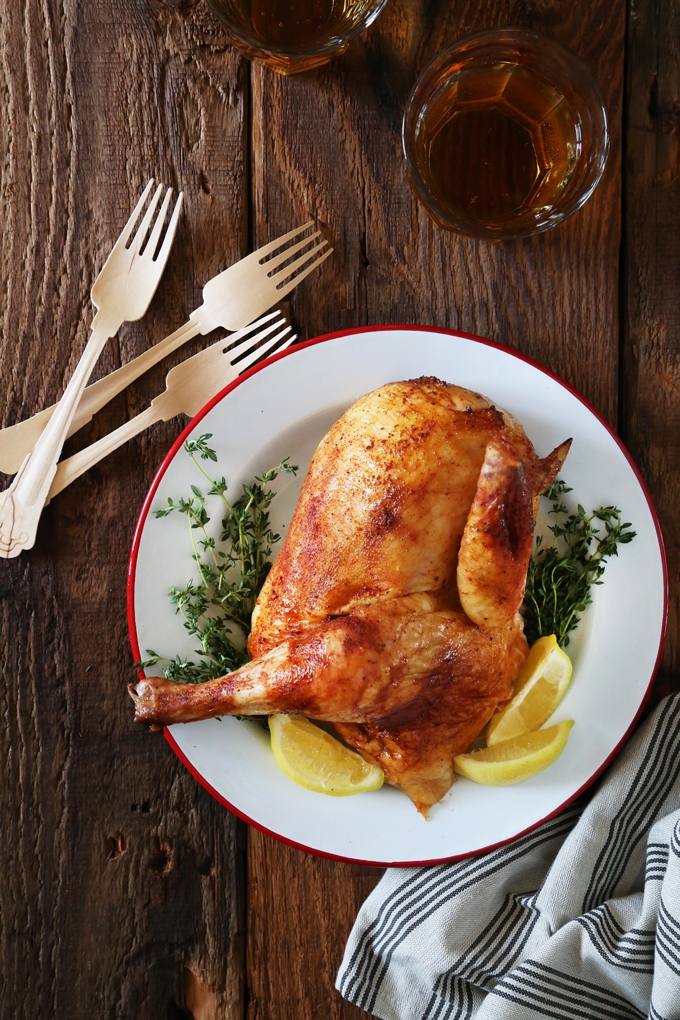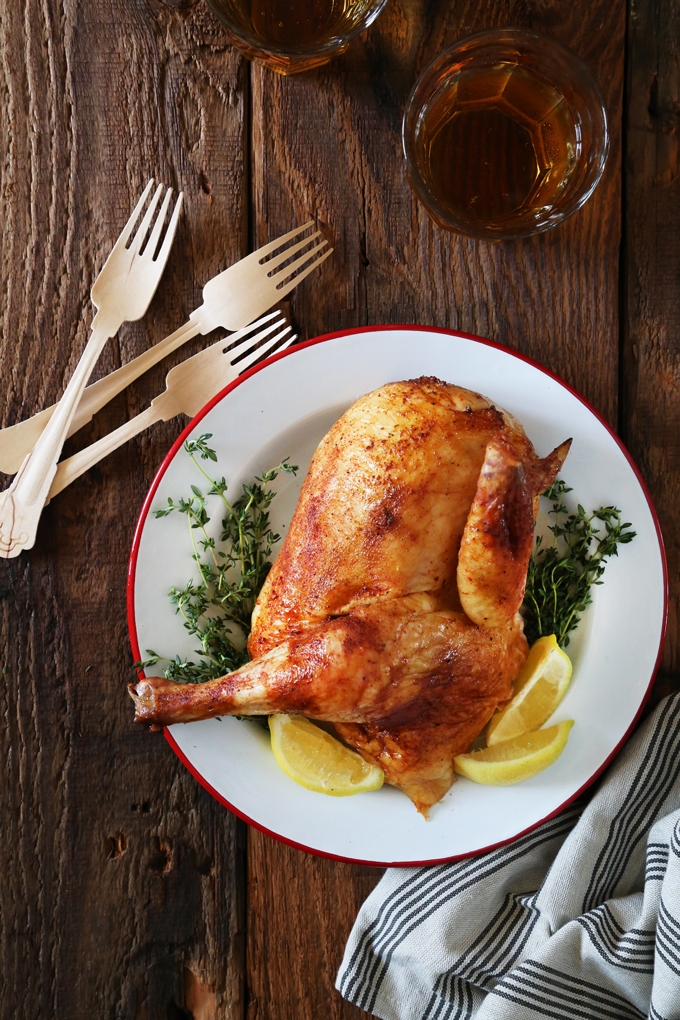 14