Carbonara is one of my favorite pasta dishes, and today, I'm sharing a carbonara recipe that I've perfected over the years.
This post may contain affiliate links.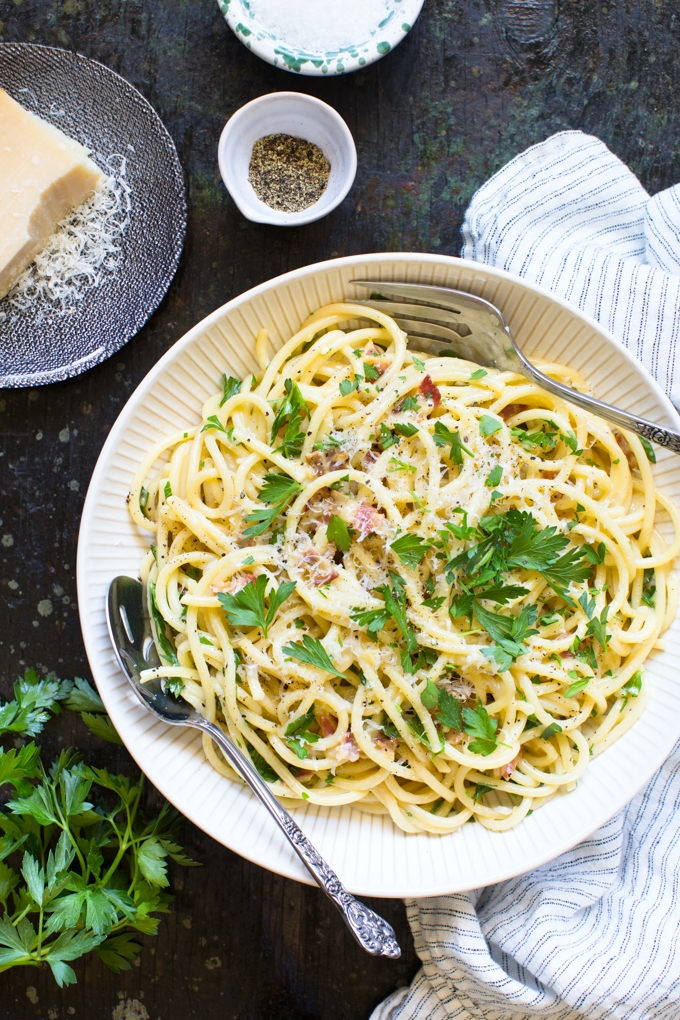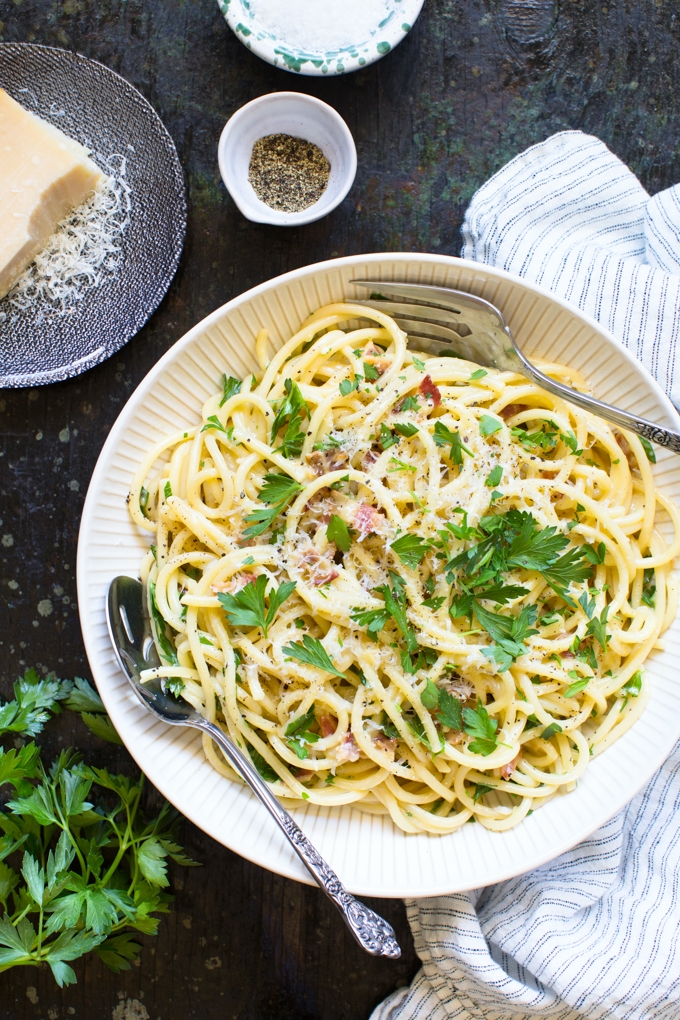 Simply put, carbonara is bacon and eggs pasta.  You start by cooking bacon in olive oil with garlic.  Pancetta would work here as well if you have that instead.  Cooked bucatini is then tossed in the pan to absorb all of that flavorful fat.  The pasta is then transferred to a bowl with eggs, cheese and pepper.  As you stir the hot pasta, the eggs gently cook, forming a wonderfully rich sauce.  Freshly chopped parsley finishes the dish.  Carbonara is silky, salty, creamy, porky and peppery.  It's truly a delight.
Carbonara has been a favorite over the years, because it comes together in under 30 minutes and can be made with mainly pantry/fridge staples.  Usually, I'll just have to grab a bunch of parsley at the market, and I'm ready to go.  This dish is made with raw eggs, so if that weirds you out, you may not want to prepare it.  I've made carbonara countless times over the past 10 years, and I've never gotten sick though.  Continue reading for the recipe.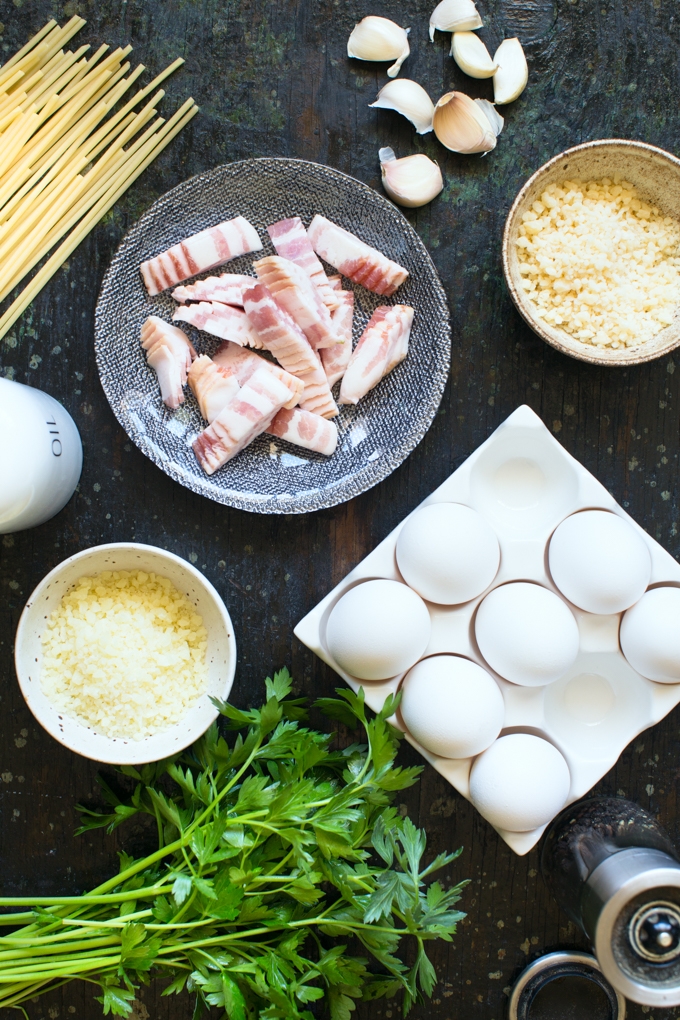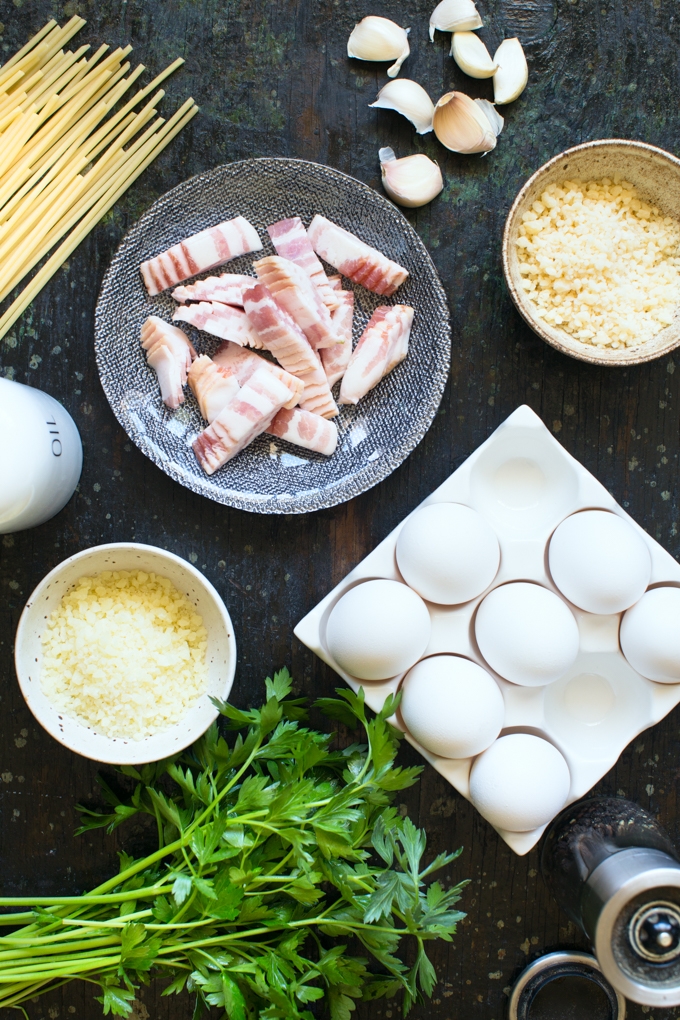 I still remember the first time I made carbonara back in 2005!  My friends and I were throwing a dinner party where each guest had to make a different course.  I was so eager to impress, and unfortunately, my carbonara completely flopped.  It was dry, grainy and almost flavorless.  Carbonara is deceptively easy.  There are a few techniques that you need to learn to take your carbonara game to the next level.  Luckily they're not complicated.
Carbonara requires very few ingredients, so make sure they're all good quality.  If you use old bacon and canned Parmesan cheese, the dish will not live up to its potential.
I prefer to add the hot pasta to a separate bowl with the eggs and cheese (rather than adding eggs directly to the hot skillet) to ensure that the eggs don't heat up too much.  If they get too hot, they'll scramble!  I also like to whisk in a little of the starchy pasta water to eggs and cheese to help bring them slowly up to temperature.  Similar to how you would temper eggs when making a custard.
When mixing the pasta with the eggs and cheese, be sure to stir vigorously.  This will release some of the starch from the pasta to help form a creamy sauce.
Save about 1 cup of starchy pasta cooking liquid to help temper the eggs and thin out the sauce at the end.  At first, the carbonara will seem thick and even a little grainy.  As you stir in the starchy liquid (a little at a time), the sauce will smooth out.
Don't forget to add more salt to taste at the end.  There's a lot of richness in the dish, so you may need to add more salt to make flavors pop.
Carbonara is best enjoyed immediately.  The texture will suffer as it cools down.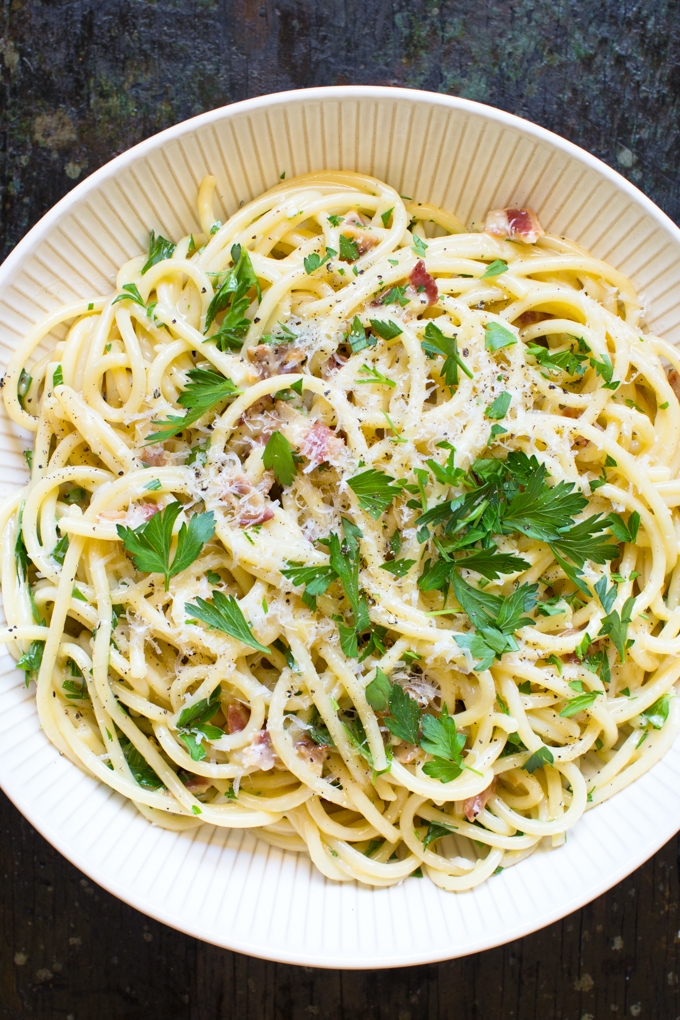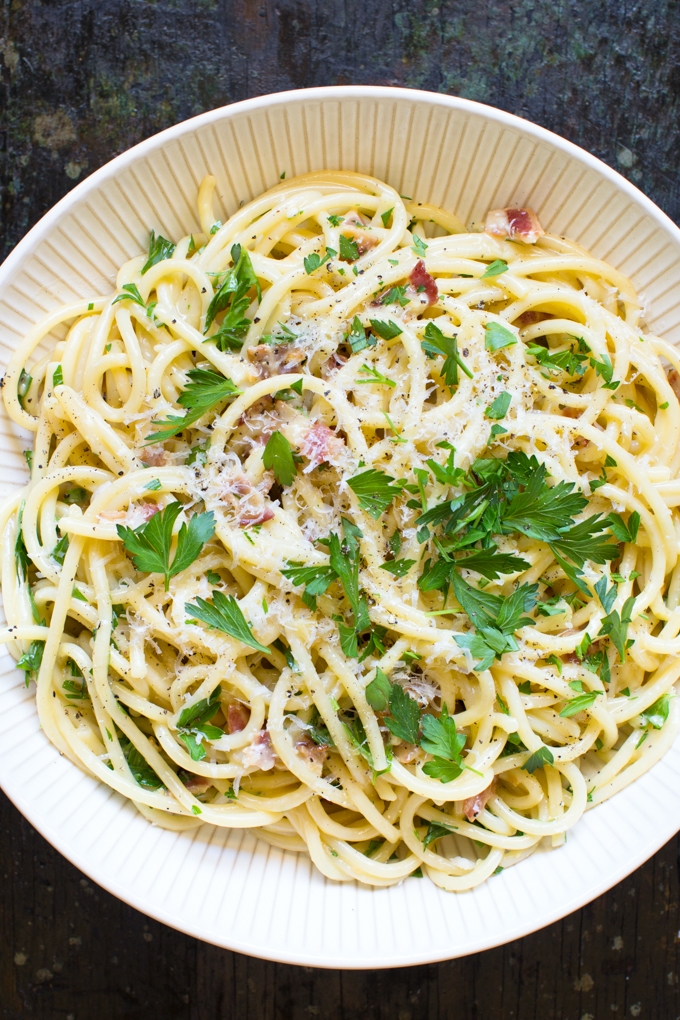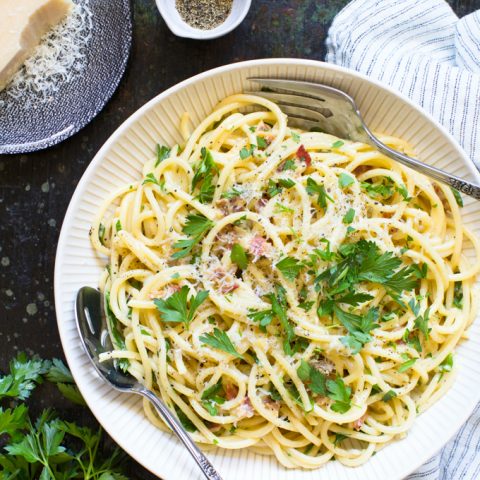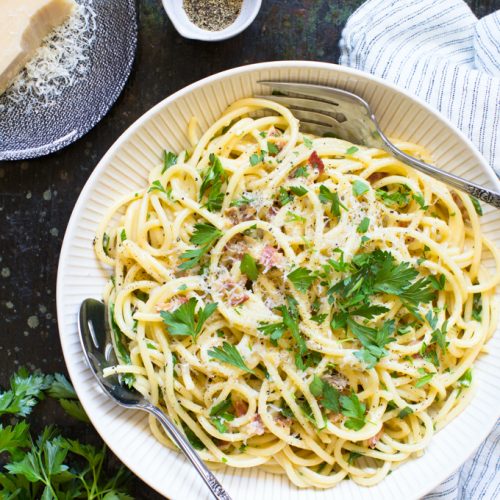 My Go-To Carbonara Recipe
Ingredients
1

pound

dry bucatini or spaghetti, fettuccini or linguine

2

eggs plus 1 egg yolk

1 1/2

ounces

(1/2 cup) grated Parmigiano-Reggiano, plus more for serving

1 1/2

ounces

(1/2 cup) grated Pecorino Romano (or you can use 3 ounces Parm instead)

Freshly ground black pepper

Kosher salt

2

tablespoons

extra virgin olive oil

4

ounces

(5 to 6 slices) bacon, sliced into small strips

4

cloves

garlic, finely chopped

Handful of Italian parsley chopped, plus more for serving
Instructions
Bring a large pot of salted water to a boil, add the bucatini and cook until just al dente (about 10 minutes).

Meanwhile, prepare the sauce. Add eggs, egg yolk and cheeses to a large bowl, whisking to combine. Season with several turns of black pepper and pinch of salt. Set aside. Warm olive oil in a large skillet over medium heat, then add the bacon and cook until crispy (about 5 minutes). Add the garlic and cook until fragrant (about 30 seconds). At this point, if the pasta isn't done cooking, take the skillet off the heat. Return the skillet over medium heat 1 minute before the pasta is done.

Drain the pasta well, reserving 1 cup of the starchy cooking water. Add bucatini to the skillet with the bacon and garlic, and cook for 2 minutes, tossing to coat in the bacon fat. Drizzle a little of the starchy water into bowl with the eggs, whisking to combine. This will help temper the eggs, and keep them from scrambling. Pour the contents of the skillet into the bowl with the eggs and cheese and using tongs, toss and stir to combine. The pasta will cook the egg, forming a thick sauce. Drizzle more starchy liquid in as you are stirring to thin out the sauce. The bucatini should be evenly coated in the sauce, but you shouldn't see liquid pooling in the bottom of the bowl. Stir in chopped parsley. Season to taste with salt and pepper (this dish can take a lot of pepper).

To serve, divide carbonara between 4 plates and top with extra parsley, Parmesan cheese and black pepper. Enjoy immediately.
Tried this recipe?
Tag @brandiego on Instagram so I can check it out!
Here are some other tasty Italian dishes on Kitchen Konfidence: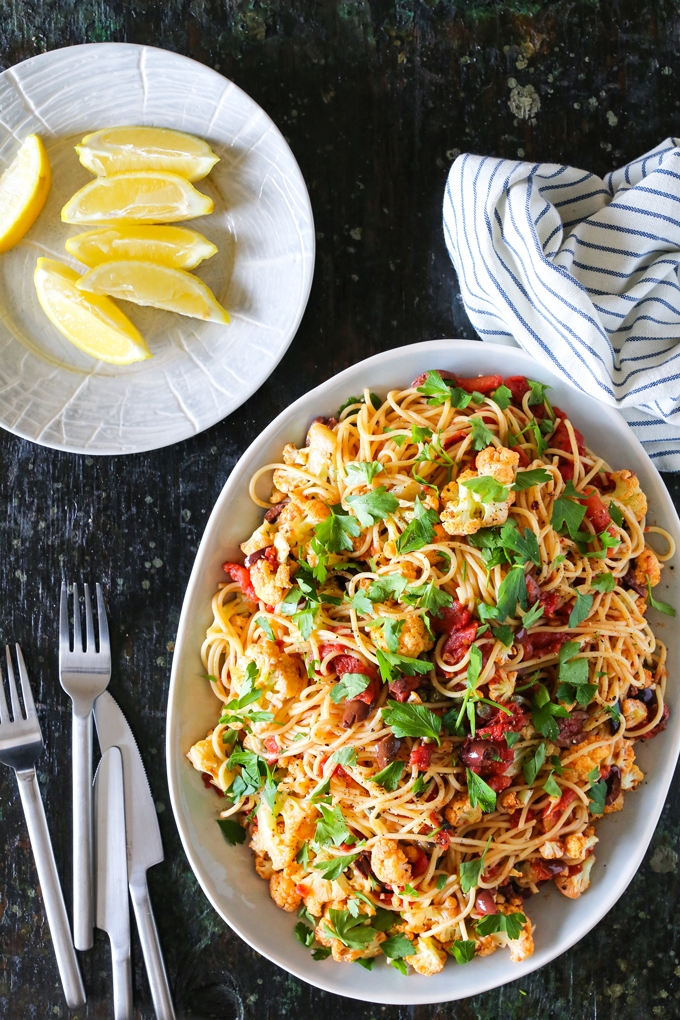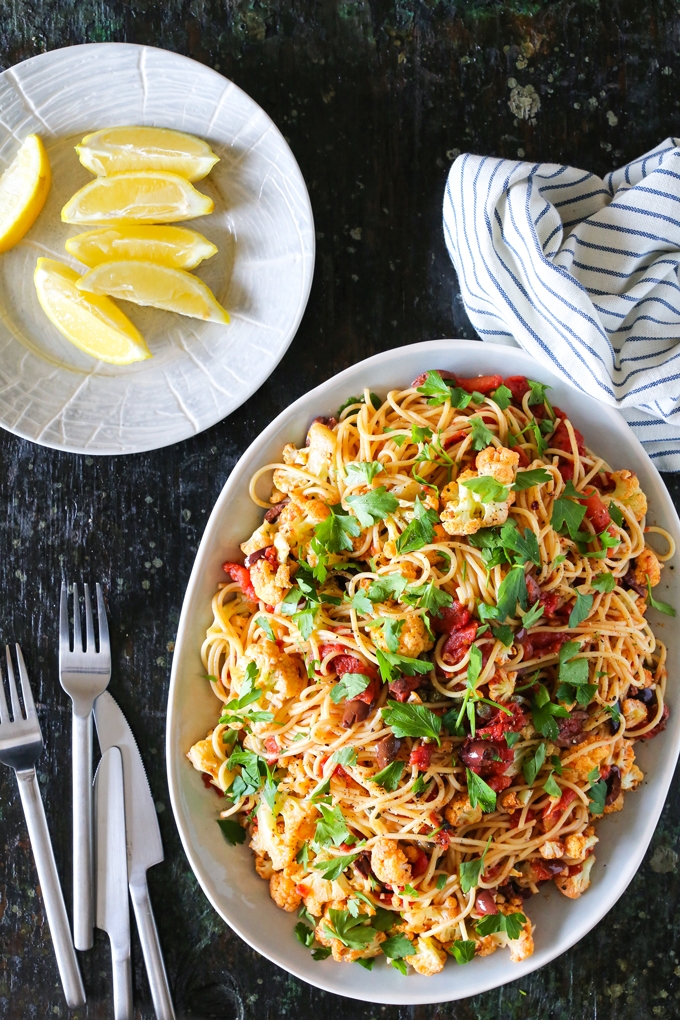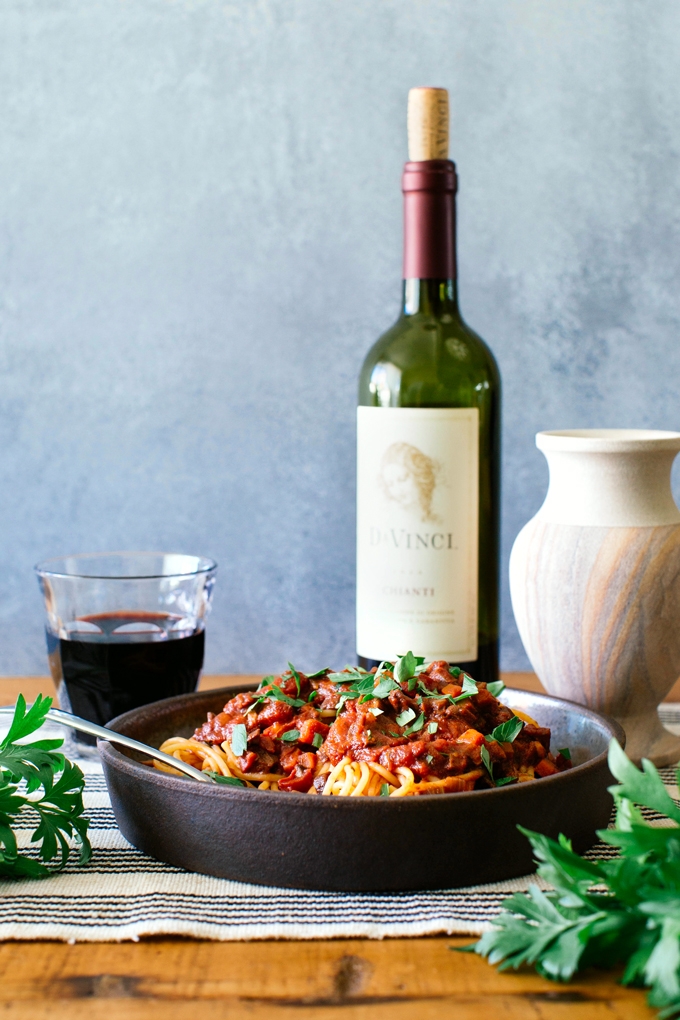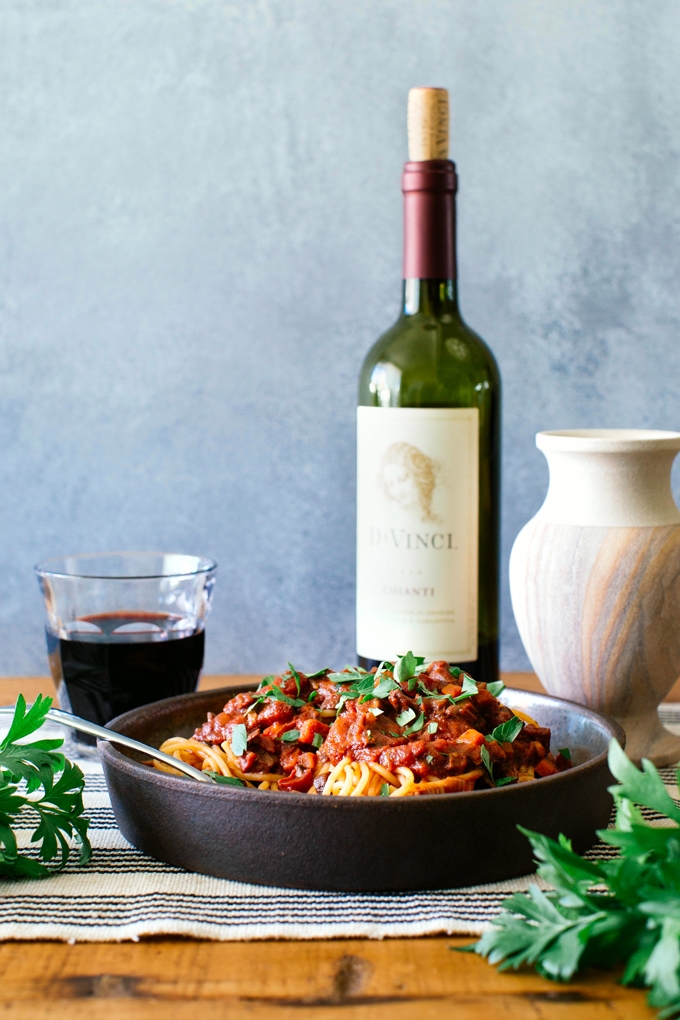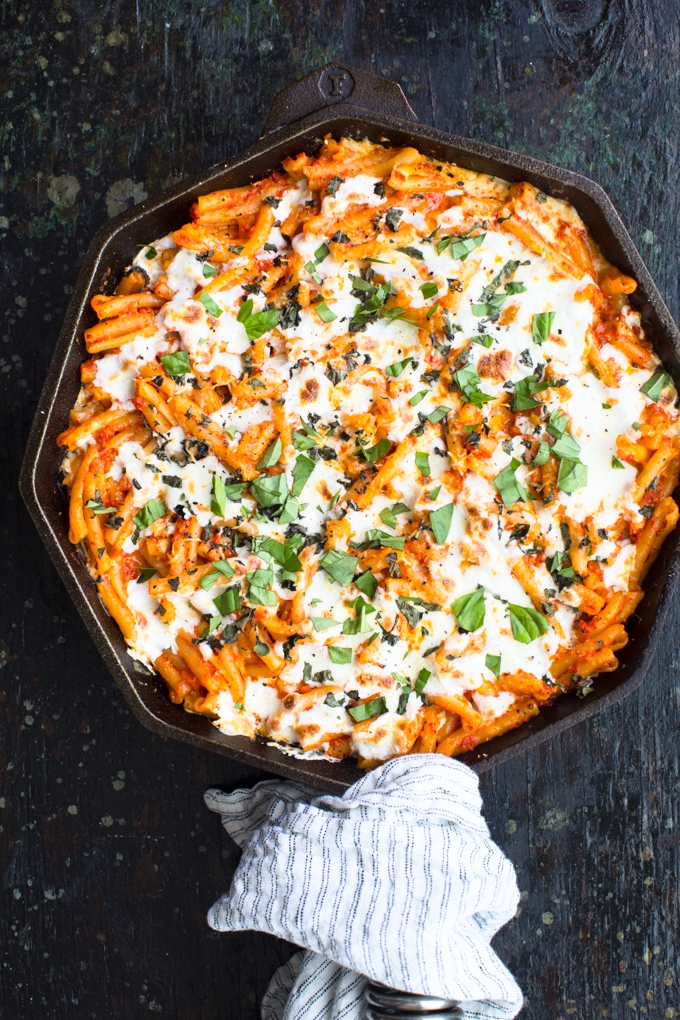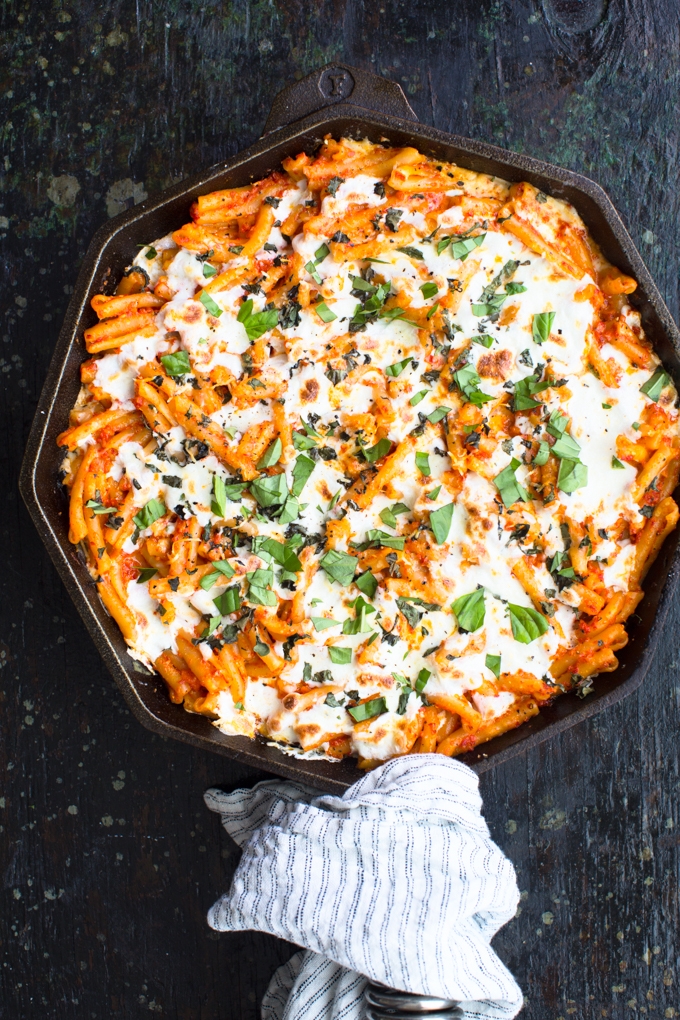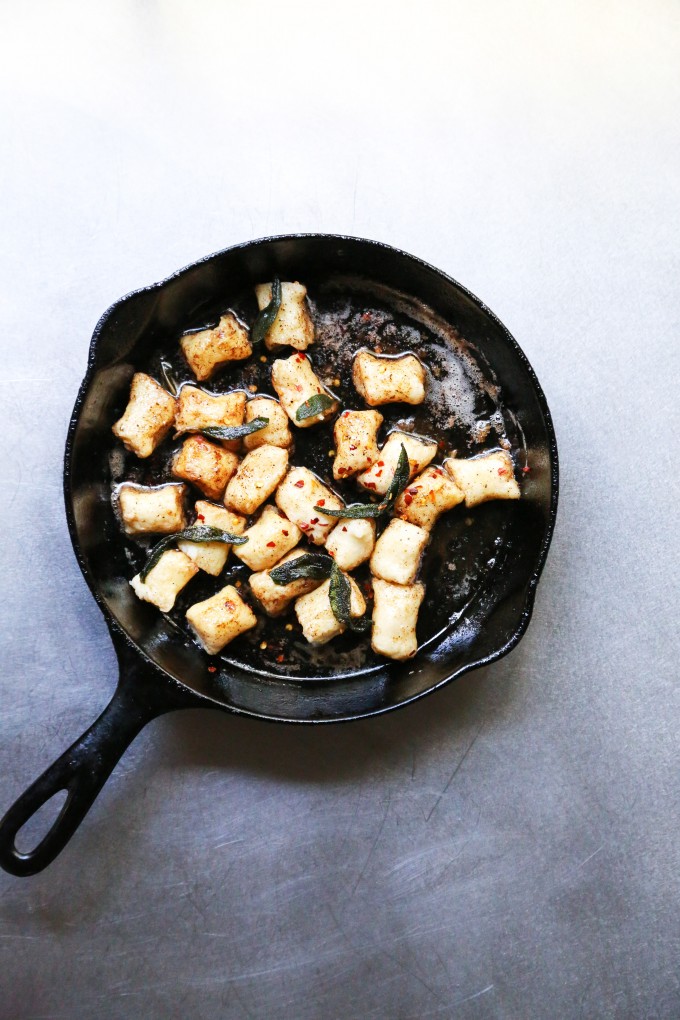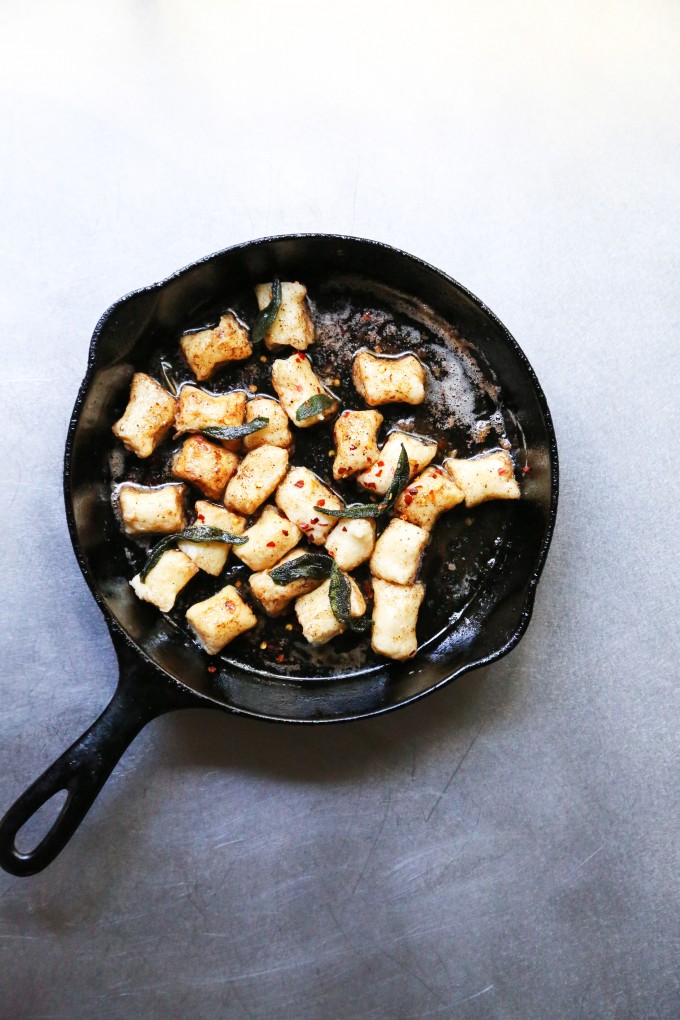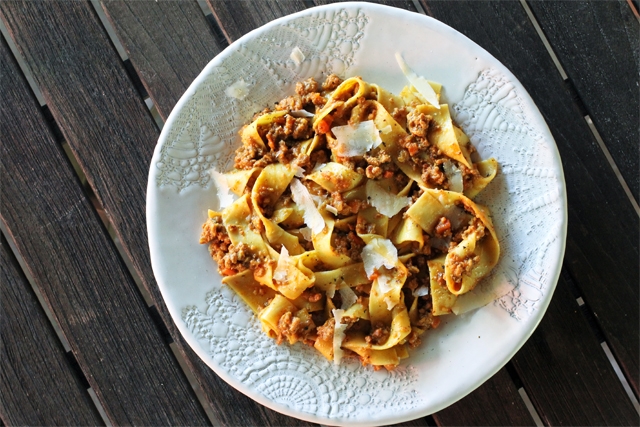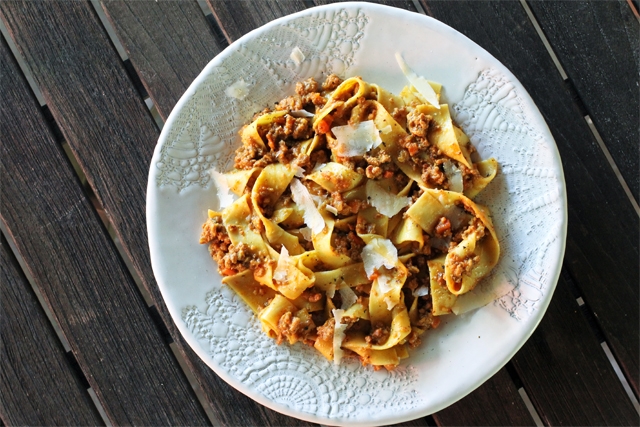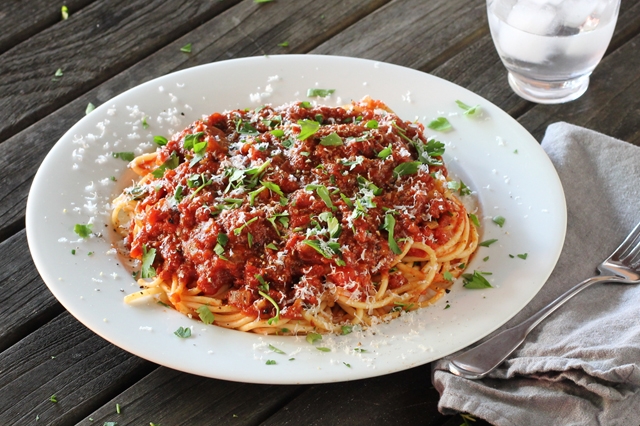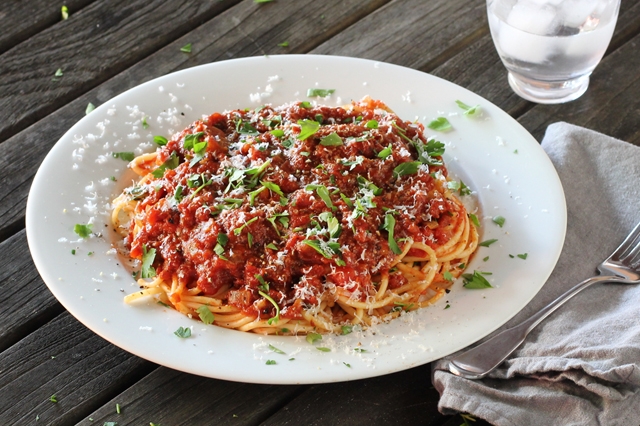 25