A clattering clique of medium-sized pasta shells shacked up with an autumnal fruit and cheese board, and shortly after, this mac and cheese recipe was born.
This post may contain affiliate links.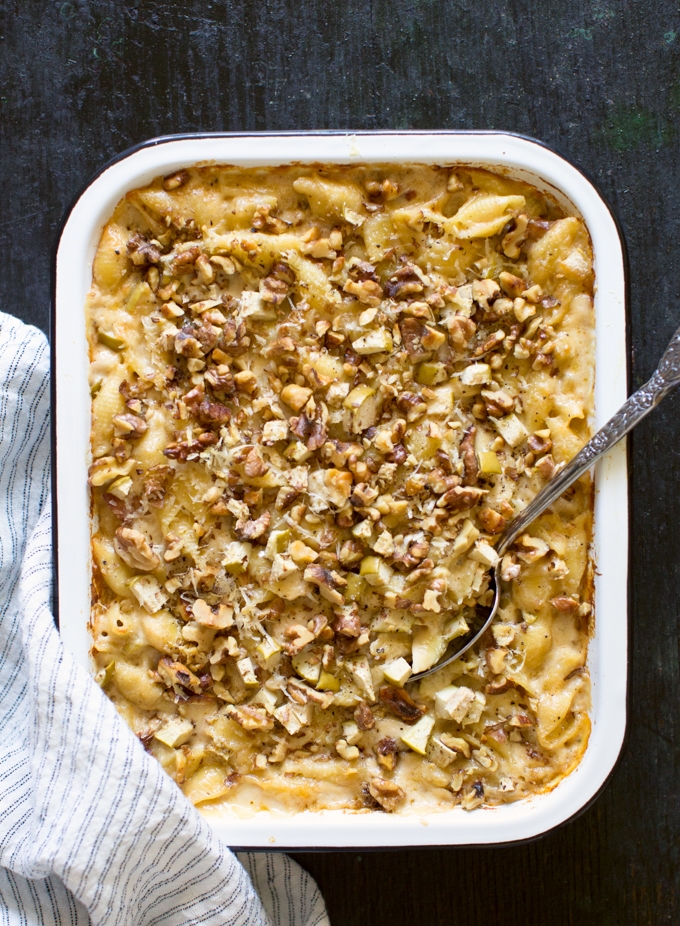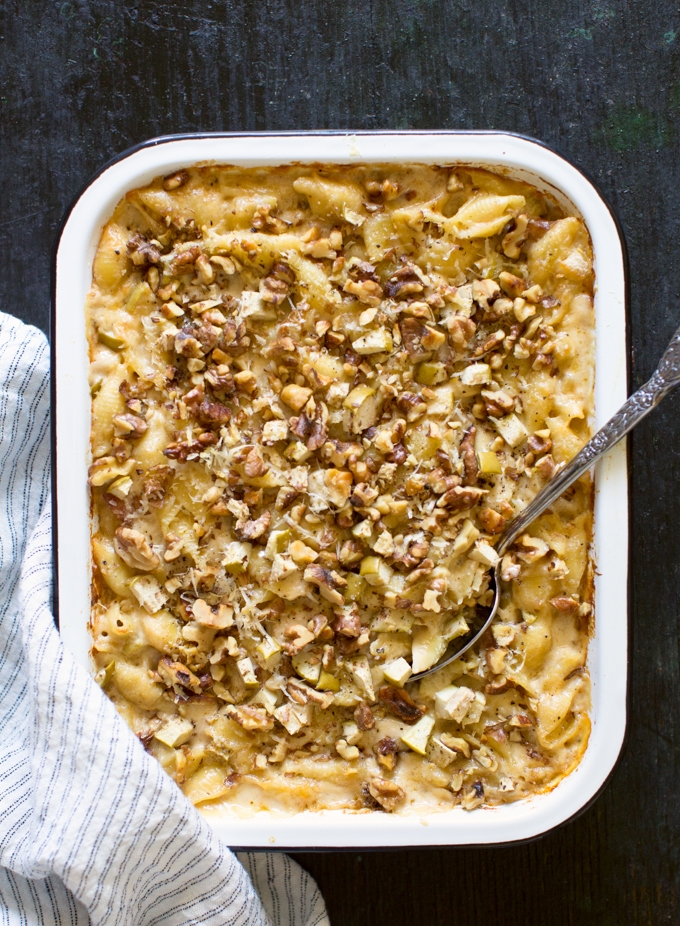 The cheese sauce here is made by swirling rich and creamy Brie and nutty Gruyère into a white sauce infused with onion, paprika, cayenne, nutmeg and allspice.  Cooked shells join the mix along with smoky bacon and tart green apple.  The mac and cheese is finished with a scattering of toasted walnuts, chopped apple and grated Parmesan cheese.  Each bite is wonderfully rich with fun pops of flavor from all the mix-ins.  And seriously, Brie needs to be in more mac and cheese recipes.  It melts up like a dream and adds some really tasty depth of flavor.  This Walnut-Crusted Mac and Cheese recipe would be perfect for a weeknight meal (you can prep everything up to 1 day in advance) paired with a light side salad or as a unique, new side dish for Thanksgiving.  Continue reading for the recipe.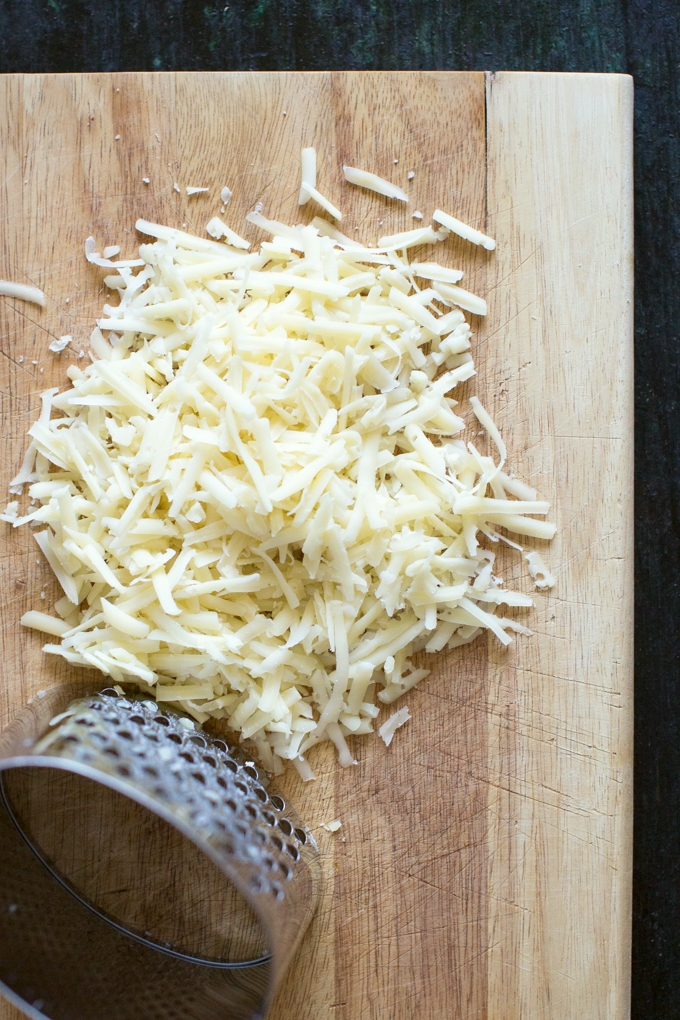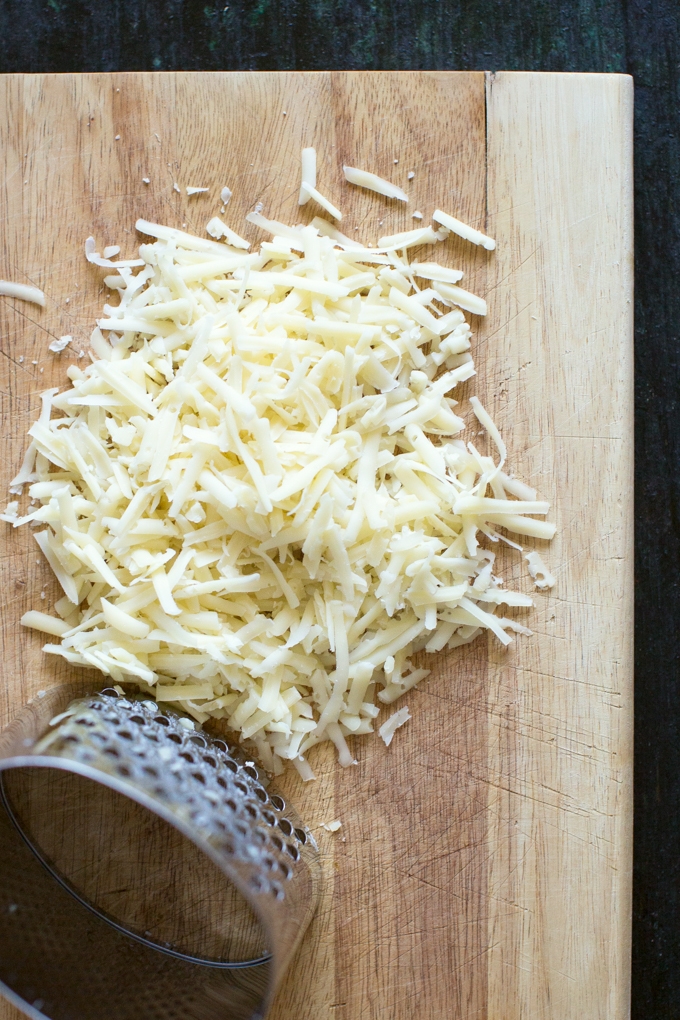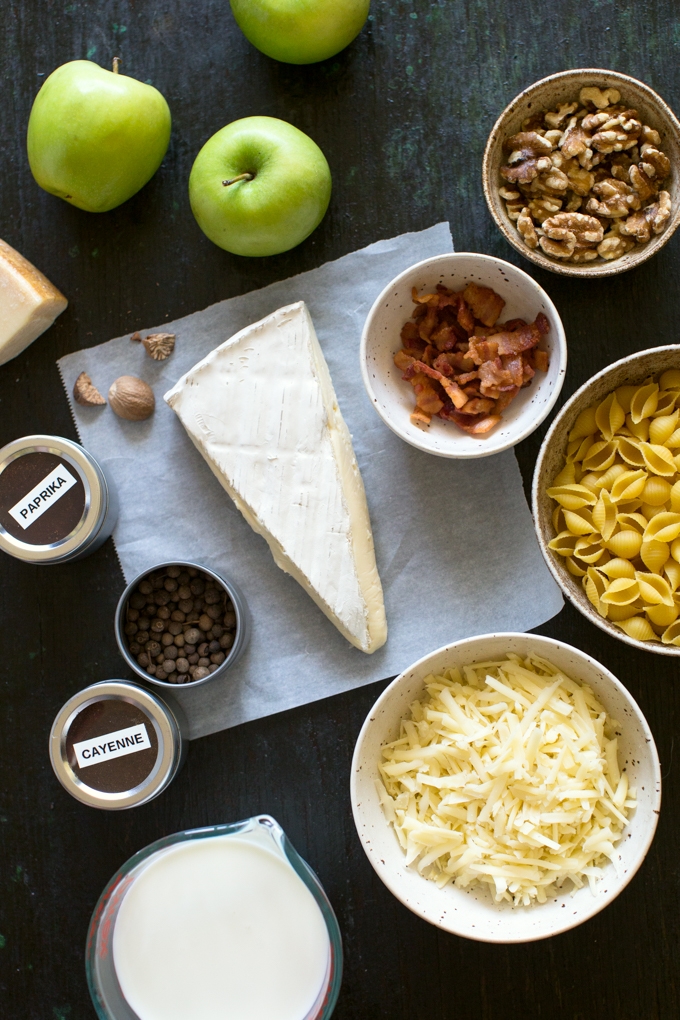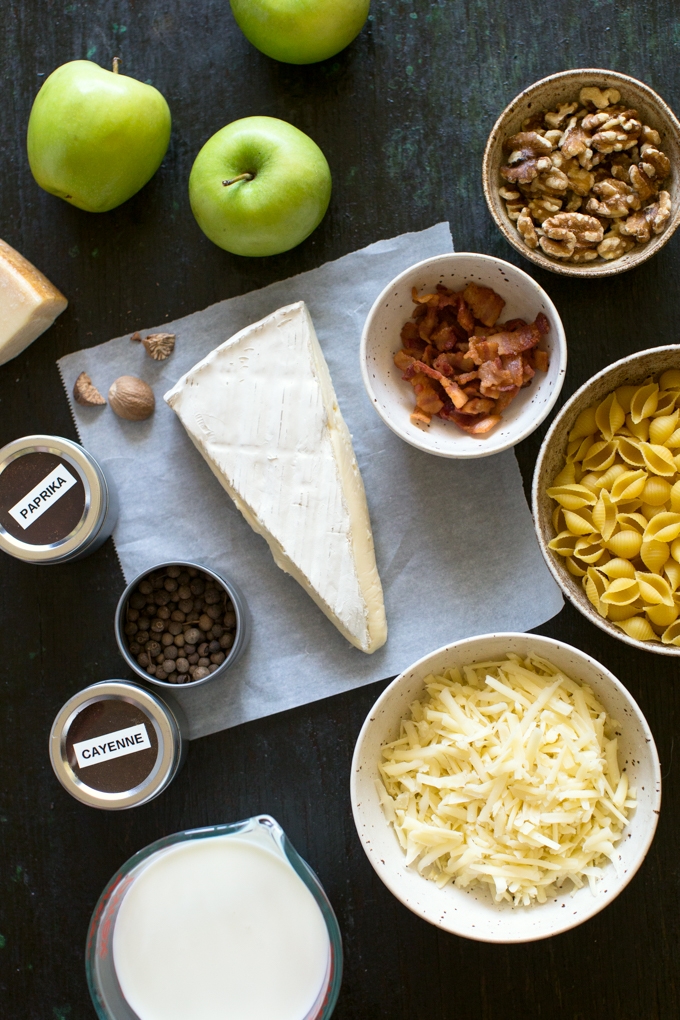 This mac and cheese recipe is courtesy of Molly Yeh's gorgeous new book, Molly on the Range.  Molly and I met last year in Tuscany where we spent a week eating and drinking our way through the region along with Rebecca and Alana.  I still remember the late night laptop sessions huddled around a small coffee table set in a the hall of a vast Tuscan villa.  Stories and laughter fueled by Chianti and Pitch Perfect 2.  Molly's such a talented and creative photographer, writer and recipe developer, and I'm really blown away by her new book.
Molly on the Range features 100+ recipes along with photos and stories about Molly's life on a sugar beet farm near East Grand Forks, Minnesota.  The book is broken down into Breakfast and Brunch, Mains, Snacks and Celebrations and Desserts.  The recipes are very creative with plenty of global influences that reflect Molly's Jewish/Chinese background and life in the Midwest.  For example, Challah Waffles and Brunch Brisket (p. 60 – 61), All The Alliums Fried Rice (p. 113), Za'atar Monkey Bread with Garlic and Onion Labneh (p. 185) and Chicken Pot Tot Hotdish (p 146).  There's also plenty of signature Molly Yeh desserts like Chocolate and Vanilla Slider Cakes (p. 241), Tahini Blondie Ice Cream Sandwiches (p. 236) and Funfetti Cake (p. 271), already a favorite at our house.  Be sure to read the stories in between, because they're really funny.  Like the time Molly dressed up as a schnitzel for Halloween:
"The next day at Sam and Dave's Halloween party no on knew what I was.  In their eyes, I was a Long Island iced tea or Mr. Hankey the Christmas Poo with lemon on it. *Flips hair* All of my friends were losers that night."
I can't wait to cook through more of Molly's recipes, and I am SO proud of her for making such a beautiful book :)!!  Now, on to the mac and cheese recipe.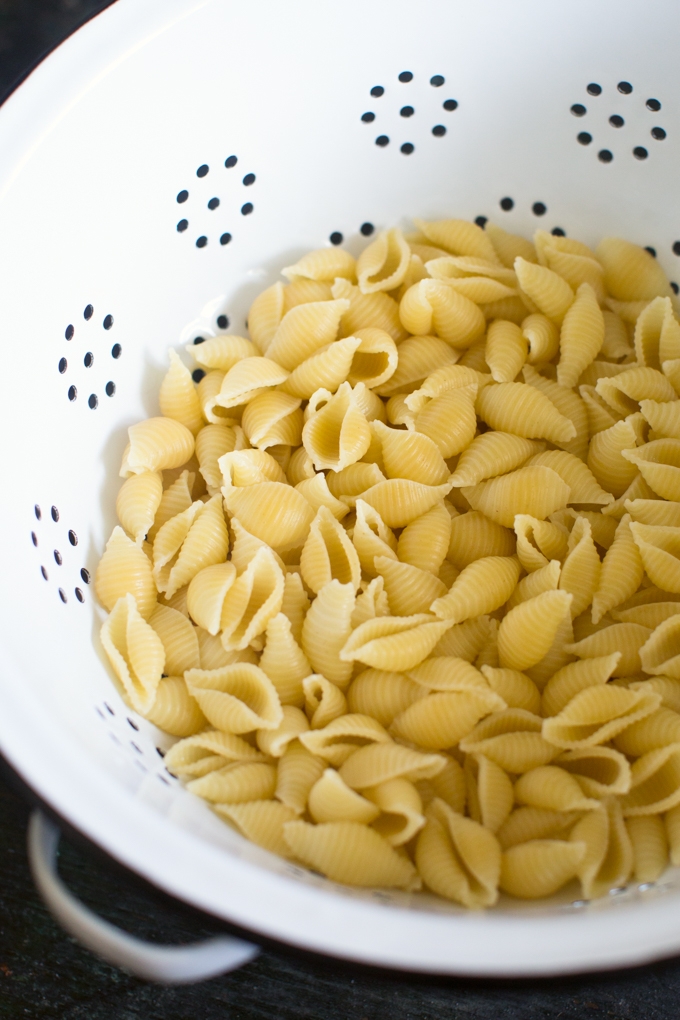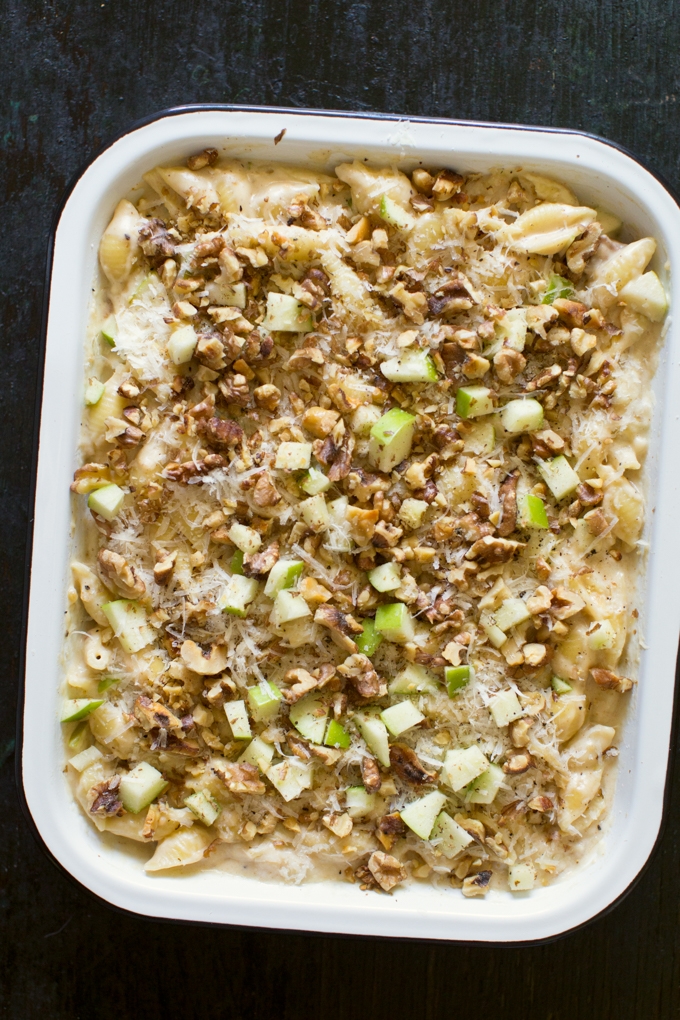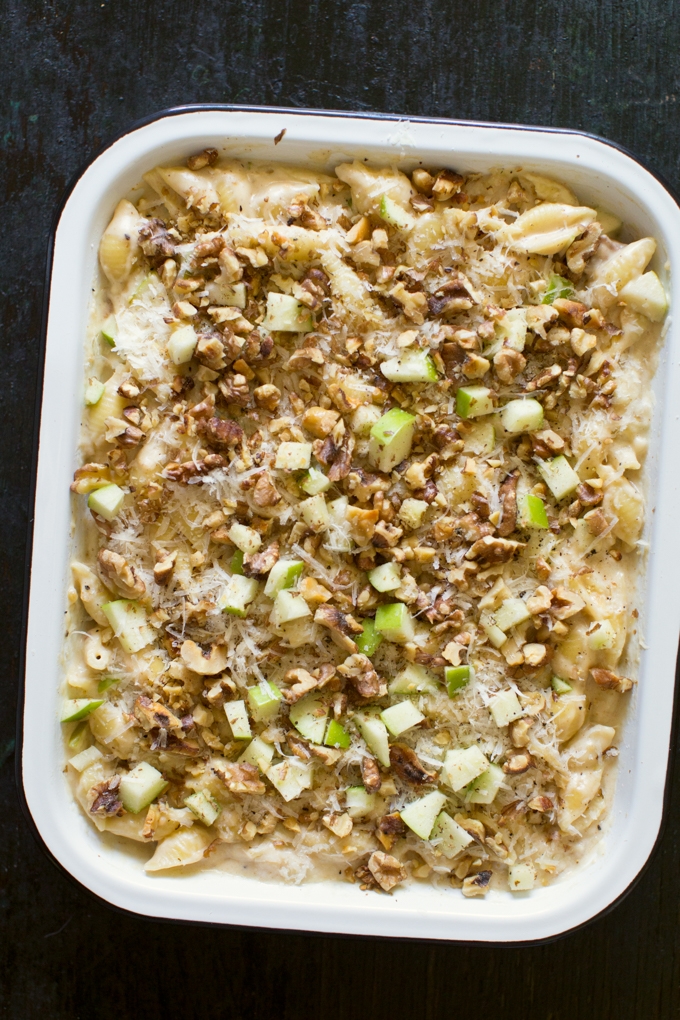 Molly's Walnut-Crusted Brie Mac and Cheese Recipe
Ingredients
8

ounces

medium shells

Kosher salt

3

tablespoons

unsalted butter, plus more for greasing the pan

1/2

small onion, finely chopped

1/4

teaspoon

sweet paprika

1/4

teaspoon

ground cayenne pepper

1/4

teaspoon

ground nutmeg

1/8

teaspoon

ground allspice

Freshly ground black pepper

1/4

cup

flour

3

cups

whole milk

1/4

pound

Brie, rind removed

1/4

pound

Gruyère, shredded

4

ounces

bacon, cooked and chopped into 1/2-inch pieces

1

large Granny Smith apple, chopped in 1/2-inch pieces

1/2

cup

walnuts, toasted and coarsely chopped

3

tablespoons

shredded Parmesan cheese
Instructions
Preheat an oven to 375°F. Grease an 8 x 8-inch baking dish (or a small rectangular dish) with butter and set aside.

Cook the pasta in a large pot of salted, boiling water just 1 minute shy of the timing listed on the package instructions. Drain and set aside.

In a large skillet or saucepan, melt the butter over medium heat. Add the onion with a pinch of salt, and cook, stirring occasionally until soft (4 to 6 minutes). Stir in the paprika, cayenne, nutmeg, allspice and several turns of black pepper, and cook for 2 minutes. Increase the heat to medium-high, whisk in the flour, and cook for 1 minute. Add half of the milk, stirring and whisking frequently, until thickened (3 to 5 minutes), and then repeat with the other half of the milk. I like to use a whisk if I see any lumps. Otherwise, I stir with a spoon or spatula. Add the Brie and Gruyère, stirring until the cheese is completely melted. Take the skillet off the heat, and stir in the cooked shells, bacon and 3/4 of the chopped apple. Season to taste with salt and pepper.

Pour the mixture into the prepared baking dish and top with walnuts, Parmesan and reserved apple. Bake until the top is browned and the sides are bubbling (about 25 minutes). Cool for 5 minutes, then enjoy!
Tried this recipe?
Tag @brandiego on Instagram so I can check it out!
Here are some other cheesy recipes on Kitchen Konfidence: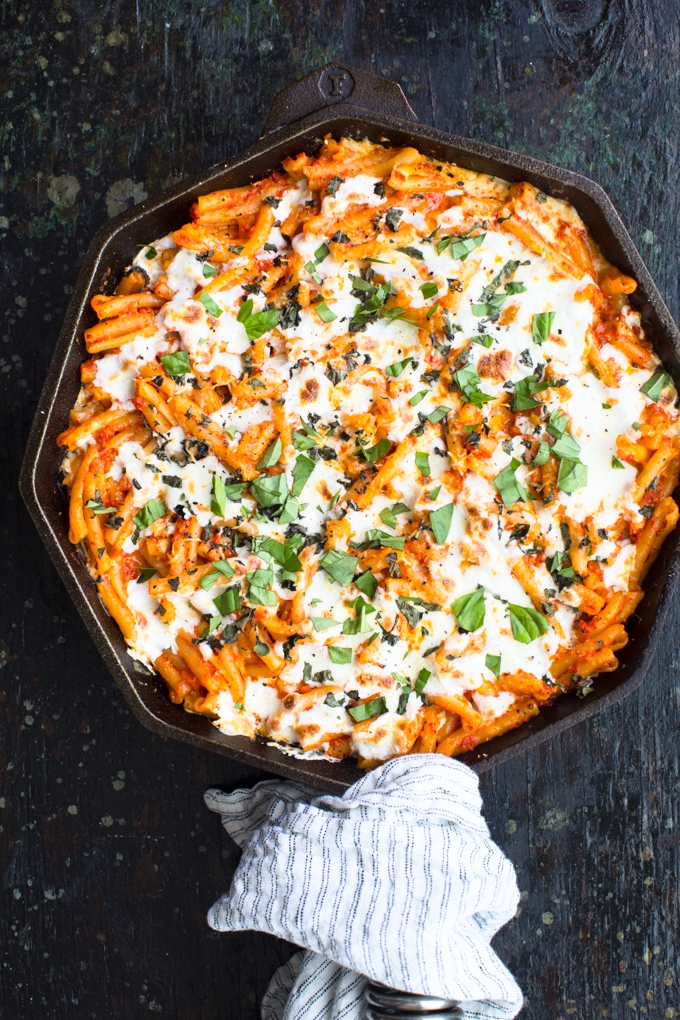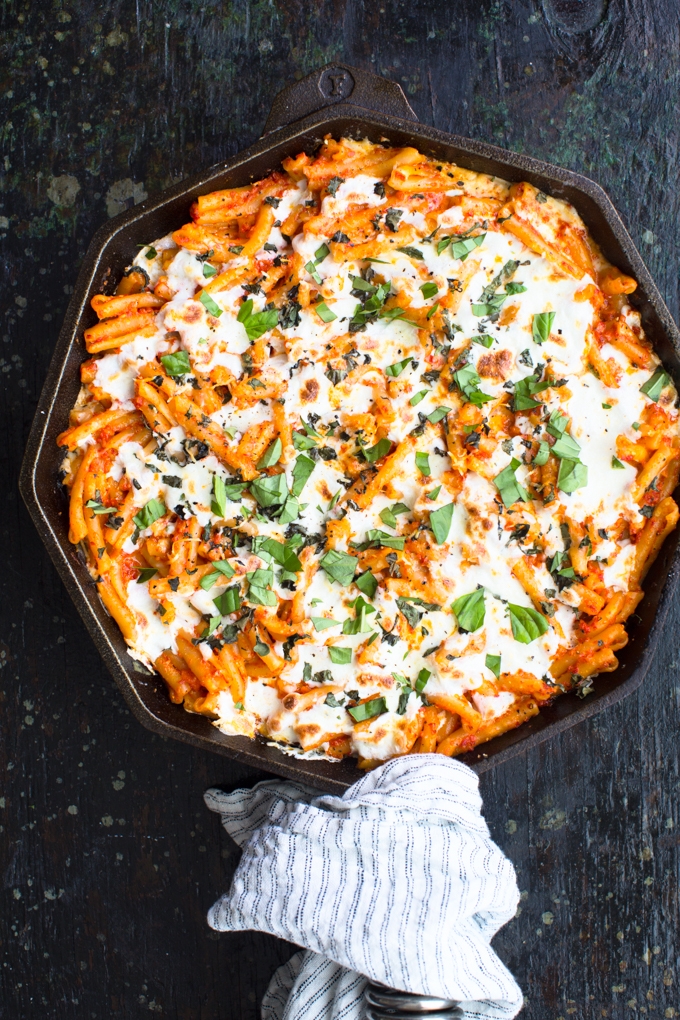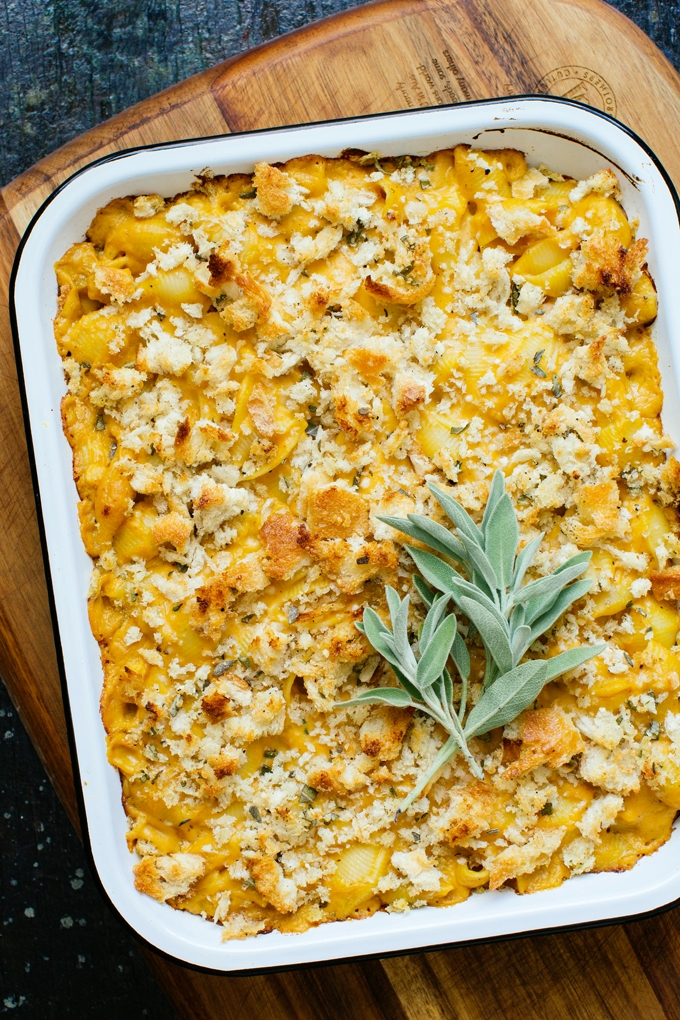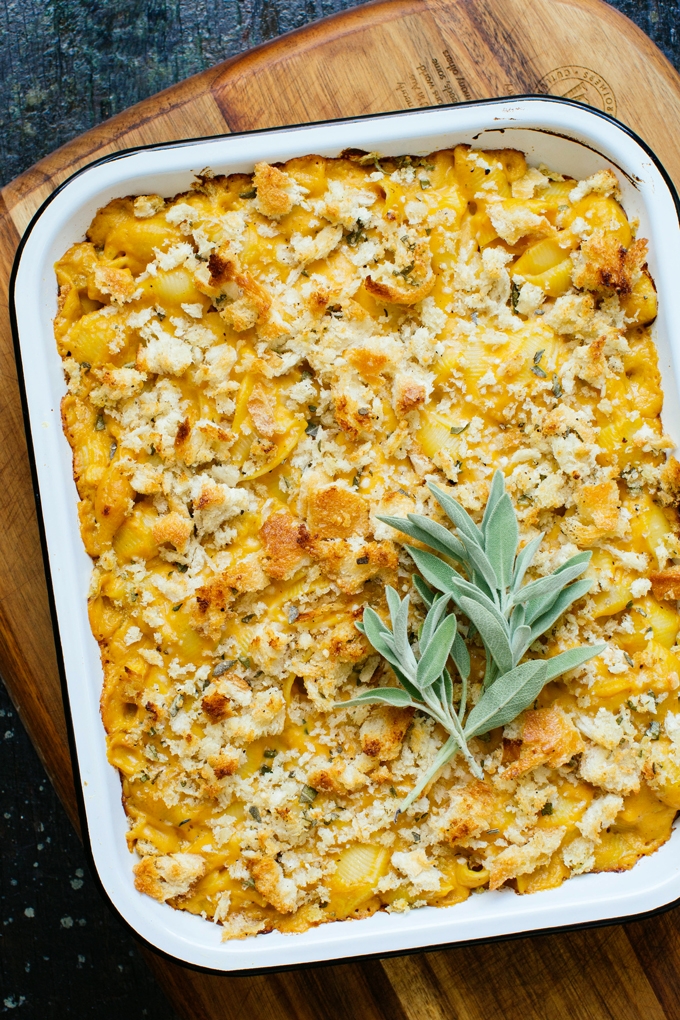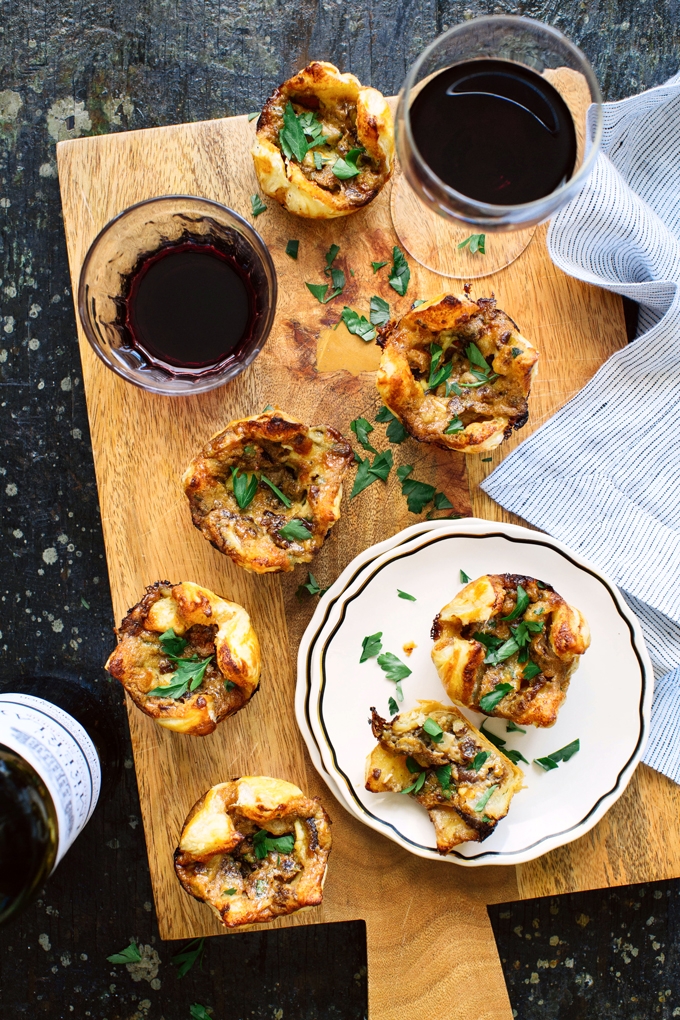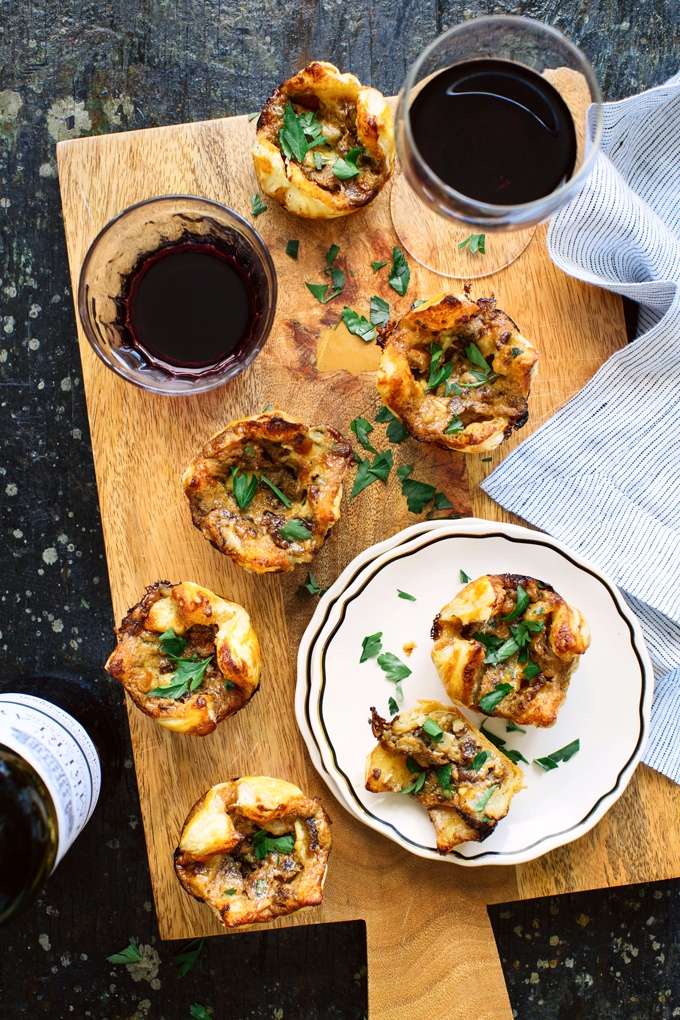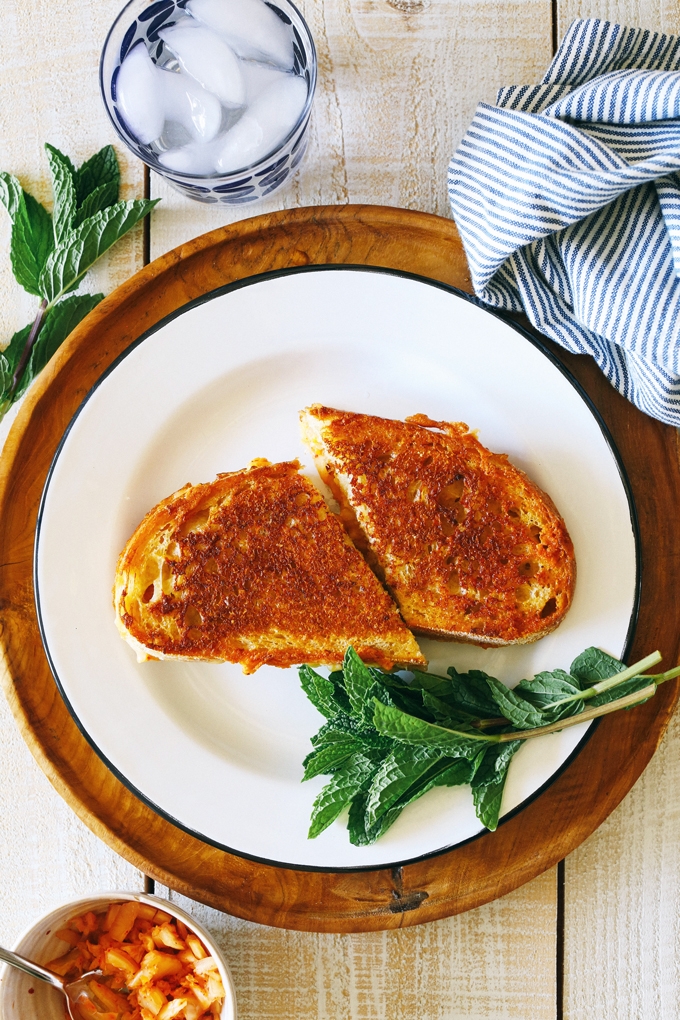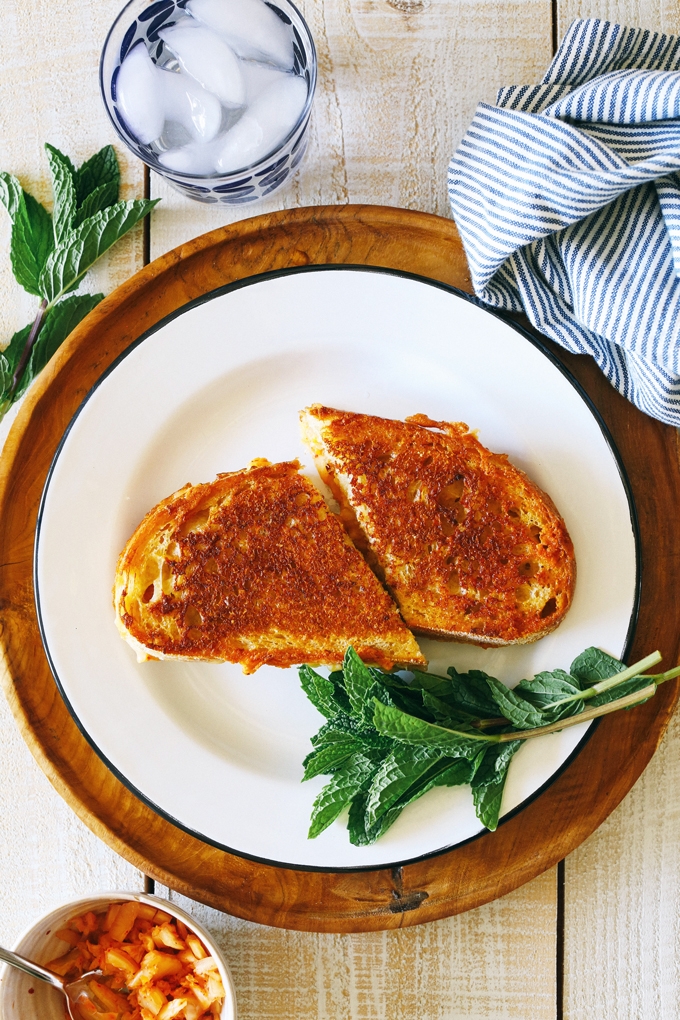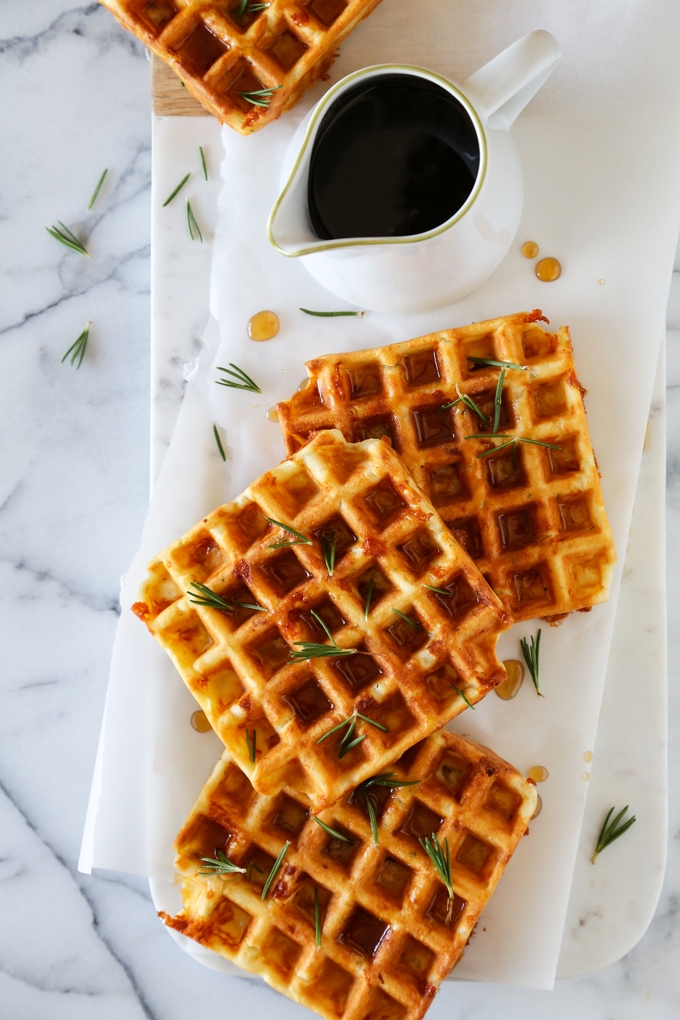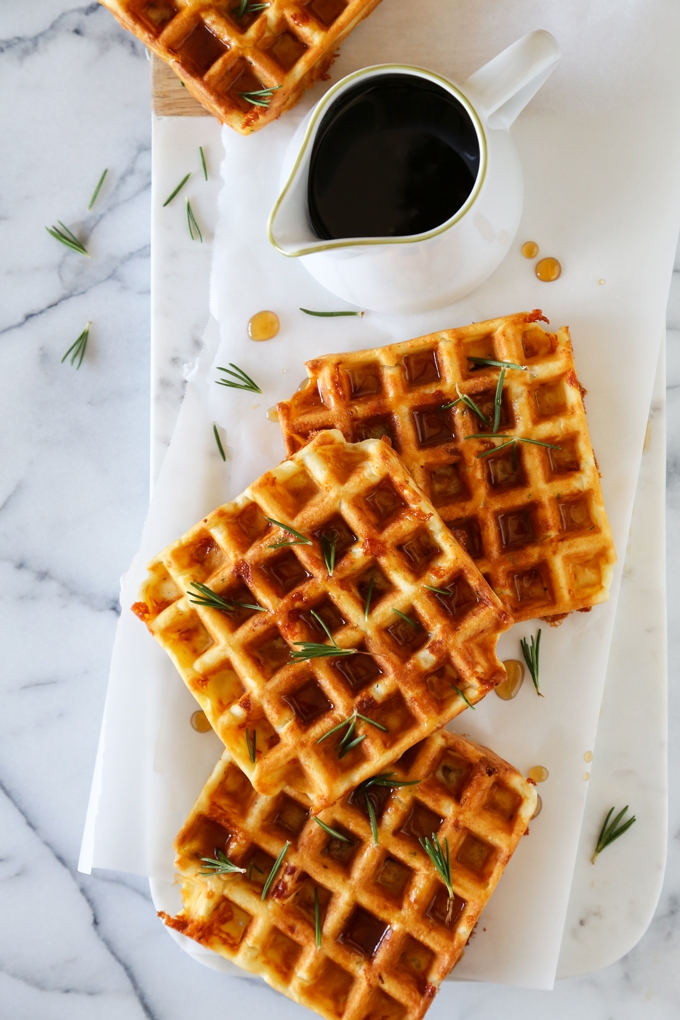 18