It's finally cooling off here in San Diego, and I am so ready for sweaters, cozy throws, balsam-scented candles and a big bowl of this Pork and Squash Stew.
This post may contain affiliate links.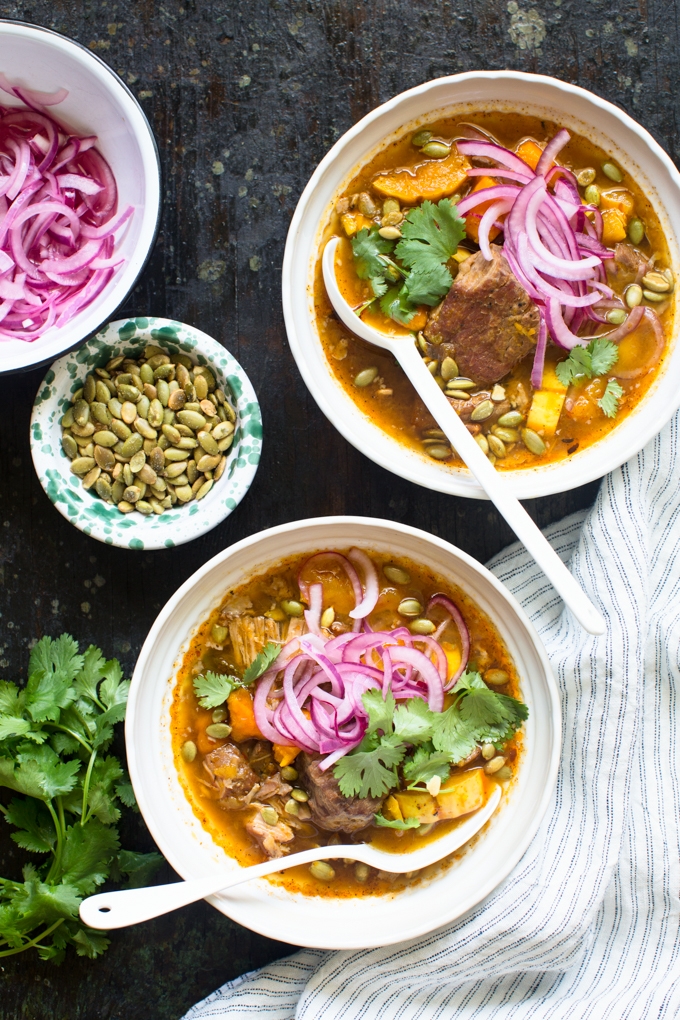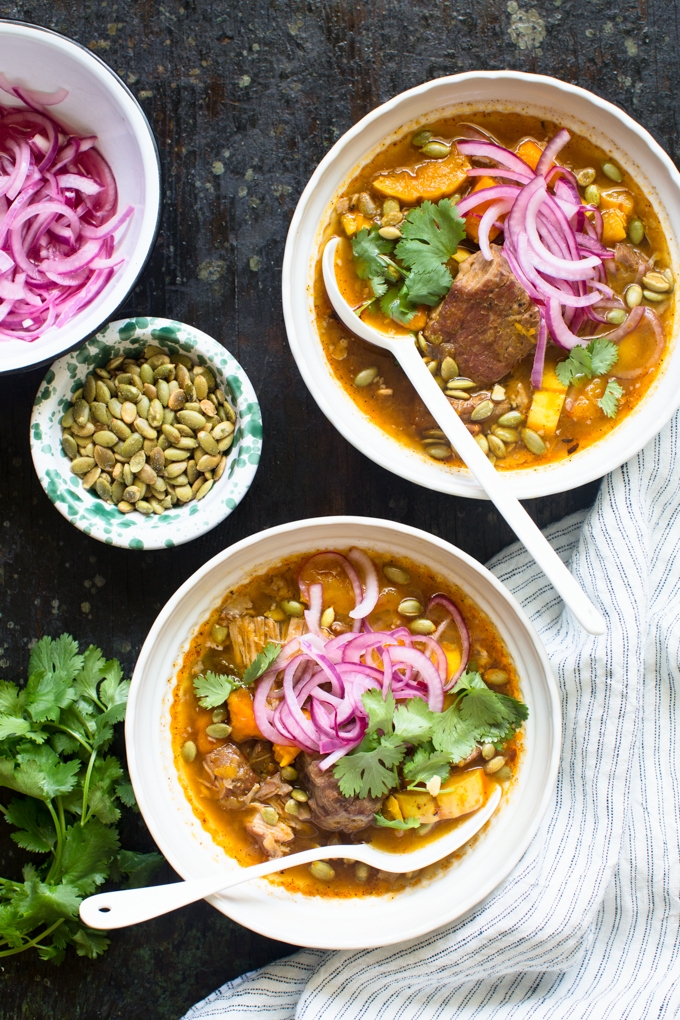 This is a sponsored post, developed in partnership with the National Pork Board. All thoughts, opinions and recipes are my own.
Soups and stews are my everything during the first weeks of fall, and this one, rich with pork and spices, just warms the soul. The recipe starts with big cubes of pork shoulder sizzling in oil until a golden exterior forms. That seared crust adds major depth of flavor to the stew as it simmers. Next, onion and garlic are cooked until soft, then stirred about with chile power, cumin, coriander and crushed red pepper flakes. Cooking dry spices in the fat really helps to unlock their flavor. Finally, water, salt, pepper and oregano join the pot, and the stew cooks for 6 to 8 hours in a slow cooker. During the last couple of hours, a jumble of sliced and cubed squash are stirred in and cooked until melting. Rich and hearty, the finished stew has a deeply spiced broth (but not too fiery) and the seared pork turns tender and supple.
Toppings are an important addition here, because they add contrast in flavor and texture. Keeping with Mexican flavors, the stew is finished with tangy pickled red onions, crunchy pepitas and grassy leaves of fresh cilantro. You seriously need to give this stew a try. Continue reading for the stew recipe.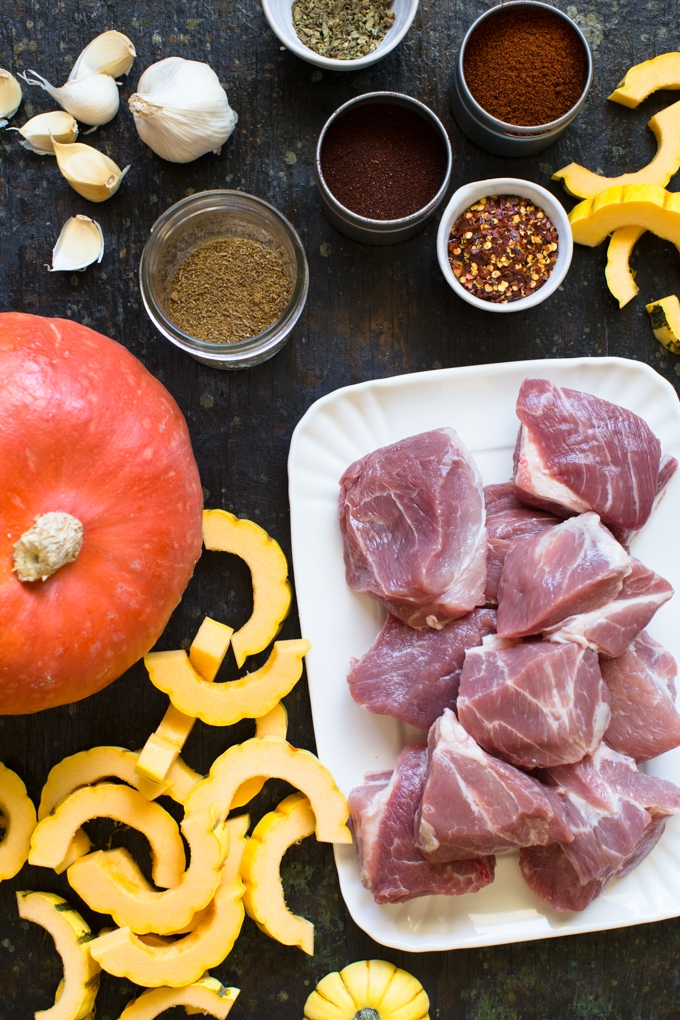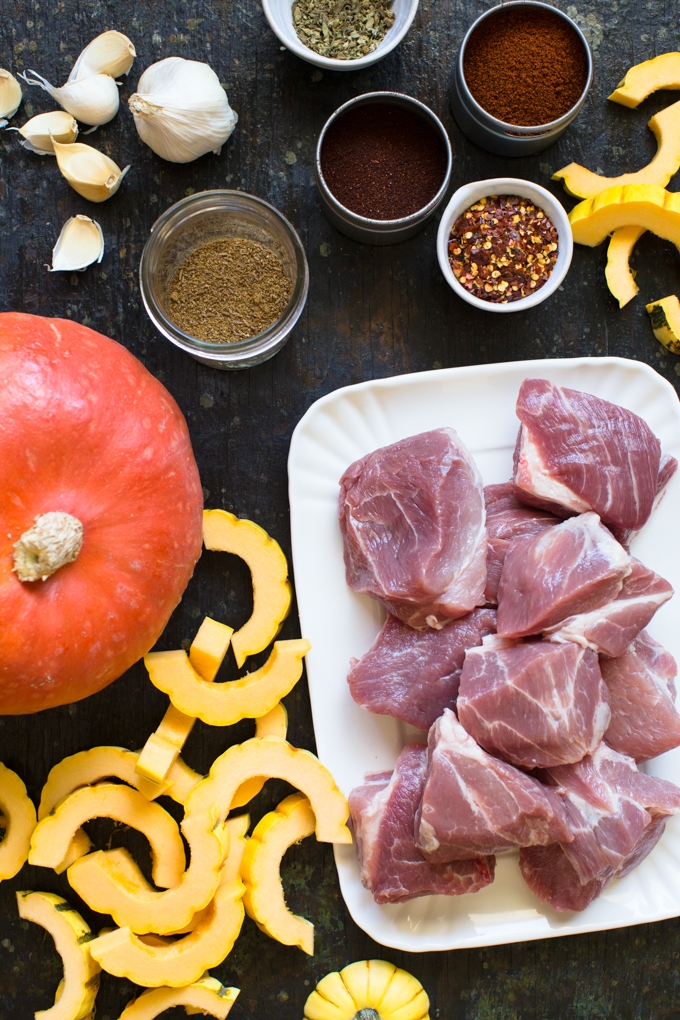 I've been all about Game Day grub (and drinks!) recently, and I am definitely adding this Pork & Squash Stew to the recipe lineup. You can prepare the stew and toppings in advance. The stew is even better the next day! On Game Day, simply rewarm the stew in a slow cooker (I've been using this one recently), and let your guests prepare their own bowls and add toppings to taste.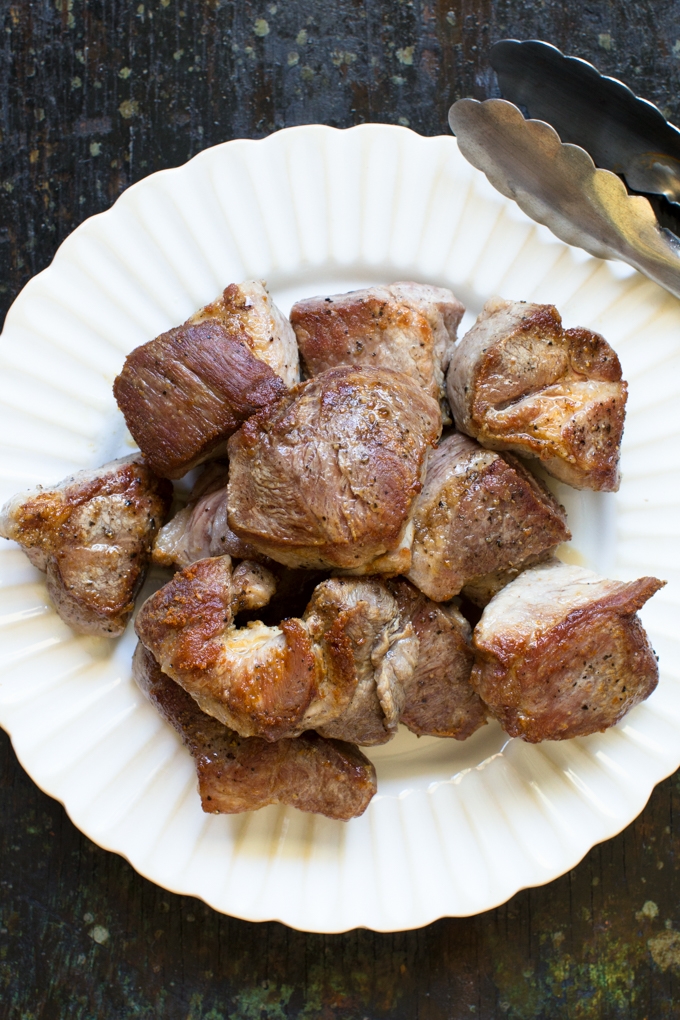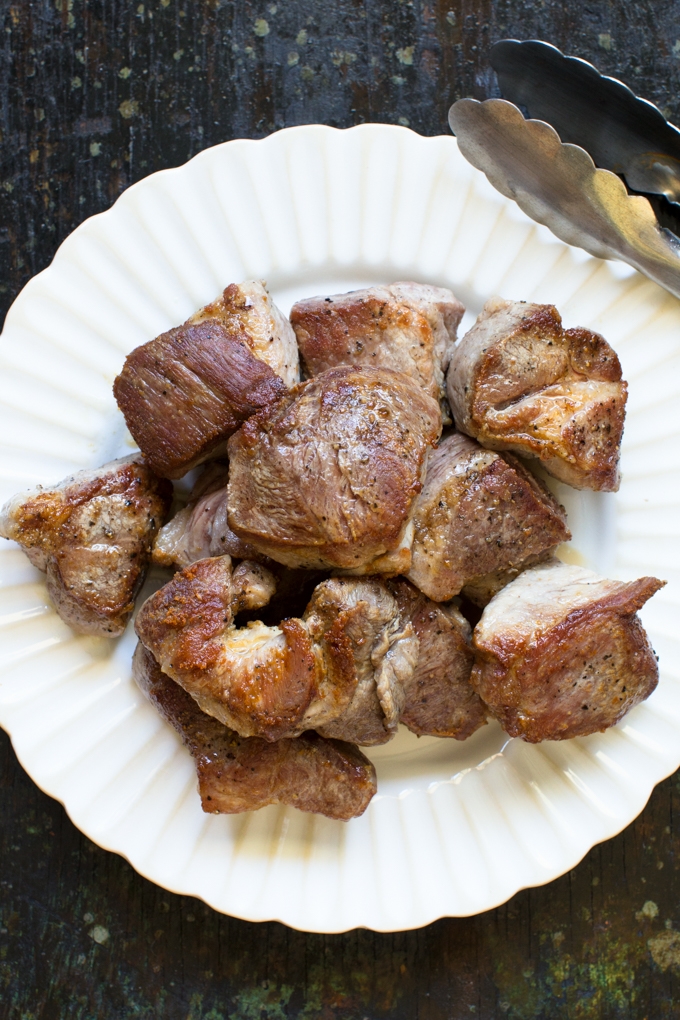 If you'd like to serve this Pork & Squash Stew at your next Game Day or tailgating bash, here are some other suggestions to round out the party, including a few ideas from my recipe partner, the National Pork Board: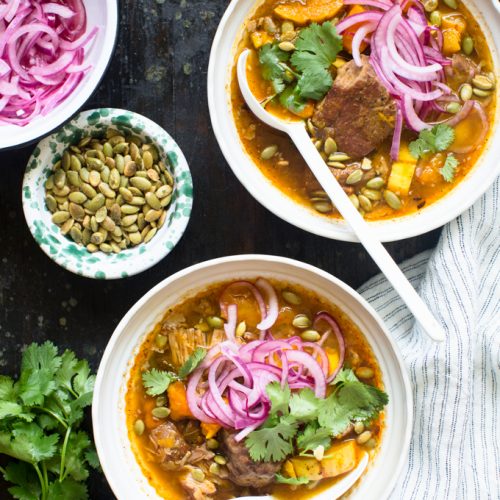 Pork and Squash Stew Recipe
Ingredients
3

pounds

boneless pork shoulder

excess fat trimmed

Kosher salt

Freshly ground black pepper

2

tablespoons

vegetable oil

1

onion, chopped

6

garlic cloves, finely chopped

2

tablespoons

chile powder*

2

teaspoons

ground cumin

1

teaspoon

ground coriander

1/2

teaspoon

crushed red pepper flakes

6

cups

water

1

teaspoon

oregano, preferably Mexican

1

delicata squash, seeds removed, cut into 1/2 inch-thick slices

1

pound

peeled and cubed squash, I used red kuri here

2

teaspoons

red wine vinegar, plus more to taste

1/2

red onion, thinly sliced

1/2

teaspoon

sugar

1/4

cup

lime juice (from 2 – 3 limes)
Roasted and salted pepitas, for serving
Cilantro leaves, for serving
Instructions
Cut pork shoulder into 1 1/2 to 2-inch cubes. Season generously with kosher salt and black pepper. Warm oil in a large cast-iron pot over medium-high heat.. Brown pork in batches, making sure you don't crowd the pan. Browning just 2 sides is sufficient, and transfer to a plate when finished. This should take 8 to 10 minutes per batch.

Add onion and garlic to the hot oil with a pinch of salt, and cook, stirring occasionally, until tender and fragrant (4 to 5 minutes). Stir in chile powder, cumin, coriander and red pepper flakes, and cook for 1 minute. Stir in the water, oregano, 2 teaspoons salt, 1/2 teaspoon black pepper and browned pork. Bring the mixture to a boil, then take off the heat and transfer the contents to a slow cooker. Cook on low for 4 hours. Stir in the squash and red wine vinegar, and continue cooking until both the pork and the squash are tender (about 2 hours longer). Season to taste with additional salt and red wine vinegar.

While the stew is cooking, add red onion, sugar, 1/2 teaspoon salt and lime juice to a medium bowl, stirring to combine. Let sit for 30 minutes, stirring occasionally. Cover and store in the refrigerator until ready to use.
To serve, ladle soup into a bowl, then top with pickled onions, pepitas and cilantro leaves.
Notes
* I used 1 tablespoon of ground New Mexican chile and 1 tablespoon ground ancho chile here, but use whatever you've got on hand.
Tried this recipe?
Tag @brandiego on Instagram so I can check it out!
For more Game Day and tailgating recipe ideas, be sure to check out the Pork Be Inspired Tailgating recipe page!!
9