You guys!!  Last night we got to see Ina Garten LIVE here in San Diego.  If you didn't already know, Ina is one of my favorite food personalities, and I've learned so much from watching her over the years.
This post may contain affiliate links.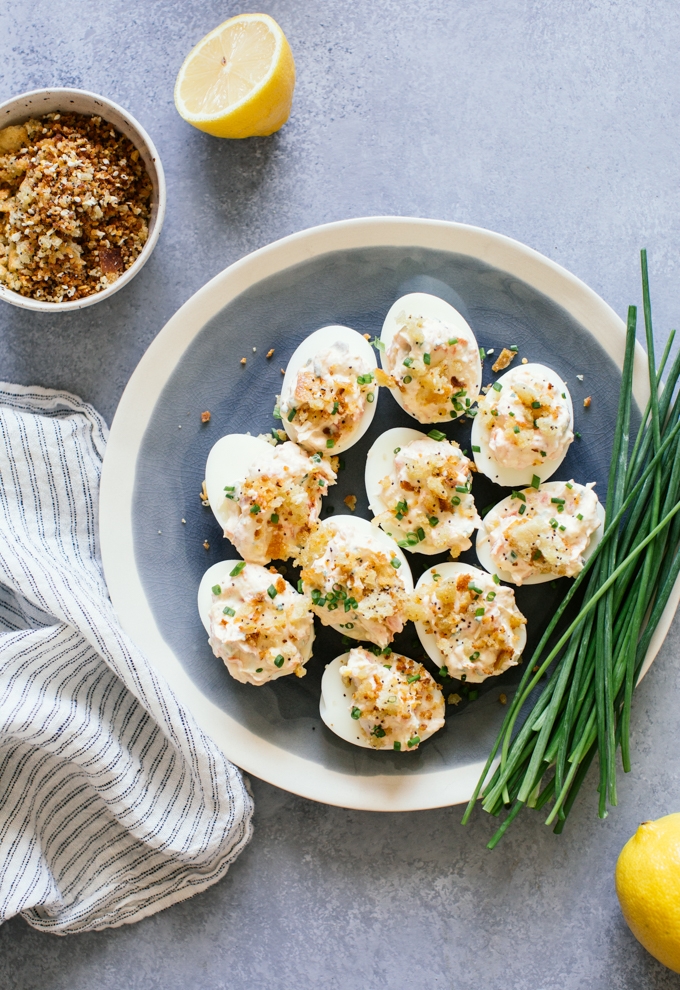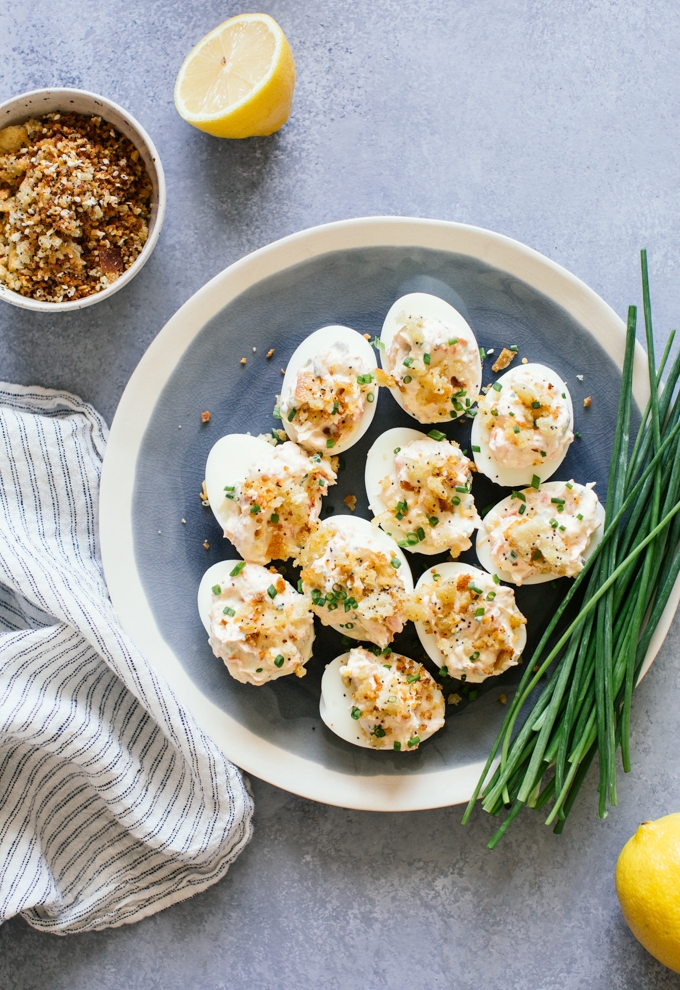 The format of the live appearance was an interview followed up by audience Q&A.  Ina told many stories about her history with Jeffrey and how she built up her business into a cookbook empire.  I just love that she's confident, but still sweet and humble.  I'm sure she could be 100% diva given all of the success she's had, and how rich she is, but she keeps it real.  Last night I got this sense that I was hanging out with an old friend.  She was fun.  She was casual.  She made me smile.  And I think that's why Ina is so successful!  Her recipes are delicious and refined, but still very approachable.  I can only hope to do the same here on Kitchen Konfidence!
Speaking of Ina's recipes, these Smoked Salmon Deviled Eggs are an adaptation of the ones found in her cookbook How Easy Is that?.  Hard-boiled egg yolks are mixed with mayo, sour cream, cream cheese, chives, chopped smoked salmon and fresh lemon juice, then spooned back into halved egg whites.  If you were to stop there, and just eat as is, these deviled eggs would be amazing.  Addicting really.  But I decided to take things over the top with the addition of Everything Bagel-Spiced Breadcrumbs.  To make them, you simple sizzle fresh breadcrumbs in olive oil until golden, then toss with a homemade spice mix that conjures the flavor of an everything bagel.  These crunchy crumbs add a nice contrasting texture while giving you the feel like you're having a bagel with smoked salmon and cream cheese all in one delicious bite.  Continue reading for the recipe.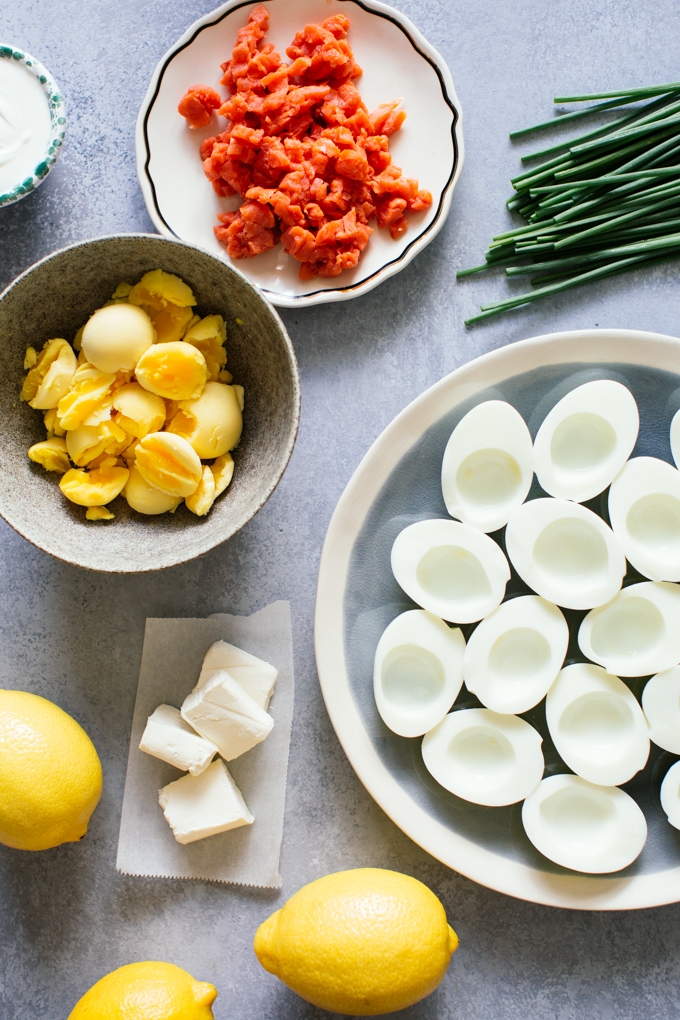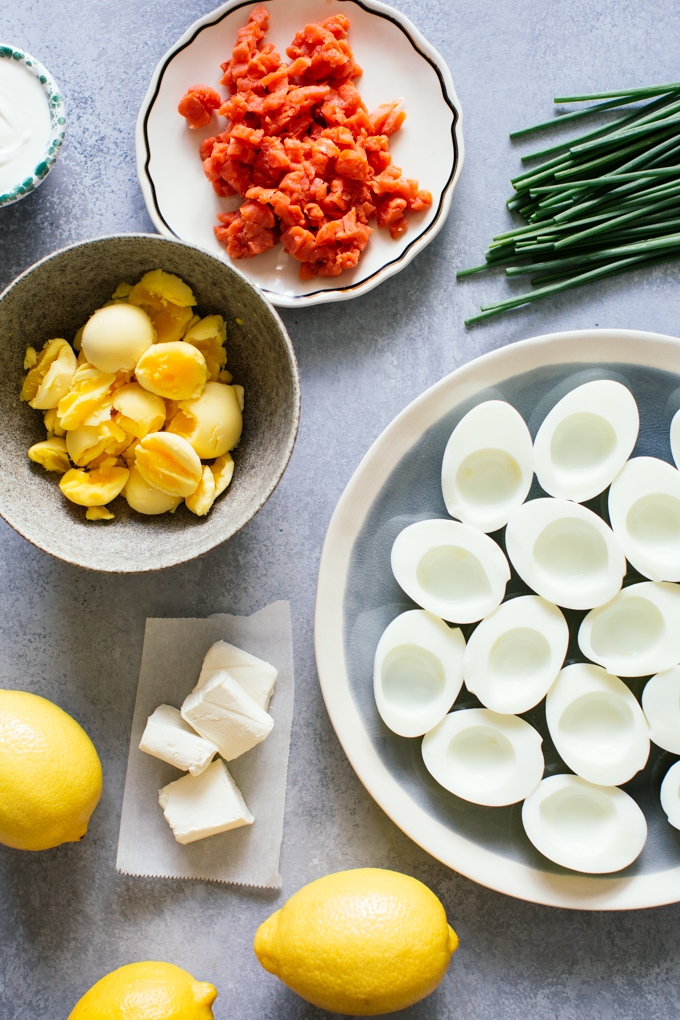 Each year for Thanksgiving, I serve up a different type of deviled egg (see all the past recipes below) during the appetizer hour.  It's become a tradition!  Deviled eggs are a retro app that people really, really love.  I know my friends can easily wipe clean an entire plate of eggs.  I like to add fun flavorings for a modern twist.
For Thanksgiving, I would recommend preparing the spice mix days in advance.  The yolk mixture can be prepared Thanksgiving morning and stored in the fridge until right before dinner.  I would recommend filling the egg whites just before serving.  The breadcrumbs can also be made that morning and stored at room temp.  If you think the breadcrumb topping is too much work, then simply serve the eggs without it.  They will still be really tasty.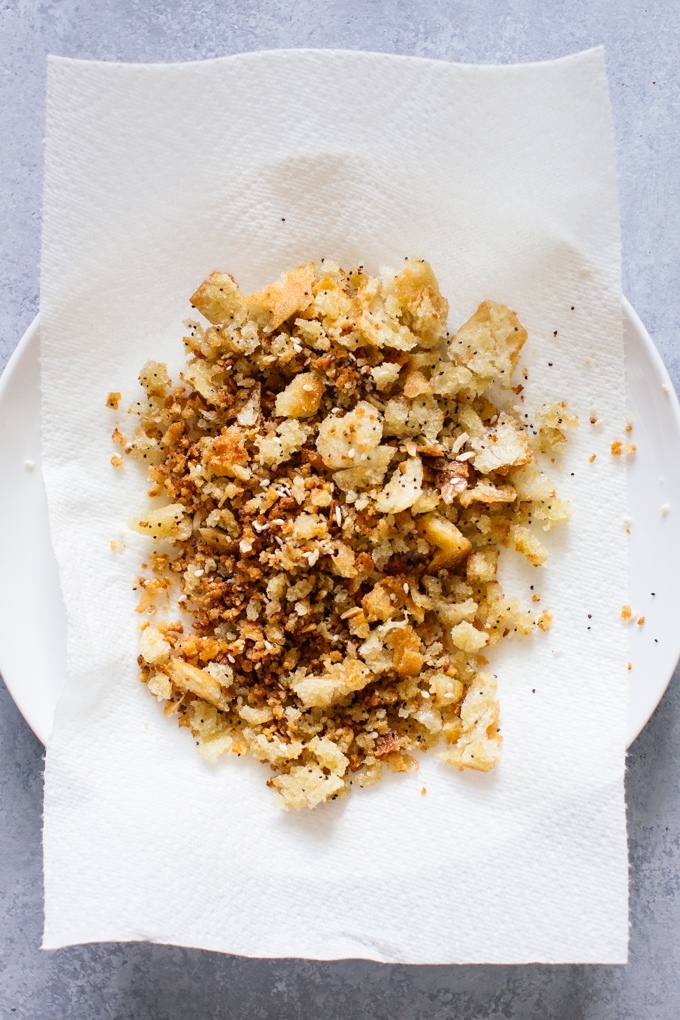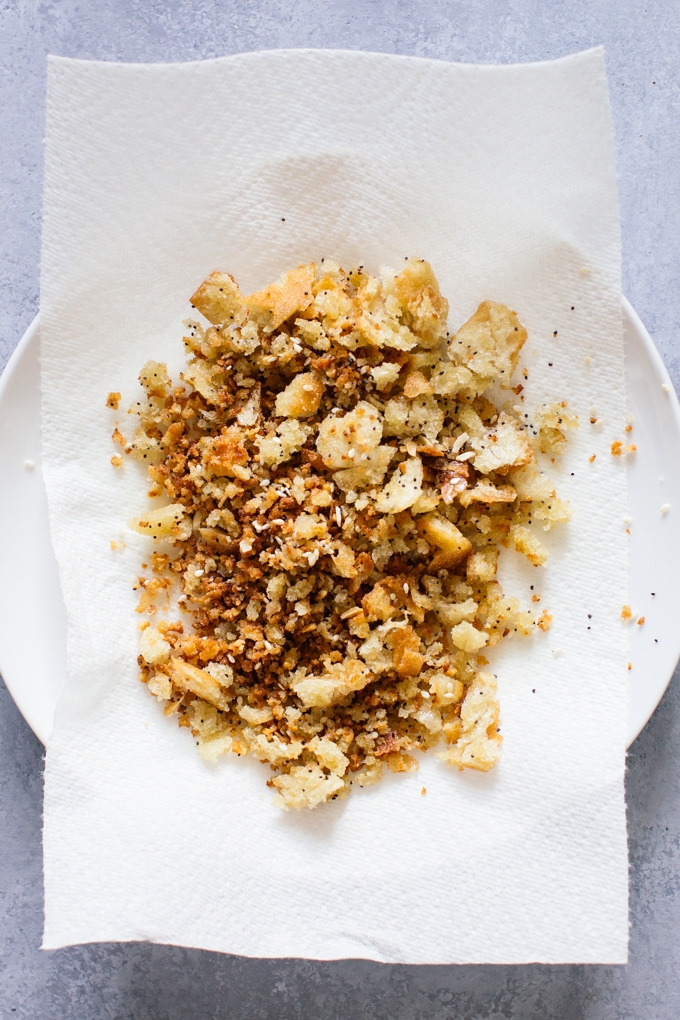 Smoked Salmon Deviled Eggs with Everything Bagel-Spiced Breadcrumbs
Ingredients
For the breadcrumbs:
1/2

teaspoon

dried garlic

1/2

teaspoon

dried onion

3/4

teaspoon

poppy seeds

1

teaspoon

sesame seeds

1/4

teaspoon

kosher salt

2

tablespoons

olive oil

1

heaping cup fresh breadcrumbs
For the deviled eggs:
1/2

cup

sour cream

2

ounces

cream cheese, at room temperature

2

tablespoons

mayo

1

tablespoon

freshly squeezed lemon juice, plus more to taste

2

tablespoons

minced chives, plus extra for garnish

4

ounces

smoked salmon, chopped fine

Kosher salt

Freshly ground black pepper
Instructions
Combine dried garlic, dried onion, poppy seeds, sesame seeds and kosher salt in a small bowl, stirring to combine. Warm olive oil in a medium skillet over medium heat. Add the breadcrumbs and cook until golden and crunchy (5 to 6 minutes). Stir in Everything Bagel Spice to taste (I added around 1 1/4 teaspoons). You will have extra spice mix.

Add sour cream, cream cheese, mayo and lemon juice to a medium bowl, whisking until well-combined. Separate the egg yolks from egg whites. Place the yolks in bowl with the sour cream mixture, and the whites on a large plate. Add chives, smoked salmon, 1/2 teaspoon salt and 1/2 teaspoon pepper to the bowl with the yolks. Using a fork, mash and mix to combine. You don't want any big chunks of yolk remaining. Season to taste with additional salt, pepper and lemon juice.

To serve, spoon or pipe the yolk mixture into the well of each egg white. Top each egg with a sprinkling of breadcrumbs. Finish with a sprinkling of minced chives.
Tried this recipe?
Tag @brandiego on Instagram so I can check it out!
Here are some other deviled egg recipes on Kitchen Konfidence: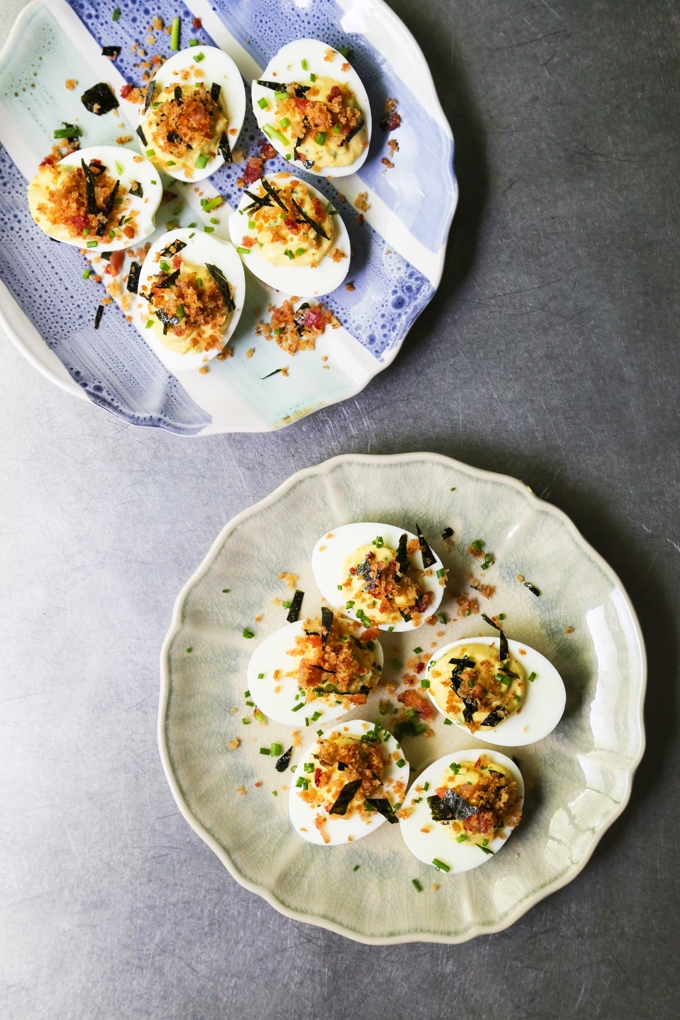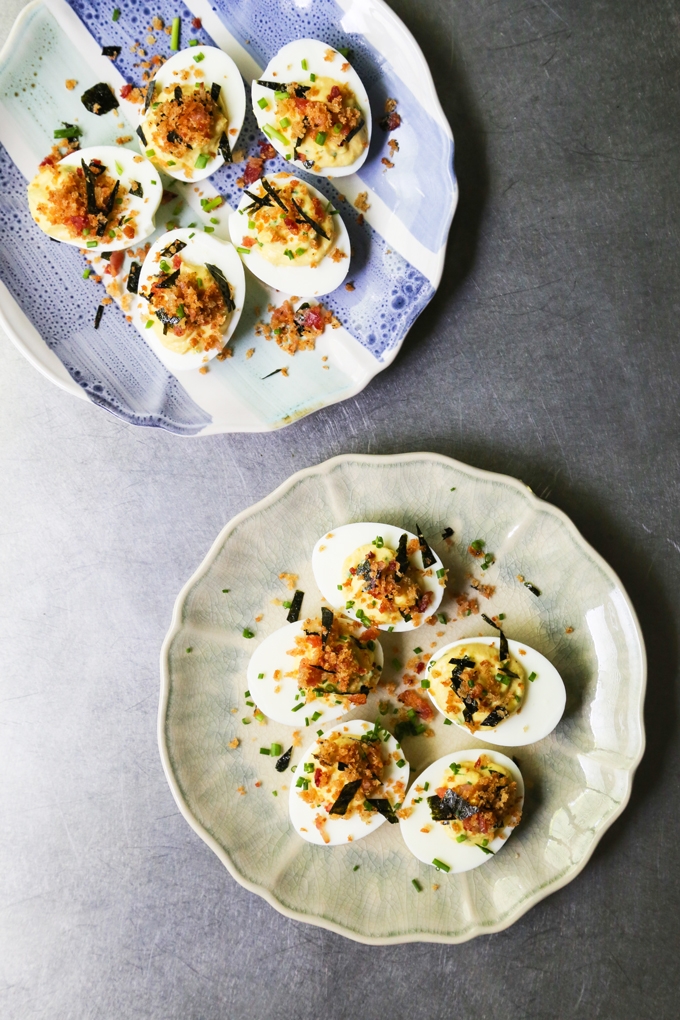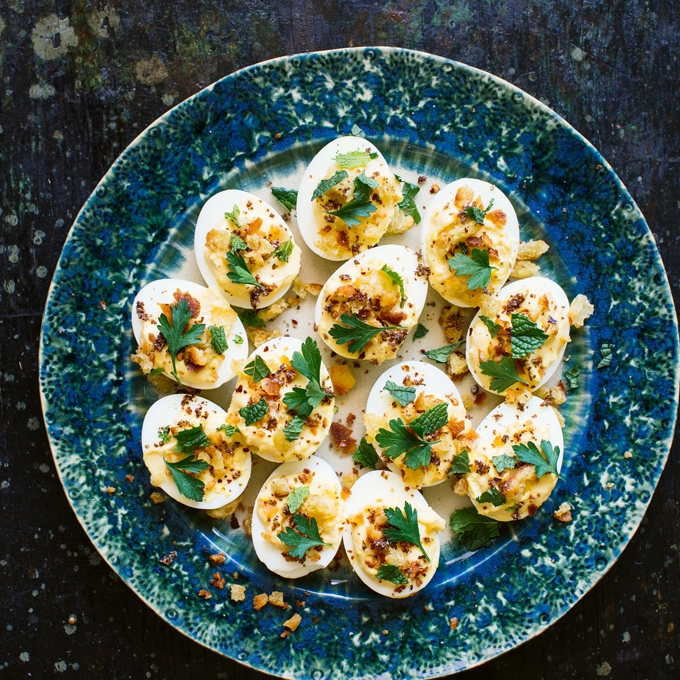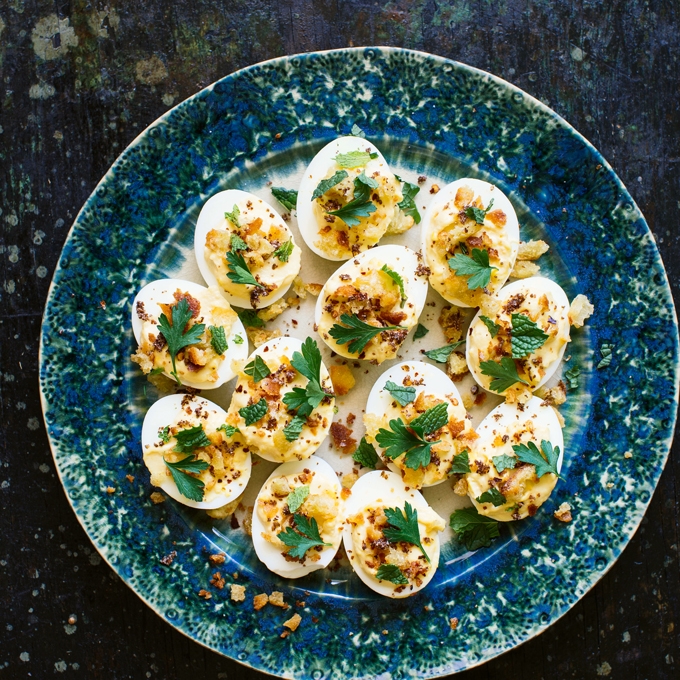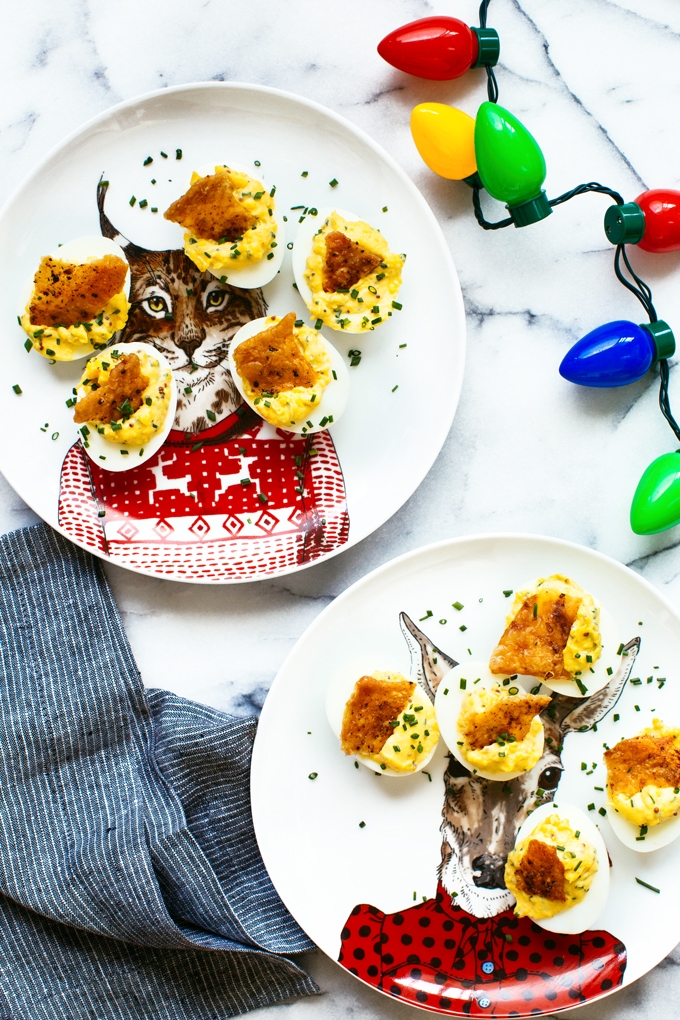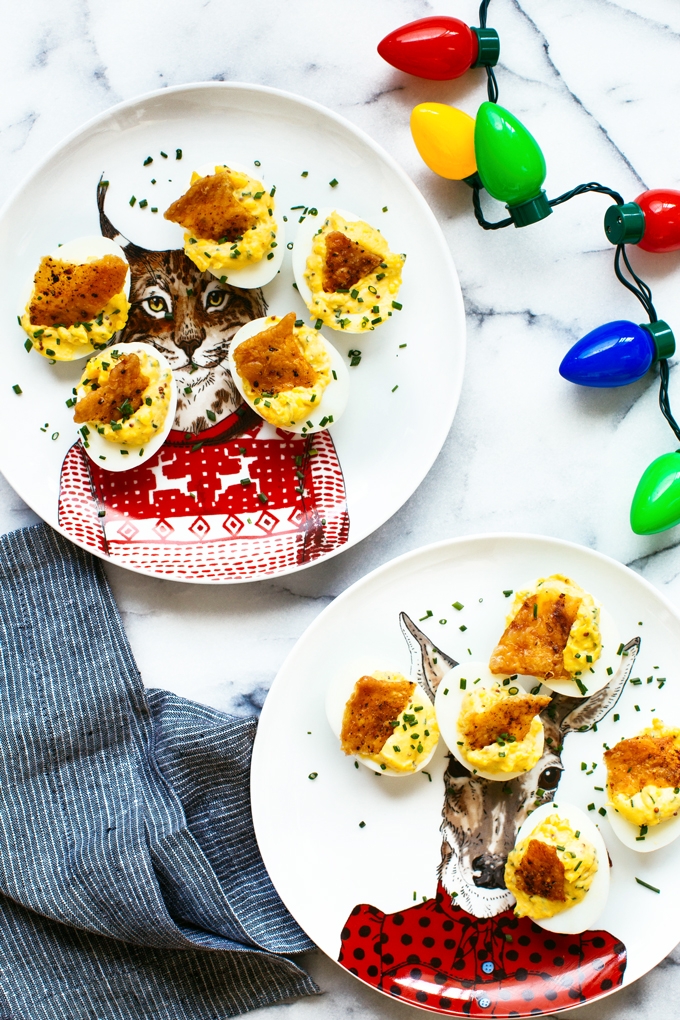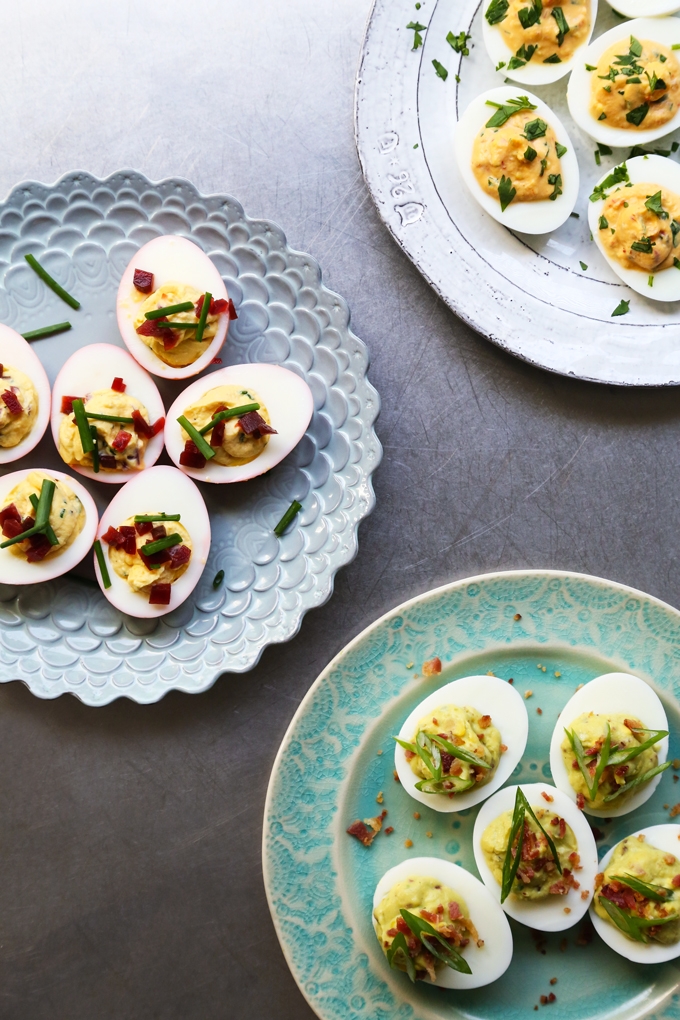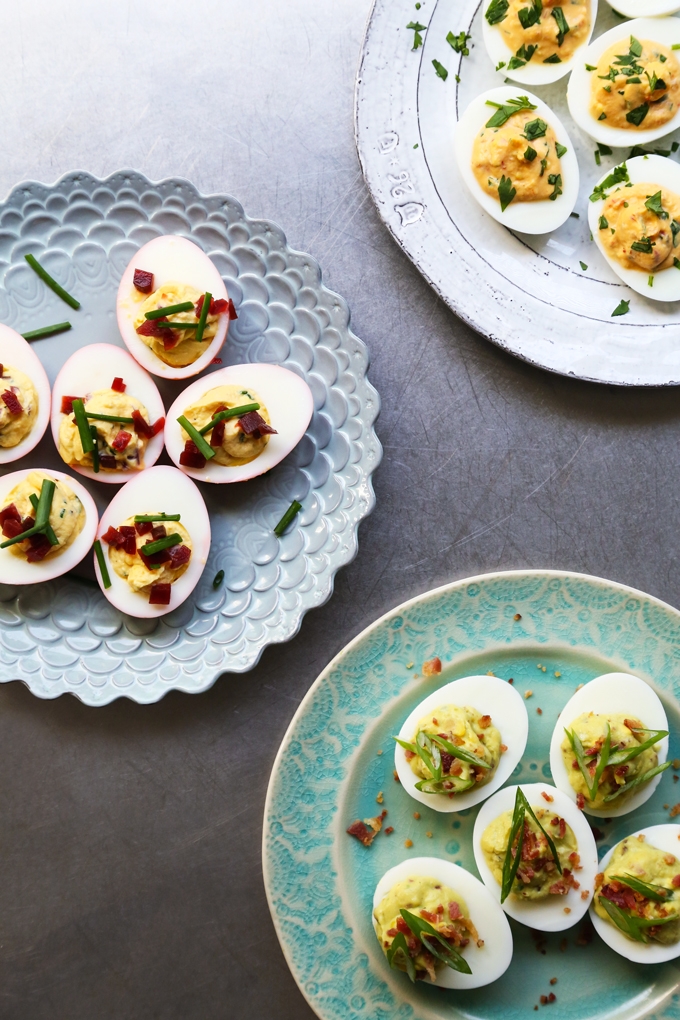 8