This is my last recipe before Christmas, so I wanted to take a moment and wish everyone Happy Holidays!!
This post may contain affiliate links.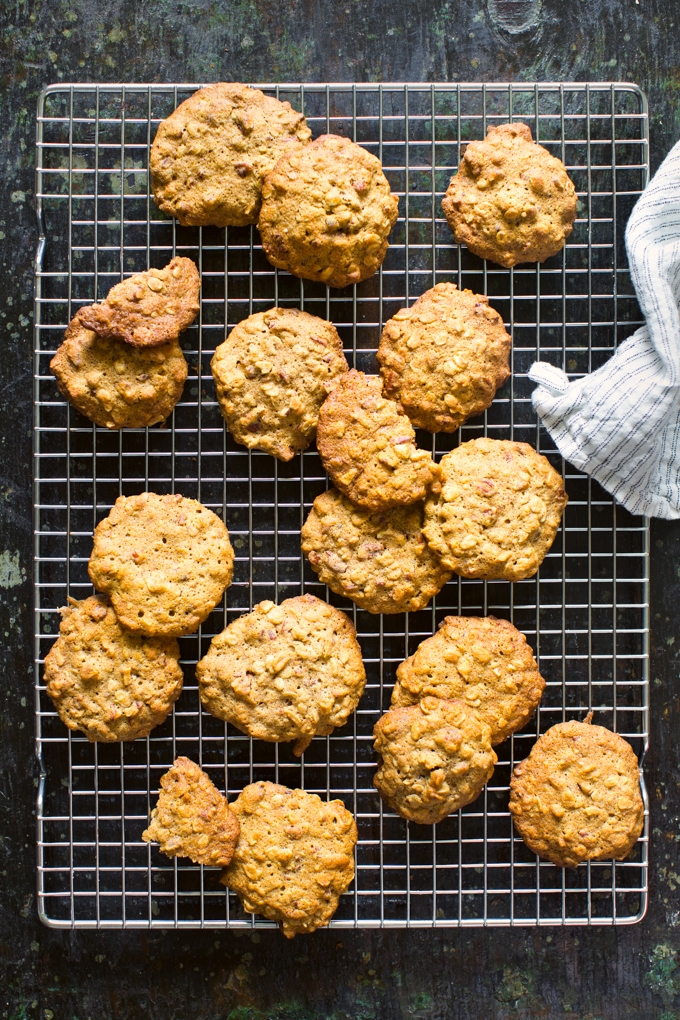 Let's be honest.  Oatmeal cookies can often be lackluster.  OR, they're over-sweetened to make up for the fact that they're often lackluster.  OR, they have raisins (womp womp).  Well today I'm sharing some oatmeal cookies that you can really get excited for.  Here's what makes them special:
Bourbon!!  Provides a deep note of smoky warmth.  Pure magic when paired with vanilla.
Chopped, toasted pecans tossed in butter, brown sugar and smoked sea salt.  Tasty little morsels that lend big pops of flavor throughout.
Cinnamon, nutmeg and black pepper added to the dry ingredients.  Upping the cozy factor.
A mix of butter, shortening and heavy cream.  Butter mainly for flavor while the shortening and heavy cream keep the cookies light and tender.
Sweetened with 100% brown sugar.  Rolled oats + brown sugar = a perfect pairing.
These Bourbon Pecan Oatmeal Cookies are a balanced mix of sweet and salty with, thanks to the bourbon, brown sugar and vanilla, an incredibly deep caramel flavor that develops as you chew.  Oats and pecans offer some contrasting crunch against the softness of the spiced crumb.  Enjoy these cookies warm with a big glass of milk, a mug of spiced eggnog or a chilled Old Fashioned.  Continue reading for the recipe.
This recipe starts with two cups of toasted pecans.  The process of toasting nuts can be a frustrating one, because there's a chance that you can over-cook the nuts, making them bitter and inedible.  Nuts are a little pricey too, so it feels even worse if you ruin them.  Here are some tips on how to perfectly toast nuts:
Generally speaking, you can toast any nut in the oven for 10 – 15 minutes at 350°F.  Toast the nuts on a rimmed baking sheet in the middle of the oven, tossing every 5 minutes.  Stop when the nuts have deepened in color and take on a toasty aroma.
If you are toasting nuts for the first time in your oven, you need to be very attentive.  If your oven runs hot, you may even ruin the nuts given the general instructions above.  Don't just blindly put the nuts in for a period of time and hope for the best.  Use your eyes and nose to check for doneness (using indicators listed above).  Take nuts out earlier if needed.
Once you've learned the right timing for your oven, use that moving forward.
As soon as the nuts are done cooking, transfer them to a bowl or cutting board.  If they remain in contact with the hot baking sheet, they'll continue to cook.
Toast nuts whole and then chop if possible.
That's it!  The toasted pecans here add a smoky, maple flavor to the cookies that echoes the flavors of brown sugar and bourbon.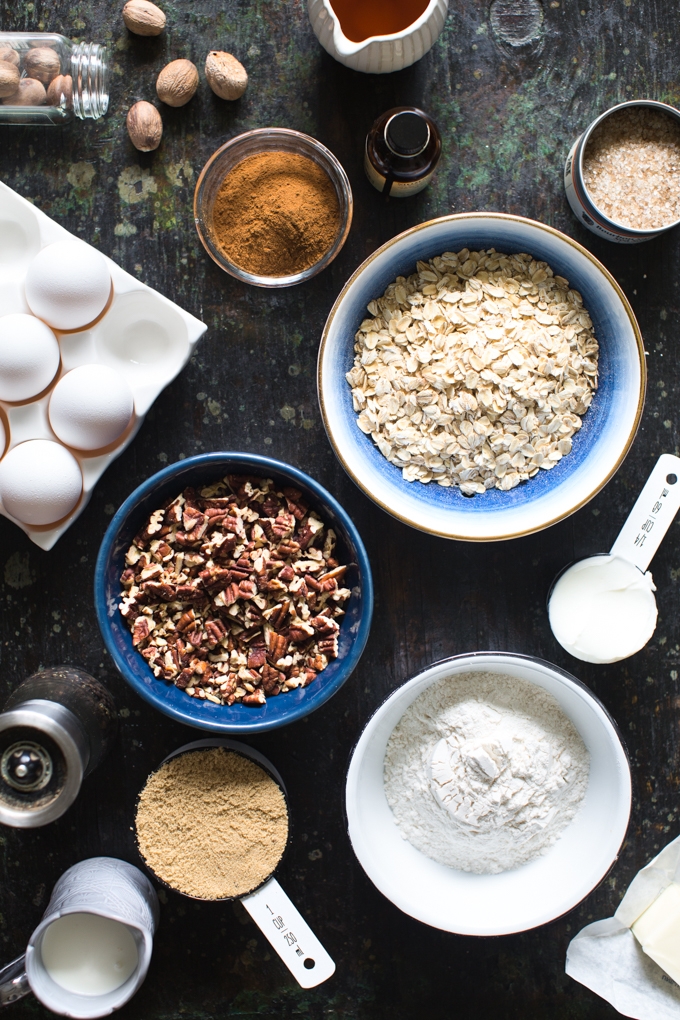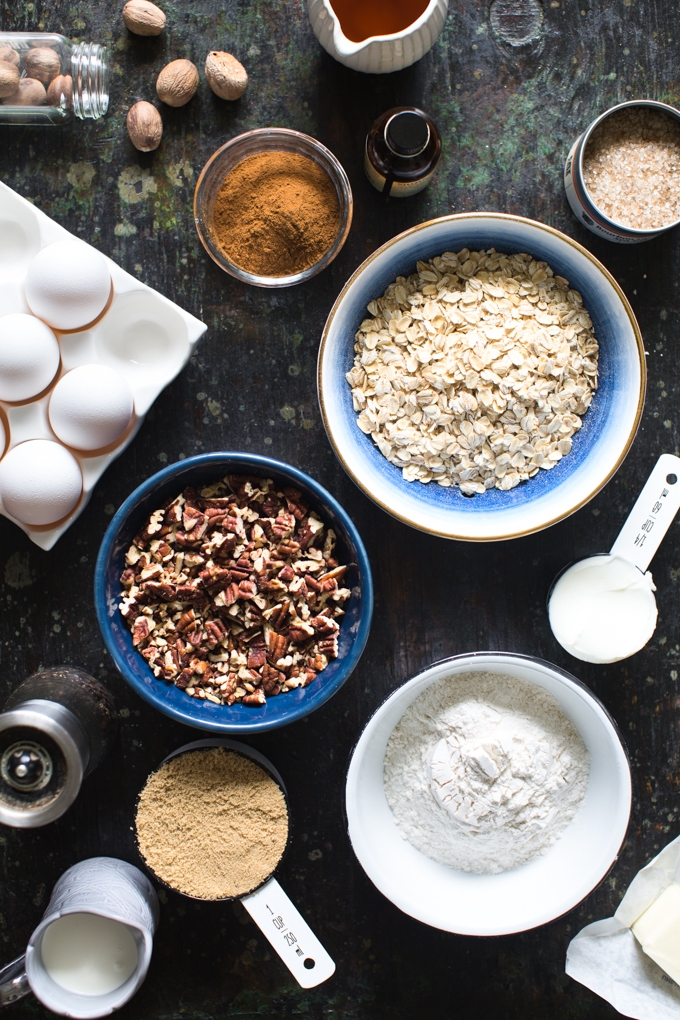 Bourbon Pecan Oatmeal Cookies
Ingredients
2

cups

pecans, toasted and roughly chopped

1/2

cup

unsalted butter, room temperature + 2 tablespoons melted unsalted butter

1

cup

packed light brown sugar, divided

1/2

teaspoon

smoked sea salt

1 1/4

cups

all purpose flour

1

teaspoon

baking soda

1

teaspoon

ground cinnamon

1/2

teaspoon

freshly grated nutmeg

1/2

teaspoon

fine grain sea salt

Pinch

of freshly ground black pepper

1/4

cup

shortening

1/4

cup

good bourbon

1

teaspoon

vanilla extract

2

tablespoons

heavy cream

1

egg

1

cup

old-fashioned rolled oats
Instructions
Add chopped pecans (preferably while still warm) to a medium bowl, and toss with 2 tablespoons melted butter, 1 tablespoon brown sugar and smoked sea salt. Set aside. Whisk together flour, baking soda, cinnamon, nutmeg, sea salt and black pepper in a medium bowl, and set aside.

To the bowl of a stand mixer fitted with the paddle attachment, add butter, shortening and remaining light brown sugar, beating on medium until light and fluffy (5 minutes). Scrape down the sides, then mix in bourbon, vanilla and cream until well-incorporated. Add egg and mix just until incorporated. Add the flour mixture in 2 increments. Start the mixer on low speed, then gradually increase to medium, and beat just until the flour is incorporated each time. Using a spatula, scrape down the sides and make sure any flour hiding at the bottom is mixed in. Stir in the oats and pecans. Cover and chill dough in the refrigerator for 30 minutes.

Preheat an oven to 375°F and set a rack in the middle position. Line 2 baking sheets with parchment paper.

Scoop heaping tablespoons of dough onto the prepared baking sheets about 2 inches apart. I baked 8 cookies per sheet. Using a small spatula or your fingers, gently flatten the dough into a disc. These cookies don't spread too much on their own, so you've got to start with a disc rather than a ball to get a flat finished cookie. Bake, one sheet at a time, until the cookies are lightly golden around the edges (11 - 12 minutes). Let cool for 2 minutes on the baking sheet, then transfer to a cooling rack.
Tried this recipe?
Tag @brandiego on Instagram so I can check it out!
Check out a short round-up of other Holiday cookie recipes on Kitchen Konfidence here.  And Happy Holidays from Brandon, Jorge, TiVo and Boris!!  I hope they're filled with plenty of delicious treats 🙂
8