I've been all about the salty-sweet Holiday treats this year, so today I'm sharing a simple recipe for homemade caramel candies infused with Angry Orchard Crisp Apple Hard Cider (my fav!) and a heady mix of winter spices.
This post may contain affiliate links.
As long as you've got a candy thermometer, the process of making caramels at home is actually quite straightforward. Sugar, butter and cream go into a pot and boil until the mixture hits 245°F. You then pour the caramel into a parchment-lined baking dish and let firm up for 2 hours. Cut the caramel into squares and voila, homemade caramel candies! Sweet, soft and so delicious.
In this recipe, I'm amping up flavors with the addition of hard cider, winter spices, vanilla and sea salt. You start by simmering Angry Orchard Crisp Apple Hard Cider with cinnamon, allspice and clove. As the mixture reduces down, your entire kitchen will be filled with the warm aromas of mulled cider. This concentrated flavor base is added to the pot with everything else mentioned above. Vanilla extract and sea salt are stirred in at the end for depth of flavor. Finally, the caramels are finished with a sprinkling of crunchy sea salt. With each bite you'll get a sweet hit of salted caramel at first followed by a comforting note of spiced apple. I'd recommend making several batches this Holiday season so you can keep one for yourself and give the rest as gifts!! Continue reading for the recipe.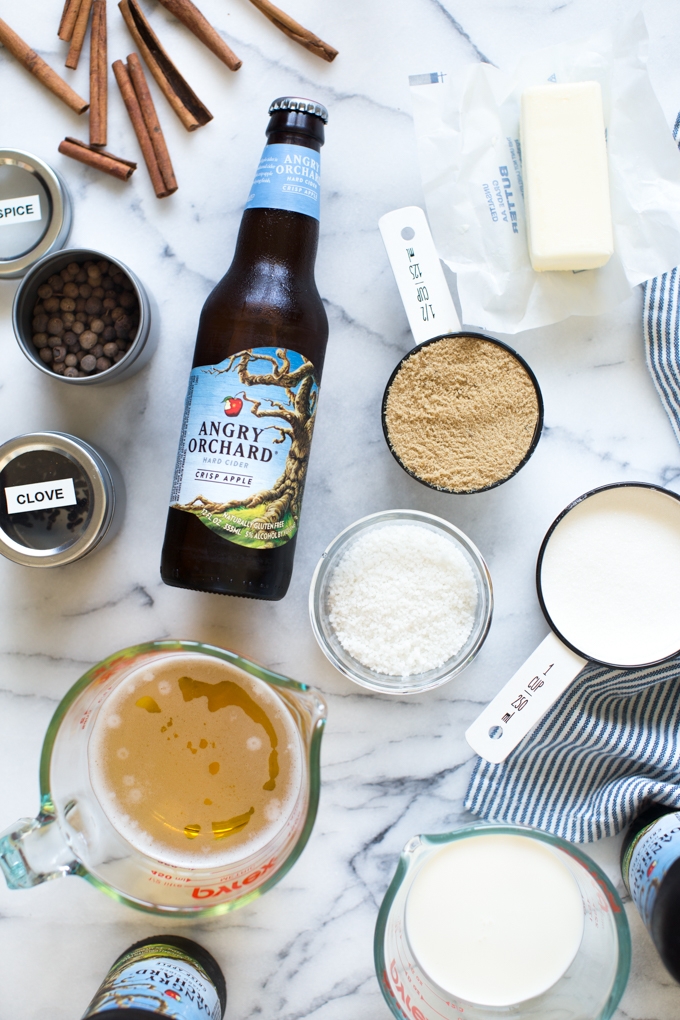 Apples and caramel are a classic pairing, and with this recipe, you can enjoy it in just one bite! Angry Orchard Crisp Apple Hard Cider, made from a number of high-quality bittersweet and culinary apples, is a perfect base here, because it has a balanced mix of tart and sweet. As the cider reduces down, it becomes sweeter while still retaining a good amount of acidity. The crisp acid of the cider is still present in the finished caramels, helping to keep the sweetness in check. You can seriously eat a bunch of these caramels, and never reach that sugar overload moment.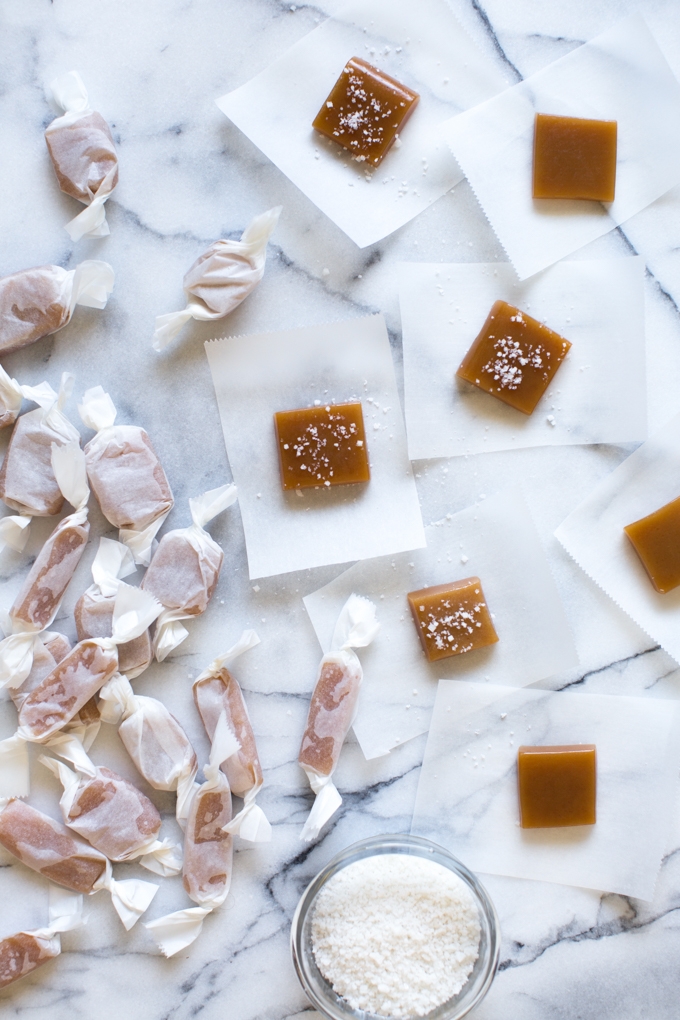 Another bonus to making these candies is you'll have plenty of hard cider leftover to enjoy throughout the season. Sip on one while these caramels cool or while you're wrapping each caramel in parchment (make the process go much faster!). Angry Orchard Hard Cider would also be a perfect addition to any Holiday party as it pairs beautifully with ham, turkey and other rich, wintery flavors.
You may be wondering if you can make this recipe without a candy thermometer. And the answer is yes. Drop a little bit of the caramel into a glass of ice cold water. If it firms up into a pliable ball, it's done! I've never tested doneness this way, because I prefer the precision of the thermometer. So I would recommend that you do yourself a favor and order a candy thermometer. The one I use is $8 on Amazon, and it makes the process so darn easy!
Sea Salt Hard Cider Caramels Recipe
Ingredients
2 3-

inch

cinnamon sticks

5

allspice berries

2

whole cloves

6

tablespoons

unsalted butter, cut into slices

3/4

cup

packed light brown sugar

3/4

cup

white sugar

1/2

cup

heavy cream

1

teaspoon

fine grain sea salt

1/4

teaspoon

vanilla extract

Fleur de sel (or Maldon salt), for sprinkling
Instructions
Line an 8 or 9-inch straight-sided square metal baking pan with 2 long sheets of parchment paper, crisscrossed so there's paper overhanging on all 4 sides.

Add hard cider, cinnamon sticks, allspice and clove to a medium, heavy-bottomed saucepan (I used a 3-quart cast iron pot here) over medium-high heat, and bring to a boil. Cook at a boil until the cider is reduced to 1/2 cup (35 - 40 minutes). Pour the mixture through a fine mesh strainer into a measuring cup, discard the spices, then return the reduced cider back to the same pot.

Return the pot to medium-high heat, then add butter, sugars and heavy cream, stirring until the butter and sugars have melted and dissolved. Clamp on a candy thermometer, bring the mixture to a boil, and cook until the caramel hits 245°F (about 10 minutes). Working quickly but carefully, take the caramel off the heat, remove the thermometer and stir in 1 teaspoon of sea salt and the vanilla.

Immediately pour the caramel into the prepared baking pan, and let cool at room temperature for 2 hours. Using the parchment overhang, lift the slab of caramel out of the baking pan and place on a cutting board. Lightly spritz a sharp knife with non-flavored oil spray, and cut caramel into 1-inch squares (you don't have to be precise here) or 1-inch by 1/2-inch rectangles. These caramels are soft and slightly sticky, so re-oil your knife as needed. Sprinkle each caramel with a little fleur de sel. Wrap caramels in wax or parchment paper, and store in an airtight container for up to 2 weeks.
Tried this recipe?
Tag @brandiego on Instagram so I can check it out!
This post was written in partnership with Angry Orchard Hard Cider. All thoughts, opinions and recipes are my own. Connect with Angry Orchard Hard Cider on Facebook, Instagram and Twitter.
3