This was the first recipe I developed for The Breakfast Collection!
This post may contain affiliate links.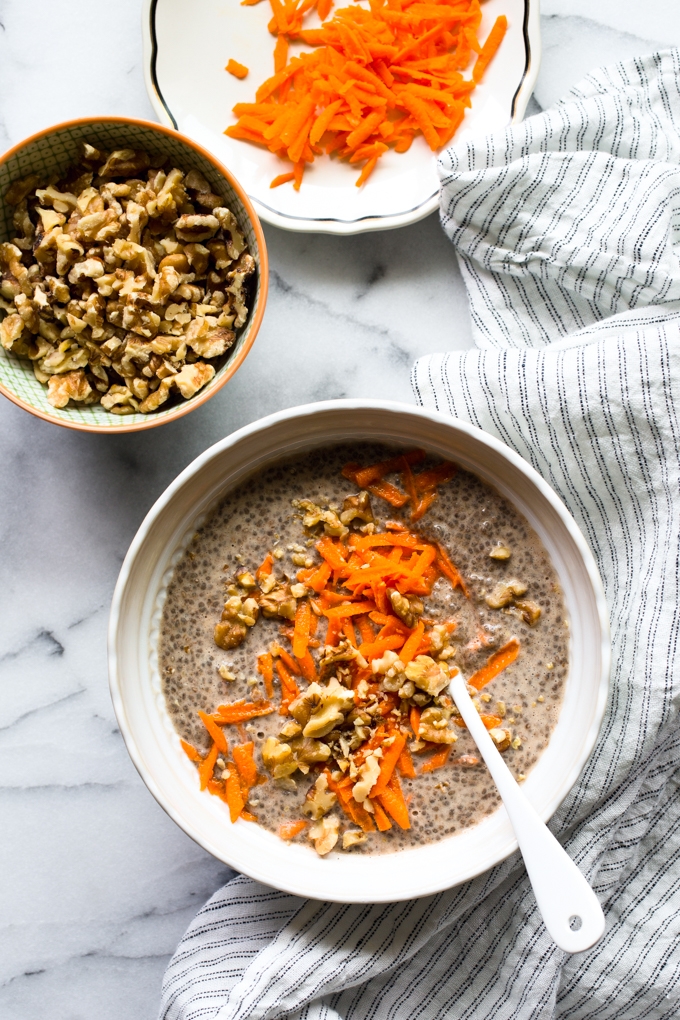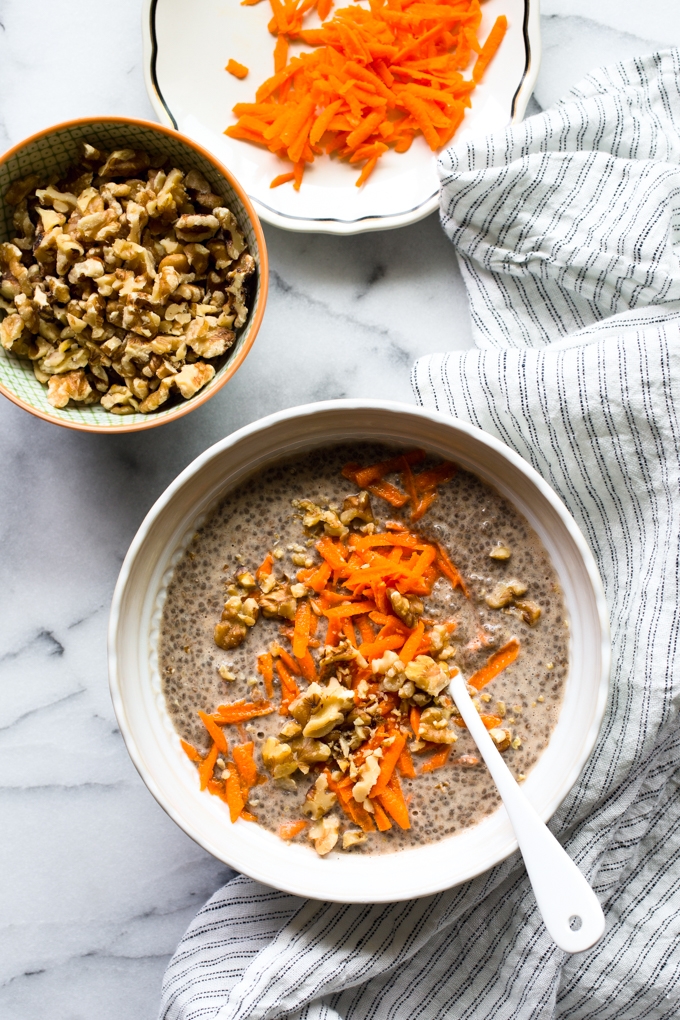 Like I mentioned in my previous recipe post, I released an eBook back in September 2016 filled with healthy breakfast recipes called The Breakfast Collection in partnership with The 30 Clean.  I've always loved chia pudding, so when I started brainstorming recipes for the book, I knew I had to include at least one chia pudding recipe. (ended up with two!)
Chia seeds, when soaked in a liquid, form a pudding-like consistency similar to tapioca pudding.  These nutrient-dense seeds are a healthy source of fat and fiber, and infinitely customizable.  Here, I'm soaking the seeds in almond milk spiked with cinnamon, cardamom, ginger, nutmeg and vanilla.  Bits of Medjool date add a hint of sweetness while grated carrots and chopped walnuts provide flavor, color and texture.  The combination of carrots, walnuts and spices creates a moment of comfort like the first bite of carrot cake.  Now, there's no added sugar here, so this doesn't taste exactly like carrot cake.  But, it's fun, delicious and you'll start your day already having eaten a whole carrot!  Continue reading for the recipe.
This Carrot Cake Chia Pudding is featured in the Adventurous section of The Breakfast Collection along with these tasty  morsels:
Nut and Seed Bread
A dense gluten-free bread with a wonderfully crunchy texture.  Pictured here with smoked salmon and an herb salad.
Lemon Chia Pudding with Pistachios, Coconut and Strawberry
A simple chia pudding topped with a confetti of chopped strawberry, pistachio and coconut.
Broccoli Flatbread
Blended broccoli, almond meal and eggs are mixed together with seasonings to form a tasty flatbread perfect for an open-faced breakfast sandwich.
Roasted Sweet Potatoes with Kimchi, Bacon and Avocado
Kimchi, a spicy Korean fermented cabbage similar to sauerkraut, is a nutritional power house.  Here, the cabbage is paired with smokey bacon, sweet potatoes and rich avocado.
If you're interested in purchasing The Breakfast Collection, check out this link here.   You don't actually have to be a 30 Clean Challenger to purchase the book, but I went through a challenge last year, and I'll have to say it was a great experience!  So definitely check it out if you are looking to adopt some healthier habits in 2017.
Carrot Cake Chia Pudding
Ingredients
1

cup

unsweetened almond milk

1

Medjool date, pitted

1/2

teaspoon

ground cinnamon

1/4

teaspoon

ground cardamom

1/4

teaspoon

ground ginger

Pinch

of grated nutmeg

Small pinch of sea salt

1/4

teaspoon

vanilla extract

3

tablespoons

chia seeds

1/2

cup

grated carrot, from 1 large peeled carrot

1

tablespoon

chopped walnuts
Instructions
Add almond milk, dates, cinnamon, cardamom, ginger, nutmeg, salt and vanilla to a blender, and blend until smooth. Place chia seeds in a medium bowl, and pour over spiced almond milk, stirring to combine. Cover and chill in the fridge for at least 15 minutes (or up to 3 days). Stir 3 times during the first 15 minutes to break up any clumps of chia seeds.

To serve, stir in grated carrot and walnuts.
Tried this recipe?
Tag @brandiego on Instagram so I can check it out!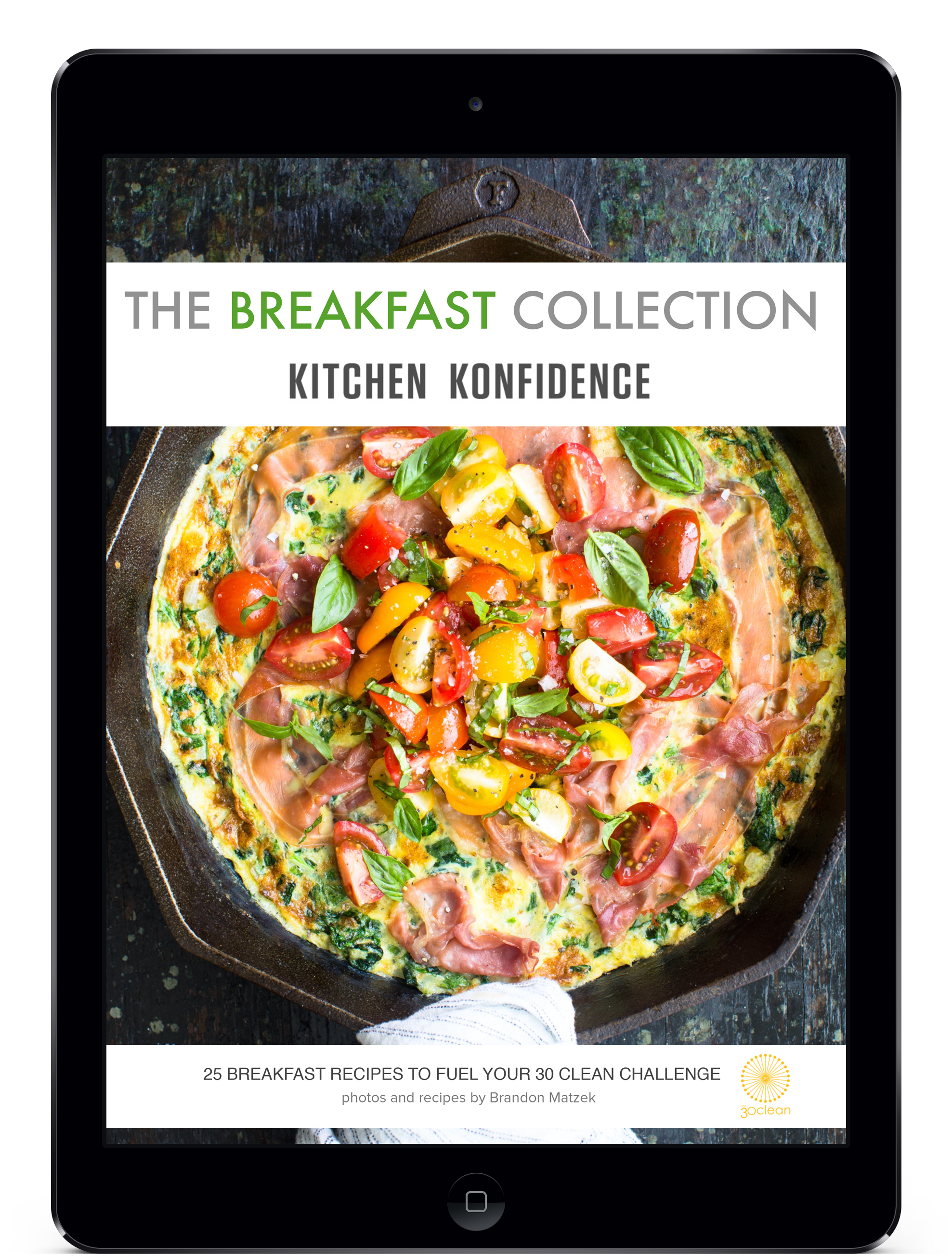 15