White beans and bitter greens are a classic Italian pairing, and today, I'm bringing them together as an irresistible pizza topping.
This post may contain affiliate links.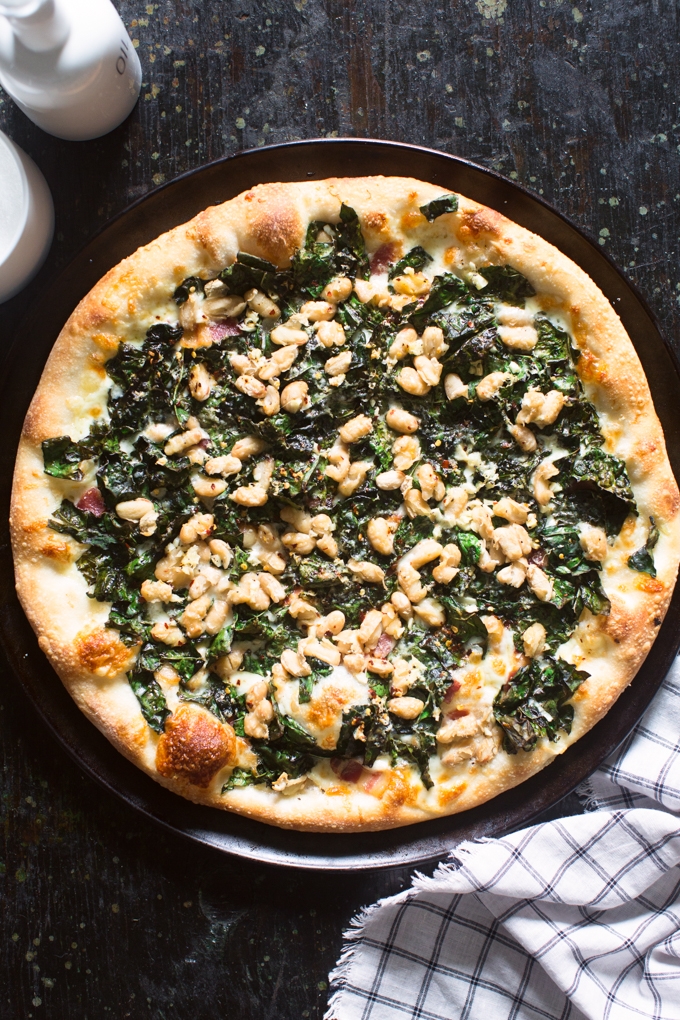 This pizza recipe starts with a mound of Tuscan kale drizzled with olive oil and lemon juice.  A brief massage breaks down the hearty leaves, helping to improve texture and absorb flavor.  Creamy white beans are then tossed with olive oil, chopped garlic, salt and pepper.  Both kale and beans rest for 15 minutes, creating some time to preheat the oven and prep other toppings.  Once the beans and greens are ready, the pizza stacks up as follows:
Pizza dough (from a local pizzeria) drizzled with olive oil and sprinkled with salt
A shredded mix of low-moisture mozzarella and nutty Fontina cheese
Crispy bacon
Massaged kale leaves
Marinated white beans
Red pepper flakes, salt and freshly grated Parmesan cheese
The finished pizza is rustic, comforting and so delicious.  The tangy, bitter kale is a perfect counter to the rich beans, melty cheese and pops of smoked pork.  As the kale cooks in the oven, any exposed edges will go brown and brittle, taking on a flavor similar to kale chips.  Concealed under a blanket of greens, the bacon plays a supporting role here, adding some meaty depth of flavor.  Finally, the white beans turn golden and crispy on the outside while maintaining a creaminess within.  All the toppings just work together, making for one damn tasty pizza!  Continue reading for the recipe.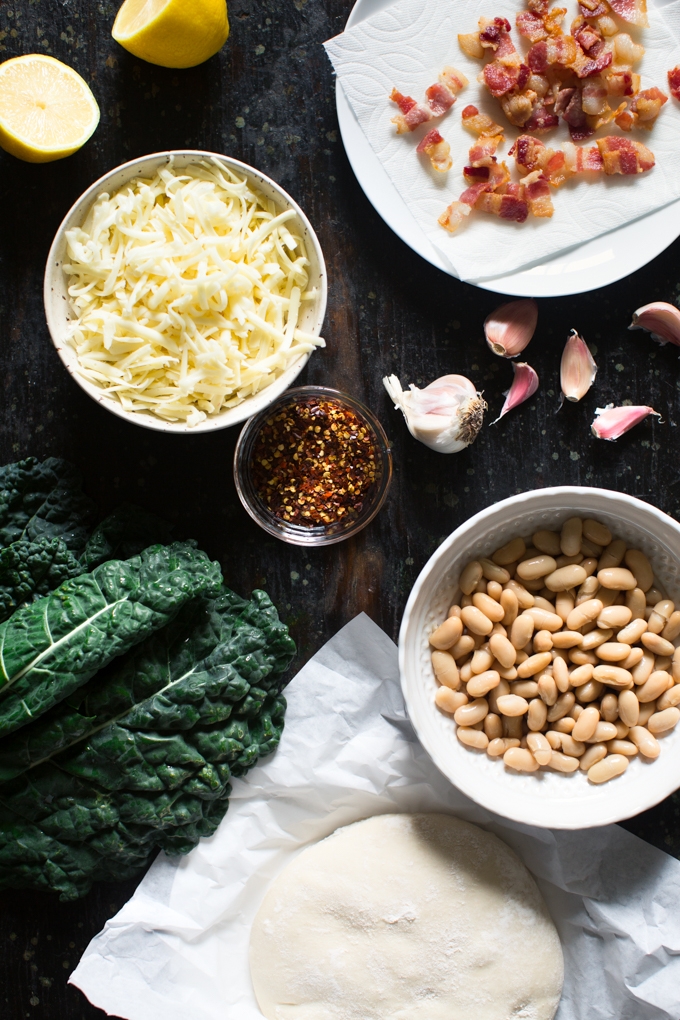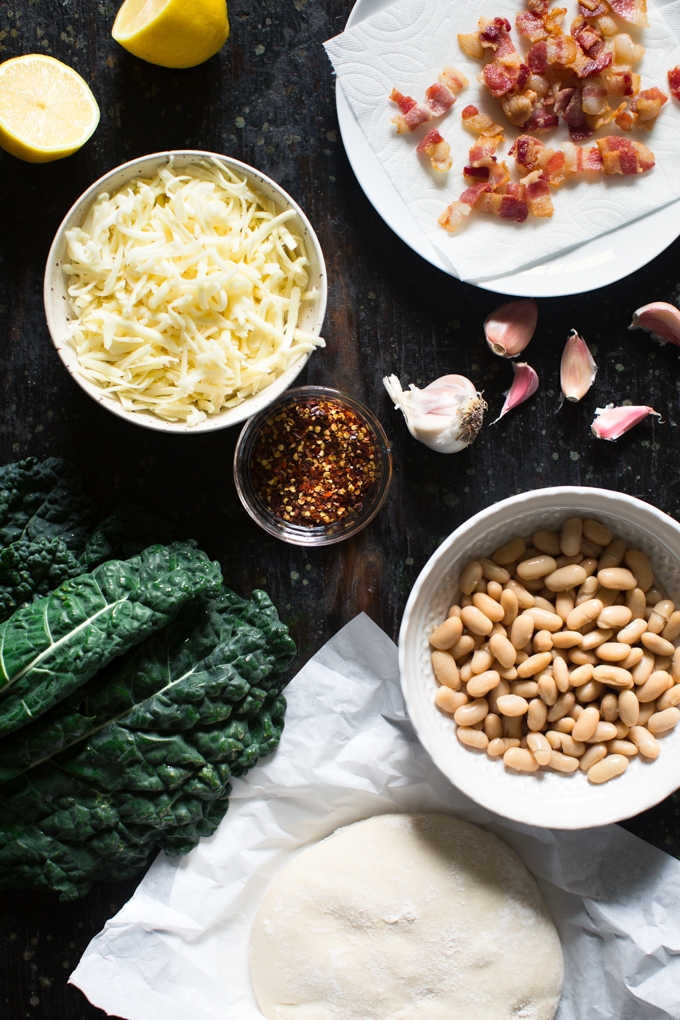 This is my second recipe made in partnership with USA Pulses & Pulse Canada.  You can find the first, Pasta with Chickpeas, Fennel and Saffron, here.  Pulses are dry beans, chickpeas, peas, and lentils.  They're healthy.  They're sustainable.  And best of all, they're delicious!  In this pizza recipe, the beans lend a note of earthy richness that pairs beautifully with the tangy, bitter greens.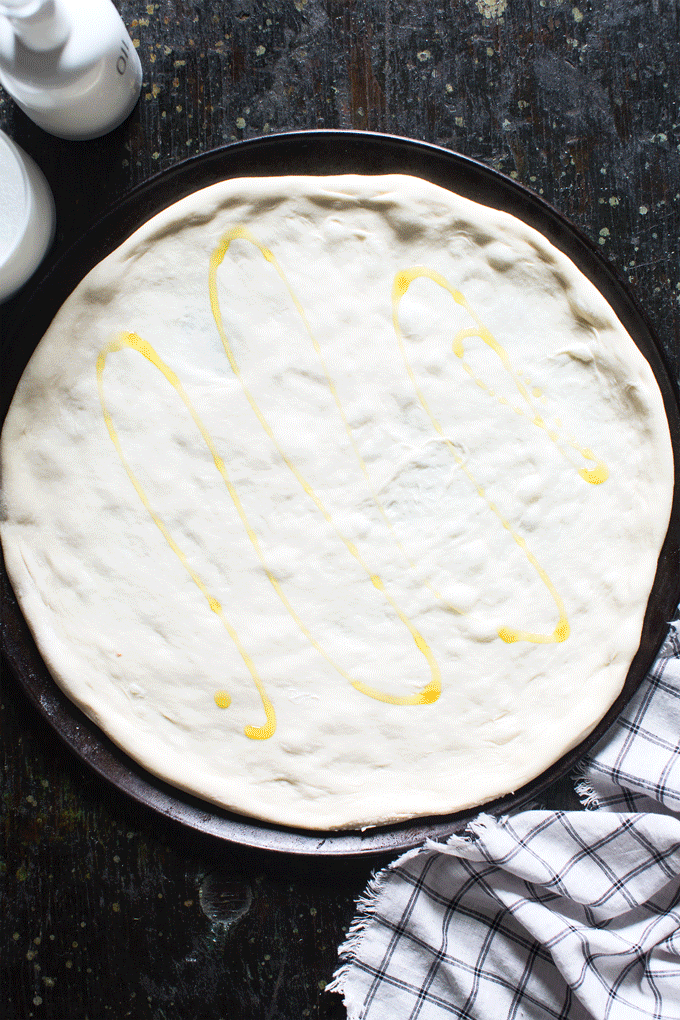 Given that it's January and most of us are trying to make some healthier food choices, I'm going to share some of the health benefits associated with most of these pizza toppings:
White beans, packed with protein, fiber and slow-digesting carbs, are low on the glycemic index.  They're also high in antioxidants and magnesium!
Kale is high in fiber, iron, Vitamin K, Vitamin A, Vitamin C and calcium.  Filled with antioxidants, kale also helps fight inflammation.
Garlic, another nutritional powerhouse, can help fight the common cold and reduce blood pressure.
Crushed red pepper flakes can stimulate your metabolism, helping to burn calories and curb appetite.
Extra virgin olive oil and bacon are both healthy fat sources (in moderation).
Of course, I can't claim that the cheeses and dough are healthy, but when topped with all the other goodies, it all balances out.  This is about as healthy as a pizza can get!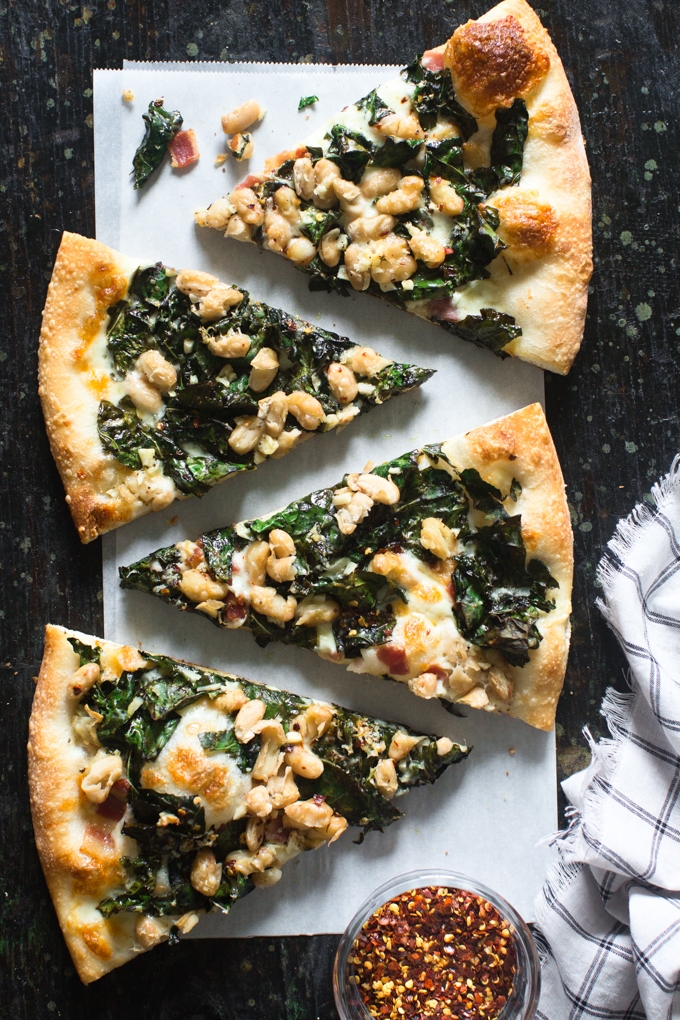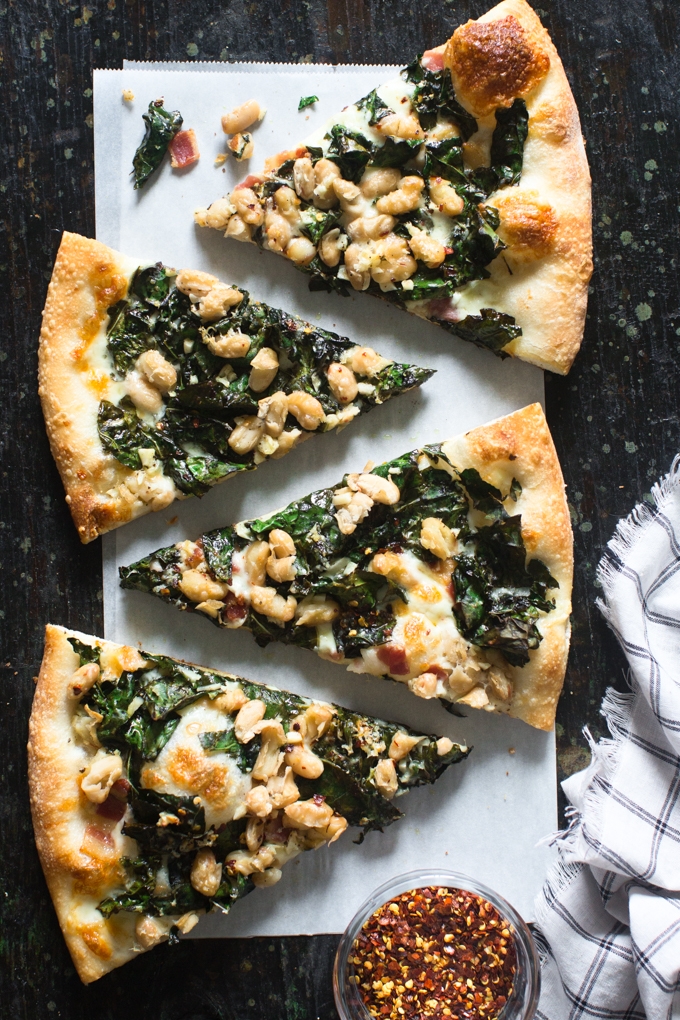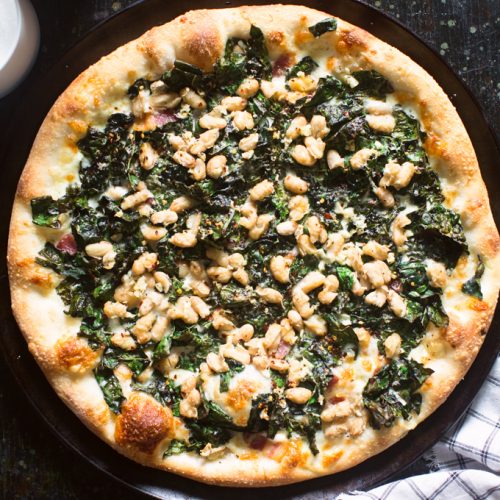 Kale and White Bean Pizza Recipe
Ingredients
3

ounces

roughly chopped kale leaves (remove stems, then weigh the leaves)

1

tablespoon

extra virgin olive oil, plus more for drizzling

2

teaspoons

freshly squeezed lemon juice

Kosher salt

Freshly ground black pepper

3/4

cup

cooked white beans, prepared from dry*

2

garlic cloves, finely chopped

1

ball pizza dough

4

ounces

grated Fontina cheese

4

ounces

grated mozzarella cheese

4

strips bacon, sliced and cooked until just crispy

1/4

teaspoon

crushed red pepper flakes, add more to up the heat

Freshly grated Parmesan cheese
Instructions
Place kale in a medium bowl and drizzle with olive oil and lemon juice. Season with a couple pinches of salt and several turns of black pepper. Using your hands, massage the kale in a scrunching motion to break down the leaves and get them evenly coated with the oil. Place beans and garlic in a small bowl and toss with a drizzle of olive oil, and a sprinkling of salt and black pepper, tossing to combine. Let both rest for at least 15 minutes. You can prep other ingredients while you wait!

Preheat an oven to 500°F, and set an oven rack in the lowest possible position. Lightly coat a pizza pan with nonstick cooking spray.

Stretch pizza dough into a round large enough to fit the pizza pan. Very lightly drizzle the dough with olive oil, using your hands to evenly spread the oil around. Sprinkle dough with a small pinch of kosher salt. Top pizza evenly with grated Fontina and mozzarella cheese, then evenly scatter bacon, kale and white beans over top. Sprinkle the surface of the pizza with red pepper flakes, a little kosher salt and a dusting of Parmesan cheese.

Transfer pizza to the oven on the lowest rack and cook until the crust is golden brown (bottom and crust) and the cheese is nice and bubbly (9 - 11 minutes). Let cool for a few minutes before cutting.
Tried this recipe?
Tag @brandiego on Instagram so I can check it out!
This post was written in partnership with USA Pulses & Pulse Canada. Thoughts, opinions and recipes are my own.  Right now, over 56,000 people are taking the The Pulse Pledge, a 10 week commitment to eating dry peas, lentils, beans and chickpeas to help reduce your carbon footprint.  Get details here and join the group! (it's free)
11