A few months ago, I got the opportunity to spend five days in France to learn all about Comté cheese.  This experience was provided by the Comté Cheese Association.  I'm sharing all the delicious details below!
This post may contain affiliate links.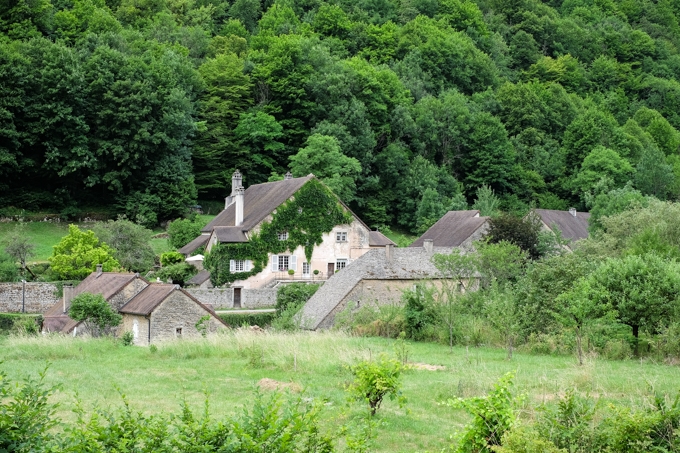 Before this trip, I was somewhat familiar with Comté cheese.  Nutty.  Buttery.  Creamy with a slight spring in texture.  A solid addition to any meat and cheese board.  What I didn't know was that this is just one type of Comté cheese.  Flavors and textures can vary greatly, depending on a number of variables.  Throughout our brief stay in France, a small group of us learned all about this artisanal cheese, and all of the passion that goes into making it.  I'm not going to share all the details below, but I'm going to summarize each day and provide my favorite learnings.  I found the whole process fascinating, and I hope you do too!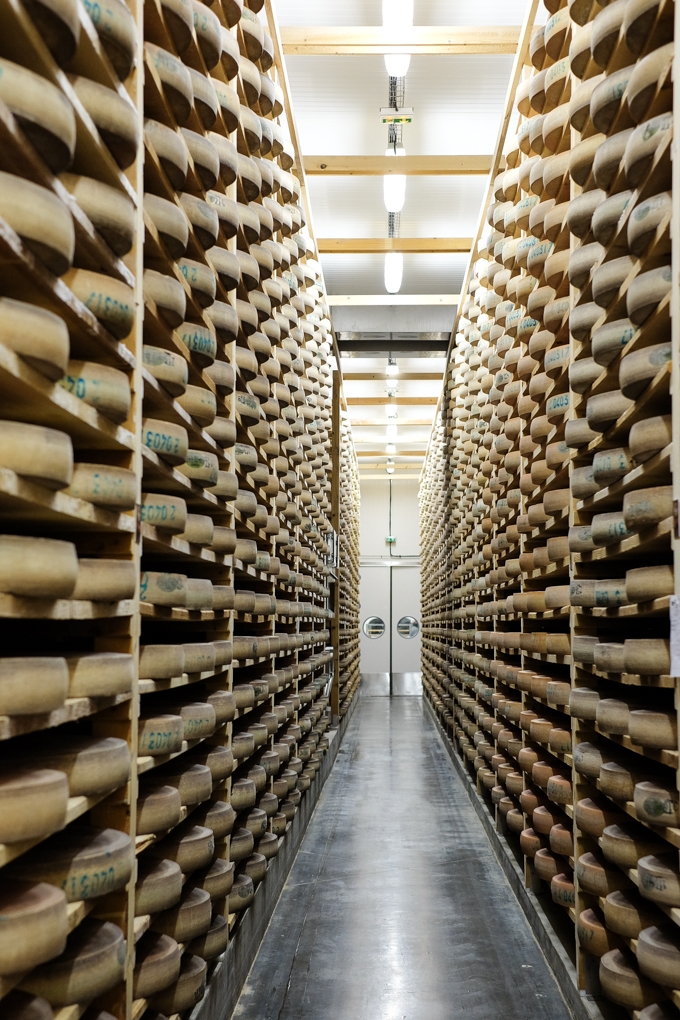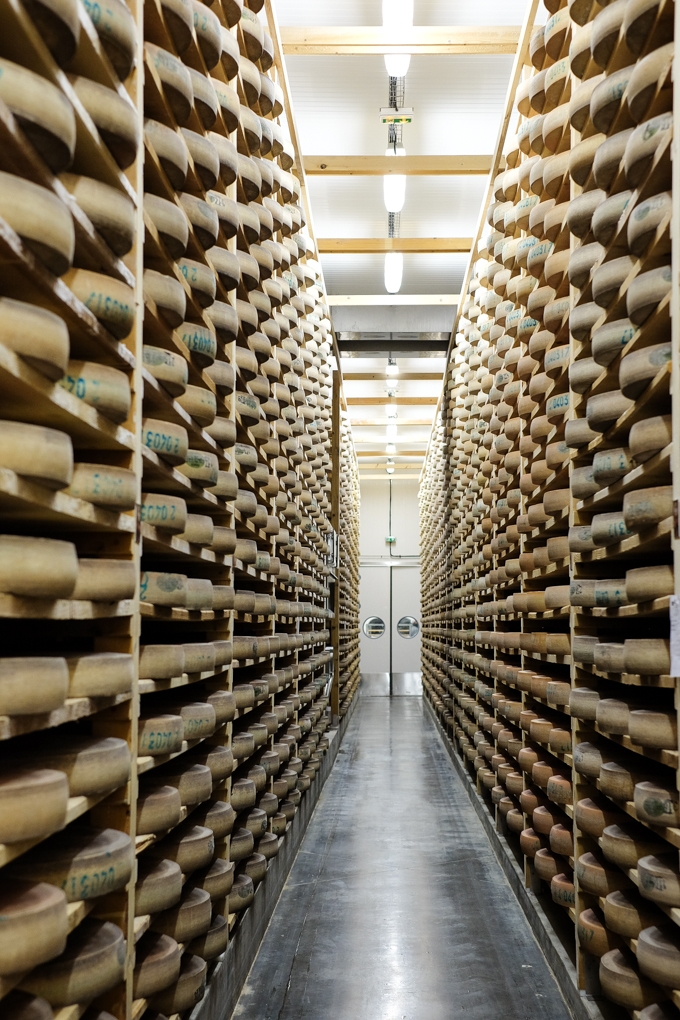 To start, let's talk Comté basics.  Comté cheese has an AOC/PDO designation, so it can only be produced in a specific region of France according to a strict set of rules and guidelines.  The cheese is made from raw milk provided by Montbéliarde and French Simmental cows.  The process of making Comté is broken up into three steps:
Farm:  This is where cows are raised and nurtured to make milk for the cheese.
Fruitière:  This is where the wheels of cheese are made with the fruit of the farmers' work.  Curds are formed in large vats, then drained and pressed into round molds.  Wheels are washed with salt water and flipped regularly.  They're stored here briefly before going to the aging cellars.
Affineur:  This is where the cheese is aged.  Stored on spruce planks, the wheels are washed with salt and flipped regularly here as well.  The cellar master moves the wheels to various rooms, each with a different environment, to develop flavors.
We had a chance to visit each of these locations, and I was impressed at how enthusiastic and passionate each farmer, cheesemaker and cellar master was about Comté cheese.  We'll get more into each below.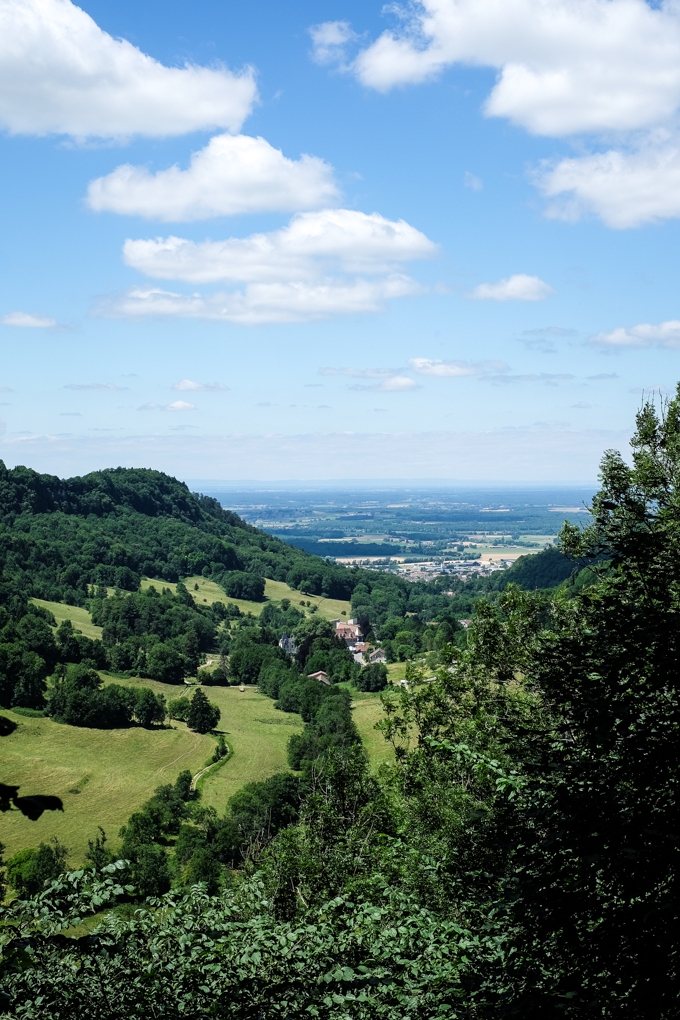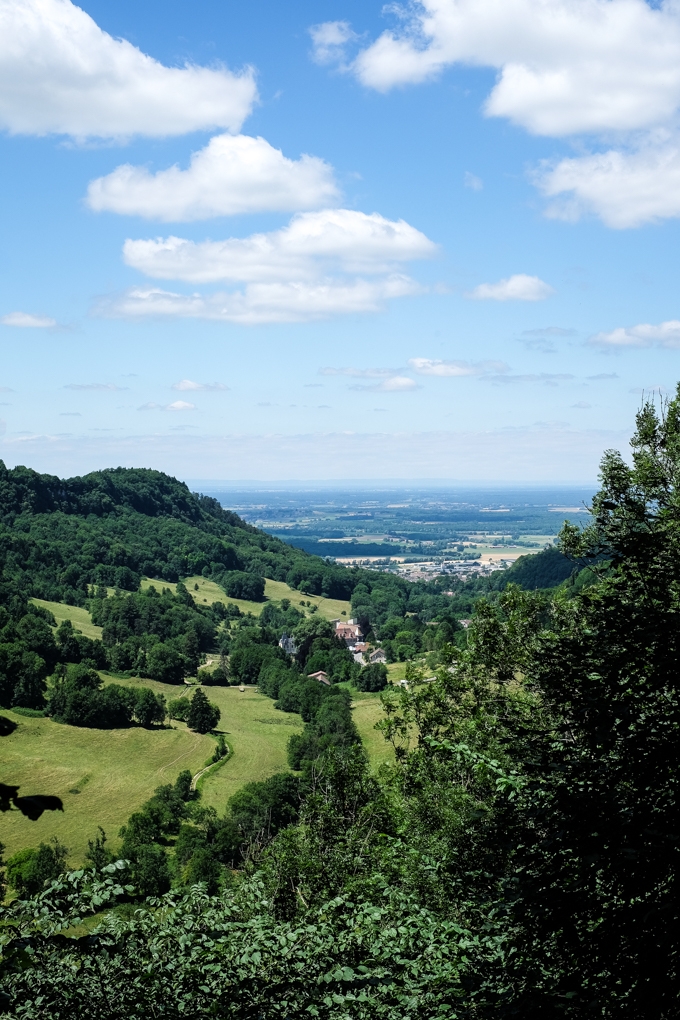 Day 1
Our first destination in France was Poligny, the Comté capital.  This picturesque town nestled in the Jura Mountains is home to five affineurs, a cheese-making school and the Maison du Comté, a organization that sets and upholds regulations along with promoting the cheese.  It's also where we had our first Comté tasting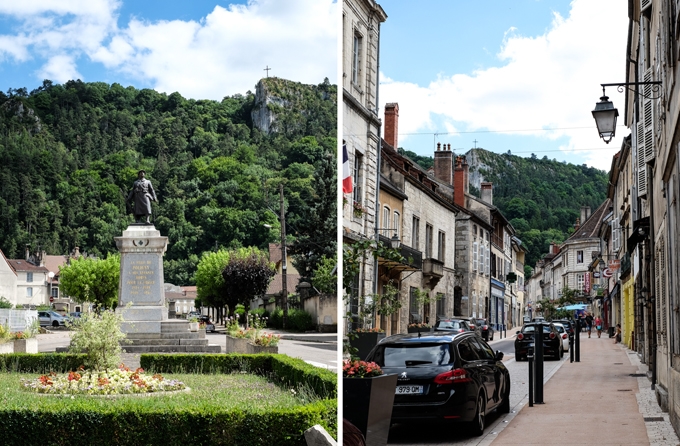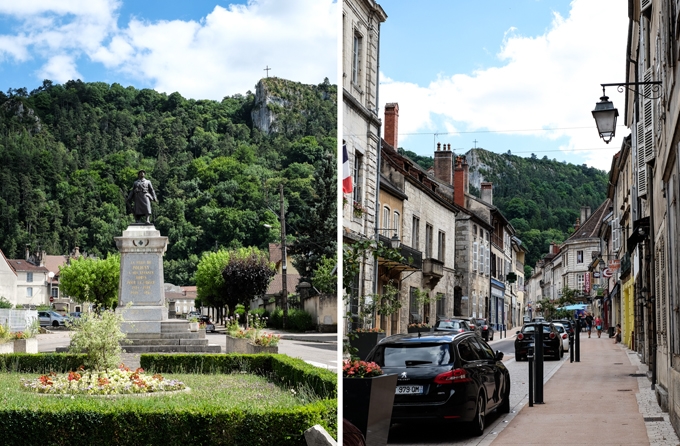 The first Comté we tasted was very similar to the style I've had here in the US.  A slightly springy cheese with notes of honey, nuts and butter.  These aromas and flavors are often found in younger Comtés (4 to 7  months).  The next cheese was a bit older (10 months), and had aromas of soy, mushroom, beef stock and hay.  It was rich with umami and had a melting texture.  The final cheese was the oldest (21 months).  This Comté was dryer in texture with a few crunchy crystals throughout.  It smelled like sweet pineapple and had roasty notes of grilled onion, baked potato and peanuts.
This was just our first tasting on the trip and I was already blown away by the variations in flavor.  I was loving every bite.  There are 2,500 farmers, 150 fruitières and 13 affineurs who produce Comté, and each artisan is able to affect the flavor of the cheese.  This super-regional approach is what I found most intriguing and exciting.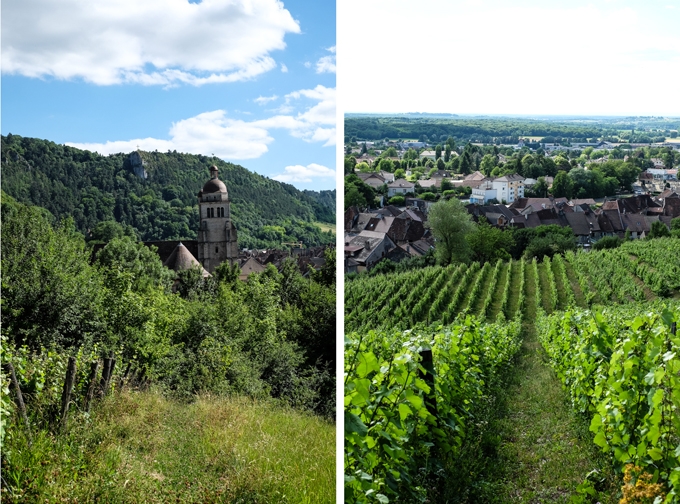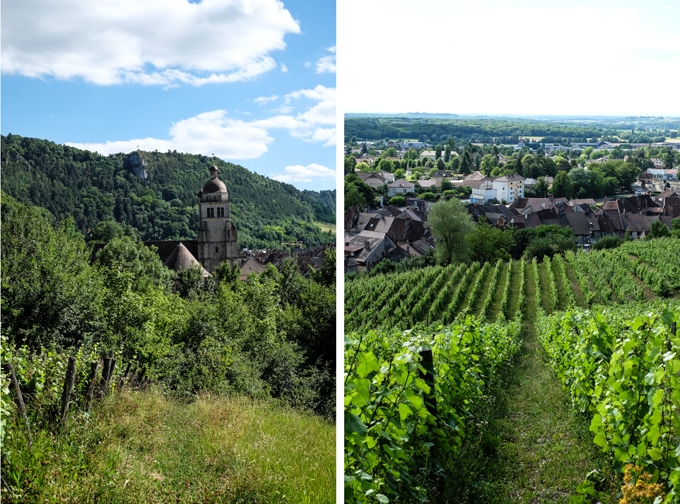 Later that day we had a chance to explore Poligny with winemaker Ludwig Bindernagel.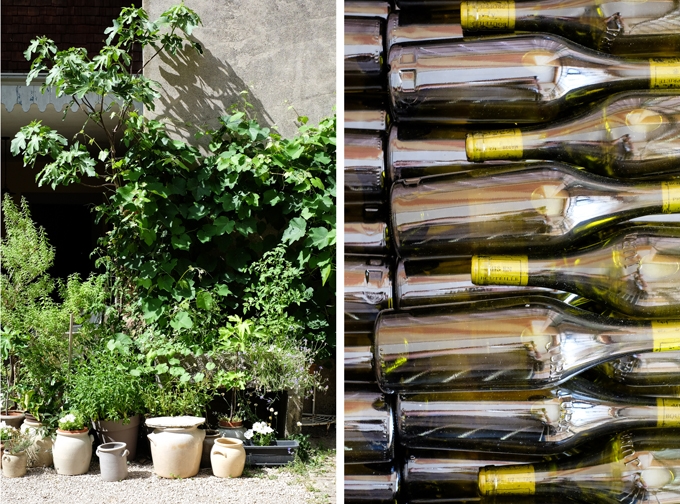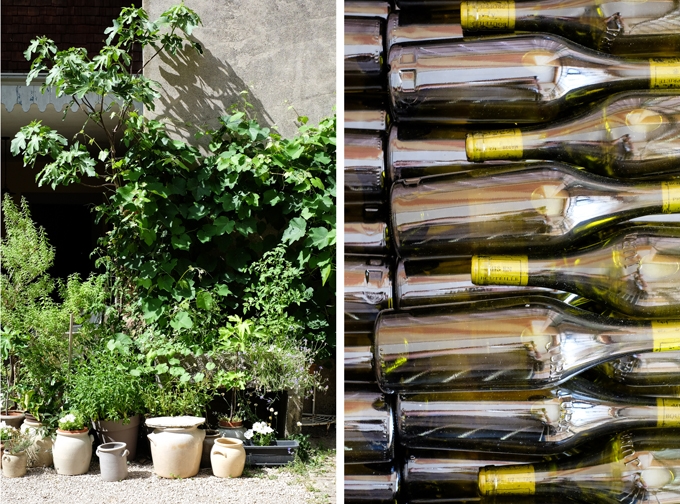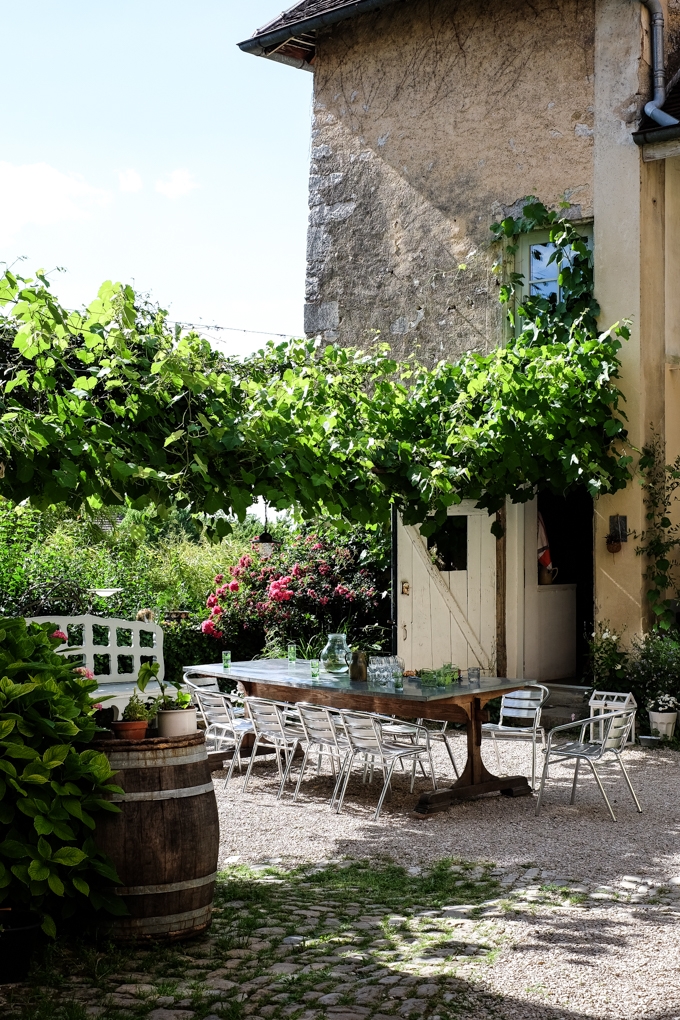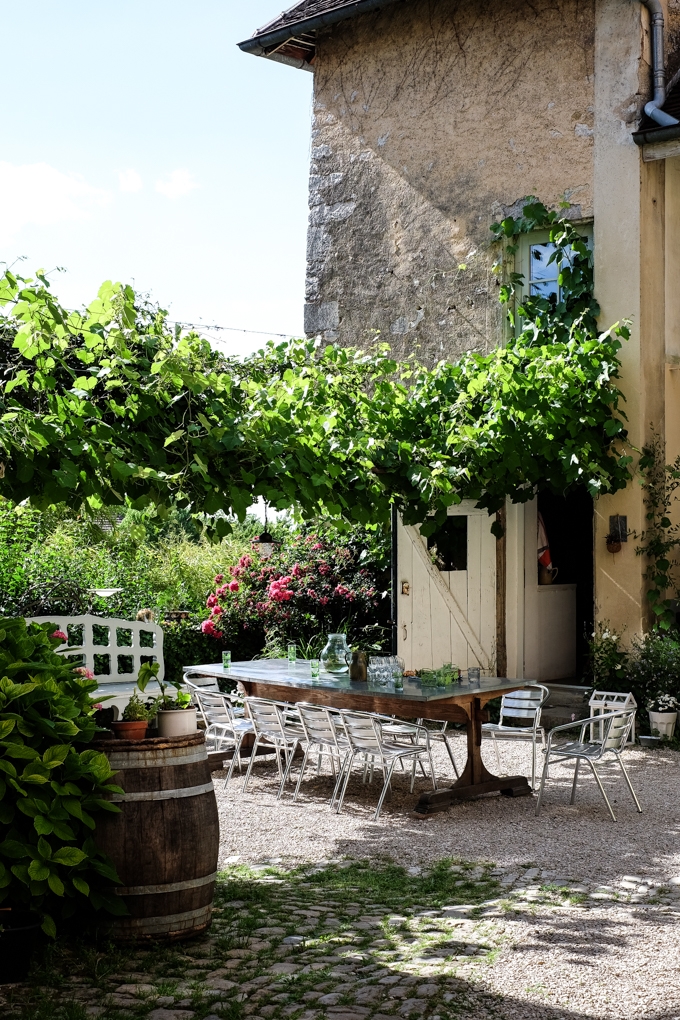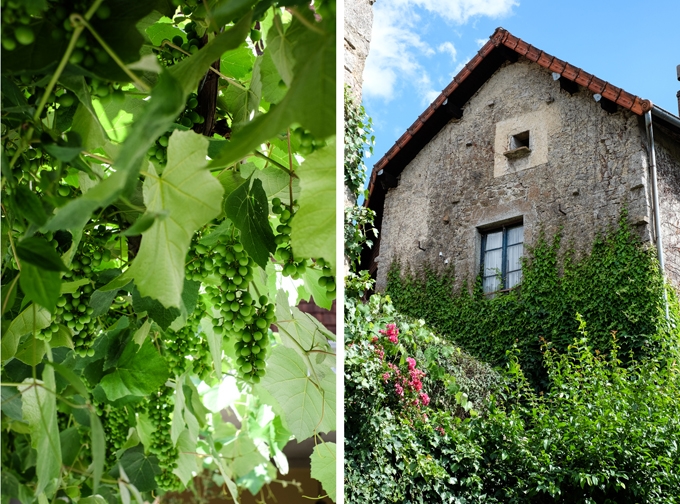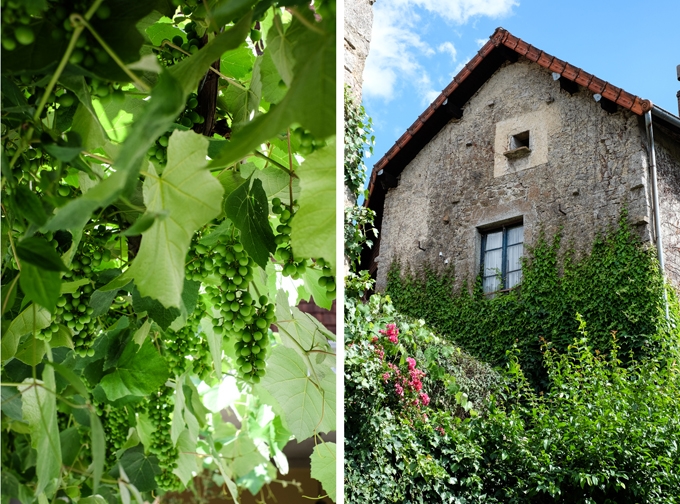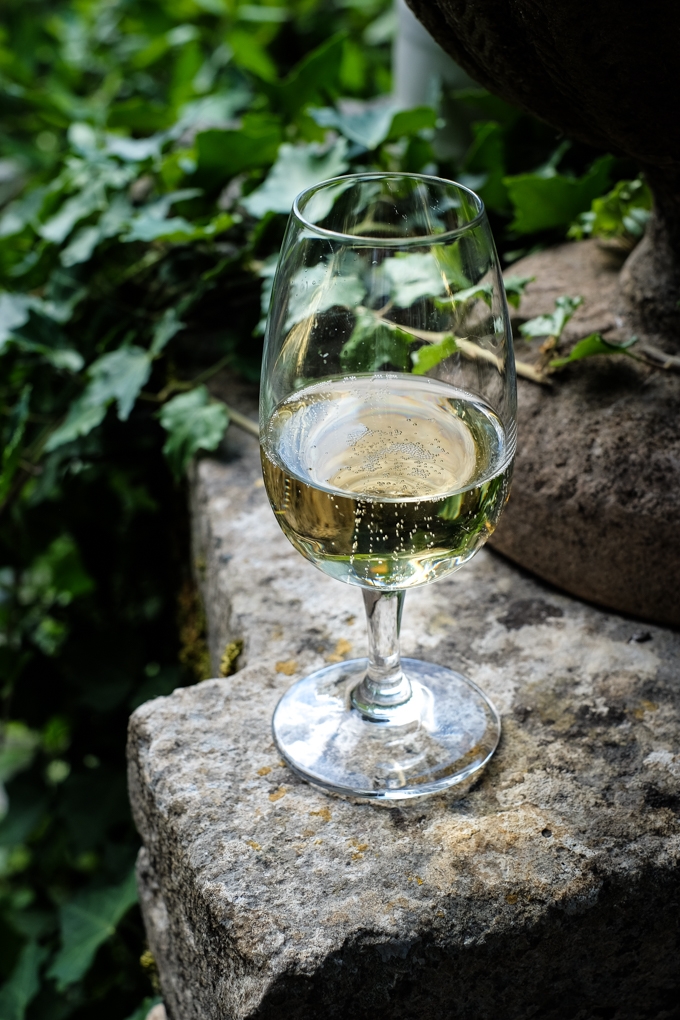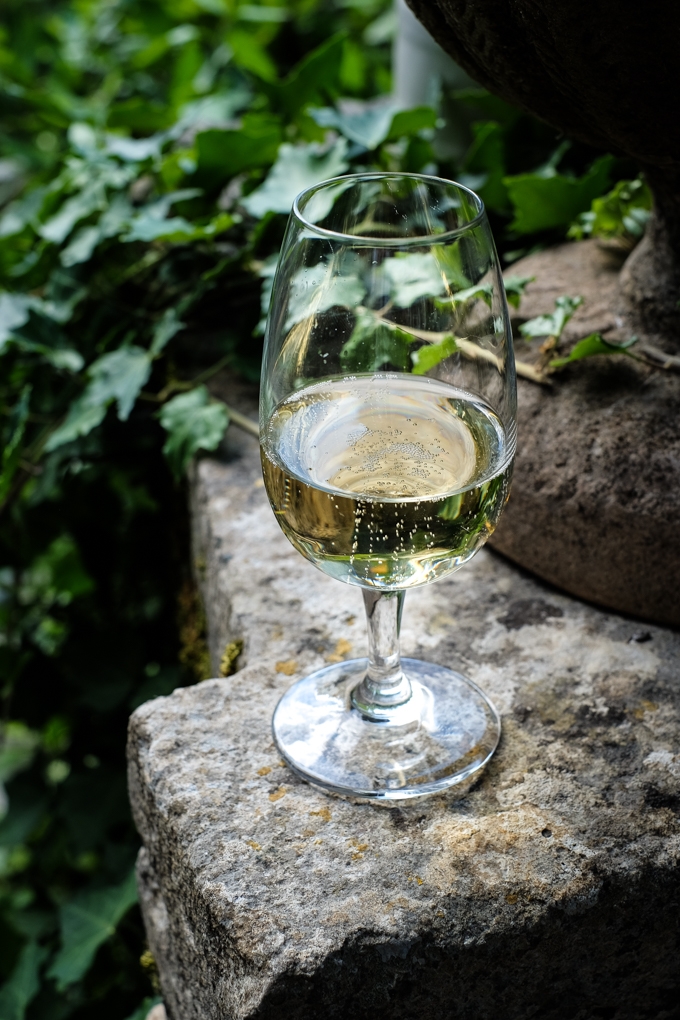 We sampled his wines while enjoying bites prepared by his lovely wife.  Cheese gougeres, cherry-studded clafoutis and brown butter cookies adorned with raspberry jam and fresh raspberries from the garden.
Day 2
Our second day started in Poligny, exploring a local affineur.  This cellar was home to 12,000 wheels of Comté all in various different stages of aging.  These wheels come from various different fruitières throughout the region.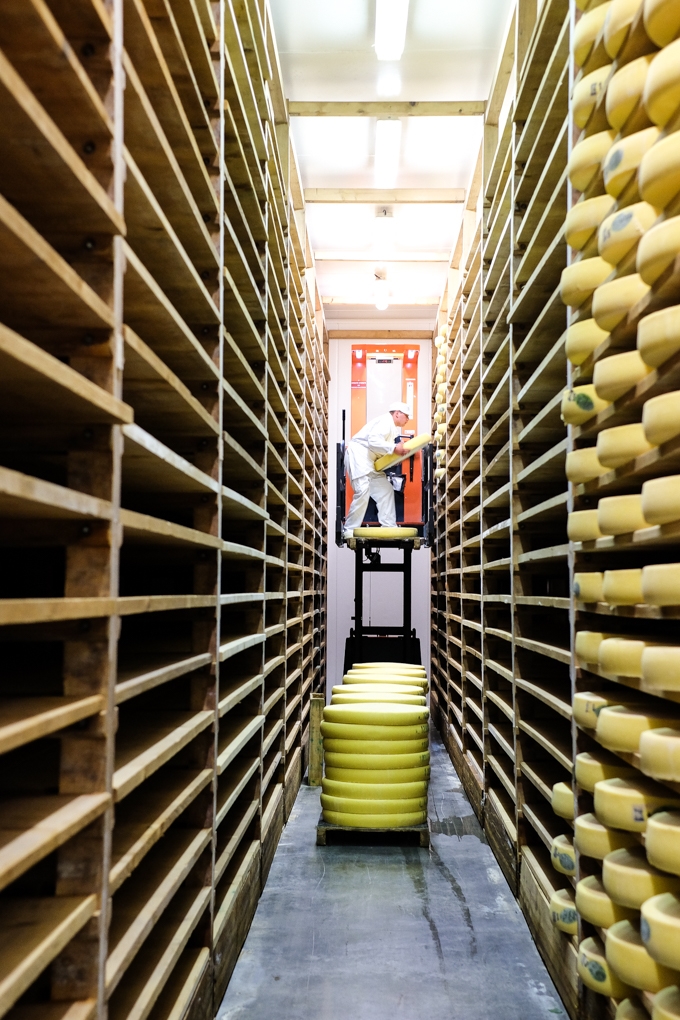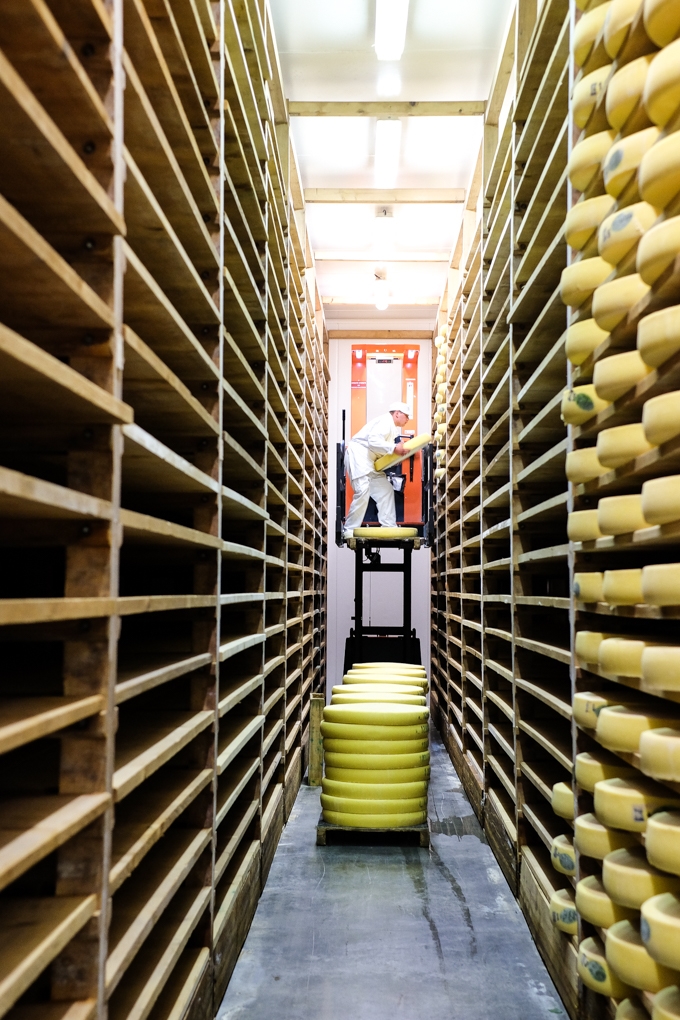 The environment in each room was different.  Some warmer.  Some colder.  Some filled with older cheeses.  Some filled with young cheeses.  All stored on spruce planks that don't get washed to maintain a healthy bacterial environment.  The affineur tastes each wheel regularly to see how these environmental changes are affecting the aromas and flavors of the Comté.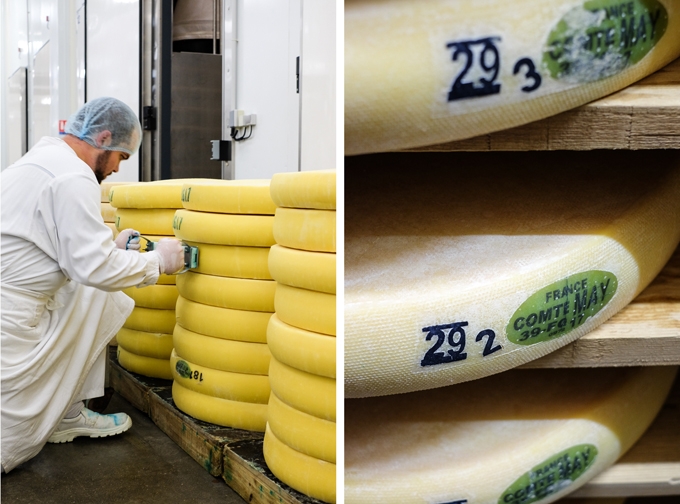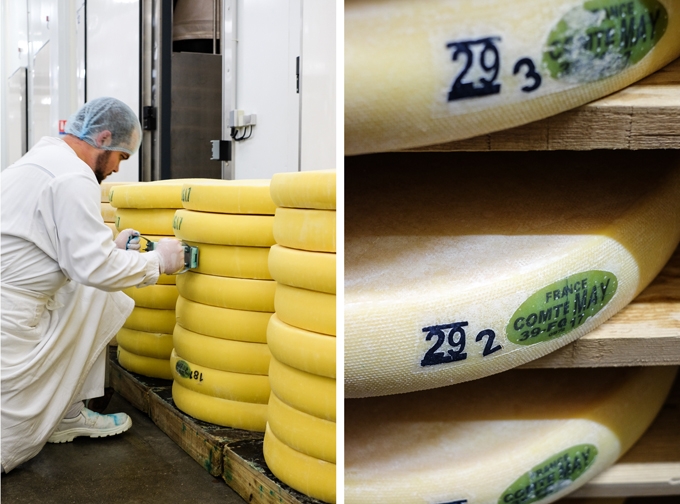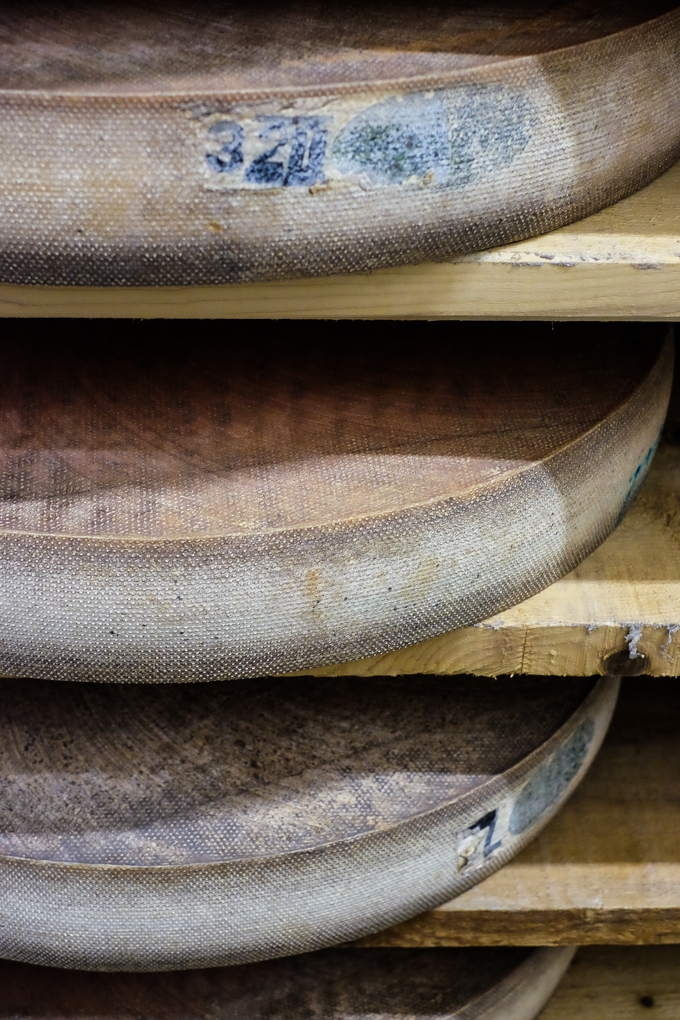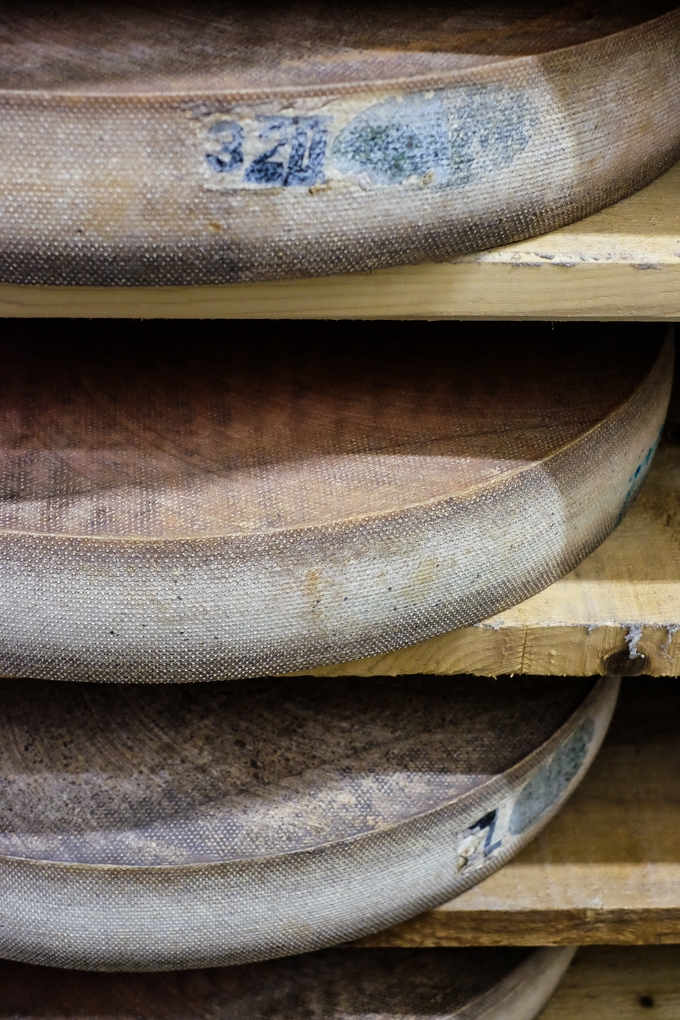 Next, we traveled to Vevy, France where we met Marie-Ange Roy, a Comté milk producer.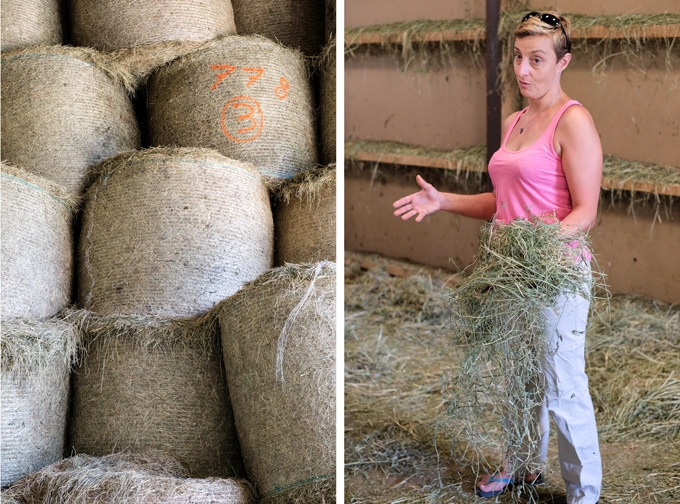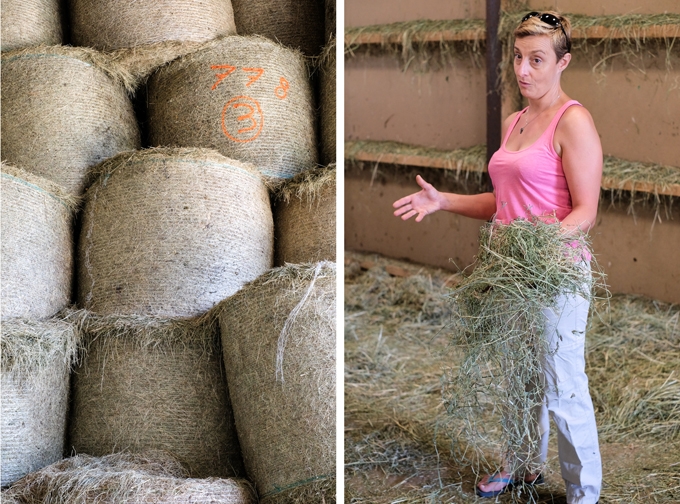 What I remember most about Marie is her passion and commitment to maintaining the traditions and standards of the craft.  A lot of care and attention is put into what the cows eat, because that affects the flavor of the finished Comté.  This is known as terroir, or the flavor of the environment.  During the summer months, the cows graze on grass and flowers.  In the winter, they eat hay.  All of the grass and hay needs to come from the region, and preferably from the farm.  And no GMO's allowed!
The cows are milked using a machine; however, the process of attaching the machines to the cows must be done by hand.  There are actually regulations in place to keep robots and automation off the farm to maintain a personal connection between farmers and the cows.  These cows are fed less than their industrial counterparts.  This results in less milk, but happier and healthier cows.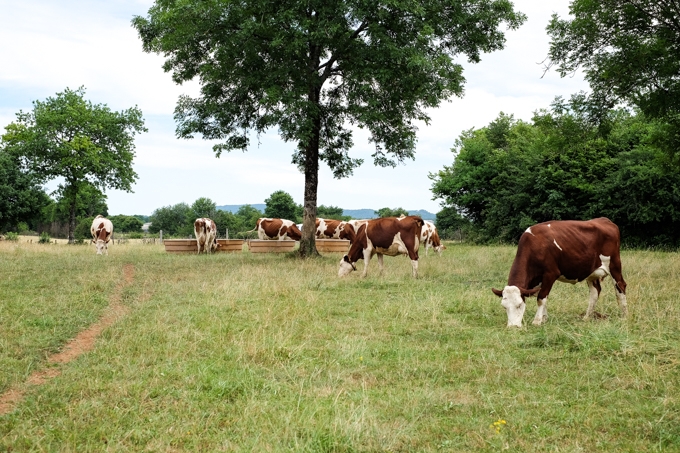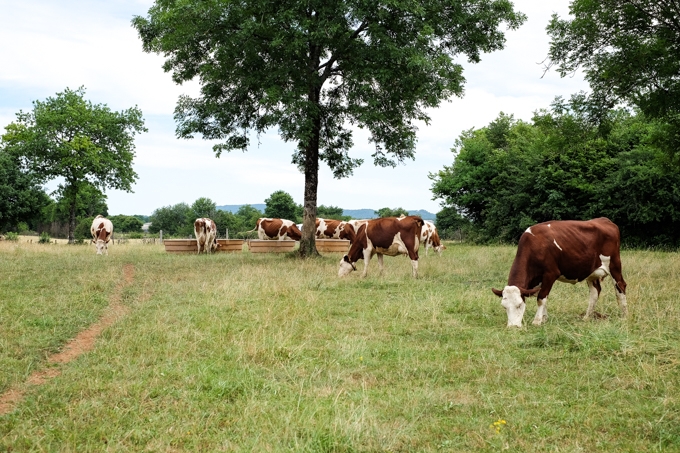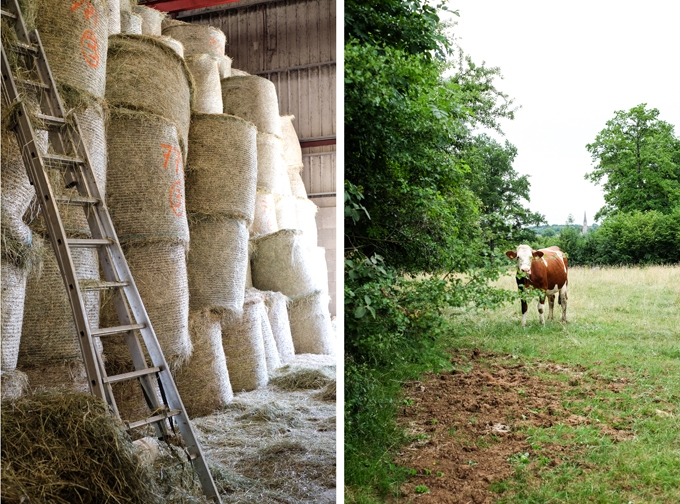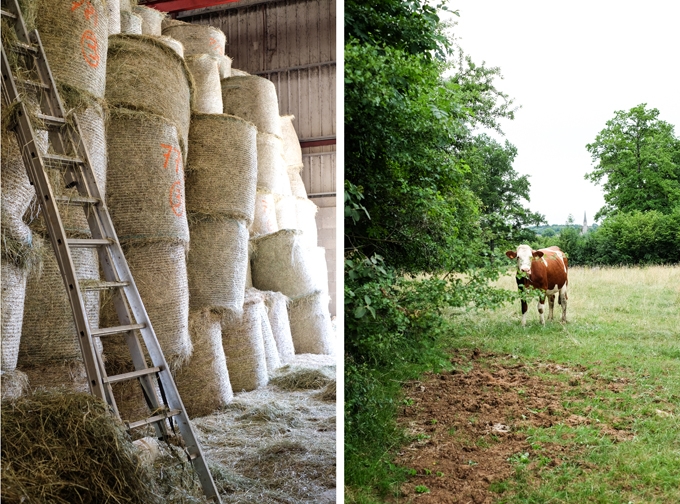 We finished our day with a Comté tasting at the Saline Royale.  One unique element of this tasting was a pairing of Comté cheese with edible flowers.  An umami and mushroom-forward Comté topped with borage, a purple flour that tastes like oysters.  Fresh fennel flowers paired with a sweet Comté with notes of grilled onion and egg yolk.  An aged Comté, unique with white chocolate and grilled onion aromas, sprinkled with oniony nigella seeds.  Each combination was so intriguing and delicious.
I should mention that dinners each evening were spectacular.  Lighting is always a challenge for dinner, so unfortunately, I don't have photos to share.  On Day 2, we enjoyed a lavish feast at Le Chateau de Germigney.  After dinner, they rolled out a cheese cart and a petit four cart in addition to dessert.  Such a treat!!
Day 3
The next day started at a fruitière in Plasne, France.  Milk from the farmers gets dropped off a the Fruitière twice a day.  From there it's warmed in large vats along with rennet and whey from the previous batch of cheese.  Metal arms keep the milk moving about to ensure even heating.  As the milk thickens, the cheesemaker checks the consistency by hand, and once thick enough, the metal arms are switched out for wire slicing arms.  The arms rotate around the vat, cutting the thickened milk into curds.  Once again, the cheesemaker checks the curds by hand to make sure they're the correct texture before draining.  The curds are then drained from the whey and transferred to round, metal forms.  The rounds are pressed to release any remaining whey.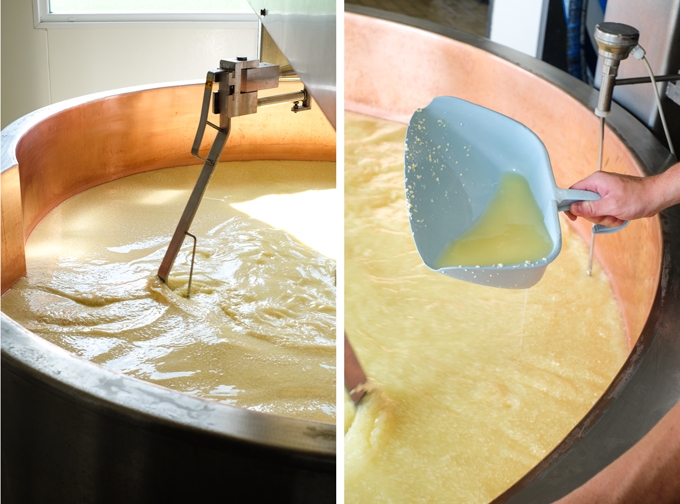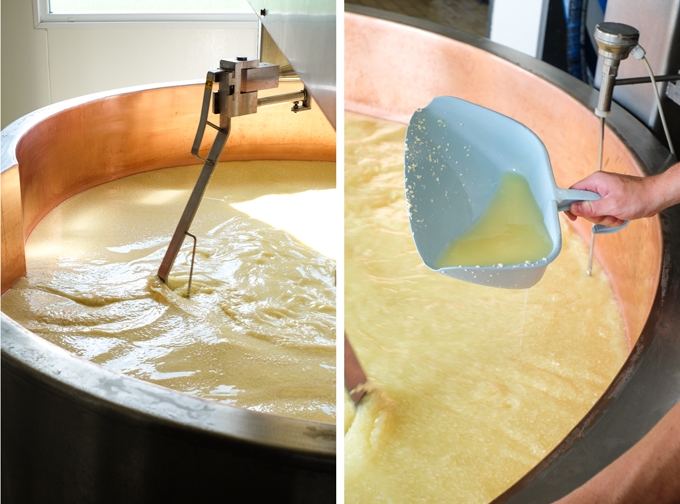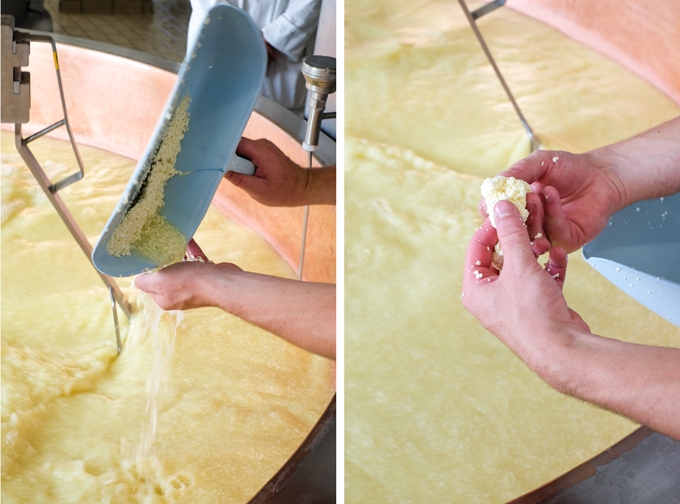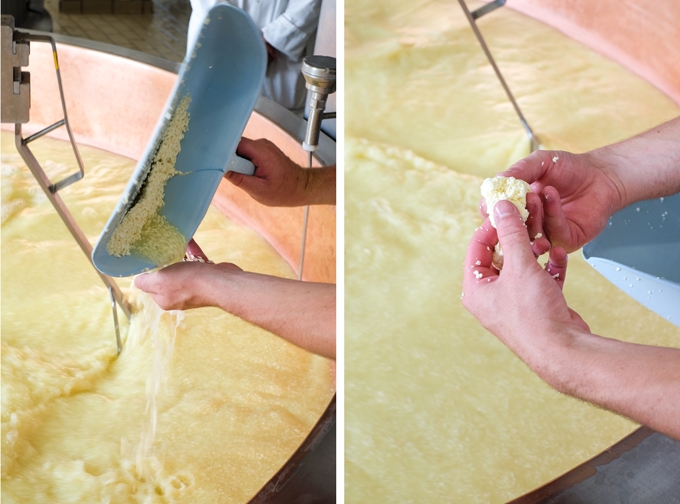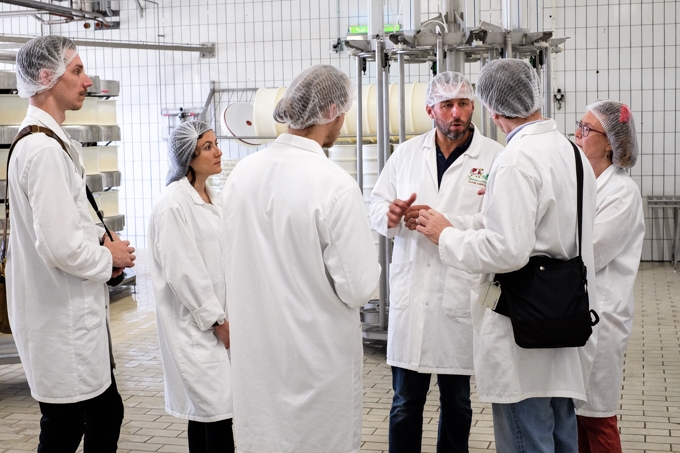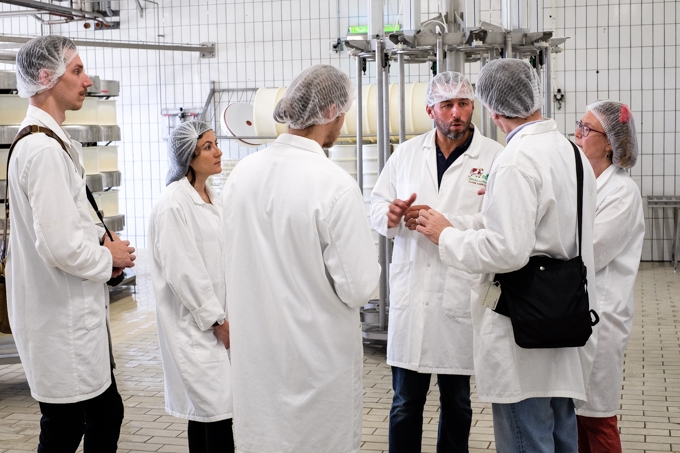 Once the wheels develop a rind, they're placed on spruce boards to start the aging process.  The wheels are washed with a brine and flipped regularly.  The wheels stay at the fruitière for several weeks before heading off to the affineur.
Comté cheese was first developed as a way for farmer's to pool their milk to preserve it during the winter months.  That's why the wheels of cheese are so large!  This concept is alive and well in today's Comté product with thousands of milk farmers pooling their milk at over 100 cheesemakers.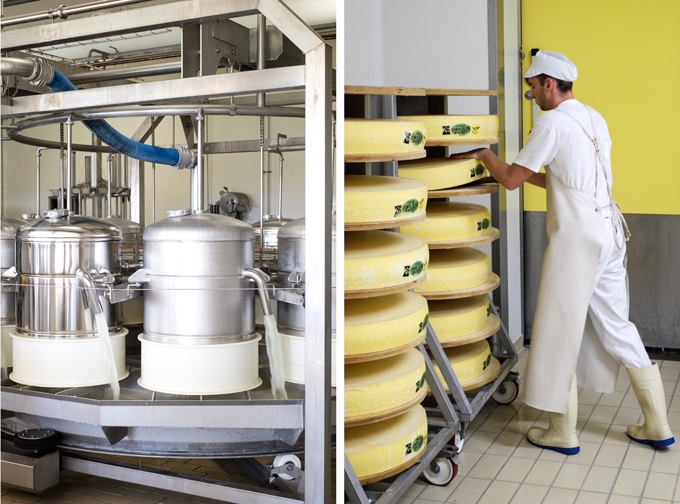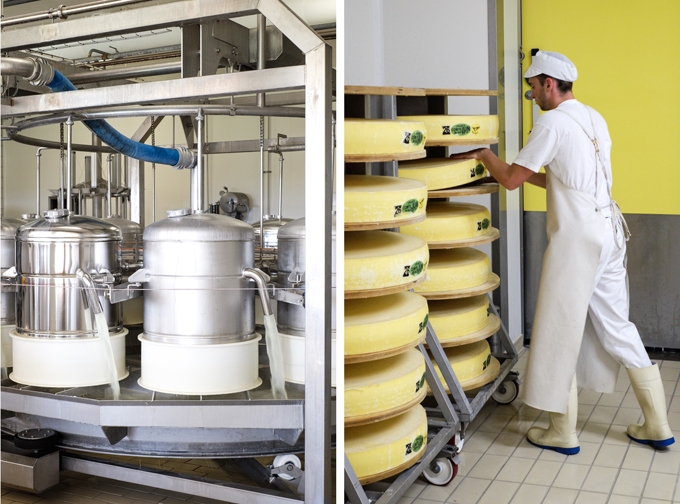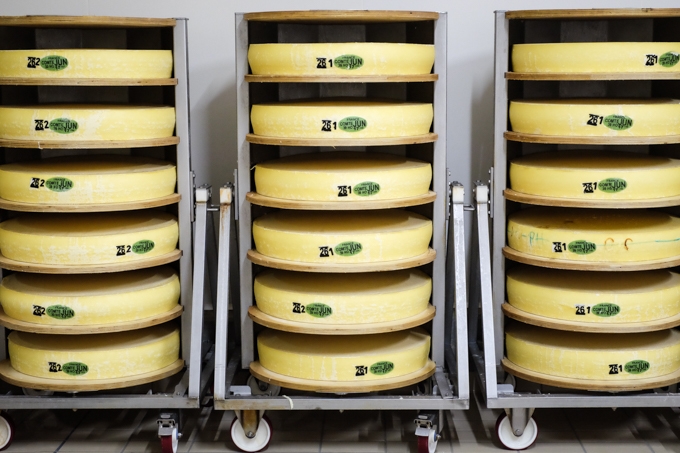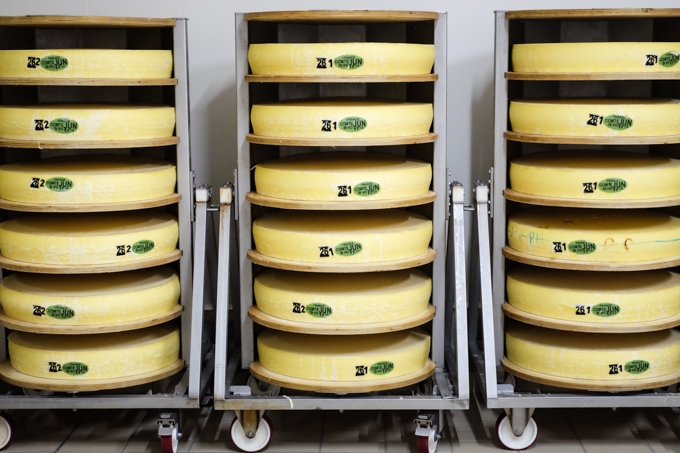 A quick side note!  We also learned that Morbier, a soft cheese laced with a band of ash, is made alongside Comté.  The cheesemakers will produce smaller wheels of Morbier with any milk leftover from the Comté process.  Nothing goes to waste!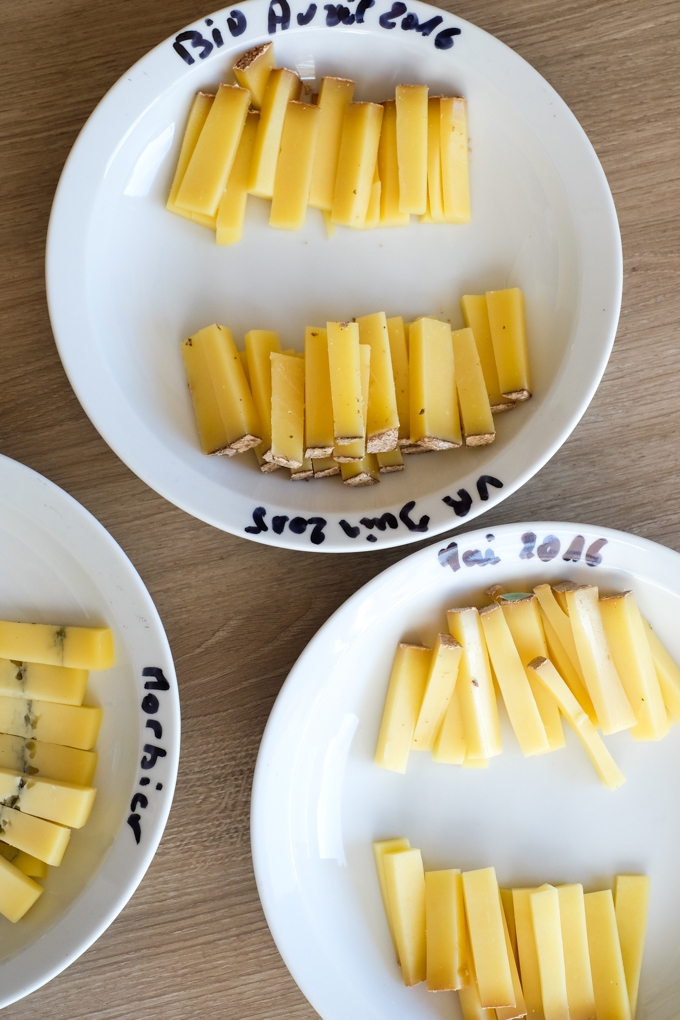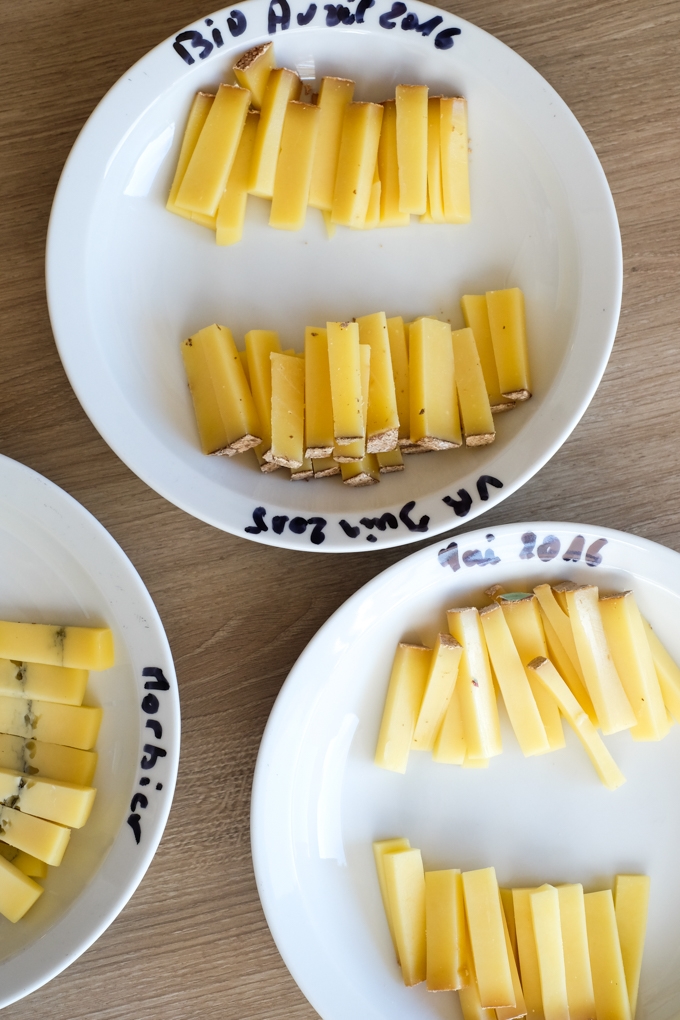 That afternoon we enjoyed a fab picnic right outside of the Fruitière.  Each of us opened a round wooden box filled with cured meats, a slice of beef terrine, marinated peppers, crunchy vegetables, spicy mustard, aioli and a glistening apple tart.  Crusty baguettes served on the side.  The air was crisp.  Sparse clouds above scattered shadows over a stunning backdrop of mountains and flower fields.  Can you tell I was having a moment ;)?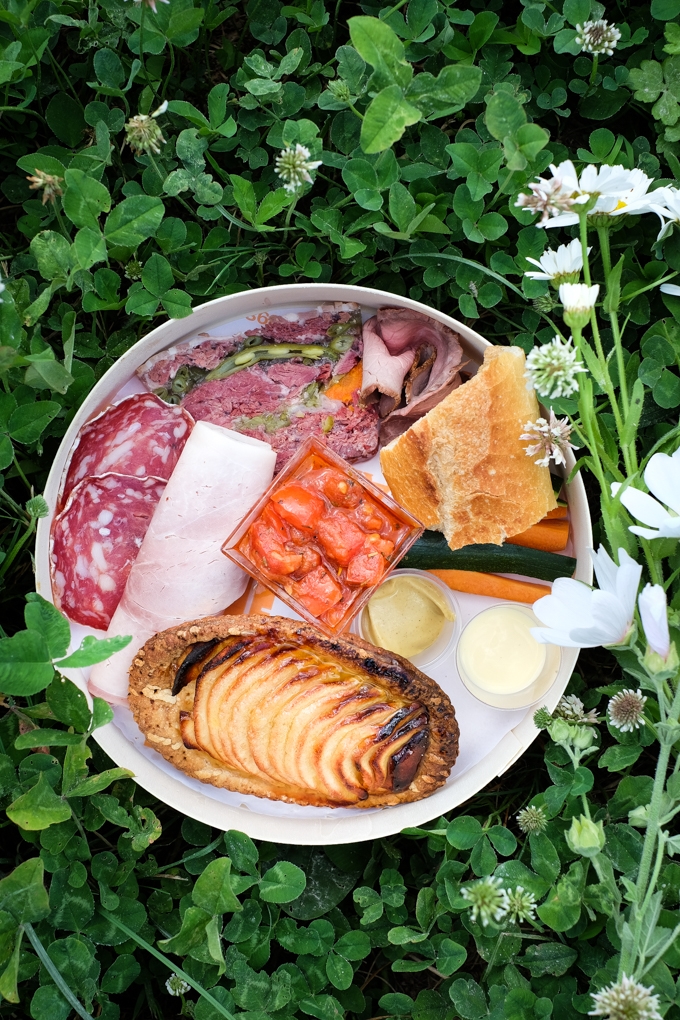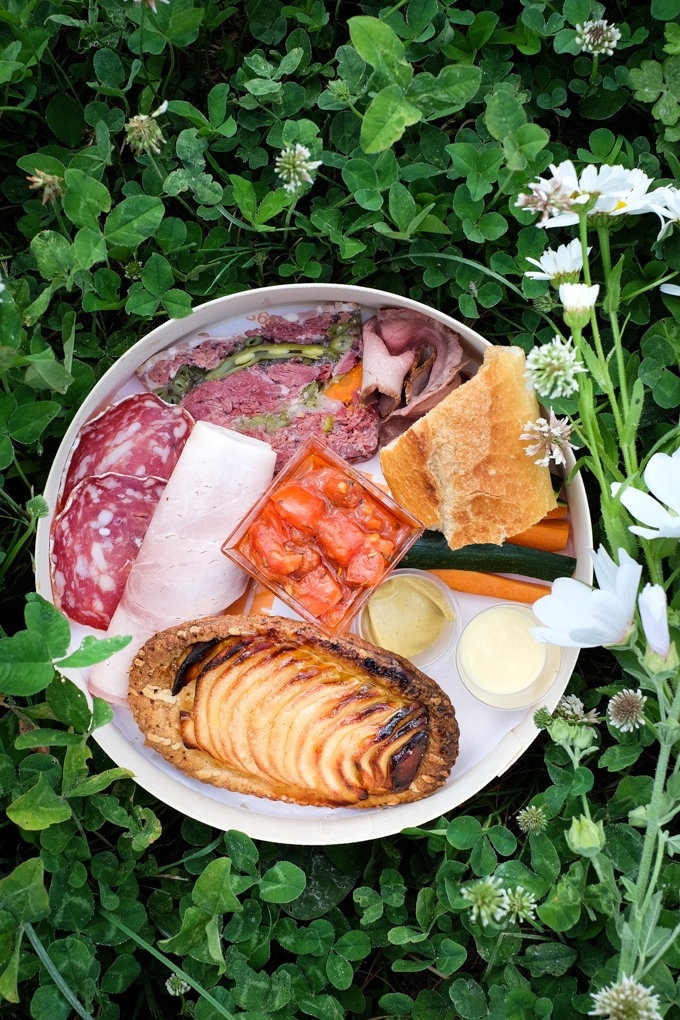 After lunch we explored the Source du Lison in Nans-sous-Sainte-Anne.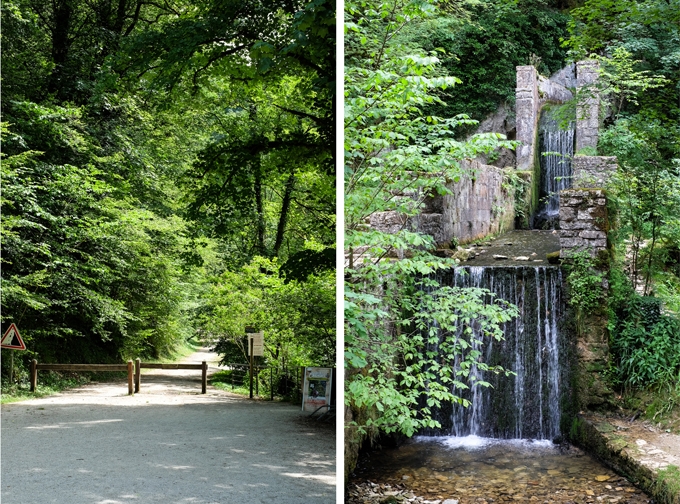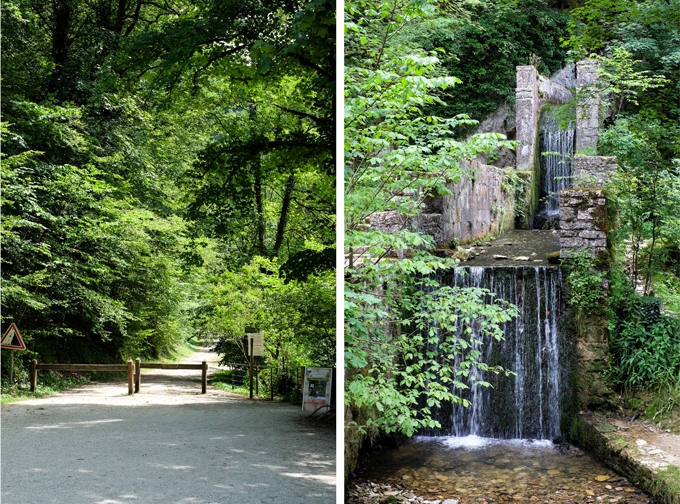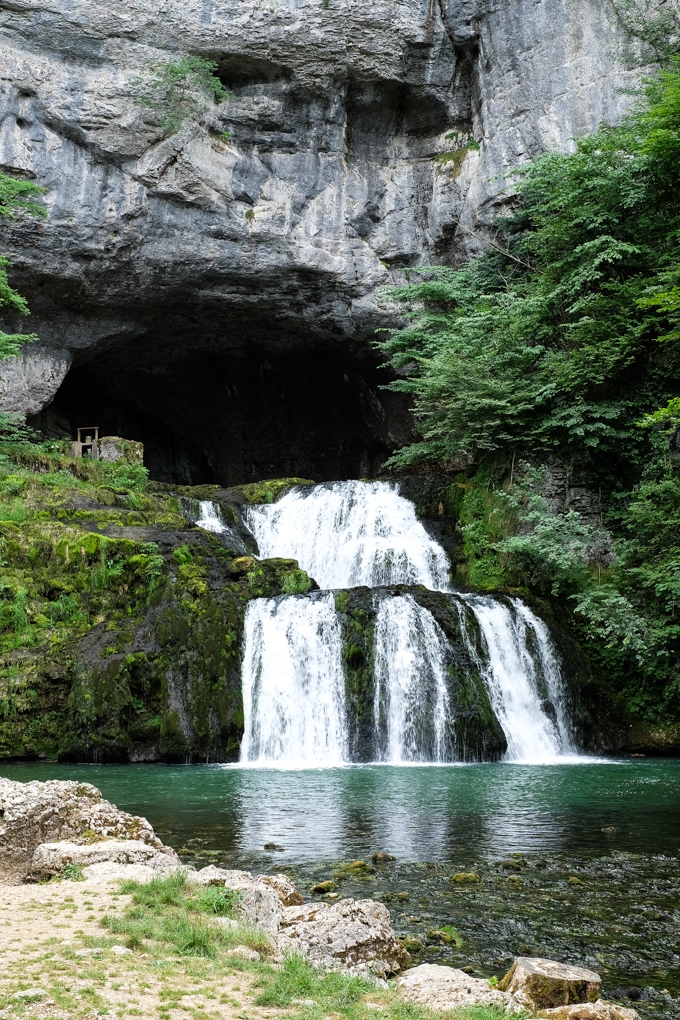 As we were hiking around the forest, our guide pointed out some wild garlic.  I immediately recognized this as a wild ramp!!  This is my version of a celebrity spotting 😉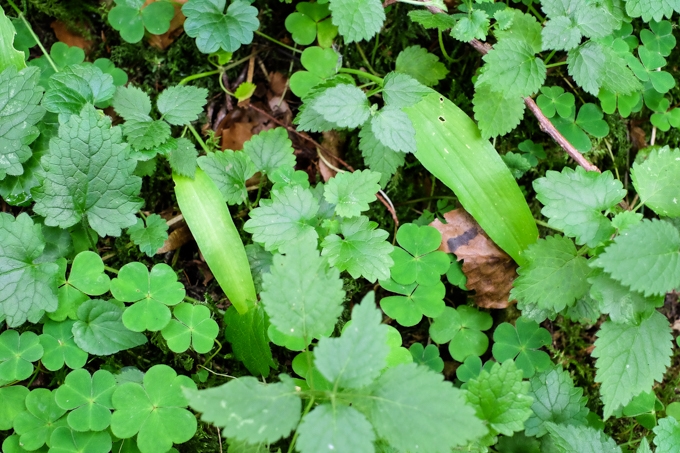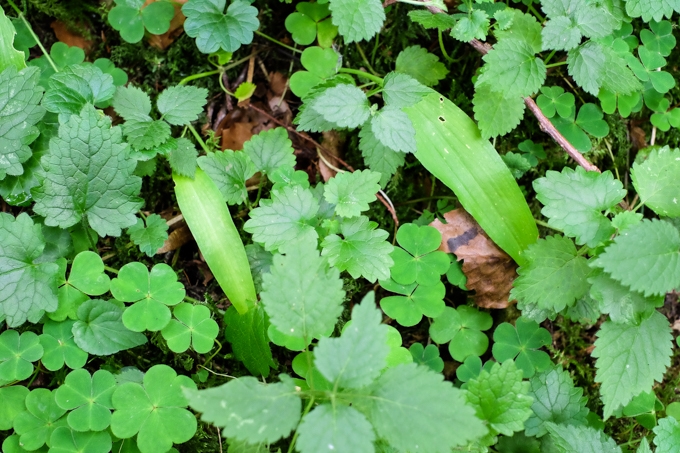 That evening, we attended a cooking class with the Chef Christian Paccard who served as the White House executive chef for many years.  The menu we prepared was packed with delicious comté cheese:
Comté souffle with morel mushrooms
Savory comté and potato cake with salad
Hay-smoked Morteau sausage
Cakes with fresh fruit, vanilla pastry cream and a banana puree
Vanilla ice cream with pine liqueur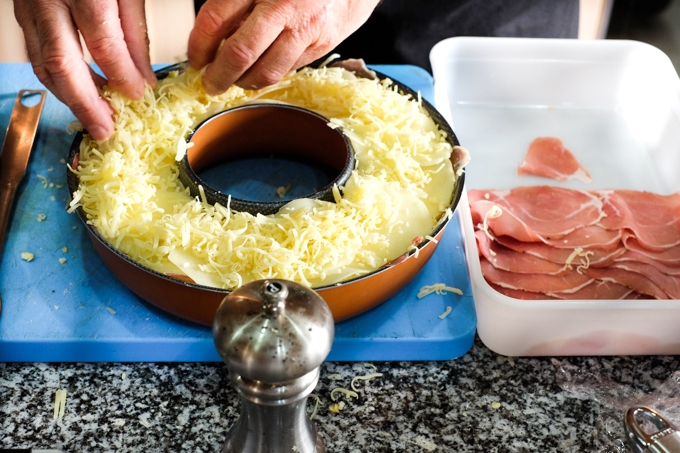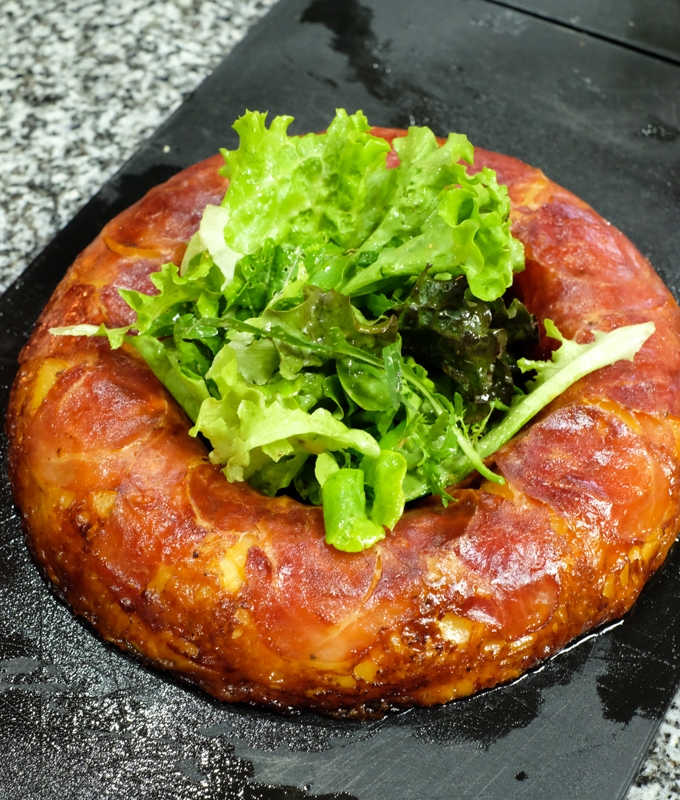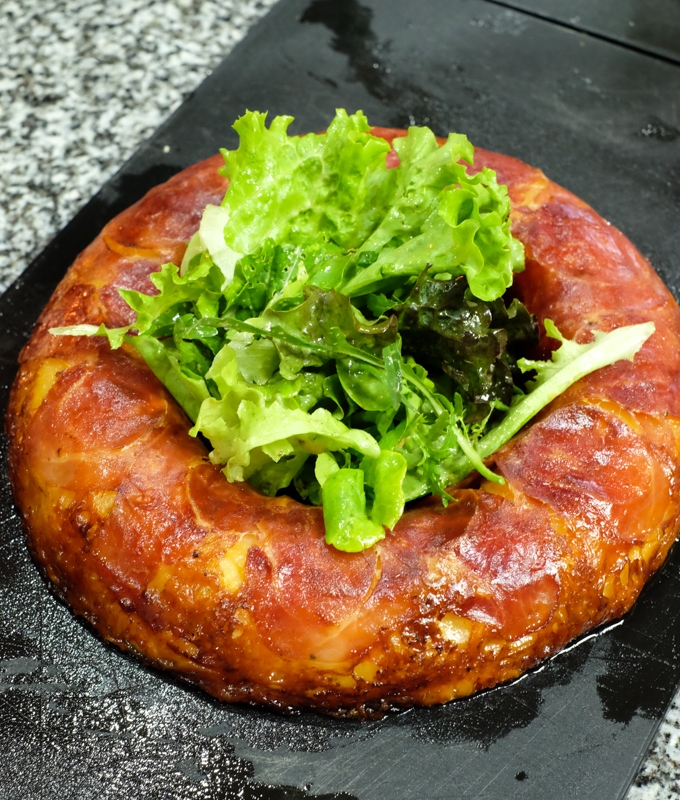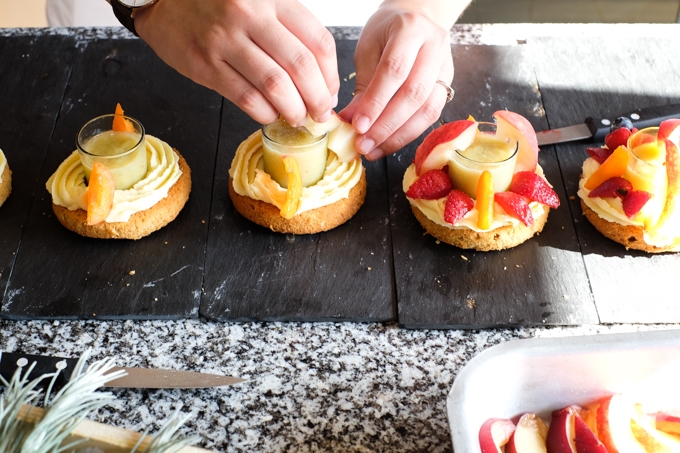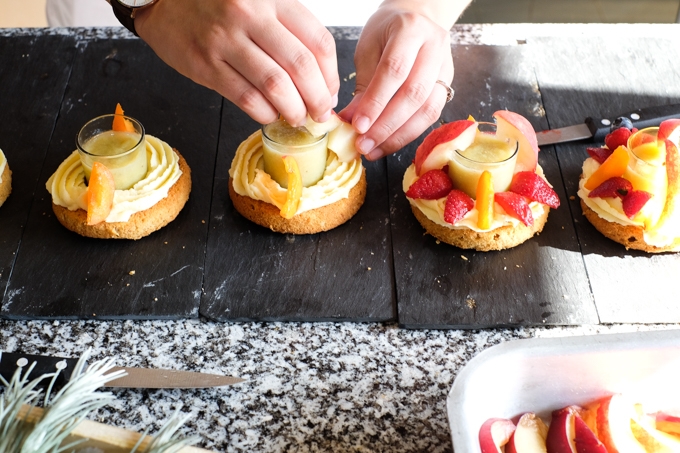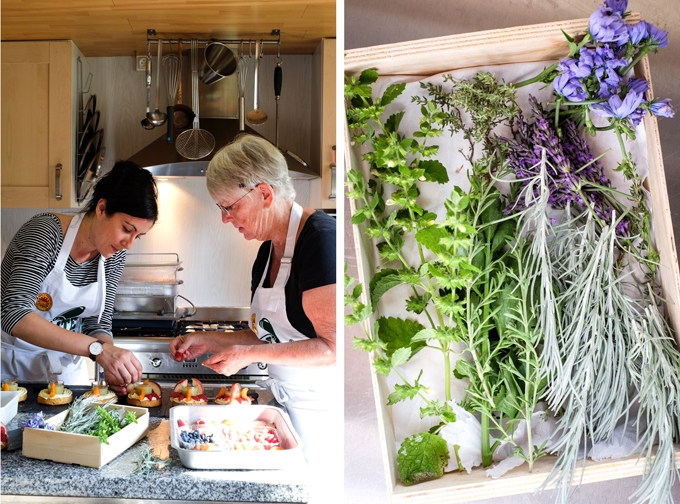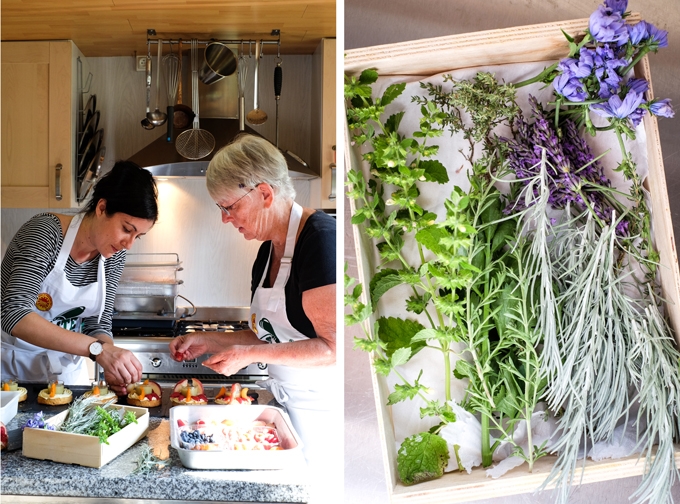 We also got to experience an absinthe tasting!!  Jura is part of a region known as the cradle of absinthe.  With notes of herb and anise, this clear spirit is cut with cold water and a sugar cube.  Very refreshing on a hot summer day!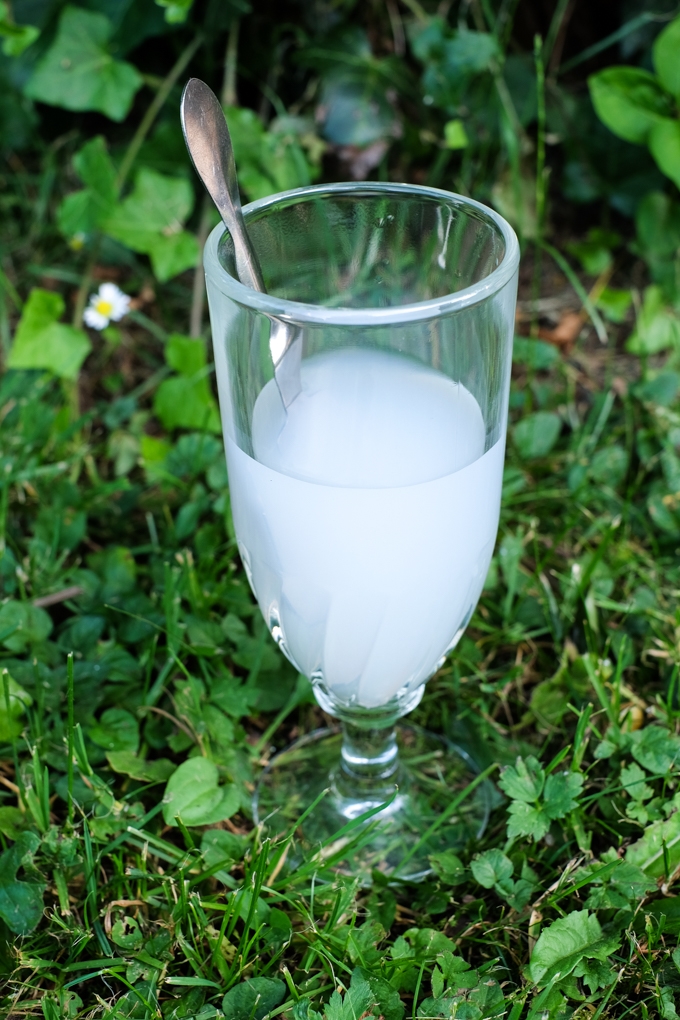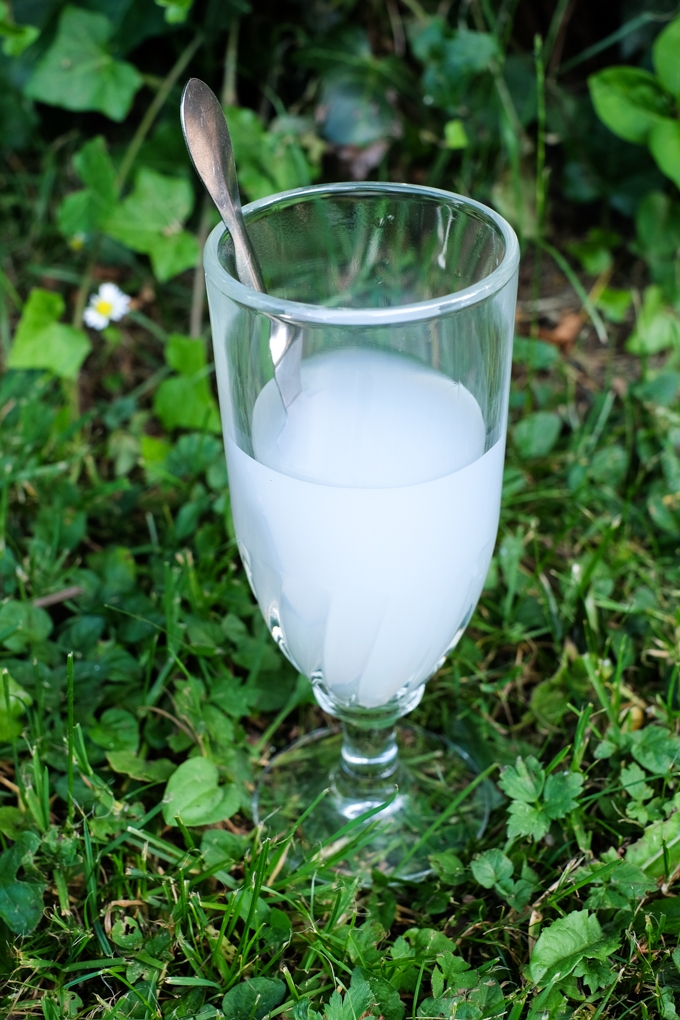 This was definitely one of my favorite days :)!
Day 4
On our last full day, we got to visit another farm, fruitière and affineur.  In the morning, our guide Tas showed us around his farm and the fruitière of Bouverans.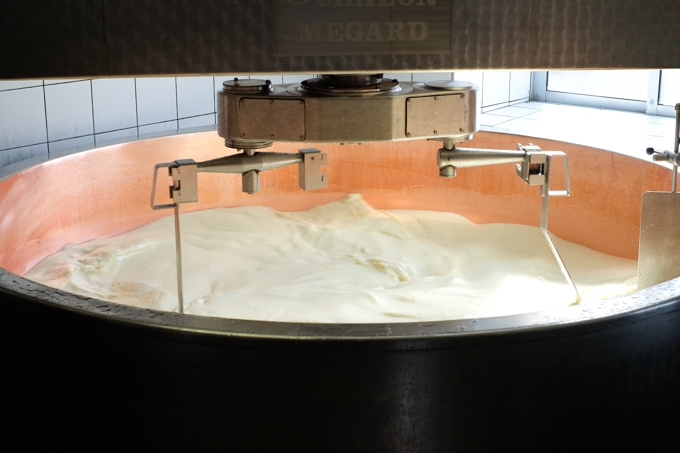 I was secretly calling Tas the Comté Cowboy, and I think he kindof looks like Bobby Flay!  His passion for the craft was very apparent and inspiring.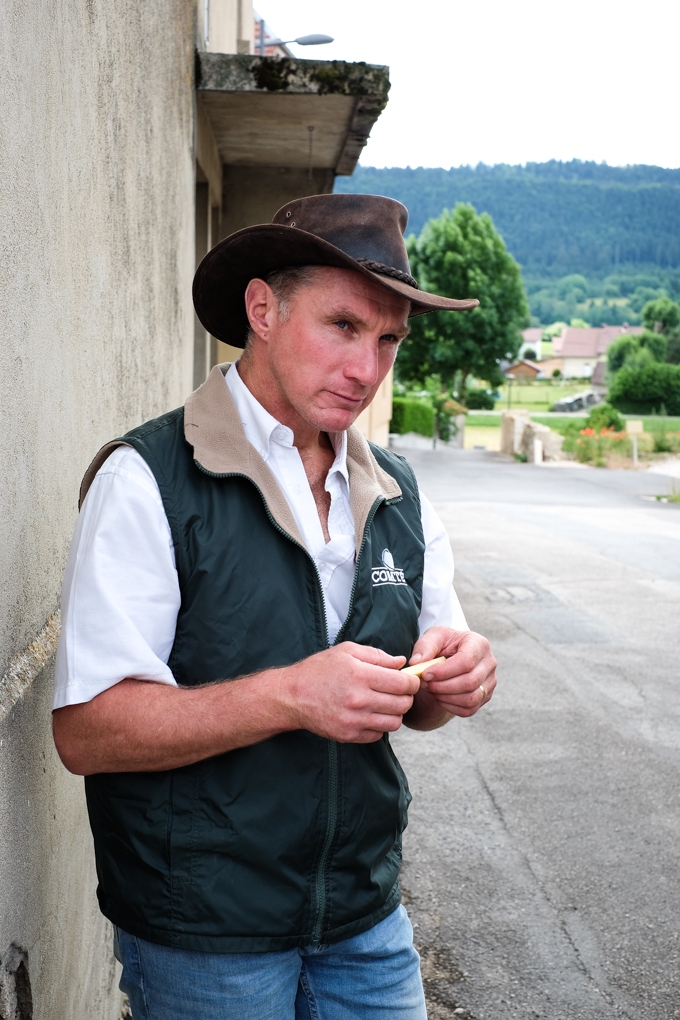 For lunch, we had an incredible meal right on the border of Switzerland, including: cured meats, Comté fondue, rösti topped with Morteau sausage, strawberry rhubarb tart, blueberry tart and brownies.
That afternoon, we visited an impressive affineur located at the Fort des Rousses, an old military fortress.  This vast space is home to over 100,000 wheels of Comté.
Day 5
The last day of the press trip was a short one.  We got the chance to meet Marc Janin, cheesemonger and Meilleur Ouvrier de France 2015, in Champagnole.  It was interesting to see comté cheese through Marc's perspective (someone from outside the industry).  Marc explained that young comtés are eaten on the daily in France, and his customers will replenish their stock weekly.  Aged comtés are more for special occasions, because the flavors are so robust and complex.  He said each old comté is an adventure to open and taste, because of the flavor variations.
Well that's it!!  This was truly a fabulous experience, and I can't thank the Comté Cheese Association enough for inviting me.  Comté cheese has always been on my radar here in the US, but now I'm excited to see what different types I can find around San Diego.  I urge you to explore this amazing cheese as well!
Here are the fantastic people I traveled around France with:
Jean-Louis and Sandra from the Comté Cheese Association.
Barbara from Hole in the Donut.
Kristan and John from The Broken Bread.
Ryan, the Cheese Monger at Whole Foods Tallahassee.
And here I am :)!
This post was written in partnership with the Comté Cheese Association.  The Comté Cheese Association has provided me with this incredible experience.  All thoughts and opinions are my own.
7