I saw this recipe in a recent edition of Bon Appétit, and I was pleasantly surprised at how simple and delicious it was.  It's quickly become a weeknight staple at our house.
This post may contain affiliate links.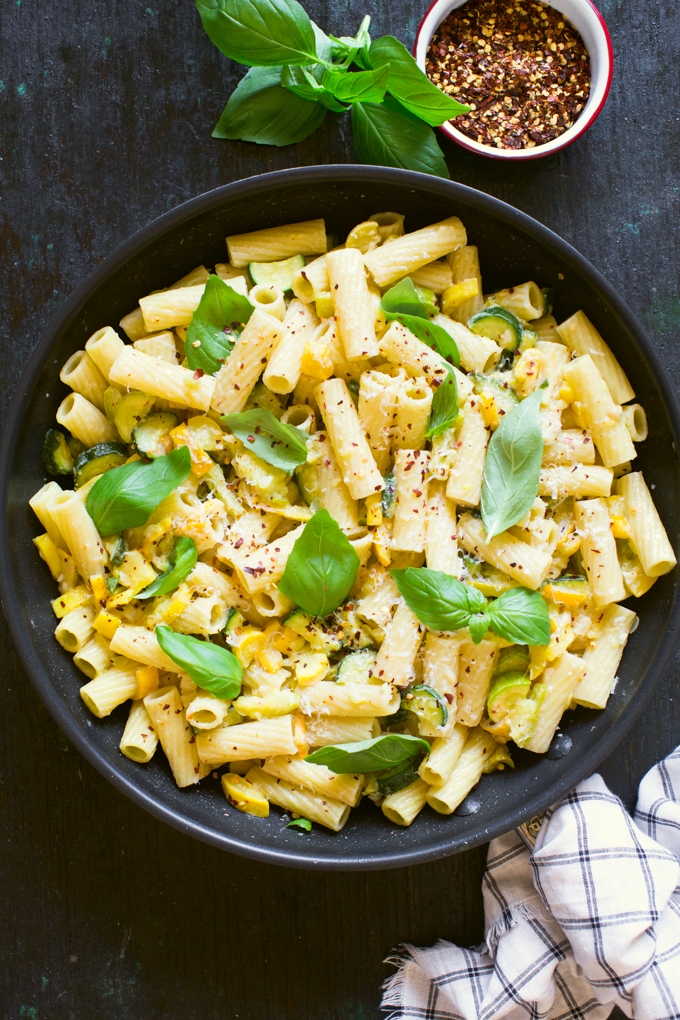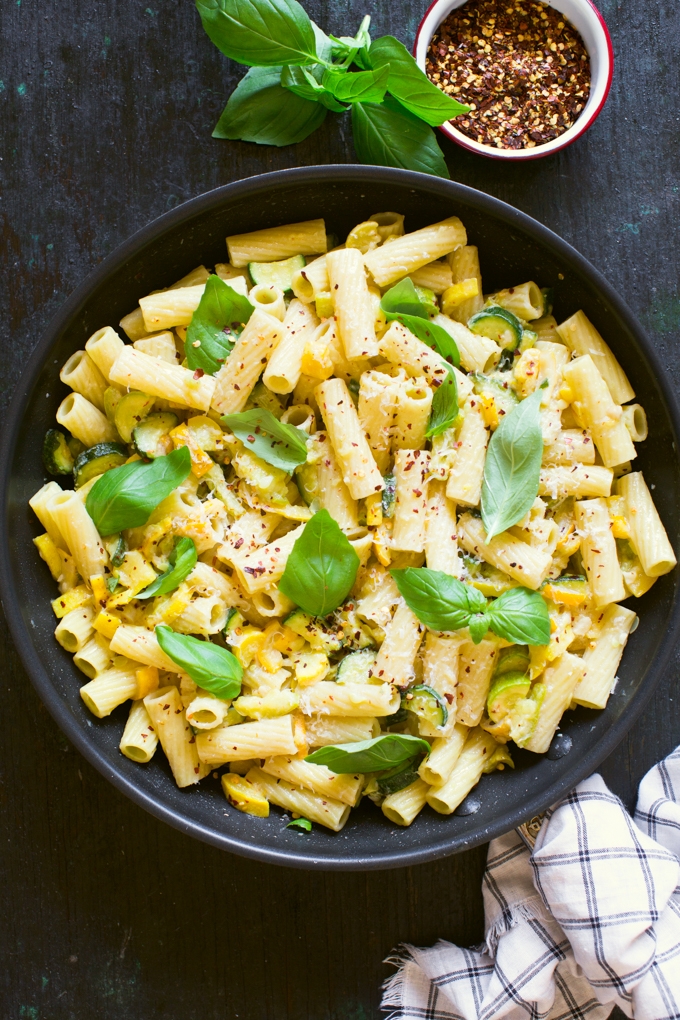 Zucchini and summer squash are two things I often have sitting in my fridge this time of the year, and this Summer Squash Rigatoni recipe is a perfect use-up.  Start with thinly sliced garlic sizzling in olive oil, then toss in two pounds of sliced zucchini and summer squash.  They stay in the pan for about 20 minutes until tender and any released liquid cooks off.  You then toss in red chile flakes, cooked rigatoni, Parmesan cheese, lemon juice and basil leaves.  Pasta cooking water is also added to form a light sauce.  And that's it!  The flavors are simple here, but they come together beautifully to form an irresistible pasta dish that's ready in about 30 minutes!  Continue reading for the recipe.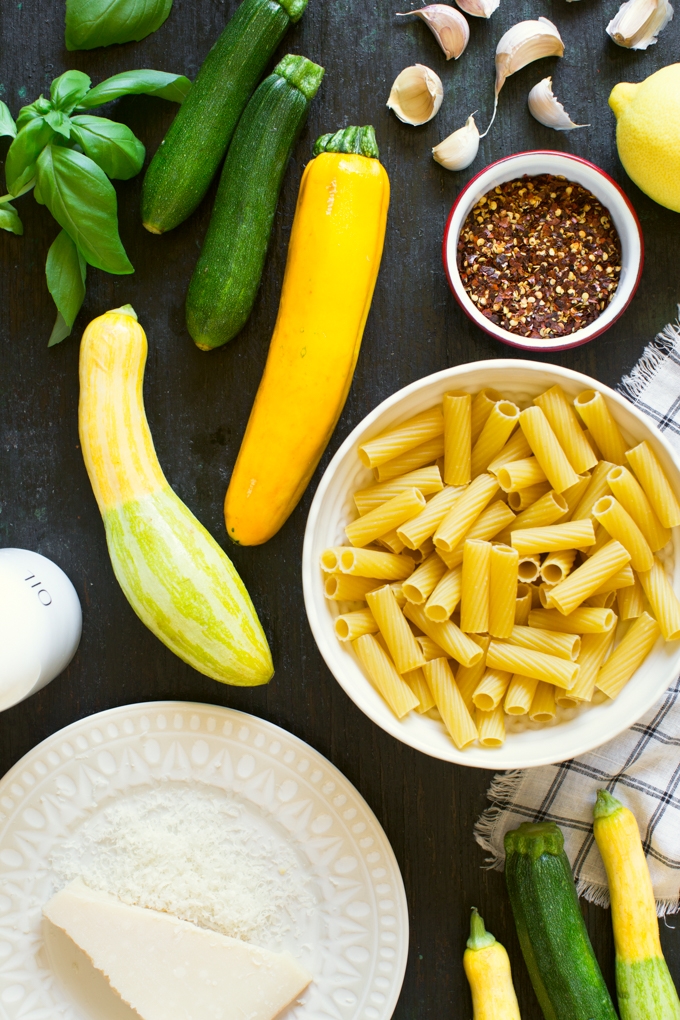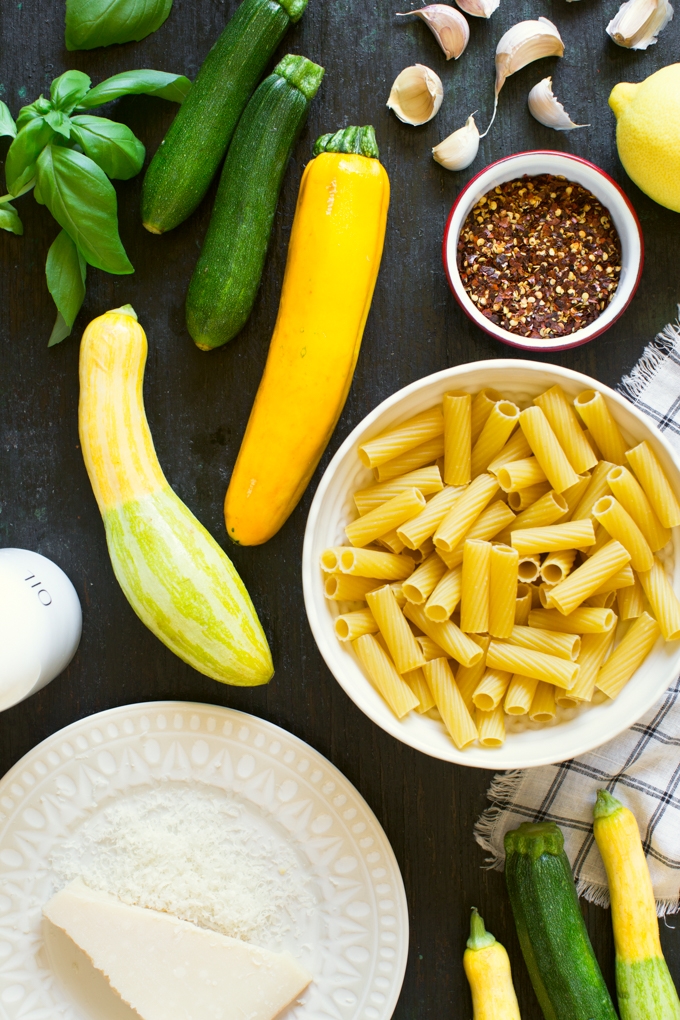 Given that summer squash and zucchini are the stars of this dish, you'll want to make sure you're using good ones—preferable from a Farmer's Market, CSA or your backyard garden!  Squash and zucchini work well with big, bold flavors, so here we're starting with eight cloves of garlic.  I know that sounds like a lot, but the dish can take it.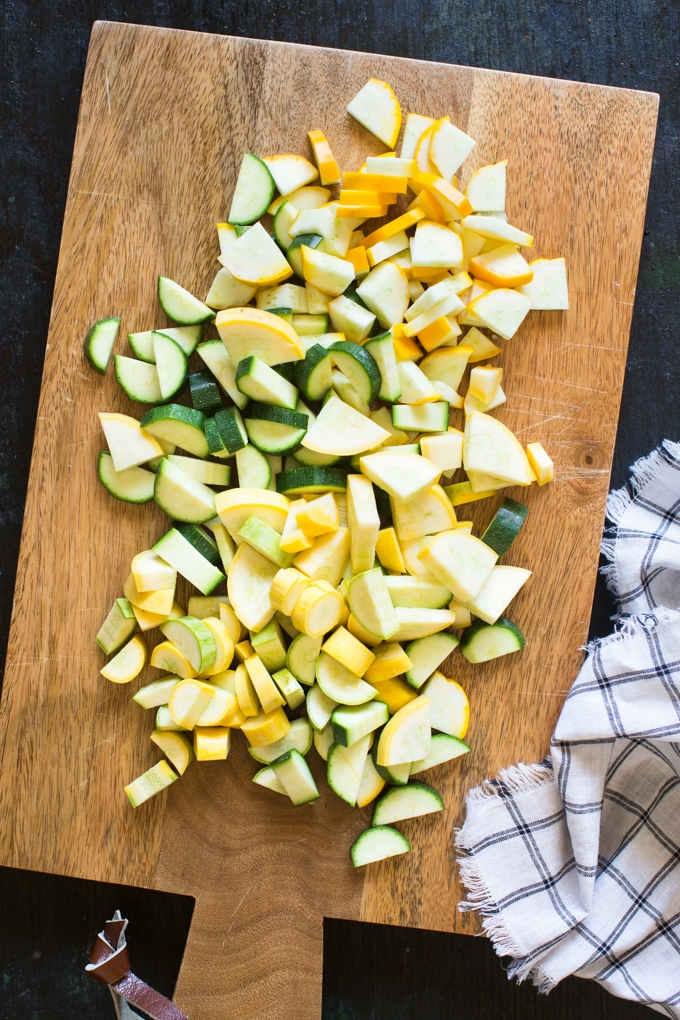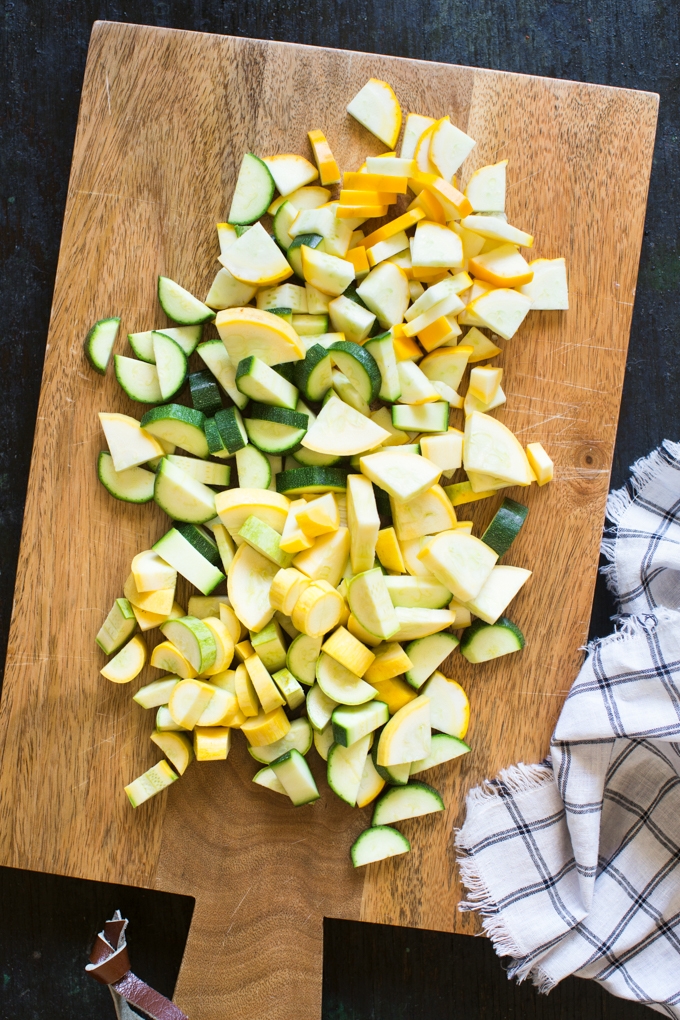 Crushed red chile flakes are added for a little spark of heat while lemon juice perks up flavors.  Parmesan cheese adds some saltiness, and when mixed with the starchy pasta water, forms a light sauce that coats the rigatoni.  Finally, basil leaves are added whole.  They're not just a little garnish at the end.  You want some bites of the dish to have a very pronounced basil flavor to provide some nice contrast.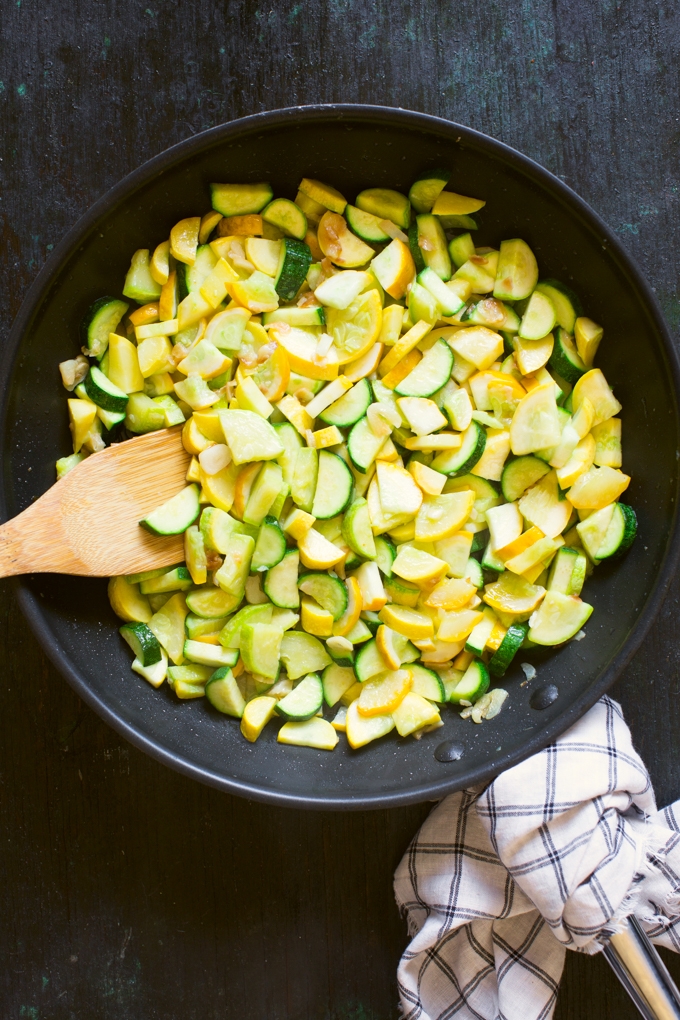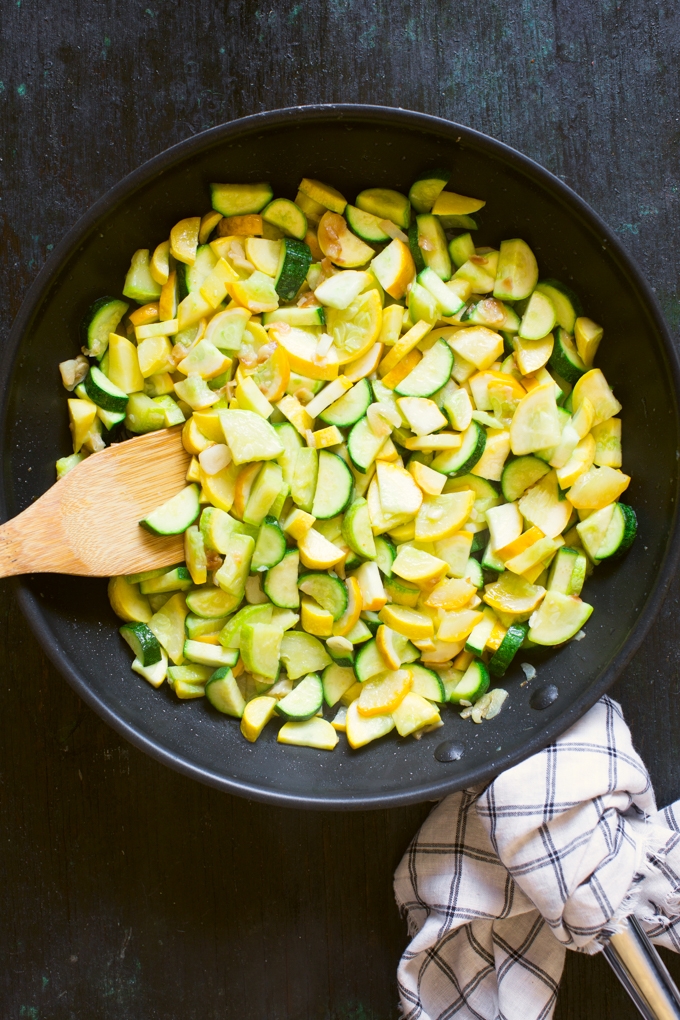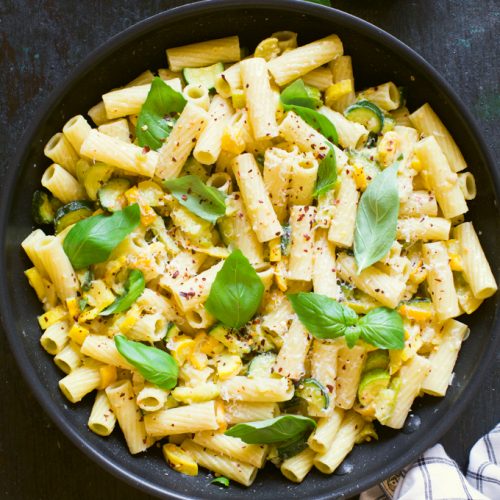 Summer Squash Rigatoni Recipe
Lightly adapted from
here
.
Ingredients
1/4

cup

olive oil

8

garlic cloves, thinly sliced

2

pounds

mixed summer squash and zucchini, quartered lengthwise (or halved if small), sliced

Kosher salt

1/2

teaspoon

crushed red chile flakes, plus more for serving

12

ounces

rigatoni

1/2

cup

Parmesan cheese, plus more for serving

1

tablespoon

freshly squeezed lemon juice

1/2

cup

basil leaves
Instructions
Warm oil in a 12-inch skillet over medium heat. Add garlic and cook, stirring occasionally, until lightly golden around the edges (about 3 minutes). Add the squash and zucchini along with a couple pinches of salt, stirring to combine. Cook until squash and zucchini are tender (15 to 20 minutes), and the water that they've released has cooked off. Stir in red chile flakes, then season to taste with additional salt.

Meanwhile, bring a large pot of water to a boil over high heat. Drop in rigatoni and a few big pinches of kosher salt, stirring to combine. Once the water comes back to a boil, reduce heat to medium-low and cook rigatoni until 2 minutes shy of al dente (about 10 minutes). Before you drain the rigatoni, scoop out a cup of starching cooking water, and set aside.

Add rigatoni to the skillet along with Parmesan cheese and 1/2 cup cooking liquid, stirring to combine. Cook until rigatoni is al dente (about 2 minutes more).* Take the skillet off the heat, stir in lemon juice and basil, and season to taste with salt.

To serve, divide pasta between 4 shallow bowls, and top with additional red chile flakes and Parmesan cheese.
Notes
* When the pasta water and Parmesan cheese melt together, they'll form a sauce that coats the rigatoni. If the pasta looks a bit dry, you can add a splash or 2 of pasta water. You won't want liquid pooling up at the bottom of the skillet, so don't add too much!
Tried this recipe?
Tag @brandiego on Instagram so I can check it out!
7