All-Clad recently sent me one of their new Prep&Cook appliances, and so far, I've been loving it.
This post may contain affiliate links.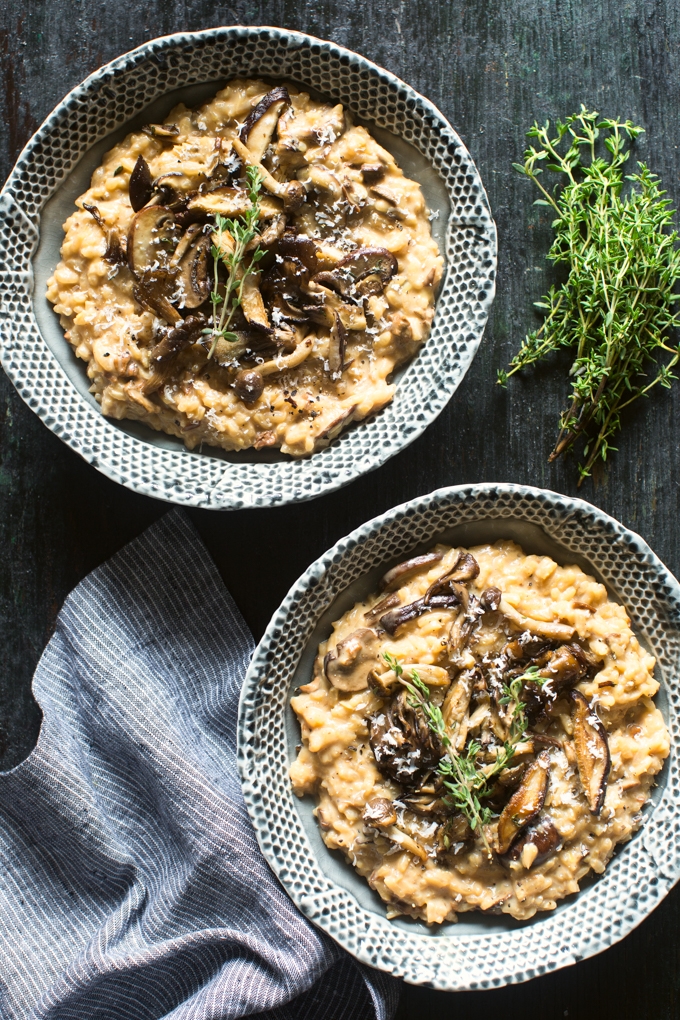 The Prep&Cook is a food processor and cooker all-in-one.  It cuts, prepares and cooks ingredients with the use of various different attachments, automatic programs or manual settings.  We'll get into more details and photos on the Prep&Cook below!  So far, I've made a batch of Bacon & Avocado Deviled Eggs, using the Prep&Cook's steamer to "hard-boil" the eggs to perfection.  I've also whipped up my Broccoli and Potato Soup with the automatic soup program–it both simmers and blends the soup!  Finally, this Wild Mushroom & Mascarpone Risotto was prepared using the Prep&Cook.  Infused with dried porcini, garlic, thyme and fresh, wild mushrooms, this risotto is a savory and luscious treat perfect for fall.  Continue reading for the recipe!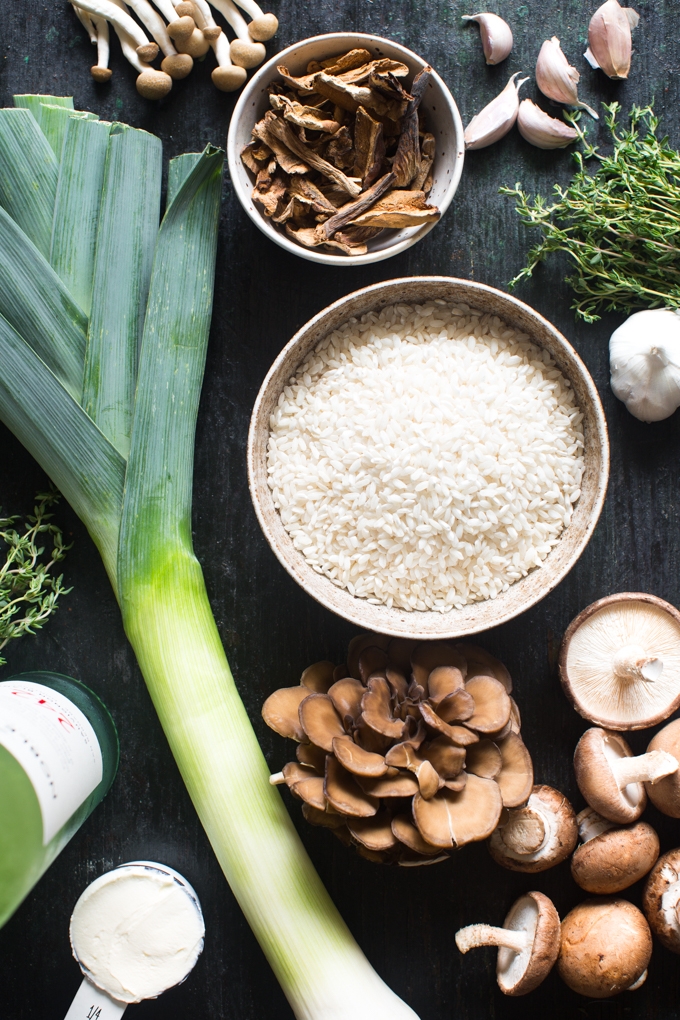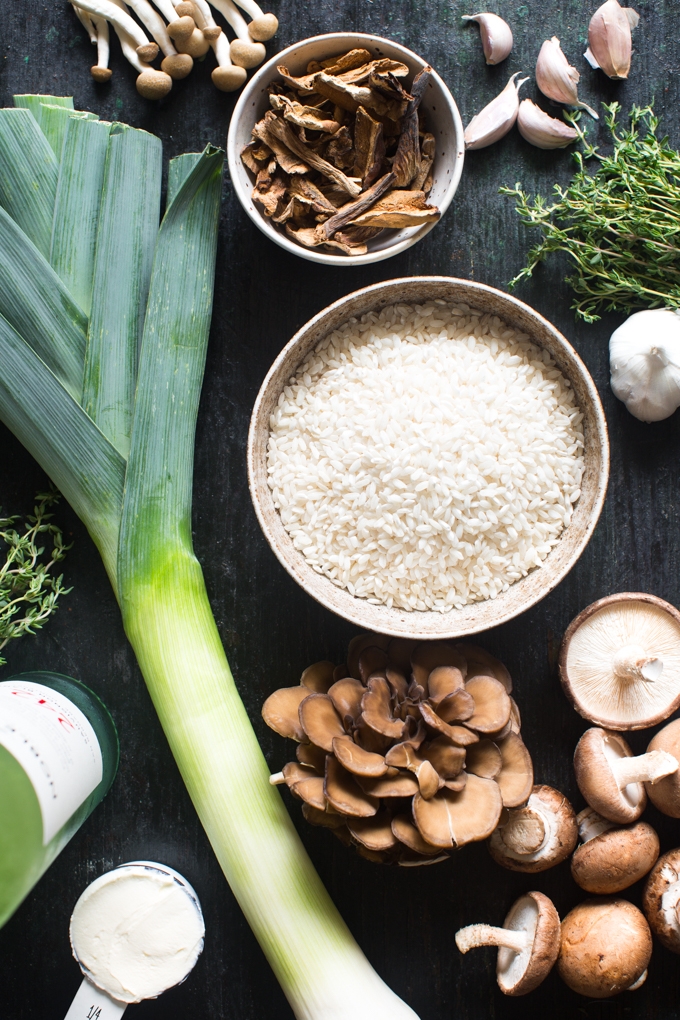 Before we get to the Prep&Cook, let's talk about this risotto a bit.  Wild mushrooms are in season during the autumn months, so you can usually find interesting varietals at the market.  Here, I am using a mix of cremini, shiitake, oyster, maitake and bunashimeji mushrooms.  You certainly don't have to use all of these mushrooms.  This risotto would be delicious with just creminis and shiitakes (both readily available everywhere).  But I urge you to look around for some fun mushrooms during the fall season.  Chanterelles, morels and fresh porcini mushrooms would be lovely here too.
In addition to the fresh mushrooms, I am also using dried porcini mushrooms to flavor the risotto.  The dried mushrooms are first soaked in boiling water.  Once soft, the mushrooms are drained, chopped and stirred into the risotto.  The soaking liquid is packed with porcini flavor, so I am using it as part of the liquid element.  You can make this recipe without the dried porcini, but they're easily purchased online, they last forever in the pantry and they can really add some major mushroom flavor to a dish.  I'd recommend getting a bag!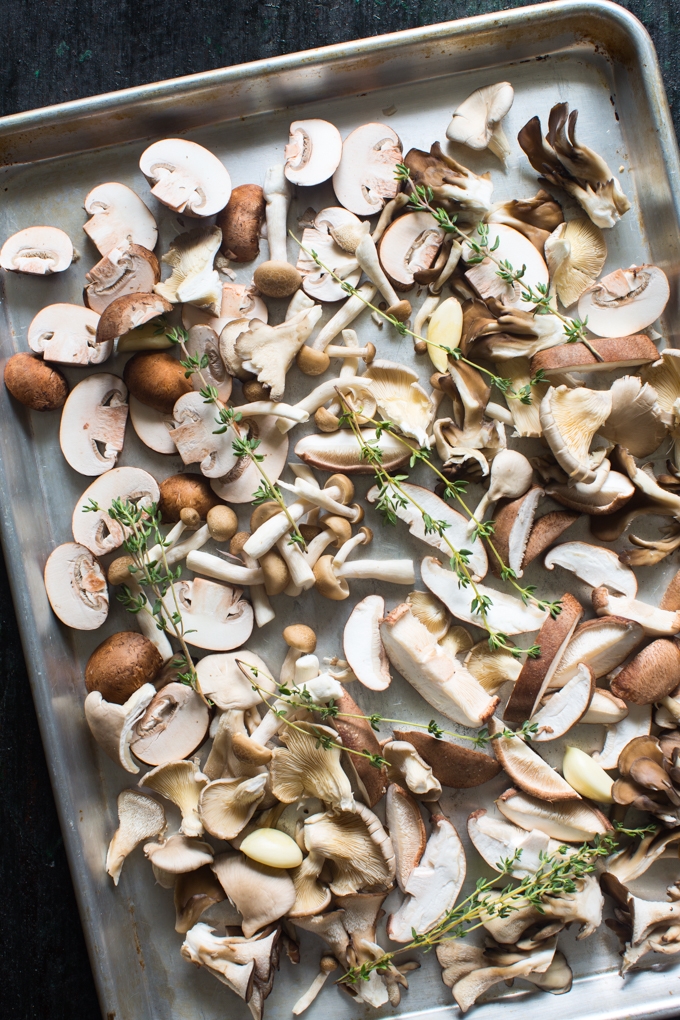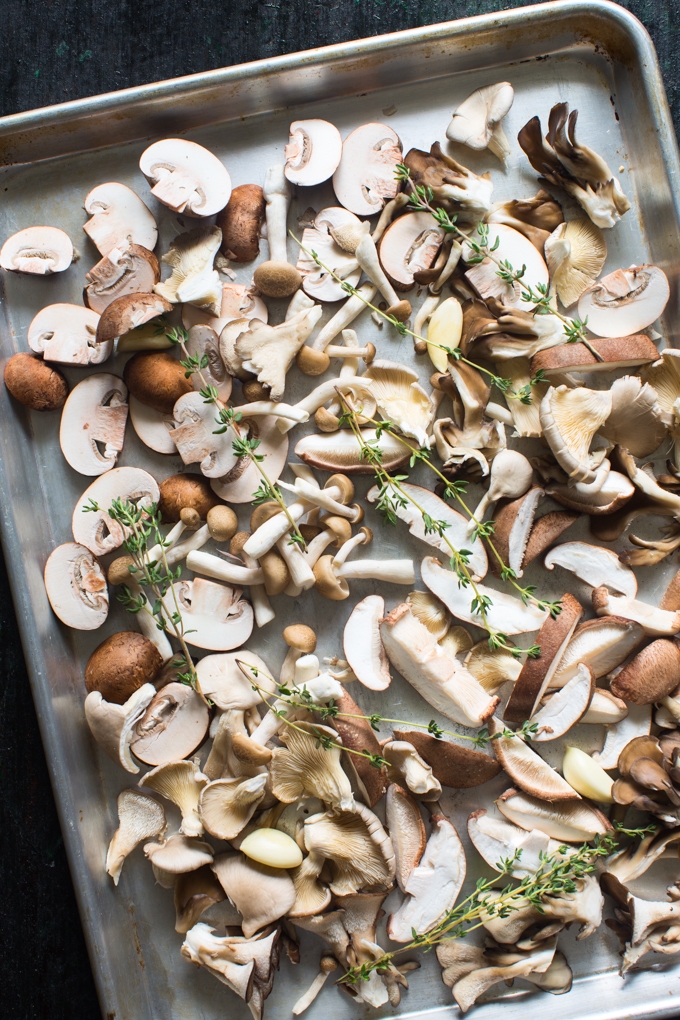 The fresh, wild mushrooms are tossed in olive oil with garlic, thyme, salt and pepper, and then roasted in a hot oven until golden brown.  This is the only part of the recipe that isn't prepared in the Prep&Cook.  They'll take about 25 minutes to cook, so you can roast them while the risotto is cooking.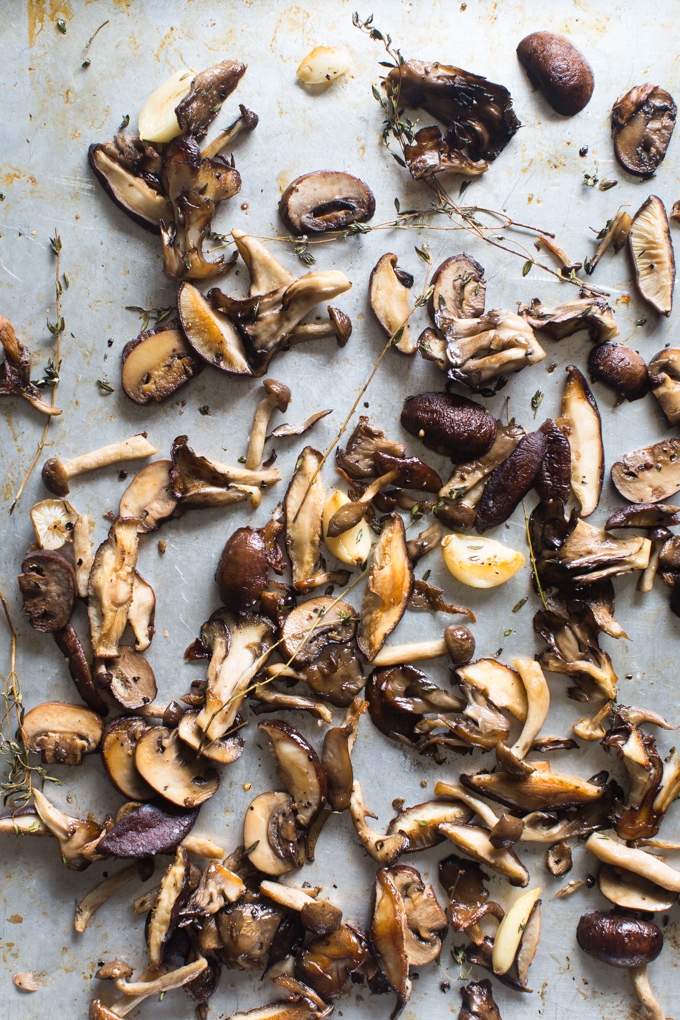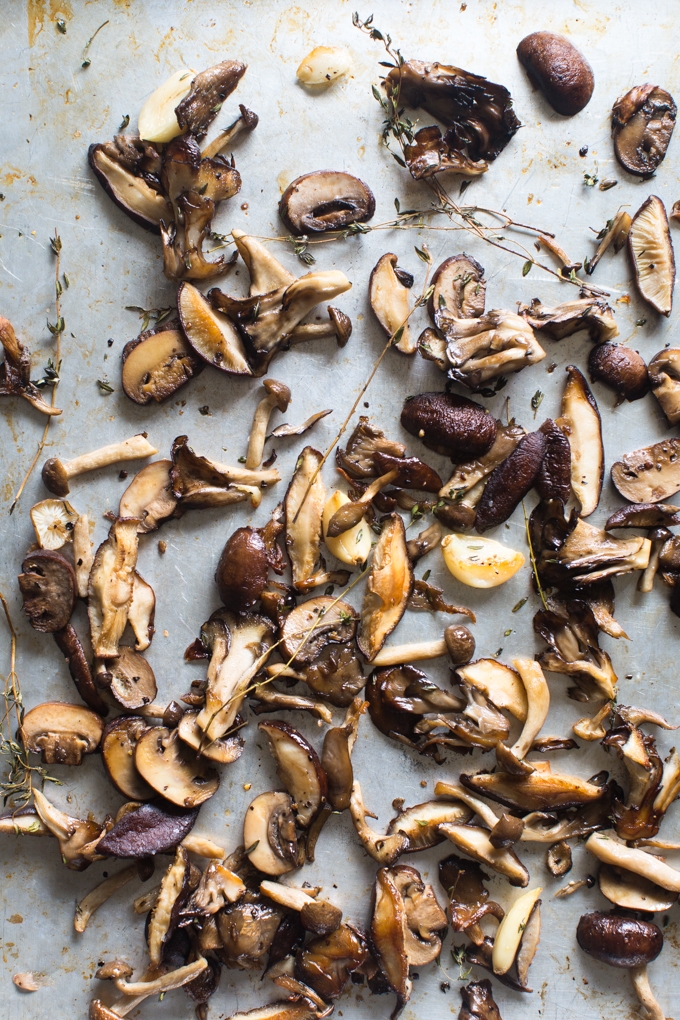 All-Clad's new Prep&Cook (pictured below) is a compact appliance that can handle a lot of different kitchen tasks.  It's got a knife blade that can chop ingredients similar to a food processor.  This blade can also be used with cooking functions to mix and puree.  The mixer attachment can carefully stir, mix and mash.  This can also be used with cooking functions to ensure the bottom of the pot doesn't burn (love this).  The steamer basket is perfect for veggies, eggs, fish or chicken.  I've yet to test out the whisk and kneading/crushing attachments, but the former can be used to beat eggs and emulsify sauces, and the latter to knead dough and to crush harder ingredients like nuts and ice.
The unit has six automatic programs:  Sauce, Soup, Simmer, Pastry, Dessert and Steam.  You can also make adjustments manually for more control.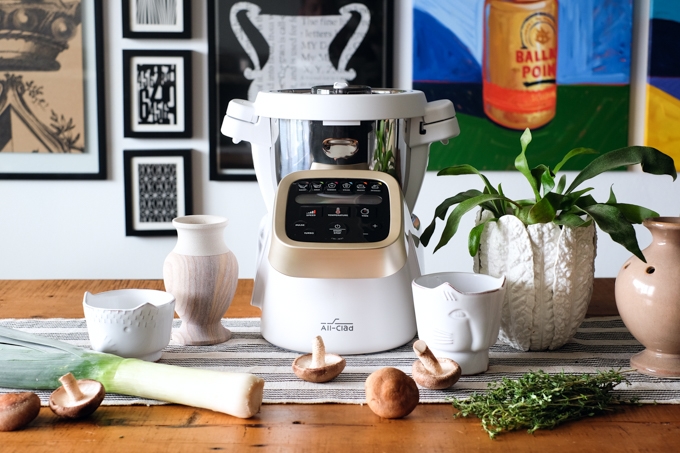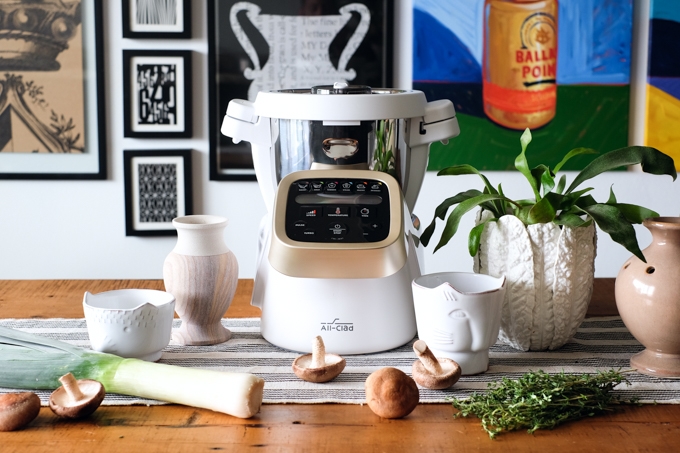 Here's how I used the Prep&Cook to make this risotto recipe: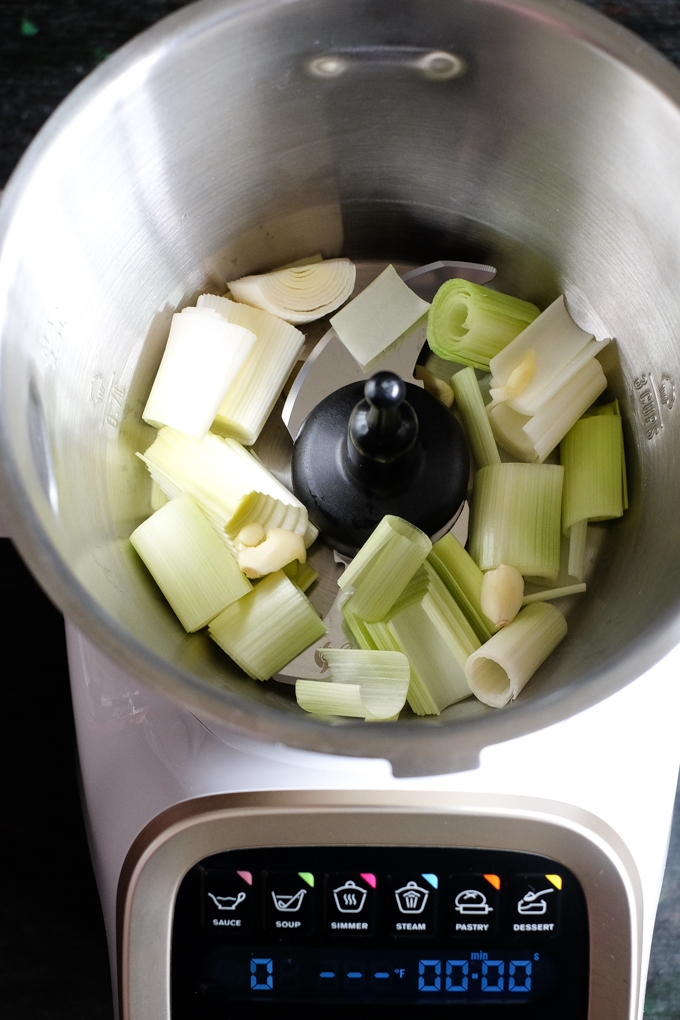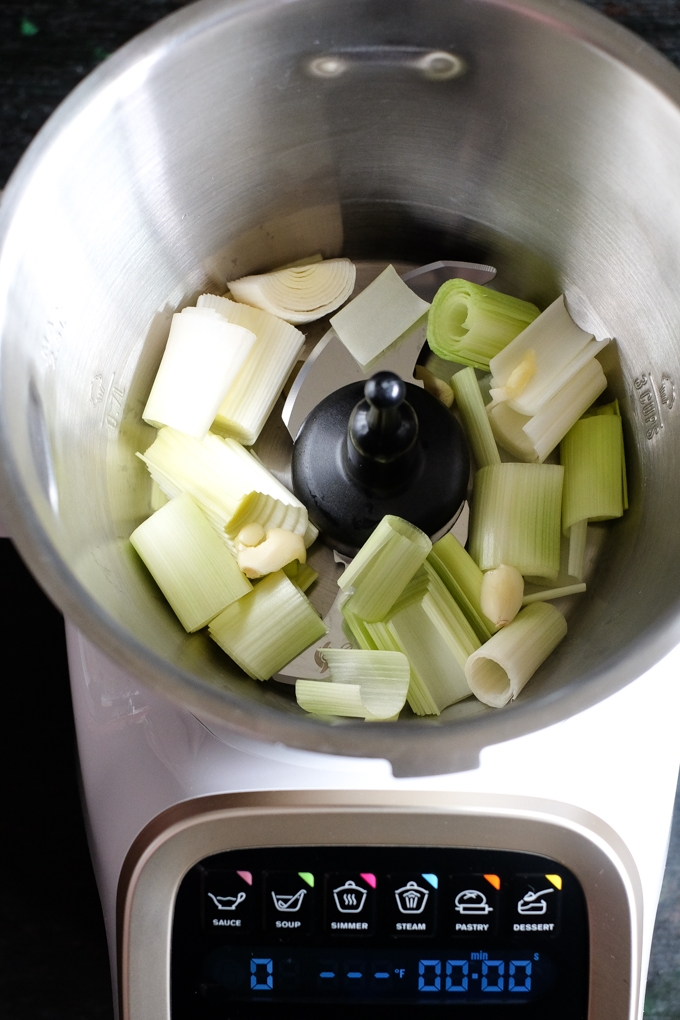 I started by chopping up leeks and garlic using the ultrablade.  Then, I switched out the blade attachment for the mixer, and added olive oil and butter.  Next, I sautéed the aromatics using the Simmer P1 setting.   It heats the bowl to 270°F and keeps the mixer spinning.  After that, I added the rice and continued using the Simmer P1 setting for 5 minutes.  During the last 2 minutes, I added white wine.  By the end of the short program, the wine had cooked off.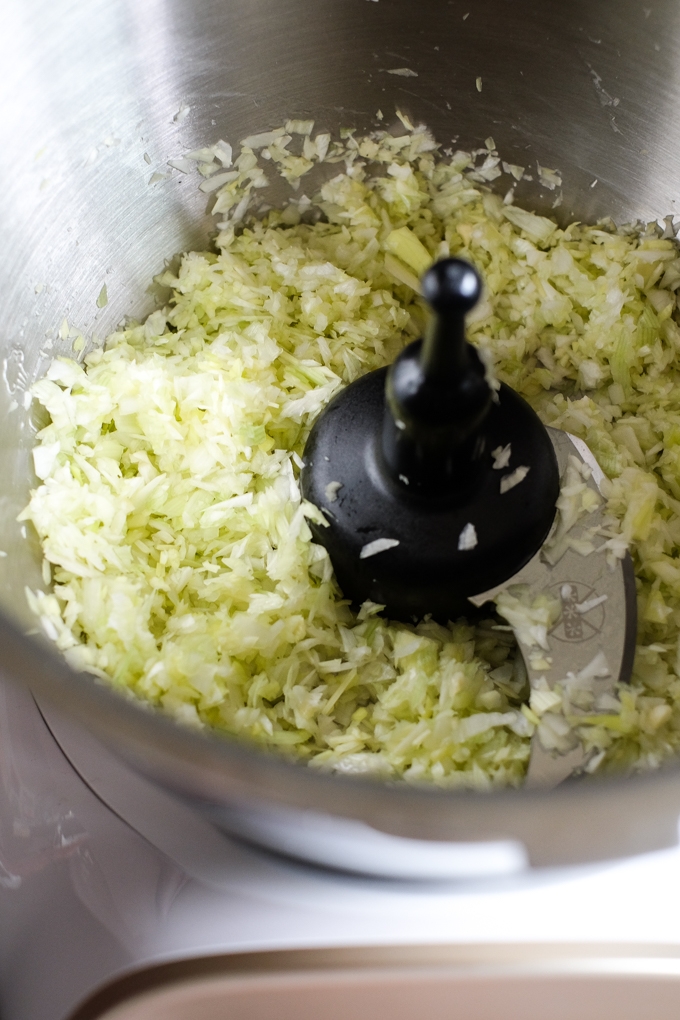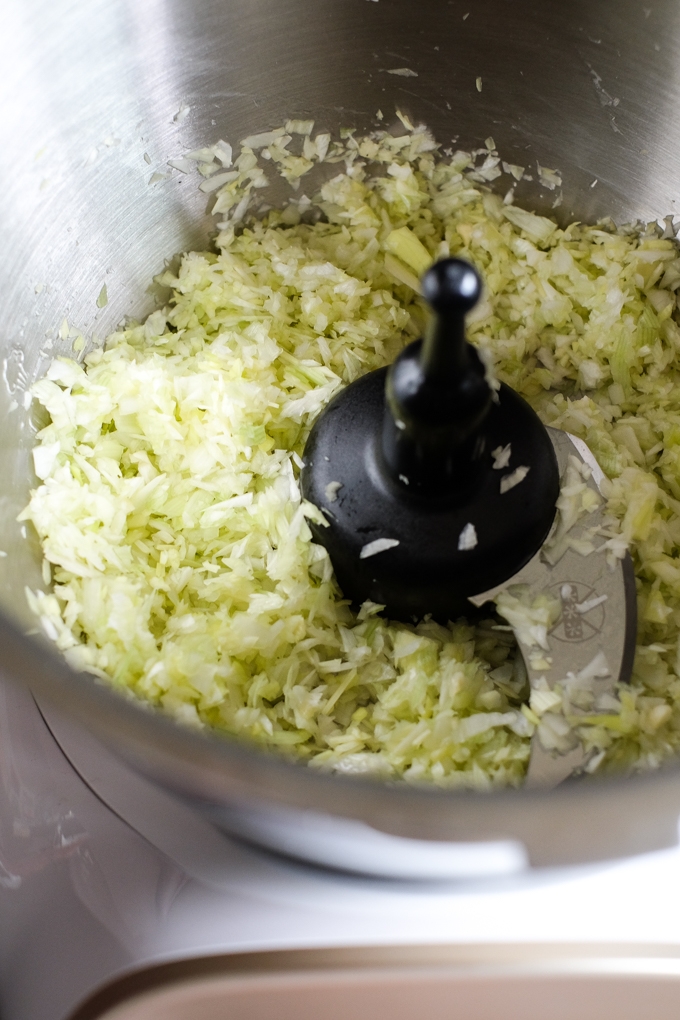 At this point, I added stock and the reserved porcini soaking liquid, and set the Simmer P3 program for 24 minutes.  This program is specifically designed for risotto, and it cooks the recipe at 200°F while mixing frequently (not as fast as P1 though).  During the last couple minutes of cooking, I added the roasted mushrooms and soaked porcinis.  I then finished the risotto with mascarpone cheese, Parmesan cheese, salt and pepper.  The rice was perfectly al dente and the texture was rich and creamy.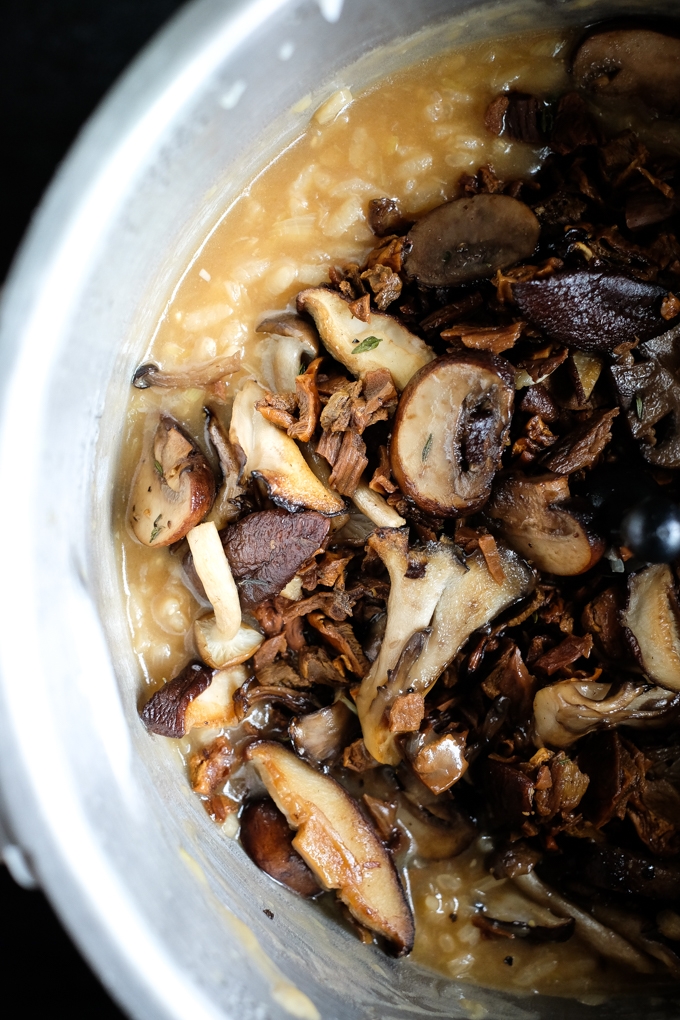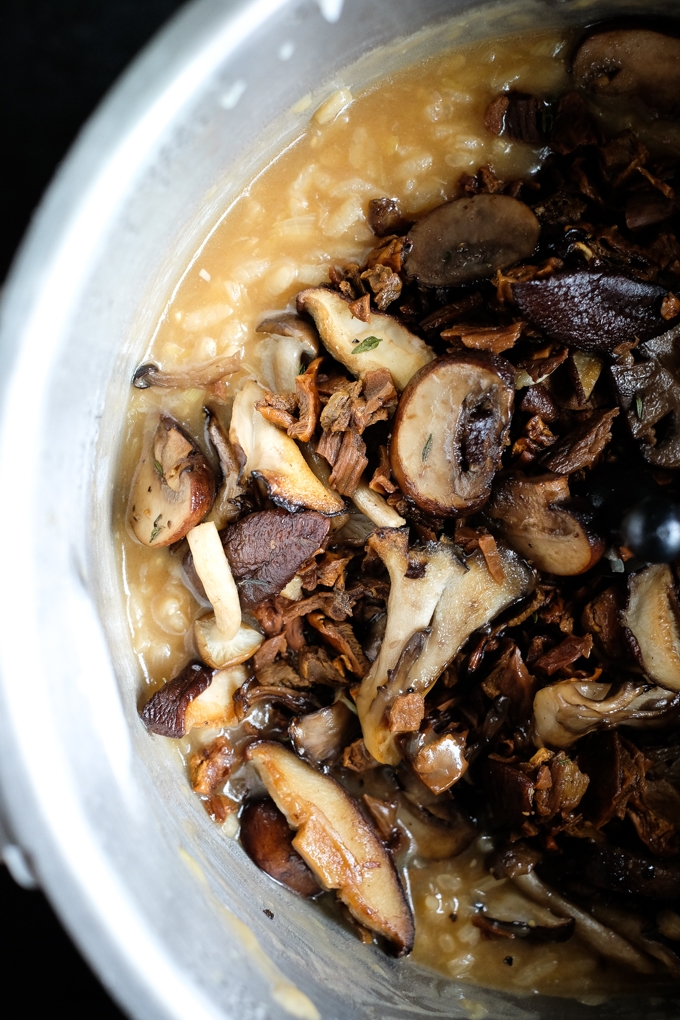 Normally when you make risotto, you have to add warm stock a ladle at a time while stirring constantly.  The All-Clad Prep&Cook cuts out most of that work, making preparation super simple!
I'm already considering what other appliances I can sell, because they're just not needed now.  My steamer and food processor are going for sure!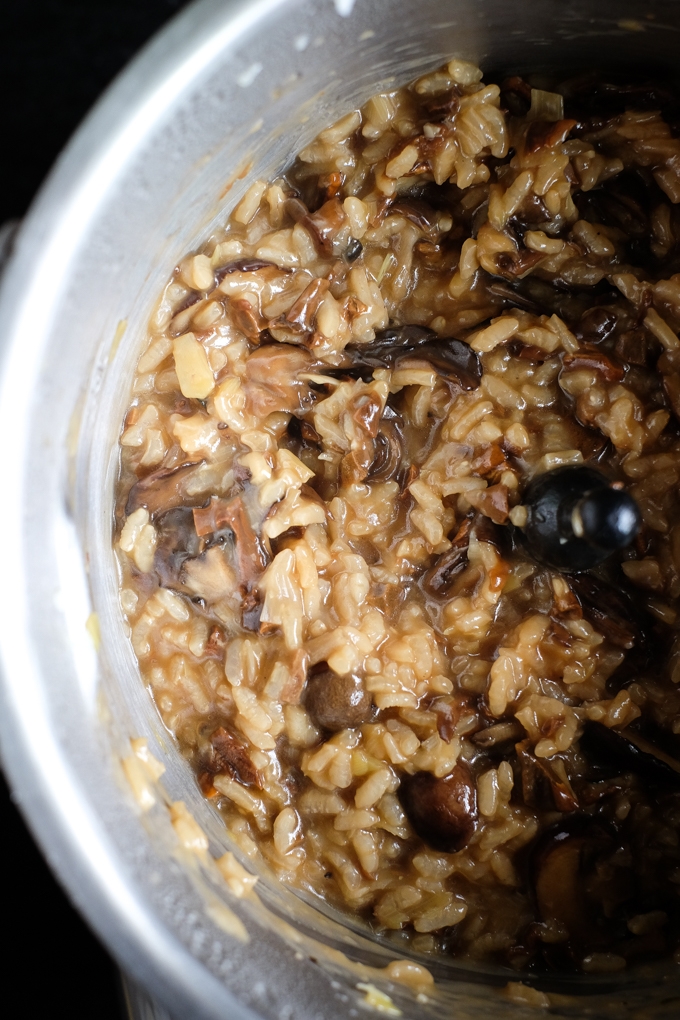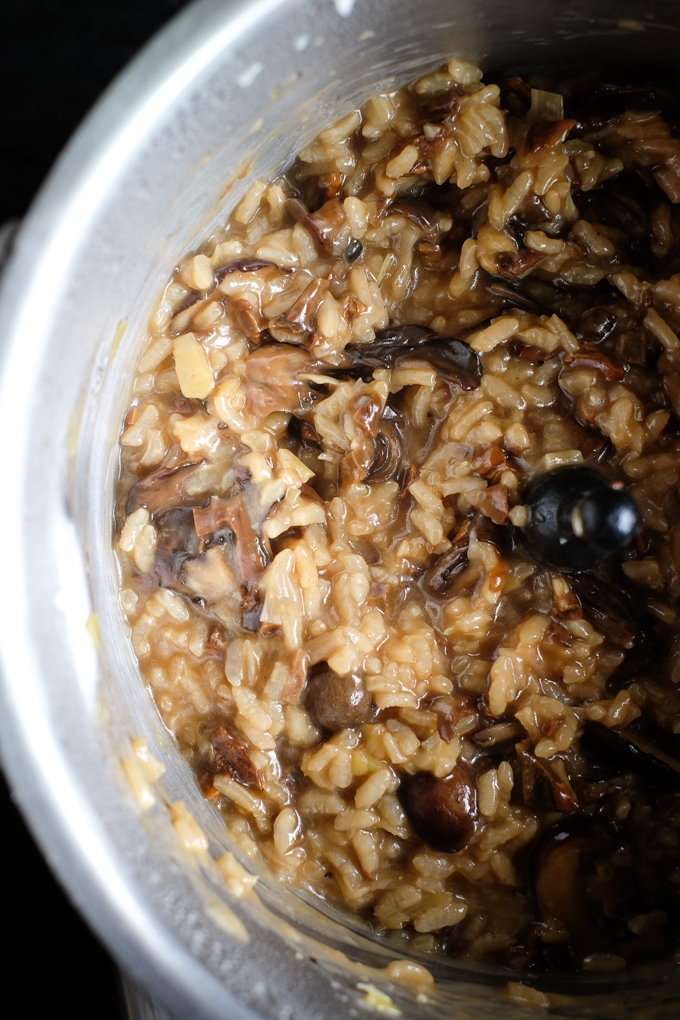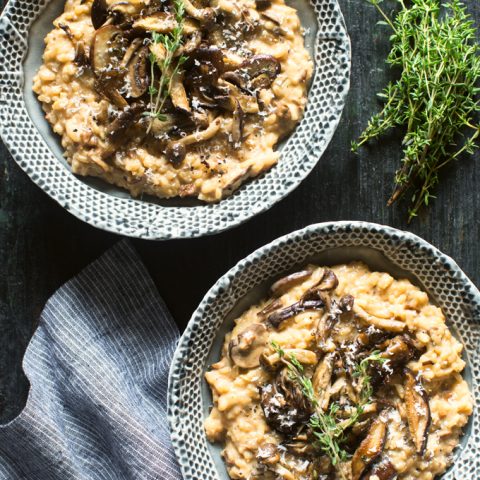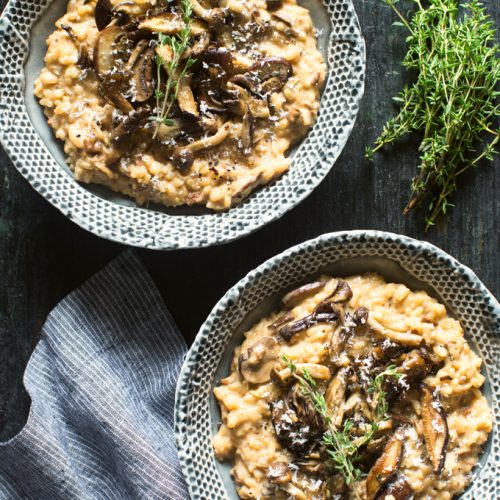 Wild Mushroom and Mascarpone Risotto Recipe
Ingredients
1

ounce

dried porcini mushrooms (optional*)

1

pound

wild mushrooms (such as cremini, shiitake, oyster, maitake and bunashimeji, chanterelle, morel, cleaned and trimmed)

5

cloves

garlic, divided

5

sprigs thyme plus 2 teaspoons chopped thyme, divided

5

tablespoons

olive oil, divided

Kosher salt

Freshly ground black pepper

1

leek, white and light green part only, root end trimmed

2

tablespoons

unsalted butter

1 1/2

cups

risotto rice (I used Carnaroli rice here)

1/2

cup

dry white wine

3

cups

low sodium chicken stock

1/4

cup

mascarpone cheese

1/4

cup

freshly grated Parmesan cheese, plus more for grating
Thyme sprigs, for garnish
Instructions
Place dried porcini mushrooms in a medium bowl and cover with 1 1/2 cups boiling water. Let soak for at least 15 minutes. Drain mushrooms, reserving 1 cup of the soaking liquid. Chop mushrooms and set aside.

Preheat an oven to 400°F. Place wild mushrooms, 4 garlic cloves and thyme sprigs on a baking sheet. Toss with 3 tablespoons olive oil, then sprinkle with salt and pepper. Roast, tossing occasionally, until soft and golden brown (20 - 25 minutes). Discard garlic and thyme sprigs, then season mushrooms to taste with more salt and pepper. Set aside.

Halve leek and cut into big pieces. Add leek, 1 clove garlic and a pinch of salt to the bowl of the Prep&Cook fitted with the ultrablade attachment, and mix at speed 11 for 10 seconds. Scrape down the sides and pulse a few more times until the leek is evenly chopped. Replace the utlrablade with the mixer attachment. Add 2 tablespoons olive oil and butter to the bowl and launch the P1 Simmer program at 270°F for 10 minutes without the stopper. At 5 minutes, add the chopped thyme and rice to the bowl. During the last 2 minutes, add the white wine.

At the end of the program, add the chicken stock, reserved porcini soaking liquid and a pinch of salt. Launch the P3 Simmer program for 24 minutes without the stopper. During the last 2 minutes, stir in the chopped porcini mushrooms and 1/2 the roasted mushrooms. At this point, you'll want to taste the rice to see if it is the right texture. It should be a little al dente (soft outside with a little bite within). Cook for longer if needed.

At the end of cooking, stir in mascarpone and Parmesan cheese. Season to taste with salt and pepper.

To serve, spoon risotto in a shallow bowl and top with reserved roasted mushrooms, a sprinkling of Parmesan cheese and sprig of thyme.
Tried this recipe?
Tag @brandiego on Instagram so I can check it out!
This post was written in partnership with All-Clad.  All thoughts, opinions and recipes are my own.  Connect with All-Clad on Instagram and Facebook.  You can buy an All-Clad Prep&Cook here!
10